Concert Review Archive: 2000 - 2005

The Musical Box – Tribeca Performing Arts Center, NYC, NY 12/17/05

What a difference a venue can make. This summer, I saw a performance of The Lamb Lies Down On Broadway over in Atlantic City. A crowd of mannerless louts on cell phones & disinterested gamblers made enjoyment nearly impossible. Back in NYC, it was a different matter entirely. A few talkers here & there were seemingly unavoidable, but not a problem at all. The venue & the people running it were terrific. So were the crowd. Great people there to enjoy The Musical Box.





This show was my first with David Myers back in the band on keyboards. No disrespect to the man before him, as he did a great job. But Myers adds a confidence and a magic (perhaps it was the Tony Banks wig) that brought the Lamb to another level. It seemed to spark the entire band. For those familiar with the album, I will say that side 3 was the highlight of the evening for me. Lilywhite Lilith, The Waiting Room, Anyway, Here Comes The Supernatural Anaesthetist, The Lamia, and Silent Sorrow In Empty Boats were an amazing balance of composition, performance, and theatrics. The Waiting Room was a dark beast of power and emotion.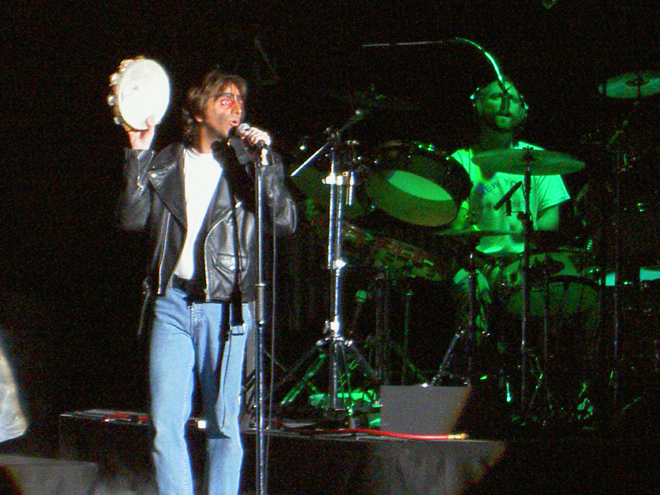 Just so many highlights to the evening: David Myers on Chamber Of 32 Doors. François Gagnon's haunting guitar on Hairless Heart. Sébastien Lamothe's muscular bass on In The Cage. Martin Levac's drums on The Lamia. Denis Gagné's uncannily spot on vocals on Watcher Of The Skies. I could easily name dozens more. The encores of The Musical Box and Watcher Of The Skies were, dare I say it, triumphant. I left the venue glowing inside. I'm hovering like a fly...

Blackmore's Night – Society For Ethical Culture, NYC, NY 12/8/05

The last time I saw Ritchie Blackmore was in 1984 on Deep Purple's tour in support of Perfect Strangers. Flash forward to 2005. New band. New type of music. New Ritchie as well - he was, dare I say it, happy. First things first. The evening opened with an inspired set by German duo Geyers. Key fiddle, hurdy gurdy, and tons of medieval horns put everyone in a relaxed mood during the well received set. First and only time I've heard the Smoke On The Water riff on key fiddle!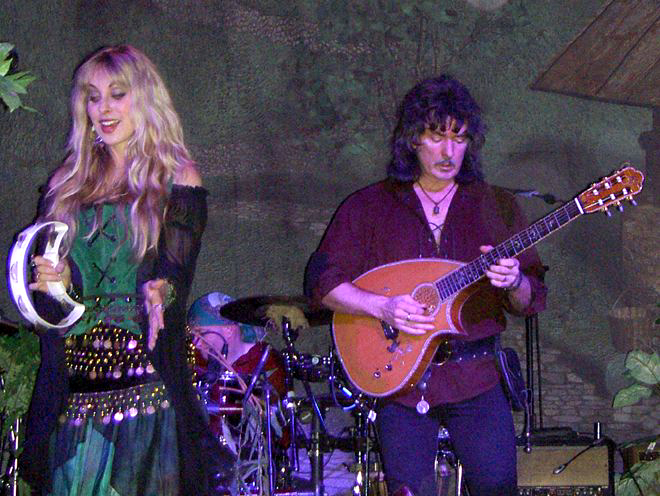 Blackmore's Night came on at about 9:00 full of energy and good vibes. They were an 8 piece ensemble: guitar, bass, drums, keys, violin, 2 backing vocalists and lead vocalist Candice Night. Under A Violet Moon and Queen For A Day found Night in great voice. Blackmore was in fantastic form and an equally great mood, handing beers to the crowd & joking throughout. Night mentioned that he had a reputation for being moody in Deep Purple and attributed it to Blackmore being "pre-minstrel" as they launched into the Deep Purple classic Soldier Of Fortune.Minstrel Hall had a bit of a Jethro Tull moment as a large brown rabbit walked across the stage. The band were nothing short of fabulous with the Sisters of the Moon adding great harmonies to Child In Time and violinist/multi-instrumentalist Tudor Rose had a memorable spot on Durch Den Wald Zum Bach Haus. The show was a wild trip through the centuries. Where else can one see Ritchie Blackmore play a hurdy gurdy? So many high points in the set: Home Again, Wind In The Willows, Ghost Of A Rose, and a breathtaking cover of Ralph McTell's Streets Of London.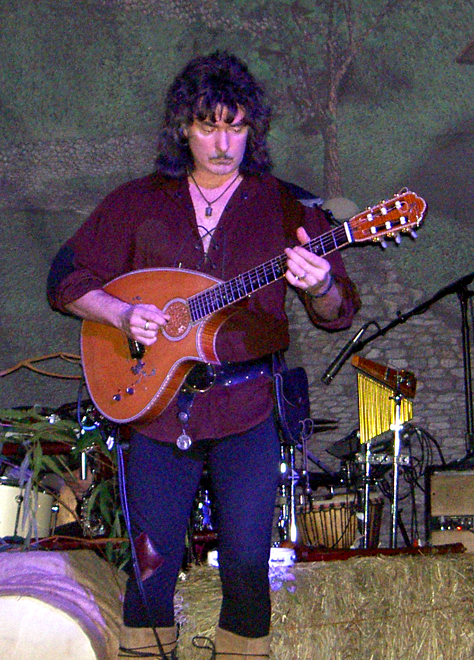 Encore time! After a lovely version of We Three Kings, Blackmore returned with a Strat strapped on and the band tore into a vicious version of the Rainbow song Ariel. Blackmore is still without a doubt one of the finest guitar players ever to grace the stage. Difficult To Cure / St Theresa followed and the lights went up. As the crowd filed out, the lights went down again & it was just Blackmore & Night for a final acoustic song - Now And Then. By traveling back a few centuries, Blackmore has found a new lease on life and seemingly limitless energy!

Erica Kiesewetter & Cameron Grant – Steinway Piano Gallery, Westport, CT 11/20/05

Another "backyard" show for me, this time at the stately Steinway Piano Gallery - a mere 5 minutes from my house. How jolly convenient! My second classical show in a row and another pip. The program of the day was Mozart and Friends, and was performed by violinist Erica Kiesewetter and pianist Cameron Grant. No other humans were necessary! With fingers like hungry spiders, the duo opened with Mozart's Sonata in A Major. The two navigated the piece with ease and dexterity - Kiesewetter and Grant had a smooth energy flowing between them. Next on the bill was a truly lovely number: Opus 78 of Brahms' Sonata in G Major. The piece drew me in and I drifted along the sea of chords at times in awe of the emotions Brahms could capture. A well-timed intermission followed allowing everyone a stretch and a clearing of the mental palette.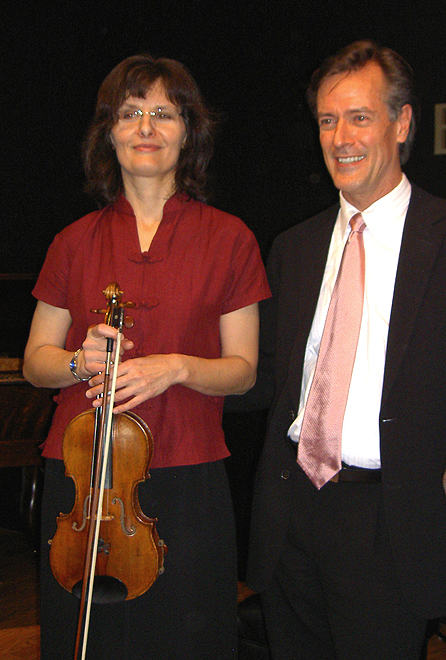 The duo returned to the stage with Sonata in A Major, Opus 13 by Faure. Complex, elegant, romantic - what a stunning piece! Kiesewetter & Grant swept the audience up in the emotion and glory of Faure. A roar of applause brought us an encore: a Fritz Kreisler piece - either Liebesfreud or Leibesleid - I cannot recall the title, but it was gorgeous. Two great classical shows in a row. Auntie Em - if I ever go looking for my heart's desire again, I won't look any further than my own back yard! Support your local classical musicians!

Stamford Symphony Orchestra – Palace Theatre, Stamford, CT 11/13/05

What's that? Bach and Sibelius less than a half hour from my house? I'd be a fool to miss such a thing! Conductor Eckart Preu brings humor and vigor to the Stamford Symphony Orchestra. Preu succeeds in taking the music to you, giving it meaning. His heartfelt and at times humorous introductions to the pieces performed added a vitality to the proceedings I never expected.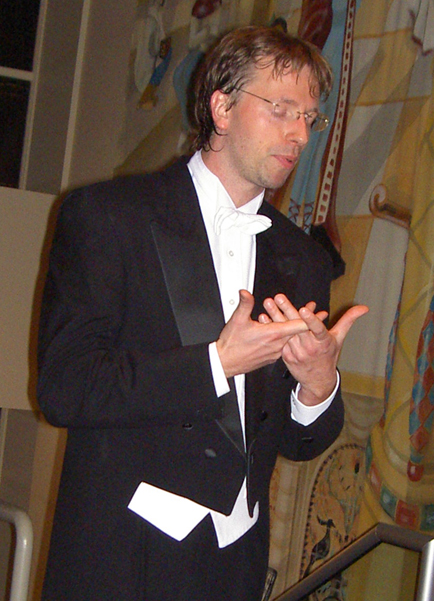 The afternoon started with Bach's Sinfonia In D Major, a Bach piece I was not familiar with, but full of interesting color and movement as well as fine harpsichord work by Preu. That was followed by a fascinating composition - the multi textural Battalia by Biber. Battalia was a challenging number even by today's standards. A very satisfying listen. Next up was the Connecticut premiere of Joan Tower's Made In America, a new piece based on the main melody of America The Beautiful. Tower's work was darker than anticipated, and almost a bit jazzy in sections.

The Israeli piano duo, Sivan Silver & Gil Garburg, wowed the audience with their inspiring playing on Poulenc's Concerto For Two Pianos In D Minor. 20 fingers of sheer fluidity and ridiculous prowess flowed effortlessly through Poulenc's gorgeous melodies, elevating the piece to heavenly heights.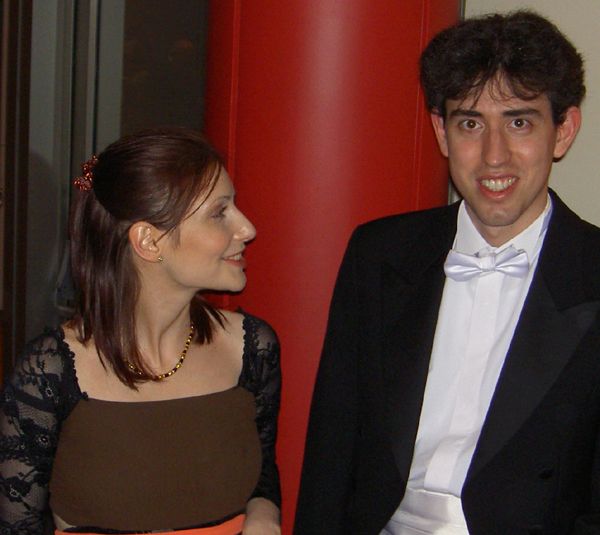 After a brief intermission, Eckart Preu lead the 52 piece ensemble through Opus 52 of Sibelius' Symphony No. 3 In C Major. Soaring, elegant, with a sad, beautiful 2nd section, this was a strong choice to end the day's performance. But wait! Maestro Preu had a surprise up his sleeve! In honor of the recently deceased (and former Stamford Symphony Orchestra conductor) Skitch Henderson, the orchestra performed a Henderson favorite: a slice of Elgar's Enigma Variations. If there was a better way to conclude the day, I'm not aware of it!

Jethro Tull – Fox Theatre, Ledyard, CT 10/7/05

Just when I thought I'd seen Tull do pretty much everything, they pulled a switcheroo. For this gig, they brought along Trans-Siberian Orchestra violinist Lucia Micarelli. Micarelli is a very animated player and an interesting foil to Ian Anderson, who tends to be the only ultra mobile member of Tull. The show was heavily weighted towards the back end of the Tull catalog, with an emphasis on the Aqualung album. Life Is A Long Song opened the first set in a quiet fashion. Doane Perry sat at a small kit at the front of the stage for the more acoustically oriented numbers like Skating Away On The Thin Ice Of The New Day, mounting his main kit for heavier pieces like Beggar's Farm (a piece solidly anchored by bassist Jonathan Noyce).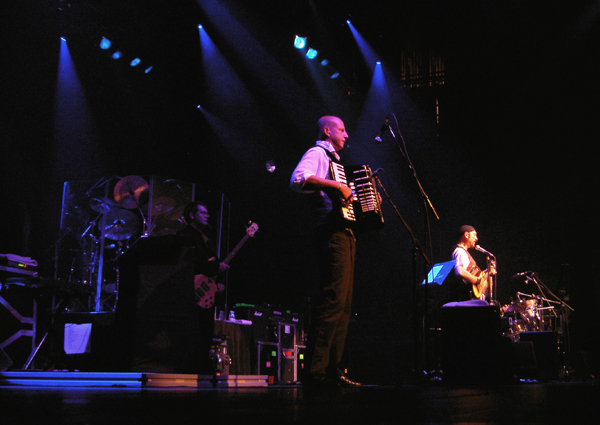 Anderson's voice was a bit shaky on the early numbers, but gained confidence as the evening progressed. Micarelli added a nice flavor to Griminelli's Lament and it was nothing short of surreal to see Tull play the Love Theme From 'The Godfather.' Set 1 ended strongly with a trio of songs: Cheap Day Return, Mother Goose (a much extended version), and Bourée.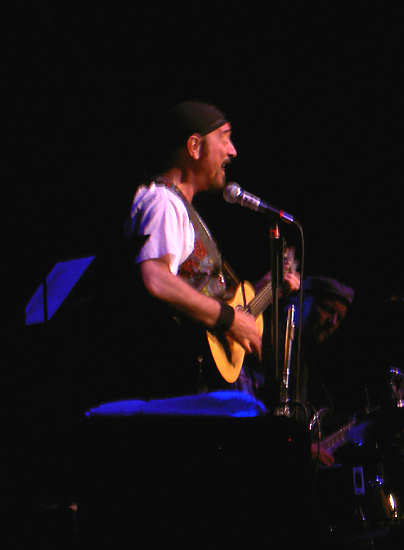 The second set started with Micarelli and keyboardist (and maple syrup lover) Andrew Giddings dueting on a piece from Micarelli's solo CD titled Nocturne segueing into a full band portion of Queen's Bohemian Rhapsody which saw Micarelli playing Brian May's lead on the violin. The crowd went nuts for a fierce cover of Led Zeppelin's Kashmir, and Micarelli's feature spot concluded with the lovely She Is Like The Swallow. Cross-Eyed Mary and a vastly rearranged Hymn 43 followed with Anderson really hitting stride and guitarist Martin Barre turning the "crunch" button on his geetar up to 11. In The Grip Of Stronger Stuff, My God, and Budapest lead to the inevitable set closing Aqualung. The expected encore of Locomotive Breath/Protect And Survive/Cheerio brought a very out of the ordinary sort of Jethro Tull show to an end. Nice to get such a different evening!

The Tubes – B B King's, New York, NY 9/18/05

Well, pardners, the Tubes brought their rip snortin', mad cow ropin', Quay Lewd dopin', Wild West show back to B B King's in the heart of cattle country USA: Manhattan. As tight as they were when I saw them back in January, they were even tighter this go-round.

Vocalist Fee Waybill was hysterical during Mad Cow Auctioneer, looking like a demented extra from Hee Haw. The Western motif was a great humorous springboard, and Tubified versions of Ghost Riders In The Sky and Tumbling Tumbleweeds were awesome. A rather pleasant surprise were the dry asides of guitarist Roger Steen - thrown in when he wasn't busy playing breakneck solos on pieces like No Way Out.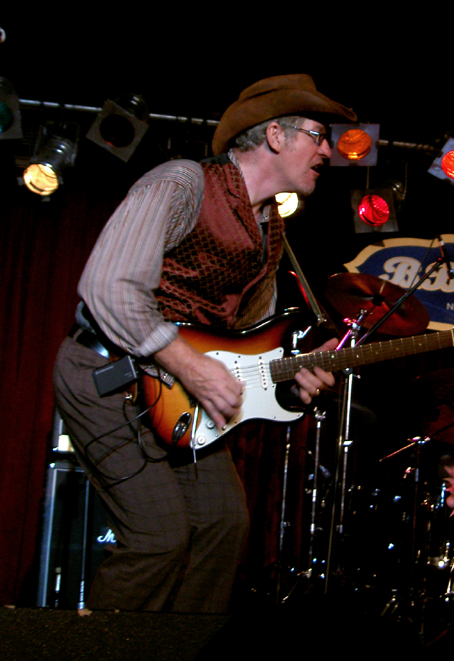 Prairie Prince, as ever, is top candidate for finest drummer on Earth. The rhythm breaks on Tip Of My Tongue were so sharp you could cut yourself. Rick Anderson with his red Hohner bass was muscular, melodic, and outlawed in several states - his playing on Malaguena Salerosa and the new Life Is Pain was a clinic! Once again, keyboardist / guitarist Gary Cambra shone on My Asylum, a strong new composition. Underneath it all, keyboardist David Medd was just staggering, bringing to life numbers like TV Is King and Don't Want to Wait Anymore. Make no mistake, the show wasn't a bunch of virtuosos trying to upstage each other - it was a locked-in unit.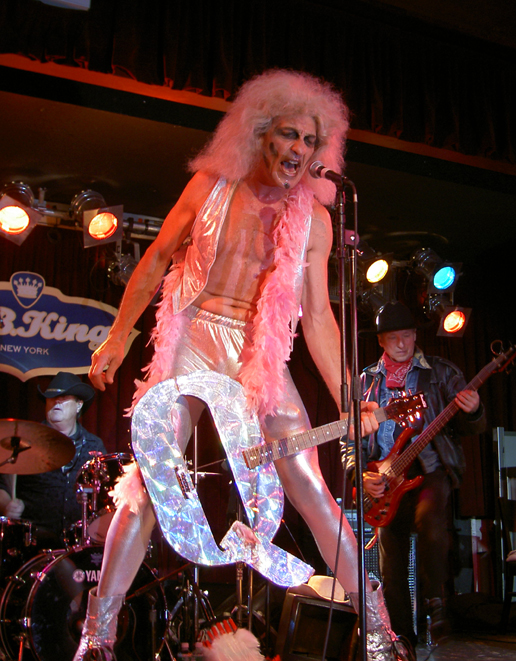 Speaking of upstaging - no singer on this planet can upstage Fee Waybill. Waybill's instinct as a performer is unerring. Fun, goofy costume at the right moments - from effeminate cowboy Russell Chaps to glam burnout Quay Lewd. But on Sushi Girl or Don't Want To Wait Anymore it's about the vocal. And it's there in spades. If I gush, it's because the Tubes are that good. What a kickass show! Fee-Haaaaaaaaaa!

Moody Blues – Fox Theatre, Ledyard, CT 7/8/05

I last saw the Moody Blues in 1992. In the intervening years, founder Ray Thomas & keyboardist Bias Boshell (from Barclay James Harvest) retired from the band, leaving longtime Moodies Justin Hayward, John Lodge, & Graeme Edge to soldier on. Joined by 4 live supplemental members, the Moody Blues put on a heck of a show, mixing the hits with a few choice chestnuts. "Lovely To See You" opened the set, finding Hayward in fine voice. Lodge did a fine vocal turn on Octave's "Steppin' In A Slide Zone."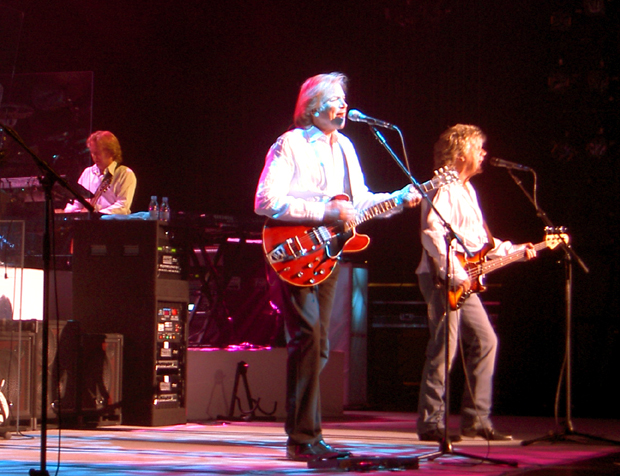 "Voice," "The Actor," "Tuesday Afternoon," and "Isn't Life Strange?" were delivered pretty much verbatim. Lodge's bass work was solid and confident; Hayward's guitar precise and biting. Edge shared his duties more than ably with percussionist Gordon Marshall. Only 1 recent number in the set - "December Snow" - a pleasant ballad.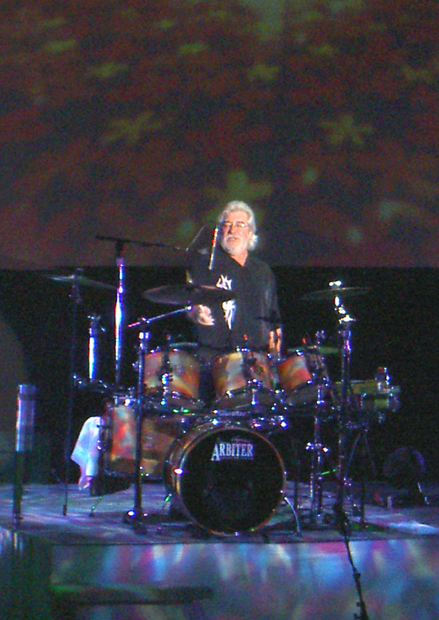 Edge had the line of the night. Introducing To Our Children's Children's Children classic "Higher And Higher," he said "I wrote this back when my hair was brown and my teeth were white!" From the opening notes of "Lovely To See You" to the closing chord of "Ride My See-Saw," the Moody Blues had the packed crowd in the palms of their hands. Fantastic show from stem to stern.

The Musical Box – Xanadu Theatre, Atlantic City, NJ 6/23/05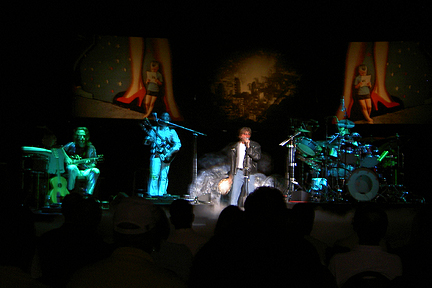 Yes, another Lamb show - and a superb one, at that. Just when I think it's not possible for this band to get any better, they prove me wrong. Tighter than tight. Positively frightening! The Musical Box have gone from playing "The Lamb Lies Down On Broadway" accurately to playing it confidently to playing it with ease. No easy feat.

That said, the crowd sucked unbelievably. It was a combination of drunken couples talking through the show, dads & their kids talking through the show (sense a theme here?), idiots on cell phones talking through the show, and, well, scores of inconsiderate fools talking through each and every song. Have people really sunk this low? You're not at home listening to your stereo. You're at a live venue and those around you paid good money to see and hear the band perform. Undoubtedly, the fact that the show was in a casino was a factor. There were a percentage of high rollers no doubt comped tickets & having little interest in a show that wasn't Toby Keith or Cher.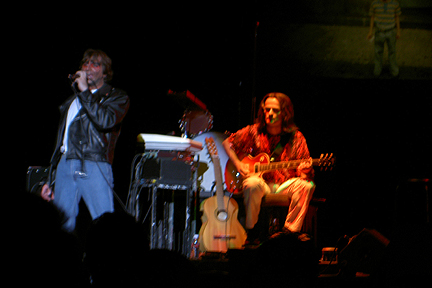 Back to the music. Lots of great "little" moments. Bassist Sébastien Lamothe & vocalist Denis Gagné laughing while sharing a mic on "Back In NYC." A furious, magnificent take of "The Waiting Room." Guitarist François Gagnon's solo on "Counting Out Time." Drummer Martin Levac's backing vocal on "Chamber Of 32 Doors." Keyboardist Éric Savard's solo on "Riding The Scree." Despite the jerks in the crowd, The Musical Box came up with pure magic. Impossible to tire of these guys!

Robert Fripp – Toad's Place, New Haven, CT 6/21/05


Let me start with what everyone wants to know - no flashes went off during the performance. Thank the good Lord. This was an evening of soundscapes as well as a Q&A session. As there were no cameras allowed, I decided to accompany this review with drawings that capture my impressions of the pieces. Robert Fripp took to his stool & battery of pedals and opened with a 'scape that had an almost otherworldly feeling. Isolated, as if deep underwater with light shining from above, eerily beautiful.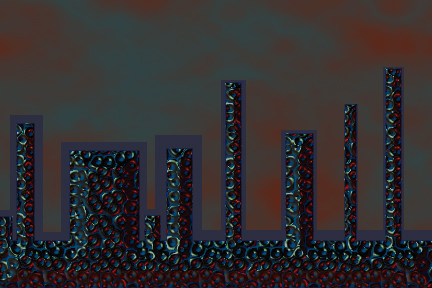 Gradually things got even darker, with Fripp's fingers building an almost industrial vibe. I felt blacks and reds and smoky textures in the notes and beds of sound. After the piece cycled down, Fripp opened the room to an insightful and amusing Q&A period covering everything from Long Island audiences to eating habits, to mindset and many points in between. Fripp seemed relaxed and happy, joking with the crowd & drawing everyone in, making for a very pleasant, personal air.




The show concluded with another soundscape. For this one, Fripp asked 3 audience members to each shout out a note - A, D, & F# were chosen (a Dmaj, as it turns out). Things started out brightly, almost angelically, reminiscent of pale smoke rings drifting across velvet. A dark texture here and there added spice to the 'scape. It's quite an experience to have music born right there in front of you. It may kick and scream a bit, but like any good baby, it sure is beautiful.

The Alan Parsons Project – The Wolf Den, Uncasville, CT 6/18/05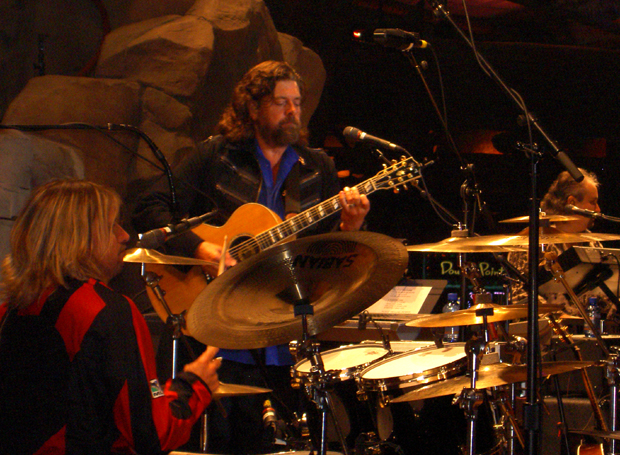 I came into this show with a few preconceived notions. While I knew Alan Parsons would undoubtedly have a decent band and give a decent show, I figured it would be a popstravaganza. I commented that it was a pity we wouldn't get material from albums like "I Robot" or "Tales Of Mystery & Imagination." What does he open with? "I Robot." I was very happy to have my preconceptions dashed. The set included 2 pieces from Tales: "The Raven" & "(System of) Dr. Tarr and Professor Fether."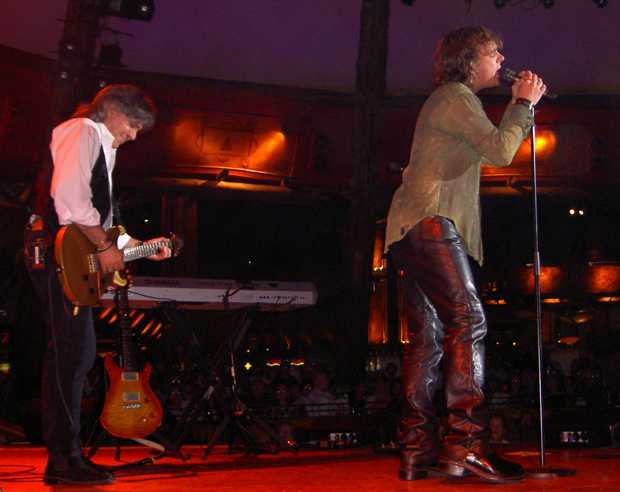 Parsons sang, played keys & guitar. He was accompanied by monster musicians. Guitarist/keyboardist Godfrey Townsend, drummer Steve Murphy (stunning!), bassist John Montagna, vocalist P.J. Olsson, and keyboardist Manny Focarazzo were pretty much flawless. "Time," "Psychobabble," "Eye In The Sky, " and "Return To Tunguska" closely echoed their studio counterparts. "Don't Answer Me" ended with the closing chords to "Let It Be" - a cute nod to Parsons' past. The evening was a pleasant walk through Parsons' catalogue and a reminder that he's still making imaginative, memorable music.

The Orchestra - The Wolf Den, Uncasville, CT 6/4/05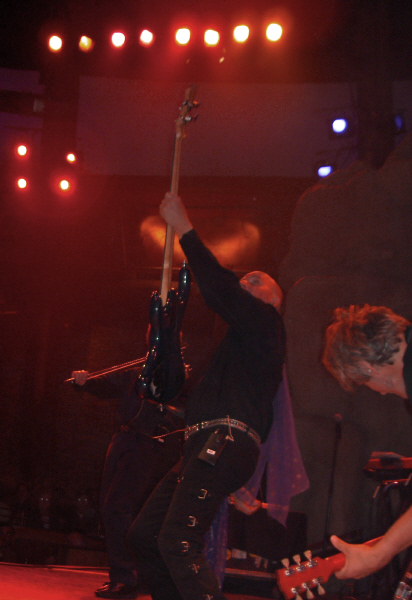 This was an interesting gig. The Orchestra is made up of members of Electric Light Orchestra & ELO II. 3 of the six go way back in ELO's history: bassist Kelly Groucutt, violinist Mik Kaminski, and keyboardist Louis Clark (who prog fans may recall from Annie Haslam's "Still Life" album). The Orchestra was rounded out by drummer Gordon Townsend, guitarist Parthenon Huxley, & keyboardist/guitarist Eric Troyer. The show combined some of ELO's lush proggy pop tunes, out & out rockers, and a smattering of new numbers.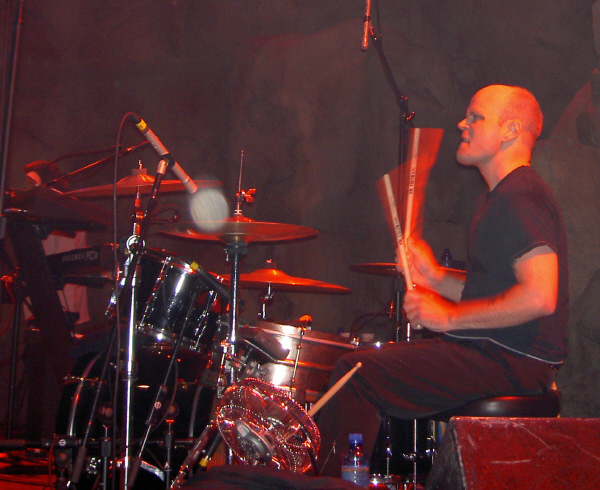 Songs like "Ma-Ma-Ma-Belle," "Standing In The Rain," & "Rockaria" were solid and strong. The harmonies were gorgeous and ultra tight. This band knew their business! New songs "Jewel & Johnny" and "Over London Skies" were as memorable as anything from the ELO days. Groucutt was full of good humor. Clark stood all but motionless & was a 10-finger orchestra. Kaminski was just fabulous. Huxley & Troyer had a very nice energy, & Townsend was a dynamo. The show had a positive feeling to it - the band exuded good will. The 20 song set & encore was packed to the gills with great tunes. "Do Ya," "Mr. Blue Sky," "Showdown" - the list goes on. The evening was like a beautiful dessert - sweet & tasty. Can't wait to see these boys again!

Fairport Convention & The Strawbs – The Darress Theater, Boonton, NJ 5/29/05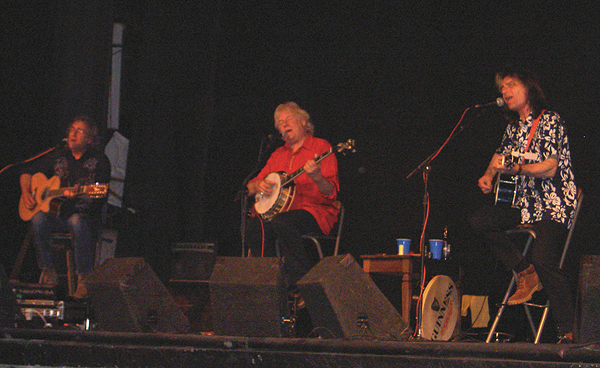 Boonton is a bucolic little town tucked away in Nowhereville. The Darress Theater is a small, historic building where (legend has it) George Burns & Gracie Allen met. This evening, it was the Strawbs & Fairport Convention. I was intrigued by this paring of acts. Both are stalwarts of the Brit folk rock scene with more than a few prog connections. The Strawbs were up first - an acoustic trio of Dave Cousins, Dave Lambert, and Chas Cronk. They launched into a confident version of "Benedictus" and you knew right off the bat that the night was going to be a memorable one! The band dug deep this time around, playing seldom heard pieces like "Midnight Sun" and "Antique Suite." Cousins was full of stories as ever, and played a pretty mean banjo on several numbers. Lambert sizzled on guitar - eerie lines on "Autumn," stately on "Ghosts," piercing on "Grave New World." Cronk was utility man, playing 12 string, bass, and pedals that triggered synths to add a lush dimension to the sound. The trio's voices blended well harmonically. 90 minutes seemed too short; then it was time for Fairport Convention to play.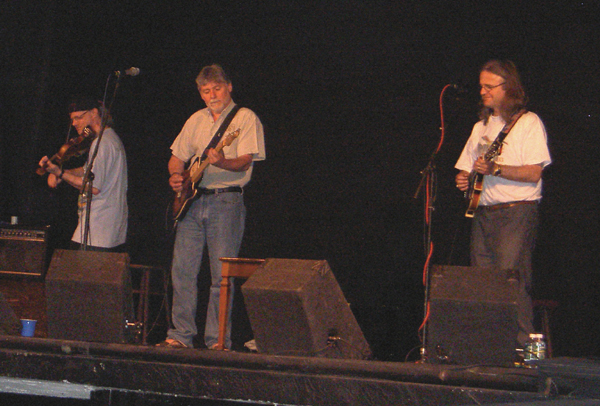 The best word I can think of is "gentlemen." Simon Nicol, Ric Sanders, and Chris Leslie are gentlemen of the first order. That said, these 3 sure can raise the roof! "Woodworm Swing," "Crazy Man Michael," "The Hiring Fair," - what can I say? New songs like "Canny Capers" and the superb "I'm Already There" showed the band to still have the goods as far as material goes.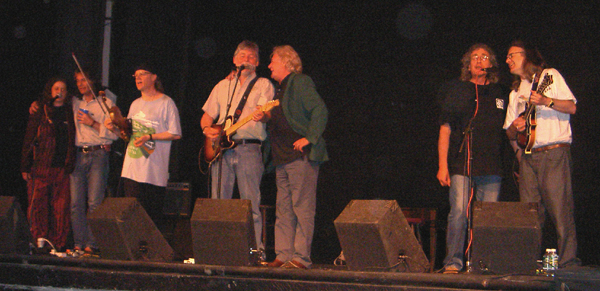 Highlights included a Sanders/Nicol instrumental version of the classic "Summertime" that brought a lump to my throat, and a gorgeous new tune called "Some Special Place." The evening concluded with the ever present "Meet On The Ledge" where Fairport were joined on the choruses by the Strawbs and show organizer Debbie Roeder Shaw. A perfect conclusion to a perfect show.

The Flower Kings – The Forum Theatre, Metuchen, NJ 5/28/05

This was an all day affair put on by the NJ Proghouse promising 2 sets of music & more. The 1st set started just after 2 PM with the Flower Kings playing under the guise of "Circus Brimstone." The set was a loose affair with improvs built around a few Roine Stolt & Tomas Bodin pieces and some tasty cover tunes. The first of the covers was a wowser of a take of "With A Little Help From My Friends" that featured an amazing vocal by Hasse Froberg and swell backing vocal by road manager Bob Snyder. That was followed by a cute version of "Across The Universe" sung by keyboardist Tomas Bodin.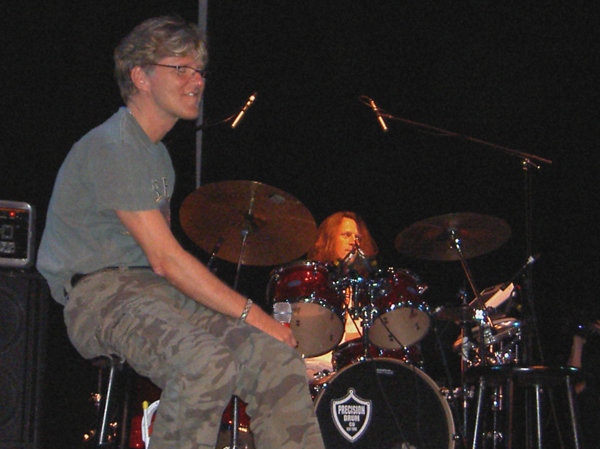 A wicked jam dominated by the hyperkinetic bass of Jonas Reingold evolved into a very rockin' "Day Tripper, " and the set closed with an ethereal cover of Yes' "Soon." One short break later, the band sat onstage on stools and fielded questions from the audience, with insightful and often humorous results. The band then had a loose little autograph session, then it was time for the dinner break.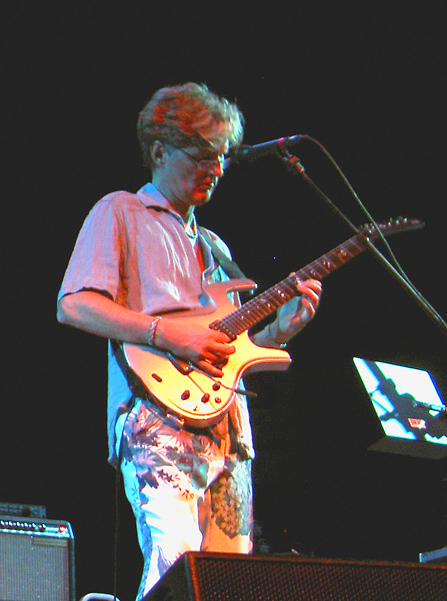 One delicious Thai meal later for me, it was time for the Flower Kings proper. Opening with "Compassion," the group were melodic wizards. The set was a nice balance of long and short pieces. "Love Supreme," "Church Of Your Heart," "The Truth Will Set You Free," and "I Am The Sun" were powerful, beautiful performances. New drummer Marcus Liliequist earned his spot on each and every number including a fierce solo sandwiched between "Cosmic Circus" and "Babylon." Roine Stolt and the boys brought the evening to a close with a section of "Stardust We Are." It was a long day that seemed like 5 minutes. Jim Robinson, the Proghouse, The Flower Kings, and the audience all pulled together as one. Wonderful!

Annie Haslam and David Sancious – Towne Crier Café, Pawling, NY 4/16/05

After a lengthy hiatus spent developing her newly found talent for oil painting, it was great to hear Annie Haslam, the golden voice of Renaissance once again. For this show she was ably accompanied by the renowned keyboardist David Sancious, who also extended his virtuosity to acoustic guitar on one number. Haslam was in great voice and spirit during the entire set which included two Renaissance numbers, "Carpet of the Sun" and "I Think of You", as well as material from Haslam's solo catalogue and some excellent new material which Haslam and Sancious wrote together. Of this new material, "Melinka", inspired by Haslam's painting of the same title, was a standout.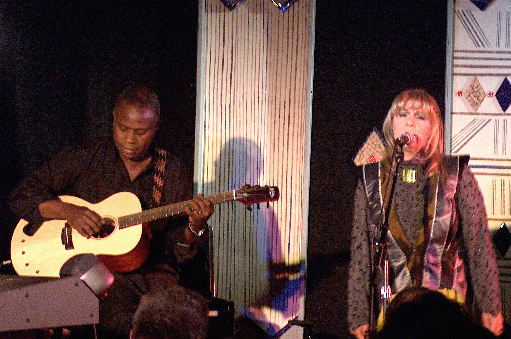 Other highlights of the set included "A New Life", Mike Oldfield's "Moonlight Shadow" and "Nature Boy" which was featured on Haslam's first solo effort "Annie in Wonderland". Although Annie Haslam still intends to focus primarily on her oil painting, it is good to see that she has not abandoned singing completely, and her voice is still in fine shape.

The set was opened by local singer/songwriter, Amy Laber who, during her brief set, captivated the audience with her poignant lyrics and skillful guitar work.

(Review and photo by special guest scribe Gary Levin)

Blue Oyster Cult - The Wolf Den, Uncasville, CT 4/15/05

Tax day! What better way to spend it than watching Long Island's own Blue Oyster Cult rip through a set? They certainly didn't waste any time, blazing through "Red & The Black" to open the show. The band kept it in high gear with "OD'd On Life Itself" and "Burnin' For You." The mood was relaxed & fun with Eric Bloom clearly enjoying himself and the rabid crowd. BOC stretched out a bit on a superb take of "E.T.I." with Buck Dharma serving up fine guitar.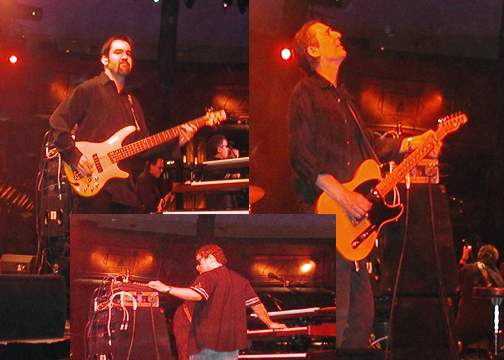 This was the first time I saw the new rhythm section of Richie Castellano on bass and Jules Radino on drums and the both acquitted themselves very well indeed. "Harvest Moon," "Lips In The Hills," & "Cities On Flame With Rock And Roll" followed. A breathtaking "Then Came The Last Days Of May" with fine work from Allen Lanier lead to the 1-2 punch of "Godzilla" and "(Don't Fear) The Reaper." An all to brief encore of "Hot Rails To Hell" and the band faded into the night. A hot show by a still hot band!

The Tubes - B.B.King's, NY, NY 1/20/05

This wasn't just the Tubes. It was the Tubes Wild West show. Original Tubesmen Fee Waybill, Prairie Prince, Rick Anderson, & Roger Steen were once more abetted by Gary Cambra and David Medd. While Cambra and Medd don't always get a ton of credit, they have grown to become truly part of the Tubes. The evening opened with a rockin' medley of Spaghetti Western themes. The band were all dressed in Western gear, with Prince wearing a Lone Ranger mask. Waybill bounded out having donned an outlaw bandana covering his face with eye & mouth holes cut into it as we were presented a Tubefied "Ghost Riders In The Sky." Next up was "She's A Beauty" done first in a country fashion with new lyrics like "Step right up and kiss my grits" before restarting it the way we know & love.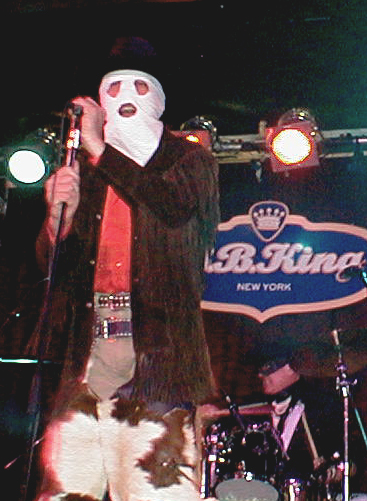 A big slab of the first album was served up over the evening: "What Do You Want From Life?," "Malaguena Salerosa," "Haloes." "Mondo Bondage," & "White Punks On Dope" were all played whip tight. "TV is King," "Tip Of My Tongue (featuring Waybill as "Russell Chaps")," "No Way Out," & "Stand Up And Shout" were equally outstanding. The band were incredibly in sync. They seem to possess a sort of psychic bond as they burn through complex pieces with total ease. Where others take the stage, the Tubes command it!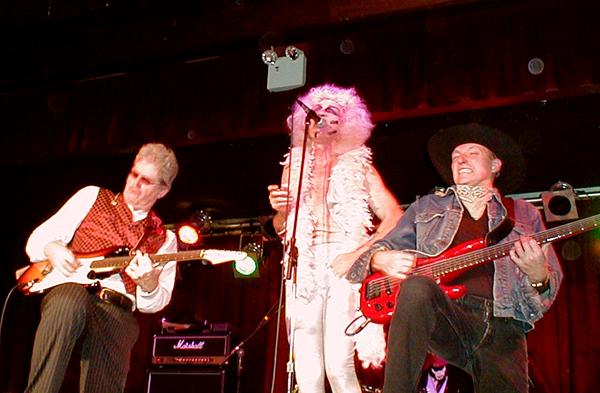 There were a few new Tubes songs over the night as well - great stuff, most notably "Mad Cow Auctioneer (featuring absolutely hilarious visuals)," "Life Is Pain," & "My Asylum" with great vocals by Cambra. Normally an incredible night as it is, the "Wild West" Tubes hit this one clear out of the park!

The Musical Box - Tribeca Performing Arts Center, NY, NY 12/11/04

The Tribeca Performing Arts Center is a beautiful piece of architecture on Chambers Street, a few blocks west of Broadway. Rather appropriate for a performance of "The Lamb Lies Down On Broadway." I've been following the Musical Box for years now and they continue to impress. I sat back in my seat after a fine day in the city, and watched as they fried my synapses.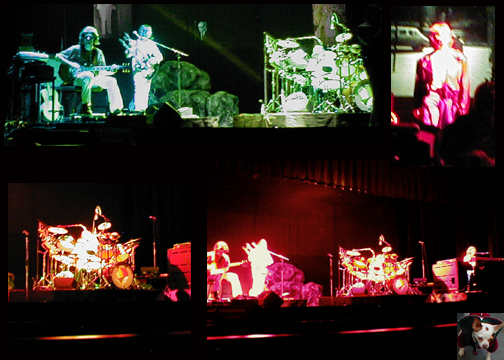 The staging was spectacular - with 3 screens of slides aiding in the telling of the story of Rael. These were very effective, I must say - some images amusing and funny, as in "Counting Out Time" - others more than a bit disturbing. The band were dead on with every number. Reflecting my personal tastes only, "The Grand Parade Of Lifeless Packaging," "Chamber Of 32 Doors," "The Lamia," "Silent Sorrow In Empty Boats," and "The Light Dies Down On Broadway" just plain floored me. By the encores of "The Musical Box" and "Watcher Of The Skies" I was emotionally spent. I cried throughout the evening. I came in expecting a sort of historical piece. I left Tribeca changed. It's hard to describe. 30 years on, the Lamb is something...special. From the original recordings by Genesis to the current performances by the Musical Box, it is an awe-inspiring experience. It is still here, it is still now. I've run out of words. Keep your fingers out of my eye...

Happy The Man - Forum Theatre, Metuchen NJ 11/13/04

The cold of November is just starting to move in. It was a very nippy night in New Jersey. Thankfully, Happy The Man & their guests Frogg Cafe were in town to provide heat. Northeasters Frogg Cafe were full of energy and humor. Their sound had elements of Zappa and Gentle Giant but were in no way derivative. Their sound was their own. Pieces like "No Regrets" and "Space Dust" were complex yet breezy. I forgot bands could smile this much. It spread to the crowd, as everyone was clearly into the spirit of Frogg Cafe. I want to see these guys headline, as their 50 minute set was way too brief.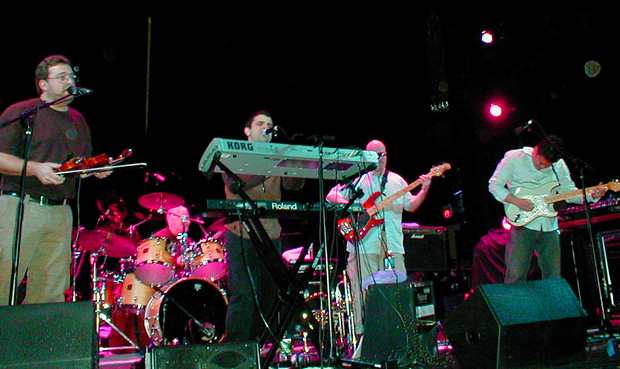 After a short intermission, it was time for Happy The Man. Why is this band so unique? There is no one treading similar territory - Happy The Man play music that can only be defined as Happy The Man music. If that sounds hokey, rest assured, everyone in the building understands what I just said. These 5 men own this sound. From the opening notes of "Contemporary Insanity" (from their new release "The Muse Awakens") with Frank Wyatt honking on his huge zebra striped sax and Stanley Whitaker playing impossible chords on the guitar, it was magic time.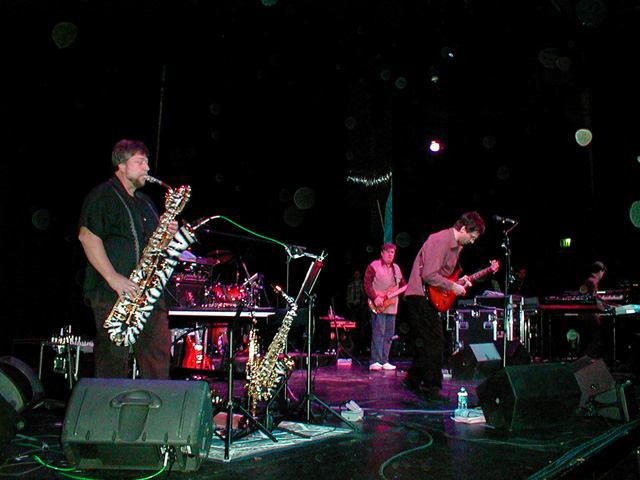 The show was a 50/50 mix of old & new. HTM classics like "IBBY It Is" and "Knee-Bitten Nymphs In Limbo" mixed well with "Shadowlites" and "Lunch At The Psychedelicatessen." Wyatt and Whitaker were the pranksters of the night, loosening up the audience with jokes and patter. Wyatt is the rock all is built upon with his rolling keyboards and gymnastic saxes. David Rosenthal was a 10-finger symphony, and his lovely composition "Maui Sunset" was a definite highlight. Rick Kennell was a bass clinic - deceptively passive in stance, but the notes were flying! New drummer Joe Bergamini was a perfect fit, tackling pieces like "Stumpy Meets The Firecracker In Stencil Forest" and the crowd pleasing "Wind Up Doll Day wind" with kinetic fury. A flawless evening & brilliant pairing of acts put together by the NJ Proghouse folks! One of the finest musical evenings of my life.

Jethro Tull - Palace Theatre, Stamford CT 11/08/04

Never underestimate the difference the right venue and the right crowd can make. In this case they elevated a wonderful show to an event. The Palace Theatre in Stamford Connecticut is, well, a theatre. Comfy seat, nice sound, friendly staff. Friendly staff equals friendly crowd. Speaking of the crowd - WWE wrestling superstar & best-selling author Mick Foley came to see Tull, signing autographs and enjoying the show.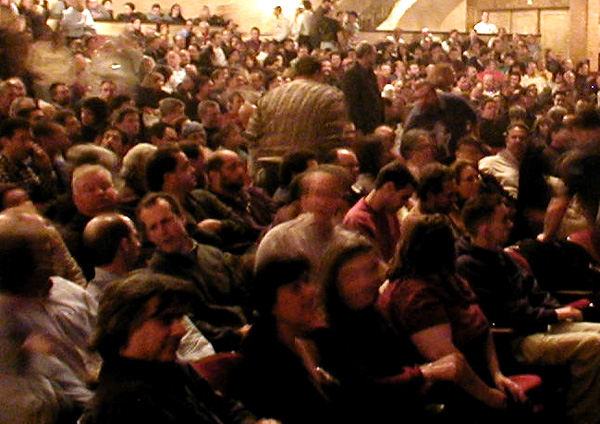 The concert was divided into 2 sets: the first acoustic, the second electric. As an added bonus, with the exception of the absent "Hymn 43," the entirety of the "Aqualung" album was peppered over the 2 sets. Among the many highlights of the acoustic set were a breathtaking version of "Eurology," "Skating Away...," and a positively stunning "Dun Ringill" with Ian Anderson on guitar and Martin Barre on mandolin. The first set closed with the "Christmas" version of "Bourée."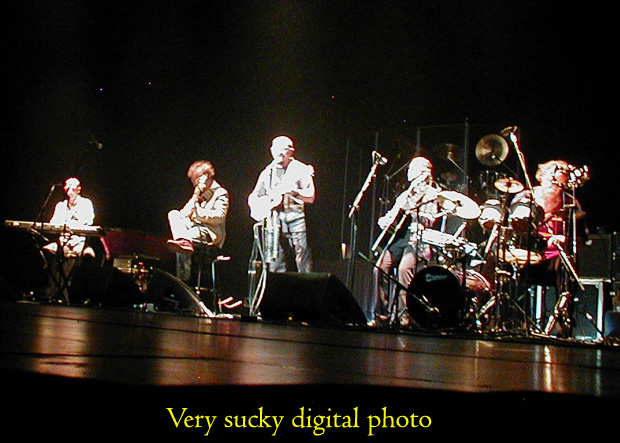 The electric set opened with a tease of "Living In The Past" on bass by Jonathan Noyce leading into a propulsive "My Sunday Feeling." For those who may be wondering, Anderson was in strong voice through the entire evening. "Beggar's Farm" and "Weathercock" were nice surprises. The evening drew to a close with a quartet from "Aqualung": "My God," "Aqualung," "Wind Up," and "Locomotive Breath." It was "Cheerio" then out the door after a stellar evening!

Caravan & Nektar - B.B. King's, NY NY 9/11/04

An interesting way to spend the 3rd anniversary of the 9/11 tragedy in the city where it occurred, yet somehow appropriate. NYC was dealt a blow on that day, but no one can keep the spirit of the Big Apple down for long! The combination of Caravan & Nektar may seem an unusual pairing, but both are labelmates on Eclectic Discs. The crowd honestly seemed to consist primarily of Nektar fans, and by and large a very polite & enthusiastic bunch. Not to get ahead of events, but many a Nektar fan left the venue a newfound Caravan fanatic as well!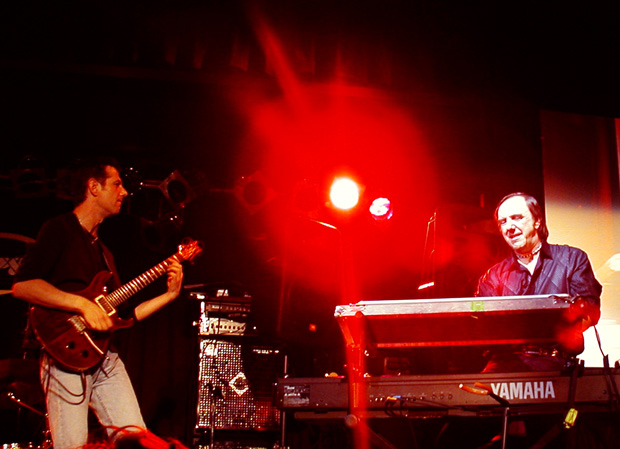 Caravan hit the stage at 7:35 and played a set that touched base with many points of their 35-year career. The driving "Memory Lain, Hugh / Headloss" from "For Girls Who Grow Plump In The Night" opened the show and were followed by fan fave "The Dog, The Dog, He's At It Again" from the same album. Former Fat Mattress bassist Jim Leverton introduced "And I Wish I Was Stoned" which the band paired up with the classic "Golf Girl."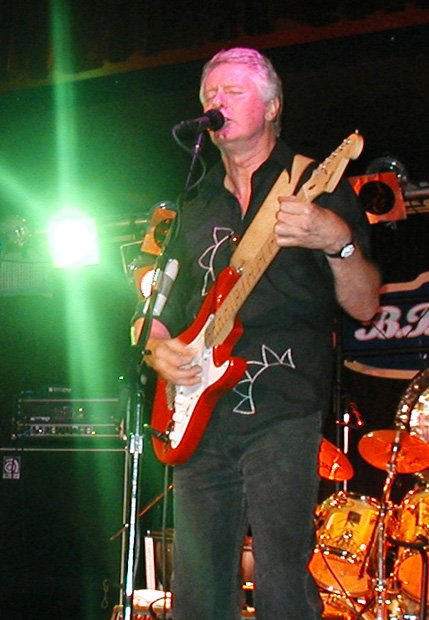 Pye Hastings was in brilliant voice all evening. The majority of the solos in the set were neatly divided between guitarist Doug Boyle, keyboardist Jan Schelhaas, and multi-instrumentalist Geoffrey Richardson. The interplay was a delight to the ears on pieces like "Nine Feet Underground," "Nightmare," and "Revenge." Leverton and drummer Richard Coughlan were an impeccable rhythm section - not overly flashy, but always in the pocket. Caravan played 3 songs off their latest "The Unauthorized Breakfast Item." The songs meshed well with the classic pieces showing that these naughty Canterbury gents still deliver the goods!

After a brief break, Nektar plugged in, and things got LOUD! Original members Roye Albrighton on guitar and drummer Ron Howden were joined on this tour by keyboardist Tom Hughes and bassist Randy Dembo (with original bassist Mo Moore in the audience lending support). The new guys fit in perfectly - every aspect of the Nektar sound was there as they opened strongly with "A Tab In The Ocean."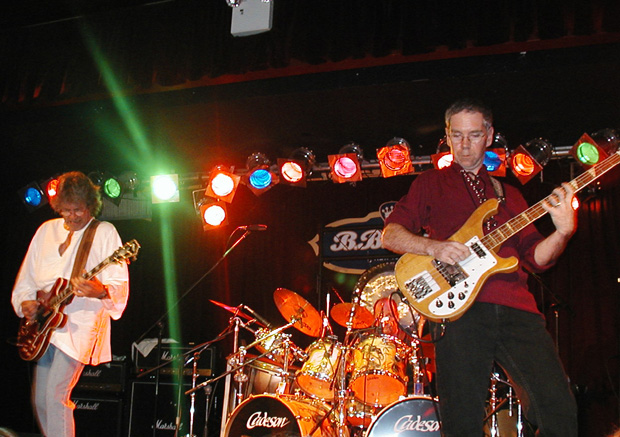 Next up was a medley of "The Dream Nebula / Desolation Valley/ Waves" with otherworldly keywork from Hughes. The crowd roared as Roye announced the next piece: side 1 of "Remember The Future." Ron Howden looked very laid back behind his massive kit, but he sounded like clockwork thunder! Albrighton was on fire on guitar - electric licks spewing from his fingers like musical sparks. "Crying In The Dark" and "King Of Twilight" were next - giving us the Tab album in it's entirety. The show ended all too soon with side 1 of "Recycled," showcasing the muscular basswork of Dembo. Nektar were loud but joyous, and the evening was a true celebration of the different facets of progressive music. Please come back soon!

Heart - Fox Theatre, Ledyard, CT 9/10/04

I've seen many incarnations of Heart play some pretty stellar concerts. It's hard to go out on a limb, but this may have been the finest, tightest lineup yet. Ann & Nancy Wilson were joined on this tour by guitarist Craig Bartock, Alice In Chains bassist Mike Inez, Marizane keyboardist Debbie Shair, & Lovemongers drummer Ben Smith. They played as a unit : tight, crisp, and locked in. The set featured cuts from Heart's latest release "Jupiter's Darling" as well as several fistfuls of tunes from the back catalog and 3 interesting cover songs.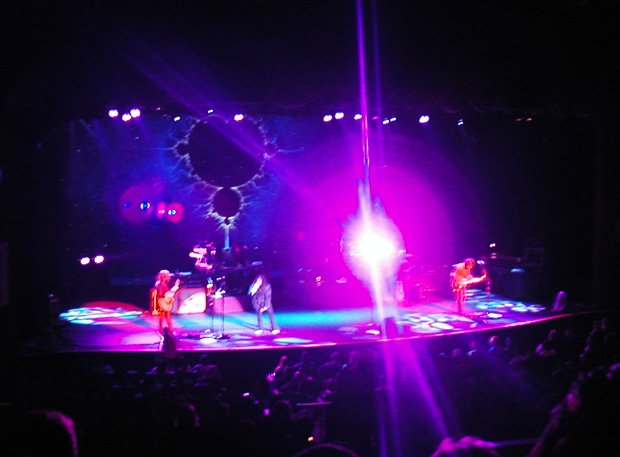 The show opened with a pounding "BeBe Le Strange" going into "Kick It Out" and showed Ann in superb voice. Nancy was buoyant throughout the evening - bopping and jumping and leaping and kicking while never missing a chord or lick - it was clear she was having fun. New songs like "The Oldest Story," "Make Me," and the wonderful "Things" were powerful and catchy. "These Dreams" from the big hair days of the band was beautifully reinvented with Nancy on mandolin and Ann on acoustic guitar with dreamy keyboards by Debbie Shair. Nancy delivered a great vocal on the old Elton John song "Love Song" and Ann was nothing short of awe inspiring on an acoustic version of "Alone."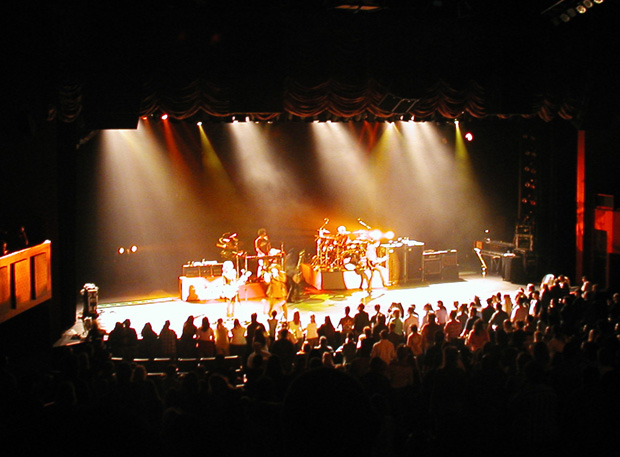 The 18 song main set closed with a searing "Magic Man" featuring blazing work from Craig Bartock. The 3 encores blasted into overdrive with "Barracuda" and 2 Led Zep covers: "Black Dog" and "Misty Mountain Hop." Wondermints/Brian Wilson keyboardist Darian Sahanaja joined the band on the Zep covers. A flawless evening!

The 21st Century Schizoid Band - B.B. King's, NYC, NY - 4/27/04 (early show)

I knew what I was getting with this show: 5 guys playing 70s era King Crimson. I just had no clue they'd be as awesome as they were! KC alumni Ian Wallace, Ian McDonald, Pete Giles, Mel Collins, and Level 42 axeman Jakko Jakszyk were bursting with energy as they ripped through a set drawn primarily from the first 4 KC albums.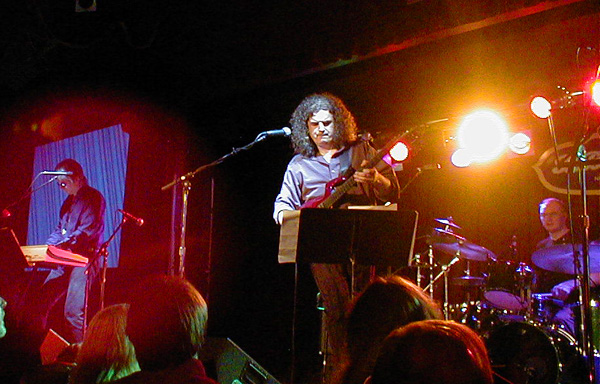 "Cirkus," "Cadence and Cascade," "A Man, A City," and "Epitaph" were nothing short of glorious in the hands of this quintet. McDonald and Collins got down and dirty on their saxes on a greasy, funkified "Ladies of the Road." Wallace and Jakszyk seared through "Sailor's Tale," and Giles was a force to be reckoned with on bass from start to finish.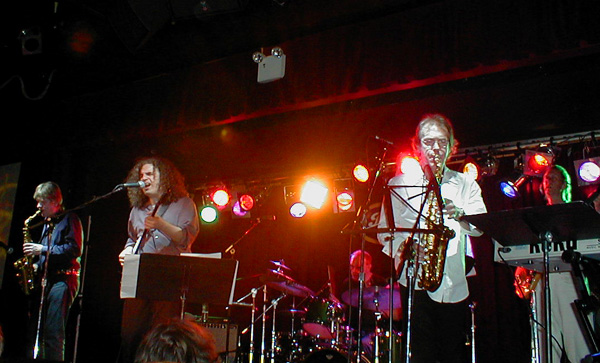 Jakszyk had the unenviable task of filling the shoes of 4 men (Fripp, Lake, Haskell & Burrell) and he did so with ease, confidence, and class. I understand that due to time constraints, we did not get the 2nd encore of "Starless" (the 1st being "21st Century Schizoid Man"). It was no less satisfying a show - an affirmation of the quality of both the music and the men behind it. I felt 12 years old at the age of 43. How often does that happen?

The Musical Box - The Chance, Poughkeepsie, NY - 2/28/04

The Chance is located in a dirty little alley on a horrid street that looks like a gutted section of Iraq, but is, in fact, Poughkeepsie, NY. The Musical Box brightened up this dingy location with a stunning recreation of Genesis' "Selling England By The Pound" tour.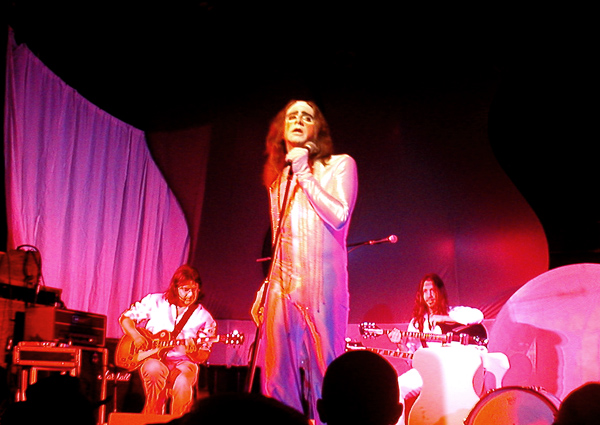 Always a tight unit, the addition of guitarist Denis Champoux and drummer/vocalist Martin Levac has taken performances to stratospheric heights. "Firth Of Fifth," "The Musical Box," and "Supper's Ready" have never sounded better. The staging was flawless and Denis Gagne was spot-on with Gabriel's stories and vocals. Sebastien Lamothe was dazzling on bass, guitar & pedals, and David Myers nothing short of heroic on keys.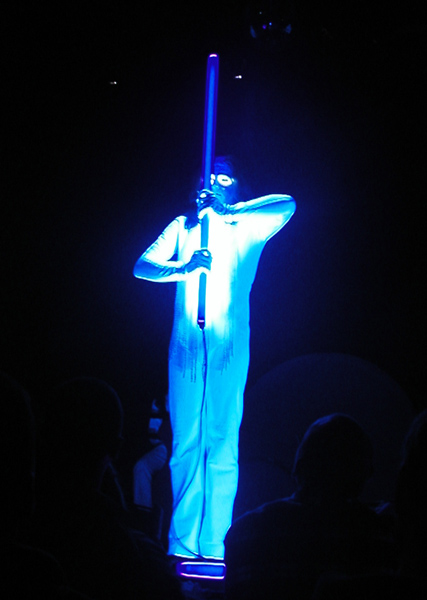 To call The Musical Box a cover or tribute band is to sell short the effort and talent of everyone involved. I choose to call them an experience - and a breathtaking experience at that!

King Crimson - Toad's Place, New Haven, CT - 11/16/03

New rule: don't bring relatives to concerts. I learned this the hard way by trying to be a good Uncle. During an otherwise stellar show, my nephew complained about every aspect of everything, tightening my colon with each passing moment. Enough of my sour grapes and on to the show. 8 months passed since I last saw KC. In those 8 months the band got just impossibly tight. The unspoken communication between members lead to many amazing moments of musical brilliance.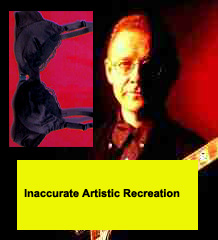 Personal highlights came mid-set. "One Time" was given a beautiful, sensitive reading with a heavenly break by Robert Fripp. The band, as a band, were so totally locked in on "The Power To Believe II: Power Circle" - an amazing experience! The set saw the band in great spirits - laughing and joking. Fripp even gave a black bra to a lucky audience member! This was the last show in the US with Trey Gunn on Warr guitars. He will be missed, but left on a very high note with a performance of substance & subtlety. Thanks, guys.

Spock's Beard - The Bottom Line, NYC, NY - 11/14/03 (early show)

I know what you're thinking: "How did they sound without Neal Morse?" Well, I'm here to say - fantastic! This show was a kick in the pants from start to finish. The set neatly balanced material from the current "Feel Euphoria" and back catalogue Beard gems. With Nick D'Virgilio stepping to the front, Jimmy Keegan joined the band on drums. Keegan was 100% pure energy and a great fit.

D'Virgilio was clearly enjoying his new role as lead vocalist. He had a strong, quirky presence - bringing an affable enthusiasm to the set. Played a mean acoustic guitar as well, a nice counterpoint to Alan Morse's inspired guitar work. Ryo Okumoto seemed to have 7 hands for all the sounds and textures his keyboards produced, and the band was truly anchored by the rock-solid, majestic bass work of Dave Meros.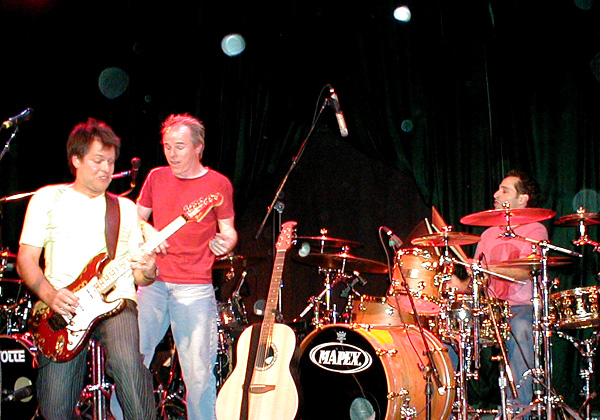 The set included "Shining Star," "Thoughts," and a tasty selection of songs from "Snow" highlighted by a terrific Keegan/D'Virgilio drum duet. The encore was a medley of "The Doorway" and "Go The Way You Go." The audience was wild and vocal - clearly knocked out by the power of the show. This new incarnation of Spock's Beard is more of a band than ever before. Long may they reign!

Ian Anderson - Shubert Theatre, New Haven, CT - 11/09/03

Has it already been a year since the last "Rubbing Elbows" show? Time flies. The format of the show this year was pretty much identical to last: a few songs then a segment on the couch answering questions and telling amusing stories followed by more songs, etc. Ian Anderson and the band were in great form and connected well with the largely baby boomer crowd. The radio DJ/interviewer rarely asked a question beyond "Aqualung"-era ( a common occurrence on this tour, no doubt.). Anderson dealt with this with good humor & patience.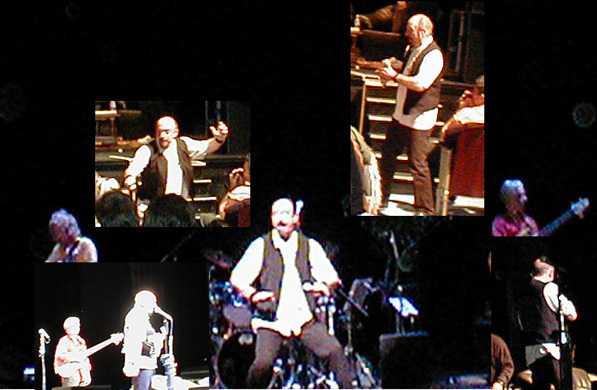 Songs like "Old Black Cat" and "Christmas Song" were almost poetic in their beauty. Anderson seemed to really put his heart into each number. If I had a complaint, it was that with the exception of a few tunes from "Rupi's Dance" and the Tull Christmas album, the vintage Tull material was pretty much identical from the year before & in the same order to boot. With dozens of Tull & solo releases to mine, I don't think there's a dearth of material to choose from. All in all, a very enjoyable evening, but if these shows are to continue, variety of material would be much appreciated!

Bill Bruford's Earthworks - Iridium, NYC, NY - 11/06/03

I forgot I could get so very wet. Waiting for a cab in Manhattan, I got as soaked as soaked can be. I felt like a living moist towelette on the way to the club. Iridium sits in midtown on Broadway & 51st. It's a small, comfortable venue where guitar pioneer Les Paul plays each and every Monday. Bill Bruford put the latest incarnation of Earthworks through its paces for the first of 10 shows over a 4 day stand at Iridium.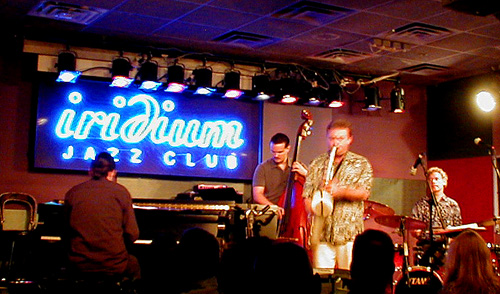 Joining Bruford were Tim Garland on saxes, flute, and bass clarinet and new members Mike Pope (from Chick Corea's band) on bass and Henry Hey on piano. This incarnation of Earthworks was a flurry of phrases and rhythms tearing through new pieces like "Speaking In Wooden Tongues" or caressing a classic Earthworks number like "Come To Dust."

Bruford seems happier every time I see him play. The days of Yes and King Crimson are long past. Earthworks is now. With music as fresh and inventive as Earthworks plays, it's no wonder the shouts for songs of the past have stopped at last. Long live the new!

The Fab Faux - Irving Plaza, NYC, NY - 9/28/03

A very interesting evening. The Fab Faux were to play the "White Album" by the Beatles from end to end. A challenge for any musician, but the Fab Faux proved to be more than up to the task! For those who may not know, the Faux is an all-star Beatles band lead by David Letterman band bassist Will Lee & Conan O'Brien band guitarist Jimmy Vivino (brother of New Jersey legend "Uncle Floyd" Vivino.).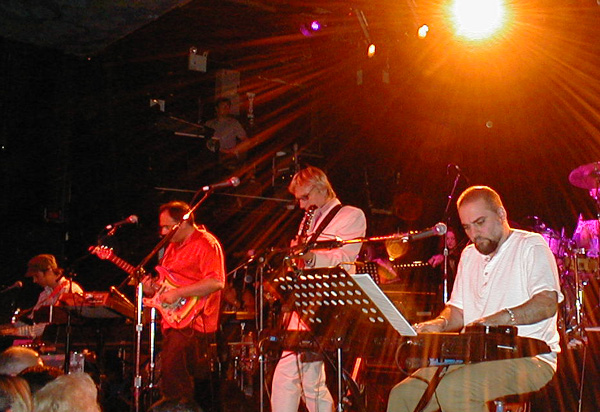 The band handled such diverse fare as "Wild Honey Pie," "Glass Onion," "Savoy Truffle," & "Sexy Sadie" well, combining precision with an infectious spirit of fun. They even recreated the sonic collage that is "Revolution 9" in painstaking detail.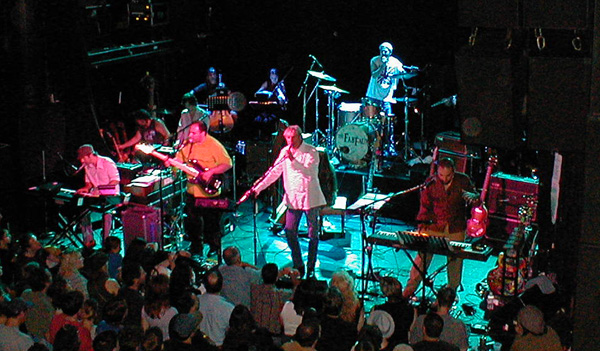 The show stuck to the album's sequence, opening with "Back in USSR" and closing with "Good Night." The 3 well-earned encores were "I Am The Walrus," "And Your Bird Can Sing," and "Penny Lane" - the latter featuring the astounding trumpet work of Lou Soloff. A night that reminded me why I still do this!

Jethro Tull - Mohegan Sun Arena, Uncasville, CT - 8/10/03

Some nights a band is just on. Performer, audience, and material merge into one beautifully frightening beast. For Jethro Tull, this was one of those nights. After a wonderful, friendly opening set by singer/songwriter/guitarist Willy Porter, Tull opened with a breezy take of "Living In The Past," followed by a searing "Nothing Is Easy." Birthday boy Ian Anderson whipped out a harmonica and kicked the dust off of "Some Day The Sun Won't Shine" from the "This Was" album. Martin Barre was a particularly wicked boy - torturing wild notes out of his guitar to the delight of all. The mood turned a bit more melancholy with a personal fave off of "Benefit": "With You There To Help Me."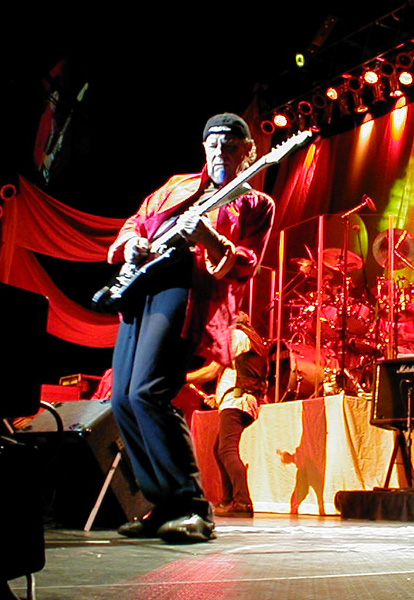 Very much in the jazzy spirit of "Bourée," Tull gave a preview of their upcoming Christmas CD with a stunning interpretation of "God Rest Ye Merry Gentlemen" that featured wonderful interplay between all 5 members of the band. "Roots to Branches" was represented by the wry "Beside Myself" and Tull's tradition of a little comedy during the show popped up during a fabulous "Fat Man," with keyboardist Andy Giddings & bassist Jonathan Noyce performing a few sight gags with the additional visual of a belly dancer writhing seductively across the stage. Big boy Doane Perry lashed through "Hunting Girl" with cracks of cymbals and a flurry of toms.

Anderson left the stage to Barre who tore through "Count The Chickens" from his latest solo CD "Stage Left." The title track of "Dot Com" lead into a cut off of Anderson's latest solo release "Rupi's Dance," a beautiful instrumental titled "Eurology," with a stately, melodic flute line. A medley of old faves followed: "Songs From The Wood/Too Old To Rock'N'Roll.../Heavy Horses" inspiring roars of approval. Wily old Andy Giddings sat at the piano and played the opening to "Flying Dutchman" which flowed into a positively blistering "My God" - with Anderson spitting out the verses as if they were snake venom.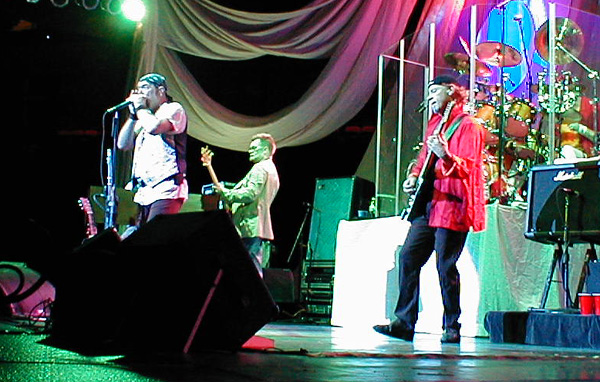 The set wound down with "Budapest," the instrumental "Mayhem Jig," and the inevitable "Aqualung." The encores were well-earned starting with "Wind Up" and leading into "Locomotive Breath," "Protect and Survive, and "Cheerio." SMMMMMOKIN'!!

Fairport Convention - The Bottom Line, NYC - 6/12/03 (early show)

Can this band really be 36 years old? The Fabulous Fairport Five returned to one of my favorite haunts - the Bottom Line - for a supercharged set. The current lineup consists of Simon Nicol, Dave Pegg, Ric Sanders, Chris Leslie, & Gerry Conway. The set opened with a brisk reading of "The Wood And The Wire" that saw the quintet in whip-tight form. The set spanned the history of the band well with songs like "The Widow Of Westmoreland's Daughter," "The Crowd," and the ever-wonderful, jazz-tinged "Woodworm Swing."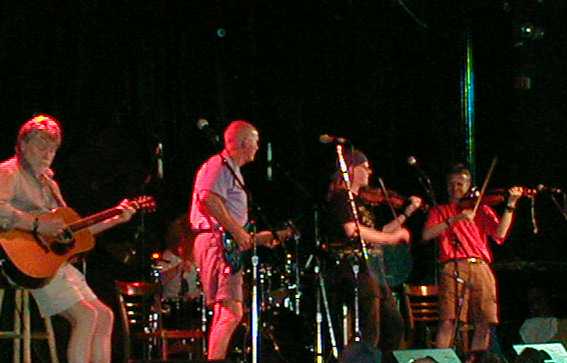 Sanders & Leslie turned in a wild violin duel on "The Bowman's Retreat" that left the audience breathless. Nicol's guitar playing was sheer perfection and his vocals more deeply resonant than ever. Pegg is ever the consummate bass player - sure, solid, and melodic - his performance was a veritable clinic. This was my first time seeing Conway behind the drum kit with Fairport & he is a smooth fit - tasty and tight. Humor, good will & good tunes were in abundance, and the set closed with a cute take of the theme from M*A*S*H* flowing into a fierce "Matty Groves" with Sanders' violin howling & moaning. The lone encore of "Who Knows Where The Time Goes" was a small slice of heaven. Encore, encore.

Strawbs - Amalgamated Union Hall, Bristol CT - 5/25/03

You have to admire determination. Connecticut Strawbs fan Joe Langer wanted to see the Strawbs play in CT, so he hired them, rented a hall & put on a show! And what a show it was! Opening for the Strawbs was singer/songwriter Frank Critelli. Critelli had a nice, comfortable style on the acoustic & a great voice. Wonderful, funny storyteller as well. His set breezed by far too quickly. Hard to pick a highlight, but I'm going to say the song "Picture" & the story accompanying it. Critelli was joined on several numbers by mandolin player Shandy Lawson - a real talent! Both definitely have good futures ahead!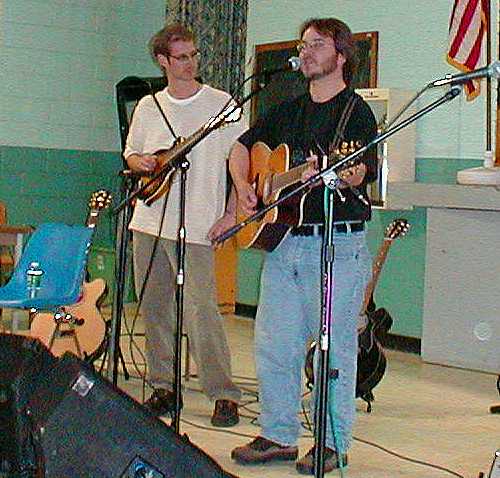 After a short break, it was time for the Strawbs - a 3-piece acoustic version featuring Dave Cousins, Dave Lambert & Brian Willoughby. Opening the first of 2 sets with a stunning version of "Witchwood," the trio were in great form. Cousins was the master of all storytellers, setting the scene for timeless pieces like "Ghosts" and the lovely "A Glimpse Of Heaven." Willoughby & Lambert were locked in and flawless on guitar, burning up leads & entwining harmonic lines. Lambert added much welcome vocal harmonies & sang lead on a few as well. After a soaring version of "Flying" (from "Bursting At The Seams" and featuring fine banjo work by Cousins), the first set closed with the haunting "Grave New World" and the bellowing of an appreciative crowd.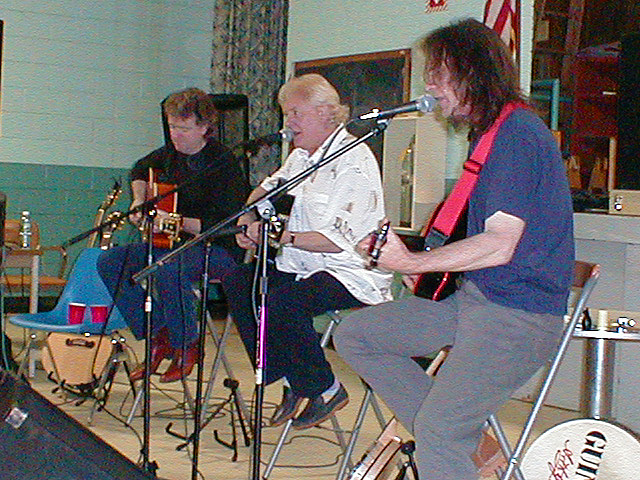 The second set drew heavily on the "Hero and Heroine" album. It opened with "Autumn" and featured "Out In The Cold," "Round And Round," and closed with the title cut over the course of the set. As they came back to the stage for an encore of "Simple Visions," Cousins laughingly said "You've made two old men and me very happy!" This 3 piece version of the Strawbs, in turn, made everyone in attendance positively ecstatic with an evening of sheer musical bliss.

The Musical Box - Irving Plaza, NYC 4/13/03

The last time I saw this band, this Canadian unit performed a staggeringly accurate re-creation of Genesis' Selling England By The Pound tour. This go around it was the Foxtrot tour & was no less mind blowing. The staging, lighting, costumes, and sound were all spot-on - like being magically transported back to 1972/73.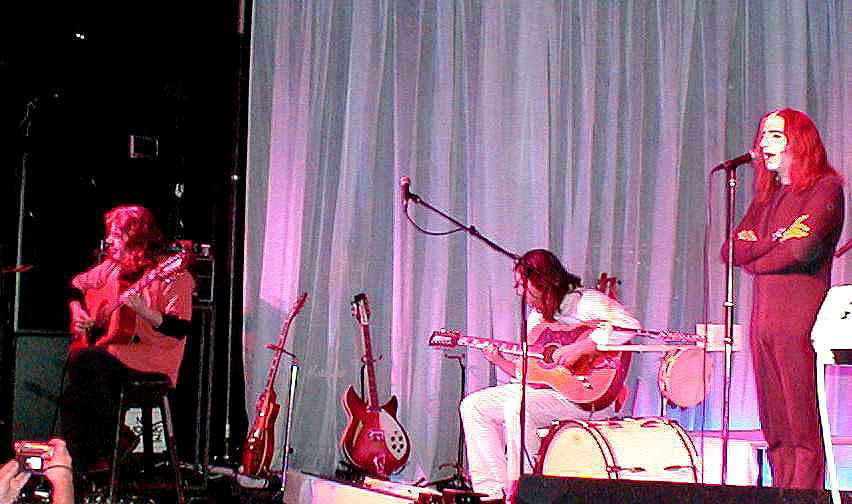 The set opened with "Watcher Of The Skies" mellotrons in full force! Despite a persistent hum, the band soldiered on through a devastating take of "Can-Utility And The Coastliners." The hum was found & eliminated and the audience were treated to flawless versions of "The Musical Box" and "Get 'Em Out By Friday."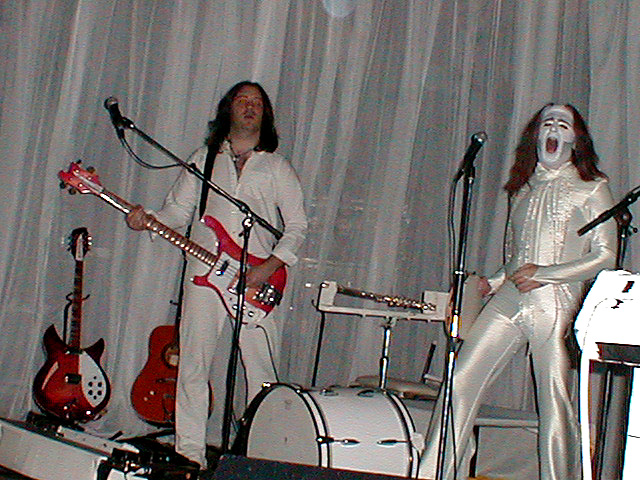 This lead to the centerpiece of the show: a tour-de-force "Supper's Ready" that Genesis themselves would have heartily approved of. The set closed with a mighty performance of "Return Of The Giant Hogweed" leading to the well earned encores of "The Knife" and "Fountain Of Salmacis." The Musical Box don't merely recreate the music and performance of Gabriel era Genesis; the imbue it with a spark and joy that raises the evening from concert to event. Unforgettable!

Tony Levin Band - Toad's Place, New Haven, CT 3/30/03

This is going to sound odd. No other club smells quite like Toad's Place does. I think it's the wood - lots of old wood. When you walk in, it's a very organic feel - like a timeless club in its own little universe. That may explain why so many acts love to play there. I was very jazzed up at the thought of seeing the Tony Levin Band - they put on a great show & Levin has an infectious sense of humor. Before they hit the stage, an opener came on. Her name is Kaki King & she plays guitar.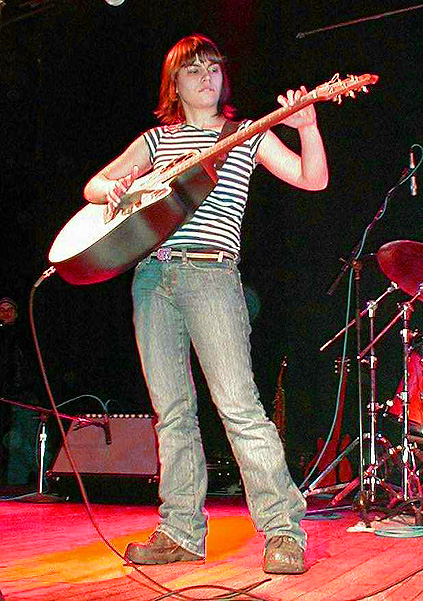 King is all of about 100 lbs of technical prowess on the level of a Stanley Jordan with strong classical & jazz sensibilities. She utilizes a lot of two-handed technique: tapping & hammering melodic lines to great effect. She also has a slightly wiseass Brooklyn attitude that is very engaging - she connects with the crowd well & with no barriers. Her set was a nice mixture of midtempo pieces & fierce technical workouts. By the end of her performance I was convinced I saw the beginnings of a new star.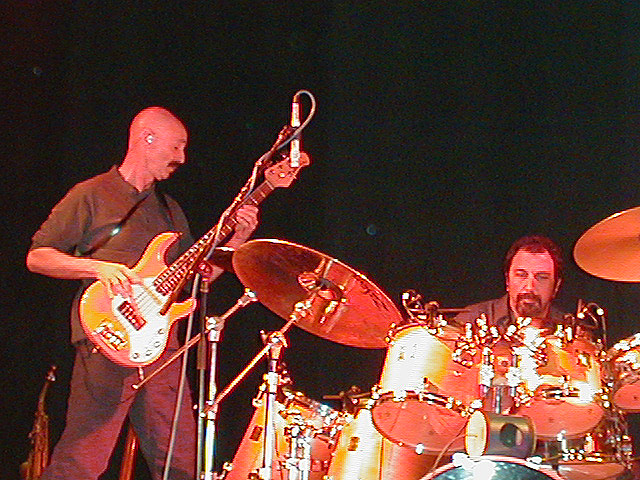 One by one, The Tony Levin Band took to the stage: Larry Fast on keys; Jerry Marotta on drums; Jesse Gress on guitar; Levin on basses & stick. They opened with a terrifying version of King Crimson's "Sleepless" with Levin using "funk fingers" - little wooden drumsticks - on his fingertips to pound out a percussive rhythm and Jerry Marotta delivering a great vocal. This lead into one of the highlights of the night - "Pieces Of The Sun" - a song that builds layer upon layer with brilliant interplay between all 4 band members.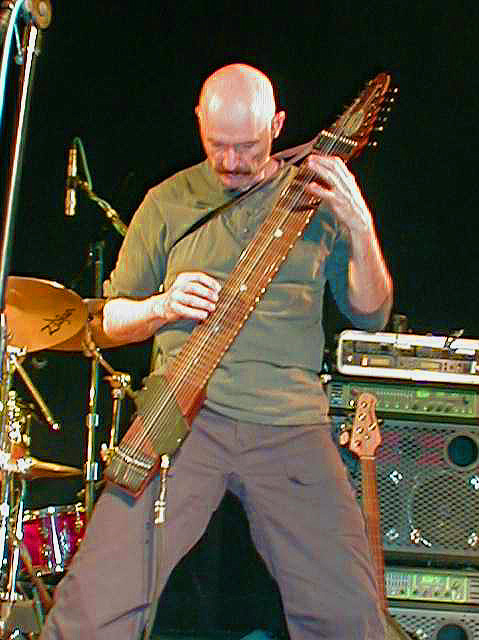 The show featured many fine Levin numbers as well as a crafty selection of cover songs. The old party standard "Tequila" was given a jazz-funk mutation; the Levin original "Ooze" had a strong Middle Eastern flavor with stunning guitar work from Jesse Gress; and there was a wonderful 1-2 punch of John Lennon's "Give Peace A Chance" going straight into the Genesis classic "Back In NYC." The show was pretty flawless - just to hear the band tear through Larry Fast's brilliant "Phobos" would've been worth the price of admission on its own. My face still hurts from smiling so much!

Blue Oyster Cult - Toad's Place, New Haven, CT 3/15/03

Now, I like this idea! True veterans of the concert circuit, Blue Oyster Cult announced mid-set that they had decided to do a show featuring songs they hadn't played in years. They delivered the goods by pulling out songs like "Dr. Music," "Shooting Shark," "Tattoo Vampire," and "Divine Wind."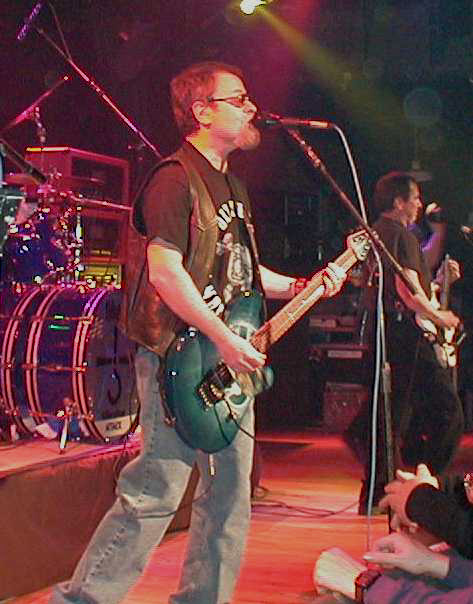 BOC have never sounded tighter or more energetic, ripping through "E.T.I." and "Burning For You" with passion. Yes, of course they played "Don't Fear The Reaper," "Cities On Flame," and "Godzilla" - there would've been a mullet-headed riot if they didn't! This was a fantastic show, and the encores of "The Golden Age Of Leather" and "Black Blade" only sealed the deal!

King Crimson - Town Hall, NYC 3/6/03

Town Hall, in midtown Manhattan has THE most uncomfortable seats of any venue I have ever sat my fat butt in. They are geared towards anorexic dwarves - narrow seats that sit very low! That aside, I squeezed into my seat for an eye-popper of a show.

King Crimson were touring in support of their latest release: "The Power To Believe." The entire set was drawn from that release and "The ConstruKction Of Light" with no other albums represented. It wasn't missed. The show was exciting and very satisfying. Songs like "Elektrik" and "Dangerous Curves" were ablaze with energy. Adrian Belew & Robert Fripp were locked in and solid, often intertwining lines within lines to great effect. Pat Mastelotto was a precision clinic of buzzes and beeps - deftly combining electronic & acoustic drums. In between was Trey Gunn on Warr guitars, solid on the bottom while floating dizzily on top.

The final encore of "Potato Pie" (an outtake from TPTB) was icing on the cake - a twisted blues full of humor and energy. A grand evening! For completists, here's the set list:
The Power To Believe I / Level Five
Happy With What You Have To Be Happy With
The ConstruKction Of Light
Elektrik
Eyes Wide Open
ProzaKc Blues
The Power To Believe II
Facts Of Life
Larks' Tongues In Aspic IV
Encore: Dangerous Curves
Encore: The World's My Oyster Soup Kitchen Floor Wax Museum
Encore: Potato Pie

Yes - Oakdale Theatre, Wallingford, CT 11/2/02

An evening of the new guard meeting the elder statesmen. Opening for Yes on this tour were Porcupine Tree. Porcupine Tree were supporting their latest release "In Absentia" with a riveting performance. Frontman Steve Wilson blazed effortlessly through numbers like "Gravity Eyelids" and "Hatesong." His voice was smooth and his guitar painted swatches of sonic glory. The stage had screens at the back projecting disquieting images to punctuate the acid tone of some of the songs. 45 min flew by way too soon & Porcupine Tree left the stage & gained more than a few new admirers!

This was a reunion of the classic Anderson/Squire/Howe/White/Wakeman lineup of Yes. I was wondering if they still had that unique energy. They did. Yes delivered solid versions of "South Side Of The Sky," "Close To The Edge," and "Siberian Khatru." Oddly enough, the highlight of the evening was a warm, friendly version of "Magnification" going into "Don't Kill The Whale." Everything just clicked - it was an organic meshing of band and audience.

What I enjoyed most was the good vibes on stage - Steve Howe actually laughed at one point - I kid you not! You don't see that often! It is my hope that the 5 of them can keep the good spirits within the band going. The entire evening was nothing short of celebratory.

Ian Anderson - Ridgefield Playhouse - Ridgefield, CT 10/19/02

It was a rare opportunity: to see Ian Anderson in a truly intimate venue. The Ridgefield Playhouse (in the heart of Snobville) seats about 500. The sound was great, the crowd was in fine spirits, and Anderson was going to entertain us! Backed by a talented quartet, Anderson drew from his solo and Tull catalogues. We got hearty versions of "Life's A Long Song," "Up The Pool," "Boris Dancing," and a staggering "Dun Ringill" among many others.

Between numbers, Anderson perched on a couch to be interviewed by two local radio jocks as well as several members of the audience. In addition, 2 local performers performed with Anderson - 1 backed by the entire band, and the other in a flute duet of a snippet of Bourée. The evening was a bit remindful of a live version of "VH1 Storytellers" with Anderson full of funny tales of the road, celebs & fish farming.

An encore of "Locomotive Breath" saw Ian Anderson handing several members of the audience kazoos to solo with to great comic effect. The evening was about 3 hrs of music & conversation that seemed to fly by. There wasn't a person in the audience that didn't feel connected to each other & to Anderson - his affable manner broke down all barriers and the result was a magical evening full of smiles and good cheer.

Jethro Tull - Fox Theatre, Ledyard, CT 8/31/02

This show marked 20 years of live Tull shows for me - the 1st being the awesome "Broadsword And The Beast" tour in 1982. This year the show was a mix of old & new with a surprise thrown in for the hardcore Tull fans. The show opened with a brisk take of "Living In The Past" jumping right to "Cross-Eyed Mary." Ian Anderson was in fine voice and the band were whip-tight.

The set flowed through pieces like "Jack-In-The-Green," "Hunt By Numbers," and a current show highlight "The Water Carrier" with some fun stage antics. The old guard got a rare treat with the seldom played "Elegy" with Anderson perched on a stool playing the hell out of his flute.

Other highlights included "Wond'ring Aloud" and "Farm On The Freeway." As always, the balloons came out during the encore of "Locomotive Breath/Protect And Survive/Cheerio." A Jethro Tull concert is still a vital evening of music. If the hairlines have receded a bit, the power of performance and command of stage are stronger than ever.

Todd Rundgren - Toad's Place, New Haven, CT 8/1/02

Before I get to the music, I must say that this was the day I discovered Ivy Noodle in New Haven - THE best Oriental cuisine I've ever had! OK. A note to humans attending concerts: SHUT UP!!!! If there was a theme to the evening, it was a drunk, loud, rude crowd. SO loud that the opening act, a lovely singer/songwriter named Shellye Valauskas, was virtually impossible to hear. This was a shame, as her material seemed well worth a listen.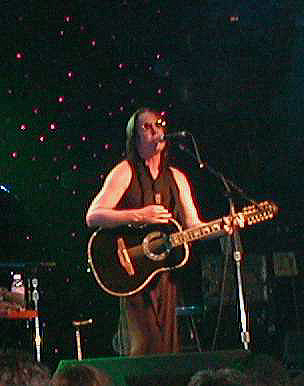 It only got worse once Todd Rundgren hit the stage. The crowd was a distracting drunken roar as Rundgren opened with "Hammer In My Heart" on acoustic 12-string. At several points Rundgren was put off by the volume & asked everyone to please quiet down. It was of no use. The crowd was, if anything, even louder. For those of us actually trying to enjoy the show, Rundgren delivered a career spanning set. "Lysistrata," "Love Of The Common Man," "Viking Song," & "Can We Still Be Friends" to name just a few.

Fresh off the "Walk Down Abbey Road" tour, 2 Beatles numbers were thrown in for good measure: "I've Just Seen A Face" and "You've Got To Hide Your Love Away." Rundgren went back & forth between guitar & piano throughout the evening, with a short "bossa nova" set to taped rhythmic background. Encores of "The Wheel" and "Hawking" were fantastic. Despite the churlish crowd, this was an evening to remember, with Rundgren showing why so many call him a musical genius.

Heart - The Fox Theatre, Ledyard, CT 7/11/02

In the big-hair days of the 80s, many diehard Heart fans were betrayed by the corporate sound Heart adopted on hits like "What About Love?" and "Never." The Wilson sisters stopped writing the bulk of their own songs in favor of such purveyors of blandness as Diane Warren and Billy Steinberg. Well, it's a new millennium, and Heart have returned to their roots at long last.

The show was a fine mix of old chestnuts, new songs, and a few solid cover tunes. Amongst the old gold mined were "Mistral Wind," "Love Alive," "Dreamboat Annie," and "Straight On." Covers included "Black Dog," "Mona Lisas And Mad Hatters," and a brilliant "Battle Of Evermore." That said, the real highlights were a clutch of wonderful new songs that showed Heart back on the right track.




"Sister Wild Rose" and "Two Faces Of Eve" showed Ann Wilson in powerful voice, and "Break The Rock" sounded like a chart hit waiting to happen, but the key piece was a new song called "Heaven." Psychedelic, a touch progressive with a Middle Eastern tinge, "Heaven" saw Nancy playing her guitar with a cello bow and Ann on autoharp as the song twirled and rippled. Nothing short of a magic moment!

After decades of ups and downs creatively, Heart are a strong, vital band with lots left to say. I'll take a show like this every week if I can!

Bill Bruford's Earthworks - B.B.King's, NYC - May 18, 2002 (early show)

An Earthworks show is always an event. You know what you're getting, but you don't know what you're getting. The one constant in over a decade of seeing the various incarnations of Earthworks is that you must leave preconceptions at the door. This show was no exception. In support of a new CD (Footloose & Fancy Free) and DVD (Footloose in NYC) this version of Earthworks featured a new horn player (former Chick Corea bandmate Tim Garland) and a passel of new material.

Last year, Earthworks toured on a very cool jazz set that was quietly muscular. This year, they were a sustained sock to the jaw. Garland is a very aggressive player - stalking the stage as he blows near-impossible riffs. This only served to make Bill Bruford an even happier man than usual - kicking out all the stops and playing as though his butt was on fire. Pieces like "The Wooden Man sings, and The Stone Woman Dances" and "Come to Dust" were altered and kicked in the butt. Garland and Pianist Steve Hamilton contributed fine new tunes & bassist Mark Hodgson was a melodic blur. The evening concluded with a wild version of "Bridge of Inhibition" that left us all speechless. Bruford continues to take jazz into new places and the excitement is palpable.

California Guitar Trio / Flower Kings - Bottom Line, NYC - April 14, 2002 - (early show)

A very interesting double bill. Both bands brought their own rooting sections, with majority seemingly there for the CGT yet pleasantly surprised by the Flower Kings by evening's end. The CGT opened the show with a medley that included bits of 2 King Crimson pieces: "21st Century Schizoid Man" & "VROOOM." Their set included a mixture of covers like "Heart Of The Sunrise" and "The Good, The Bad & The Ugly," classical pieces like "Hammer and Rude" by Funicelli, and original pieces such as "Train To Lamy" and "Melrose Avenue." The three guitars playfully meshed seamlessly and by the encore of "Bohemian Rhapsody," the crowd was spellbound.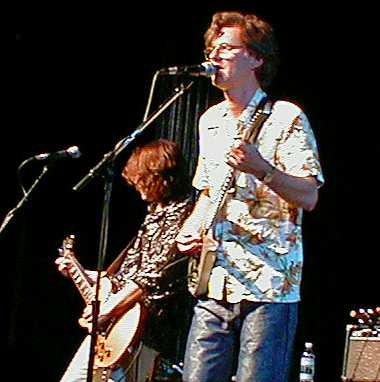 A short intermission later, and the Flower Kings took the stage to play, in the words of leader Roine Stolt, "Typical Swedish progressive music." The set began with the stately "Church Of Your Heart" with grand playing from keyboardist Tomas Bodin. This go round was much more song oriented than the last tour - short but sweet with "Road To Sanctuary" and "There Is More to This World" standing out. The show ended with the epic "Stardust We Are" - an exhausting 20 minute-plus piece. An unforgettable evening that felt like a mini-festival soaked in sound. Do this again!

The Bears - Mercury Lounge, NYC Feb. 23, 2002

In support of their long awaited 3rd CD, the Bears hit the sweaty stage of the Mercury Lounge and ripped straight into "None Of The Above." 14 years later, it was like time stood still. All the energy, madness & fun that are the hallmarks of a Bears show were there in force. There are not enough superlatives to describe this show. Playing was beyond tight, songs were exceptional, band were nothing but smiles (Adrian Belew in particular looked like he just won the lottery, got laid & was made King simultaneously!), crowd was in tune all night!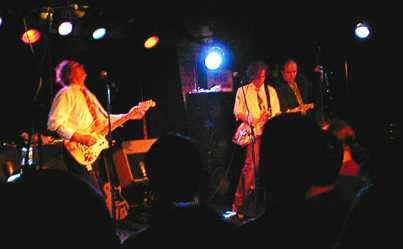 The songs never seemed to stop. "117 Valley drive," "Superboy," "Safe In Hell," "Caveman" - the list goes on. The Bears even threw in a fierce, muscular take of King Crimson's "Red" for good measure - much to the delight of the crowd. As with all Bears shows, it ended much too soon with everyone a sweaty mess by the final encore. Belew, Rob Fetters, Bob Nyswonger & Chris Arduser are in touch with a unique infectious energy that few bands can lay claim to, and their return to the stage was both welcome and long overdue!

King Crimson - Palace Theatre, New Haven, CT Dec. 9, 2001

This show was a sort of "co-billing" with the John Paul Jones band. JPJ & co turned in an energetic set that was nothing short of fantastic - covering a great deal of ground from his current work to a few Led Zep nuggets. After a short break, it was on to King Crimson.

In contrast to the "ConstruKction of Light" tour with it's inventive light show, the "Level 5" stage was pretty bare bones. The set opened with a new piece called "Dangerous Curves" a piece that built slowly, sort of easing the quartet of Robert Fripp / Adrian Belew / Trey Gunn / Pat Mastelotto into the groove. Things got grittier with a dark take of "Frying Pan" with a strong vocal from Belew. If there was a theme to the show, it was "We've been on the road a lot!" This was certainly not the most enthusiastic KC show I've seen, and smiles were few and far between onstage. The set featured only 2 pre-"THRAK" numbers: "Thela Hun Ginjeet" and "Red" with the focus very much on the present and future Crimson. I found this a very brave and positive move, as KC has always been about moving forward.

That said, new numbers like "Elektrik" and "Virtuous Circle" seemed more like backing tracks than complete pieces. I saw them more as rough musical sketches than complete numbers. Gunn and Mastelotto were tight as tight can be, playing well off each other. Fripp was on his game as always, serving up brilliant playing on every tune. Belew seemed like a guest during parts of the show, doing his thing well, but never quite clicking with the other 3. I'm not trying to knock the band in any way - every human has their off days, and I think even KC themselves wouldn't look back on this show as one of their finest. The latest edition of KC looks to be heading into dark territories and new angles. A few small false steps are easily overlooked & I eagerly await what's next!

Jethro Tull live at the Charles Ives Center, Danbury, CT 7/29/00

It was a warm, damp evening in Danbury. The crowd was chiefly comprised of baby boomer couples in big shorts. The venue and those in charge of it gave off a very friendly vibe. It was going to be a good evening - you could just feel it. Tull's opening act was a smokin' blues guitarist named Joe Bonamassa. Bonamassa had Stevie Ray Vaughan-ish chops and turned in a wild and satisfying set. He pleasantly surprised the crowd with a cover of Tull's "A New Day Yesterday," trading licks with Martin Barre. A great start to the evening.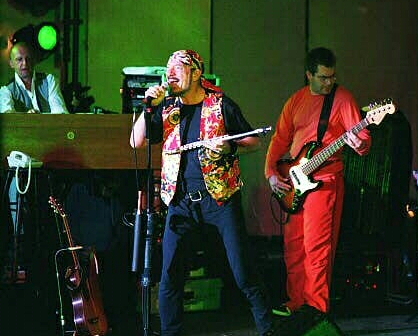 Tull hit the stage at 9 and launched into a scorching take of "For a Thousand Mothers." Ian was incredibly active, wearing black pants & shirt with a multicolored vest & bandana. "Nothing is Easy" gave way to a healthy slice of "Thick as a Brick" and we were underway! Recent numbers like "Hunt by Numbers" and "AWOL" sat comfortably next to classics such as "With You There to Help Me" and "Hunting Girl."

The band were in great form with each member having their moments to shine. Jonathan Noyce's basswork was nicely highlighted in "Bourée." Martin Barre had a stellar solo spot featuring a reworking of "Pibroch." Keyboardist Andy Giddings was showcased beautifully on "In the Grip of Stronger Stuff" from Anderson's solo album "Divinities," and Doane Perry was a polyrhythmic octopus on "Dharma for One." Anderson himself was a human highlight reel on numbers such as "Water Carrier" (from his current solo effort "The Secret Language of Birds") and "Passion Jig" (a brief excerpt from 1973's "A Passion Play").

The 17 song main set closed with "Locomotive Breath" and the band soon bounded back on stage to a Bo Diddley beat that lead into an encore medley of "Aqualung/Cross-Eyed Mary/Protect and Survive/Cheerio." The performance was tight & energetic, with Ian's voice the strongest it's been in several tours. A few visual surprises, great song selection, and incredible musicianship all added up to one hell of a night under the stars!

The Tubes live at Toad's Place, New Haven, CT 7/20/00

This tour has been touted as a return to the "full" Tubes show with costumes and theatrics. I was a bit skeptical as to how much could be achieved on the relatively small stage of Toad's Place. It had been nearly a decade since I last saw the Tubes play an outdoor festival in Norwalk, CT without frontman Fee Waybill, and sloppy as all get-out. From the moment the band launched into "Tubes World Tour" all fears were erased! Original Tubes present were singer Fee Waybill, guitarist Roger Steen, and bassist Rick Anderson. They were joined by drummer Trey Sabatelli (sitting in for Prairie Prince who was obligated to a Todd Rundgren tour), keyboardist David Medd, keyboardist/guitarist Gary Cambra, and vocalist Leslie Paton. This was one of the tightest ensembles I've seen in my entire life.

The show was a veritable history of the Tubes, ranging from "Up From the Deep" from their self-titled debut, to a recent Fee Waybill solo number called "I Know You." In between, the band served up songs like "Sushi Girl," "She's a Beauty," "Say Hey/Eyes," and "Boy Crazy." Waybill went through numerous costume changes: from a slick cream colored suit on "What Do You Want From Life?" to a leopard bathrobe, black fishnets & Buddy Holly specs on "Wild Women of Wongo" to a skull-emblazoned leather vest and jeans dueting with Paton on "Don't Touch Me There." But two outfits stood out above the rest. As the band were playing a humorous version of the theme from "Rawhide", Waybill bounded onstage wearing a black leather mask, codpiece, chaps, studded collar & cowboy hat (and NOTHING else!) for a blistering version of "Mondo Bondage." The most outrageous came last. Waybill revived his alter ego "Quay Lewd" for the set closing "White Punks on Dope." 18 inch silver platform shoes; silver spandex pants with a ridiculously long bulge running down the entirety of the left thigh; an inflated blow-up doll secured to the crotch; a shirt with the dictionary definition of "Quaalude"; full face make-up and a white fright wig completing the picture were well over the top!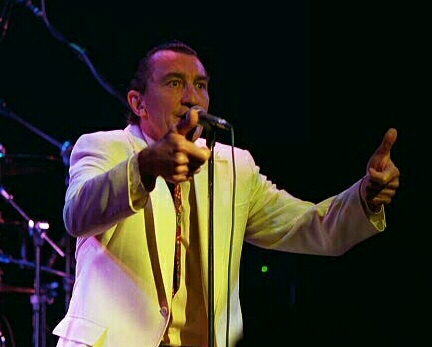 A well-earned encore of "Talk To Ya Later" and the sonic and visual assault came to an end. The Tubes were absolutely dangerous on stage. My throat was raw from singing along to every song & I clearly was not alone. The Tubes are clearly in the midst of a resurgence, as the young, loud crowd will happily testify. One of those nights you never forget!

Tim Finn/Tara MacLean live at the Angel Orensanz Theater, NYC 6/8/00

Tucked away waaay in the lower East Village in NYC is the Angel Orensanz theater - a converted church. Inside, white folding chairs contrast against the sheer beauty of the surroundings and acoustics. It is very much a "classy" venue. Former Split Enz frontman Tim Finn was in town supporting his new solo outing "Say It is So" (on What Are Records? records) with vocalist Tara MacLean opening.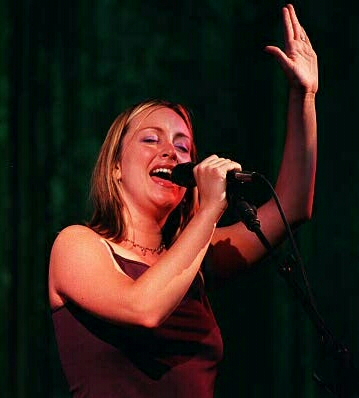 MacLean came out with sparse accompaniment: a drummer and a guitarist (who doubles in his spare time as her husband). MacLean has a pure, rich voice in the Sarah McLachlan vein. Her 5 song set drew mainly from her Capitol records release "Passenger." For 3 players, they filled the hall with rich, beautiful sound. Songs like "If I Fall" and "Jordan" enthralled the crowd with their utter beauty. MacLean, while a solid opening act, is already ready to headline - this is a major talent!

After a brief intermission, Tim Finn took the stage abetted by an electric guitarist jumping into "Angel's Heap" from the "Finn" album recorded with brother Neil. Finn had an unusual setup: while playing acoustic guitar (and, on one number, piano), at his feet were 2 drums - a bass drum & a snare operated by foot pedals. In addition to his vocal mic, he had a secondary mic hooked to a child's tape recorder giving it a fuzz effect.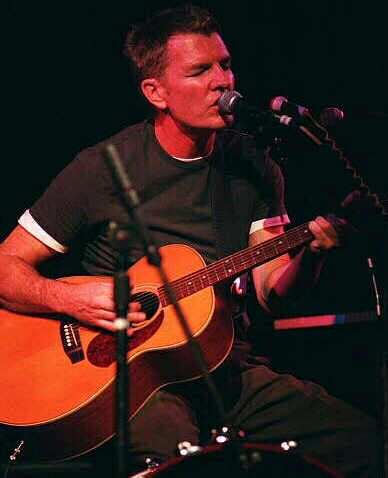 Finn served up 6 songs from his current disc; most notably "Death of a Popular Song" and "Underwater Mountain." The remainder of the set drew from his other solo releases, as well as his work in Split Enz and Crowded House. The appreciative audience responded wildly to gems like "Bold as Brass," "Weather With You," "Poor Boy," and "Persuasion." Tim Finn was in marvelous voice & mood, clearly enjoying the evening. For the listener, Tara MacLean and Tim Finn added up to a relaxed, joyous celebration of melody and spirit.





Table Of Contents

Contact