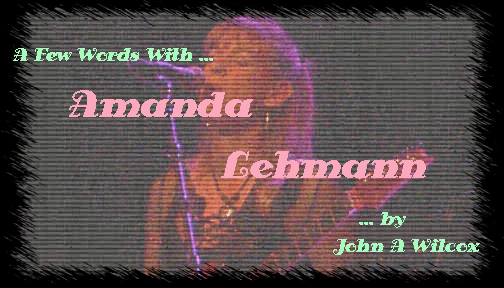 A Few Words With...Amanda Lehmann


Interview by John A. Wilcox



I first became aware of Amanda Lehmann in 2010, as a member of Steve Hackett's touring ensemble. Her strong vocals and stellar guitar work made a strong impression. Lehmann is featured on Hackett's latest, Beyond The Shrouded Horizon, and continues to impress. Ms Lehmann graciously took time from her schedule to chat with Progsheet. Won't you join us?...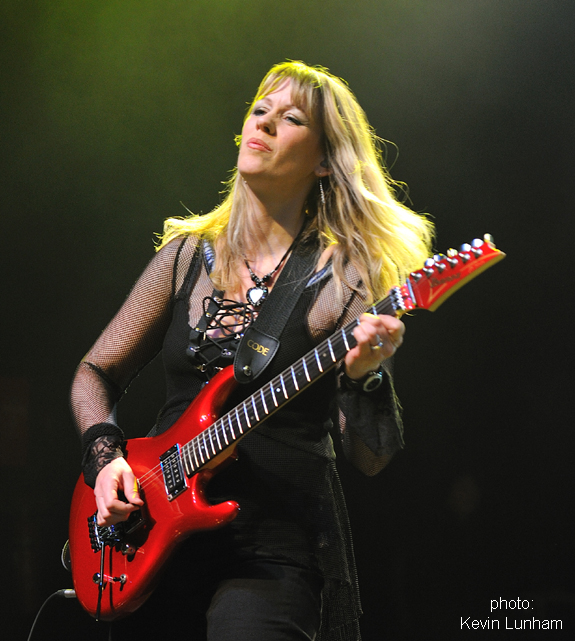 PS: How did you first come to meet Steve Hackett?

AL: I first met Steve on a film set... sounds glamorous perhaps, but in fact my part was as an extra, and I was a tramp... I think the make up artist was using me as a guinea pig, and really went to town on the black grungy make up and vaseline in my hair, I looked fearful!! But I had a good chat with Steve about music anyway!

PS: What was the name of the film?

AL: The film I met Steve on was a pilot for a short film called Soulscapes.

PS: How did you get the gig to join his band?

AL: Well, having recorded some vocals on Out Of The Tunnel's Mouth, I suggested that I might do one track as a guest at the gig at UEA (November 2009) as this show was in my home town. Steve was keen on this idea and asked me if I would be interested in doing vocals and guitar at the other venues as well. We got together to work out guitar parts for several of the songs from the show, and I performed my debut gig with the Hackett band in Paris, shortly followed by the 2009 UK tour. It's just grown from there, and it's great putting the two guitars together on songs like Every Day and Sierra Quemada.

PS: What's the most challenging piece from Hackett's catalogue to play live?

AL: For me I think it has to be Shadow Of The Heirophant. The vocal part that I do is much higher than my "normal" range, and that's a real challenge. I found new vocal techniques for it, and although I don't sing it in the same operatic style as Sally Oldfield, I'm happy with the fact that I give it some of my own interpretation. The guitar parts keep me on my toes too, there's everything in it, rhythm, lead, unusual chord progressions and I'm dancing around on the pedals changing between patches for the right sounds at the right time!

PS: Outside of the albums you've worked on, which of his solo albums catch your ear the most?

AL: Spectral Mornings has to be on that list, with the title track being one of those all time special songs that bring you out in goose bumps! And of course there's one of my other favourite tracks, Every Day. I tend to see music in colours, and Spectral Mornings for me is a combination of shimmering sea blues and gold. In contrast, the dark Guitar Noir is another album that resonates for me, with a great favourite track, Sierra Quemada.




PS: You turn in a lovely vocal on Waking To Life. I believe it's the first female lead vocal on a Steve Hackett album since the Please Don't Touch album. Tell me a bit about the song & how you came to do the vocal on it.

AL: The song has a very Indian / Eastern feel to it, and Steve wanted a female vocal on it that would portray a sense of innocence and wonder. I played around with it, and came up with two different interpretations, one with more edge and the other softer. When we recorded it in the studio, we went for the softer one, as it had more of the atmosphere of a kind of youthful expectation that the female character would have. A couple of the vocal fills later on in the song portray more edge, as the character "wakes to life"!

PS: You also have a project with keyboardist Eddy Deegan called Wazzoon. How did you meet and what is the vibe of the project?

AL: I fronted a band on the south coast of England back in the early 90's, and Eddy joined that band as keyboard player. After the band folded, we formed the duo, Wazzoon. I had several songs that were ready to be recorded, and so we got stuck into several months of work to get it done. The vibe of this project was lighter than some of my earlier more rocky / prog music. It is quite heavily synth based as well as plenty of guitar and vocals, and I would say is a mix of rock, blues, dance and country; it's a project I've always been very pleased with.

PS: I'd like to ask you about 2 of the songs on it. First, please tell me the story behind Sad But True.

AL: Sad But True is essentially about relationships, and how we tend to expect so much from one another. We can apportion blame to parents, society, each other, which all have relevance, but at the end of the day we are who we are, needs and all!

PS: Also, what's the song Obsession about?

AL: Obsession was inspired by a film I saw, and is quite a dark song about how obsession can get a grip, almost like an addiction.

PS: And what film was that?

AL: The film that inspired Obsession was none other than Fatal Attraction!




PS: In addition to Wazzoon and your work with Hackett, you have a solo EP. Tell me about the song Shadow.

AL: Shadow is about "the shadow" (as in Jungian psychology), the darker part of our unconscious self that we repress, and if continually ignored, it grows darker and can cause havoc! On the other hand, if we accept and embrace it, it can be an amazing source of creativity and vitality. A very simplistic description there, but otherwise I'll go on for hours!!

PS: Also, what inspired Somebody Out There?

AL: As with so many songs, Somebody Out There was inspired by one thing but went on to develop in it's own right. I do like to write lyrics that are "universal", that hopefully many people can be touched by in their own way, so in many of my songs, I try not to get too much into specifics. It was originally inspired by a friend of mine, who seemed to have one bad relationship after another.

PS: How has raising a child changed your life as a musician?

AL: For the first few years, music had to take a back seat, although I used to sing to Vic a lot, and music was pretty constantly being played in the house and the car! Raising Vic has made me less self centred and softened my ambition, which strangely has made music making more enjoyable, as it's less of a means to an end than it used to be. I have to confess that it is frustrating not having the time that I would like to give my music, but that is now compensated by the fact that Vic comes to one or two of the shows; it's lovely to see his grinning face and to know that he is proud of his mummy!

PS: Can we expect the Hackett band to return to the USA in 2012?

AL: It is hoped that the Hackett band will return to the USA in early summer 2012.

PS: The band were awesome when I saw them back in 2010 in Norfolk, CT.

AL: Ah, the Norfolk show, I remember it well. A really lovely little theatre and a very warm audience response. The hotel we stayed at was great. We had the whole house and gardens to ourselves and the next morning the owner cooked us all a delicious American breakfast. Funnily enough, I live in Norfolk (the one in England ;-))

PS: What's next on your plate musically?

AL: Both working on the guitar parts for the new material that the Hackett band is going to perform live for the Breaking Waves tour, and continuing to work on my solo album, which I am impatient to have completed, but I would rather take my time and get it right rather than rush it!

PS: Please tell me 6 CDs you never get tired of listening to.

AL:
Rush - Moving Pictures
Tori Amos - Little Earthquakes
All About Eve - All About Eve
Fleetwood Mac - Rumours
Muse - The Resistance
Genesis - The Lamb Lies Down On Broadway
Jethro Tull - Broadsword And The Beast
Ah, that's seven isn't it! I'm afraid I can't choose which one to lose!



###





Table Of Contents

Contact