Track By Track: Wishbone Ash - Argus


By John A. Wilcox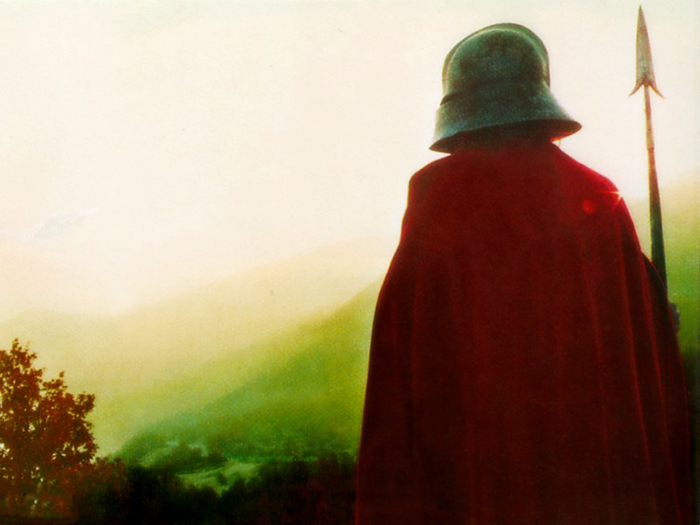 What can you say about Wishbone Ash's Argus? It's the definitive album by the band. Argus, their third album, was recorded by the classic line up of Martin Turner – bass and vox, Andy Powell – guitar and vox, Ted Turner – guitar and vox, and Steve Upton – drums (with guest organ by Renaissance's John Tout on Throw Down The Sword) at the newly opened De Lane Lea studios over a 2 week period in January 1972. Argus made the UK charts, peaking at #2 and was their first 16 track recording. The stunning cover by Hipgnosis was shot at Gorge du Verdun, Provence, with the Argus sentinel dressed in a costume from Ken Russell's film The Devils. Progsheet is proud to have none other than Andy Powell take us track by track...

Track 1: Time Was
AP: This song has 2 different sections, as do a lot of our longer pieces and features a wistful acoustic opening by Ted Turner. He'd come up with the high picking section which is a little reminiscent of George Harrison's Here Comes the Sun. Ted penned the lyric here for this part of the song, if I'm not mistaken, which speaks of trying to rearrange one's life and make sense of it all, while at the same time, looking back to more simple times. It nicely sums up our collective feelings at the time because things were moving very fast with our careers and we were constantly on the road. I supply some moody electric guitar volume swells in the background and then out of nowhere, as the listener is being lulled by this mood, a powerhouse Steve Upton drum fill brings us into the Who influenced rock section of this song. Musically, this part was largely my creation. Having first been impacted by them as a teen, in our little band, The Dekois which opened for the Who in Watford, UK back in the day. Ironically we'd also kicked our career off in the States in a big way by opening for the Who on their Tommy tour (first date at the Satsop Festival in front of 70,000 people) so their vibe was running all through this piece, with one important difference - the soaring twin lead parts in the central section which I distinctly remember working out with Martin who'd, by the way, penned the lyric for the second part of the song. I love his Entwhistle influenced bass playing on this track.

Track 2: Sometime World
AP: Possibly my favorite track on the album and strange, since it has none of our trademark twin leads on it. Again, that slow, wistful intro section style we were so fond of at the time. I liked Martin's vocals when he sang naturally like this, instead of the later more contrived Bowie-esque thing he tried towards the end of the 70's. His chord section and melody gave way to my construction of the fast section which opened with a high A chord to G chord inversion, almost Mexican in flavor. The three part guitar and vocal scat melody over this was a flash of inspiration for which I was responsible, as was the entire contrapuntal bass part which Martin executes admirably. I love Steve's drumming and the whole thing is overlaid with my solo guitar work - some of the best and most inspired work I've ever done. It really captures what I'm about as a player and I love the song for offering me the canvas upon which to show my particular mojo.

Track 3: Blowin' Free
AP: The song opens with probably the most memorable Wishbone Ash guitar hook known and in addition it ends with my inspired twin guitar and bass line, played as a kind of round (Mart's idea) and later copied in essence by both Thin Lizzy (The Boys Are Back In Town) and Steely Dan (Reelin'In The Years).
This song had it all, power, melody and the definitive stamp of our band, all over it. The main riff, I'd come up with at the Whiskey A Go Go on Sunset in LA at a soundcheck, after playing around with Townsend's chord sequence from See Me, Feel Me I think, which an old bass player friend of mine, Mick Groome, had shown me. I simply sped the whole thing up and modified it somewhat. Martin Turner's lyrical and melody idea has echoes of Steve Miller, who we'd toured with at that time and was inspired by a Swedish girl Annalena Nordstrom, from Gothenburg who he'd met in his home town, Torquay, which used to at that time play host to bevies of visiting Swedish beauties during the summer.
The vocals are distinctive on this song, being sung in two part double tracked, harmony throughout, by myself and Martin with Ted Turner joining us for 3 part on the middle 8 breakdown section. This signature vocal approach was also very important to our style and I never quite understood why we were later to abandon it. Ted leads this in with a his signature clean sounding, reverbed, Stratocaster part before it all gives way to a raucous guitar solo by me. There is at the end, over the afore mention 3 part ascending horn style guitar and bass part, Ted's first recorded appearance on album, playing lap steel guitar. Blowin' Free is exactly like its song title suggests - sunny, upbeat and a great drive tune - and it is possibly still, one of the most commercial songs we ever recorded. It's been a permanent song in the set list for many years.

Track 4: The King Will Come
AP: Now we get into the more classical side of the album - the more English side if you will. I kick the song off with the reggae ish guitar fade-in accompanied by Steve Upton's military style snare drumming which hints at armies coming over the horizon. There's Ted Turner's use of the wah wah pedal in his overlaid solo and the whole thing builds to a crescendo and into the main riff for which he was also responsible. My power chords underpin the thing. The lyrical concept by Martin, was rooted in the Bible of course - the Second Coming and so on and again those harmonized vocals all the way through give the song real ear candy.We later used the song as a set opener on future tours. I loved the twin leads in this song.

Track 5: Leaf And Stream
AP: A beautiful pastoral folk song and a great example of three people all getting into a mood and collectively writing, as one. Initially I had this picked chord sequence but did not know what to do with it. Then Steve was inspired with his beautiful lyric and Martin supplied the vocal melody. Ted overlaid some complimentary picking. There is very little percussion on the piece. I played a pretty sensitive guitar solo, for me. It's a beautiful song and again I love Martin's vocal approach Interestingly it was not until much later, that Wishbone Ash eventually played the song live for the first time in 1995.

Track 6: Warrior
AP: I've had ex army veterans (real warriors) and their fathers come up to me and tell me how this song kept them focused while in Iraq and other places, which is very humbling. Martin's lyric is the definitive warrior's lament, but the song ends with the rousing but resigned, communal chorus: I'll have to be a warrior, a slave I couldn't be. A soldier and a conqueror, fighting to be free. It says it all really. I'm still amazed how we managed to create the soundscape for this song with just two guitars, bass and drums. It's a classic. There are lots of my open ringing A minor and E minor chords which shift into major 7ths (something I was fond of doing) and the double tracked twin lead melodies are very interesting as is the guitar melody which I created on the bridge section. I solo throughout the piece. Warrior often led into Throw Down The Sword during live performances since these songs are related.

Track 7: Throw Down The Sword
AP: Lyrically, you can hear that there was definitely a dialogue about war with Warrior and then this song, which offers the peace keeper's approach. A song designed for big rock stadiums, again, it creates a broad sound scape helped in no small way by John Tout's mighty Hammond Organ. We 'borrowed' John from the popular English band Renaissance for the session, since both bands were under the same management of Miles Copeland at the time. Like The King Will Come, the opening hints at massing armies and there is a kind of Celtic feel to the twin lead part, which again, I came up with - a kind of slow minor jig. The unplanned solo at the end of 'Sword' and closes the album itself, is me literally playing out of my skin - full 'emotional immersion' if you will. We had a great team making this album. Derek Lawrence produced it and Martin Birch engineered. A kind of happy mistake was made during the mixing session. I'd made two passes at the final guitar solo and while trying to inspire our album sleeve designer, Storm Thorgerson with the song we'd just created, the engineer forgot to mute one of these solos. As a result both solos were playing at the same time creating interweaving melodies. We explained to him that there would only be only one guitar solo in the final mix and he said; "No, why not use both simultaneously - it sounds great" which it did and that's the way it ended up. Probably the most famous twin lead part we ever created on record was simply me playing with myself, if you will. ;-) This recording still sends shivers down the spine, when I hear it. This song and the album itself - a classic recording for all time.


###
Table Of Contents
Contact