Concert Reviews
all reviews and photos by John A. Wilcox
Classic Albums Live – Wolf Den @ Mohegan Sun, Uncasville, CT 12/26/08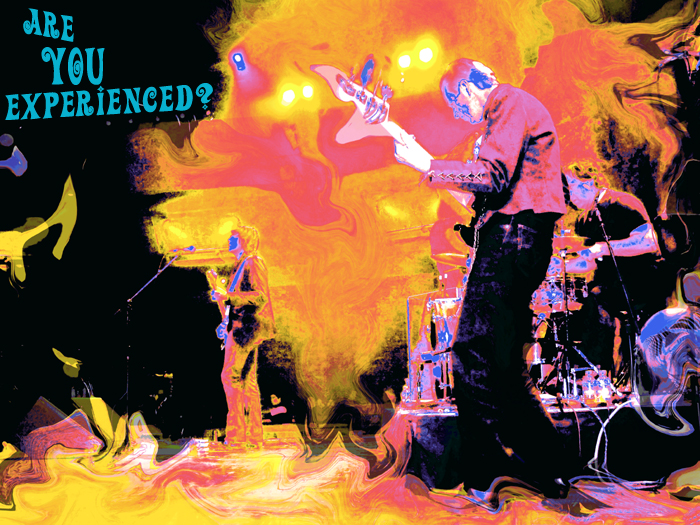 2008 was quite a year to see live music and my last show of the year was to be Classic Albums Live perform the Jimi Hendrix Experience's Are You Experienced album. To me, capturing Hendrix is all about feel, both vocally as well as guitar-wise. While no one ever quite nails the voice to perfection, Clifton David had the spirit, attitude, and energy to pull it off on vocals and guitar. He was backed by a hellaciously hot rhythm section of Joe Macaluso on bass and Ron Cataldi on drums. I felt like I was thrown back into 1967, seeing a smokin' trio workin' out!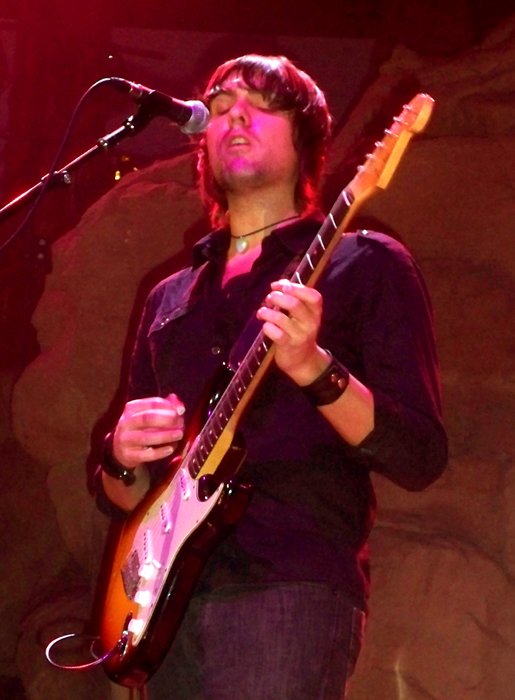 For those who had the same question I did pre-show: they played the US/Canada configuration of the album, not the very different UK version. So we started with a note for note Purple Haze. It sounded great, but then I've heard it done well live many times. The cynic in me reserved judgement. Manic Depression and Hey Joe shook my resolve and won me over. This was the Jimi Hendrix Experience - just with different heads. Next up was a trio of songs that always seem to get overlooked by radio: Love Or Confusion, May This Be Love, and I Don't Live Today - the latter being one of the highlights of the night with David really letting loose with the hot licks. The Wind Cries Mary was as beautiful as it was sublime. Fire was owned by Cataldi's drums, and Third Stone From The Sun was a glorious head trip.




Foxey Lady and Are You Experienced? ended the album on a kandy kolored psychedelic note with David's guitar delivering insane licks. After introductions and a few thank yous, we got some choice encores. I always loved the bass lick in Spanish Castle Magic and Macaluso was tight in the pocket and heavy on the bottom, anchoring David's wild playing. Little Wing was gorgeous. All Along The Watchtower was magnificently crunchy. Bold As Love was a trippy surprise, catching many off guard, and the show closed on Voodoo Child (Slight Return) - extended greatly by jaw dropping solo after solo after solo. Somewhere up above, a trio smiled with approval...and the Gods made love...

Mindless Self Indulgence – Toad's Place, New Haven, CT 12/7/08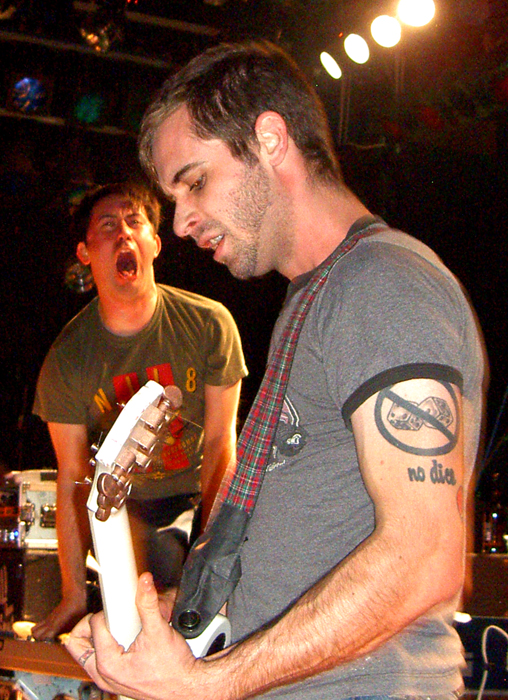 Quite an interesting triple bill at the Toad: Tub Ring, Leathermouth, and the headliners - Mindless Self Indulgence. All with punk leanings,but much more than that. I'm getting ahead of myself. It was cold in New Haven. Frigid. I saw a barely clad guy in line, next to a guy dressed as a cow (including udders), and asked him how he was keeping warm. "LSD" he replied. The crowd was definitely on the younger side, full of Mohawks, piercings, and wildly colored hair. I loved it. Once inside, the club was packed to the rafters - claustrophobic but friendly and full of energy. Opening the show was Tub Ring, a Chitown sextet. They had a great, crunchy sound - punky but with bits that reminded me of the Residents or Negativland - uncomfortable and exotic. Songs like Get Help (NOW), Where's The Robot, and My Job Here Is Done bristled with energy and sonic dynamics. Keyboardist Rob Kleiner was a visual focal point, jumping up on his keyboards, gesturing & contorting wildly, then landing with precision on the stage hitting the next chord perfectly on rhythm! Vocalist Kevin Gibson was a pressure cooker of energy and impact. New song Bird Of A Different Color had a great xylophone break, and the closing Killers In Love was another standout in their fantastic 13 song set. I want to see these guys again soon!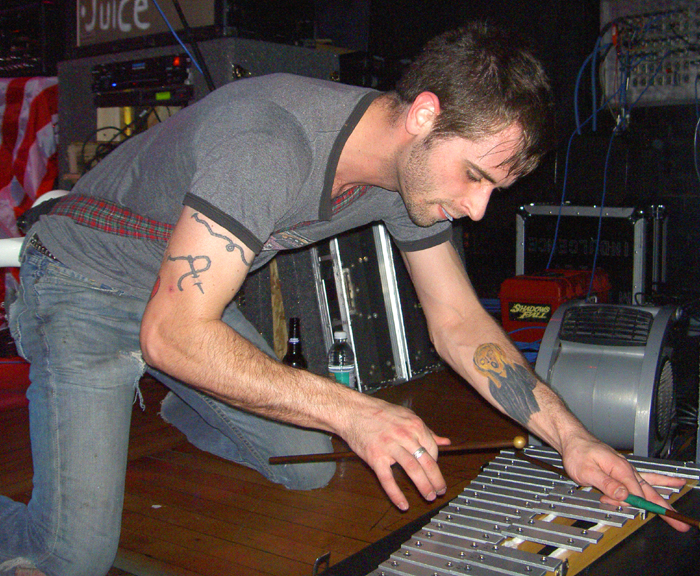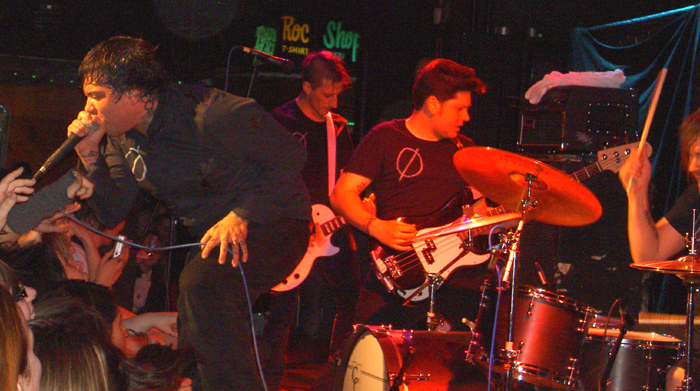 LeATHERMOUTH (yes, that's the spelling) out of New Jersey were next and had all the girls screaming and singing along. Songs like Fifth Period Massacre, Sunsets Are For Muggings, and My Love Note Has Gone Flat had everyone stage diving, singing, and even dancing a bit. Murder Was The Case They Gave Me and Your Friends Are Full Of Shit sounded especially strong to these ears. Great guitars and a solid rhythm section. I've no clue who anyone was in the band, but their too short set was solid and a good contingent of the crowd was clearly there to support them.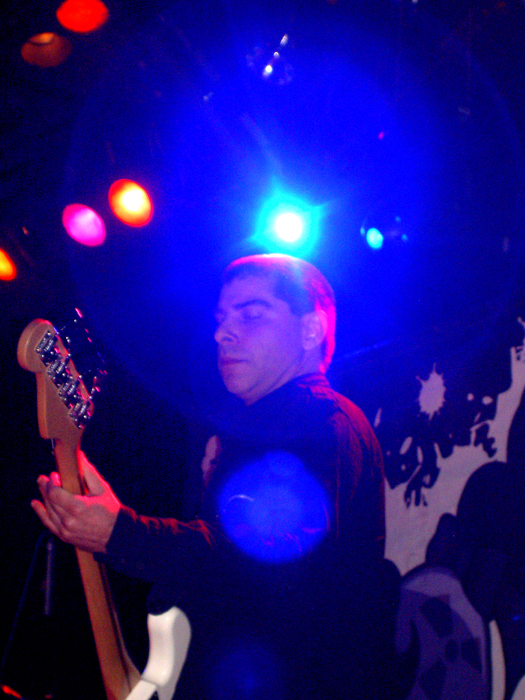 Mindless Self Indulgence (or MSI, as they are known) took the Toad's stage at about 10:30. These folks are totally nuts in the best possible way. Frontman Johnny Urine has that indefinable thing that makes him just own the stage and the crowd. Shut Me Up started things on a high energy note and the entire set kept that level til the very last note. Mastermind, Lights Out, Stupid Motherfucker, and Issues were a mash up of punk, industrial, hip-hop, rock, and God knows what else. Drummer Kitty and new bassist Charlie kept the grooves tighter than tight, and Steve, Righ? was murderous on guitar. 1989, Never Wanted To Dance, Prescription, On It, and Tornado had the crowd singing on every number as Urine flirted with the crowd, full of swagger, at one time jumping around with the guy dressed as a cow!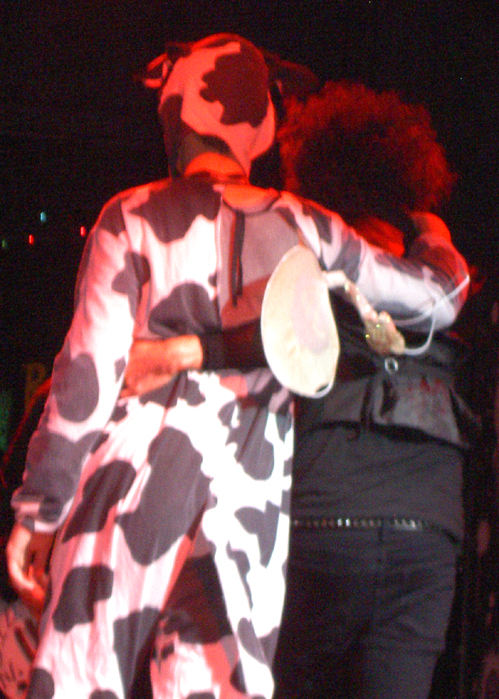 Bring The Pain, Faggot, the ultra fun Evening Wear, and Bomb This Track followed. Bitches had a nice little sample of Siouxsie And The Banshees' Happy House thrown in to catch my ear. Planet Of The Apes, Straight To Video, and the hilarious I Hate Jimmy Page brought the evening to an end as Johnny Urine mimed the chorus of There's No Business Like Show Business while twirling his mic stand as a baton. Sweaty from 8 million units of body heat in the club, it was back to the bitter cold, but with a huge smile from an incredible evening.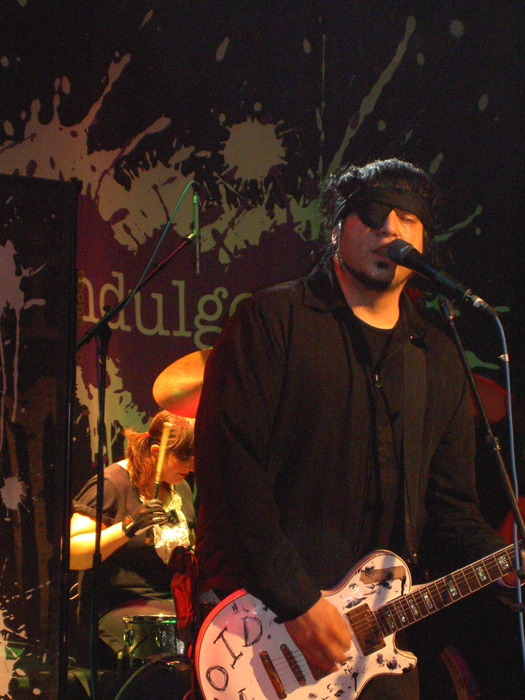 Amy Grant – The Community Theatre @ Mayo Center For The Performing Arts, Morristown, NJ 11/21/08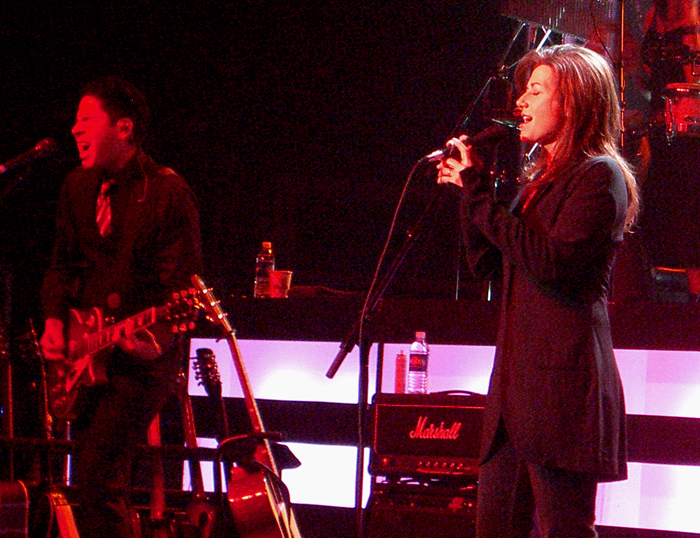 You don't often see this. An artist recreating a tour they did 20 years before. Yet, that's exactly what Amy Grant did on the 20th anniversary of her Lead Me On album & tour - going so far as to track down most of the live band that performed it with her 2 decades ago. In my return to the land of the eternal parking meter, I found myself once again in Morristown, NJ. It was bitterly cold, but the staff at the theatre were friendly and warm. I ran into Amy Grant superfan John Lam and a group of his friends, and we chatted a bit before the show about the set and the tour. Great folks, I must say. The set opened with Grant alone, playing acoustic guitar and singing My Father's Eyes. She was in exceptionally strong voice this evening, and engaging in her between song banter as always. The band hit the stage and the energy level went through the roof with Love Of Another Kind and Wait For The Healing. Shadows followed with Grant and the band locked in with tight-tight harmonies. The band deserve a mention here. On guitars were Chris Rodriguez and Jerry McPherson. Keyboards by Chris Eaton and Ken Rarick. Flute, sax, harmonica, and percussion by Warren Ham. Percussion by Kim Keyes. The rhythm section was Mike Brignardello on bass and Greg Morrow on drums. At least 5 or 6 of the 8 players sang as well.




1974 was next in the set with swell guitar from McPherson - a beautiful moment where the sound was just very rich and deep. Everywhere I Go had a bit of audience participation with people swaying to and fro in unison. Mighty mandolin on the delicate Saved By Love followed by the very serious What About The Love. Things got downright gospel-y on the right & righteous All Right with its strong chorus and juicy Hammond B3 from Rarick. Speaking of gospel, Amy Grant turned the clock back and delivered 3 numbers from the earlier end of her catalogue: El Shaddai, Sing Your Praise To The Lord (great harmonies on this!), and All I Ever Have To Be. The crowd went absolutely nuts for these! Grant turned the spotlight over to Chris Eaton, who sang I Will from his latest album. Eaton has a fine, fluid voice and the song was both sensitive and full of rock solid hooks! The powerful Lead Me On was next on the bill, followed by the singalong 1-2 punch of Find A Way and Wise Up. Angels and one of my personal faves, Fight ( with a pinch of Hendrix's Manic Depression thrown in at the end ) closed the main set, but the evening was far from over.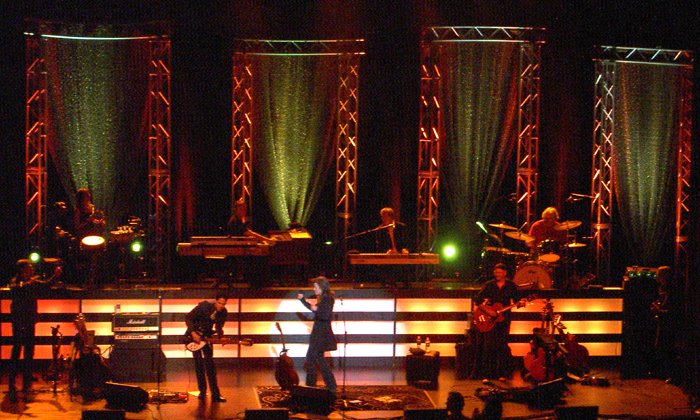 The encore set was a whopping 8 songs, and lead off with the rarely played Stay For A While. The mood got tender and festive with another oldie - the beautiful Tennessee Christmas, with Grant flubbing the lyric not once, but 3 times! The next 4 were all new numbers Grant was testing out before recording. Very much acoustic-based at this stage, they had a nice, earthy sound to them. Titles are my best guesses, except for the 4th, as I shouted out "what's it called?" and Grant shouted back the title! They were What Would They Find?, Threaten Me With Heaven, What The Angels See, and Please Don't Make Me Beg. Pretty brave to hit a crowd with 4 unknown songs in a row. The evening closed on the fragile Say Once More and a rocking cover of Turn! Turn! Turn! An amazing band playing an unforgettable evening of tunes that more than passed the 20 year test, sounding as fresh as tomorrow!

Stamford Symphony Orchestra – The Palace Theatre, Stamford, CT 11/16/08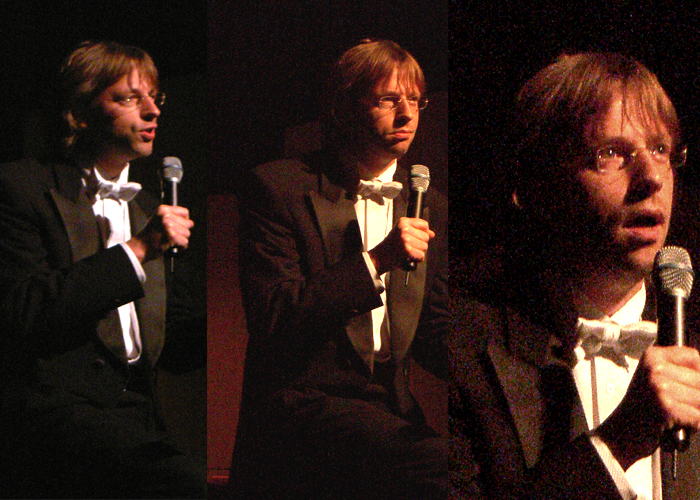 As I quipped to a member of the symphony, Mozart was the Deep Purple of his day. Vastly talented, wildly entertaining. I think we sometimes forget that what we call classical music was the popular music of its day, meant to be enjoyed by all. I've sung the praises of the Stamford Symphony's Maestro Eckart Preu, and I'll do so again. With his Behind The Baton lectures, his innovative programming, and his obvious love and enthusiasm for this music, Preu brings this ageless music into the now. Never has that been more evident than with this performance.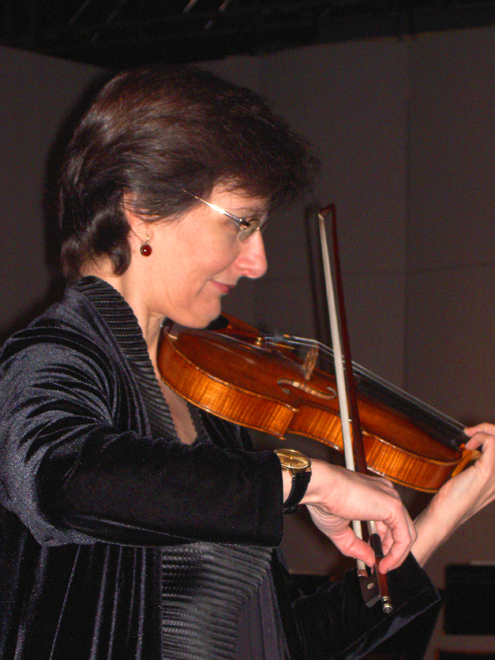 Mozart's overture to Cosi Fan Tutte, K. 588 started the afternoon of big and sparkly - a champagne cocktail of sound. Grand washes of violins cascading over a simple melody - quite the sonic confection. Cimarosa's overture to Il Matrimonio Segreto was no less sweet with some lovely movement in the bass section and a nice little workout toward the end of the piece. I enjoyed the movement of the melody through the strings and brash brass on Gluck's overture to Orfeo Ed Euridice. Gluck may not have had the trust of Mozart's dad, but the man knew how to compose a nice song! The soloist for the afternoon was Jon Manasse on the clarinet. His playing was emotive and fluid on Mozart's Clarinet Concerto In A Major, K. 622. Notes wafted buoyantly like a leaf tossed skyward by a playful breeze. The orchestra supported Manasse beautifully, but his playing was the focus of all as the rapturous applause bore witness.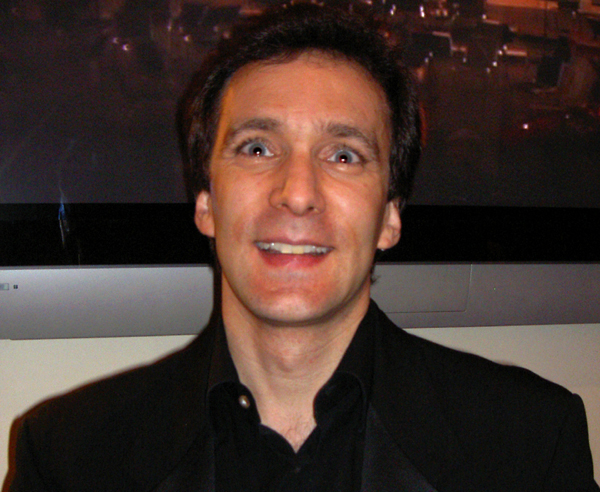 Mozart's nemesis Salieri got his moment in the sun with the stirring overture to Cublai, Gran Kan' De Tartari. It was a brisk workout for the ensemble, and a delight to the ear. As an introduction to the final piece of the program, Maestro Preu recited a poem Mozart wrote upon the death of his pet starling:
A little fool lies here
Whom I held dear-
A starling in the prime
Of his brief time,
Whose doom it was to drain
Death's bitter pain.
Thinking of this, my heart
Is riven apart.
Oh reader! Shed a tear,
You also, here.
He was not naughty, quite,
But gay and bright,
And under all his brag
A foolish wag.
This no one can gainsay
And I will lay
That he is now on high,
And from the sky,
Praises me without pay
In his friendly way.
Yet unaware that death
Has choked his breath,
And thoughtless of the one
Whose rime is thus well done.
While the poem was a hard act to follow, Mozart's Symphony No. 35 In D Major , K. 285, the "Haffner" symphony, was quite the piece. Four grand movements with standout flute work from Elizabeth Mann, it was a breathtaking conclusion to the afternoon. So breathtaking that we got an encore! Mozart's vibrant Rondo Alla Turk sent me off to Chinese food at Uncle Dai's in a blissful state of mind, aided no doubt by running into a dozen nuns from the Sisters Of Life! Get thee to the symphony, my friends!

Yes – Mohegan Sun Arena, Uncasville, CT 11/9/08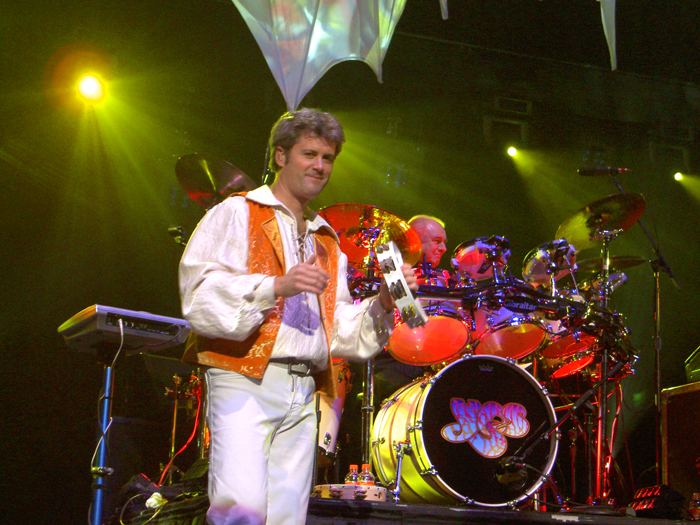 OK, it's Steve Howe, Chris Squire, Alan White in the present. Get real, it's Yes, so I'm calling it Yes. A controversial tour among Yes fans as it has Benoit David on vocals rather than the ailing Jon Anderson. Horrors! I can only give my opinion, so here goes. This show 100% rocked! I thought Benoit David sounded great and had a fun stage presence and Oliver Wakeman fit the keyboard slot wonderfully. On top of that, it was the most interesting, most challenging set the band has played since 1992. Siberian Khatru was a strong opener with Steve Howe playing fiercely, as he did all night. David was spot on vocally on I've Seen All Good People with Strumtastic work from Howe on the first half. Very nice to hear Heart Of The Sunrise played at correct tempo, with Wakeman nailing the keyboard parts originally done by a guy whose name escapes me.




3 mind blowers in a row followed: Tempus Fugit - not played in full since the Drama tour - was full of muscle and energy. Onward brought a lump to my throat - how was this neglected for literally decades? #3 was one of the high points of the evening - Astral Traveler. You read that correctly. Howe had Peter Banks' parts totally down pat, Wakeman did the same with Tony Kaye's organ, and Alan White drove the piece home, absolutely shining on the drums. White even had a brief but very tasty drum solo in there that brought a smile to every face. Set 1 closed with Close To The Edge. David, Howe, & Chris Squire harmonized wonderfully. Squire was positively inspirational on bass, and Wakeman was the icing on the sonic cake.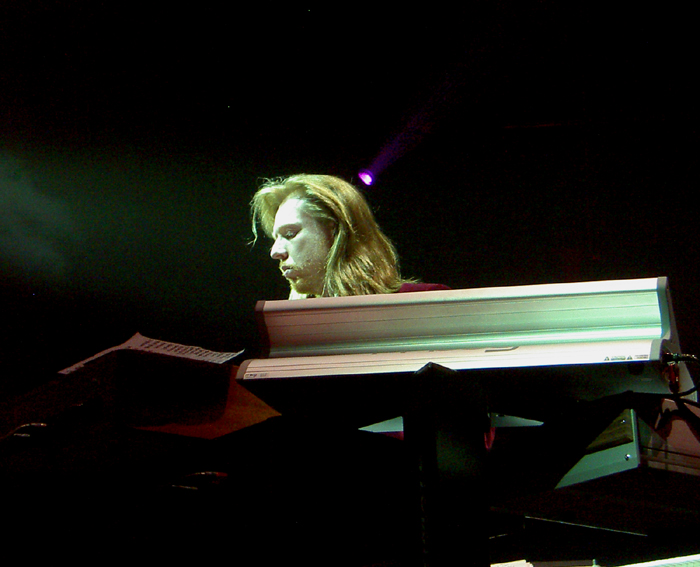 Much to the surprise of the still returning crowd, set 2 started with Parallels. Squire and Wakeman owned this song from start to finish. And You And I sounded the best it has in ages, with a heavenly vocal by David. Time for a solo spot for Howe. Playing a classical, he turned in a robust, heartfelt reading of Corkscrew. Trading the classical for an acoustic, he surprised me with a joyous Sketches In The Sun that had the crowd roaring. Back to the band and a funny moment. Howe's electric wasn't producing sound, and Wakeman didn't notice, starting Long Distance Runaround all by his lonesome until Squire pointed out that Howe wasn't playing with him. After a laugh and a fixed guitar cord, Howe played a few bars of Five Per Cent For Nothing before restarting the piece, which naturally segued into The Fish - with a nice bass spot for Squire.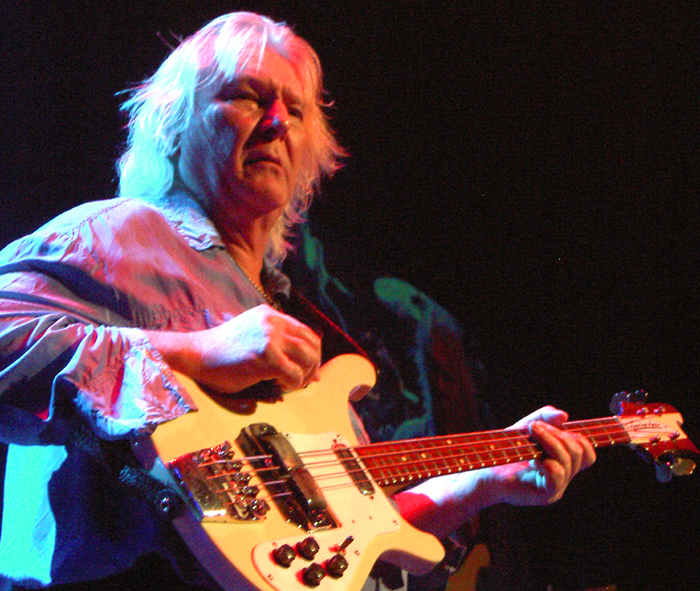 Squire, Wakeman, & David played a new Squire composition - Aliens - with White joining at the very end. My other high point of the evening came growling in: Machine Messiah. It was a huge beast played to perfection, with amazing vocals & acoustic guitar by David and great harmonies by Squire. The single let down was a tepid version of Soon that was, perhaps, in the wrong part of the set. It was the only time in the show where I felt Wakeman chose the wrong key sounds. However, all was well with the set closing Starship Trooper sounding more alive than ever. A worked up crowd got 2 fine encores: Owner Of A Lonely Heart and Roundabout - the latter restored to the original arrangement with the full middle section intact. So, it was a Yes without Anderson & with a different Wakeman. I loved it! Not to slight any past players, but I enjoyed this version of Yes & the set they played more than I've enjoyed this band in over a decade. Come back soon, guys!

Stamford Symphony Orchestra – The Palace Theatre, Stamford, CT 10/19/08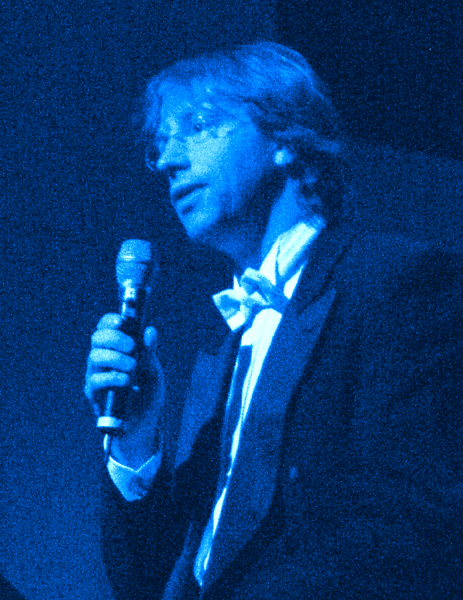 The Stamford Symphony Orchestra's 89th season kicked off with Beethoven's Majesty, and majestic it was. During the Behind the baton pre-show lecture, Maestro Eckart Preu referred to the program as a "Beethoven Sandwich" - 2 Beethoven pieces with a Schubert symphony in the middle. Lots of interesting background, as we discover that Schubert was definitely a worshipper of Beethoven, to the point of semi-stalking him, yet too shy to actually talk to his hero. Fascinating insights.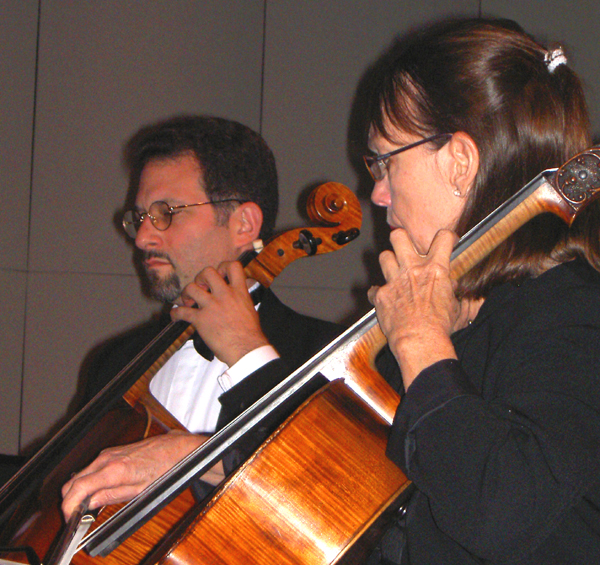 Beethoven's Coriolan Overture, Op.62 started the program on a short, punchy note. Grand, stirring, and packed with feeling, it was a wise choice for an opener. In contrast, Schubert's Symphony No.9 in C Major, D.944, The Great was a long, long piece. It unraveled languidly, with elegant melodies passing through strings and brass and back again. During the Andante Con Moto section, I felt myself quietly submitting to the spell of the music - peaceful, tranquil, relaxed. It was a bit spiritual in a way. As the symphony built to it's conclusion, I felt as if I had just experienced a true piece of audio art.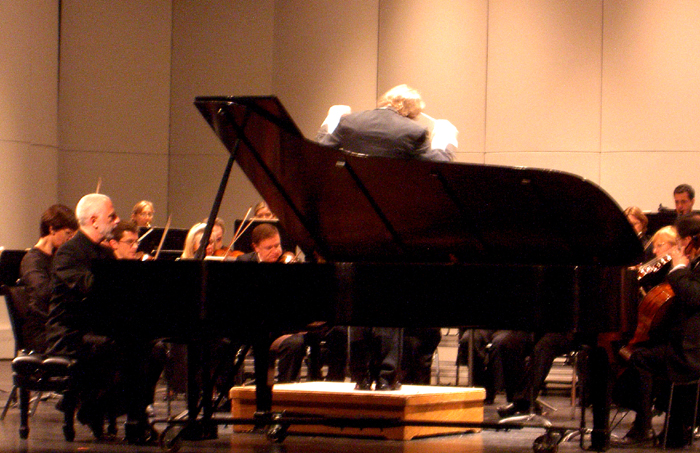 After the break was the piece I'd been salivating for - Beethoven's Piano Concerto No.5 in E-Flat Major, Op.73, Emperor featuring guest pianist Vladimir Feltsman. Feltsman's fingers are a thing of legend and he did not disappoint. From the lusty opening arpeggios to the subtle chords and melodic flourishes, Feltsman was a true master at work. His hands made passionate love to the piano, caressing the keys with adoration. Big, noble, confident, this piece strutted and preened at times, showing 'Toven's assured hand at perhaps its peak. Ending with a punchy climax, the crowd flew to their feet to honor Feltsman, Preu, and one hell of a symphony! A powerful start to the 2008 - 2009 season!

America – Wolf Den @ Mohegan Sun, Uncasville, CT 10/18/08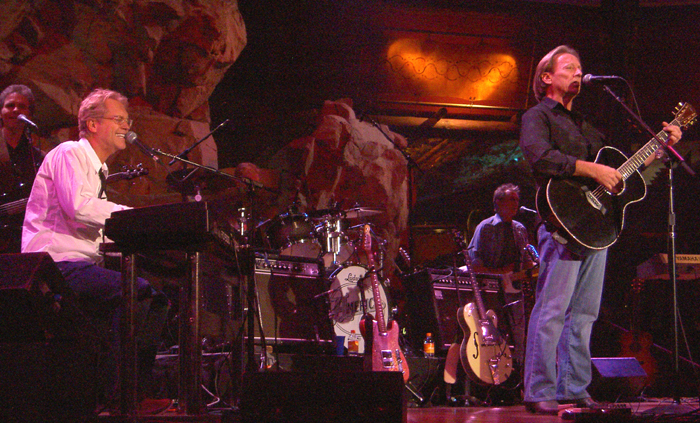 The trip to this gig and the circumstances of getting the great seats my pal & I had make for a great story in and of themselves! But that's a tale for another day. It was the first time I'd seen America in some 20 years. I was curious to see if they still had the instrumental power and immaculate harmonies as they had in the past. From the opening notes of Riverside, any fears I had were totally put to rest. The magic was all there, not a step lost. Ventura Highway, You Can Do Magic, and Don't Cross The River had soaring, tight harmonies, with both Dewey Bunnell and Gerry Beckley in brilliant voice. Beckley put down his guitar and got behind the piano for one of my favorite songs ever: Daisy Jane. I'm not ashamed to admit it brought a tear to my eye, such a beautiful number. Next up was The Last Unicorn, a lovely song from the soundtrack of the animated classic of the same name. A swell new song, Chasing The Rainbow, was followed by the timeless I Need You.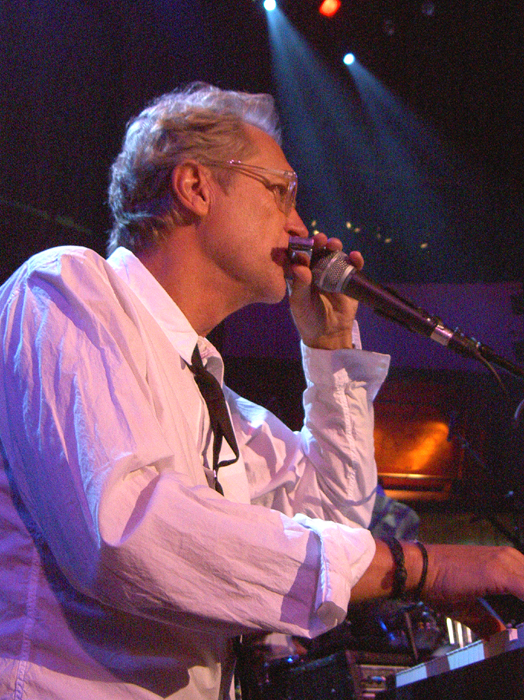 Bunnell got a nice bit of a spotlight, leading the charge on the pairing of Cornwall Blank and Hollywood, with some exceptionally strong guitar work. A brief anecdote about producer George Martin served as intro to a lush cover of Eleanor Rigby with nice percussion from America's long time stick man Willie Leacox. The set kept moving forward with Tin Man and The Border. Things got a little funky with the reggae-tinged Woman Tonight, featuring some solid guitar from Michael "Woodsy" Woods. More deep harmonies on Only In Your Heart and the Mamas And The Papas classic California Dreaming that became an instant crowd singalong.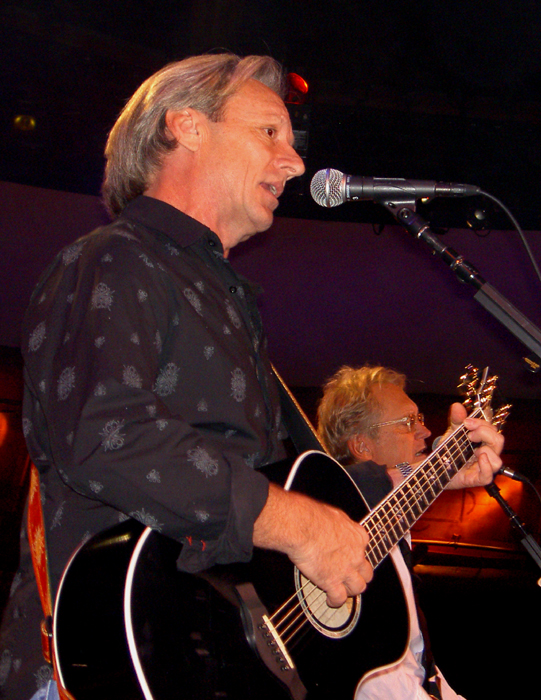 A funny moment during Lonely People: every time the line Don't give up until you drink from the silver cup came around, a group of ladies in the front all held silver cups up high! Quite a sight! Another great new song, Ride On, lead to another personal fave - Sandman - with hot guitars and rock solid bass by Rich Campbell. The set closed with the hit Sister Golden Hair, and the crowd screamed until they got an encore of A Horse With No Name. There was not a weak moment in the show. Well paced, with great energy aided by the winning personalities of Bunnell and Beckley. A warm embrace of an evening.

New York Anime Festival – Jacob Javits Center, NY, NY 9/27/08





OK, it wasn't a concert, it was an event. Having said that, there were several concerts within the event. The New York Anime Festival was a 3 day celebration of all things anime & manga. Books, DVDs, swords, posters, dolls, kimonos, clothing, artists, voice actors, directors, writers, musicians, and tons of people wearing animal ears on their heads. I saw warriors, wizards, knights, maids, mermaids, videogame characters, demons, ninjas, and a pack of Star Wars stormtroopers smoking butts outdoors. The Free Hugs movement also had plenty of representation.





The event, attended by 10,000 easily on the day I was there, had a bit of something for everyone. I caught a great jazzy-pop band called Love etc. that were fabulous. I watched part of a very out-there Japanese movie called Ping Pong and listened to a panel on adapting anime properties to live action films. Most of all it was about the people. The people at the event had a positive energy about them. It was Revenge Of The Nerds in the best possible way: people celebrating their individuality and expressing their passion visually. Many didn't just dress as a character they loved, they were that character. From their tweens to their thirties and beyond, it was true diversity in age, sexual preference, race, you name it.





There were celebrity guests as well, but that didn't seem to be why anyone was there. They were there to see each other. In modern day Manhattan, in a building of glass & steel, it was the closest I've seen to the spirit of Woodstock-meets-a-be-in. People who need people wearing fox ears and tails. Ninjas looking for the perfect panda hat. After about 5 hours of absorbing and observing, I hit a sort of sensory overload. Achy and exhausted, I left the festival cursing my sore feet & back. Back in the comfort of my little home in Connecticut, I'm looking at my brand new Astroboy keychain, wondering how the giant walking box of Pocky snacks is doing and looking forward to next year.

Michael Bolton, Ben E King, Dave Mason – Rich Forum, Stamford, CT 9/21/08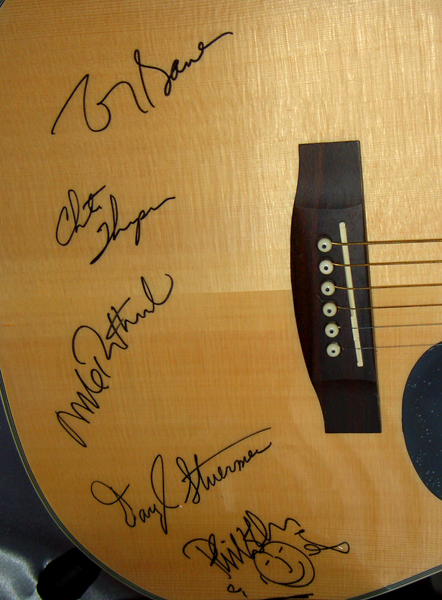 Officially this event was called The 16th Annual Michael Bolton Charities Benefit Concert. It was both a concert and an auction to benefit children & women at risk - quite an important and admirable cause. When I got to the Rich Forum, it was packed with great gourmet food and celebs - everyone from David Letterman's announcer Alan Kalter to actor Matt McCoy, celeb lawyer Mickey Sherman to sports legends Rick Cerone, Brian Kelly, Gary Waslewski, and many more. There were many silent auction items including a drum head signed by Gilmour, Mason, Waters, & Wright from Pink Floyd, a Takamine acoustic signed by the most recent incarnation of Genesis, as well as guitars signed by the Rolling Stones, CSNY, Springsteen, Fagen & Becker, and many others. It was a mini rock & roll museum, with prog well represented.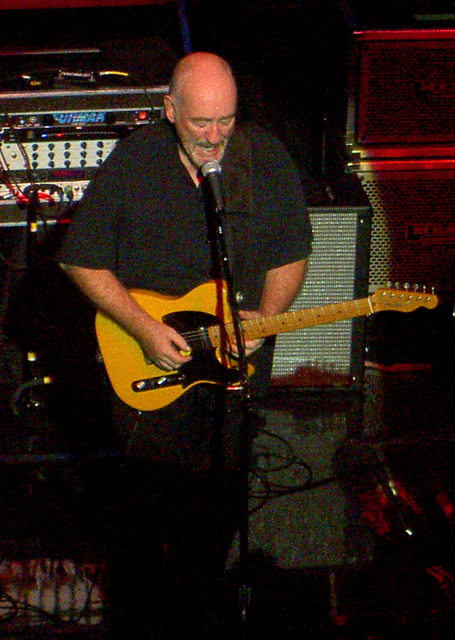 After speeches by Joan Lunden & Michael Bolton as well as an award presentation to Doris Buffett, philanthropic sister of financier Warren Buffett, it was on to the musical portion of the meeting. First up was a short set by Dave Mason and his band - drummer Alvino Bennett, bassist Gerald Johnson, keyboardist Bill Mason, and guitarist Johnne Sambataro. They were smokin' hot as they served up We Just Disagree, Dear Mr Fantasy, and Feelin' Alright. Auction host Tom Gross begged Mason back for another number and Mason & band obliged with All Along The Watchtower. These guys were the real deal, and I definitely intend to see them play a full show. Hot hot hot!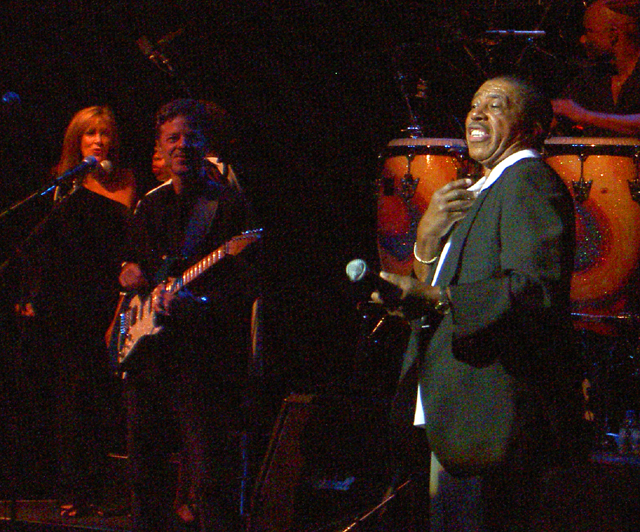 Following auctions that raised 50 grand or so, Ben E King took the stage backed by Bolton's band. King sang a heartfelt medley of Stand By Me, Wonderful World, and Cupid. His voice was immaculate as if it was still 1961. As Cupid drew to a close, he reprised Stand By Me & brought out both Mason & Bolton to join him - quite a moment. Bolton followed immediately with a set balancing originals such as Soul Provider, How Can We Be Lovers, and Time, Love & Tenderness with classic covers like To Love Somebody, For Once In My Life, and Dock Of The Bay. His band (which included former Moody Blues backing vocalist Janis Liebhart) was as tight as tight can be, and they were joined by Bolton's choir from NBC's Clash Of The Choirs on several numbers. The evening closed with Bolton strapping on a guitar for the rock & roll standard Rock Me Baby. Great vocals and blistering solos by Bolton on this one. Bringing things full circle, Bolton beckoned Mason & King to the stage with all 3 taking vocal turns on the classic tune. An outstanding event for a great cause!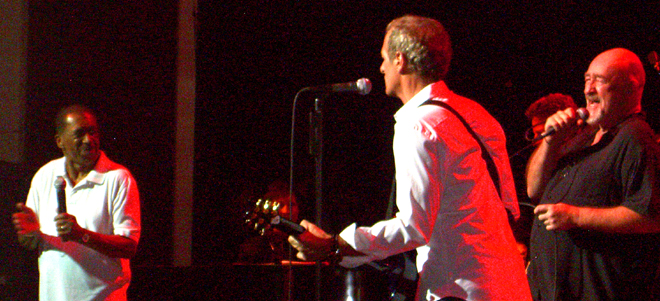 John Young – Billy Baloney's, Danbury, CT 9/14/08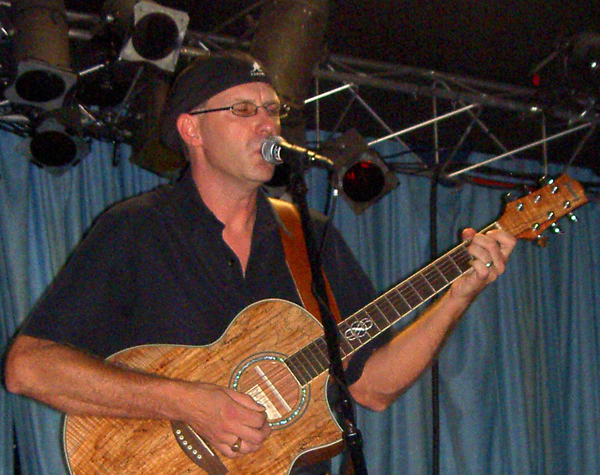 Billy Baloney's is a new venue to me. Just a few doors down from former rock venue, now rap crapatorium Tuxedo Junction, Billy Baloney's is basically an empty room with a stage and some chairs. No bar, no food, no air conditioning. Not just BYOB, but BYO everything! For its spartan simplicity, it's a nice little venue. On this sweaty, humid September evening, I was craving entertainment and got it in spades. First up was opening act Patrick James McHenry, a singer / songwriter armed with his voice and trusty acoustic guitar. McHenry had a smooth voice, nice picking style, and easygoing manner. I had never seen the CT native before, but immediately felt at home with his performance. His set was a mixture of originals and an interesting selection of covers. Outstanding to me was a Marvin Gaye medley of Mercy Me & What's Going On. McHenry brought a simple honesty to the songs, putting his own spin while remaining faithful to the spirit of the originals. Nice to hear Crowded House's Better Be Home Soon and the Ace classic How Long as well. McHenry mentioned an upcoming CD of original material. If his set was any indication, it will be well worth owning!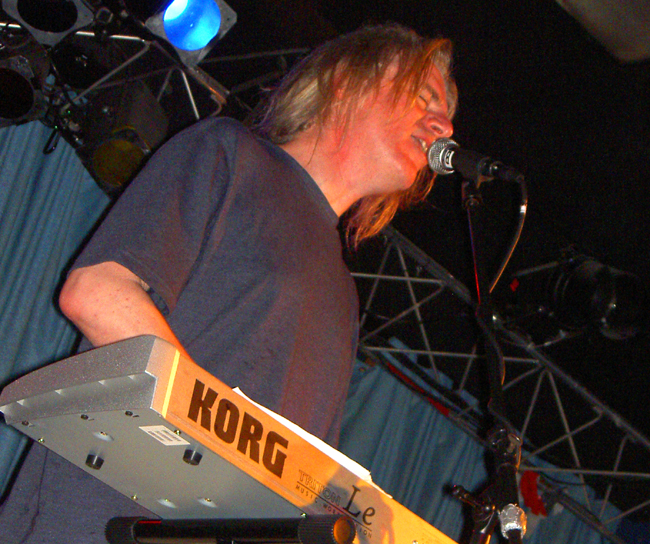 Within minutes, John Young took the stage. I knew him from his keyboard work on Fish's Fellini Days album. In addition to Fish, Young's resume includes playing with John Wetton, Jon Camp, Bonnie Tyler, Scorpions, and a many others so I knew the odds were in favor of a good night. Young's setup was a Korg Triton Le that sounded clear & deep, as well as bass/guitar/drum backing tracks on a laptop. The result was a warm, full sound despite only 1 player on the stage. Songs like Significance, Ivory Tower, and When I Was Young had nice prog embellishments in addition to strong melodies & cool-ass solos. Young had a strong, clear voice that reminded me of a smoother John Wetton in a way. Very good pipes. His stage manner was friendly & intimate - no "professional" wall. He clearly likes people and had an interesting story for each and every song, from family members to global policies (nicely touched upon in the new number Turning Turtle).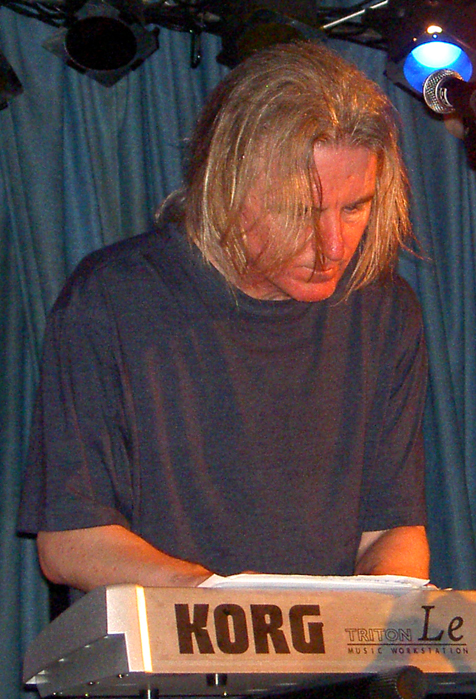 Just One Day, Different, Chasing Rainbows, Underside, and Voice In My Head showed the depth of Young's writing - often dealing with complex issues maturely in a 6 minute song you can sing along to - no easy feat. Young's solos were fluid, expressive, and at times pretty darned athletic! Topics ranged from poverty, to Simon Cowell, to the music biz, to the Spice Girls, to flies in Bangalore, and all points between as the evening progressed. During the longform Unknown Soldier, I found myself unable to resist singing along - such a great number! The set closed with Touch followed by the nifty instrumental Kings. Young hung around after the show selling CDs, signing autographs, telling more stories. Just one of the lads. I truly admire what he does - very grass roots, self-financed, risk taking. Like a troubadour of old, traveling the world, spreading the music wherever he can to whoever will listen. I will always see and support, as this is what music is all about.

Classic Albums Live – The Wolf Den @ Mohegan Sun, Uncasville, CT 8/29/08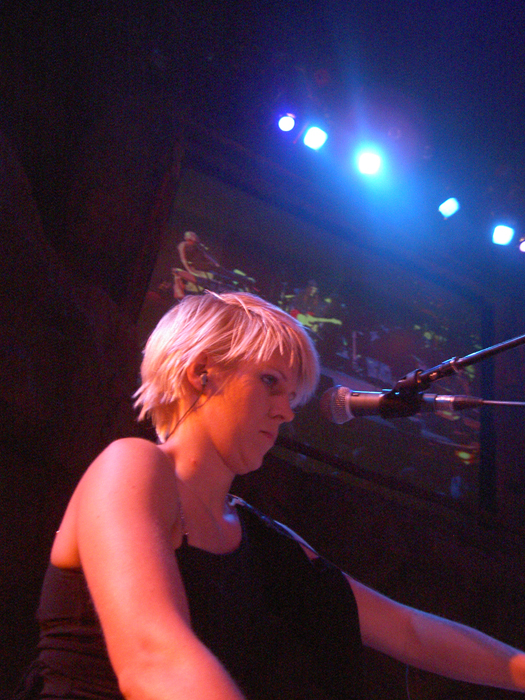 I first owned Pink Floyd's Dark Side Of The Moon on 8-track within days of release. I was all of 13 back in 1973. 35 years later, I finally got to see it performed live in its entirety. I'm going to try to sound too gushy here, but Classic Albums Live nailed it from second #1, as the heartbeat is joined by the voices and sound effects - all created live - as Speak To Me flowed into Breathe. This is as good a time as any to list the band that took on the task of recreating the album. They are: Rob Phillips - lead vocals and guitar, Des Leahy - guitar and backing vocals, Johnnie B - bass, Lindsay Clark - keys and vocals, Ryan Granville-Martin - drums, Murray James-Bosch - vocals, percussion, and stuff I don't know how to describe, Leslea Keurvorst - vocals, and Joe Meo - sax. Amazing players all.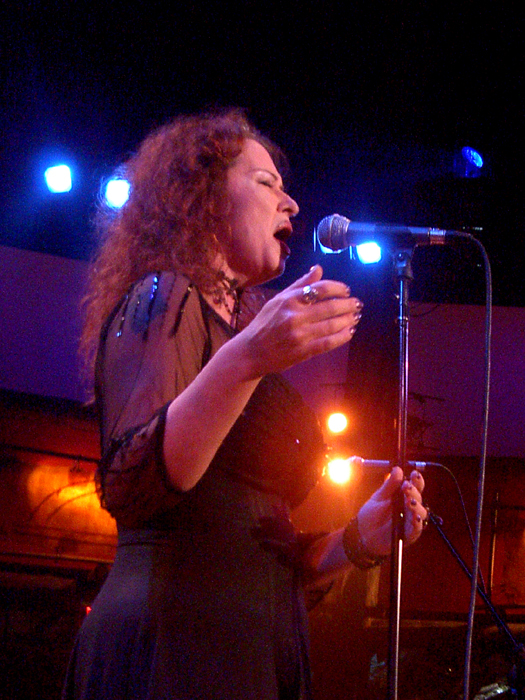 On The Run was a definite highlight with Keurvorst speaking flight announcements through a bullhorn, James-Bosch on amplified...shoes and heavy breathing, Phillips mumbling, grumbling & insanely laughing, and Clark playing the keyboard sequence flawlessly. Clark later told me she recreated the sounds and sequence from scratch & totally by ear. After a resounding crash, everyone held up all sorts of clocks that started going off to signal Time. Vocals and the guitars of Phillips and Leahy were just deadly with solos note for note with tone & nuance matching David Gilmour's to a T. The Great Gig In The Sky was just...chilling. Leslea Keurvorst nailed the emotive vocal so perfectly, capturing the beauty and power in it, I was near tears.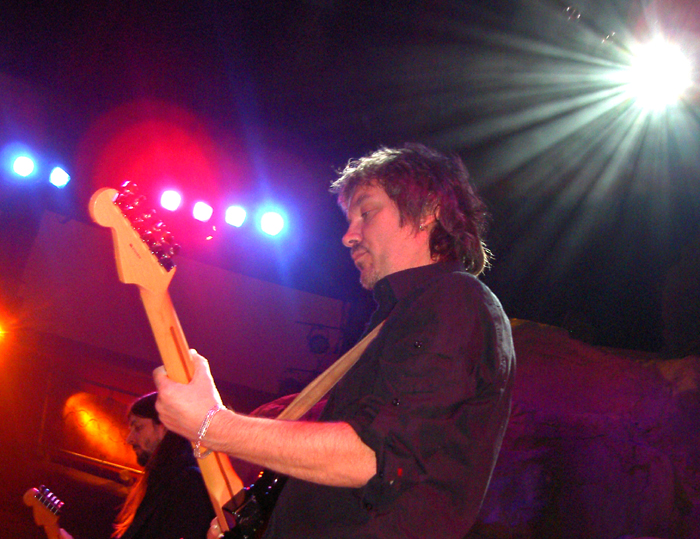 Money was all precision, with, once again, spot on guitar solos, and big beefy say from Meo, who also shone on Us And Them. Us And Them, though, if anything, was a spotlight for Clark's textural keyboard work. Clark, Leahy, and Phillips were locked in tight on Any Colour You Like, with Phillips wailing where the vocals sings the guitar line. Brain Damage lead all to quickly into Eclipse, and Dark Side Of The Moon was gone all too soon. It was quite an emotional experience for me, I must admit. Not so much nostalgia as connection.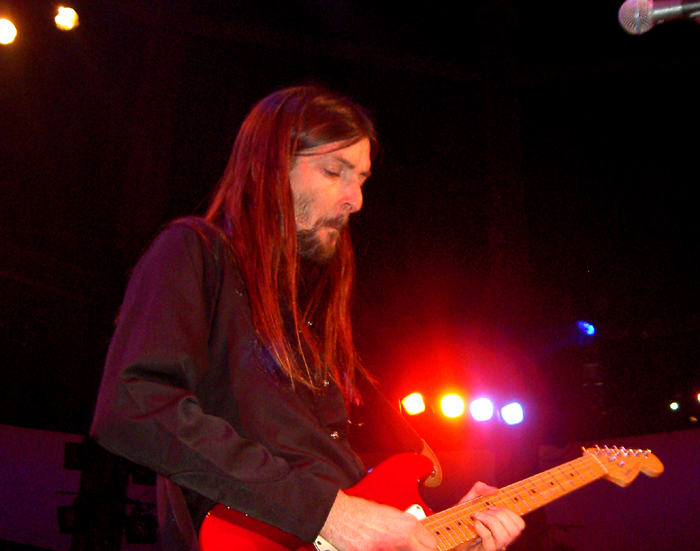 After deserved applause and bows for job well done, we got more Floyd, starting with Young Lust. Great guitars by Phillips and Leahy once more and smiles all around as the song ended with Phillips and Keurvorst recreating the phone call that ends the song. The band did a very smart thing for Another Brick In The Wall Part 2 that, amazingly, Pink Floyd never did when they performed it live. Floyd always had the children's vocal part on a tape they played, while Classic Albums Live simply asked an obliging Wolf Den crowd to be that chorus! Rob Phillips at last donned an acoustic guitar for a stellar version of Mother, and kept it on for a graceful Wish You Were Here. The rhythm section of Johnnie B on bass and Ryan Granville-Martin on drums just owned Have A Cigar and the set closer - Run Like Hell. The encore of Comfortably Numb took on a nurse / patient edge with Keurvorst singing the Roger Waters parts and Rob Phillips the David Gilmour lines. A powerful end to a powerful evening!
An addendum: Despite the fabulous performance I got to hear and see, I was at a table with my concert nightmare come to life - non-stop talkers. Wait - non-stop drunk talkers. Few things are worse at a concert. Disrespectful to both the performers and the others attending who actually want to hear the music. Manners, sadly, are a relic of the past.

The Flower Kings – Highline Ballroom, NY, NY 8/26/08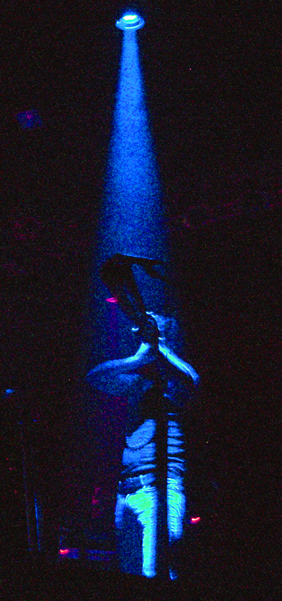 This was my first show at this relatively new venue in the Chelsea area of NYC. Not much to look at from the outside, but once in, a beautiful club. Dimly lit with the side areas changing colors from red to green to blue. Nice tables with actual comfy chairs - my butt didn't get fatigued all night! Good food & pleasant waitresses all added up to a nice atmosphere. The opening act, A Diary Of Need, came on at 2 minutes past 8. I was immediately struck by the atmospheres the guitar and keyboards were laying down. Otherworldly, disquieting pallettes of sound. Bass and drums came in, pulsing & pulsing. I found the sound to be modern and hypnotic. Dark and uncomfortable. I loved it.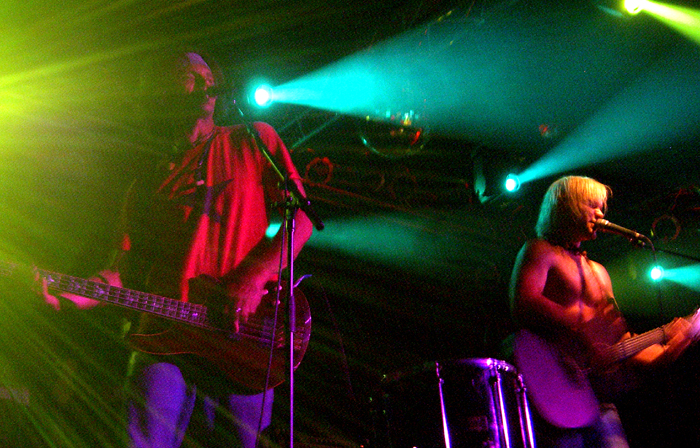 With his blonde mohawk swirling, vocalist Thor intoned his way through the first number, Fake It. Up next were End Of Me and We'll Never Be The Same - the latter with outstanding guitar by Shawn. After another fine number, Tell Me, the stage darkened as Thor and keyboardist James played dual didjeridoos to introduce an extraordinary piece called The Peak. During the second half of the number, drummer Lex's insistant beat was accented by the tribal drumming of both Thor and bassist Dave. Strobes accompanied the heated rhythms that overtook the venue. Just an unforgettable moment. Your Prey, So Much, and Wet With Memory followed. By the time the band got to Seas Of Regret I realized how much I was enjoying A Diary Of Need. Solid songs, passionate playing. Their set closed with Becoming and I was on my feet, absolutely won over by this moody, avant quintet. Quite an opener!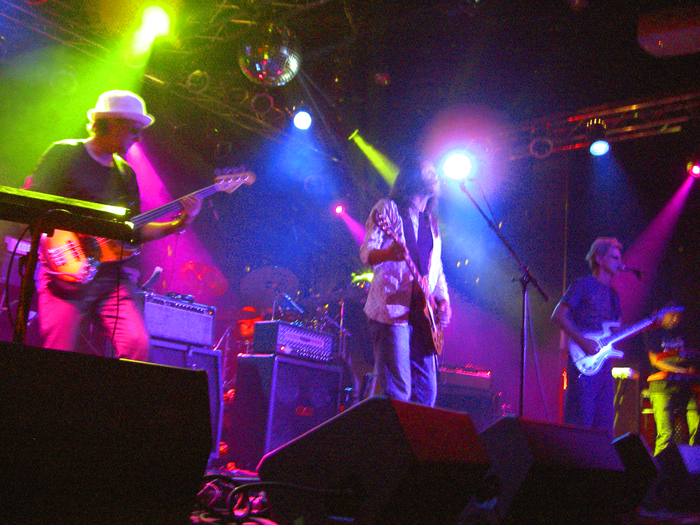 So nice to see the Flower Kings again after a 2 year hiatus from the East Coast. Two new guys since the last go round: Erik Hammarström on drums and Ola Heden on 2nd keyboard, vocals, & harmonica. Both acquitted themselves well. A 15 minute version of The Truth Will Set You Free started things off on a strong note, with Hasse Fröberg in fine voice. One More Time was next with great bass work from Jonas Reingold and his magic white hat. The beautiful What If God Is Alone had nice guitar by our very own Roine Stolt and really touched an emotional chord in me. Hammarström intro-ed Pioneers Of Aviation with a solo that told me he's still figuring out the proper solo to put there.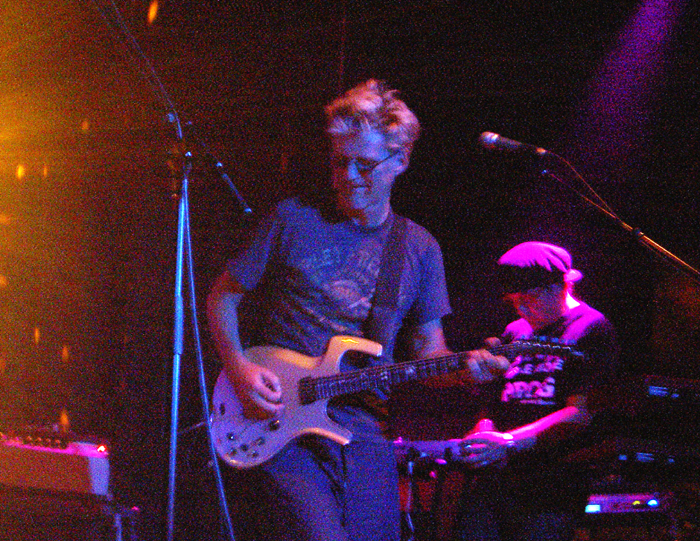 There was a funny moment during World Without A Heart. Stolt clearly forgot the words midway through and after hemming & hawing around, grabbed a cheat sheet as members of the band added mock sign language. A nice, humanizing moment. The klunkiness continued on parts of End On A High Note with a few miscommunications between members. All was well and forgiven with Love Is The Only Answer. It was a true ensemble piece with Heden being a living overdub to Tomas Bodin's main keyboard parts. Quite a long, complex piece with lots of nice, dynamic moments. Next, Stolt and the boys took us back with a medley of World Of Adventures / I Am The Sun Part 2 to close the set. It was most of the former and the second half of the latter, with its big chords and majestic feel. For the encore, Stolt asked if we could stand another 12 minutes of progressive music, with the crowd's roar as a reply. In response, the Flower Kings delivered a sonic bouquet in the form of Life In Motion. It was a beautiful performance with a lovely ending that I couldn't help but sing along with. A night redolent with chords like honey and playing smooth as fresh butter.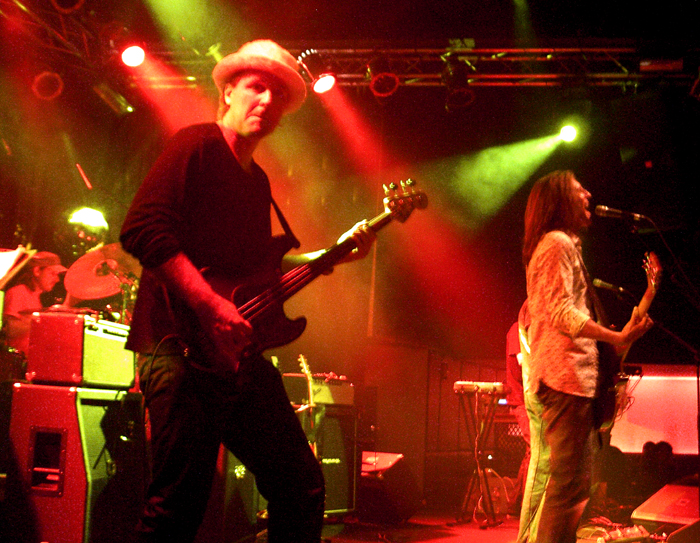 She Loves You – Downtown Cabaret Theatre, Bridgeport, CT 8/16/08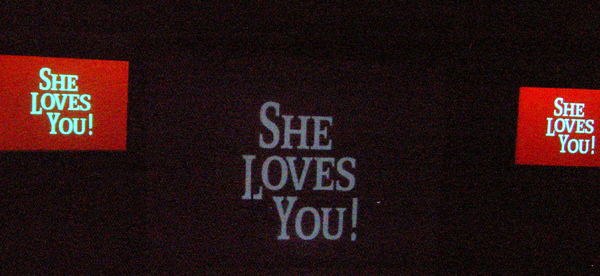 It's a play. It's a concert. It's both and more. It's a Beatlebration! She Loves You is a multimedia show that combines live performance with entertaining video bits as well. Performing as the Beatles are Alan LeBoeuf as Paul, David Leon as John, John Brosnan as George, and Carmine Grippo as Ringo. They really had the Beatles vibe & feel down pat. Many of the moves and mannerisms were there, never feeling forced or stiff, always fluid, always organic.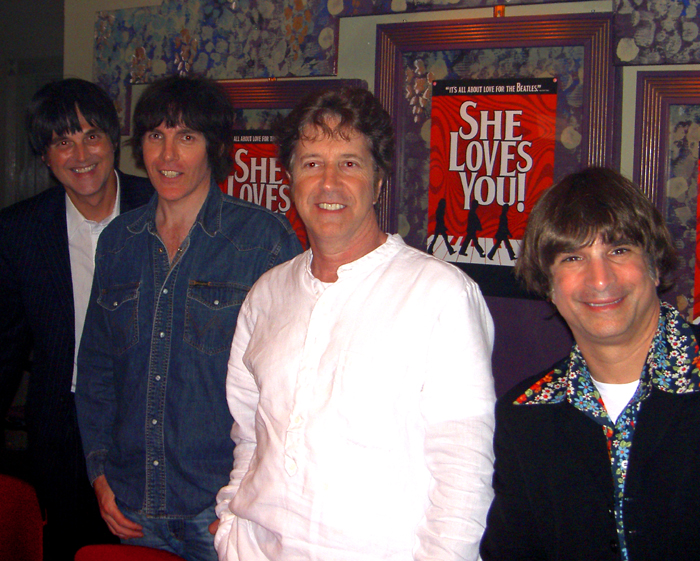 Act 1 opened with a video montage of early 60s images: the Kennedys, Ozzie & Harriet, commercials and news footage all leading up to Ed Sullivan introducing the Beatles. At that moment, the curtain rose and the quartet, dressed in their "Sullivan" outfits, kicked straight into I Want To Hold Your Hand. All was high energy and dual vocals and they kept it rolling with Please Please Me before slowing things down with lush, 3-part harmonies on This Boy. LeBoeuf had a fast twofer on lead vocals with All My Loving and I Saw Her Standing There. More video as the lads changed into their Shea Stadium garb and returned to rock us with Day Tripper. Leon sounded, well, fab, singing lead on I Feel Fine. Brosnan took the mic to sing Roll Over Beethoven and played some kickin' guitar. By this point, the early show crowd was really starting to warm up and an energetic Can't Buy Me Love and were met by mucho applause. A hilarious vintage Heinz pickle commercial kept everyone laughing during another outfit change. The boys emerged all in black & wearing shades as they launched into Paperback Writer. The harmonies were incredibly tight - just a great blend. As they also were on Nowhere Man. During Yesterday everything just seemed to be magic - LeBoeuf's vocals and guitar as well as Leon's keyboards playing the string quartet parts - a timeless moment. Act 1 closed with Got To Get You In To My Life and the lovely In My Life and the lights came up for intermission.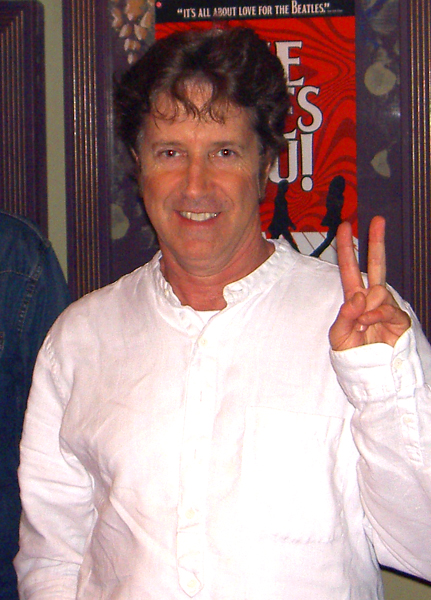 As the lights came down for Act 2, we were transported in sight and sound to San Francisco, circa 1967. Flower children, hippies, yippies, and Carnaby Street candy colored clothes. A familiar sound of a crowd milling in anticipation prefaced the powerful guitar crunch of Sgt Pepper's Lonely Hearts Club Band with our faux Liverpudlians in full Pepper costumes. Grippo delivered a nice, heartfelt vocal on A Little Help With My Friends with great backing vocals. Getting Better was another show highlight with a great psychedelic ending that served as a bridge into A Day In The Life, a song abetted by some cool visuals on top of an excellent performance. More video and a costume change and off we went into All You Need Is Love, complete with balloons and love placards adorning the stage. Both sides of one of the greatest singles in history - Penny Lane and Strawberry Fields Forever - kept the psychedelia going as well as the smile on my face. A feisty Hello Goodbye had tight guitar and bass interplay between Branson and LeBoeuf. More video brought us to the final costume change and latter day section of the Beatles story. The harsh Revolution was immediately contrasted by the sublimely beautiful Something and the reggaefied singalong Ob-La-Di Ob-La-Da. The show concluded with a beautiful pairing of Let It Be and Hey Jude with LeBoeuf on piano and Leon moving over to bass. As the last na nas faded, the crowd roared for more and the lads happily obliged. She Loves You and Twist And Shout ended the evening with singing, dancing, moving, and grooving and great feelings all around. The show runs until September 21 before moving on to Pennsylvania for a 10 week run. Worth every penny! A splendid time is guaranteed for all!

Jethro Tull – Mohegan Sun Arena, Uncasville, CT 8/10/08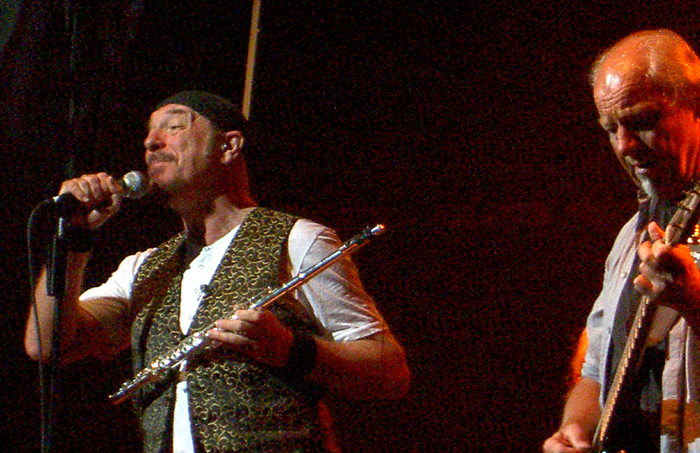 Parking at Mohegan was a mess, and it was getting down to the wire. I was able to grab my tickets and photopass and scurry down to the front of house with a few minutes to spare. Unlike the majority of dates on the US leg of Jethro Tull's 40th anniversary tour, there was no opening act. Just Tull. Just the way I like it, as Tull have their own vibe, their own energy, and sometimes another act can distract from that. Tull hit the stage with guns blazing, opening the set with My Sunday Feeling. Ian Anderson was in very decent voice, and Martin Barre was explosive on guitar. Behind the band, a large screen showed vintage photos and press clippings spanning the band's career.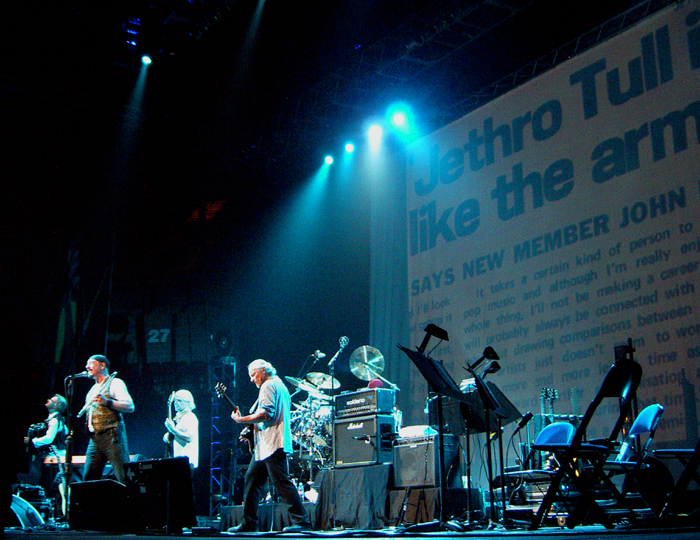 Living In The Past was next, followed by the welcome return of Serenade To A Cuckoo, a song I've not heard in a bit. Speaking of seldom heard numbers, Nursie popped up, significantly longer due to a crunchy Barre solo tacked on to the back end. David Goodier on bass and Doane Perry on drums drove A Song For Jeffrey with its bluesy stomp, paving the way for the twofer of Sossity; You're A Woman / Reasons For Waiting with lovely keys by John O'Hara, and lovely everything by the Calliandra String Quartet. The quartet accompanied the band on many songs as the evening rolled on. A funny story referencing Mick Jagger's age introduced Too Old To Rock 'N' Roll, another song making a return after a long absence.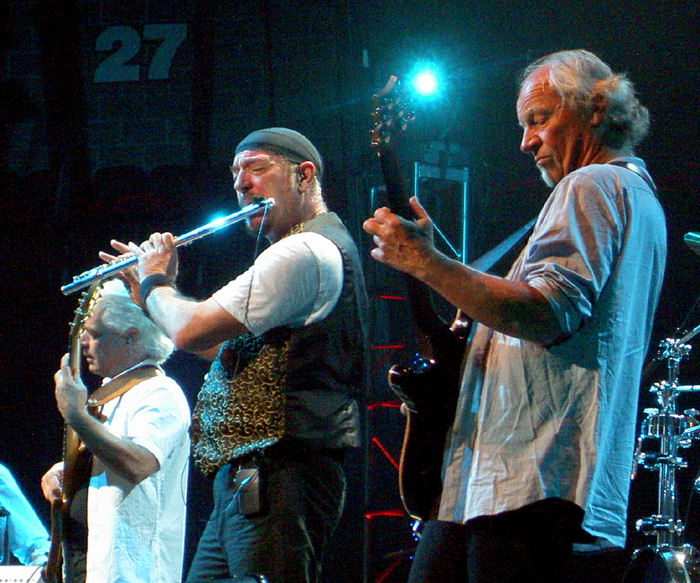 Agriculture and the plight of the modern farmer got their due with Farm On The Freeway, and the ever-present Bourée got a new minty freshness with the Calliandra strings and Goodier's deft bass work. A New Day Yesterday had a bit of Kelpie thrown in on flute by Anderson. With a chord sequence later lifted by the Eagles for the song Hotel California, We Used To Know segued nicely into With You There To Help Me. Perry turned in a hot drum solo in Dharma For One which also included a section of Barre's Count The Chickens and some fine claghorn by Anderson. A Tull fan named Carl (or Karl) proposed onstage to his sweetheart (she accepted!) as perhaps the most unusual introduction to Heavy Horses - so nice to hear a full version of this classic with strings to boot. A chunk of Thick As A Brick and Aqualung closed the well paced set, and the encore of Locomotive Breath had the arena on its feet. A strong celebration of 40 years of solid rock!

The Silver Beats – Toad's Place, New Haven, CT 8/7/08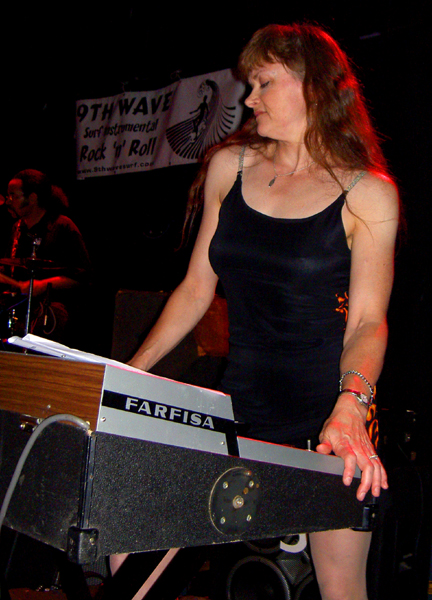 Anyone that knows me knows my love of the Beatles. When I heard that the Silver Beats, a Beatles act out of Japan, were coming to Toad's, I just had to be there. I gave no thought to the opening acts whatsoever. Foolish me! There were 3 bands on before the Silver Beats, and every one deserving of headline status. First up was 9th Wave, an excellent surf band. They had a solid retro sound on numbers like Time Tunnel, Atlantic Surfer, and Diamond Head. Guitarist Mike Rosado laid down cool licks on every song. Bassist Negative Ed was locked tight with drummer "Phearsome Phred" Rawles, and Sandy "Oceana" Brooks was a great utility player covering Farfisa, rhythm guitar, and flute - not to mention being a mean gogo dancer! Their excellent 10 song set was way too short.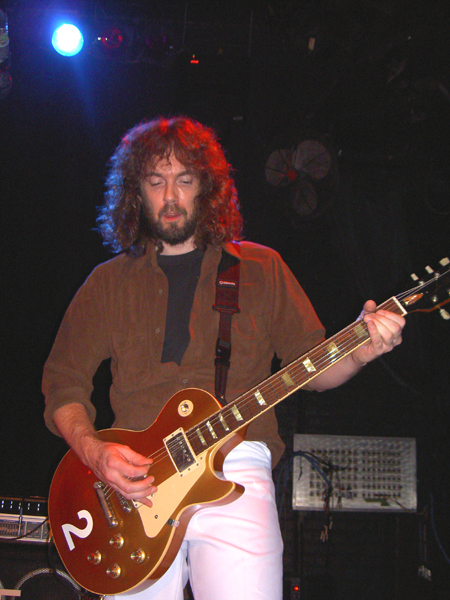 Odds & Sods, a Who tribute, were next on the menu. Terrific energy & great playing. My Generation opened the set with powerhouse vocals from Dave B. Covering Townshend's parts was Bill G who was a fury on guitar. Can't Explain, The Real Me, & Substitute were all spot on with great energy. Bassist Marshall S and drummer Mike P pounded through Young Man Blues like wildmen. Pinball Wizard and the See Me, Feel Me section of We're Not Gonna Take It wrapped a compelling set. A band worthy of attention!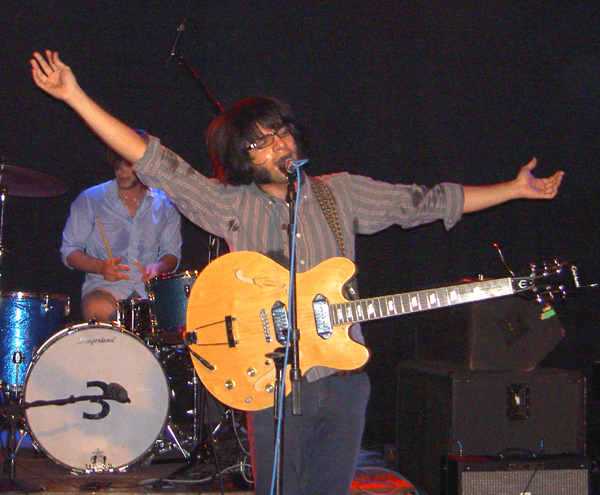 Out of Richmond, VA came Prabir & The Substitutes, a young power pop band. Their sound was full of lush harmonies, big melodies, and jangly Byrds-ish guitars with an energy that reminded me of early Elvis Costello. Their set was built on catchy, intelligent pop rockers like Little Black Dress, The Kiss, and Something New. They were strong from start to finish, and put a smile on my face that never left. One of the finest new bands I've heard in the last decade!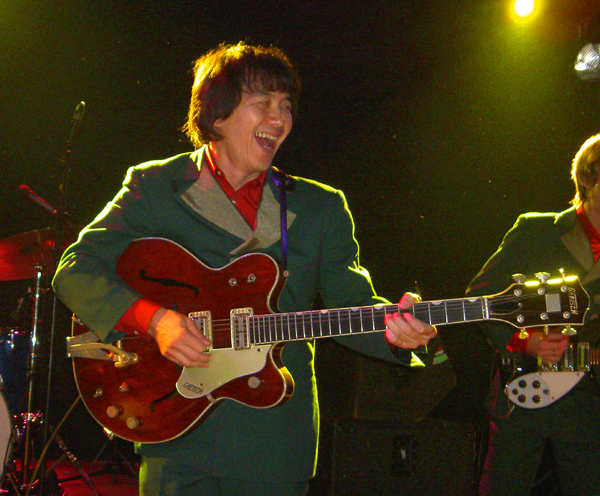 After a full night of quality rock, the Silver Beats were the icing on the cake. Blazing through 34 Beatles classics, the Silver Beats were bursting with good vibrations. It was a flat-out party! I Feel Fine, This Boy, And Your Bird Can Sing, Tell Me Why, Money, and The Night Before were just a few of the highlights. While all 4 players were nothing short of fantastic, I must take special note of Hajime Kubo, who played and sang the George Harrison parts. His solos were awesome, his mannerisms true, and his good nature transcendant. People were grooving and grinding and bouncing to Rock And Roll Music, Roll Over Beethoven, Nowhere Man, Please Please Me, and Eight Days A Week. By the time we hit the singalong fade of Hey Jude, everyone was joyfully spent. A 4 band affirmation of pop/rock at its finest!

Frank Marino And Mahogany Rush – B B King's, NY, NY 7/18/08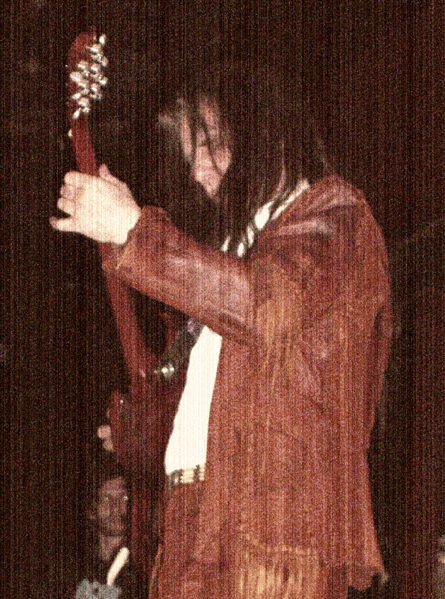 Another scorcher in the Big Apple. Temperature was well into the 90s and humid as a sauna. Down in the main room in B B King's it was cool-ish. The crowd that packed the club brought the heat in with them. Lots of bikers & biker wannabees. A pleasantly surprising amount of younger folks and very pretty women. As my friend Irwin said: "I'm very comfortable with this crowd." Couldn't have put it better. We were all eager to see Frank Marino and Mahogany Rush. No one left disappointed.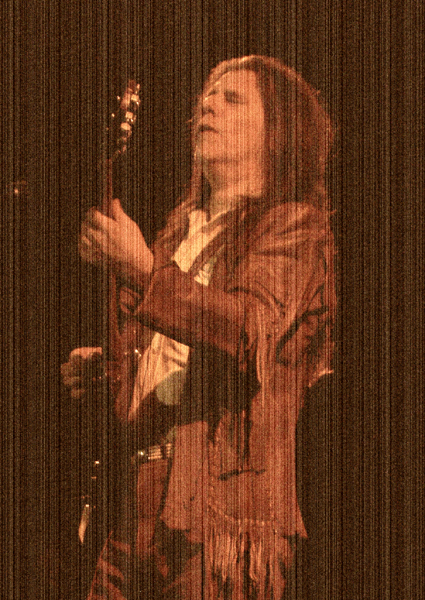 Every now and then you see someone who is truly a master. That's Marino. Between his mind and his fingers, there seemed to be nothing he could not do with his guitar. Lightning runs, soaring emotional swoops, sounds unthought of - it was all there. Land Of A 1000 Nights started the set off forcefully, with Marino's Gibson SG just blazing away. It was just breathtaking. I sat there feeling like a time machine took me back to the days of genuine guitar heroes. Yet it was here and now - a very satisfying emotion. He's Callin' brought us to the land of Middle Eastern tinged psychedelia with a nice violin spotlight by Avi Ludmer well complimented by the liquid light show accompanying the band. Drummer Dave Goode gets a nod here for absolutely stunning rhythms. Marino tore the joint apart with a radioactive take of the blues classic Red House with guitar playing to make your jaw hang in disbelief. My brain had difficulty processing all the information being given!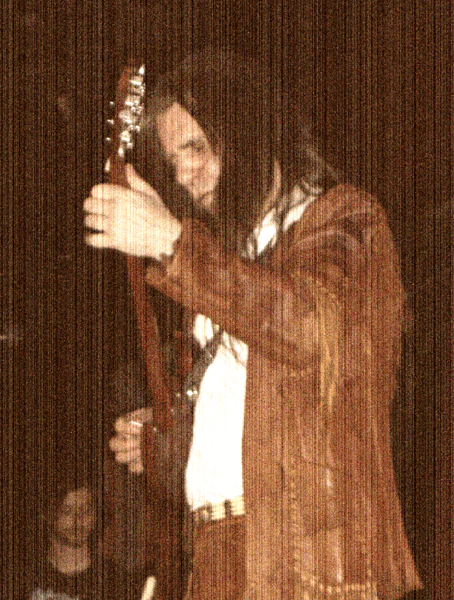 Something's Coming Our Way kept the energy going, anchored firmly by the bassist - Mark Weber - a monster player. Next up was a loooong instrumental with lots of room for improv, with Marino's guitar quoting Light My Fire and She's Not There, and the violin throwing in a piece of Summertime before it all built to a hot version of Crossroads with growling vocals from Marino. Strange Universe and Rock And Roll Hall Of Fame followed with the latter breaking down to just guitar and drums with Marino throwing a million ideas through his fingers and quoting riffs from Cat Scratch Fever and Smoke On The Water. The rest of the evening saw Marino take us from Blue Jay Way to Somewhere Over The Rainbow to Amazing Grace in the midst of solos so far out on the edge that I was actually shocked. I was listening to creation and the apocalypse and tragedy and triumph all at once. So rarely has one man's work dazzled me as Frank Marino's playing did. No disrespect to the rest of the band - they were superb! It's just that Marino exists on this other plane of playing that is difficult to put into words. 2 1/2 hours of rock and roll heaven. Just unreal!

Fish – Toad's Place, New Haven, CT 6/24/08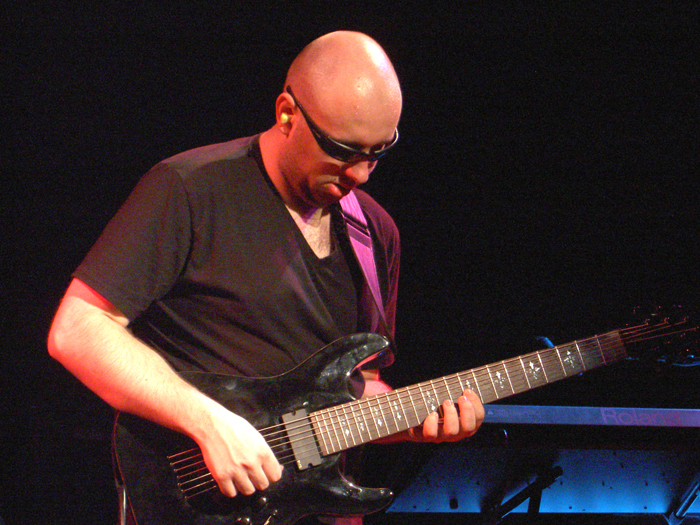 Ahhhh, Toad's Place. Right in the heart of New Haven, smack dab in the middle of Yale. When you walk in the doors, you smell old wood & beer. It's the smell of "welcome." It's also my favorite venue to see a band perform live. You can get right in their face, see what's going on as they play, see every bead of sweat. In short, the perfect place to see Fish. Opening for Fish was a prog metal act out of CT called Bushwhack. They impressed me during their soundcheck & blew me away during their set. The keys/guitar/bass/drum quartet play hard driving, exotic instrumentals at full throttle. Frank Sacramone laid a bed of keys that Sea Of Tranquility was built upon. While a fine lead player, I really enjoyed the fact that Sacramone was all about textures - sometimes you weren't aware of the notes, so much as the feel. Menace and Day Of Showers followed with great guitar work by Jamie Van Dyck, reminding me of a young Reeves Gabrel - lots of tasty chords and interesting sounds. Honor and The Greatest Wall showcased the muscular bass of Brandon Green and the hyperkinetic drumming of Ben Shanbrom. Shanbrom made me sweat just watching him! Introspection closed their set. Bushwhack is a band I'd gladly see any day of the week. Total headliner material & worth keeping an eye on!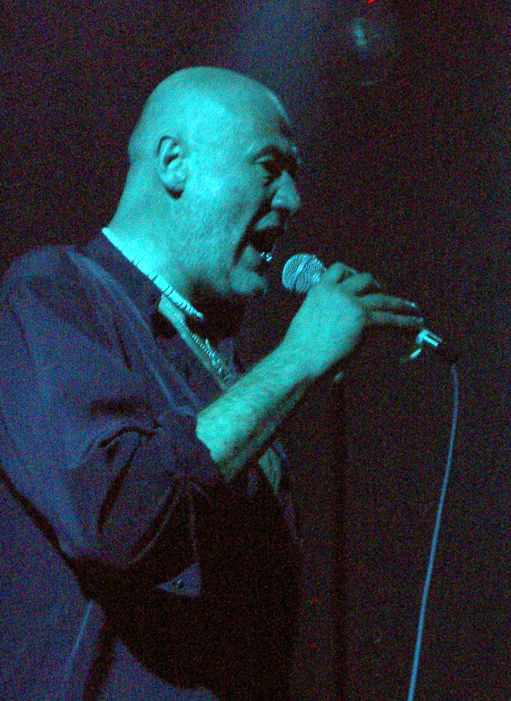 After the lilting strains of La Gazza Ladra and a spoken intro by none other than little Lisa Simpson, Fish and the boys hit the wood. Same set that I saw the week before in NYC, but a very different energy. I felt like the crowd were more connected. This could be a foolish illusion, but I don't think so. Slainte Mhath started the set powerfully. Big chords and strong chorus reminding us that this is the story so far. The more I hear Circle Line, the more I fall in love with it. Fish's theatricality brings the song to life on stage. The same goes for Square Go, another gem from 13th Star. I've tried to figure out why the crowd loves So Fellini so very much, as it's a song that's flown under the radar for years. I think it's the great singalong quality of the chorus. Most of the songs from 13th Star punch you in the face, and Manchmal is surely no exception. The bass and drum combo of Steve Vantsis and Gavin Griffiths are like a sonic piledriver.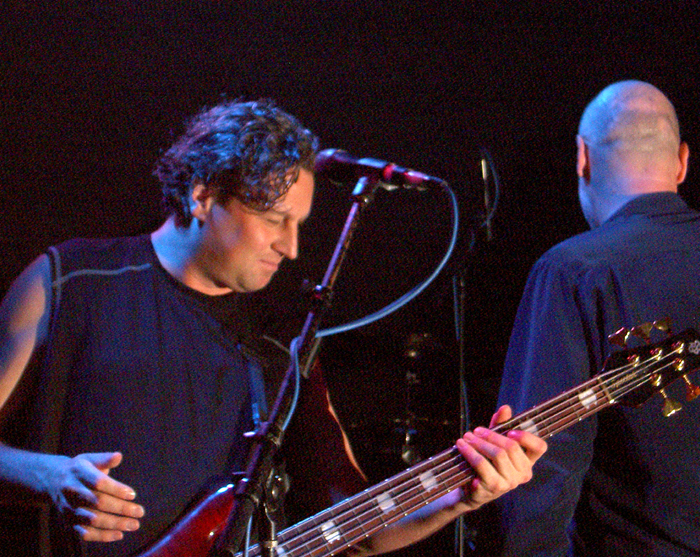 The tinkling of cymbals and Foss Paterson's keys signalled the arrival of Hotel Hobbies to the delight of all. Frank Usher's guitar screamed in anguish before seguing into That Time Of The Night. Emotions built to a crescendo with Warm Wet Circles, as the crowd screamed the title in unison with Fish - a moment of strong connection. The lush, lovely Arc Of The Curve was next. I was sitting on Chris Johnson's side of the stage for much of the set and around this time concluded he was the secret weapon of the show. Always there with the right guitar part of backing vocal. Playing tight harmonies with Usher or locked in rhythmically with Vantsis. Fish told a story of relationships, faeries, and the venting of frustration that was the groundwork of Dark Star - a song nicely dressed by scores of tiny twinkling lights on the curtains behind the band. The band rocked the pulsating SAHB classic Faith Healer very hard with Fish once again healing the crowd. It's a real spirit pumper! White Russian ended the set - still sounding great some 20 years later, and inspiring peace signs all around.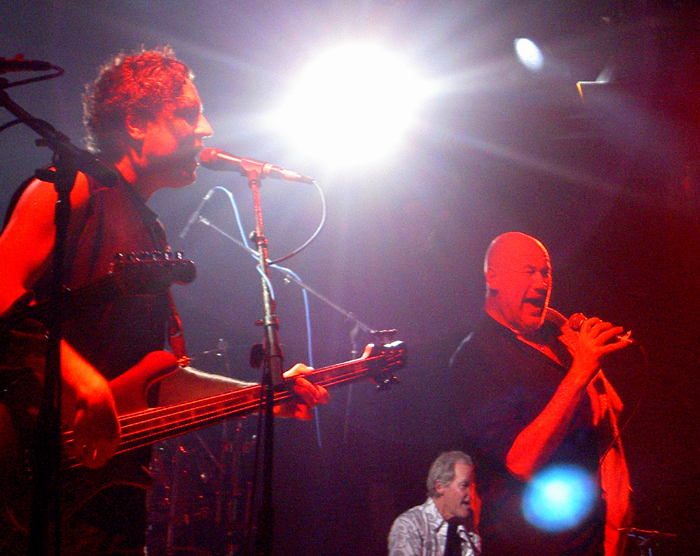 It's a given that Frank Usher's magic guitar pretty much owns Cliché, the first encore number. Fish's lovely vocal and Paterson's emotive keys were icing on the cake. It was singalong & clap along (in several different time signatures, I might add!) time with Incommunicado. It's the only way, after all! The Last Straw was the final encore, always a powerful piece. This felt very much like a "home" gig - friends playing for friends. I hope the band enjoyed it as much as the crowd did! Come back soon Fish!

Fish – B B King's, NY, NY 6/18/08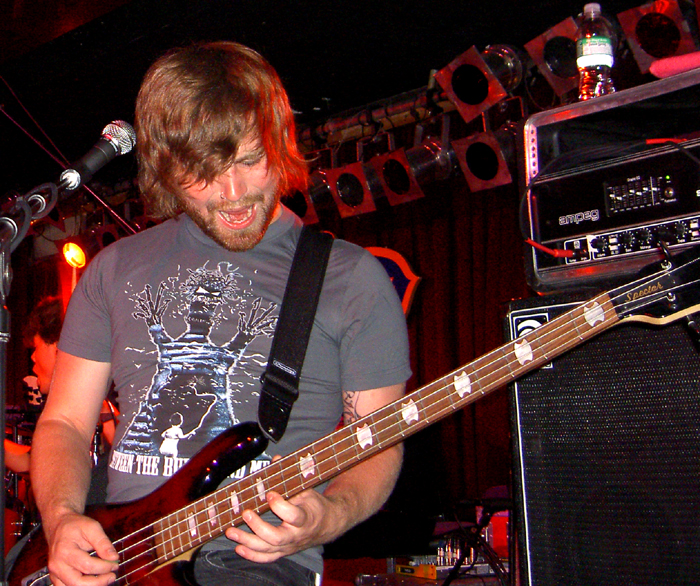 After the heat wave of last week, the city cooled down a bit, thankfully. It was a beautiful evening in New York City. Fish was back in town for the first time since 2001, if memory serves, and the band 3 came along to open for the guddler. Things got right in gear at 8, with 3 frontman Joey Eppard fiercely picking the opening strains of The Word Is Born Of Flame. As it segued into The End Is Begun, drummer Chris Gartmann and percussionist Joe Stote built the song to a sonic frenzy, and the standing crowd at B B King's was won over! Guitarist Billy Riker added considerable crunch and wail to Eppard's already formidable guitar on Battle Cry and Alien Angel.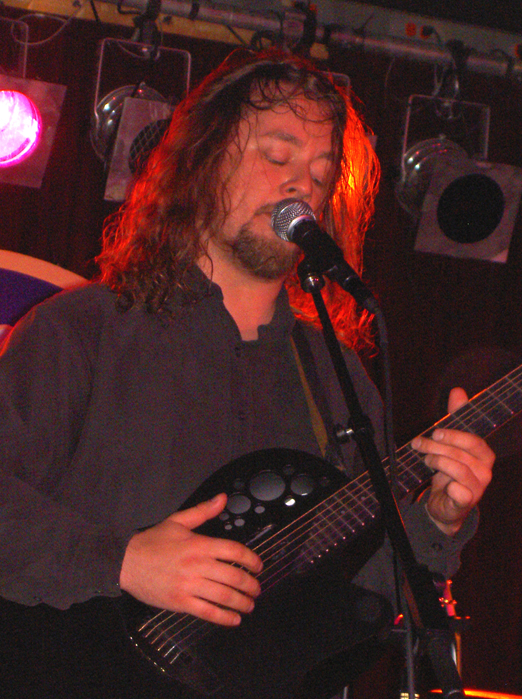 Headbanger's Ball fave All That Remains followed, anchored flawlessly by bassist Dan Grimsland. The song is heavy, but with a great melodic feel. My Divided Falling, Dregs, and the aptly titled Monster kept the energy high. Eppard's stunning acoustic piece Bramfatura lead into a Gartmann / Stote percussion piece that took us straight into the set closer - 3's anthemic Amaze Disgrace - as powerful a piece of rock as you'll ever hear. 3's tight, memorable set deservedly won quite a few new converts. Absolutely breathtaking!




20 to 25 minutes later, our cultural envoy from Scotland took his turn at the microphone. In support of his latest album - the brilliant 13th Star, Fish and the band started mass with a familiar hymn - Slainte Mhath - a number from a band I just can't recall the name of. No matter, it'll come to me. Circle Line with the lyric "Never a moment passes by when I feel I'm not treading water in a sea of drifting souls" resonates in both the soul and the gut. Foss Paterson's keys and Steve Vantsis' bass took us down to a swamp of emotions with Square Go - highlighted by a great little rant from Fish. Storytime. Onkel Fish told tales of rainbows over the Empire State building before the band launched into a jaw dropping So Fellini.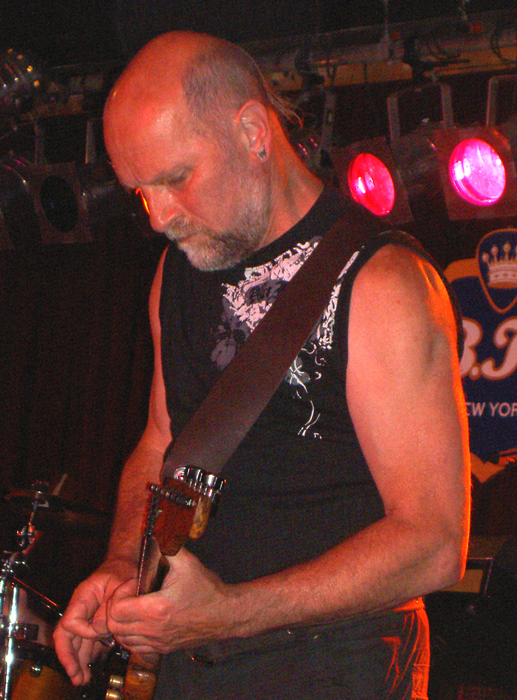 Relationships. Fish related a bit of his recent romantic woes as an intro to Manchmal, made even more poignant by the fine guitar of Mostly Autumn stringman Chris Johnson. The screams and shrieks were fairly deafening during the trilogy of Hotel Hobbies / That Time Of The Night / Warm Wet Circles. The crowd sang in a way that I can only describe as religiously. More tales lead into Arc Of The Curve and Dark Star both full of beauty and power. Did I neglect to mention that Frank Usher was in the house? There was no way you could miss his howling, greasy, biting, wailing guitar on the cover of the classic Sensational Alex Harvey Band song Faith Healer. Fish leapt into the crowd, "healing" the audience by laying his hands on their foreheads. The set closing White Russian was the only thing that could follow those antics. Gavin Griffiths' powerful, precise drumming drove the number, along with a heartfelt performance by Fish and a goofball moment when an audience member decided to jump the stage and add his drunken vocal before being patiently escorted to the side.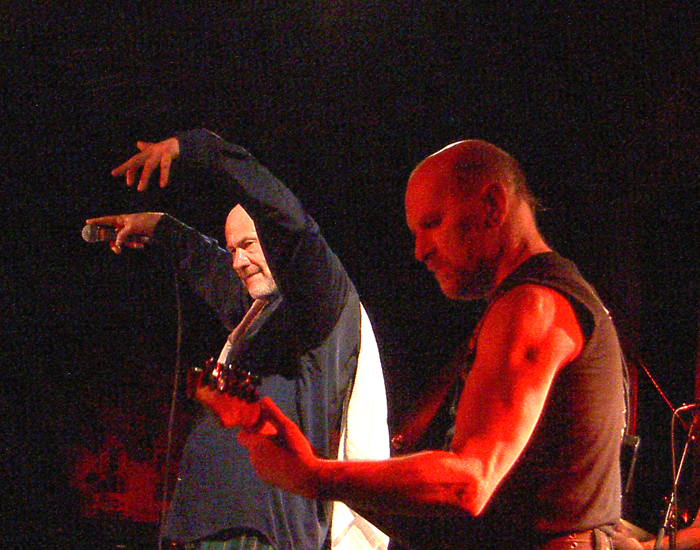 The first encore was the lovely Cliché, with an incredibly moving solo from Usher. Hands in the air and clapping madly for a rollicking Incommunicado with Fish mugging for American Express, talk shows, and prime time TV! The Last Straw ended the evening on a rocking note, then it was all bows and goodbyes. So good to have Fish back on these shores. One of those nights you brag about for years to come.

Strawbs – B B King's, NY, NY 6/10/08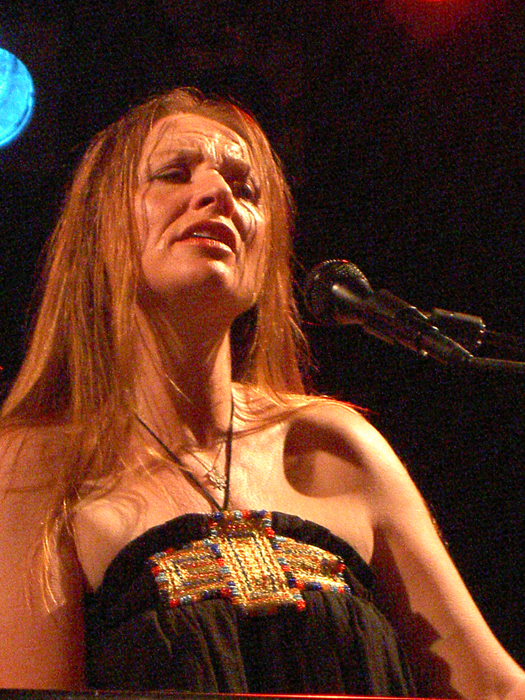 It was the hottest day and night of the year so far. So muggy it was like walking into a Turkish towel. NYC was miserable, just miserable from the heat. That was the setting for the show - heat and sore feet! I was beat, hot, tired & sore! Coming to my rescue was opening act Judith Owen. Fair of face and beautiful of voice, Owen was a treat right out of the gate. She opened her set with a jazzy confessional cover of Smoke On The Water. Owen played piano as well as she sang - a sort of Sandy Denny meets Joni Mitchell filtered through Kate Bush, but with the humor that befits the wife of Harry Shearer ( a fact I didn't know til looking her up online after the gig!). Her between song banter was engaging & dippy (in a good way!). Her self-penned numbers - Painting By Numbers, Nicholas Drake, Creatures Of Habit, Let's Hear It For Love, and Walking The Dog were absolutely wonderful. I want to see this woman headline as soon as possible!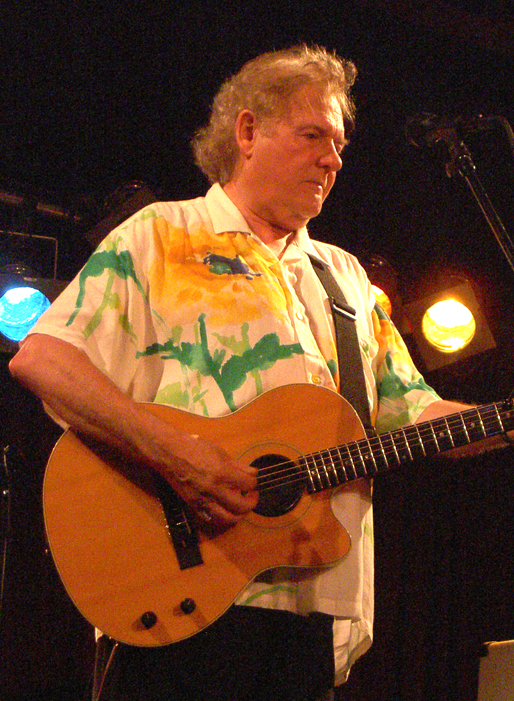 Hitting the stage shortly after was the Hero And Heroine / Ghosts line up of Strawbs: Dave Cousins, Dave Lambert, Chas Cronk, John Hawken, & Rod Coombes. From the very first note of Lay Down, I knew I was in good hands. Out In The Cold and Round and Round followed, with Hawken's analog synth sounds bringing a smile to all. Speaking of Hawken, his delicate, expressive piano was the hero of Remembering / You And I (When We Were Young), a true highlight of the evening, with Cousins' vocal as delicate as a feather in a Spring breeze.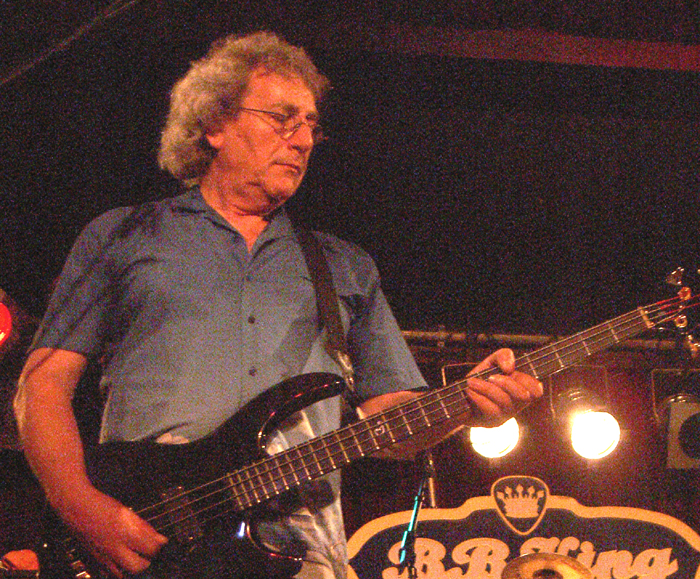 The title cut from the upcoming new Strawbs disc, The Broken Hearted Bride, came next. It was a melodic rocker - modern but full of classic Strawbs elements. Lambert added some stunning E-bow to a fine version of Burning For You with a strong vocal by Cousins. With a lovely story intro, Grace Darling was all elegance and lushness. The simple but perfect bass / drum backbone by Cronk and Coombes locked with Hawken's keys and Lambert's crying seagull swoops on guitar let us know that Autumn was upon us. The mournful cry for peace in Ireland that is the basis for New World still resonated fiercely in every one of Cousins' lyrics and soul chilling cries of "May you rot in your grave new world!" Awesome.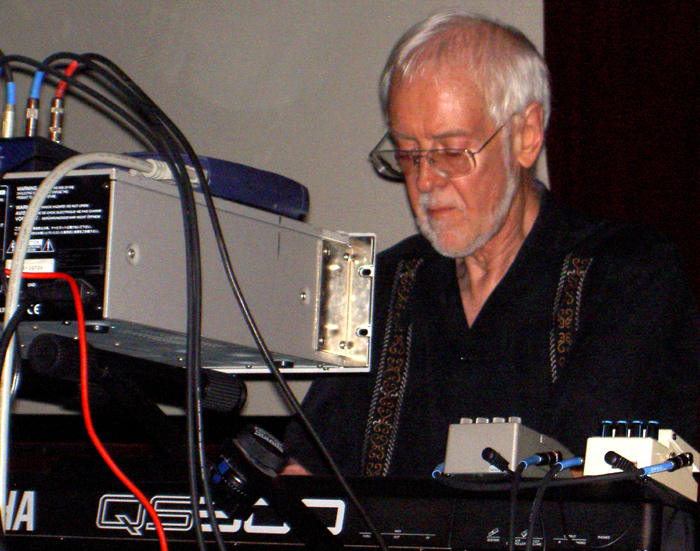 Lambert took lead vocal on Heartbreaker, with Cronk adding a nice punch and movement on bass. Dedicated to a recently departed friend of the band, Here Today Gone Tomorrow was like a forlorn, beautiful child of song. In contrast, The Call To Action, another new number, was strongly political. An excellent drum solo by Coombes took us into the show closing Hero And Heroine, always a solid band number. What could the encore possibly be? The River / Down By The Sea - an excellent choice with that powerful ending riff building and building to a near deafening conclusion. I know we all think of the Strawbs in refined, folky, delicate terms, but they honestly rocked everyone's asses off!

Classic Albums Live – Wolf Den @ Mohegan Sun, Uncasville, CT 5/30/08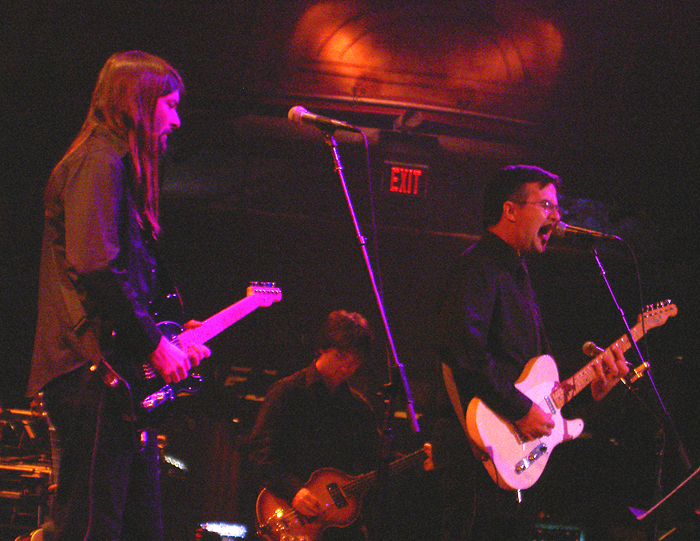 When I heard that Classic Albums Live was going to be performing the Beatles' Abbey Road album, there was no way on Earth I could miss it. A wise decision on my part. For this performance, CAL were Mike (the doctor) Daley on guitars and vox, Rob Phillips on guitars and vox, Joe Power on bass and vox, Marty Morin on drums and vox, James Gray on keys, percussion, and vox, as well as two string players, and two brass players. From the opening notes of Come Together, you could see their ability to recreate that indefinable aura that Abbey Road has. Something was sublime, with a great vocal by Phillips. Watching them play Maxwell's Silver Hammer had me thinking about the zillion takes Paul McCartney put the band through in the studio, yet how unadorned the finished version ended up sounding. Drummer Morin showed his versatility by handling lead vocals on both Oh! Darling and Octopus's Garden - a true study in contrasts. Next was the sonic beast that is I Want You (She's So Heavy). Daley's vocal was breathtaking, and the band roared as they built the massive wall of sound that is the ending, aided by Gray's swelling white noise on the keys.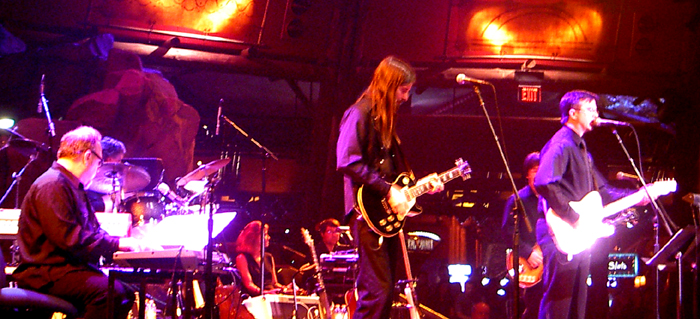 Here Comes The Sun was delivered gorgeously by Phillips with spot on acoustic work as well. I was transported to heaven with Because. Gray's transcendant keys delicately backed Daley, Phillips, Power, and Morin's perfect harmonies. I was truly dumbstruck. If I saw only that 1 performance, it would have been worth the 2 hour drive and the 2 hours standing in line for a seat. The big medley was next, and flawlessly executed. You Never Give Me Your Money / Sun King / Mean Mr. Mustard / Polythene Pam / She Came In Through The Bathroom Window / Golden Slumbers / Carry That Weight / The End had the crowd in awe, with Sun King shining gloriously live. Her Majesty, played and sung by Daley was the perfect capper, and Abbey Road was in the books!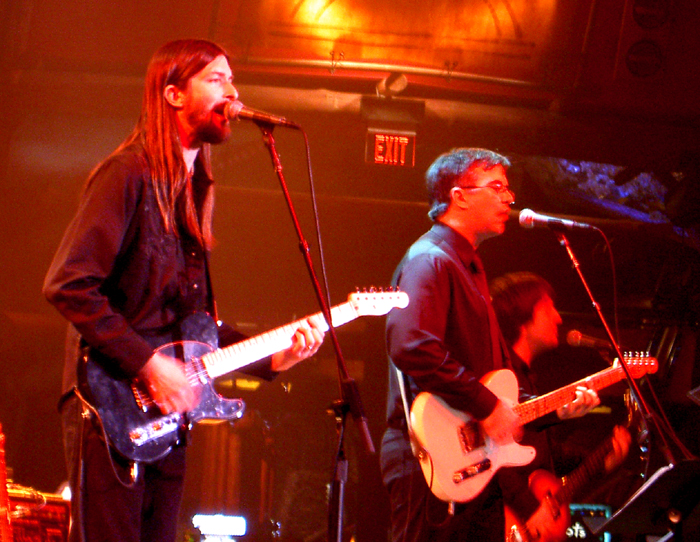 As it that wasn't enough, there was more! The band cast themselves back to the days of Beatlemania with a set of pre-Rubber Soul tunes. The energy was through the roof as the band ripped through It Won't Be Long, I'm Happy Just To Dance With You, I Saw Her Standing There, and Tell Me Why. Great to hear those harmonies and noisy guitars. I was floored to get a personal fave: The Night Before, and the main show ended with Help!. A bellowing crowd earned 3 more encores - You Can't Do That, A Hard Day's Night, and a crowd pleasin', girl teasin', ass shakin', earth quakin' Twist And Shout. Classic Albums Live's streak of astounding recreations continues unabated! A band not to be missed under any circumstances!

Mornalir – Webster Underground, Hartford, CT 5/6/08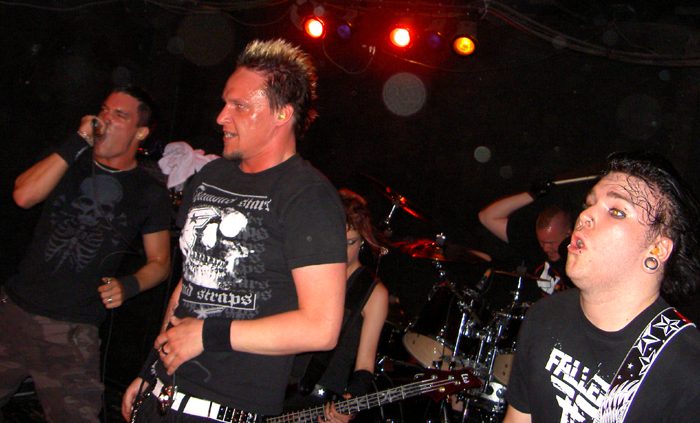 Originally, this gig was to be headlined by Nightwish, but circumstances beyond control caused them to cancel. Thankfully, the other 4 bands on the bill decided to put a show on anyway. Perhaps because of that, there was a great spirit in the air, as everyone was there to have a great time, and the bands were happy to provide the soundtrack for the evening. In the opening slot was a band called Better The Devil Than I. A very young band still developing their stage chops, they were uneven and had a lead vocalist that looked like Natalie Portman, which would've been fine, except he was a guy.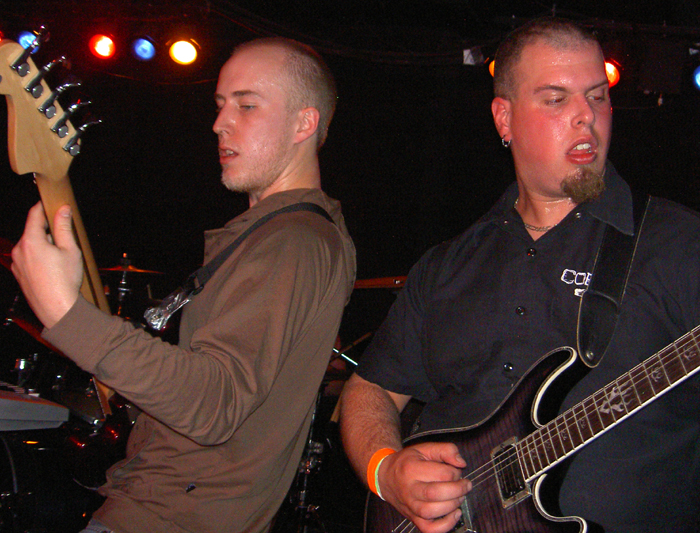 A band I'd never heard of, Myopia, were next on the bill. What a great surprise! A heavy act with a deep, classy sound. Metal with a nice tinge of prog, reminding me in spots of a heavier Arena. Songs like As We Sink Beneath The Tide and Sarajevo Rose were tight and solid, with great vocals by Mark Greg, and the cover of Sonata Arctica's Black Sheep was icing on the cake! Things took a turn to pure hardcore death metal when Sonic Syndicate delivered Swedish madness! Song after song - 100% energy. Aftermath, Denied, Flashback - all just pounding and pounding. Roland Johansson's vocals were like a machine gun shooting over the crowd. Karin Axelsson's bass and John Bengtsson's beat got the crowd moshing. By the time the 7 song set finished with Blue Eyed Fiend the crowd generated enough heat to warm Alaska.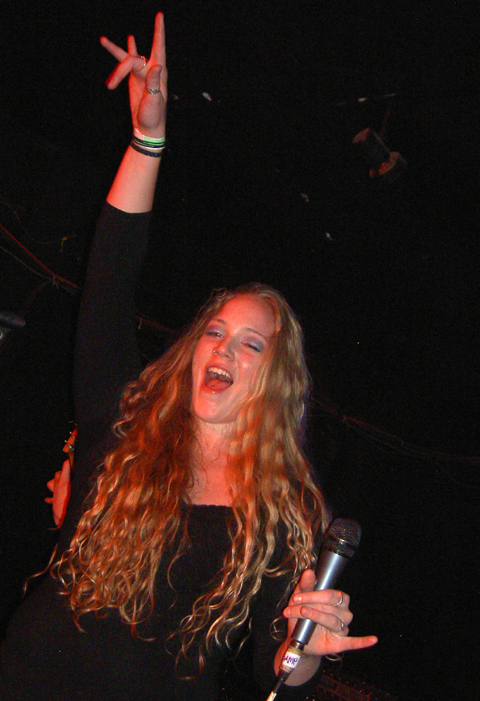 Mornalir closed out the night with a very strong set. Dark, moody energy. Solid from the ground up with drummer Mike Dawley and spankin' new bassist Neil Smith keeping things locked down. Once again, stellar guitars from Ernie Delvecchio and Tommy Molloy. Sarah Famiglietti on vocals and keys fronts the quintet and brings a balance to everything - serious and strong but with a pinch of humor here and there. Breaking Composure started the set off on the right foot with Famiglietti hitting the long notes and Delvecchio & Molloy shredding impressively. I liked Smith's bass work quite a bit on Forecast, and Down In Her Hell just might be the band's strongest number - everything just sort of comes together so well. The War sounded biiiiiiig and oh so heavy, and the evening ended with Fully Exposed which was totally owned by Delvecchio and Dawley. The crowd dug it, I dug it, the bands all dug it. It ended up being an evening with no walls between band and crowd - just a bunch of sweaty people having a hell of a time!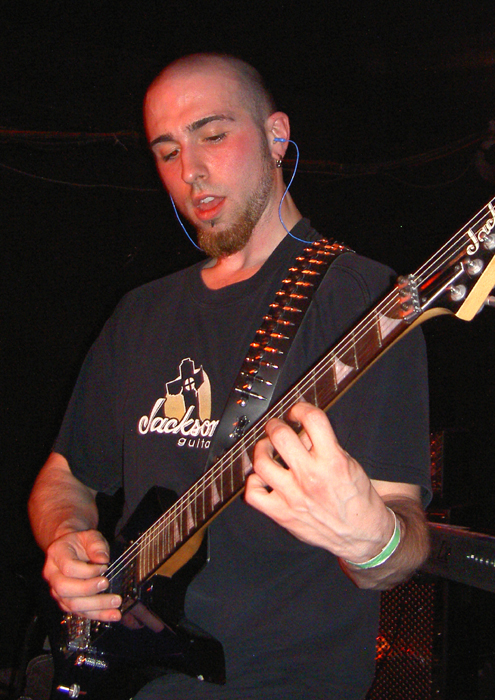 Stratospheerius – Ray Kelly's Pub, Bridgeport, CT 5/2/08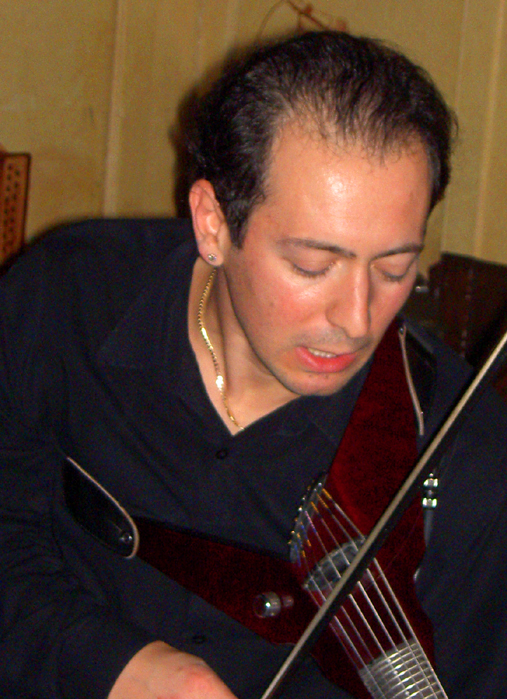 Third time seeing this band, third line-up! Actually, a sort of a combination of the past two times, with Joe Deninzon on violin, mandolin, & vocals, Aurelien Budynek on guitar and vocals, Jamie Bishop on bass and vocals, and Lucianna Padmore on drums. Ray Kelly's was loud & pretty much wall to wall drunks as the first set started. Hindsight, Old Ghosts, and a very hot Pleasurepain got us out of the gate. Deninzon's violin soared and swooped on Release. Tech Support, a piece in a herky jerky polka rhythm, had a fun tech aspect to it. I felt this piece started to kick everything into a much higher gear. Padmore was an octopus of rhythm on Driven To Tears, with fills to send a shiver down your spine. Everyone in the band got to kick some butt on Mental Floss, and Deninzon turned in a nice vocal on Long Hard Road. The first set closed with a mutation of the Simpson's Theme that travelled all over the musical map, with excellent guitar from Budynek.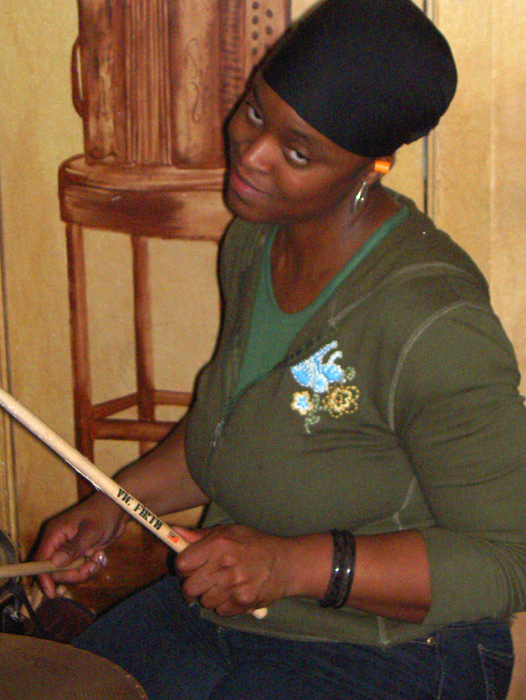 If the first set was getting in the groove, the second set was hard hitting, fast playing, and take no prisoners! A new piece called Gods set things in motion. Shock Therapy was destructive and was followed by Today Is Tomorrow (which had kickin' fuzz bass!) and Climbing. The band got to stretch out a bit with an exploratory version of Stevie Wonder's Contusion that had the crowd yelling. Deninzon made several jaws drop with his electric fuzz punk funk violin cover of Van Halen's Eruption, and the band bulled through a take of New Material that crackled with electricity and featured spine pounding bass from the Bishop himself! The drinks flowed mightily during break #2!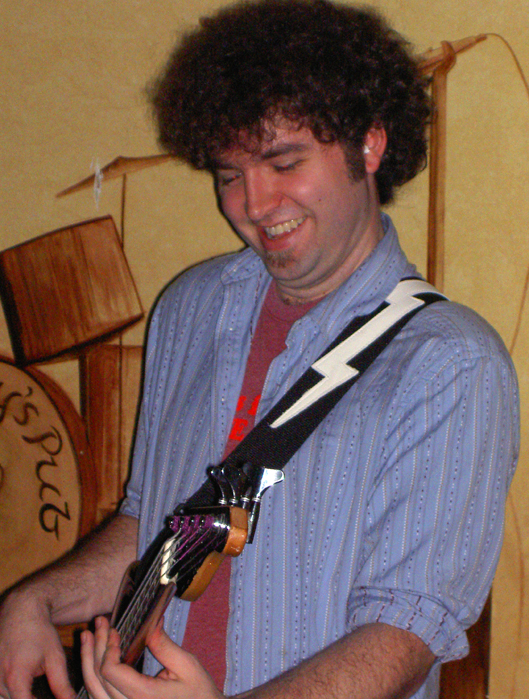 Joe Deninzon's mandolin came out at the start of the third and final set for the Earthy The House Always Wins and the crackling Gutterpunk Blues. By this point, the crowd was really into the energy of the night, and the women were swaying and dancing to Sold Out and grooving to the highly groovable Heavy Shtettle. The spirit of Frank Zappa reared its' welcome head for an in your face Magic Fingers that included a bit of Led Zep's Kashmir for good measure. Last round came midway through a searing and surging Acid Rabbits, and that was the show! Women were shaking their butts, guys with strange beards and odd hats played air guitar. 89.7 gallons of beer & booze were dispensed. Bacon pizza was eaten. About as fine an evening as is humanly possible.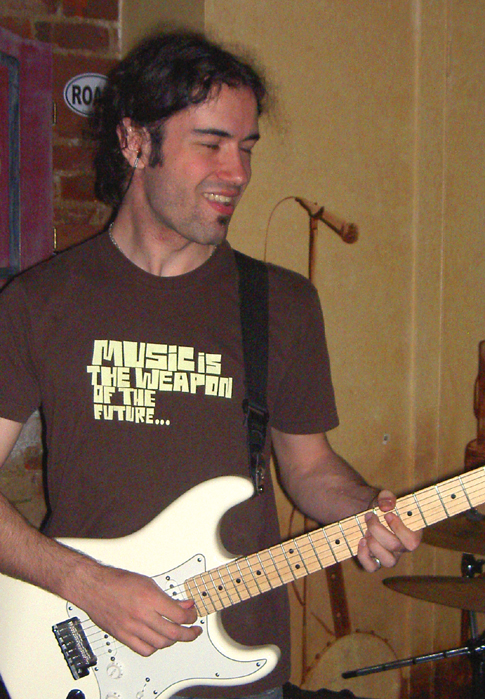 The Stamford Symphony Orchestra – Palace Theatre, Stamford, CT 4/13/08

This was the final show of the 2007-2008 season of the symphony. Much to my surprise, Maestro Eckart Preu was not conducting - he was back in Spokane awaiting the birth of his first child! The baton was ably picked up by the talented Christian Knapp. The pre-performance talk with Knapp and guest soloist Jason Vieaux was fascinating. One thing sticks in my mind - Vieaux's thumb! Vieaux, an award winning classical guitarist, has an artificial right thumbnail made from a piece of a ping pong ball krazy glued to his thumbnail, then filed smooth, to aid in his finger picking. Interesting stuff.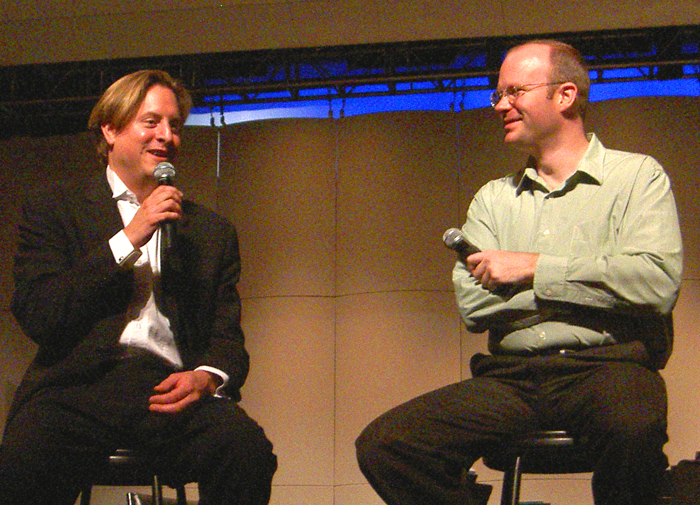 The afternoon's young and gifted program opened with Symphony In D Major, Op.11, No.2 by Joseph de Boulogne Chevalier de Saint-Georges, a composer from the 1700s I was totally unfamiliar with. The piece was lush and lovely, with the violins rich with motion, and beautiful oboe. Knapp was an active and emotive conductor, bringing a great humanity to the performance. Concierto De Aranjuez by Joaquin Rodrigo brought Vieaux and his gorgeous Gernot Wagner guitar to the stage. One of the more difficult guitar pieces, Jason Vieaux's playing was fluid and emotive. He played the arpeggios and runs with a deft ease, making my jaw drop on several occasions. The piece itself had a warm, Spanish feel to it with alternating sixes - beats of 3-3-2-2-2 - not unlike America from West Side Story, as Knapp explained earlier during the Behind The Baton discussion.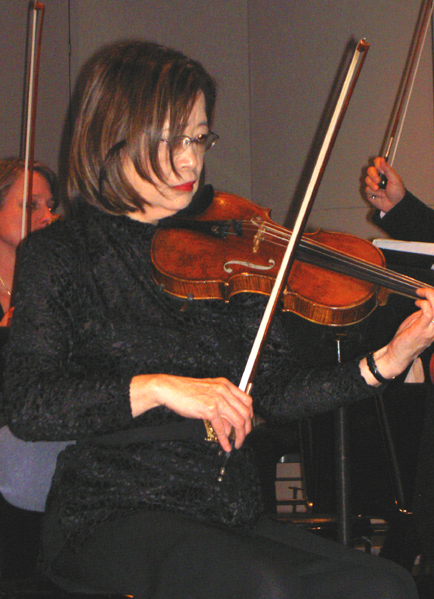 The program concluded with Symphony No.4 In A Major Op.90, Italian by Felix Mendelssohn. I was very taken with the bass and cello parts in the 1st & 3rd movements of this one. Very active lines that were rousing and passionate. The 2nd movement was elegant and almost aristocratic, for lack of a better word. The rise and fall of the 3rd movement brought the piece to a powerful conclusion, with nice timpani work by Benjamin Herman. A strong finale to a very strong season in Stamford.

The Tubes and Sharp Edge – B B King's, NY, NY 4/9/08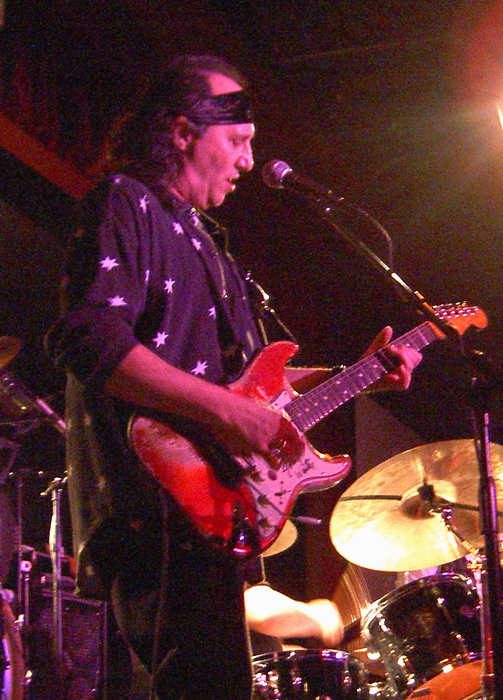 It's difficult to explain, beyond saying that there was something in the air. I felt it from the moment I walked into B B King's. This was going to be quite a night. Let me sing the praises of a great opening act. In this case, a hot band called Sharp Edge. This trio is headline material all the way. They jumped straight into a smokin' song called Blues Talkin', and won me from the first note. Vocalist / guitarist Mike Brocato had a growl like Johnny Winter and ripped up his Strat like Stevie Ray Vaughan channelled through Robin Trower.The tensions of my day melted away and I surrendered to the blues rock spell of the band. Trouble and Sittin' On Top Of The World kept the momentum going, anchored by the tight beyond tight rhythm section of Mauro Buonarota on bass and Ken Serio on drums. Brocato was just searing on guitar on Right Thru The Fire and Chasin' After You, which lead to a propulsive drum solo by Serio. Their set closed with the reggae inspired I Don't Think So and a total rave up of the classic Mercury Blues. I wanted more! This is the sort of band you can listen to for hours and drink in the amazing energy they produce.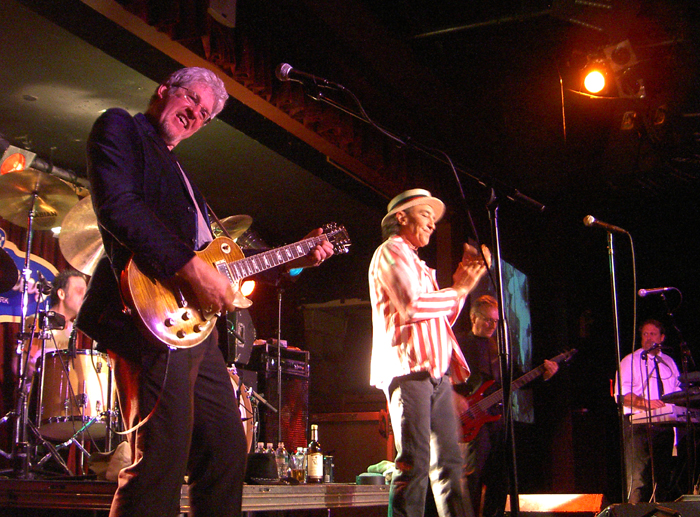 The Tubes took over the building a few minutes after 9 and held the crowd in the palms of their hands for a solid 2 1/2 hours. Out Of The Business started things off with a bang, going straight into the seldom heard No Not Again. I nearly jumped out of my seat when they broke into I Want It All Now, a song not played in ages! Frontman Fee Waybill mentioned that the band mixed up the setlist quite a bit to keep everyone interested. A slick but cheesy jacket and tiny red bow tie meant What Do You Want From Life was next on the list. A hilarious version at that, as Waybill came into the audience to ask what they wanted from life. Rick Anderson popped a bass string during another chestnut - A Matter Of Pride - but quickly recovered by the second verse! Nice keyboards from David Medd on She's A Beauty, which was enhanced by Waybill telling the very rude origins of the song.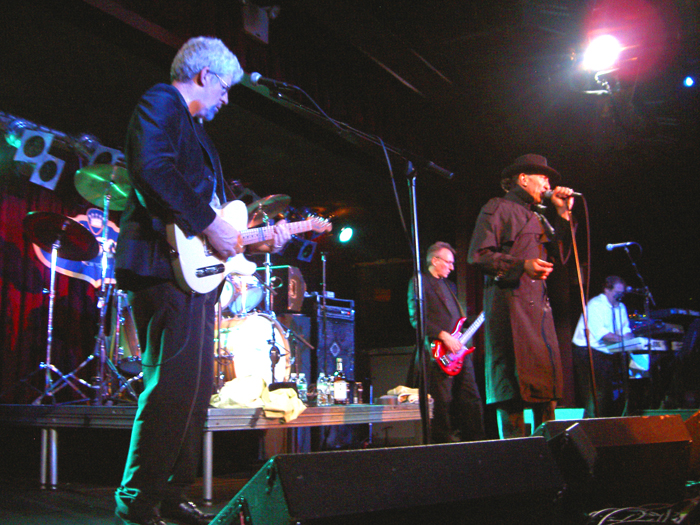 Guitarist Roger Steen sang lead on a powerful cover of the Frank Zappa anthem Trouble Every Day that had some ass kicking drums from Jonathan Mover. Things soon got funky as Waybill came out in a skanky black wig and light blue zoot suit as "Fee B Brown" singing a medley of James Brown tunes that lead into the groove of Tip Of My Tongue with a muscular drum solo by Mover. Steen's guitar took the lead during a medley of TV crime themes that served as an intro to This Town - a song the Tubes haven't played in some 30 years! It was the highlight of the night for this fatboy! Two great songs from Remote Control followed: No Way Out and Turn Me On, both great showcases for Anderson's flawless bass work.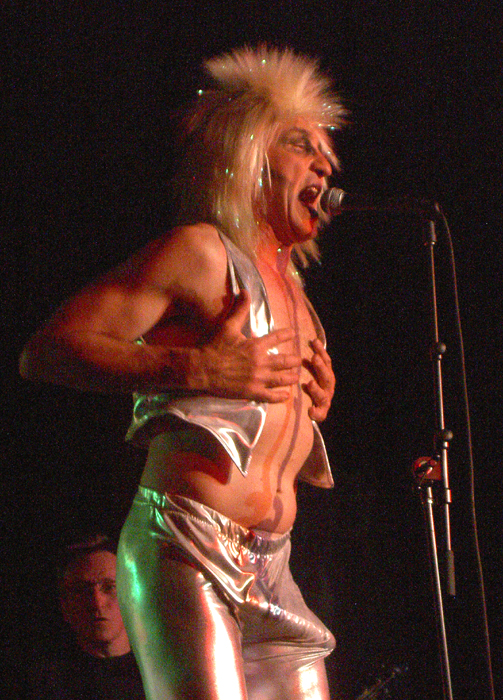 Waybill related a story about his late 60s hippie days that inspired After All You Said, a new song with excellent keys by Medd. The power ballad Don't Want To Wait Anymore was next with a transcendent guitar solo by Steen and just unbelievable drums by Mover. Quay Lewd made his much anticipated appearance all fright wigged, glittery, and platformed out. He wailed through a piece the setlist called Angry Inch before trotting out an old friend - Boy Crazy - with Lewd blowing kisses at the crowd and trying to molest the boys in the band. White Punks On Dope brought the set to a close and had the crowd at fever pitch. Encore time! Waybill donned his leather codpiece, and little else, for a roaring Mondo Bondage and Roger Steen owned the stage with his solo on Talk To Ya Later. Shows like this are a reminder of what music can and should be!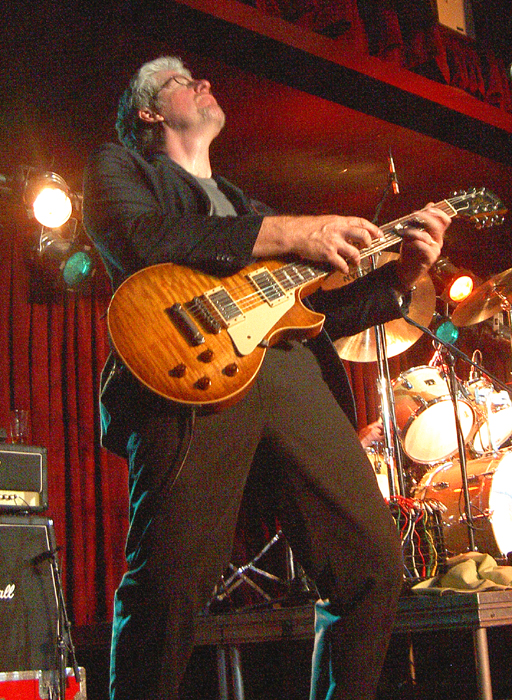 Asia – Wolf Den @ Mohegan Sun, Uncasville, CT 4/5/08

Having seen Asia 3 times now in the past 3 years, every gig has had a different vibe to it. This gig, in support of their new CD, Phoenix, was the night of Carl Palmer. The set opened with Fanfare For The Common Man, featuring a nice bit of bass work from John Wetton. Only Time Will Tell followed, with the MTV video for it playing on the large screen behind the band. Carl Palmer was doing billion miles an hour rolls on the hi hat during the first verse, a precursor to the pyrotechnics to come. Never Again, from the new album, definitely had a feel that fits well with the first two Asia albums - very anthemic with a strong chorus.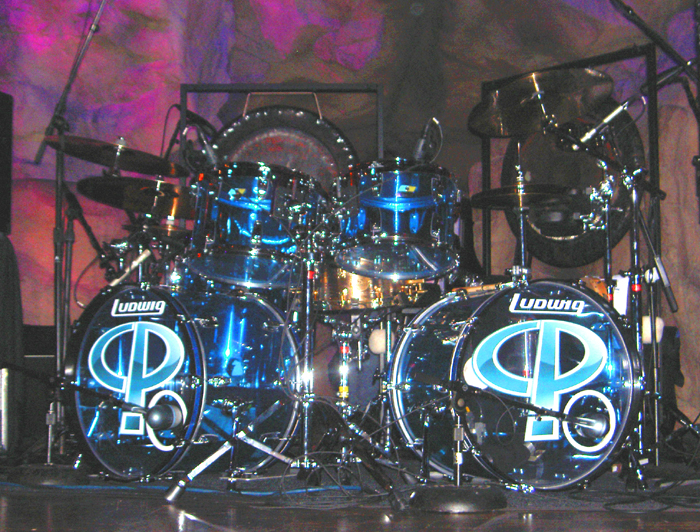 Roundabout found Steve Howe in great form, ripping through the solos note for note to the studio version, as Palmer was a blur on the toms during the middle section. Time Again had a very strong vocal from Wetton and driving bass as well. Geoff Downes took the spotlight next with the "Bolero" section from Cutting It Fine. Howe kept the energy up with a rousing Clap then was joined by the rest of the band for a lovely acoustic take of The Smile Has Left Your Eyes with tasty brush work by Palmer. Wetton touched on the third album with his ode to the Brian Wilson days - Voice Of America. His 12 string playing was wonderful, and his voice poignantly perfect.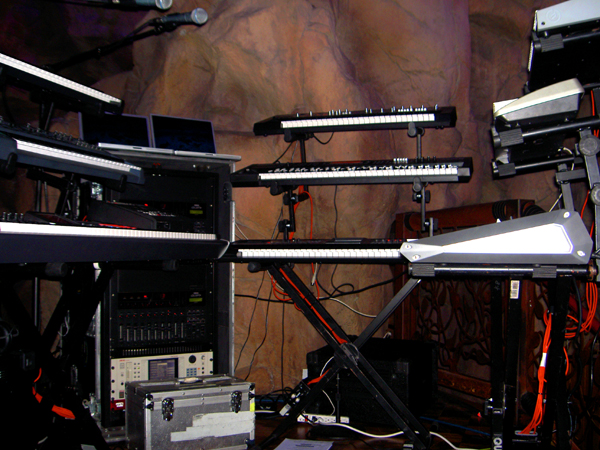 Back to full band for Open Your Eyes and a ballad from the new disc - An Extraordinary Life. The crowd in the Wolf Den all but flipped out during In The Court Of The Crimson King and chuckled at Wetton's bullhorn during Video Killed The Radio Star. The Heat Goes On bracketed a Carl Palmer drum solo. Palmer played with a demonic fury I've never seen. His hands, feet, and fingers were total blurs, showing that his reputation as a top drummer is 100% secure. Downes pulled out his keytar during a hard and heavy Heat Of The Moment to close the set, then came back for the lone encore of Don't Cry. Over a quarter of a century down the pike, this band still rocks hard an loud!

Turn It On Again, Ronnie Caryl – Tribeca Performing Arts Center, NY, NY 3/28/08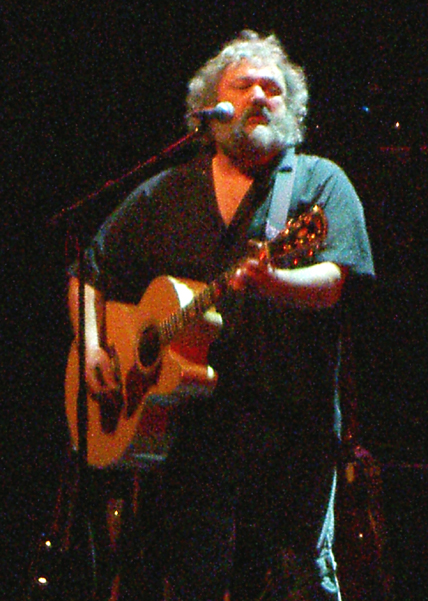 For those who may not know, Turn It On Again recreate shows from the Phil Collins era of Genesis. They are fronted by Martin Levac, formerly of the Musical Box. Friday's show was a recreation of a 1982 show from the Three Sides Live encore tour. I have fond memories of this tour and its nice balance of new and old material. The show started with a special guest: Ronnie Caryl - longtime pal of Phil Collins & bandmate in the pre-Genesis band Flaming Youth. Armed only with a guitar, Caryl won the crowd over with a set of great singer / songwriter pieces. Caryl has a wonderful voice and his songs were uniformally strong. Songs like One Step At A Time and Never Let Me Go were intimate and mature. I'd love to see an entire evening of Ronnie Caryl!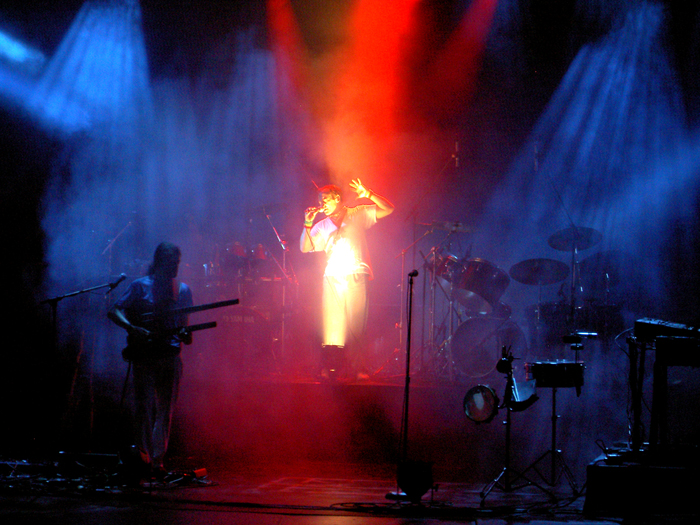 After a short break, Turn It On Again hit the stage and blazed straight into Dance On A Volcano. Levac sounded 100% identical to Collins and had his movements down pat. Levac took to his drum kit and joined drummer Joey Ayoub for the powerhouse opening of Behind The Lines, which also featured terrifyingly good guitar from Jean-Pierre Roy. Next was a smooth, loose Follow You Follow Me. Smooth and loose are important words. Now, I love the Musical Box and their Gabriel era shows, but at times they can be a bit stiff. No such thing here. These boys are tight but loose in the best possible way.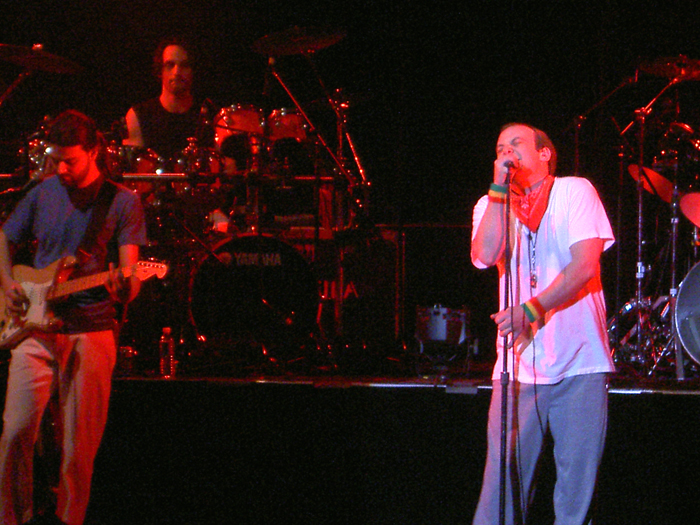 The energy level continued to rise with A fave of mine - the combo of Dodo and Lurker, with solid keys from Jean-Francois Laprise and killer percussion by Levac. The ever propulsive Abacab brought us to perhaps the showcase of the evening - Supper's Ready. Bassist Francois Larouche played 12 string, bass, electric double neck, and bass pedals - a veritable one man band. The piece had the power of the Second's Out version, with an evil, crunchy 9/8 section blowing many a mind. After visiting the new Jerusalem, we all cooled down a bit to the melancholy of Man On The Corner and the whimsy of Misunderstanding.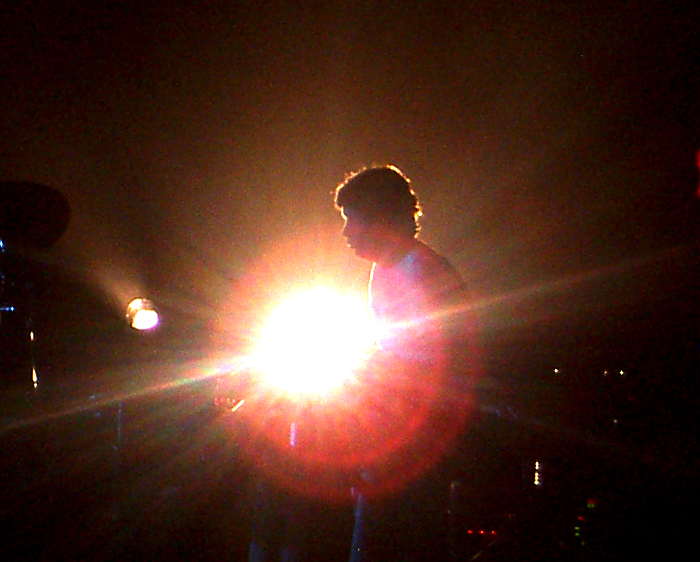 Plenty of instrumental prowess was on display during the medley of In The Cage / Cinema Show / Riding The Scree / Cinema Show / Raven / Afterglow, all anchored by ultra solid bass and double drums. An energetic Turn It On Again lead to 3 of the guys taking a seat during an awe inspiring drum battle between Levac and Ayoub that would've made Phil Collins and Chester Thompson smile in approval. This segued into an outright furious Los Endos to close the main set. The roaring crowd earned one of my most beloved encores - The Lamb Lies Down On Broadway / Watcher Of The Skies. Martin Levac brought a huge grin with his version of the tambourine tarentella during I Know What I Like (In Your Wardrobe) and the rest was bows and farewells. What this band does is glorious. Do your soul some good and see this band!

Lawrence Dutton, Elizabeth Lim-Dutton, And Marija Ilic – Steinway Piano Gallery, Westport, CT 3/16/08

What a lovely afternoon. A bit overcast, a bit chilly, but nice. Today's program featured the interesting combination of piano, violin, and viola. On viola was the Emerson String Quartet virtuouso Lawrence Dutton. On violin, his amazingly gifted wife Elizabeth Lim-Dutton, and on piano, Marija Ilic - a sort of force of nature on the keys. We started off with the Duttons tackling Wolfgang Mozart's Duo For Violin And Viola K.424 in Bb Major. Violin and viola melodies twisted and turned from one instrument to the other. A definite workout for both players!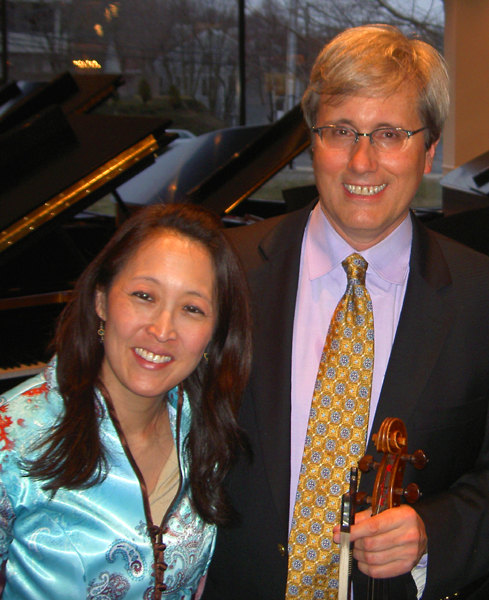 Next on the bill was Manuel De Falla's evocative Suite Populaire Espagnole, a collection of six folk tunes performed on piano and violin. The second tune, Asturiana, was a sad, gorgeous piece. Ilic was a joy to behold as she flew across the keys, leaning her body into the notes, her fingers dashing madly. Dutton was a more than able foil on violin, whether teasing a melody out of her strings, or strumming brusquely as if her violin was a gypsy guitar.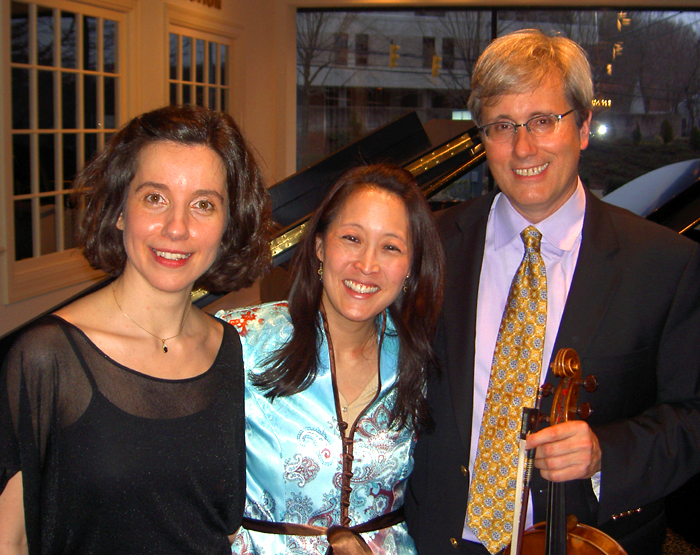 John Williams' lush Theme From Schindler's List started the second half, again pairing Marija Ilic and Elizabeth Lim-Dutton on piano and violin, respectively. It was a charming piece, and a nice set up for the concluding number of the program. Johannes Brahms' Sonata For Viola And Piano in Eb Major Op. 120 No. 2 reminded me of music for a stately garden party on a late spring afternoon in Europe. Lawrence Dutton's viola resonated sweetly in front of Ilic's keys. The piece moved from emotion to emotion, safe in the hands of such expert players. A wonderful conclusion to this season of Mozart And Friends!

The Stamford Symphony Orchestra – Palace Theatre, Stamford, CT 3/2/08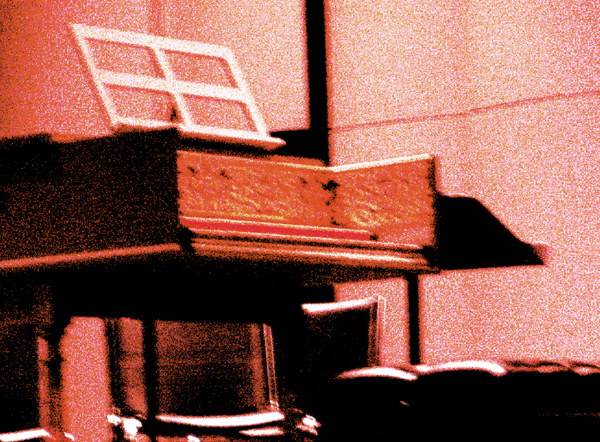 Sons and fathers. Fathers and sons. Oh, and the transition from baroque to classical music. Those were the themes of this performance. I love themes and concepts. Before the performance, Maestro Eckart Preu talked us through the lives and times of Antonio Vivaldi, Johann Sebastion & Carl Philipp Emanuel Bach, and Leopold & Wolfgang Amadeus Mozart. The insights alone were of immeasurable value.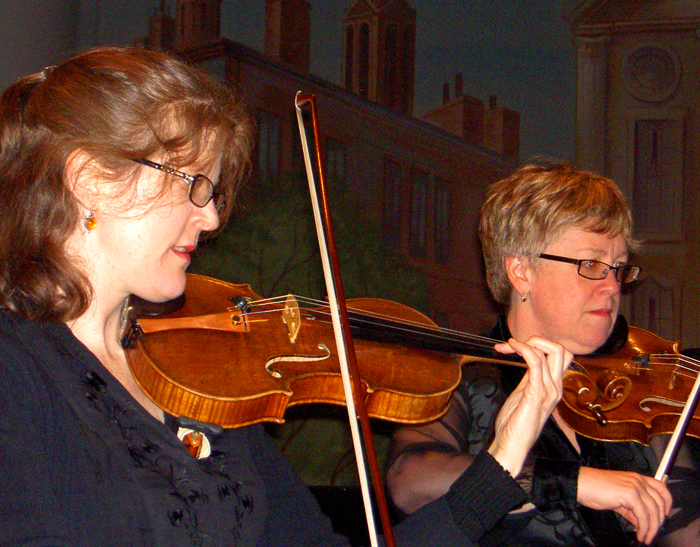 The featured soloist was one of the symphony's own: the amazingly gifted violinist Erica Kiesewetter. Her violin's tone was like rich creamery butter on Antonio Vivaldi's vigorous Violin Concerto In A Major, sliding the melody between the stab-stab-stab rhythm of the piece. Kiesewetter was joined at the front of the stage by oboe, trumpet, and flute in a semicircle around Maestro Preu, who played harpsichord on all 3 of the pieces in the first act. Fingers were flying at a frenetic pace during Johann Sebastian Bach's Brandenburg Concerto No. 2. If this was our exit from the baroque portion of the show, it was a stately, almost majestic curtain. The energy remained high with poppa J S's offspring Carl Philipp Emanuel Bach and his lush, expansive Symphony In C Major No. 3. C P E Bach has been called the father of classical music, and this huge piece made the case well.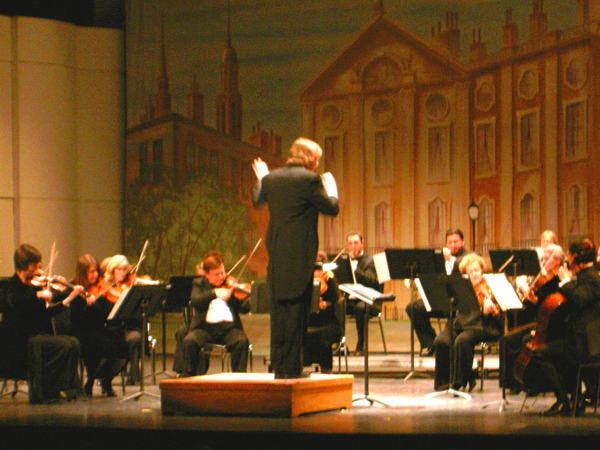 After the intermission, Maestro was behind the baton and bringing us Leopold Mozart's Sinfonia In G Major. This sinfonia was definitely an entertaining piece with sound effects like gunshots, barking dogs, and members of the symphony yelling and howling during the first movement. In contrast was the haunting, stirring Symphony No. 29 In A Major by Leopold's son Wolfgang Amadeus Mozart. While the cellos and basses played a 2 - 2 - 4 rhythm, the brass & winds held long low notes, creating a lush bed for the other players to fly over, like rich cumulus clouds on a warm June afternoon. As the sold out crowd began to leave the venue, we were treated to a bonus: J S Bach's Jesu, Joy Of Man's Desiring - a tasty after dinner mint to perfectly compliment the rich feast of program!

Classic Albums Live – Wolf Den @ Mohegan Sun, Uncasville, CT 2/15/08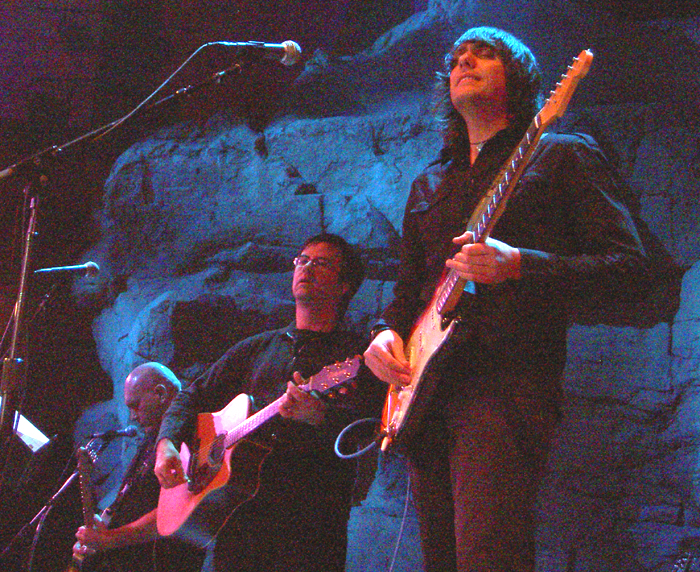 What a treat! Classic Albums Live playing Pink Floyd's Animals album. Animals being my fave post Meddle Floyd opus. The album was performed as a 6 piece: drums, bass, keyboards & 3 guitars to cover the rhythm, lead, & harmony parts live. For the 7 people who are unfamiliar with the album, the song order is: Pigs On The Wing Part 1, Dogs, Pigs (Three Different Ones), Sheep, and Pigs On The Wing Part 2. I was amazed and delighted at how into the set the crowd were as well as how spot on the performances sounded.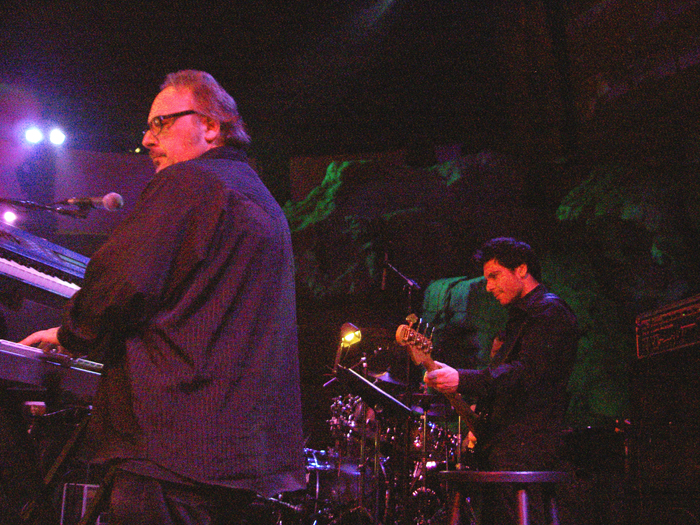 With Animals under their belt, the band dug into the Floyd catalog and came up with One Of These Days, Wish You Were Here, See Emily Play, Welcome To The Machine, Have A Cigar, and Comfortably Numb. Quite a nice eclectic selection that daringly sidestepped obvious numbers for the most part.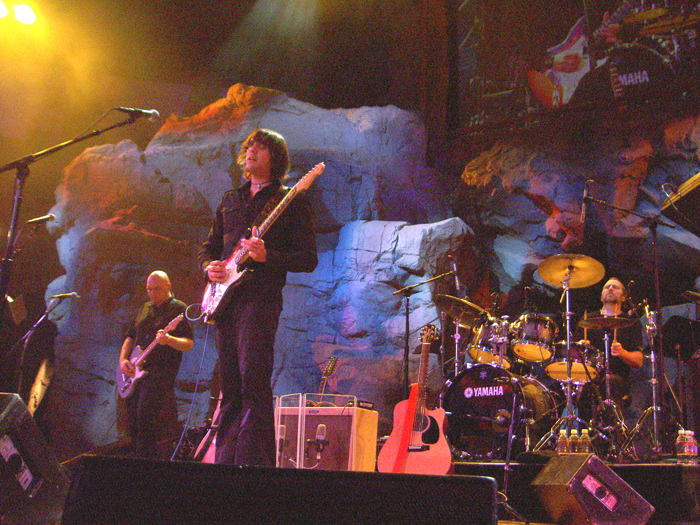 Singing the Waters parts and playing a good chunk of the leads was Clifton David. Handling most of the main harmonies as well as a few leads, and playing all sorts of guitars was Mike Daley, who I saw back in October when CAL played the White Album. Rounding out the guitars was Russell Gray, an exceptionally tasty lead player as well as playing the mouth tube thingy on Pigs (Three Different Ones). James Gray on keyboards and pig grunts, Steve Zsirai on bass, and Troy Feener a maniac on the drum kit. To get to hear Dogs and See Emily Play live & so very well done is something I will never forget. Huge props to Clifton David for totally capturing the essence of Waters' delivery! Having seen Floyd back in the day, as well as David Gilmour on several occasions, I can safely say that these guys handily kick their asses live. No bloated excess, just great musicians. Miss this band at your own peril!

Jonathan Faiman And Emily Wong – Steinway Piano Gallery, Westport, CT 2/10/08

176 keys, 20 fingers, and a bit of snow. That was what this late afternoon classical recital had to offer, and the numbers added up to magic. This recital was part of Stamford Symphony Orchestra's Mozart And Friends series, and featured the talents of Locrian Chamber Players pianists Jonathan Faiman and Emily Wong. The afternoon got underway with Mozart's Sonata For Two Pianos, K.448. Faiman and Wong's fingers seemed to be of one body, seamlessly intertwining melodic lines with deceptive ease. Pure beauty here, with several lovely themes.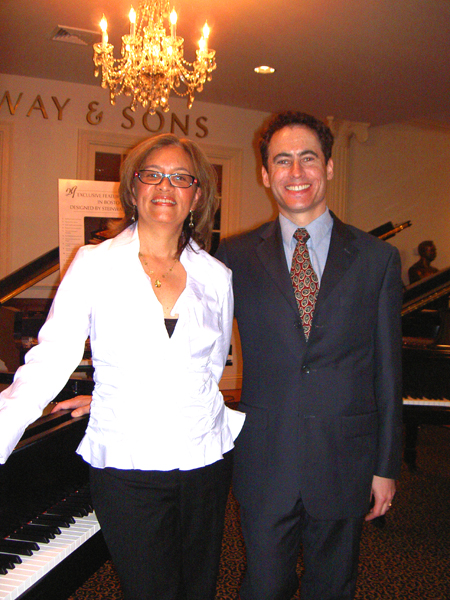 If Mozart was all beauty and light, John Adams' Hallelujah Junction was polyrhythmic sinew and bone, challenging both audience and players with its almost concrete sections - a dark abstract painting in sound. You could see concentration, delight, and a bit of nervous energy in the faces of Faiman and Wong as they chopped through the brittle rhythmic sections of this exotic piece.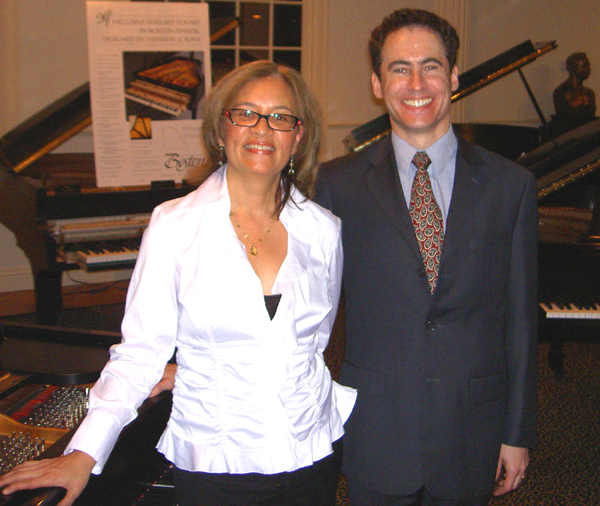 After a snowy intermission, Variations On A Theme By Haydn, Op.56b by our own beloved Brahms was the final piece of the recital. The best way to describe it is big. Themes both grand and small woven together in a rich fabric of moments. The 10 movements were a Whitman Sampler of sound and often just as sweet. Faiman and Wong were flawless. A totally lovely afternoon with 1 small caveat. Dressed in bright cerise and turning pages far too loudly, I was distracted on a few too many occasions by the woman turning the pages of Faiman's score. That aside, a heavenly time!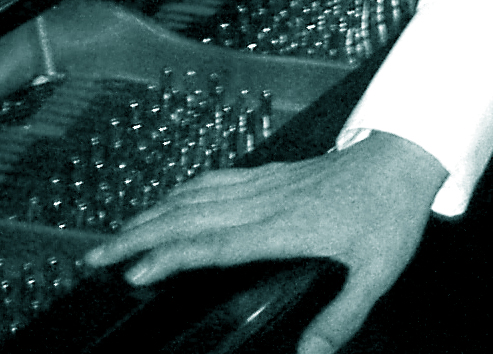 David Cassidy – Wolf Den @ Mohegan Sun, Uncasville, CT 2/9/08


What a backing band! Every now and then, you see a band so crisp and tight it nearly blows your mind. That was most definitely the case with David Cassidy's crack quartet at the Wolf Den. Cassidy offered a walk through his hits from both Partridge Family and solo years with confidence and vigor. The energy never let up from the moment Cassidy hit the stage. Cassidy & co sprinted through I Can Feel Your Heartbeat, Crossroads (the Cream arrangement of the blues classic), Point Me In The Direction Of Albuquerque, and Summer Days - pausing only for a quick intro story or two.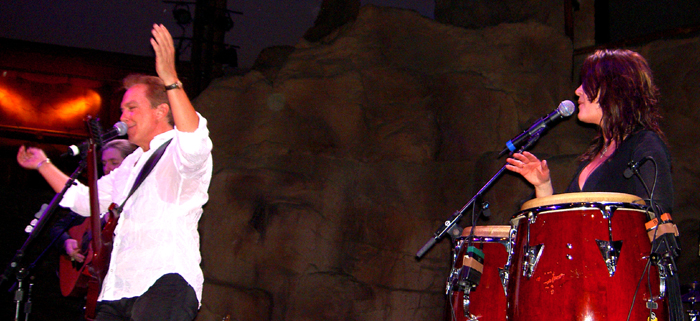 Drummer Teri Cote and bassist Frank Fabio were in the pocket on I'll Meet You Halfway, Echo Valley 2-6809, and Rock Me Baby. Cassidy traded his Parker electric for a fine sounding acoustic for the Beatles classics You've Got To Hide Your Love Away and No Reply, as well as a respectful take of Bill Withers' Ain't No Sunshine with elegant percussion work by Cote. The screaming women that lined the stage, holding up albums, scarves, and handmade banners swooned to Common Thief and Cherish.




A funky set of band intros lead straight into the megahits Come On Get Happy and I Woke Up In Love with stellar guitar and keyboard work by Jimmy Buck and Rob Cooke respectively. After getting lei'd by a woman in the audience, Cassidy broke into a spontaneous Elvis gem: One Night With You before the set closing I Think I Love You. The screamers would not be denied an encore, and Cassidy obliged with Cry.

Micky Dolenz – Wolf Den @ Mohegan Sun, Uncasville, CT 2/1/08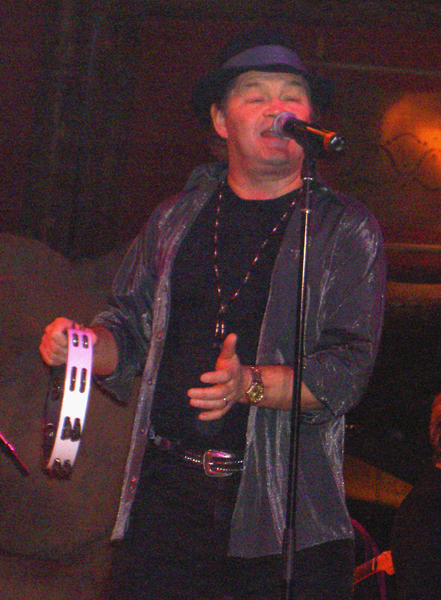 It was a very rainy day, and the drive up to Mohegan Sun was seen through sheets of water and much careful driving. It was worth the drive and the rain, however, as Micky Dolenz and his band gave us a high energy, fast moving evening of funny stories and pure rock 'n' roll. Before Dolenz hit the stage, the band played him on with (Theme From) The Monkees seguing right in to That Was Then, This Is Now. Dolenz was dressed in shades of black and sported a snazzy black fedora. A Little Bit Me, A Little Bit You, She, and the energetic Words all saw the Monkee in fine voice. Dolenz played the guitar on the next 3 numbers - Last Train To Clarksville, Johnny B Goode, and Purple Haze - the latter 2 introed by funny & insightful stories from back in the day.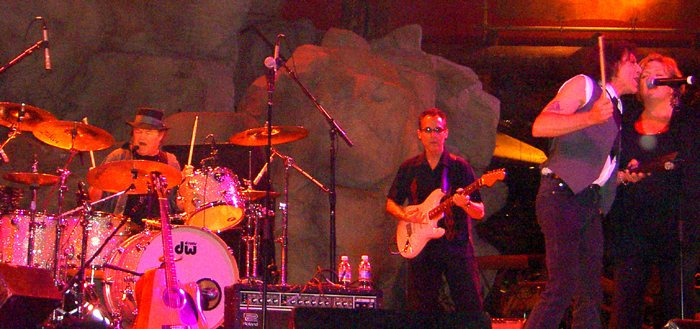 Since I Fell For You featured a beautiful solo by guitarist Wayne Avers that interpolated a melodic snatch of the classic Sleepwalk. Micky Dolenz's sister Coco joined him for an a capella duet on Bye Bye, Blackbird and she turned in a lovely vocal on the Mike Nesmith penned Different Drum. Dolenz took the drum stool for 2 more Monkees powerhouses - Mary, Mary and (I'm Not Your) Steppin' Stone. The man can drum! Coco took lead again on a bluesy take of Del Shannon's immortal Runaway. A hysterical story about meeting the Beatles at Abbey Road lead to a mighty fine cover of Oh, Darling that was followed perfectly by Valleri.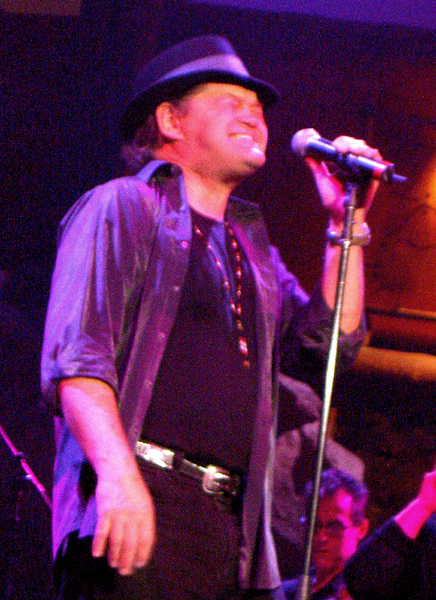 Props must be given to the band here. Monster drummer Sandy Gennaro was a power generator behind the kit and well matched by the solid, funky playing of bassist John Billings. Keyboardist Dave Alexander, in his Sopranos zoot suit, was nothing short of fabulous, and the aforementioned Wayne Avers soared on guitar. Avers and Alexander, along with sister Coco provided tight, lush harmonies throughout. The set drew to a close with the trifecta of D W Washburn, Daydream Believer, and Pleasant Valley Sunday. The boisterous crowd demanded an encore and were quickly rewarded with Gimme Some Lovin' and I'm A Believer. Micky Dolenz left the stage as the band played him off to For Pete's Sake, but quickly came out for plenty of autographs and handshakes. Some 42 years after the Monkees first hit the airwaves, Dolenz has lost not a single step. Pure fun!

The Stamford Symphony Orchestra – Palace Theatre, Stamford, CT 1/20/08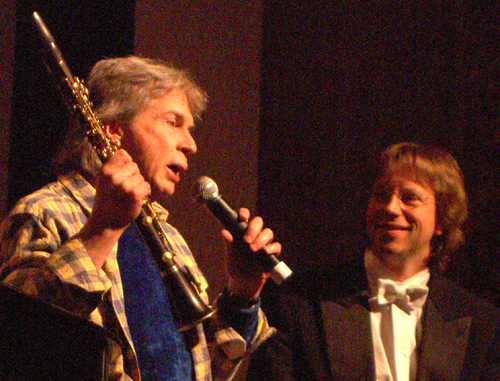 Most people put classical music into a single box in their minds, myself included at times. This afternoon's program totally shattered that misconception. Before the performance, we were once again treated to maestro Eckart Preu's excellent Behind The Baton insights into the pieces we were going to hear. He brought with him the featured soloist, clarinetist Richard Stoltzman. Stoltzman was passionate about music and gentle of disposition, with great helpings of humor. There was no doubt that we were in for a special event.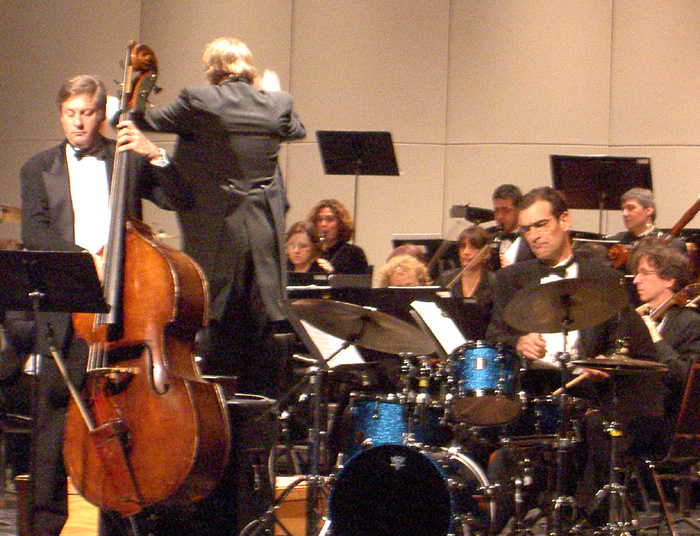 The program was to be 2 modern pieces and 1 old friend. Roger Davidson's Prayer For Peace lead the way. The 3 movements were soaked with gospel flavor and featured the composer himself on piano along with his Davidson Trio cohorts on bass and drums, adding a nice dynamic to the orchestra. Quite uplifting, and struck many a deep chord in the heart. Mr Stoltzman took the stage for William Thomas McKinley's brilliant Clarinet Concerto No. 4. The concerto was packed with polyrhythms and percussion working nimbly across time signatures and a total workout for Stoltzman. There were a few moments that reminded me of Gentle Giant's Edge Of Twilight in terms of melodic deconstruction and abstraction. It was like listening to a big insane clock & I cannot wait for this number to see its way to CD!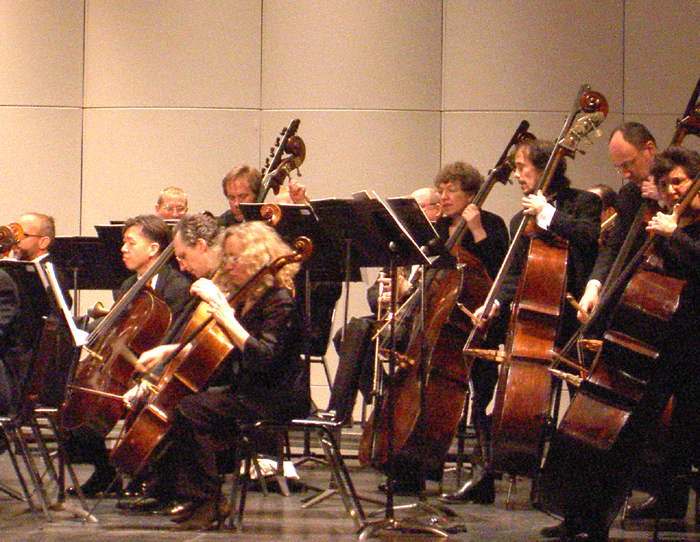 Maestro Preu slyly closed the program with Johannes Brahms' Symphony No. 4, the third movement of which many Yes fans know as Cans And Brahms. The 50+ piece orchestra were sounding like pearls on velvet - deep, smooth, colorful, regal. There is something both magical and majestic about Brahms, and this rich symphony showcases his strengths in an impressive fashion. I was swept away by the beauty and left the building floating on a blissful cloud, tossed by the icy evening winds.

Stratospheerius – Ray Kelly's Pub, Bridgeport, CT 1/12/08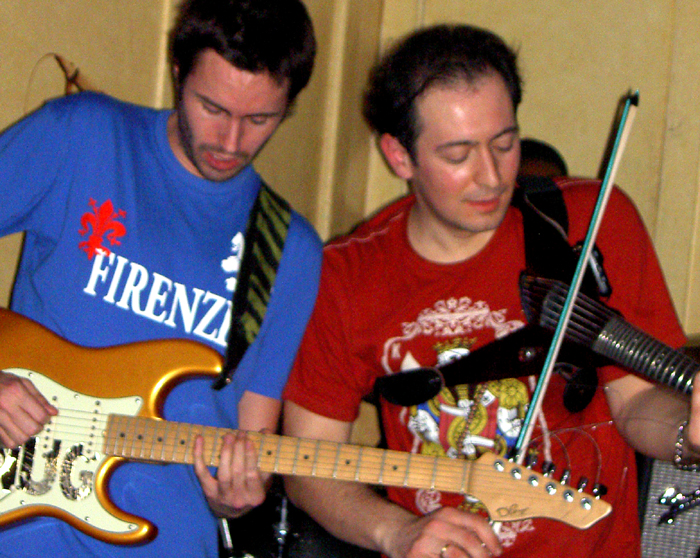 This was my second time seeing this quartet, and with the exception of violinist / vocalist / mandolin player Joe Deninzon, a completely different lineup. Evidently Deninzon has an interchangeable group of players to draw from for various gigs. If the last gig I saw had a jazz / rock / prog tinge, this evening had a loose jammy feel, with moments that reminded me of the Mahavishnu Orchestra. Smacking the skins for this show was the drumming powerhouse Lucianna Padmore. Keeping the grooves smooth was bassist Jamie Bishop. Rounding out the quartet and adding kool khords and blazing licks was Mack Price.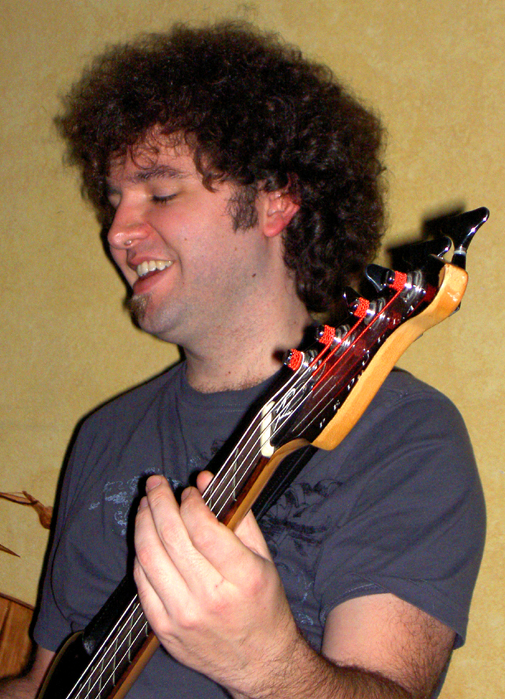 Hindsight, Old Ghosts, and Release set the evening in motion. The positive vibes continued with a playful mutation of Simpson's Theme that ended with the audience shouting d'oh! Today Is Tomorrow and Sold Out followed. Set 1 ended with 2 covers: The Pogues' energetic Waxie's Dargel and the Stevie Wonder instrumental Contusion. With the first set ending on a high note, little did any of us know what was to come.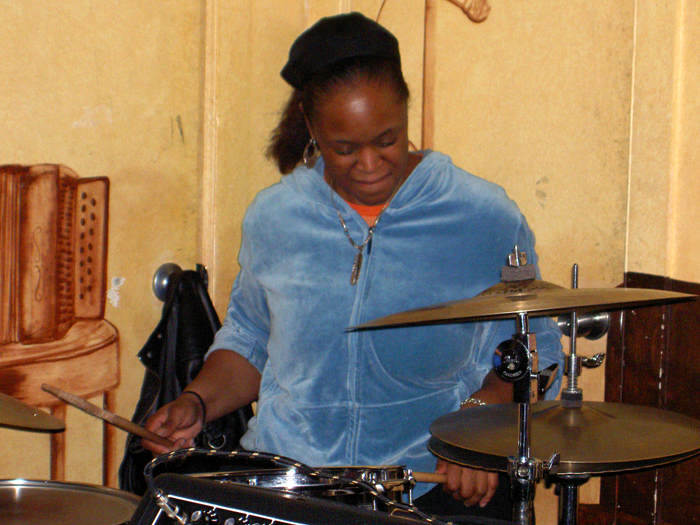 Alcohol is a funny thing. It makes some folks clowns, others get sullen, moody, violent. The wheel of alcohol spun & turned a chubby, goateed, bald guy into our feature contestant. As the band delivered a tight, punchy version of the Police's Driven To Tears, our man in question started doing a shimmying striptease in front of Padmore, blowing her kisses, thrusting his hips, and declaring his improbable love. When he found out that the band would not stop a song so he could go kiss her, Mr Colon turned bitter, flipping the band off in a drunken fit of rejection for several numbers, before stumbling onto the street.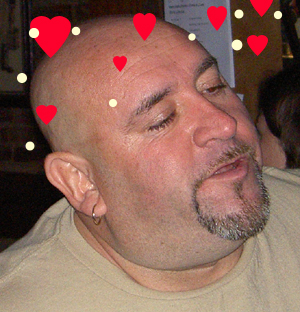 Back to the show! A jambolicious version of Long Road lead to Pleasurepain, which dovetailed into Van Halen's Eruption with Deninzon's violin howling with distorted delight. After New Material and Climbing, Joe Deninzon traded the violin for a mandolin on 2 boozy bluesy numbers: The House Always Wins, and Gutterpunk Blues. The solos headed down a distinctly Mahavishnuesque path on an extended take of Acid Rabbits, and the evening wound to a close with a splendiferous cover (from Waka / Jawaka) of Frank Zappa's Magic Fingers. Another fantastic night of tunes from this energetic ensemble!

The Buckinghams – Wolf Den @ Mohegan Sun, Uncasville, CT 1/4/08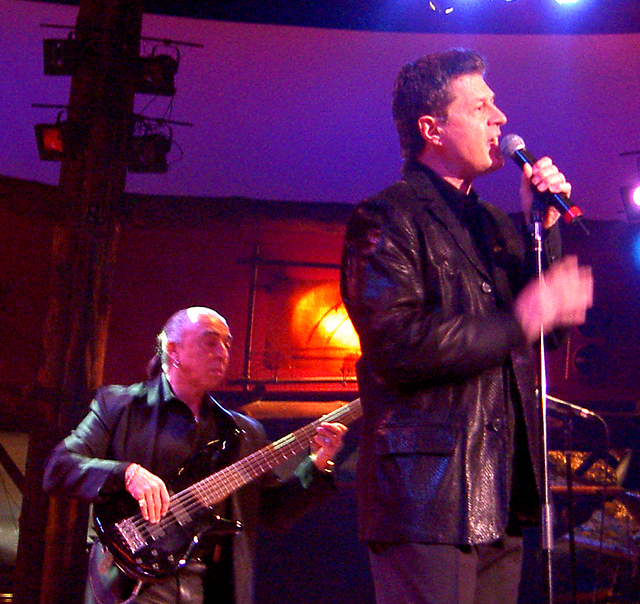 I'm very much a person of moods. When I want something, nothing else will do. I wanted pure rock 'n' roll. Thankfully, the Buckinghams graced Connecticut with an appearance! The delivered the music starved audience a show that never let up in energy from the first note to the last. They jumped headlong into 3 hot numbers - Back In Love Again, Don't You Care, and You Misunderstand Me. Carl Giammarese, one of 2 founding members in the band, was in fantastic voice and had a friendly, eastgoing stage aura. A pumpin' cover of the Rascals' Good Lovin' kept the crowd singing and clapping and showcased some fine keyboard playing by Bruce Soboroff. I'll Go Crazy was followed by a medley of songs by artists that the Buckinghams often share the bill with: Young Girl / Temptation Eyes / Midnight Confessions / I Think We're Alone Now / Crystal Blue Persuasion / Happy Together - a sort of pop / rock master class in its own way, with awesomely tight harmonies.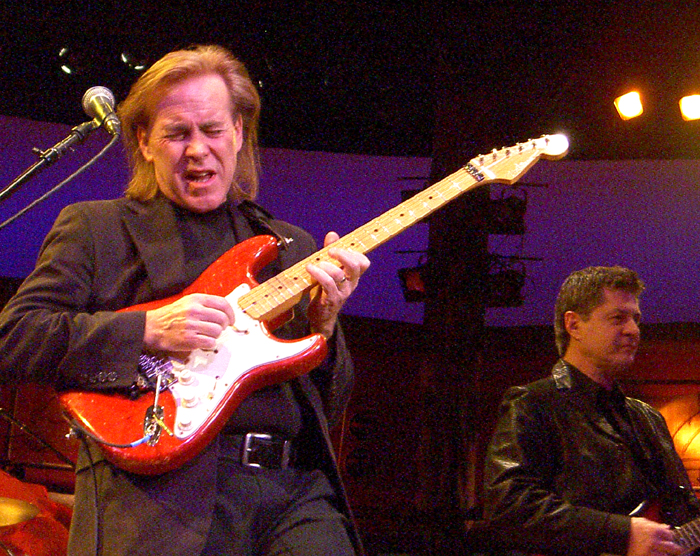 We Were Living A Dream, the first of 2 new songs from Reaching Back, their latest album, was one of the highlights of the evening, with a great vocal by Giammarese. Guitarist Bob Abrams was a catalog of searing licks, tearing through riffs from the theme to American Bandstand / Smoke On The Water / Heartbreaker / Aqualung / and Sunshine Of Your Love before the band launched into one of their signature tunes: Hey Baby (They're Playing Our Song). Soboroff got the spotlight, singing and playing his heart out on the Spencer Davis anthem Gimme Some Lovin'. Drummer Tom Scheckel, a monster behind the kit all night, added punch to Billy Joe Royal's I Knew You When.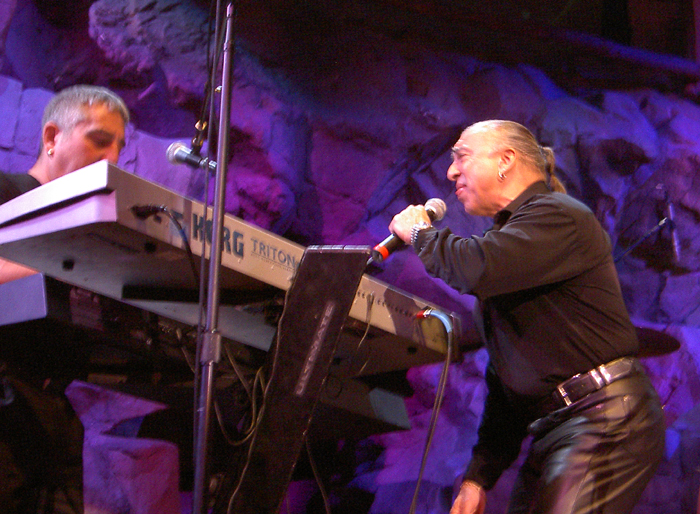 Psychedelic singalong Susan was flawless as it paved the way for the soul workout of Mercy, Mercy, Mercy, anchored by the other founding member of the band, Nick Fortuna. After the smooth new ballad No Way To Know, Fortuna turned the bass duties over to Giammarese and sang lead (as well as rockin' that cowbell!) on Expressway To Your Heart and Domino (with a bit of Tighten Up thrown in for good measure!). Fortuna has a ballsy voice - a sort of secret weapon, vocally, for the band. The electricity was high for the set closing megahit Kind Of A Drag, and the band flew back on stage for a honkin' take of The Letter. Some 42 years after their first hit in Chicago, the Buckinghams remain one of the top rock 'n' roll units on the planet!!

The Musical Box – Tribeca Perfoming Arts Center, NY, NY 12/21/07





A cold clear winter evening in Manhattan. The air was crisp, not yet bitter cold. Just lovely holiday weather & a great time to be in the city. Back to the pleasant Tribeca Performing Arts Center to see The Musical Box once more - this time performing a Black Show from the latter end of the Selling England By The Pound tour. Black sets, white outfits on 4 of the 5, a few additional costumes. As ever, Watcher Of The Skies opened the show impressively. New drummer guy Gregg Bendian, of Mahavishnu Project fame, added a muscular punch to the entire evening. Vocalist Denis Gagne was fair old Brittania personified as the band launched into Dancing With The Moonlit Knight. Guitarist Francois Gagnon and keyboardist David Myers were scarily accurate and dizzying on the solo sections.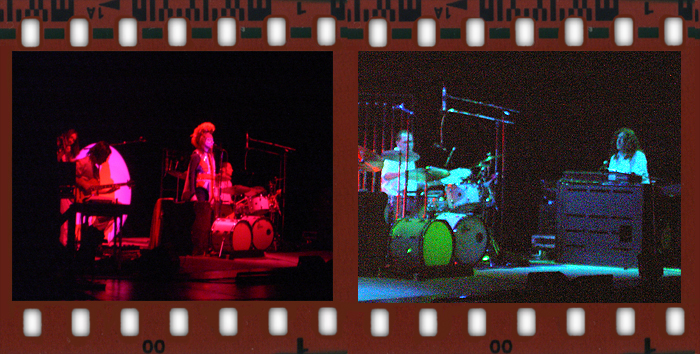 Out came the 12 strings for a version of The Cinema Show that gave me goosebumps. Sebastien Lamothe continues to impress me with his doubleneck work on this number - switching deftly from guitar to bass. It was lopping off time from the cosmic lawnmower as Gagne chewed his weed and pushed his imaginary lawnmower with fiendish glee on I Know What I Like (In Your Wardrobe). The audience shouted & applauded loudly between numbers, but were incredibly attentive during them - a rare delight that I applaud! Myers did the Tony Banks piano intro to Firth Of Fifth proud, and the flute, keyboard, and guitar solos were flawless. Kudos to Lamothe for the great bass pedal work that damn near shook the hall. The Musical Box was Victorian perfection - a true balance of delicacy and power. No one can come close to capturing the true spirit of this piece the way this band does.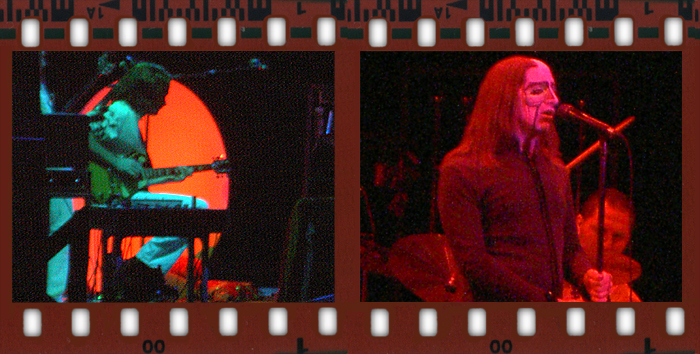 Gagnon played the timeless Horizons on acoustic guitar, then it was the military snare pattern by Bendian signalling the oncoming madness of The Battle Of Epping Forest. Always a complex number for every member of the group, they played it seamlessly. Supper's Ready never fails to be the highlight of every show. Epic in nature, dramatic, theatric, a myriad of moods, and one of the great endings in rock music, it just has it all. I was once again awestruck by the power of the music and the performers. After being put through the emotional blender, The Musical Box left us on a high energy note with The Knife. My words here are only the tip of the iceberg in terms of the experience, the emotion, the passion of the evening. Denis Gagne, Francois Gagnon, Sebastien Lamothe, Gregg Bendian, and David Myers are weavers of wonder.

 Jethro Tull – Chevrolet Theatre, Wallingford, CT 12/1/07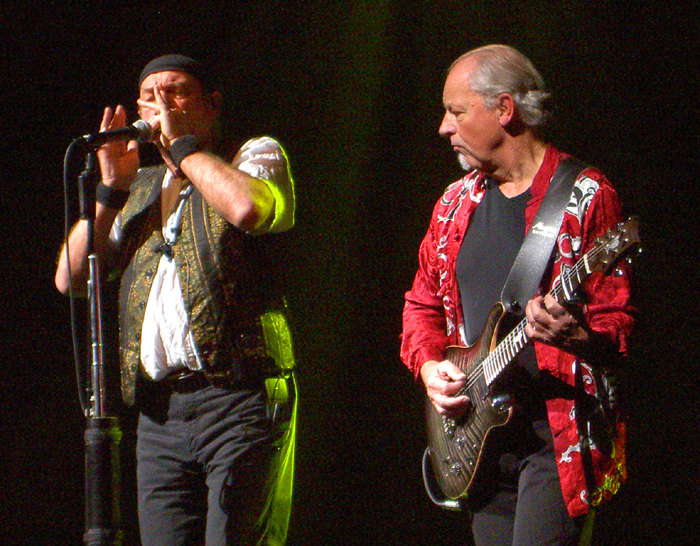 Winter is knocking at the door. Wallingford was dry, cold, and windy as I made my way to the former Oakdale Musical Theatre, now the more corporately titled Chevrolet Theatre. The venue has always been a treat sonically, and this night was no exception. This was my first night seeing the new Tull line up with former Ian Anderson solo bandmates John O'Hara on keyboards and David Goodier on bass. To my ears they brought a nice depth to the band & gave off a sort of Heavy Horses / Stormwatch vibe. Someday The Sun Won't Shine For You started the evening off on the good foot with Ian Anderson playing a mean lunch wrapper and Martin Barre furious on guitar right out of the gate. Next was a smooth, flowing Living In The Past, still compellingly beautiful. A nice new piece, The Donkey And The Drum, an instrumental dedicated to a favorite haunt of O'Hara's followed. It had a nice old school feel and would have fit well on the Secret Language Of Birds album. Speaking of Secret Language Of Birds, The Water Carrier saw Doane Perry having a bit of percussive fun.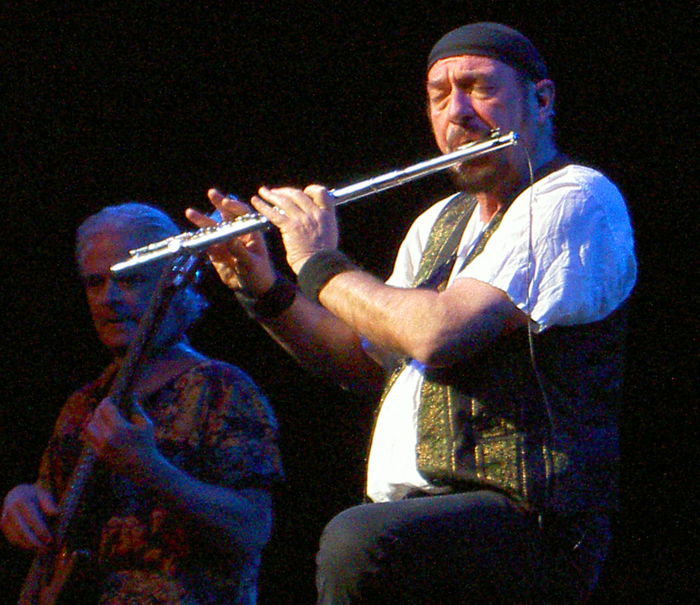 The Calliandra String Quartet (4 women from the New England Conservatory of Music) took the stage to accompany Anderson & Barre for Pastime With Good Company (King Henry's Madrigal) and an incredible instrumental medley of Songs From The Wood and Heavy Horses that gave me goose bumps. We got a small taste of Martin Barre's flute playing, and fine mandolin by Anderson on Fat Man, and the quartet added fresh, deep flavors to one of the highlights of the evening: a medley of Sossity, You're A Woman / Reasons For Waiting that was beautiful beyond words. A playful take of Bouree followed, then the ladies exited the stage before the set closing raver Nothing Is Easy.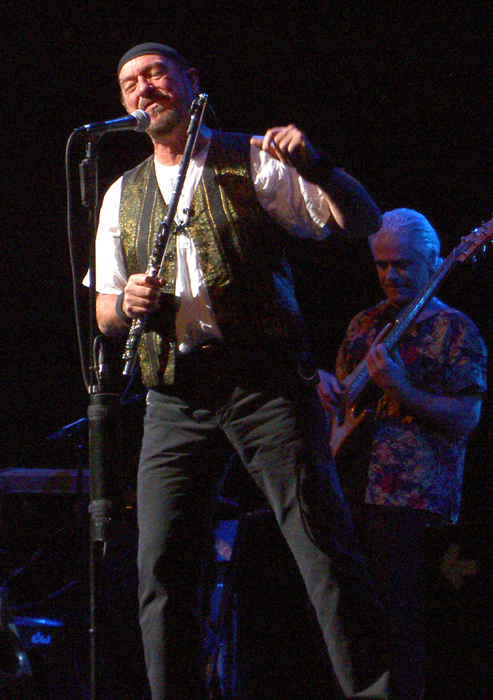 Doane Perry is a dangerous man behind a drum kit, as the crowd soon learned when set 2 began with a full throttle My Sunday Feeling which also had some cauterizingly hot guitar from Barre. Anderson pulled out his wee acoustic guitar and O'Hara thrust his big organ at us during excerpts from the Gerald Bostock classic Thick As A Brick. Anderson left the stage in the hands of good boy Martin Barre who treated the enthusiastic crowd to some fab guitar on Misere, contrasted nicely by O'Hara's keys and propelled mightily by Goodier & Perry.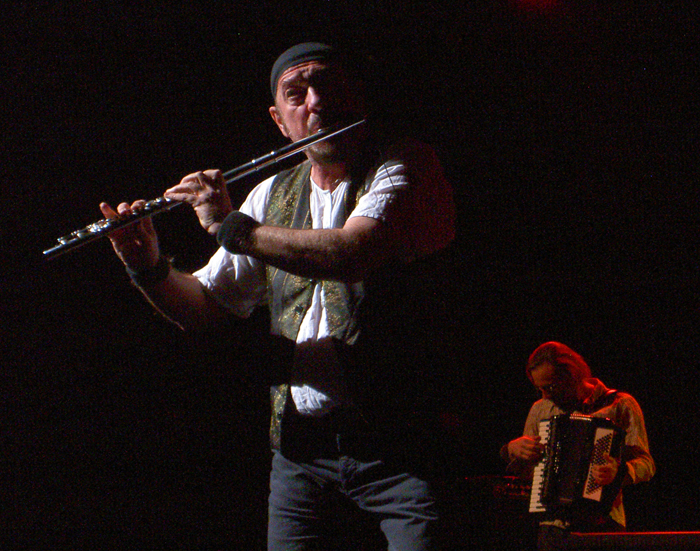 Aqualung got a new lease on life with an orchestral arrangement that turned the tune inside out and added the quartet for good measure. It was cover tune time with a reworking of the Keith Emerson reworking of the West Side Story classic America with wry snippets of everything from Maria to Somewhere Over The Rainbow to Purple Haze. The mood got darker for a fiendish reading of My God with eerie keys from O'Hara. The quartet added nice flourishes to the set closing Budapest that was positively owned by the amazing stick work of Doane Perry. The encore was a straight up rockin' Locomotive Breath. Ian Anderson & the gang have much to be proud of as I'd easily put this up in my top 5 Tull shows ever. Everything I've ever loved about Jethro Tull was there in spades. As David Goodier commented afterwards: "A good one!"

3 – Webster Underground, Hartford, CT 11/27/07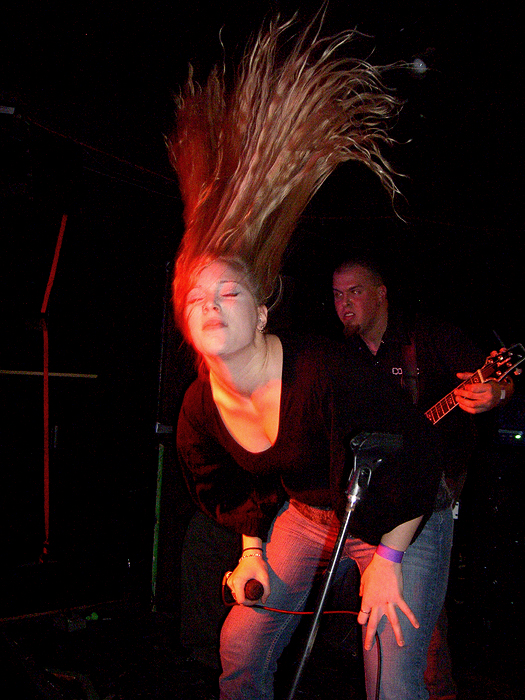 The Webster Underground is the small stage adjoining the main Webster Theater. It was a bitterly cold evening, but I had no doubt that 3 would warm things up. Before I could find out, the Webster people threw a few of opening acts at us. The first 2 - Rhythem Section (no, that's not a typo) and Ziggy & The Noise were, well......blessedly brief. A note to both: a decent guitar tuner is not an expensive item. The 3rd act, Mornalir, kicked things up many notches. Dark and metally and exotic, this 5 piece impressed the hell out of me within the first 10 seconds. Drummer Mike Dawley and bassist Matt Ramos were a deadly pouncing tiger of a rhythm section. Tom Molloy & Ernie Delvecchio were pure guitar madness - Delvecchio shredded on a level I've seen few guitarists attain. Sarah Famiglietti delivered moody vocals and keyboards in all the right places. The material, especially the number Down In Her Hell, was top drawer all the way. Every now and then you see an act with a great future ahead. A smart label will snap Mornalir up tomorrow! Awesome in every regard!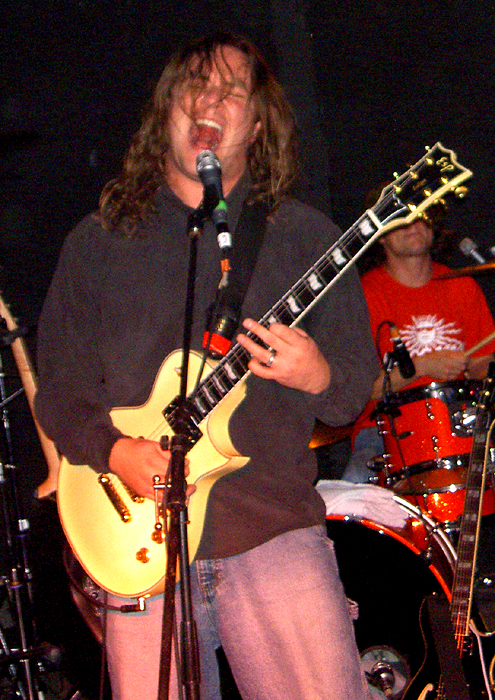 3 got in gear right about 10 PM. As with the last time I saw them a month ago, The Word Is Born Of Flame and The End Is Begun opened the set on a high energy note. Joey Eppard was just soaring on guitar and his interplay with the equally wicked guitar of Billy Riker caused sparks to fly through the air like embers from a bonfire. Alien Angel followed, anchored solidly by Dan Grimsland on bass. Grimsland is an energetic player and a strong backing vocalist - complimenting Eppard's voice well. Back to The End Is Begun for 4 more numbers: Battle Cry, All That Remains, My Divided Falling, and Serpents In Disguise - all keeping the adrenaline pumping!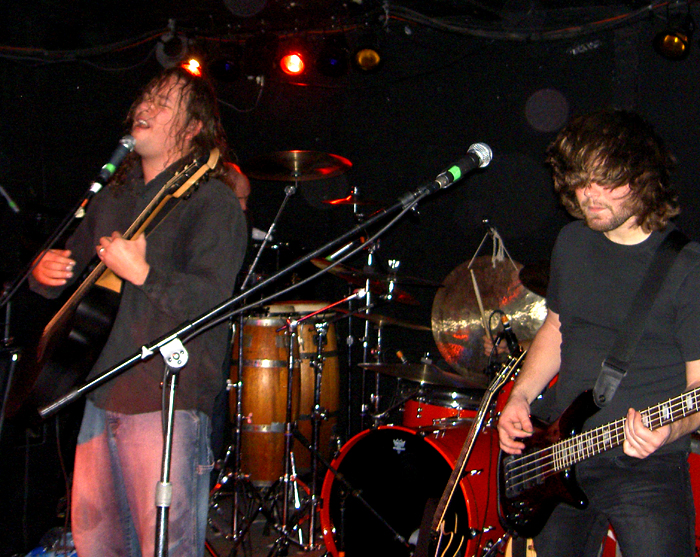 Next we took a trip back to the Summercamp Nightmare album for the quirky and catchy Halloween and the macabre waltz of Bedroom In Hell, a song that seems to gain energy and weight as it moves along. Monster and Dregs took us into Bramfatura with its blistering, spiraling acoustic guitar lines from Eppard. Joe Stote and Chris Gartdrumm Gartmann shone in their percussion / drum duet that lead into Amaze Disgrace and the end of the evening. 3 are a positive, heavy band with dark tinges and power to spare. Just incredible!

 The Stamford Symphony Orchestra – Palace Theatre, Stamford, CT 11/11/07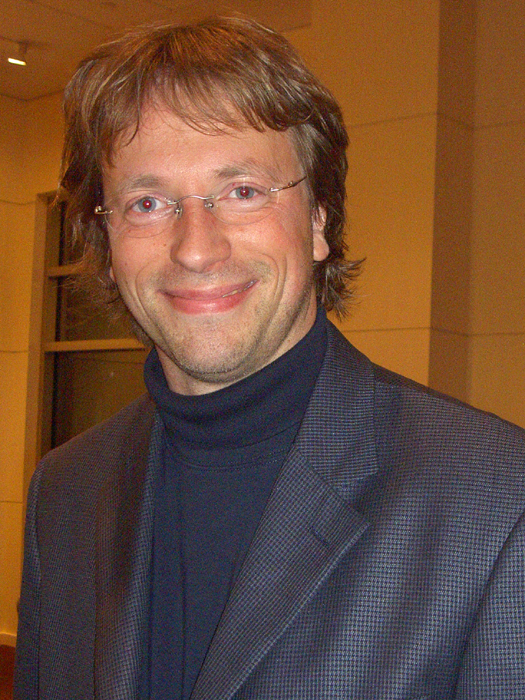 Great music is cool water for the soul, refreshing and rejuvenating. Maestro Eckart Preu put together a program called Vienna, City Of My Dreams, featuring the music of Mozart, Schubert, & Haydn, plus a surprise or two. I arrived an hour early for the performance with my good pal Pete to hear Maestro Preu's Behind The Baton pre-show talk. It was fascinating to hear about the lives of the composers as well as background on the pieces to be performed, and an interview with the guest soloist: Grammy nominated violinist Jennifer Frautschi.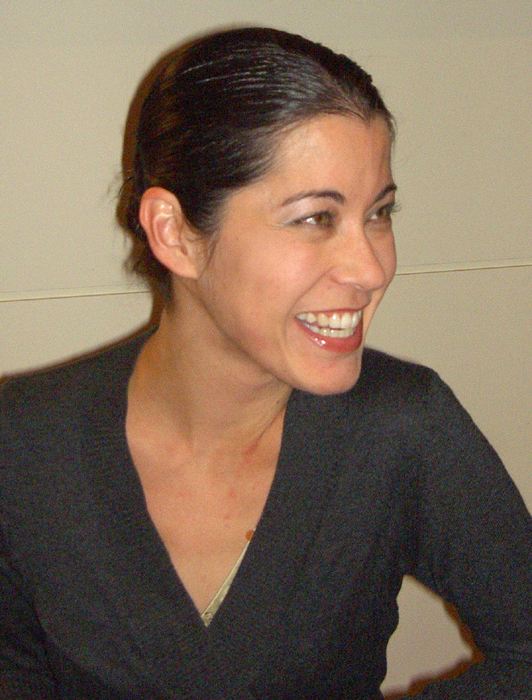 The first piece performed was the very familiar first movement of Mozart's Eine Kleine Nachtmusik, stirring and regal violins in abundance. Next was a subtle, lovely number by that rascal Schubert - Symphony No. 5 In B Flat Major. This was full of colors and elegant textures. Jennifer Frautschi joined the orchestra for another Mozart piece, this time the fabuloso Violin Concerto No.3 In G Major. Frautschi is an animated player - every note seems to register on her beautiful face. Her fingering was sensual and fluid, expressing each note, each run with grace and emotion. The roar of the audience brought her back for another piece - Kreisler's elegant Schon Rosmarin.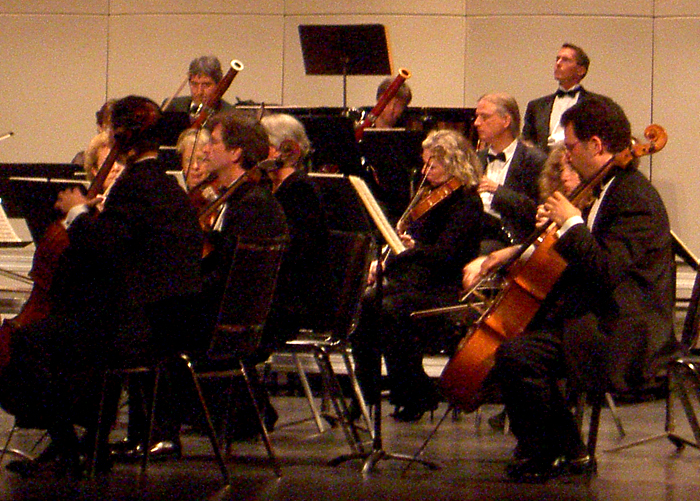 After intermission, the ever animated Maestro Preu brought us Haydn's Surprise symphony: Symphony No.94 In G Major. This symphony was an adventurous journey through moods and rhythms. There was a great section where all the violins were playing in 6 while the rest of the orchestra played in 4. Tasty stuff! Just when you thought the program was over, we were served an audible dessert: Vienna, City Of My Dreams by Sieczynski - a lovely Viennese folk tune that brought tears to my eyes with its simple beauty. Life is good. Life is music.

Oblivion Sun – The Knitting Factory, NY, NY 11/07/07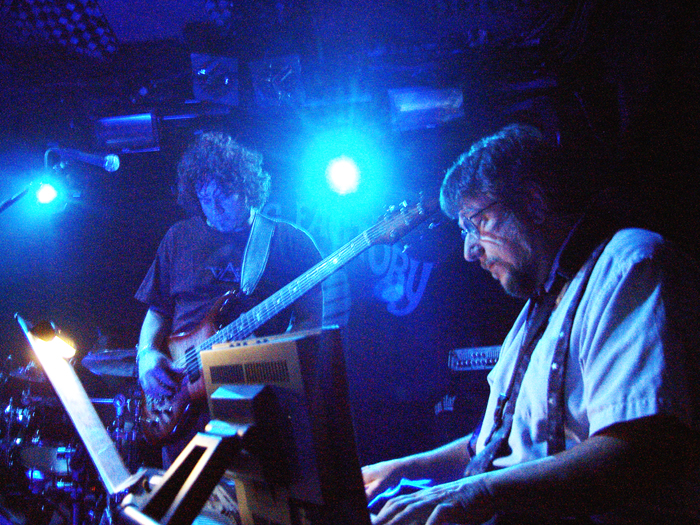 There are days when you feel utterly drained. Life has kicked your ass & the glass is four fifths empty. This was one of those days. Oblivion Sun cured all that with a blazing, remarkable performance in support of their self titled debut disc at the Knitting Factory on sucky old Leonard Street in NYC. The quintet took the stage a bit after 7:30 and opened with the appropriately titled Fanfare. Frank Wyatt sat behind his Kurzweil, his fingers triggering beauty and majesty as always. Chapter 7.1 was introduced by guitarist / vocalist Stanley Whitaker as an Oblivion Sun refit of Chapter 7 from the Pedal Giant Animals album he and Frank Wyatt released prior to this project. Next was a gem by keyboardist Bill Plummer - Noodlepoint - a very Happy The Man - esque number and great showcasing of the rhythm section of bassist Dave DeMarco and Iluvatar drummer Chris Mack. Speaking of Wyatt & Whitaker's former band, Happy The Man, a track from The Muse Awakens - Shadowlites was given the Oblivion Sun treatment. It may just be my perception, but Oblivion Sun seems to have an even more positive vibe than Happy The Man did. Great interaction and nothing but smiles all night.




A very Crimsony guitar line by Whitaker drove No Surprises with pulsing bass by DeMarco. Wyatt's playful Catwalk had a swell vocal by Whitaker and fabulous, expansive chords. It's one of those songs you just don't want to end. Things took a turn for the funkier with Re: Bootsy with Wyatt adding tasty sax to the mix and Plummer using vintage sounds to bring the ear candy up a notch. Nice Whitaker vocals on another Pedal Giant Animals tune: Everything. A dog is admonished to Leave That Kitten Alone, Armone - a compelling reading of the old Happy The Man number heavily featuring Mack's percussive talents. Plummer introduced the final Pedal Giant Animals song to be covered - Mists Of Babylon. The Ride had some great Hendrix-y guitar from Whitaker and a bluesy vocal. Underwater we went with the moody Tales Of Young Whales, one of the strongest numbers in a very strong set. The Happy The Man-ish Golden Feast, another Wyatt composition, closed the set.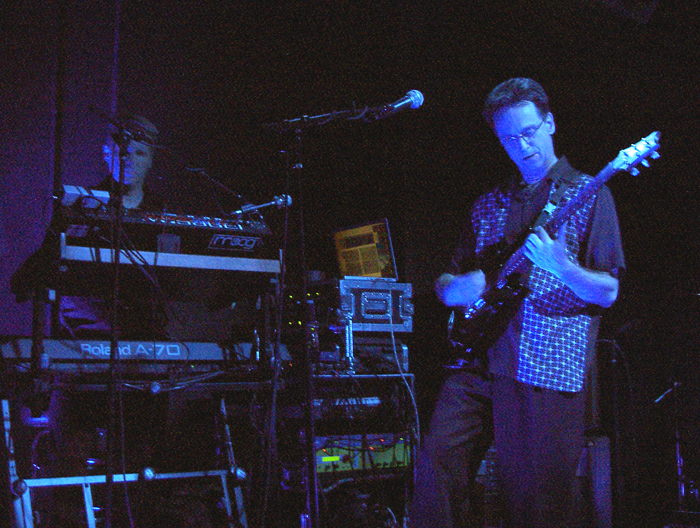 An encore jam built into the HTM classic Carousel which grew and grew in intensity, threatening to spin out of control! It was a magical night. Whitaker & Wyatt have taken the very best elements of Happy The Man and brought in new musicians and new elements, creating exciting new music to be long treasured. Plummer, DeMarco, & Mack have much to say musically, and this quintet mesh in ways few bands do. It's also a great experience to see 5 guys loving what they do. If you've not heard the CD, get it! You'll not be disappointed. If Oblivion Sun get within 200 miles of you - BE THERE! This is the stuff of dreams, my friend.

Classic Albums Live – Wolf Den @ Mohegan Sun, Uncasville, CT 10/21/07

I had heard of this band but had never seen them. When I saw that they were performing the Beatles' White Album from end to end, well, I just had to see if they were up to the challenge. They were in spades! Classic Albums Live is a pool of 20 musicians recreating the works of everyone from the Beatles & Stones, to Pink Floyd & Yes. For the White Album, they were a band of 10: Mike Daley - guitars & vocals, Rob Phillips - guitars & vocals, Joe Power - bass & vocals, Marty Morin - percussion & vocals, Doug Inglis - drums & vocals, Brooks Milgate - keyboards, as well as 2 horn players & 2 strings players.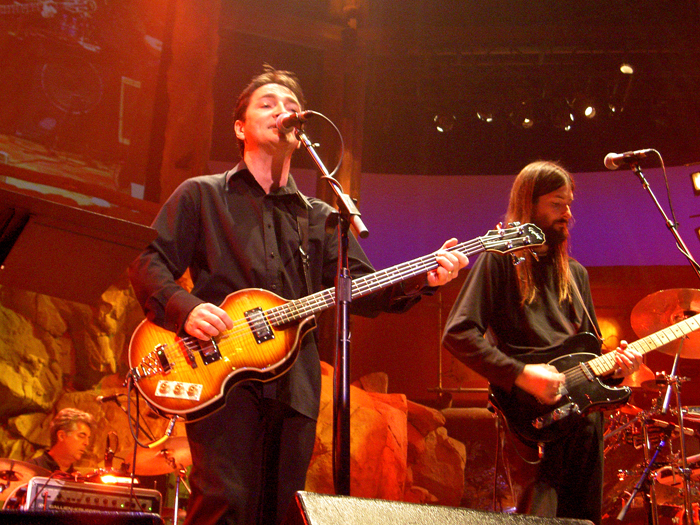 So many highlights this evening, but I'll touch on just a few. Daley on Honey Pie was so unbelievably perfect that I got a lump in my throat. Phillips' remarkable vocal on Long Long Long. Power's muscly vocal on Yer Blues. Morin's raging Why Don't We Do It In The Road. Piggies. Cry Baby Cry. An orgiastic Birthday. A fierce Helter Skelter.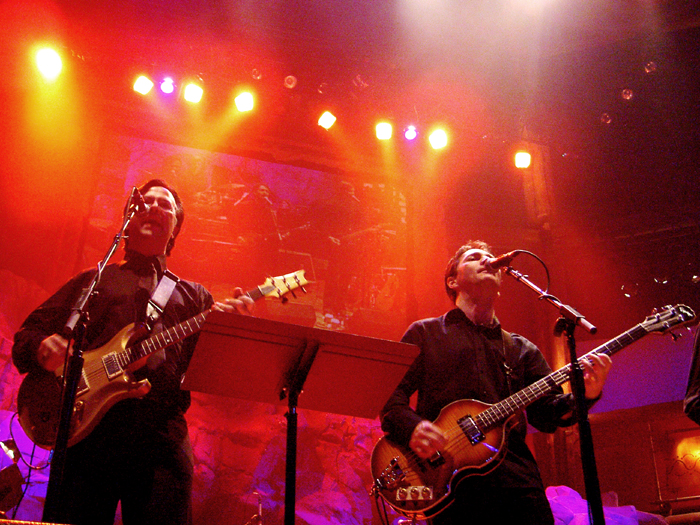 And then there was Revolution 9. Listen to it on the album. It is a seemingly impossible piece of bits and loops - fragments and hard to define thingies. Classic Albums Live recreated it flawlessly. I was stunned. Genius. That's all I can say. As the final beautiful strains of Goodnight drew the evening to a close, I was transformed from a man curious to see what these musicians could do to a devotee. I totally love this band & if you see them, you will too.

  Porcupine Tree & 3 – Webster Theater, Hartford, CT 10/19/07

It was a dark and stormy night. Hartford was chilly and rainy and muddy and crappy as only Hartford can be. If Connecticut was a body, Hartford just might be the colon. Thankfully, once the doors opened, Hartford got much, much better! At about 8:45, 3 took the stage. Lead by guitarist / vocalist Joey Eppard, 3 are a nice balance of melody and raw energy. The set opened with The Word Is Born Of Flame which segued neatly into the title track of their latest release, The End Is Begun. Eppard has an aggressive finger picking technique that is well counterpointed by the blazing licks of Billy Riker on guitar. Alien Angel and Battle Cry showcased the propuslive rhythm section of bassist Dan Grimsland and drummer Chris Gartmann. Locked in with percussionist (and occasional keyboardist) Joe Stote, this is a staggering rhythm unit.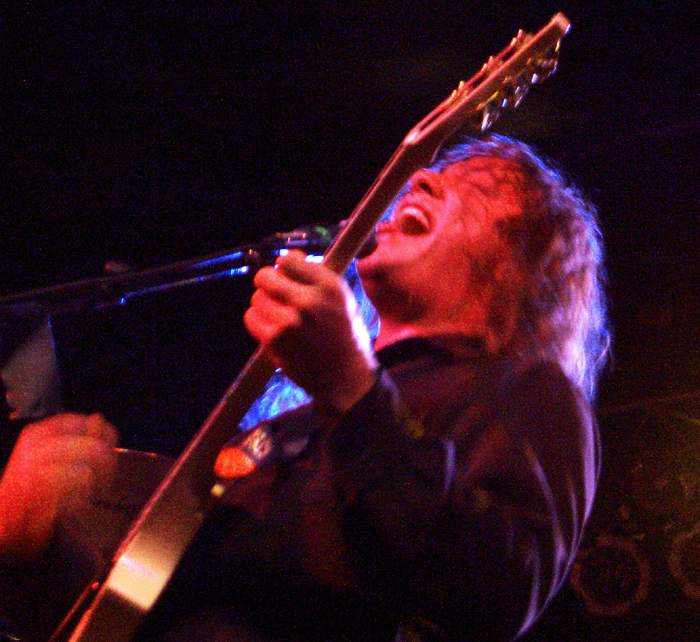 All That Remains was followed by My Divided Falling. Eppard was in great voice on the appropriately heavy These Iron Bones and the new album closer The Last Day. Bramfatura brought us into a frenetic drum / percussion spot before closing with the anthemic Amaze Disgrace. It's great to see a young band so mature and with such a phenomenal amount of energy. 3's set ended all too soon and the wait was on for P Tree.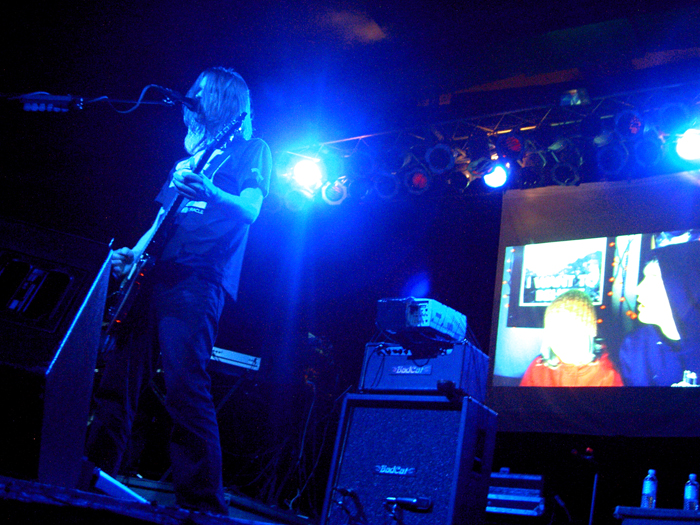 If 3 were hot, Porcupine Tree were all icy power. This was the 2nd leg of US dates in support of Fear Of A Blank Planet & the Nil Recurring EP. Frontman Steve Wilson donned his guitar and the band broke into What Happens Now? Bassist Colin Edwin reminded me of a smiling eel all evening, subtly slinking and gliding in and around beds of guitars and keyboard ambiences, gently but solidly in synch with powerhouse drummer Gavin Harrison. Fear Of A Blank Planet, The Sound Of Muzak, and Sentimental came next, as Wilson intertwined vocals and guitars with John Wesley to great effect. Richard Barbieri was in no way flashy, choosing instead to present atmospheres and chilled washes of pastel textures. Next was Cheating The Polygraph, a number Wilson remarked was difficult to play, wryly mentioning that the next was much easier but 17 minutes long. The crowd cheered as the band kicked into the trancelike Anesthetize.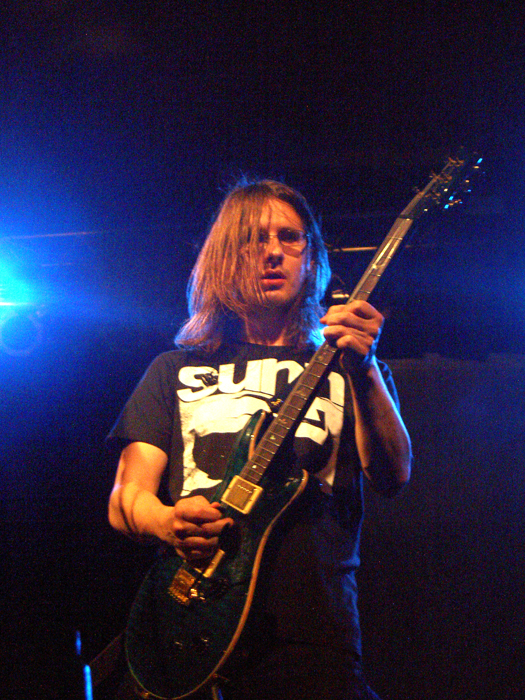 There was no reprieve as we were straight into Open Car and the wonderful Dark Matter. P Tree dipped back a few years again for Blackest Eyes and one of the highlights of the show - the gorgeous A Smart Kid. The main set closed with Way Out Of Here and Sleep Together. The sound, lights, and video screen filled your senses all evening, and the hot, packed, screaming crowd ate up the encores of Even Less and Halo. The band clearly loved the evening, the vibe, and the audience. One of those evenings where everything just completely clicked for both acts!

The Stamford Symphony Orchestra – Palace Theatre, Stamford, CT 10/7/07

Fire & Ice was the title of the opening program of this season with the Stamford Symphony Orchestra, with Maestro Eckart Preu conducting once again. The fire was provided by Conga-Line In Hell, a piece composed in 1994 by Miguel Del Aguila. The piece was full of manic energy, wild percussives and crazy piano figures. Perfect music to accompany Daffy Duck running around madly while on fire! Maestro Preu's baton looked like an insane metronome as it jerked to the shifting time signatures.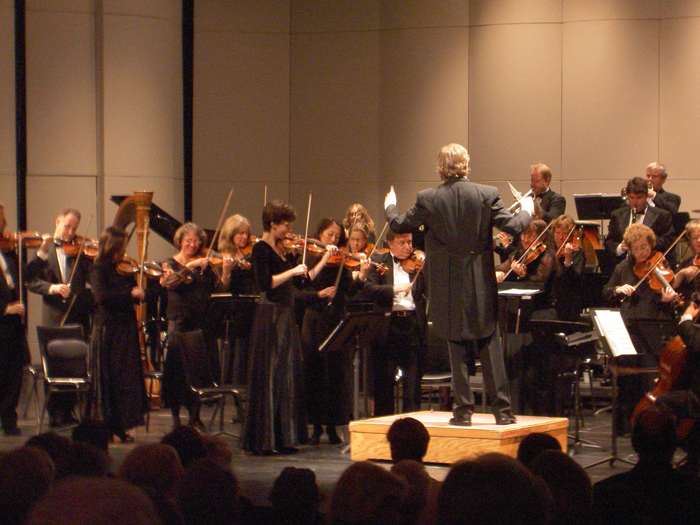 Next was our old friend Ludwig Van and the guest soloist for the program, pianist Andrew Armstrong. The number in question was Beethoven's Piano Concerto No. 4, a long, lovely piece full of grandeur. Armstrong was amazingly expressive on the piano, playing with a sort of serene beauty, yet full of fierce fluid runs and flawless arpeggios. As I listened to the concerto, I felt like I was taken to a place of sheer bliss. Piano, orchestra, and listener transported to a timeless plane.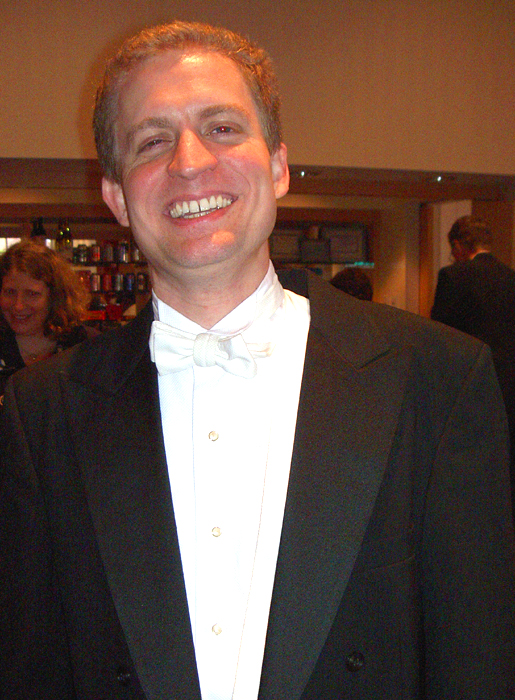 After intermission, the afternoon closed with the ice portion, courtesy of Jean Sibelius' masterful Symphony No. 5. Woodwinds took us to the Finnish hills, riding on waves of lush strings. The symphony took us in and out of moods, sometimes quite simple, others more dense. Stirring yet unsettling at times, a rollercoaster of moods, brass, and swans. Six thunderous orchestral stabs and the performance ended on a jarring note. Brilliance from all involved. If you at all can, come see the symphony. It will enrich your soul!

Stratospheerius – Ray Kelly's Pub, Bridgeport, CT 10/6/07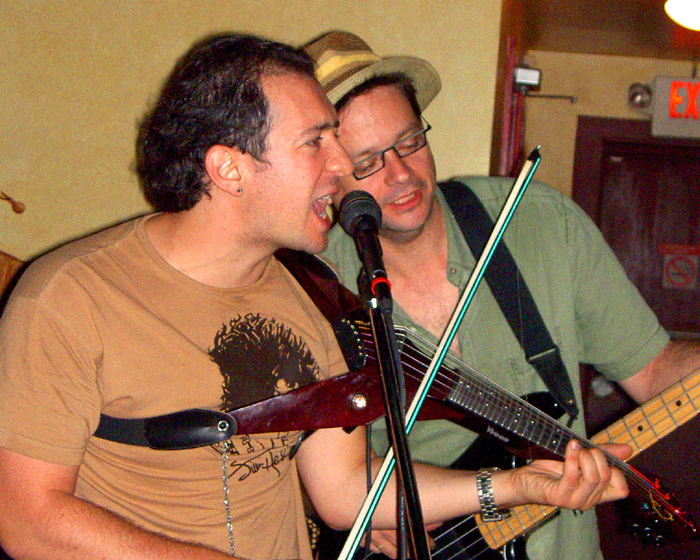 Had some great pizza at a place run by a guy who looks like he could be the brother of Richard Nixon. Headed down the street to Ray Kelly's to fill up on some smoking prog fusion. Who better to deliver than violinist Joe Deninzon's ensemble - Stratospheerius? On the road to support their latest release: Headspace, this quartet was a cyclotron of energy all night, ripping the roof off with their Jeff Beck-meets-Jean Luc Ponty on crack vibe. Deninzon's violin blazed through the 1st set opener - Pleasurepain - tightly backed by guitar / bass / drums. Deninzon showed nice vocal chops as well on Old Ghosts, with some slithery licks from ALkemy guitarist Aurelien Budynek.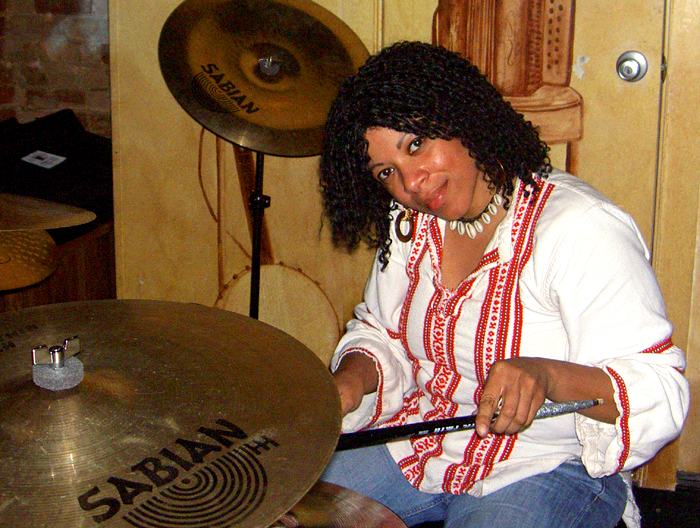 The groove got hot with Hindsight and even hotter with Today Is Tomorrow, which featured great cymbal action from monster drummer Yvette Scott. Scott and bassist Bob Bowen took the cover of the Police's Driven To Tears into overdrive, which Deninzon & Budynek kicked up to unheard notches. The first set closed with the fusion bliss of Acid Rabbits featuring a killer bass workout by Bowen, and everyone took a break to rehydrate.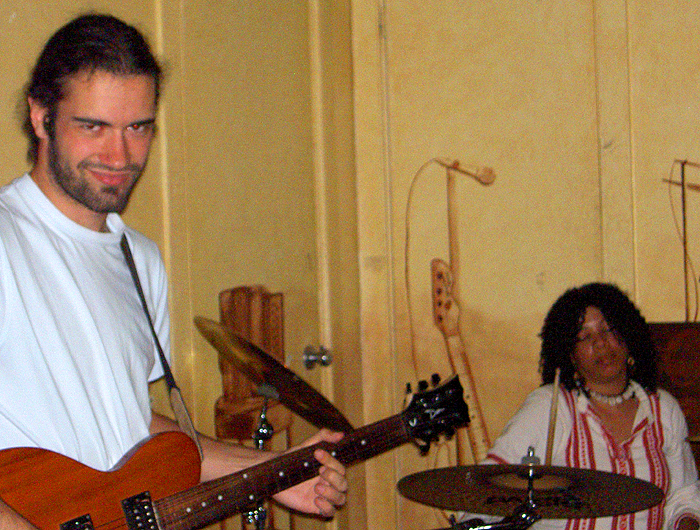 Sold Out began the 2nd set on a strong note with Scott and Bowen locked in the pocket and swinging. Next was a new Denizon tune called Release with awesome solos from the man himself. All four members got to stretch out and show their chops on the long Middle Eastern flavored show closer Heavy Shtettle. It's refreshing to see such good natured energy and fusion with an element of fun. Everyone was relaxed but tight. The tunes were great. The atmosphere was breezy and loose. I can't imagine a better night out!

The Fab Four – Mohegan Sun Cabaret, Uncasville, CT 9/27/07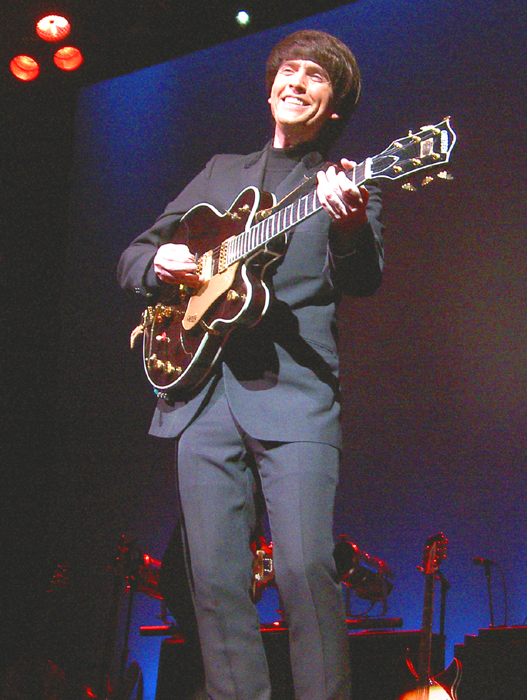 When a show can make you laugh and cry, sometimes simultaneously, it is a special evening. The Fab Four aren't a Beatles cover band. The Fab Four are the Beatles. I say this as a lifelong fan. It was the Beatles. Why do I say this? Ron McNeil, Ardy Sarraf, Gavin Leslie & Rolo Sandoval (as John, Paul, George & Ringo, respectively) don't just play the tunes accurately & look quite a bit like the Beatles, they bring a heart and a soul to them. It's an emotional thing that's hard to put a finger on, just trust me. I could go on for paragraphs about the quality of the playing, the accuracy, mannerisms, etc; trust me that you'll not find 4 finer musicians as well.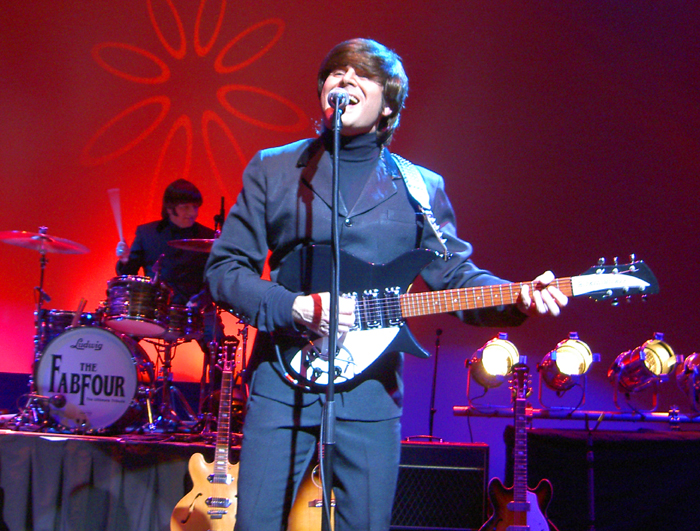 Since I saw them 6 months ago, a few minor changes to the show, which I'll get into as we go along. The show opened with a rousing I Want To Hold Your Hand, with the four in the classic suits as seen on the 1st Ed Sullivan appearance. Please, Please Me, All My Loving, & A Hard Day's Night followed, keeping the energy level high. The all ages crowd were clapping, shouting, singing all night long! I Should Have Known Better, Eight Days A Week, and Can't Buy Me Love lead to the first new number in the set: Help! - which saw the lads add black turtlenecks to their suits and a capo on the 2nd fret! She Loves You, I Saw Her Standing There, and the newly added Twist And Shout rounded out the Beatlemania era section of the show, with Yesterday a loving coda.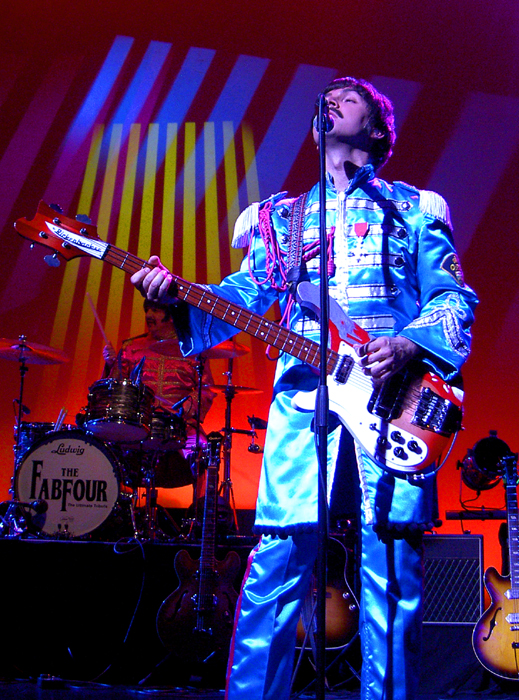 Pepper suit time. The four emerged after a funny video bit in full Sgt Pepper regalia, with Paul changing over from the Hofner bass to a Rickenbacker. Sgt Pepper's Lonely Hearts Club Band, With A Little Help From My Friends, and Yellow Submarine started this section off well. The 3rd new addition to the set, an unbelievable When I'm Sixty Four (replacing Penny Lane) lead into the unforgettable Strawberry Fields Forever. Just when you think it can't get any better, here comes Sgt Pepper Reprise and A Day In The Life! John left the stage and the remaining 3 finished the psychedelic set with Got To Get You Into My Life. John came back dressed in white to reflect on the life and death of John Lennon. A poignant moment and nary a dry eye in the house. What could you follow that moment with? Imagine. Beautiful & fragile as a butterfly, it floated into the hearts of the crowd. The band, now in Let It Be era attire, drew the show to a close with Here Comes The Sun, Get Back, Revolution, and the encore of Hey Jude.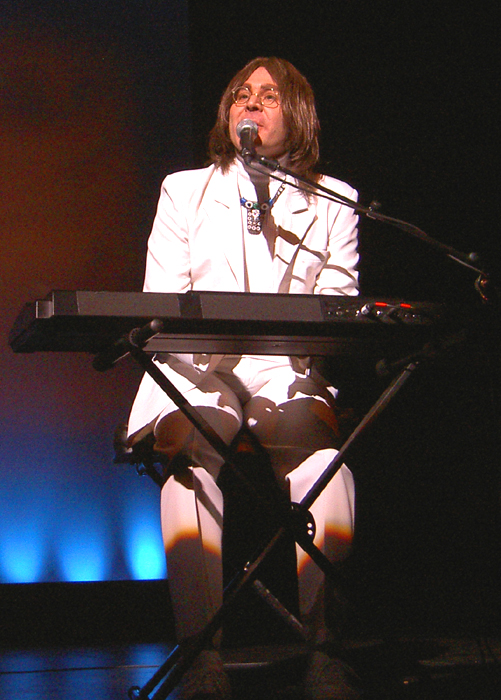 The music & times of the Beatles mean many things to many people. For those of us over a certain age, they are part of life, as much as food & drink. Part of our conscious and unconscious minds. The Fab Four are a reminder of all that was & is good about this. It was a chance to be in a room & through music and laughter and, as "hippy" as it may sound, through just being - re-tune ourselves to the world and perhaps to each other. Was this a concert? Was this a play? Was this...therapy? Spiritual? Life affirming? I say: all of the above.

Deep Purple – Chevrolet Theatre, Wallingford, CT 8/2/07

A full night of rock & roll! Deep Purple with Edgar Winter and Blue Oyster Cult opening. Yow! Edgar Winter was up first. Backed by a hot trio, Winter started his set with Keep Playin' That Rock 'N' Roll, a classic from the White Trash days. He followed this with a great call & response version of Turn On Your Love Light. The massive hits Free Ride and Frankenstein were next with Winter playing keys, sax & percussion on the latter. His all too brief set finished with a frantic take of Tobacco Road with a section of the classic Shout thrown in for good measure! Blue Oyster Cult took the stage next. Richie Castellano has moved over from bass to Allan Lanier's spot covering guitar, keys & vocals, with former Whitesnake / Ozzy bassist Rudy Sarzo covering the low frequencies. This Ain't The Summer Of Love started things off with a bang, followed by a driving OD'ed On Life Itself. The crowd roared for the classic Burnin' For You and Cities On Flame, which featured wild solos from Buck Dharma. Castellano turned in some beautiful soloing on the moody Shooting Shark. The band got down to business with a stomping take of Godzilla with a bass solo by Sarzo that included a nod to his Ozzy days in the form of a snippet of Crazy Train. A hot but cool (Don't Fear) The Reaper had the crowd on their feet as Blue Oyster Cult left the stage.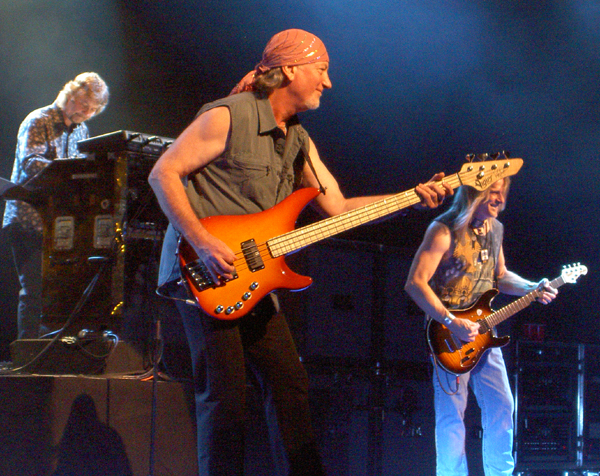 Deep Purple had some stiff competition, but served up the goods from the first measure to the last scream! The thunder of Ian Paice's drums opened Pictures Of Home, a fine start to a set that, while in support of Rapture Of The Deep, leaned heavily on the Machine Head album. Things I Never Said went straight into a jackhammer version of Into The Fire, with Paice locked solidly in with bassist Roger Glover, who was nothing but smiles all night. Keyboardist Don Airey & guitarist Steve Morse intertwined lines on Strange Kind Of Woman with a great vocal by Ian Gillan.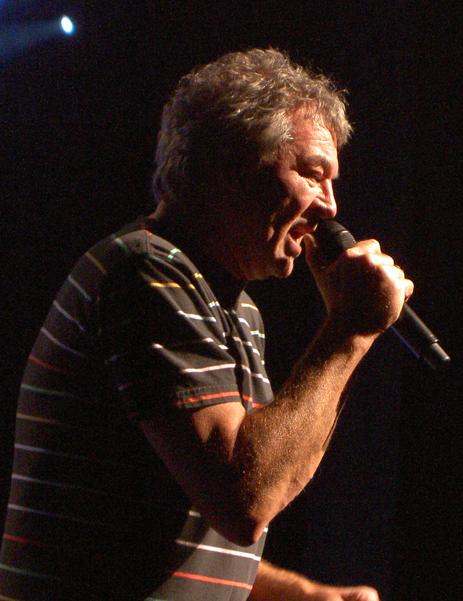 The title track from Rapture Of The Deep provided one of the highlights of the evening. its memorable Airey / Morse middle eastern hook with the Glover / Paice rhythm dancing under it was hypnotically powerful and powerfully hypnotic. The breezy Woman From Tokyo followed, a sort of aural breath mint. Morse took the spotlight with a solo segment built around Contact Lost but containing a few classical bits as well as riffs from (Don't Fear) The Reaper & Frankenstein. Deep Purple pounded through Knocking At Your Back Door, then grooved up Lazy, with some nice lunch wrapper work by Gillan. As the evening progressed, the charm & durability of the band was revealed: an ability to play in pretty much any style with ease and conviction. Few can make such a claim, much less deliver.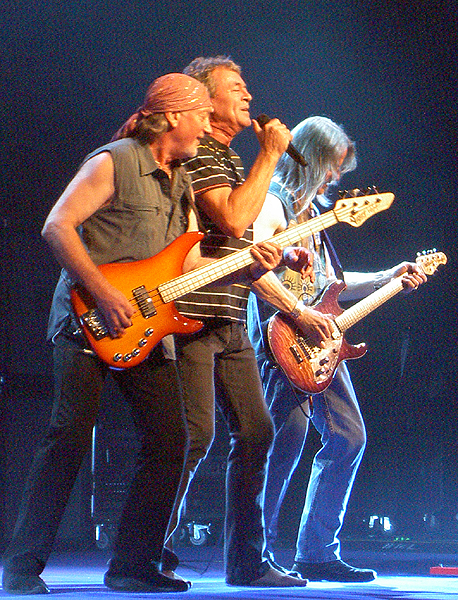 Airey took a dazzling classical & Gershwin - tinged solo spot before launching into another show highlight - Perfect Strangers. A trio of songs from Machine Head closed the set: Space Truckin', Highway Star, and the ever present Smoke On The Water. Encores were a vicious The Battle Rages On and a fun singalong Hush. 40 years on, Deep Purple still rule the stage. The multi-generation crowd loved every second of it. Total rock & roll heaven, folks!

The Tubes – B B King's, NY, NY 7/30/07

An evening of surprises. First, great company. Not only did my good friend Roz join me for the show, but the fun couple that I sat with last year ended up at my table yet again, making the preshow time fly! Great people! Next surprise - sitting in for Prairie Prince on drums was none other than former Marillion / GTR drummer Jonathan Mover! A monster player. The Tubes started the evening off with an electrifying take of Turn Me On. Frontman extraordinaire Fee Waybill mentioned that there was a loose theme to the evening: fallen heroes. Joey Ramone was there in spirit for the chestnut I Was A Punk Before You Were A Punk as was late 70s / early 80s murderer Mr. Hate.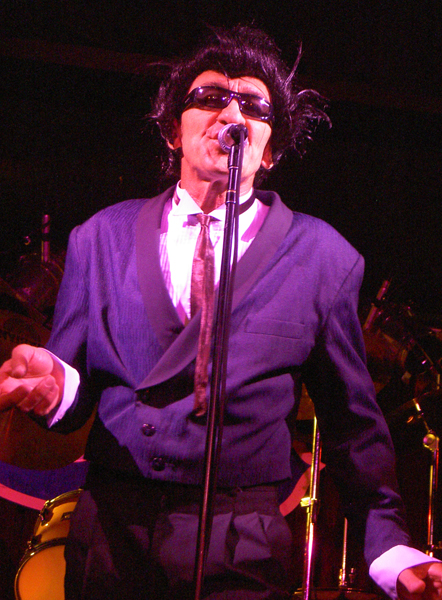 A killer version of the seldom played Amnesia was next. Waybill left the stage only to return in full James Brown gear for a James Brown medley that included a sizzling Sex Machine that segued smoothly into a version of Tip Of My Tongue featuring a lightning drum solo from Mover as well as get down funky bass from the Gator: Rick Anderson. A funny true story about a naked woman in a booth lead us into She's A Beauty. Tears were shed in the audience as Waybill related the story of former Tubes keyboardist Vince Welnick's suicide, adding a poignant touch to Don't Want To Wait Anymore with beautifully subtle keys by David Medd. Lightening the mood was a great call & response cover of Gimme That Wine, harkening back to the earliest days of the band. A crazy tale of Mexican sushi in California rolled into Sushi Girl, and game shows were given their due in What Do You Want From Life.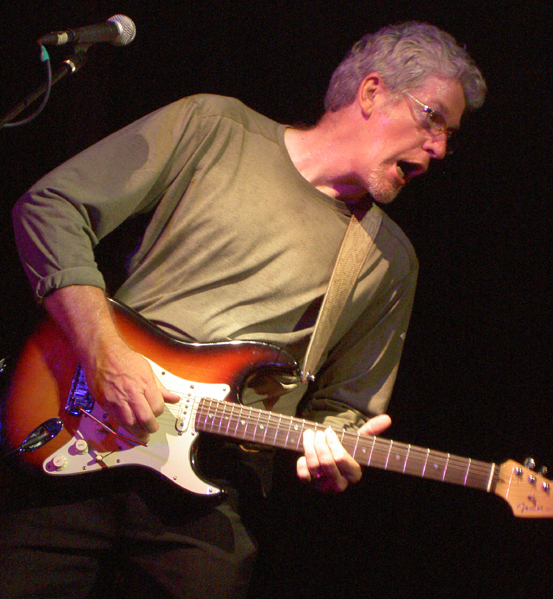 Two prime numbers from the Remote Control album were next: Love's A Mystery and Telecide - neither of which has been played in ages. Waybill's aleter ego, Quay Lewd, took the stage for searing versions of Tubes World Tour(with a blazing Roger Steen guitar solo!) and the set closing White Punks On Dope. Donning a leather mask, codpiece & chaps, and clenching a flashlight in his butt, Waybill brought twisted passion to Mondo Bondage and the band shamed every other rock band out there with Talk To Ya Later, with Steen playing impossible guitar. Perhaps the finest Tubes show I've seen in 24 years!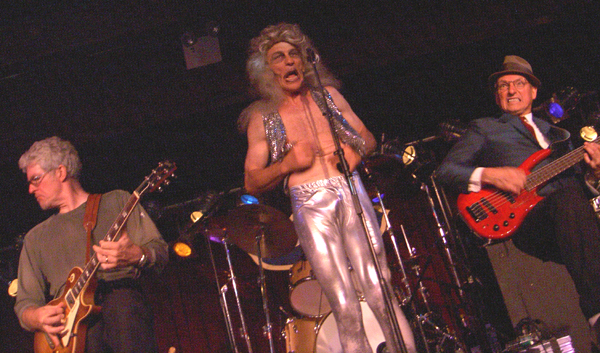 Asia – Ridgefield Playhouse, Ridgefield, CT 6/24/07

It was a beautiful day in Ridgefield. Warm and clear with a touch of a breeze. Driving to the gig, I passed by John Wetton who was out for a pre-show stroll. I rolled down the window and said "Hey! We're off to see this band called Asia! Need a ride?" He laughed and said "Enjoy the show!" with a big grin. Last year, the reunited original line up of Asia knocked my socks off. Could they do it again? Yes indeedy!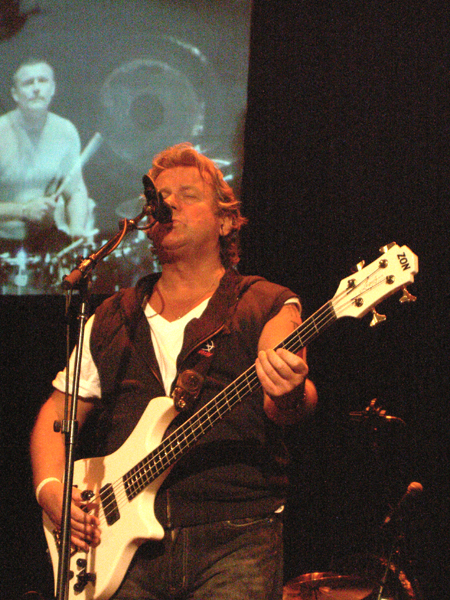 The song list was pretty much the same, but with 2 added songs, and a different order. This time around, Sole Survivor opened the first set. If the band was tight last year, this year they were even tighter. Wildest Dreams sounded powerful, and Wetton was infinitely more comfortable with Roundabout, which also saw Carl Palmer very locked in. Steve Howe played some mighty fine geetar on One Step Closer, while Geoff Downes took a nice solo keyboard spot on Cutting It Fine. The name of Howe's 1st solo acoustic piece has escaped me, but it served as an intro to a gorgeous version of Sketches In The Sun. Wetton played wonderful acoustic guitar on The Smile Has Left Your Eyes and Ride Easy. Both provided a chance for the band to catch its breath before the set closing workout that was Fanfare For The Common Man. This year saw this one really ramped up. Wetton did a nice solo workout, Howe and Downes traded increasingly wild riffs, and Palmer threatened to pound holes through his skins. Perfect time for a break!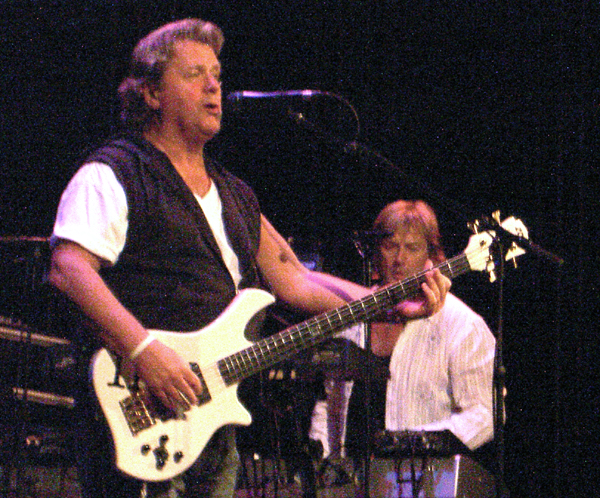 The second set began with a song not performed last year: the much welcome Midnight Sun - one of the very best tunes off of Alpha. Time Again and Without You followed. A majestic version of In The Court Of The Crimson King drew a deserved standing ovation. Here Comes The Feeling showed the band to be tight as anything and full of punch, while the tempo was moved up on Video Killed The Radio Star, and Howe added a dizzying solo to close out the tune. The Heat Goes On lead into the monster hit Only Time Will Tell which featured a woman in the crowd standing and clapping to a rhythm that seemed to be from another dimension! The set closed with another song not performed on the previous tour: Open Your Eyes. A great closer, it featured wonderful bass pedal work from Wetton that vibrated the hairs on my neck. Back to the acoustics for the first encore of Don't Cry, then full on power for a singalong version of Heat Of The Moment. Big show, sold out crowd, wonderful time. I couldn't ask for more!

Court – Jitters, Southington, CT 6/01/07

Sometimes you have a feeling. Before I even left my house for the drive up to Southington, I felt this was going to be a good night. I was not disappointed. Before the show, my pal Neil & I grabbed great chow at a local joint called Saint's, that had one of the best chili dogs I have consumed in ages. Jitters is a cozy coffee house that felt like walking into 1971. Great atmosphere for a show - very relaxed & friendly. Opening for Court was singer / songwriter Marc Douglas Berardo. Armed only with an acoustic guitar & a great voice, Berardo captivated the crowd with tunes like Shake Out The Dust, Harbor, & Untethered. Berardo has that rare ability to connect with each and every person in the audience, and his guitar work was nothing short of impressive. If only all opening acts were this good!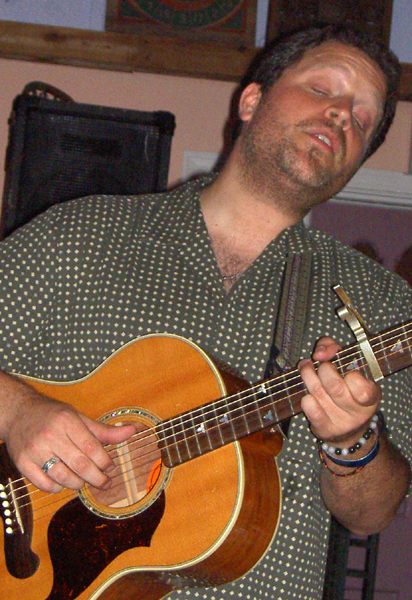 Court took the stage a minute before 10 PM and proceeded to blow my mind for the next hour & forty five. Hailing from Italy, the quintet play intense medieval tinged prog rock with traces of folk & psychedelia thrown into the mix. Touring in support of their latest CD, Frost Of Watermelon, the set drew from all 3 of Court's studio releases. Joy, from their 2nd album Distances, opened the show on an energetic note.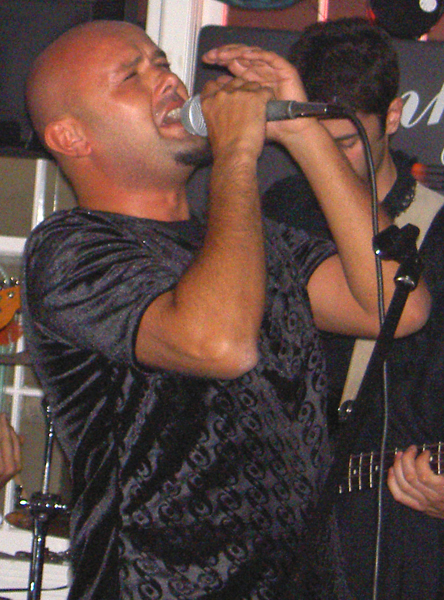 Guitarists Mose Nodari and Marco Strobel were full of surprises the entire evening, pulling out an E-bow and doubling on recorders & oboe as well as trading burning licks. Mirth For A Guest, from their 1st release And You'll Follow The Winds' Rush 'Till Their Breath Dwells, followed with stirring vocals from frontman Paolo Lucchina. Next was Walking And Talking a powerful song from the current album. Back to the 2nd album for The Spell Of The Rain, a very exotic, melancholy number.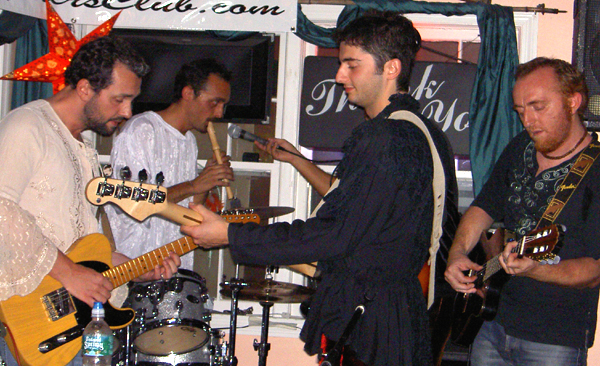 Nice bass work from Jacopo Favrin on another new track - My World. The Turn I Was Gifted lead in to the very long and furious Cries that saw Favrin use the E-bow on the bass, as well as powerhouse drumming from Francesco Vedani. Lucchina jokingly called it the longest song ever. Speaking of Paolo Lucchina, he sang The Song Of The Omniscient Dwarf entirely on his knees, adding a touch of sly humor to the otherwise heavy song. The evening ended with Alviss' Revenge, a long, psychedelic flavored song that reminded me a bit of Meddle-era Pink Floyd in spots, which is a great place to be! Court filled a cramped stage with majestic melodies and quirky story-songs. I've honestly never seen anything quite like them, and I hope I'm lucky enough to get to see them again!

Spock's Beard – Webster Theater, Hartford, CT 4/26/07

The word of the night was "footstools." The Webster Theatre is a mostly standing general admission venue with exactly 8 small wooden tables for those seeking to actually sit. There are no chairs. Just footstools. Oh, joy. I sat my massive posterior on a footstool, which promptly disappeared from view. Pre-Beard, the venue booked 5 opening acts. The first was a local death metal band called Icon Of Entropy. Excellent players, but I'm not one to summon the dark lords with my diet Coke. Next was Rooftop Session, a sort of bland but painless young band playing light rock with a cute, nasally girl singer. *Yawn*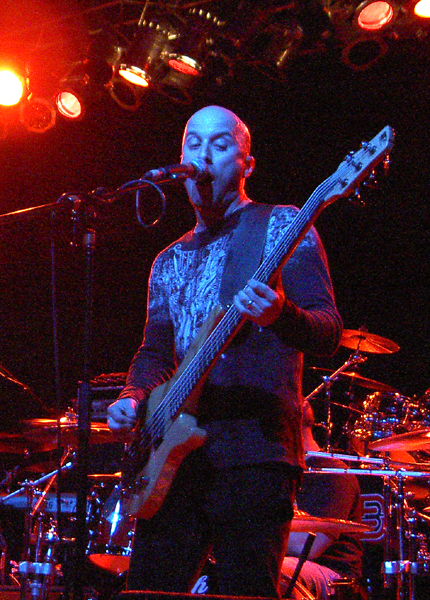 Things picked up at last with an excellent prog rock trio called DOA2K. This was more like it! Really solid playing, and strong compositions. I'd go see this band on their own any day of the week! Well worth my time! After DOA2K was a proggish, fairly nondescript band by the name of BiaXident who just kinda marked time and ate up clock. The last of the openers was Mile Marker Zero, a melodic prog act that got stronger as they went along. Very enjoyable.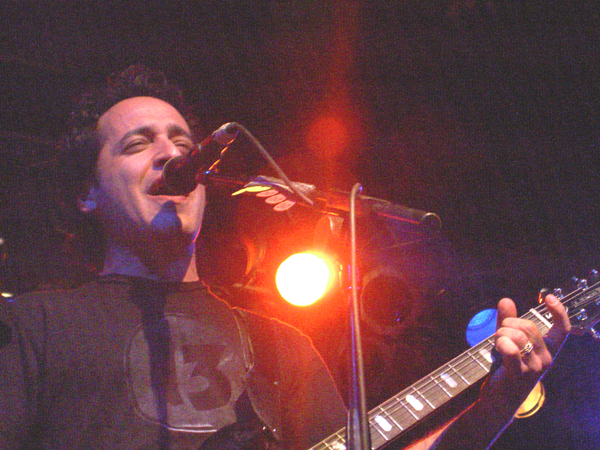 Just moments before Spock's Beard were due to hit the stage, Nick D'Virgilio's guitar amp hit the crapper. An omen? The band opened strong with On A Perfect Day from their latest self-titled album. Next was a powerful version of In The Mouth Of Madness going into another new piece - All That's Left. Lots of mic and equipment glitches in the early part of the evening. Crack The Big Sky sounded great. The glitches clearly aggravated D'Virgilio, who got a chance to vent a bit vocally on Surfing Down The Avalanche.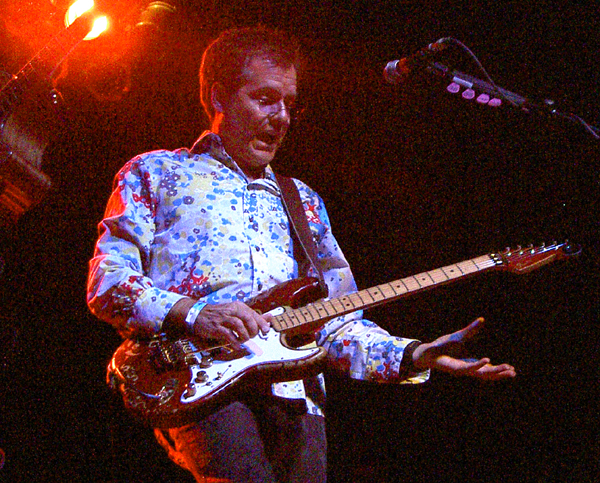 The mood lightened considerably with a funny story by keyboardist Ryo Okumoto that lead to a killer Thoughts (Part 2) showcasing the vocal prowess of the quintet. D'Virgilio and tour drummer Jimmy Keegan wowed the crowd next with a hyperactive drum solo. The workout continued on the polyrhythmic Skeletons At The Feast with standout playing by bassist Dave Meros & guitarist Alan Morse. The main set closed with the latest epic - As Far As The Mind Can See. Up against a curfew, the band flew through the encore medley of The Water / Go The Way You Go. The Water had a great moment where D'Virgilio grabbed the glasses of a member of the crowd to be in character as he sang. The fan got his glasses back as well as a signed poster he happily held aloft as he left the venue. This was the opening night of the tour & definitely had a few rough spots technically, as well as an understandable temper flare or two. But I liked that. It was a warts and all gig. Having said that, the band were fabulous. Through adversity, a great band showed exactly why they are great.

The Fab Four – Mohegan Sun Cabaret, Uncasville, CT 3/24/07

Ron! Ardy! Gavin! Rolo! It's the Fab Four! Obviously not the Beatles, but the closest to the originals that you will ever see. No tapes, no hidden musicians behind the stage, just 4 incredibly talented gentlemen playing live. The show was more than a concert, more of a theatrical performance taking you through the career of the Liverpool lads.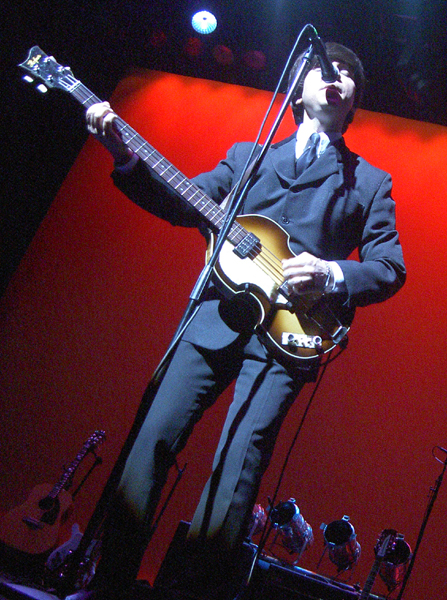 Phase one of the show saw the band dressed in the early matching suits, ripping through early hits: I Want To Hold Your Hand, Please, Please Me, All My Loving, A Hard Day's Night, I Should Have Known Better, Eight Days A Week, Can't Buy Me Love, She Loves You, & I Saw Her Standing There. Ardy donned a Shea Stadium era jacket for a lovely rendition of Yesterday with Ron playing the string parts on the keys.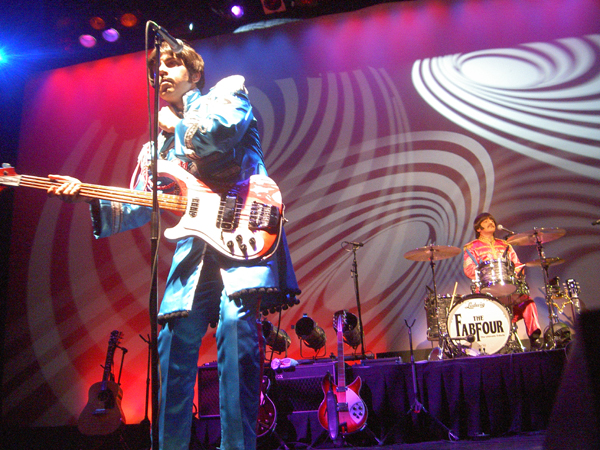 After a clever video segment, the quartet emerged decked out in Sgt Pepper outfits. Sgt Pepper's Lonely Hearts Club Band, With A Little Help With My Friends, Yellow Submarine, Penny Lane, Strawberry Fields, Sgt Pepper Reprise, A Day In The Life, & Got To Get You Into My Life were played in all their psychedelic glory. A Day In The Life flat out blew my mind!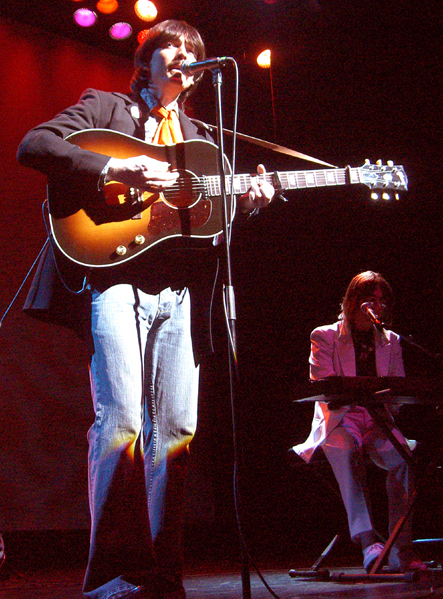 Ron came out in the classic white Lennon outfit with necklace & told a story behind the piano before launching into the one non-Beatle number: Imagine. It fit the flow of the show & didn't seem in any way out of place. Here Comes The Sun, Get Back, & Revolution rounded out the show with Hey Jude as the encore. This evening was an event. It was a must. The spirit of the Beatles is alive and well in the Fab Four. See this show and remember how to smile!

Pete Trewavas & Steve Rothery – Kenny's Castaways, NY, NY 2/24/07

Very interesting day. Got to hang out & have a nice talk with Rothery & Trewavas at a nearby pub, where the guys were throwing back...bottled water. They were in town for an advance listening of the new Marillion CD Somewhere Else. A very enthusiastic crowd at Kenny's Castaways got an advance listen to the entire album. "Fan of the night" goes to a girl sitting by the far wall singing the words to every song of an album that was not even released yet!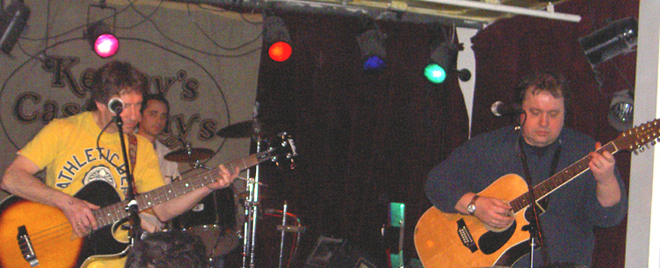 To these ears, Somewhere Else was the most enjoyable Marillion album since This Strange Engine. Very dynamic and crackling with energy. Best drumming in ages as well. The fans ate it up & roared with approval. After the album played out, Trewavas & Rothery took the stage bearing acoustic bass & acoustic guitar respectively, and joined by their publicist, David Levine, on drums. They played a nice 4 song set consisting of 80 Days, Easter, Sugar Mice, & The Answering Machine. Pete Trewavas handled the vocals well - no Hogarth, but warm & honest. Rothery was all beauty & elegance, and Levine aquitted himself well behind the skins. A fun little gig-ette for everyone involved. I want some more, Sir.

The Stamford Symphony Orchestra – Palace Theatre, Stamford, CT 11/12/06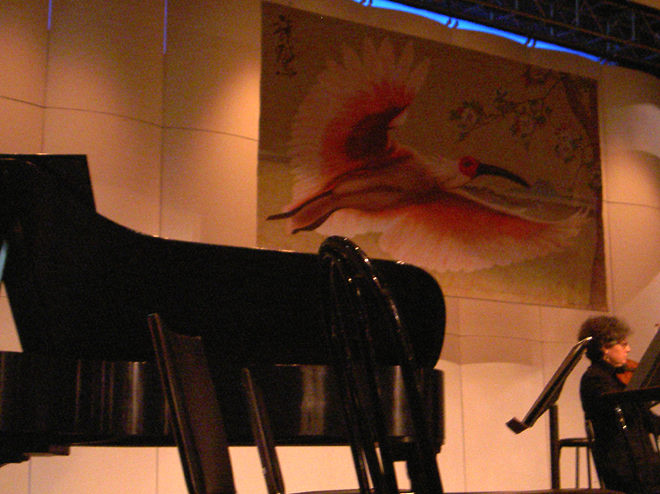 The theme for this performance was "Then And Now." The pieces chosen were a mixture of contemporary and classic. Up first was Takashi Yoshimatsu's elegant Threnody To Toki. There was a sad beauty about it, with the violins almost weeping at times. Quite an emotional way to start the proceedings. Guest harpsichordist Mark Kroll joined the orchestra for 2 pieces, the first being J. S. Bach's Keyboard Concerto No. 3 in D Major (BWV 1054), an exciting concerto full of melody. Kroll was a fierce, focused player, squeezing every nuance of tone out of the harpsichord and meshing seamlessly with the ensemble. The second piece was Henryk Gorecki's Concerto For Harpsichord And Strings Op. 40. This was what I came for! Punchy note clusters and tons of power alternating between 6 and 4. Kroll's playing sounded like the apocalypse come to life on stage, sending shivers down the spine as the number built to a frenzied conclusion. A well timed intermission allowed me to regain my senses.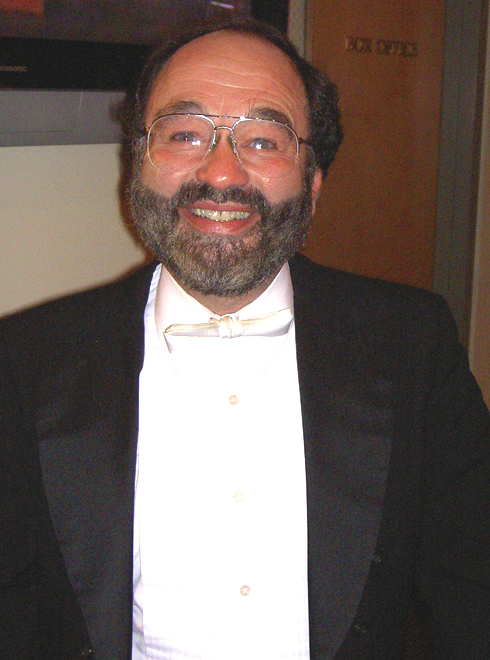 A bit of a cool down after the intensity of the Gorecki piece, George Frideric Handel's Water Music, Suites 1 & 2 was regal and soothing. The orchestra encored with another Handel piece - a selection from the opera Xerxes. It was a sweet audio bon bon that put a smile on my face before I hit the street once more. An added note: Turn your damned phones off, folks! Also, it's a nice concept to introduce children to classical music. However, screaming 2 year olds or restless, running 4 year olds belong at a Dora The Explorer show. The adults that want to actually hear a concert should have the right to!

Earthworks – Iridium, NY, NY 11/04/06

I'm a snob when it comes to jazz. Anyone that knows me well, knows that I'm a freak for Blue Note jazz from the mid 50s to the mid 60s. Driving in to the venue, I was blasting Art Blakey's classic Free For All to get in the groove for the show. Descending the steps into Iridium's cozy (read that as "cramped") interior, Earthworks, lead by Bill Bruford, did not let me down. I was at the earliest of 3 shows they were playing that evening (3 shows in 1 night?!?). Joining Bruford were his saxophonic foil for the past few years, Tim Garland, and 2 new bandmates - bassist Laurence Cottle and pianist Gwilym Simcock.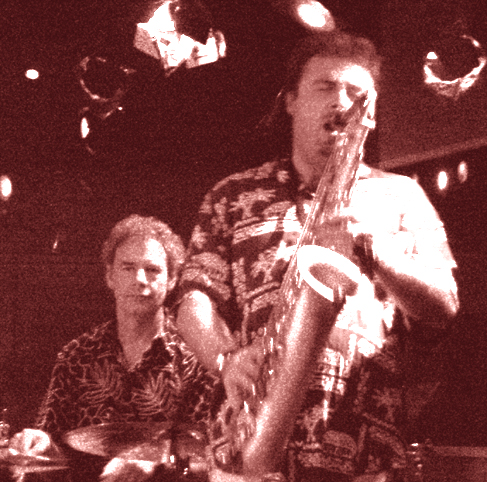 The set was brief, but potent. 5 numbers in all - 2 numbers that I can't recall the names of, plus Bajo Del Sol, It Needn't End In Tears, and Footloose And Fancy Free. Bruford was the most relaxed I have ever seen him. His playing was inspired and joyful. He was ably anchored by Cottle's electric bass, which was all muscle and sophistication. Garland was a madman, reminding me of the crazed saxophonist in David Lynch's film Lost Highway. Simcock was an unknown quantity to me and quietly blew my scalp off. Simcock did something new to these ears, reaching inside the piano to damp the strings, giving the notes a guitar-like effect.




Some 20 years in, Earthworks has grown from a mostly electric ensemble to the pure jazz group it is now. Bruford has grown as well, soloing less, giving his bandmates more room for expression, even encouraging it. That is the trademark of a true musician and it says much about Bruford. Class and charisma to spare.

Little Steven's Underground Garage A Go Go – Toad's Place, New Haven, CT 10/17/06

  Rummaging in a dusty back room corner, someone found a time machine and set it to 1967. That's the best way to describe this evening. 5 rock and roll bands presented in the classic revue fashion with go go dancers in mod outfits shimmying between sets. It really had a feeling of stepping into another time, another generation. While not present in the flesh, the show is the brainchild of Little Steven. A bit of genius, I must say. The evening started with short, punchy sets by 2 local acts: The Mold Monkies, and The Danglers - both playing solid, driving rock and roll. Both acts were worth a listen, and both deserving headline status.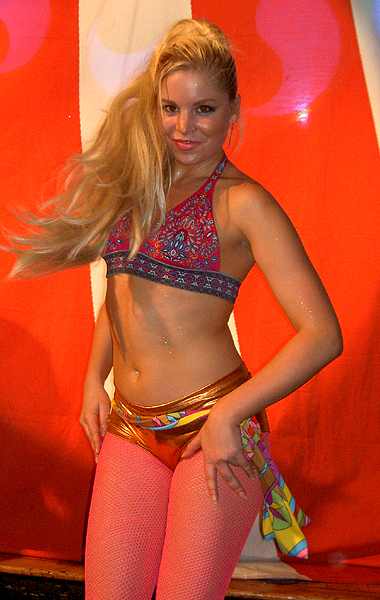 The Charms were the next act, a powerful punky pop band from the Boston area. During their set, I had the sense of seeing a major new act about to break. Vocalist Ellie Yee had a great energy & presence stalking the stage and flinging herself around wildly. She had an instant connection to the crowd & I loved their song Pussycat. Their set ended too soon, but I had no complaints as the Underground Garage Girls A Go Go wiggled back on stage!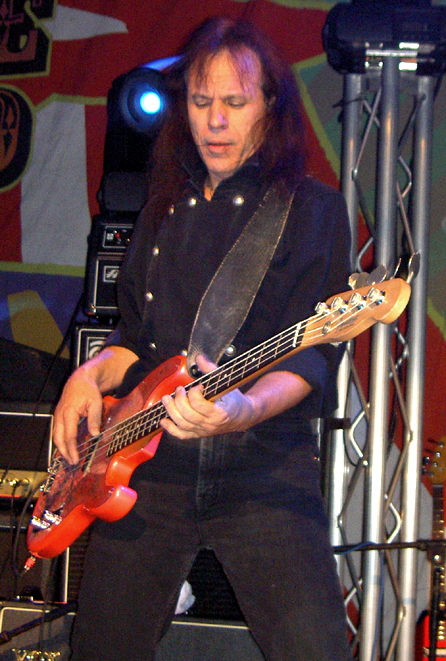 80s icons the Romantics were next on the roster, and much better than I ever anticipated. In addition to the hits Talking In Your Sleep and What I Like About You, they played solid high octane rock including a tasty MC 5 cover. Very impressive guitar work from these guys. The evening finished with 60s garage legends The Shadows Of Knight. Lead by Jerry Springer lookalike vocalist Jimy Sohns, and bassist Lee Brovitz, these guys were the real deal. Rock and Roll subtle as a hammer. In your face, in your gut. Gloria, I Got My Mojo Working, Oh Yeah, and a slew of others were stiff shots of whiskey. Age hasn't tempered these guys one bit! I left this gig exhausted but smiling into the rainy New Haven night.

The Stamford Symphony Orchestra – Palace Theatre, Stamford, CT 10/15/06

When I saw that the current season of concerts by the Stamford Symphony Orchestra would feature Grieg's Peer Gynt Suites No. 1, I was champing at the bit. Featuring the beautiful Morning Mood and the rousing In The Hall Of The Mountain King it has been dear to my heart for decades. The orchestra, lead by maestro Eckart Preu, did not disappoint, bringing the beauty and frenetic fury to technicolor life. It is one thing to hear a CD of Peer Gynt. It is another thing altogether to hear it live. Simply stunning.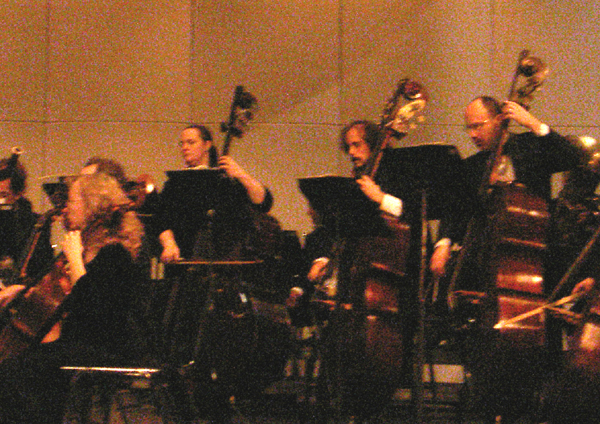 The next piece was Nielsen's Symphony No. 2, Op. 16, better known as The Four Temperments. An enjoyable piece, but I felt it was a bit top heavy, with the first movement far outstripping the other three. After the intermission, it was Violin Concerto In D Minor, Op. 47, featuring guest violinist Mikhail Simonyan. At the tender age of 20, Simonyan was the Frank Gambale of the violin, performing stunning lightning fast runs. His expression and passion on the violin were unforgettable. The crowd would not let him leave without an encore and he obliged with a searing set of solo improvisations.

If you plan to attend a performance, I highly recommend getting there an hour early. Maestro Preu does an hour long "behind the baton" presentation explaining the background on each piece in a highly charged fashion with more than a pinch of humor. It is both informative and highly entertaining.

The Flower Kings & Spiraling – NJ Proghouse, Metuchen, NJ 10/14/06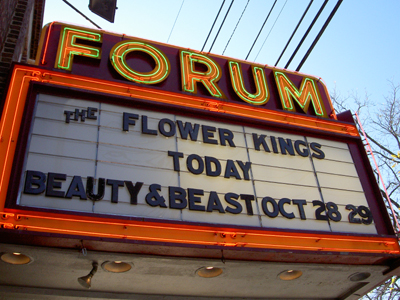 Flower Kings day rolled around again at Jim Robinson's NJ Proghouse, so it was a given that I had to be there. The day started a little over 30 minutes late, sadly cancelling the mid afternoon onstage Q&A session, but the performances more than made up for it. The Flower Kings opened the day with a jammy first set that commenced with Ghost Of The Red Cloud. Next up was a new Tomas Bodin song about plastic surgery, vanity, and the search for physical perfection called American Standards. An extended improv morphed into The Truth Will Set You Free with a fantastic Hasse Froberg vocal and a bit of the Genesis piece Horizons played on the bass by the fuzzy hatted Jonas Reingold! "Not-just-a-road-manager" Bob Snyder joined the band to play some crunchin' guitar & sing the Z Z Top song Tush to the cheers of the crowd, as Roine Stolt prowled the stage with a digital camera smiling and snapping away. The afternoon set concluded with Blade Of Cain off the Adam And Eve album.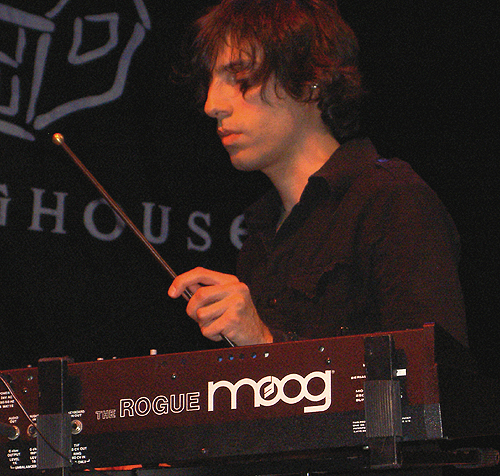 About 30 minutes later, special guests Spiraling took the stage. Their set was energetic and focused. The Connection opened things up with strong vocals from keyboardist Tom Brislin. The show was a mix of numbers from the Transmitter album, Challenging Stage EP, and a few new numbers like Choices and The Future. While Brislin was the main soloist, Marty O'Kane turned in some choice riffs and soaked the stage with sound. Bob Hart was solid but melodic - simple when needed, complex when called for. Paul Wells was an octopus of a drummer full of big meaty beats. Brislin added cool glock lines on the song Transmitter to good effect. Lightning Twice just might've been their highlight - such a great tune. The 13 song set ended strongly with You Can't Get There and then it was time for a dinner break.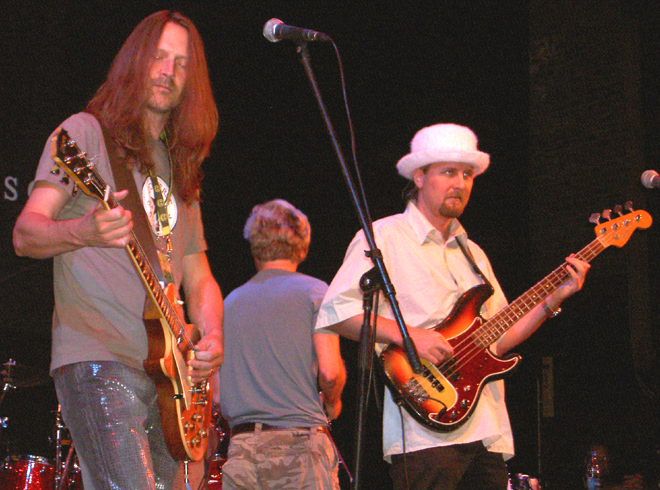 Hung out a bit after dinner with Spiraling - a very nice bunch of guys. Bought a bit of merch from both bands. Doors opened & it was time for the main Flower Kings set - all 2 hours and 40 of it! The title track from Paradox Hotel and Hit Me With A Hit started things off with a one - two punch. Next, Roine Stolt and the boys dipped back to the Flower Power album for Psychedelic Postcard (with just a snatch of the Genesis piece Silent Sorrow In Empty Boats towards the end). I forgot just how great that song is. Jealousy and What If God Is Alone kept the mood cooking, with the latter threatening to pull the scalp off my head with its power. Another trip back for the rarely played Just This Once which sounded gorgeous.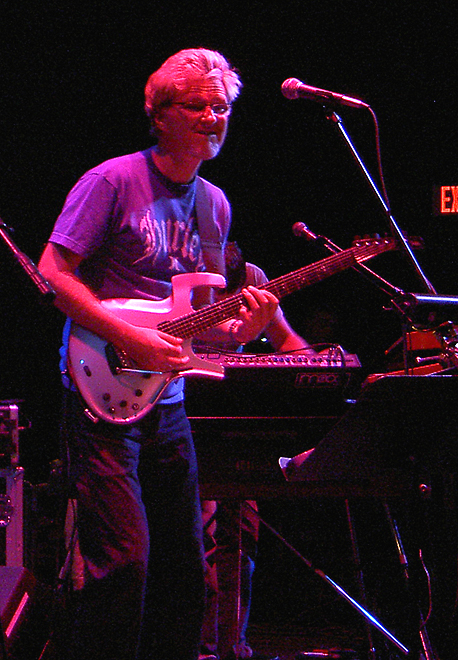 Lots of soloing in the middle of Pioneers Of Aviation by drummer Marcus Liliequist and Reingold on the bass. After a fantastic solo, Reingold apologized to the audience for the solo being crap. Stolt consoled him to humorous effect & everyone cheered! Bodin introduced his composition Touch My Heaven, then Stolt brought things down a notch with the delicate yet dark Mommy Leave The Light On with a funny whispered ending. The energy jumped back up to 11 with End On A High Note. The main set ended with 2 choice pieces from the back catalog: World Of Adventures and I Am The Sun. Encores were the blazing Froberg number Life Will Kill You, and the song that started it all - The Flower King. How dare an event be this perfect! Will I be there next year? Count on it!

The Tubes – B B King's, NY, NY 10/3/06

Just when life was dragging me down, the Tubes came into town to set things right. They turned B B King's into Partytown. The atmosphere was friendly and fun. The opening tune, Out Of The Business, set the tone with the line Out of the business, into rock and roll! And rock they did! Sushi Girl, What Do You Want From Life, and She's A Beauty were packed with energy and the crowd were having a ball.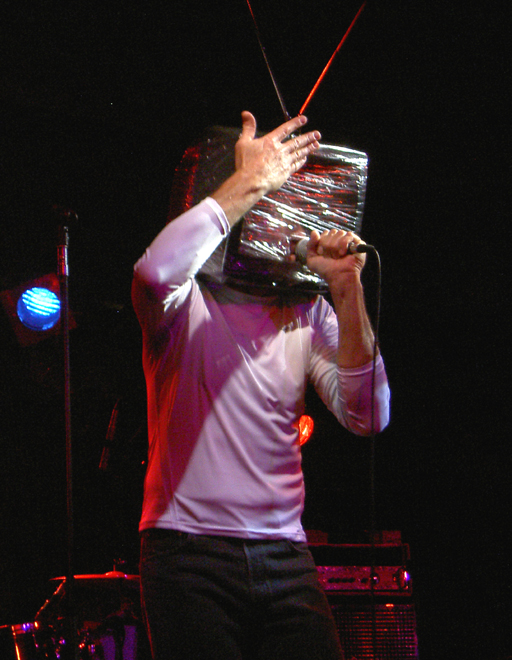 It was back to the first album for Space Baby, then back to the present for Mad Cow Auctioneer. Fee Waybill threw in some hysterical & unprintable auction patter to boot! Fan fave TV Is King was followed by Tip Of My Tongue (which featured a killer drum solo by guest drummer Lou Molino) and Haloes. Waybill appeared in pith helmet & khakis for a cover of Bali Hai, then an open, flowy shirt for a panty sniffing version of It's Not Unusual. Things got serious for a moment with the lovely Don't Want To Wait Anymore, but wacky once more with a cover of the Gene Pitney classic Town Without Pity that saw Waybill crooning to a blow up doll.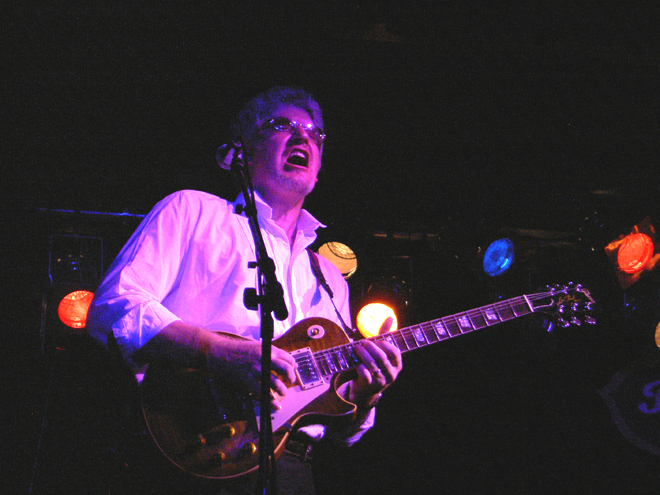 Mondo Bondage fired everyone up and Talkin' To The Moon was a smoky contrast in mood. Guitarist Roger Steen asked if it was a Beatles crowd or a Stones crowd. The band took the Stones route as Steen sang and played Jumpin' Jack Flash to herald the arrival of Quay Lewd and the set ending White Punks On Dope. The encores were Life Is Pain and Talk To Ya Later which segued into an extended Third Stone From The Sun. For a 2 hour, 40 minute set, it seemed too short - just as all good times do. Packed with fun & a punch hard and smooth as the bottle of V.O. that Waybill was doling out to the crowd!

Asia – Norwalk Oyster Festival, Norwalk, CT 9/10/06

It was a beautiful day. Cloudy and slightly cool with the outdoor stage not far from the Norwalk River. The show was an early one - 6 PM - and the sun had yet to set as the original line up of Asia took the stage. They opened full throttle with Time Again. John Wetton was in fine voice & his bass playing on Wildest Dreams was outstanding. One Step Closer was followed by the Yes classic Roundabout, which lead Steve Howe to remark "Nice to play that as a four piece." Howe was full of smiles through the evening and his guitar work was the fiercest I've heard in ages. The 25th anniversary of the band was further celebrated with Without You and Cutting It Fine before the band left the stage to Howe, who blazed through an aggressive version of Clap.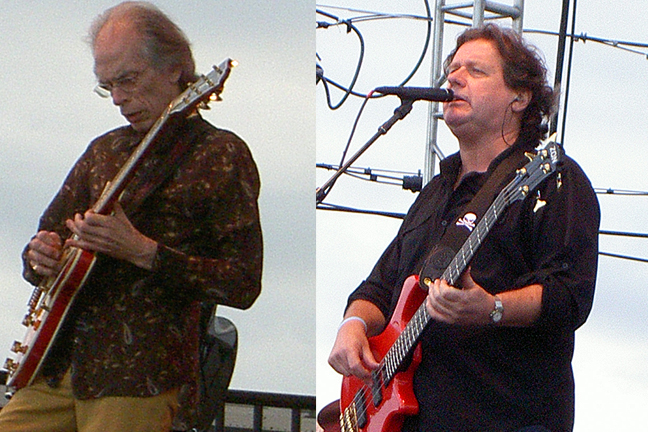 The Emerson, Lake & Palmer arrangement of Aaron Copland's Fanfare For The Common Man featured wild call-and-response solos from Howe and keyboardist Geoff Downes. Cooling the mood down a bit, Asia got acoustic for the hits The Smile Has Left Your Eyes and Don't Cry. Carl Palmer stepped up from his kit to introduce the King Crimson chestnut In The Court Of The Crimson King, which showcased the fine key work of Downes. Here Comes The Feeling was next, then Downes donned a silver jacket & shades, and Wetton sang through a bullhorn on the Buggles hit Video Killed The Radio Star.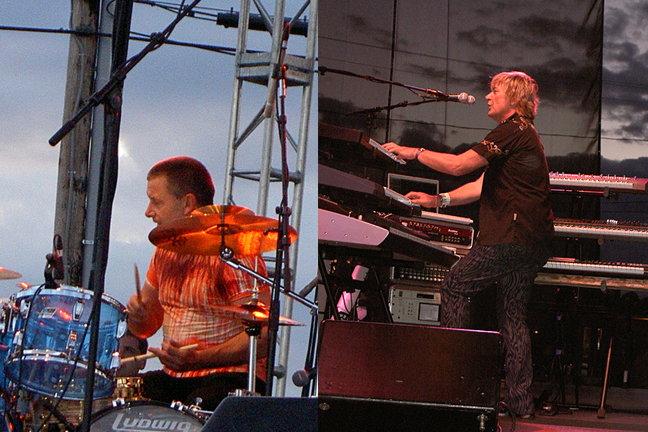 Palmer had a chance to show his stuff with an energetic drum solo during The Heat Goes On. Asia closed the show with the hits Only Time Will Tell and Sole Survivor. It was acoustic time again for the first encore of Ride Easy, then electric and loud for Heat Of The Moment, which included a bit of keytar work from Downes. This show was a pleasant surprise from start to finish. Asia were full of energy, showmanship, and damned good playing. I hope they decide to stick around a bit longer!

 Ian Gillan – Society For Ethical Culture, NY, NY 8/23/06

I love this venue. Comfortable, great sound, super friendly staff. A concert goer's dream. Ian Gillan came into town and kicked my butt so hard it is still sore! Backed by a wowzer of a band, Gillan did his best to tear the roof off the joint from the very second he hit the stage. The show was in support of Gillan's latest solo disc, Gillan's Inn, a career spanning album. The show was career spanning as well, drawing from his solo albums, as well as some Deep Purple nuggets.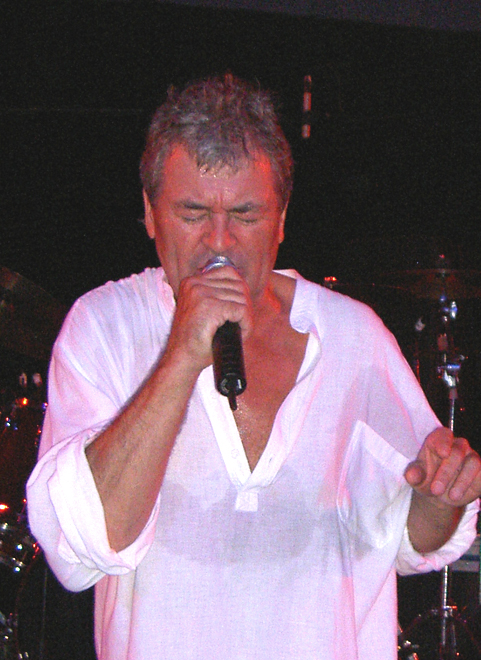 The set started with Second Sight/No Laughing In Heaven and a pounding version of Purple's Into The Fire with Gillan's screams shaking the rafters. Hang Me Out To Dry, and a fun take of Have Love Will Travel followed. Cheeky humor was evident as some songs were introduced by a young woman in a "barely there" string bikini holding big white cards with the song titles on them. Crisp guitar work by Michael Lee Jackson and Dean Howard punctuated 2 more Deep Purple classics: Wasted Sunsets and Not Responsible. A funny drinking story by Gillan introduced the loose, rolling No Worries, and Gillan pulled out his lunch wrapper during an instrumental jam he called Terminal Velocity which had some wicked keyboard playing from Joe Mennonna.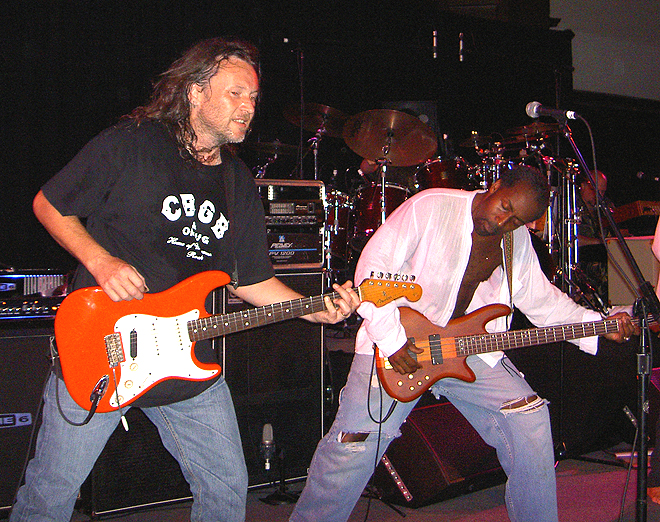 The fast & furious Unchain Your Brain was a piston of sound, fueled by bassist Rodney Appleby & drummer Randy Cooke. Gillan's strong vocals were well showcased on Bluesy Blue Sea and Moonshine, before handing the vocal chores over to Michael Lee Jackson for the rockin' Texas State Of Mind. The crowd roared in approval as surprise guest & Purple bandmate Roger Glover joined the band for 2 numbers - Sugar Plum and When A Blind Man Cries - which also had some nice sax by Mennonna. Glover's playing was melodic & rock solid. Glover & Gillan have the interplay of brothers and both were clearly having a ball.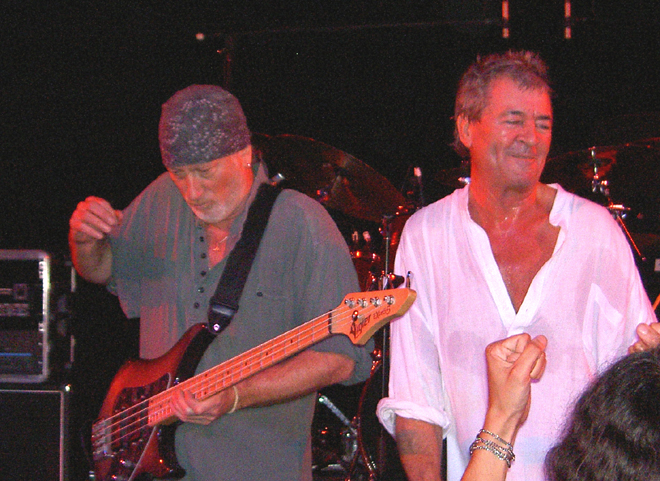 Men Of War included an impressive drum solo by Cooke leading into the set closing Smoke On The Water. The anthem featured rhythm guitar & a nice solo by a contest winning fan who got what was no doubt the thrill of his life. The encores of Trouble and Knocking At Your Back Door 100% rocked. The band was killer. Gillan was in great voice and great humor. The vibe, the staff, and the crowd were as friendly as can be. As close to perfect as I've ever seen!

Adrian Belew – B B King's, NY, NY 8/8/06





Money in the bank is the phrase. If you have a stage & Adrian Belew, you're all set. With King Crimson, with the Bears, or solo - it doesn't matter. Your ears are guaranteed an adventure. This time around, it was Belew's power trio, rounded out by 19 year old drummer Eric Slick and his 20 year old sister Julie on bass. Don't let their youth fool you - this rhythm section kicked colon!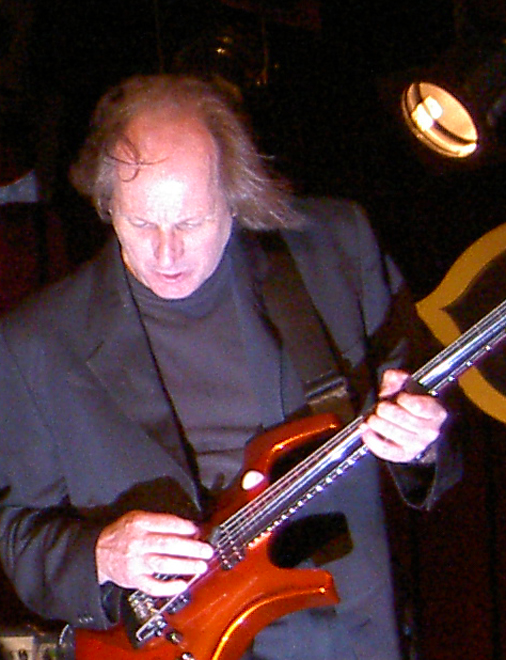 The set featured songs from Belew's recent Side 1, Side 2, & Side 3 albums as well as a few older solo gems, and a clutch of Crimson numbers. Writing On The Wall, Dinosaur, &, and Young Lions kickstarted the evening. The Slicks were rhythmic devils propelling Beat Box Guitar into overdrive. Another new tune - Matchless Man - followed. The crowd shouted out for Zappa & Belew paid tribute with a verse from City Of Tiny Lights before jumping into Madness.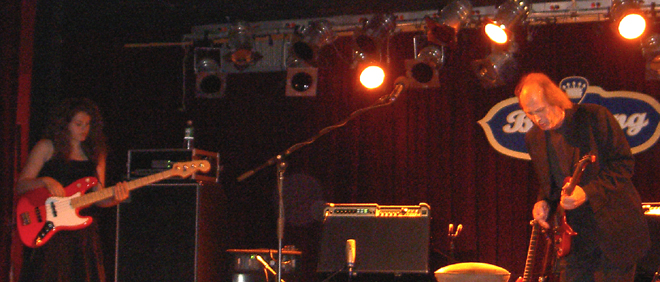 The Slicks left the stage to Belew and he revved into Drive which included a section of the Beatles classic Within You, Without You. Next was a heartfelt Lone Rhinoceros that drew cheers from all. A trio once more, the band plunged headlong into a smoking take of Of Bow And Drum and a superfast version of Big Electric Cat. The main set closed on a Crimson note: Frame By Frame & Three Of A Perfect Pair. Encores were Elephant Talk and Thela Hun Ginjeet. Belew was all smiles & playing the neck off his Parker guitars all evening. Julie & Eric Slick were packed with energy & seemed to bring nothing but joy to Belew as well as the crowd. I want more!

Ringo Starr & His All Starr Band – Mohegan Sun Arena, Uncasville, CT 7/16/06

You are as good as who you play with. That's a fact. It's also a fact that Ringo Starr is a very smart man. Smart enough to put together one of his finest "All Starr" bands ever. For this tour, Starr was once again joined by drummer Sheila E (in case you didn't know, the E is for Escovido. Her dad being percussion legend Pete Escovido). Hamish Stuart, best known for his work with Average White Band & Paul McCartney, held down the bass corner. 80s rock stars Richard Marx & Billy Squier played rhythm & lead guitars respectively. Zombies / Argent legend Rod Argent played keys, and the one and only Edgar Winter rounded out the band on keys, sax, & percussion. Everyone sang as well, so the show had a full, full sound.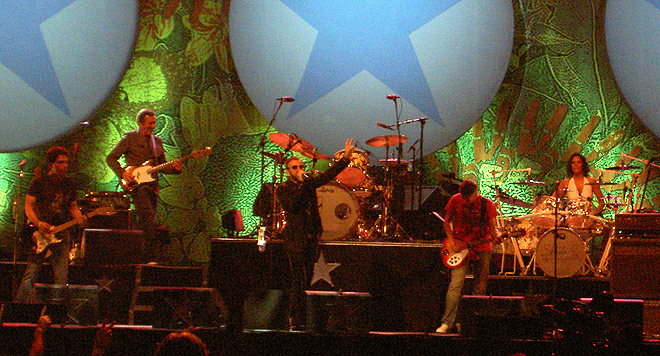 The show had a smart formula: a few Ringo songs, a few songs by the band, a few more Ringo songs, a few more band songs. Rinse. Repeat. Starr was in great voice and great form on drums. The band were tighter than you would think a band could possibly be. It's unfair to point out any one musician here, but I think every jaw dropped in the arena at Sheila E's drum solo. Nothing short of amazing! Every player was a human highlight reel during this 2 1/2 hour songfest.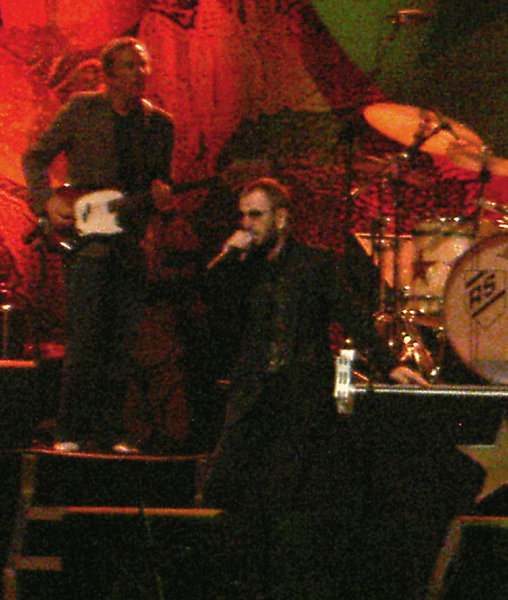 Highlights of the 20+ song set were many: It Don't Come Easy, What Goes On, Everybody Wants You, Free Ride, Love Bizarre, Boys, She's Not There, Right Here Waiting, Frankenstein, Photograph, I Wanna Be Your Man, Hold Your Head Up - and that's just scratching the surface! There was a prevailing feeling of love in the show - you could tell that the band had truly bonded. By the time the closing With A Little Help From My Friends rolled around, I was totally blissed out on a show I never wanted to end. 7 magicians wove a musical spell of love on an arena full of willing souls!

Carl Palmer – Toad's Place, New Haven, CT 6/1/06

The company was great, but the weather sucked. Gray & humid, it was like walking into a damp sponge. Thankfully, Toad's Place was reasonably arctic upon entry. One kind waitress later, it was time for Carl Palmer. For this tour, Palmer is fronting a hot trio. Joined by exceedingly young guitarist Paul Bielatowicz and nearly as young bassist Stuart Clayton, they started at full throttle with Peter Gunn and The Barbarian. Palmer played with force and style, wowing the crowd from the moment he first hit the skins. Palmer clearly relished the gig, as he seemed to grin from opener to encore. As the crowd roared approval, the trio followed with Hoedown and The Enemy God Dances With The Black Spirits.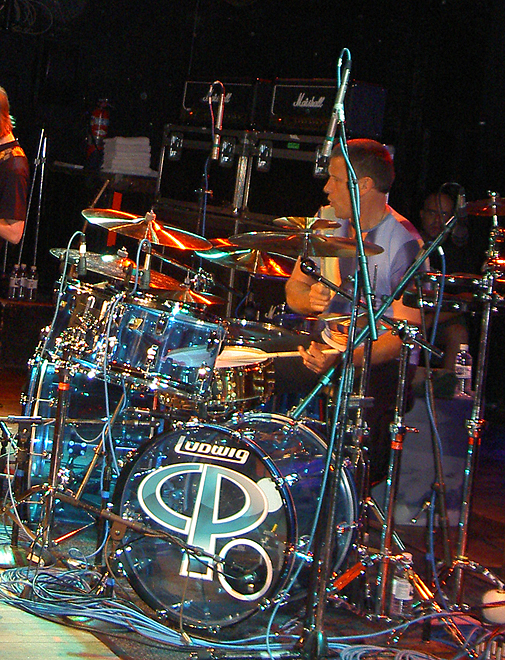 Palmer is quite a storyteller, as his anecdotal introductions to Trilogy and L A Nights showed to good effect. Humorous and gentlemanly, Palmer endeared himself to the crowd when not making their jaws drop while behind his kit. Bielatowicz handled Keith Emerson's keyboard parts on guitar with ease. A new guitar hero is born! See what we raise over in England? Palmer joked at one point. Clayton was equally potent. His bass work was outrageous - remindful of a more tuneful Jeff Berlin with funkier chops. Both shared a spotlight section that featured a hyper Flight Of The Bumble Bee & what to these ears sounded like a bass version of Epitaph.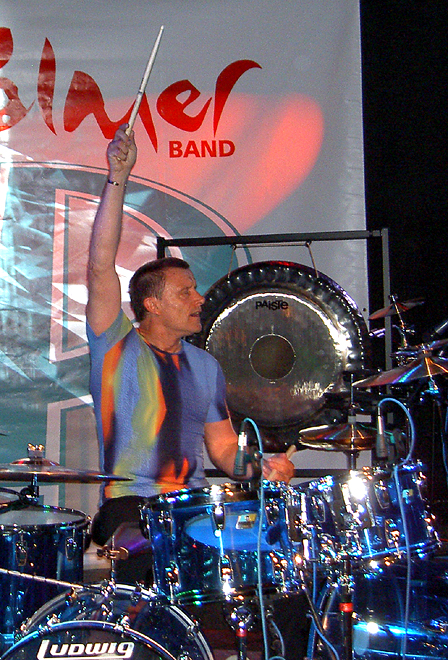 A strong trio of songs saw the band tightly locked in: Romeo And Juliet, Tank, & Bullfrog. Toccata was fury and glory, and the band even visted the Love Beach album for the often overlooked Canario. The evening wound down with Tarkus / Aquatarkus and Fanfare For The Common Man. Exhausted but jubilant, the crowd demanded an encore and the band obliged with Carmina Burana. Palmer & co. hung around for autographs and chat, and the crowd slowly filed out after a powerful, memorable evening.

Tony Levin Band – Toad's Place, New Haven, CT 5/31/06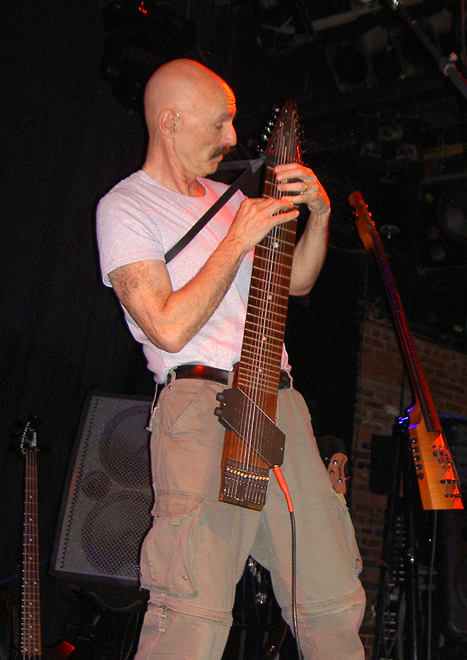 Sometimes, it's all about the vibe. A show can be played well, but certain gigs capture an indefinable magic. This was one of those gigs. The TLB is now a quintet with the addition of Tony's brother Pete on keys. 4 of the 5 came out and opened the show in barbershop quartet fashion, (Larry Fast was the non-vocalist!)with a humorous number introducing the band and informing the audience that they were indeed allowed to take photos. The band grabbed their instruments and set into the vibratory Pieces Of The Sun, with Tony playing a mean bowed electric stand up bass. Tony donned the funk fingers for Break It Down, with fine backing vocals by drummer Jerry Marotta. Things got a bit improvisational with Shadowland, which bled into Sabre Dance - a great showcase for Fast & guitarist Jesse Gress. Speaking of Gress, he was a liquid funk blues machine on What Would Jimi Do? - another great cut off of the TLB's new Resonator CD.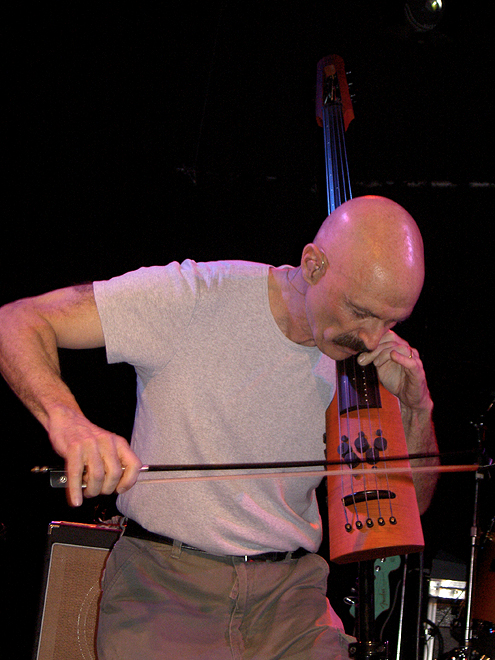 Time for a dip into the King Crimson catalog, with a nicely rearranged Sleepless with Marotta on lead vocals and totally propulsive drums( as well as garden weasel). Another new piece, Places To Go, followed. Marotta, Fast & Gress left the stage and the Levin brothers played a wonderful piece for their Mom's 93rd birthday - the delicate Belle. The evening seemed to get more and more intimate. The wall between artist and audience was gone and we were all fellow journeymen on a musical odyssey. I felt an odd energy surround Beyond Our Reach and Crisis Of Faith - almost as if we were all part of the music together. I can only describe it as feeling in tune. Mr Synergy himself, Larry "Wires" Fast, was well showcased in a full band version of his song Phobos. Utopia brought us to a kickin' cover of the Genesis classic Back In NYC that had us all cuddling our porcupines as the main set closed.

For the first encore, Tony sat at his brother's keyboard and told of making music with Peter Gabriel and an ape. This encounter inspired Fragile As A Song, a delicate, beautiful number. Gabriel was in the air as the band roared through On The Air and the crowd roared back. The vibe stayed wild for Elephant Talk, and the evening closed with a barbershop rendition of Don't Give Up. The love that was through this entire evening was palpable. If this review seems to be a corny, hippie sort of gushing, I suppose it is. Magic of this sort is rare. It is to be celebrated & extolled.

  The Waiting Room – B B King's, NY, NY 5/11/06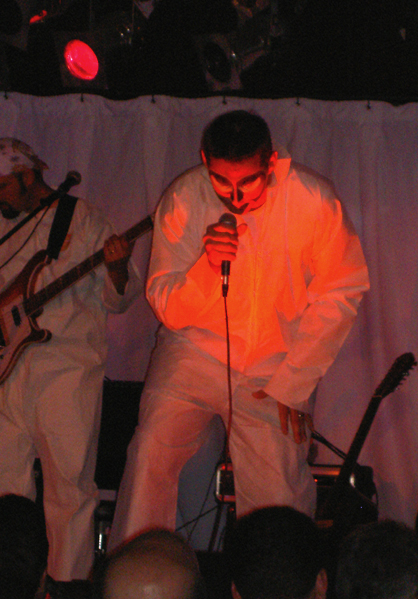 I've seen Genesis. I've seen The Musical Box. I love me the Genesis music. The mood struck me to see another Genesis band - The Waiting Room - so off I ran to NYC. The show was divided into 2 sections. Part 1 was a set of Peter Gabriel numbers. The band came out in crisp white jumpsuits with "miner" lights on their heads & filed through the extremely boisterous crowd. Off to the stage and right into The Rhythm Of The Heat. The first impression the listener gets is that Josh Gleason sounds uncannily like Gabriel. The same timbre, the same resonance. While a band like The Musical Box are damned slavish in their recreation, The Waiting Room...breathe. Looser, more alive. I Don't Remember and Shock The Monkey were faithful but fun. Bassist Chris Meeker was the star of Family Snapshot, his bass playing fluid and driving. Solsbury Hill and Red Rain were very emotional in different ways, and the Gabriel set ended with a smoking On The Air. A great start so far.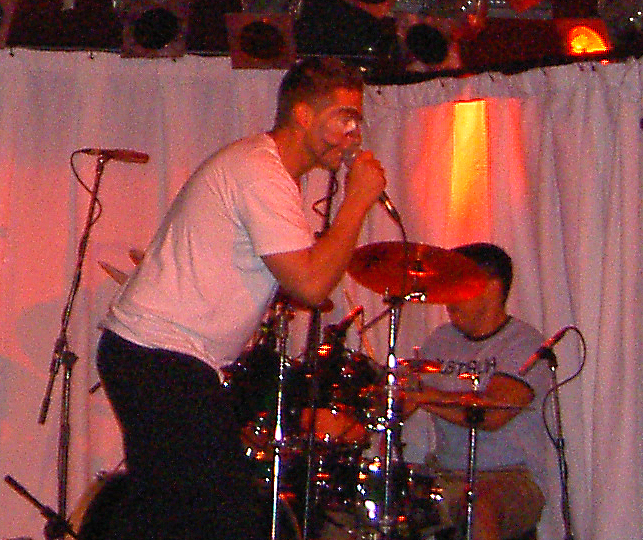 Of course the Genesis set started with Watcher Of The Skies - how could it not? Gleason was impressive in voice and batwings, having a bit of subtle fun with the character. A quick and delightful switch of gears gave us Dance On A Volcano with spot on interplay between keyboardist Rich DellaPietra and guitarist Mike Hughes. The licks traded in the closing section were note for note perfection. Now then, The Musical Box. Another one that showed the strengths of Gleason. His delivery was fantastic. His interpretation of the old man section was electrifying. I got a shiver that I must imagine audiences in the early '70s got. Next, we get really serious. Stagnation. You heard me. 36 years on, this is still a magic song. There is something fragile about it. Yes, there are powerful moments in it, but they are the audio tent pegs holding angel wings to Earth. Nice guitars here from Meeker & Hughes. DellaPietra delivered big time on the piano intro to Firth Of Fifth, totally nailing it. Drummer Mario Encina shone on the other big surprise of the night - All In A Mouse's Night. Listening to it live, you understand why Genesis rarely played it - it's a mother of a difficult song!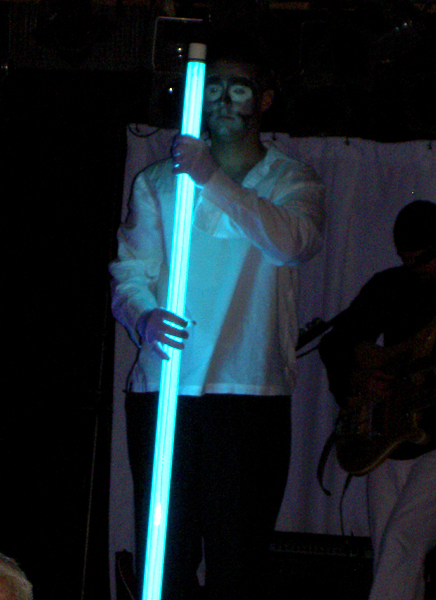 The 1-2 punch of The Light Dies Down On Broadway / Riding The Scree brought us to the set closer - Supper's Ready. This is a good opportunity to mention that there were quite a few vocal drunks in the crowd. "Hi, I'm a drunken idiot! I think I'll talk all through the show at the top of my lungs!" Do us all a favor & stay home, folks. Some of us go to see concerts without getting wasted. I thank you & the world thanks you. End of public service announcement. Back to the show. Supper's Ready had a funny moment when Gleason clearly forgot the flower mask backstage. One long pause later, out it came! Thinking about this on the train home, it was the moment that humanized the show. This wasn't robotic recreation. This was a band. In their day, Genesis were not icons to be scrutinized - they were a band trying to get gigs & playing anywhere & everywhere. Encores were fabulous renditions of Los Endos & Back In NYC. I need to mention here that Josh Gleason has the voice of Gabriel, but a wee bit of Fish in his stage aura. Theatrical but friendly. There were a few bumps & bruises here & there, but no more than any given Gabriel era Genesis show. I came away wanting to see this band again. There was a sort of magic. The music seemed alive. Give me this any day of the week!

Spock's Beard – B B King's, NY, NY 5/5/06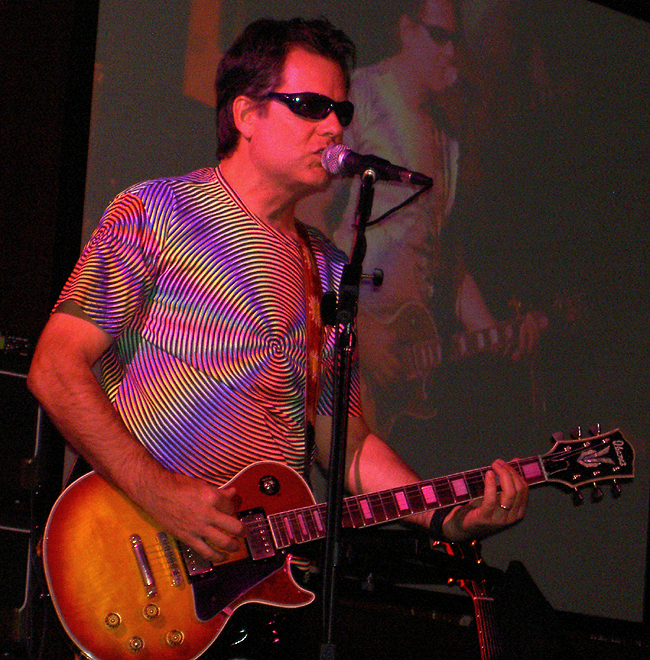 The fun started early. As my friend Susan & I were seated at B B King's, the band were still running through sound check. As they played bits & pieces of stuff, Nick D'Virgilio laughingly said "pretend you didn't hear that!" The mood was light and loose. Sound check included bits of Play That Funky Music (Prog Boy) & Blood On The Rooftops for good fun. The mood stayed jovial at showtime, as the band jumped headlong into Beware Of Darkness. Once again, Jimmy Keegan was in the second drum seat for the live shows & a rhythmic piledriver. The first 5 sections of A Flash Before My Eyes followed, with a powerful vocal by D'Virgilio. The show was a balance of new and old pieces mining the Beard catalog well. The medley of The Good Don't Last / Strange World melted into a surprise Genesis cover - Counting Out Time. "I made them learn that!" D'Virgilio proudly shouted. Next came a subtle The Bottom Line and a joyous Thoughts, after which the stage emptied til only D'Virgilio & Alan Morse remained. After a funny tease of Roundabout, the duo played acoustic versions of Carry On, The Doorway, & There Was A Time.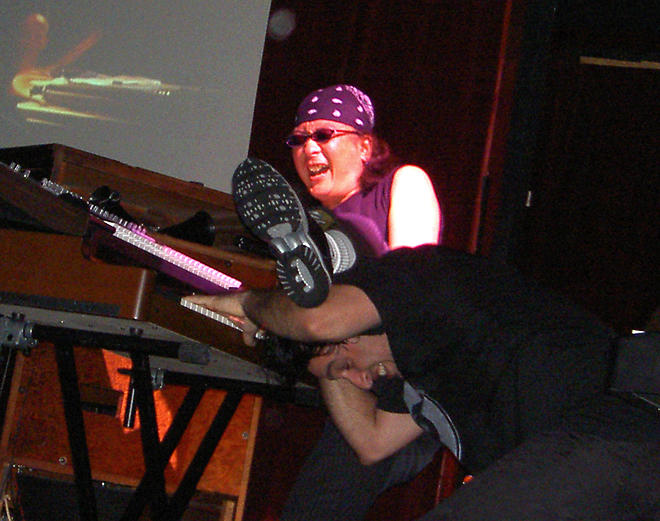 Full band again. Ryo Okumoto's keyboards lead us into NWC which broke down into a fierce drum duet with Keegan & D'Virgilio - to call it staggering is putting it mildly. A highlight of the show followed - a wonderful clutch of songs from Snow that included I'm The Guy / Reflection / Carie. Gave me a lump in my throat! Game Face from the Octane bonus disc was a fun piece and after a joke in Japanese by Okumoto, the set closed with a blend of East Of Eden, West Of Memphis / As Long As We Ride. The encore started with a solo spot for Okumoto transitioning into a thunderous, emotional At The End Of The Day with fine bass work from the ever inspiring Dave Meros. The energy, the vibe, the playing, the song selection, even the crowd, all made for an unforgettable evening. Spock around the clock!

Stamford Symphony Orchestra – Palace Theatre, Stamford, CT 4/23/06

The theme of the afternoon was German romantics of the 1800s. Doesn't that just grab you? Trust me, it should. Before the show, conductor Eckart Preu and guest violinist Karen Gomyo explained the pieces and took questions. Preu's background on the pieces gave incredible perspective on the compositions and helped give a glimpse into the hearts and minds of the composers.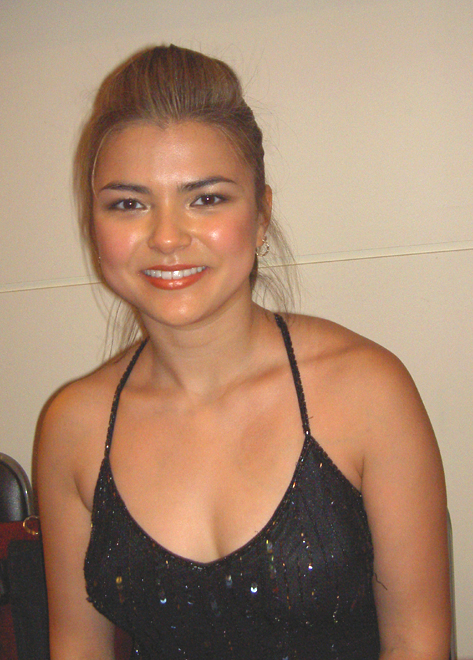 The program opened with Overture To Ruy Blas by Mendelssohn. The opening & closing reminded me a bit of the majesty of Mussorgsky's Great Gates Of Kiev, while parts of the body of the piece reminded me of a ship being tossed about in a storm. A huge way to start the show. Next was Brahms' Violin Concerto In D Major, OP. 77 featuring Karen Gomyo on violin. Not just any violin - a Stradivarius from the early 1700s! The tone on the Stradivarius totally lived up to the hype - earthy & resonant. Gomyo stood strongly and her fingers flew like they were greedy for notes. Preu swayed on his platform like a man possessed, his heels levitating as he drove his musicians higher and higher through this 40+ minute piece.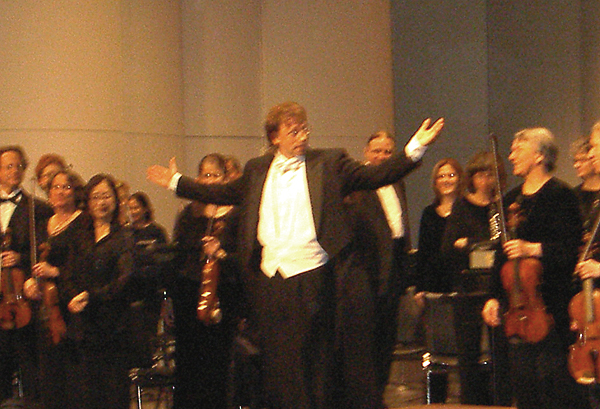 Symphony No. 3 In E-Flat Major, OP. 97 "Rhenish" by Schumann started the second half. Happy, florid, technicolor in feel, I had never heard this piece before. What beauty! Sounds made to be soaked into the soul. After this lovely piece, conductor Preu served up a treat to end the season: Haydn's Symphony #45 "Farewell Symphony", a humorous number where the members of the orchestra leave the stage in small groups during the piece until only 2 violinists remain. A whimsical end to a heartwarming afternoon.

Blue Oyster Cult – Toad's Place, New Haven, CT 4/21/06

The more things stay the same, the more they change. Blue Oyster Cult at Toad's Place is a familiar situation for me. I can't say "been there, done that" because BOC never play the same show twice, nor do they play the songs you know in the way you might expect. Three bands warmed up for the boys from Long Island. Far From Here were first - a talented group of guys, but to me their muscly / jammy sound was not in the spirit of the night. A much better fit was Vengeance, a heavy band mixing originals with sharp covers of metal classics. Best of all was MegaHertZ, a hard rock / metal cover band full of energy and charisma. Note perfect versions of Iron Maiden, Dio, and Judas Priest songs made their set fly by too soon.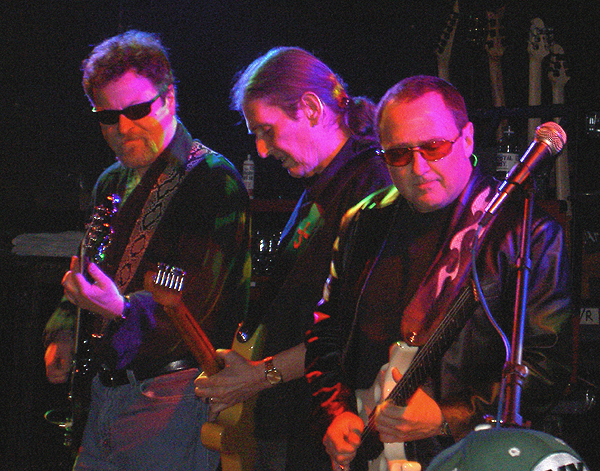 Blue Oyster Cult took the stage at about 11:35 and proceeded to tear my scalp off with a monster version of The Red & The Black. The rowdy crowd next got Harvester of Eyes and a singalong Burning for You. Eric Bloom delivered a great vocal on E.T.I. (Extra Terrestrial Intelligence), then introduced a seldom heard song from the Spectres album - the other worldly I Love The Night. The energy level went up about 100 notches with full throttle takes of Transmaniacon MC and ME 262. Then it was harmony time as everyone raised a glass to Golden Age Of Leather. Back again to the 1st album with a song I will never tire of - Then Came The Last Days Of May - a nice showcase for Buck Dharma & Allen Lanier.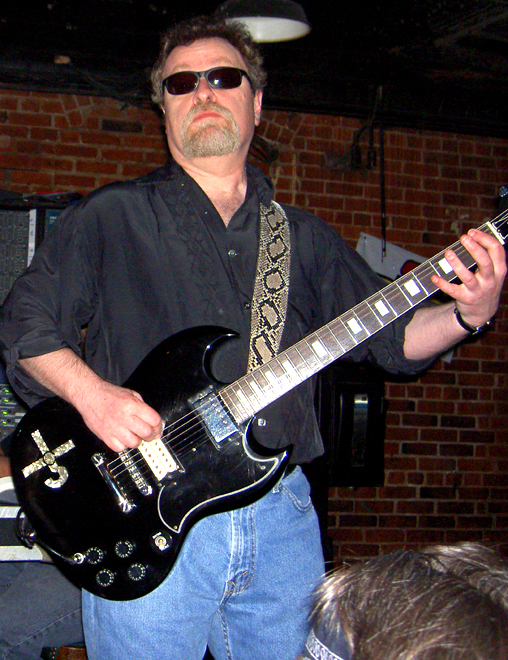 The big green guy was next. Godzilla featured, as ever, a bass & drum workout with the substantially talented Richie Castellano and Jules Radino delivering the goods and even throwing in a chunk of Rush's Tom Sawyer for good measure! Dreamy, spacy guitar from Dharma segued into the cowbell anthem (Don't Fear) The Reaper to close the set. Guitar pyrotechnics dominated Cities on Flame with serious string gymnastics by Buck Dharma. Eric Bloom let the audience choose the next encore. Black Blade lost out to a blistering 7 Screaming Diz-busters followed by a rare 3rd encore of Hot Rails To Hell. BOC packed serious heat all night, playing like their asses were on fire. Good God, what a show!

Spiraling and Skeletonbreath – NJ Proghouse, Metuchen, NJ 4/15/06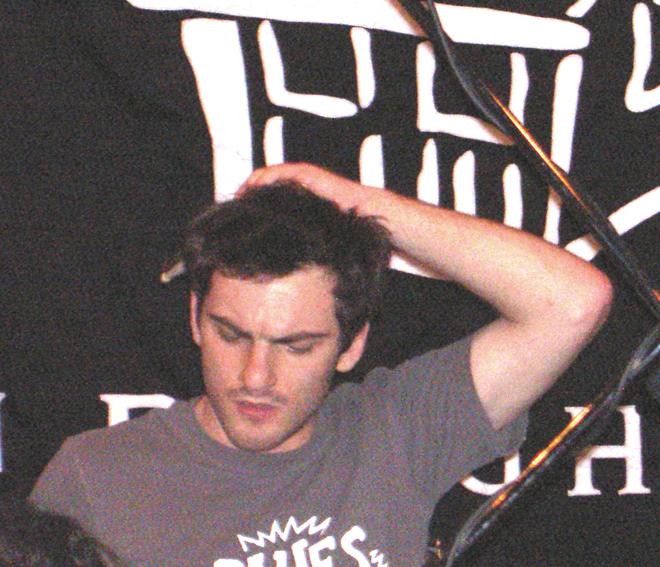 There's small, then there's small. The NJ Proghouse, a wee venue in Metuchen, NJ, that's actually the Old Franklin Schoolhouse, was too small to even be termed intimate, yet managed to not be cramped. For such a tiny place, it was bursting with sound. Skeletonbreath (a name inspired, no doubt, by Captain Beefheart), a sort of prog/punk/surf/indefinable trio, opened the evening's festivities. Talk about energy! Wow! Solid bass, fluid electric violin, and hyperkinetic drumming demanded attention. This young band delivered some serious hard, inventive stuff. Songs like Plastic Motor Fight and Louise were punches in the gut and made my brain itch. Their short set left me spent but wanting more! I see a bright future for these guys.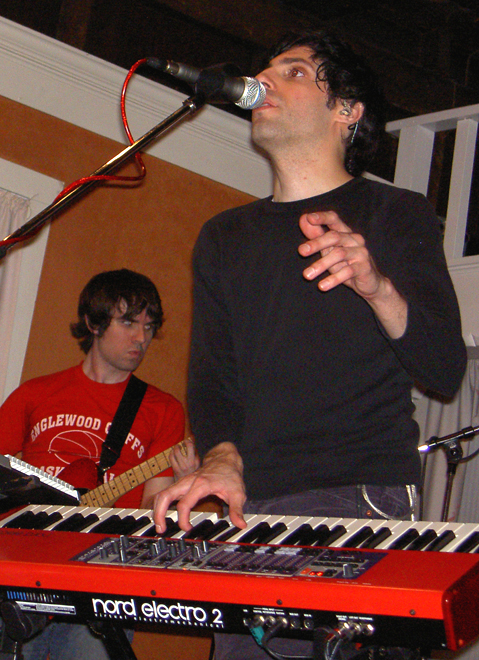 I've been wanting to see Spiraling for a few years now. They did not disappoint. For those familiar with keyboardist / vocalist Tom Brislin's work with Yes & Camel, the music is definitely a left turn, but no less inventive and satisfying in a Rundgrenish way. The quartet opened with a few numbers off their debut CD including The Connection and (I Don't Want To) Grow Up. Brislin was full of energy and humor, working the crowd well in addition to dazzling with his keys. Marty O'Kane and Bob Hart on guitar and bass were inspired players, and Paul Wells came close to stealing the show with his drumming. Brislin had a solid rapport with the audience and this show really had no walls between performers and crowd.

 Texas is the Reason, Your Excellent Body, Transmitter, and The Future were standout numbers in a strong set. The crowd wouldn't let Spiraling leave the stage without an encore, and they obliged with mammajamma version of the classic Nutrocker. All this for a ten spot? You betcha!!

Stamford Symphony Orchestra – Palace Theatre, Stamford, CT 3/12/06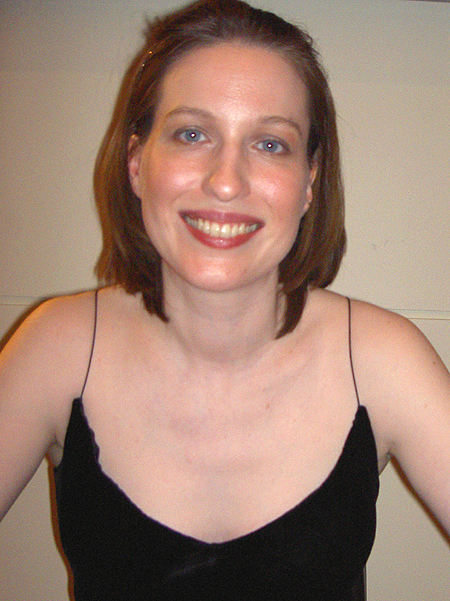 Ahhhhhhhh! Regular seats! No shin scrapers. What a difference that can make! I was able to relax and absorb a wonderful program. The afternoon started with a piece called Blue Cathedral by Jennifer Higdon. I felt transported to a place of peace and beauty. Blue Cathedral was full of chimes and bells and slow rising notes. I want to hear this performed live every day!
Next was a fun, wacky number by Michael Daugherty called Lex. It is a musical chase involving the police & Superman's arch nemesis. Wild violin lines competing with equally wild percussion pulled the chase off splendidly!
The first set closed with Samuel Barber's lovely Cello Concerto and featured guest soloist Wendy Warner. Warner flew across the strings in a melodic frenzy - what a player! The best way to describe this piece is majestic. Lots of triumphant builds, escalating to a huge climax. Perfect time for a break!





The first half seemed to be a template for the second. Another glorious, ethereal number - this time Charlie Chaplin's wonderful theme to Limelight. Conductor Eckart Preu brought the beauty out of every chord, every note.
The second piece was G-Spot Tornado by Frank Zappa. Zappa fans know what a workout this piece is & the bass section looked like their fingers were stamping out small fires on the necks of their instruments.
The orchestra was joined by the 120 member Greenwich Choral Society for the positively huge Chichester Psalms by Leonard Bernstein. The theatre was overflowing with glory as this piece unfurled like a grand musical tapestry. Big, big, big was the sound! After many ovations, Preu and 3 members of the chorus performed a lovely Jewish lullaby a capella - a tasty after dinner mint to a grand buffet!

Nektar – The Community Theatre, Morristown, NJ 3/3/06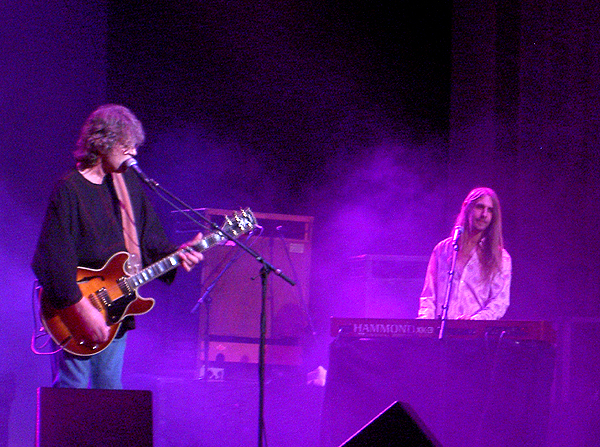 Morristown, New Jersey - land of the parking meter! Actually, a friendly little town with a nice lil Irish pub, to boot! The night after yet another snowstorm, Nektar pulled into Jersey to blow the roof off the Community Theatre. Before the show, many people in the crowd were given free Nektar DVDs & filled out a form to receive a free soundboard recording of the evening's show. The first set opened with side 1 of Recycled. From moment 1, the band were on fire. The younger members of the quartet - bassist Randy Dembo & keyboardist Tom Hughes were ferocious. The founding fathers - drummer Ron Howden & guitarist / vocalist Roye Albrighton were like hungry tigers rattling their sonic cages. This gig flat out rocked! Desolation Valley, King Of Twilight, and side 1 of Remember The Future were just some of the highlights. Pleasant surprise of the set went to That's Life and Show Me The Way from the Down To Earth album. Set 1 closed with an exuberant version of Good Day, and crowd and band took a well earned break.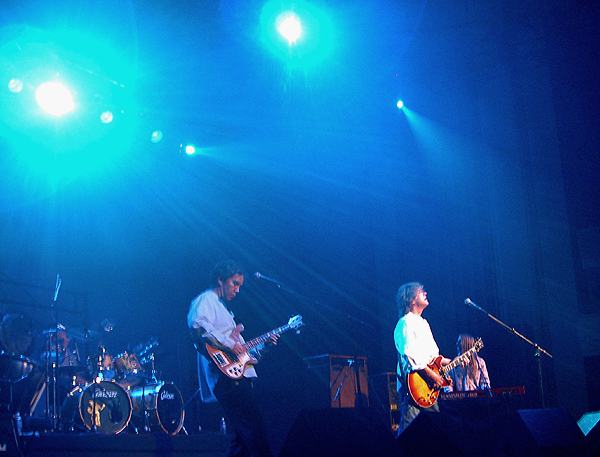 Albrighton took the stage alone with an acoustic guitar and opened the second set with the beautiful Little Boy and followed it with It's All Over. The rest of the band joined him midway through Always, flowing nicely from acoustic to electric. A Tab In The Ocean, Cast Your Fate, The Debate, and Man In The Moon followed, much to the audience's delight. As cliché as it might sound, this band is ageless. Every song, new and old, were cut of the same timeless cloth. Roye Albrighton tore into a scorching A Day In The Life Of A Preacher to close the show. His soloing all night was out of control - like audio lightning - and his playing here was no exception. Freaks, geeks, lovers, losers, boozers, friends, fans, and new converts saw a show for the ages. No encore, as it would have gone past the venue's curfew, but who cares? Nektar ripped the place to shreds with just shy of 3 hours of mind pounding psychedelic prog! Young turks beware! Nektar are on the road blowing away listeners at every turn!

Flook and Karan Casey – Symphony Space, NYC, NY 2/24/06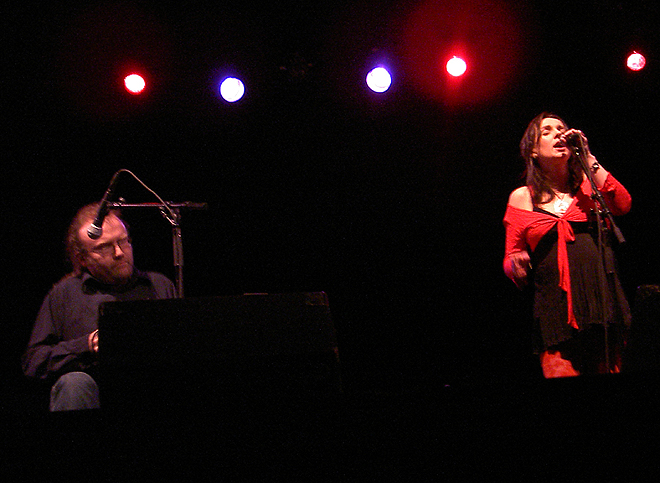 Symphony Space is in the West 90s, just past Central Park. It's a beautiful building and the space inside is comfortable and inviting with nicely padded seats that are a bit wider than the norm set on a gentle incline. The sound is full, round, and very friendly to the ear. Quite a nice place with a warm atmosphere. The show began with the luminous (and very pregnant) Karan Casey. Casey, formerly of Solas, has a voice stolen from heaven. Backed by acoustic guitar, piano, whistles and concertina, her clear warm voice floated through the air. Curra Road, My Love Is Pleasing, and the stirring Freedom Song were mesmerizing. Celtic music has seldom come across as comforting as it did in the hands of Casey and her band. Casey has a sweet stage presence telling little stories between songs, her tongue sticking out on high and long notes. The band itself hit a high note on Chasing The Sun, a number with punishing rhythms that seemed to be oddly punctuated threes. The audience ate every moment up and the encore of Bright Winter's Day came far too soon for these ears!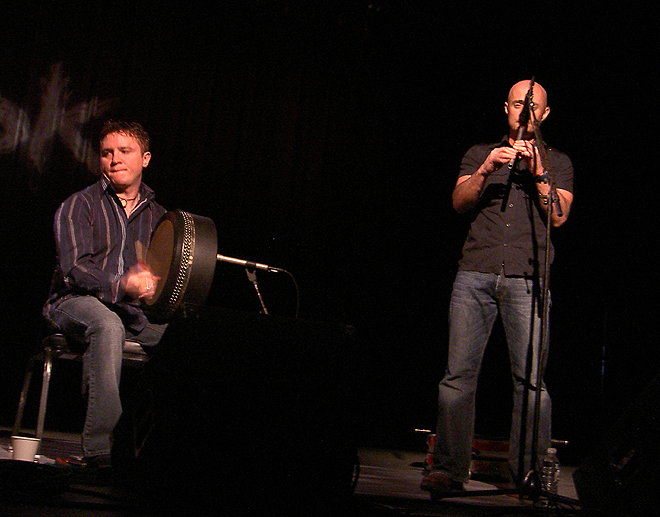 Flook kept the friendly Celtic vibe going. They are an instrumental quartet touring in support of their latest CD Haven. Acoustic guitar, bodhran, flutes, whistles, and accordion were the instruments of the evening, although I'm sure they could dazzle as brightly if all they had were cornflake boxes! The set drew heavily on the new album, which was fine by me! The pieces showed the personalities of the players. Flautist / accordionist Sarah Allen was relaxed and carefree yet focused. Brian Finnegan on whistles and flutes confident and quiet. Bodhran wizard John Joe Kelly was intense and guitarist Ed Boyd contrasted him nicely with his boyish gentle humor. The Mouse Jigs and Gone Fishing were packed with thematic beauty and thrilling solos that could leave you spent and satisfied.

Flutopia and The Tortoise And The Hare might just have been my favorites of the night. Every player was a virtuoso, but my gold star goes to John Joe Kelly for his percussive intensity. I will go out on a limb and proclaim him the finest percussionist I have ever seen. His mastery of rhythms and passion of performance were a joy to behold. Flook is a band to experience live and often. Bring this Celtic double bill back!





Table Of Contents

Contact