Concert Reviews
all reviews and photos by John A. Wilcox
Stamford Symphony Orchestra - Palace Theatre, Stamford, CT 12/4/11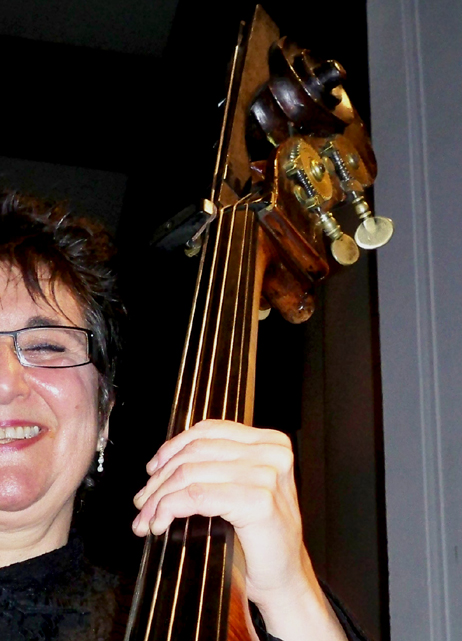 As concerts go, this was certainly a mixed bag of styles and feels. Maestro Eckart Preu always manages to keep things interesting. Blue Tango from Leroy Anderson was a brisk start to the afternoon. Joined by 2 dancers from the Hart School Of Music, the symphony launched into this jaunty tango with verve. Violins were answered by winds. The lovely melody brought to life by sensuous dancing. A stirring beginning.

Oswaldo Goliljov's Last Round brought us into darker, Bernard Herrmann-esque territory. The players were set up as 2 separate orchestras facing each other. Basses at the rear. Cellos seated. All other players standing. A lot of call-and-response in this dissonant number. An audio boxing match that stayed exciting to the last punch!

It's rare that one sees a soprano sax in the symphony as they just didn't exist when many older pieces were written. Jennifer Higdon's Oboe Concerto was a perfect fit for guest soloist Steven Temme and his soprano sax. The concerto was a dense piece. Temme's sax had a plaintive tone that added an emotional resonance. Also of note were the fascinating percussive runs in Higdon's composition. The ear and the brain got quite a workout on this one.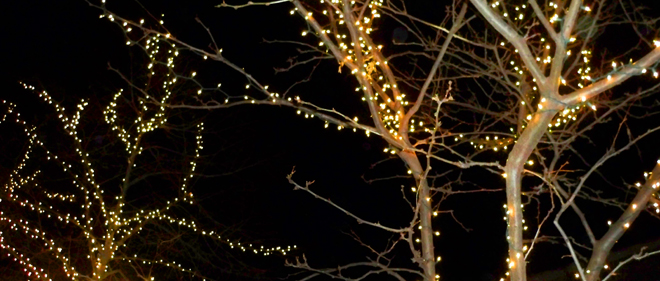 Oh, dearest Ludwig Von. You always bring a smile to the heart without fail. The 2nd half of the program was devoted to Beethoven's Symphony No. 6. You know this one. You love it every bit as much as I do. Country airs and lush velvet waves of sound. It's like that girl you loved best. Almost painfully beautiful. I felt awash with comfort as movement gave way to movement. Such a staggeringly beautiful work. A glorious afternoon of international delights.

The Musical Box - Ridgefield Playhouse, Ridgefield, CT 11/15/11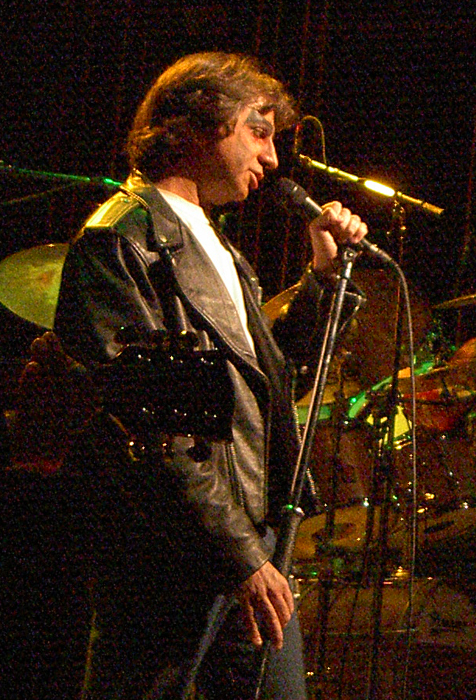 The Lamb came by for a visit to Ridgefield, Connecticut. I had to be there! The Lamb Lies Down On Broadway never fails to thrill me, and the Musical Box do a stellar job of performing it live. Our players for this show were Denis Gagne on vocals, flute, and percussion; Sebastien Lamothe on basses and guitars; Francois Gagnon on guitars; Marc Laflamme on drums, percussion, and vocals; and Michel Cloutier on keyboards. All in fine form and good spirits. Cloutier was the new face to me and I felt he filled the keyboard slot just fine!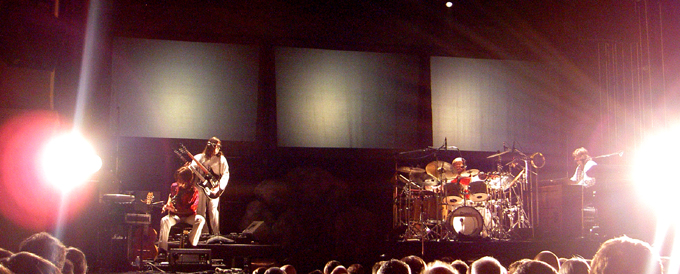 Every show has its own dynamic and highlights. This night In The Cage was a fierce one. Back In NYC had great interplay between Gagne & Lamothe as they goofed around on a few shared vocal parts. The Waiting Room and Silent Sorrow In Empty Boats sent chills down my spine - so glorious!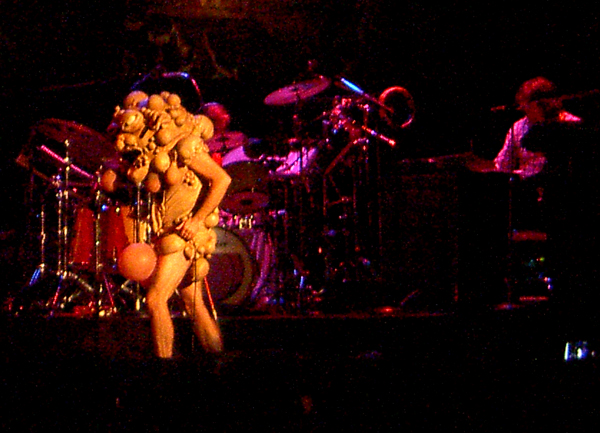 The 4th side - from The Colony Of Slippermen to it just went by way too fast. I wanted it to last forever. Strong encores of The Musical Box and Watcher Of The Skies were brilliant icing on an exceptional performance.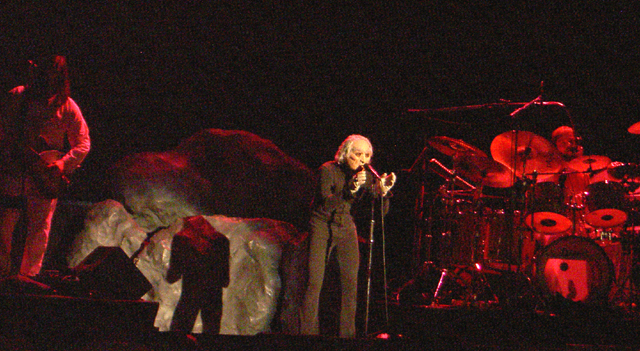 I cannot conclude without pointing out what a horrid crowd it was. People behind my head talking through every single song. Folks on beer / alcohol / bathroom runs pretty much non-stop. A sold out crowd of fools doing their very best to distract those of us there to listen to the awesome music being delivered. I find it sad that people cannot spend 2 hours without consuming alcohol, typing on phones and ipads, and talk, talk, talking! It shows a lack of respect for the others in attendance and lack of respect for the band giving their sweat and blood to deliver a show of this caliber.

Stamford Symphony Orchestra - Palace Theatre, Stamford, CT 11/13/11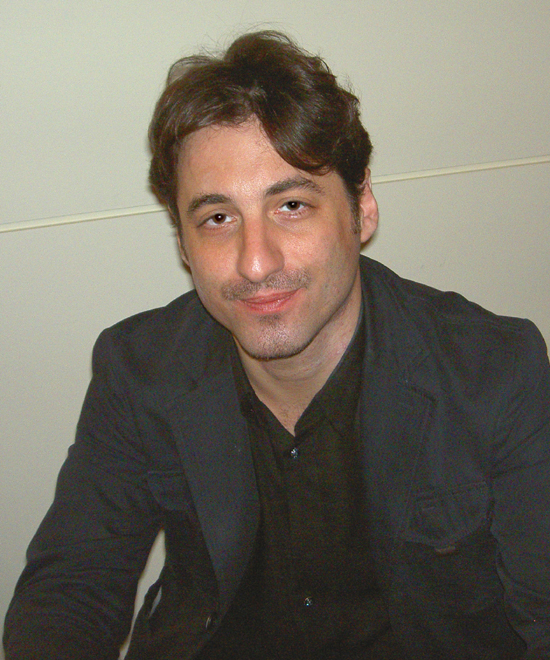 An afternoon of the romantics. 100% fine by me! I love it. We started with some Respighi. I was already happy - I can't get enough of this genius. Maestro Eckart Preu chose his Ancient Airs And Dances Suite No. 3 for this day. For this, the symphony was all strings. The airs and dances moved through several moods - some airy, bouncy, others with smokier moments. Nice pizzicato cellos. It was like listening to a smile.

Bruch's Concerto Violin No. 1 came next, featuring guest soloist Philippe Quint on his 1708 "Ruby" Stradivari violin. Already a beautiful, vibrant number, Quint's playing took it to impressive heights. His playing was...liquid. His fingers seemed to lack bones as they oozed over the fingerboard. So beautifully, magically expressive. Quint is in touch with something well beyond technique, something deep. Hearing him play was a gift I won't soon forget.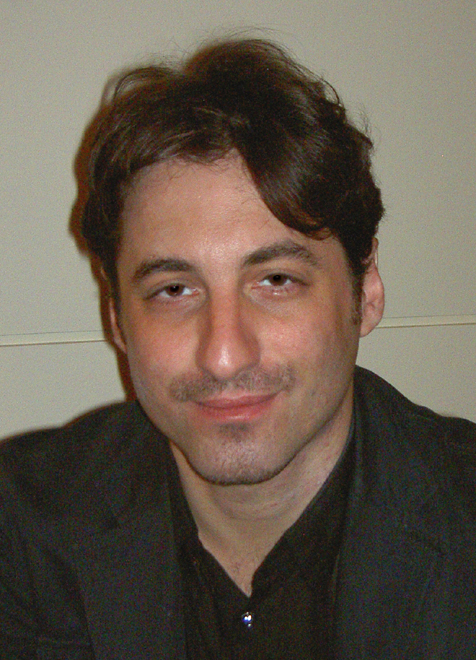 As the Pope once said: "Brahms doesn't suck, dude!" This is indeed true! His Symphony No. 1 was the big piece to close the day's program. Talking about this piece before the performance, you could sense that Maestro Preu loves this one. His conducting was particularly passionate and animated. The first of the 4 movements started out a bit aggressive in parts, with some very prominent tympani. Aggression melted into beauty as the movements progressed. By the time we reached the final movement, the ears were bathed in velvety, creamy mids from the strings and heavenly horns and winds. As the symphony drew to a close, it just was not enough! Everyone demanded more and we went off-program with another Brahms number - Hungarian Dance No. 5 to be exact, spinning us to a dizzying conclusion! An afternoon in Heaven...

Crazy On You - Wolf Den @ Mohegan Sun, Uncasville, CT 11/10/11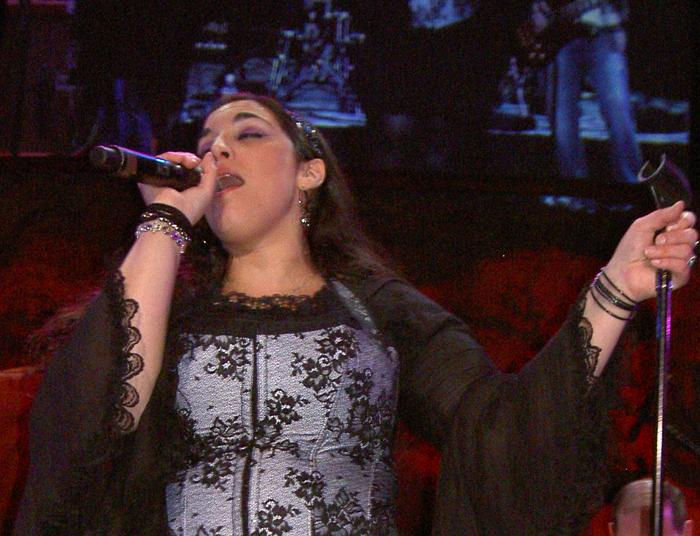 After seeing this band several times, I've got to say that seeing Crazy On You always equals a good time! Tonight was no exception. It seems that the line up has solidified and settled, We have Cassandra Frazier on lead vocals; Cathy Applegate on guitars and vocals; Chris Piquette on guitar; Derek Waldron on keyboards and flute; Matt Simpson on bass; Ian Hogan on drums. All nicely locked in, very tight.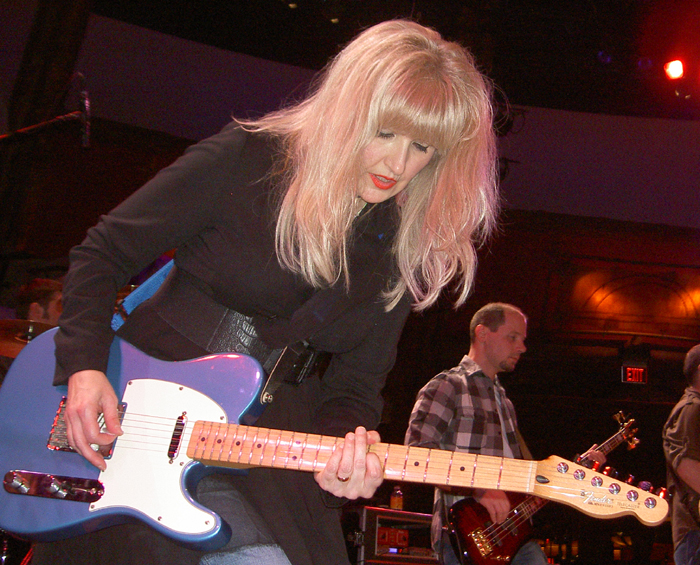 The set list was identical to the last time:
Who Will You Run To
Heartless
Straight On
Magic Man
What About Love
Nothin' At All
Crazy On You
If Looks Could Kill
Alone
Even It Up
BeBe Le Strange
All I Wanna Do Is Make Love To You
These Dreams
Love Alive
Love Reign O'er Me
Barracuda
All of which was aok with me!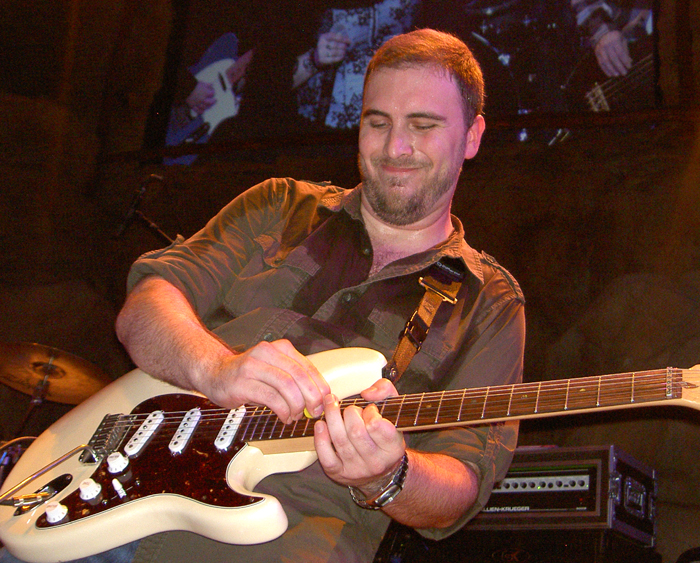 Early into the set, I was pleased to see people take to the dance floor. It sowed the seeds for a more party-like atmosphere. So great to see people having a great time. An interesting thing I noticed: more folks danced to the 80s/90s Heart tunes than they did to the 70s ones. My guess is that those tunes are mostly in a steady 4 and have less jumps dynamically, but I could be over-analyzing! Whatever the reason, lots of butts on the floor by the end of the evening.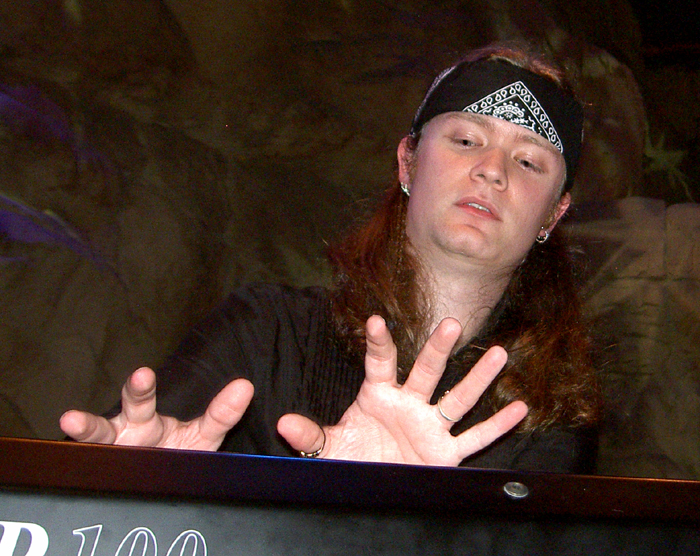 Highlights? I'm always a sucker for Heartless, BeBe Le Strange, and Love Alive. Chris Piquette's solos continue to knock me out with their energy & virtuousity. The entire band play on a very high level. You really need to see them live - Crazy On You is a guaranteed amazing night out!

The Tubes - Ridgefield Playhouse, Ridgefield, CT 11/5/11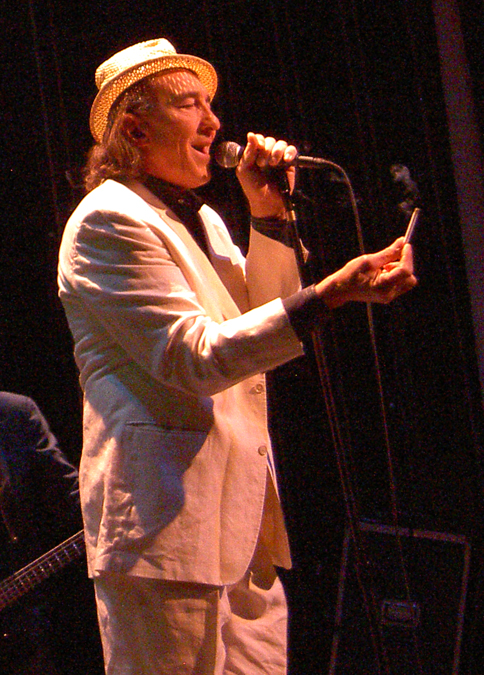 What makes a concert a perfect concert? I imagine that varies from person to person. This particular show was perfect for me. Every member of the band was very definitely on, the staging & costumes were inspired, and it was a dream set list. This evening the Tubes were Fee Waybill on vocals, Roger Steen on guitar, Prairie Prince on drums, Rick Anderson on bass, and David Medd on keyboards - all in top form. The theme of the show was the cool Italian films of the 50s / 60s, and the stage reflected it. The band came out wearing suits and hats that would've fit perfectly in an Antonioni or Fellini film as they launched into a sort of La Dolce Vita Overture that went into the Tubes classic Haloes. The spirit of James Brown took us to the bridge with a scorching hot cover of It's a Man's Man's Man's World. I must confess I have a soft spot for the NOW! album, so it was wonderful to hear the band play Smoke (La Vie En Fumer) with its jazzy piano chords as well as that killer line - Life is smoke and the world is my ashtray!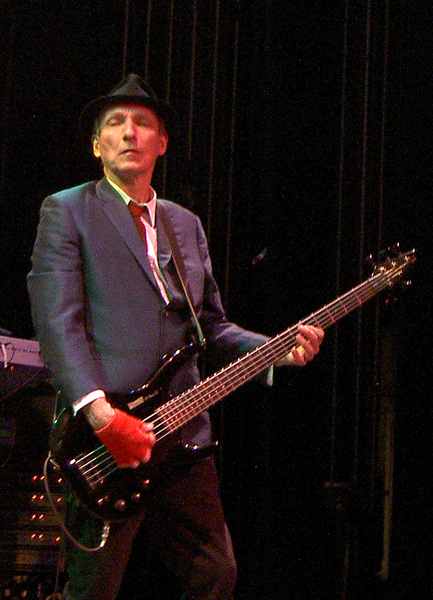 Speaking of chords, those exotic guitar chords with Rick Anderson's strong bass line on Amnesia provided a powerful underpinning for Fee Waybill's acrobatic, emotive vocal. As many times as I've heard it, I just never get tired of What Do You Want From Life. That crisp bass / drum work, wild guitar, jumpy keys - all topped by the snappy vocal just never get old! Time for a coooool take of the La Dolce Vita Theme while Waybill changed his duds, returning dressed as a Spartan with his butt in full view. It was high energy time with Turn Me On going into I Was A Punk Before You Were A Punk into a punked out I Saw Her Standing There that was positively through the roof!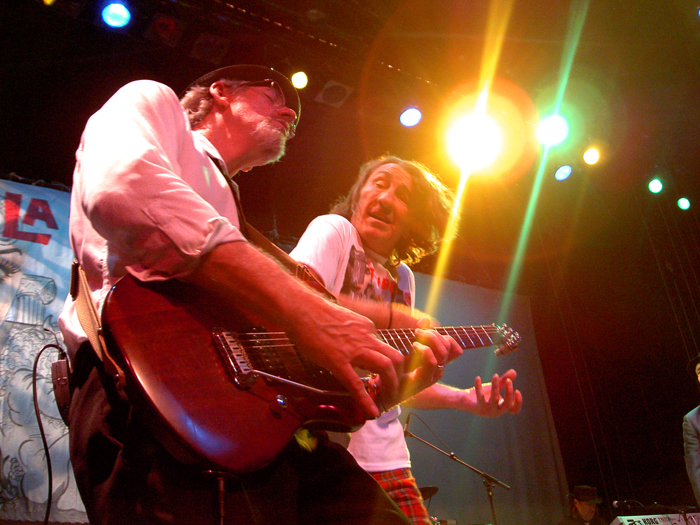 The Link Wray instrumental Rumble gave Waybill time to change outfits once more, this time wearing a demonic bull mask inside a hollowed out TV, a Misfits shirt, and chaps. How very perfect for Telecide! Off came the TV set, bull mask, & shirt. Waybill stripped down to a codpiece and the chaps and donned a leather mask for the always outrageous Mondo Bondage with great keyboard bubbles and squeaks from David Medd. Next up were 2 songs I've been dying to hear for years: Brighter Day (with a great vocal by Roger Steen) and Pimp. After Pimp, Fee Waybill stayed in character, ranting at the audience about "controlling their bitches" before the band launched into a slinky take of Slipped My Disco. What a perfect pairing with the ultra-funky Tip Of My Tongue which included an awe inspiring drum solo from Prairie Prince. The band brought the vibe down for the beautiful Don't Want To Wait Anymore with much of the crowd singing along on the choruses.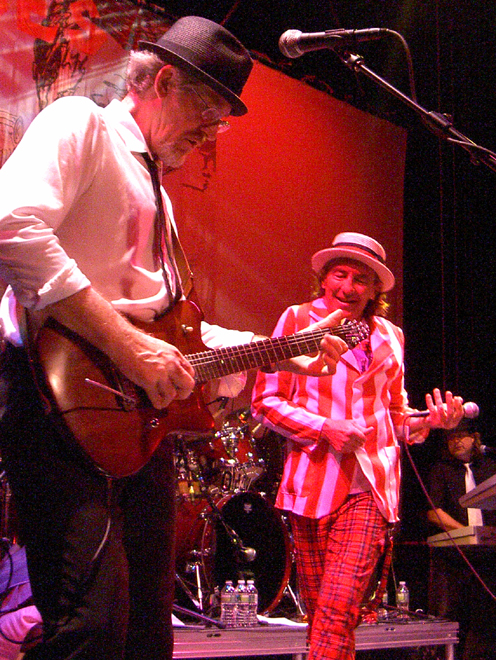 It was that time once more! Time for the man of the hour. The man with the power. In tight silver pants and as tall as a tower - Quay Lewwwwwwwwwwwd! He took to the stage to the tune of Iggy Pop's Lust For Life before kicking onto gear with Boy Crazy and an over the top White Punks On Dope to bring the main set to a close. The encores were, as Steen playfully announced - the radio hits. Exuberant versions of She's A Beauty and Talk To Ya Later - the latter morphing into a cover of Third Stone From the Sun. One of the finest Tubes shows I've seen in my life!

Jon Anderson And Rick Wakeman - Ridgefield Playhouse, Ridgefield, CT 11/2/11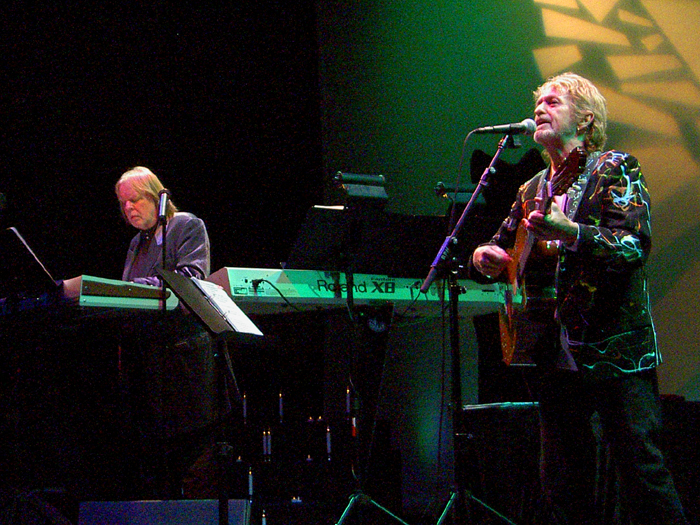 2 wildly contrasting personalities that fit so perfectly together. Spacy, trippy. peace-love-spirituality driven Jon Anderson and wisecracking, naughty Rick Wakeman. They could do an evening of stand up together. Thankfully, they chose to play selections from their latest collaboration, The Living Tree, and a truckload of Yes tunes. After a piece of hysterically funny entrance music, Anderson & Wakeman took the stage. After noodling around for a moment, they launched into a breezy version of Starship Trooper. Anderson was in strong voice. Wakeman was...Wakeman - totally at ease no matter the complexity of the piece. The mood stayed light with Sweet Dreams - still sounding fresh. A lovely new song called Forever was next, leading to a sublime And You And I.

The Living Tree (Part 1) brought us to Long Distance Runaround. The Ridgefield crowd cheered in approval. Anderson talked about becoming a US citizen before singing America. Wakeman told a few off-color jokes as an intro to Garden, which in turn seguewayed into The Living Tree (Part 2). Set 1 ended with a reggae-fied Time And A Word that included snippets of She Loves You and What The World Needs Now - a fun way to take us to the break!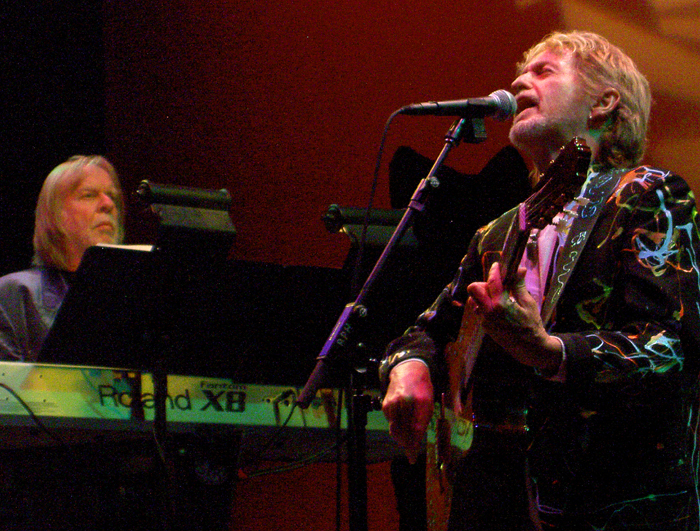 Rick Wakeman brought us out of the break with some discordant notes that heralded in South Side Of The Sky. It was beautifully contrasted by Wonderous Stories. Jon Anderson talked a bit about the religions of the world, setting the scene for the uplifting Just One Man. Next we got not 1, but 2 bits from Tales From Topographic Oceans: the final Nous Sommes Du Soleil section of Ritual, and the Leaves Of Green portion of The Ancient. One of the highlights of the evening was another new number: the melancholy 23/24/11, a sad look at war from the soldier's point of view.

It was time to sing and clap and I've Seen All Good People was just the right song to do both to! House Of Freedom took us to the set closing Awaken, which sounded huge and otherworldly in its beauty. We got 3 encores: Roundabout, Soon, and The Meeting to close out an incredible, intimate evening. I'll remember this one for a long time!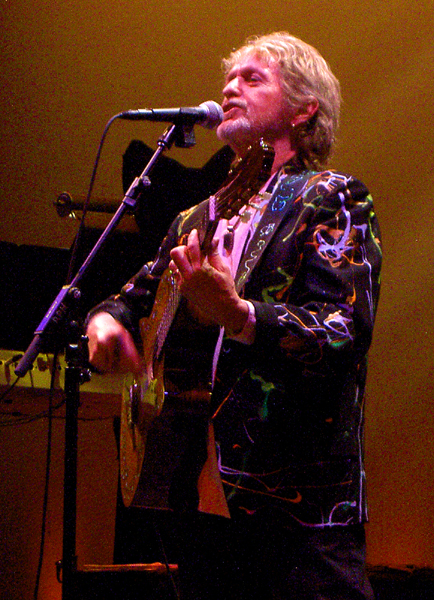 Craig Ferguson - Palace Theatre, Stamford, CT 10/21/11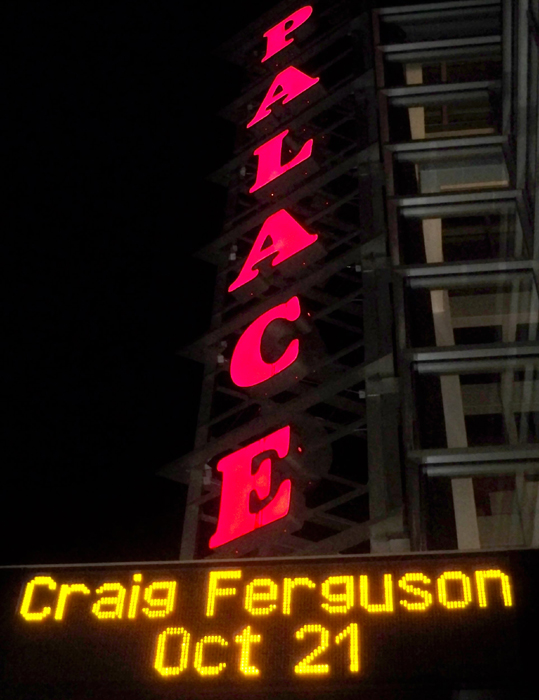 Truly a last minute gig for me! I found out I had tickets for this at about 4 in the afternoon. It was a beautiful evening with just a bit of a nip in the air. At the box office, ran into a bit of a scary fan who...talked...like...this about loving Craig and Jon Stewart and Coldplay. She reminded me of why restraining orders exist. But I digress. Comedy. I sure could use it after a long, draining week.

There was a warm up comic before Craig Ferguson by the name of Joe Matarese. Matarese is from, by his admission, A shithole called Port Chester. His act was very personable, and his delivery was smooth and crisply timed. As a lifelong Connecticut resident, I found his gentle digs at Greenwich snobbery and the hot oil pizza from Stamford's Colony Pizza really hit the mark. Matarese covered everything from marriage, sex, and kids to bowling, Rocky, racism, and roofing. Joe Matarese was funny as hell. I'd see more of this guy any day of the week!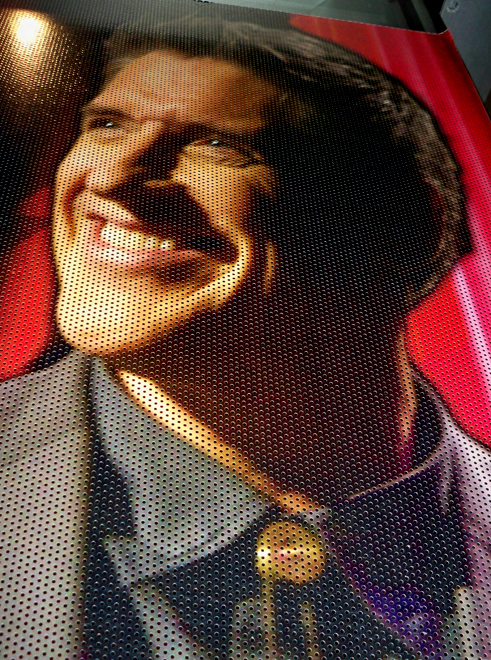 A scant minute or 2 later, Craig Ferguson hit the stage of the Palace. Dressed casually in jeans, a blue shirt, black jacket, and black boots, Ferguson was a nice balance of energy and ease. The crowd was attentive and responsive through his entire set, listening intently to every story while laughing loud and often. We were treated at the outset to tales of room service and porn, and comparing young children to "psycho midget German prostitutes" with a bit of Glenn Beck. During an observational rant about drugs and people who experiment with them, Ferguson brought the house down with the line it's not an experiment to blow a dealer for crack! Somehow this led to Hitler's ass and talk of an enormous clitoris.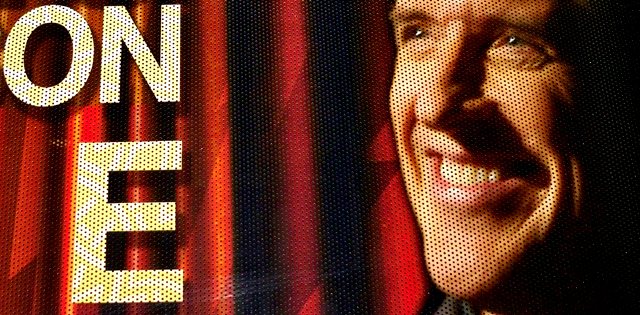 Lots of sex talk including the statement that Warren Beatty was the Bill Clinton of his day, and the sex addiction of "Blavid Bluchovny" (Ferguson's wry attempt to mask the identity of a celeb often on his show). A woman who carried a hen's egg in her vagina for healing took us to his tale of getting an "aura massage." Why this led to a Nazi dance take of Stayin' Alive I cannot quite recall as I was too busy laughing. Ferguson's set wound down with stories about shark week and homeless audience members before closing on a very cute joke told to him by Drew Carey. A totally charming and hilarious evening! It's a great day for America!

Stamford Symphony Orchestra - Palace Theatre, Stamford, CT 10/16/11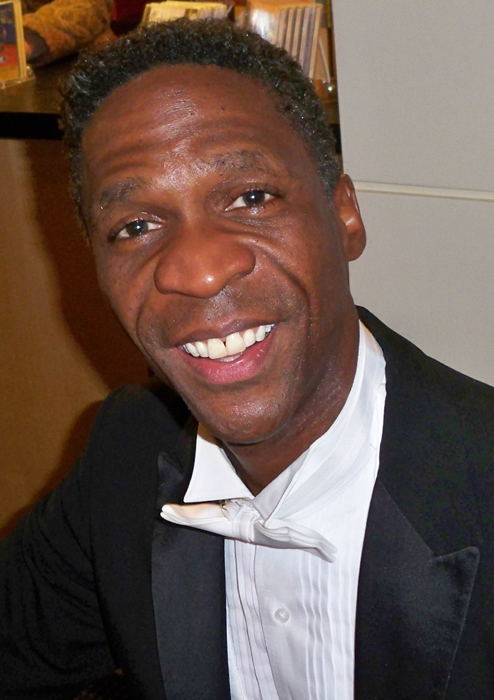 Maestro Eckart Preu put together quite a program for this performance. The focus was American music, yet featured pieces by Stravinsky, Prokofiev, and Dvorak. All would soon be revealed! After the rousing Star Spangled Banner we were first treated to Joplin's The Entertainer (Ragtime) with those jaunty rhythms and familiar melody. We next heard American ragtime music as filtered through the mind of Stravinsky, with his piece Rag-Time. It was a deconstruction of the form - entertainingly dark and re-imagined with notes ping-ponging across the Stamford stage. Next, the symphony went off-program and performed Bob Cole's When The Band Plays Ragtime featuring the vocal talents of baritone Edward Pleasant. Pleasant's pure, velvet voice combined with the uplifting nature of the number drew a roar of approval from the crowd.

Terrence Wilson was the featured soloist on Gershwin's Piano Concerto In F Major. As with most Gershwin, the piece had moments of grandeur, big jazz chords, and a cinematic feel. Wilson's playing had a smoky elegance to it. Technically flawless, he brought an expressive touch to every phrase, emitting sunshine from his fingers. At the conclusion of the concerto, the audience demanded more and Wilson obliged, making many jaws drop as he ran through Prokofiev's Piano Sonata No 2 in an almost inhuman fashion.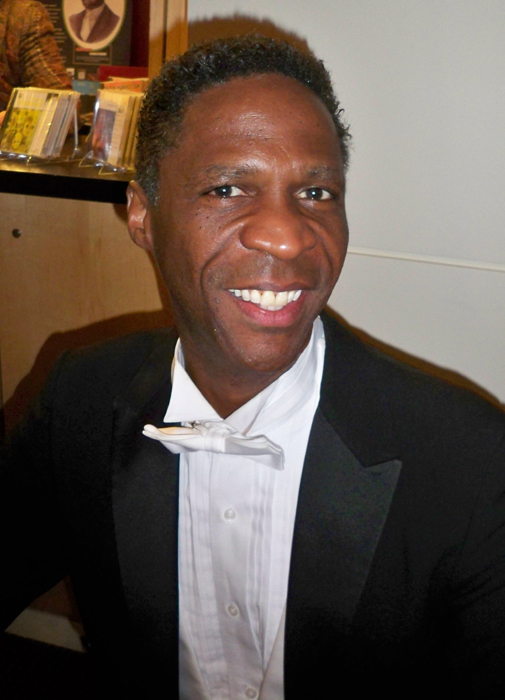 Dvorak implored composers "go back to your roots" and explore the folk music of your culture. His tribute to American culture took the form of his Symphony No 9 (From The New World). William Arms Fisher put words to the 2nd movement of this and we came to know it as Goin' Home. Maesto Preu brought us both, with Goin' Home serving as a sweet taste of things to come, once again featuring baritone Edward Pleasant. It brought a lump to my throat as this was long a favorite tune of my dear departed mother.

Moments later, Symphony No 9 (From The New World) was performed in its full glory. The scene is set with the first movement - an adagio-allegro molto. Wistful, with a melody slowly emerging, sneaking up on you. The largo movement is the one Goin' Home was based on. In this context it has a sort of unspoiled beauty to it. The molto vivace was rousing, with 2s against 3s to great effect. Set in 4, the final movement, allegro con fuoco, was brisk and full of brass and almost dizzying at times. Absorbing the program as a whole, one got the sense of scope that American music has brought to the world - refining influences, impacting the world, while never losing sight of its origins.

Montrose - B B King's, NY, NY 10/14/11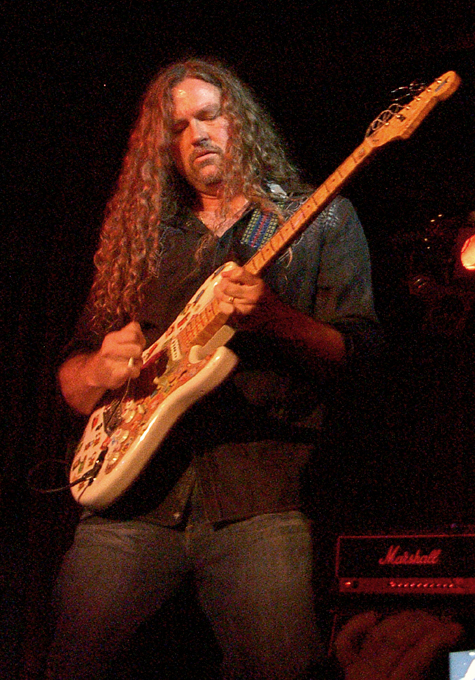 After a long, exhausting day at the New York Comic Convention, I needed some rock & roll. I was in exactly the right place! First on the bill was a guitarist that has somehow eluded my attention up to this point - Michael Lee Firkins. This set sure rectified that! Firkins blazed away from start to finish. He led off with hot covers of I Know A Little and Hey Joe that really wowed the crowd. His rhythm section was tight and hard hitting, big and meaty. Firkins was acrobatic, nimble, and always melodic. 1 part Jimi Hendrix; 1 part Dickie Betts; 1 part Stevie Ray Vaughan. Black Betty, Eyes On The Prize and 2 smoking instrumentals showed me that Firkins had substance and a gentle bit of humor to his playing and his demeanor. His blues meets metal take of War Pigs / Luke's Wall was the highlight of a power packed set. I hope to see more of Firkins in the future - his fingers have quite a bit to say!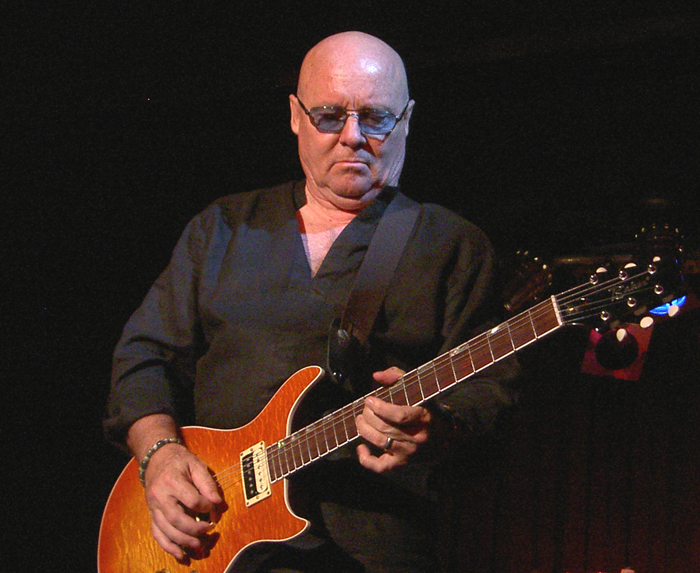 Keith St John is a strong, confident vocalist. Dan McNay on bass and Steve Brown on drums are a flawless hard rock rhythm section. That'd be enough to guarantee you an evening of unforgettable rock. Truly. Now, imagine, just for a moment. Imagine a master of the guitar. There are many great guitarists. There are few masters. One of those masters is Ronnie Montrose. His command of his instrument is an awesome thing to listen to. Perfect sustain. Flawless bends, immaculate runs. Montrose is a 1 man clinic. When the band hit the boards and launched into Rock The Nation, I saw in awe of the power in front of me. I Got The Fire and Make It Last followed. My friend Irwin observed that new acts don't know how to rock like this. Absolutely correct. Montrose plays the hell out of the guitar and he plays pounding, kickass rock. At one point, he laughed and pointed at his guitar exclaiming I love this thing! Me too! Twenty Flight Rock and the wonderful Space Age Sacrifice kept the energy level at 11.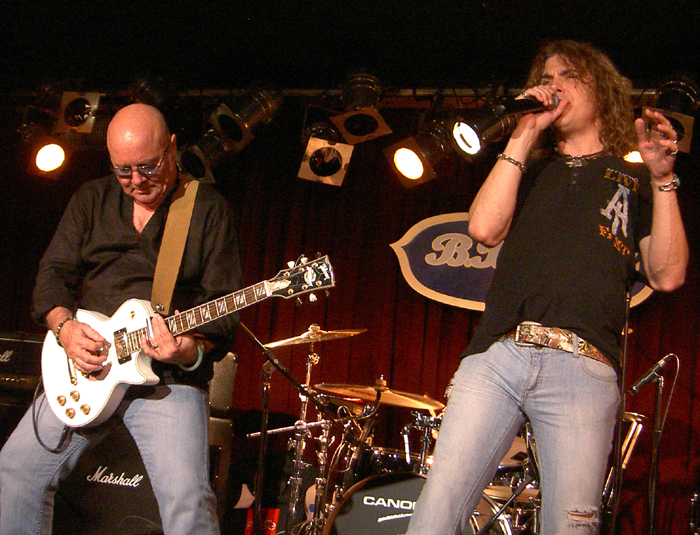 Voyager was a welcome gem. I Don't Want It led to a wild version of Rock Candy with Montrose letting loose. The set closed with the classic Space Station #5 which gave that band a bit of room to stretch out. Michael Lee Firkins joined the band in firing up Bad Motor Scooter - trading licks with Ronnie Montrose and bringing a smile to every face in the venue. As good as it gets!

New York Comic Con - Jacob Javits Center, NY, NY 10/14/11





Where else could this be but in NYC? Just as the Big Apple is a universal melting pot, the New York Comic Convention is where all good artists, writers, fans, elves, Klingons, robots, vampires, and aliens come to see and be seen!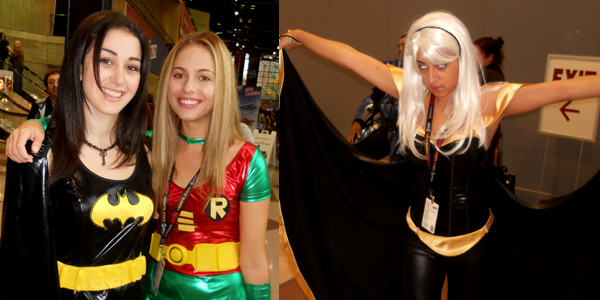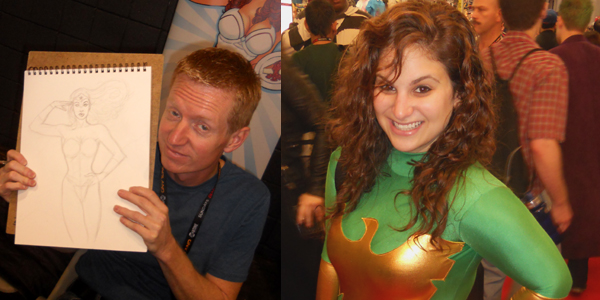 On the comic book front, I ran into Adam Hughes, Joe Sinnott, Erik Larsen, Walt Simonson, Elisa Lau, Jose Luis Garcia Lopez, Stan Lee, and far too many others to mention from companies big and small. All were either signing books, doing sketches, giving advice, or just sharing stories with folks from all over the globe.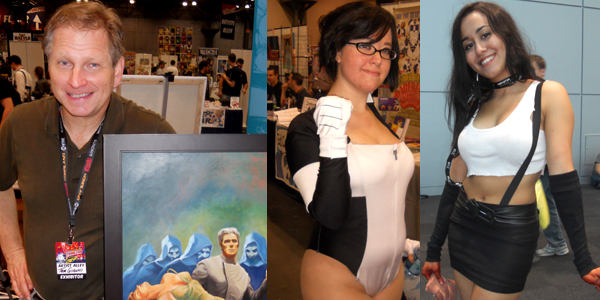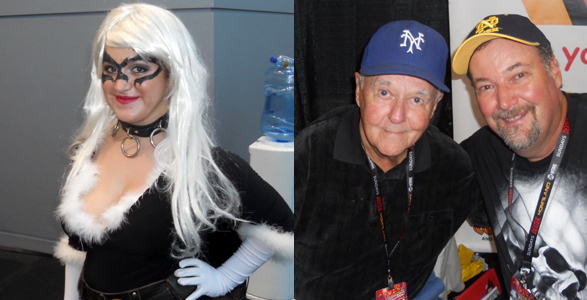 There were, as you can see, costumes galore. People took the opportunity of hitting the con to do so in style. Young and old walked the floors as Storm, the Joker, Elektra, Boba Fett, Phoenix, You name it. Lots of panels, speakers, merch, and most of all wonderful fans helped make the New York Comic Con a wildly exhausting event of pure fun. Bring on 2012!!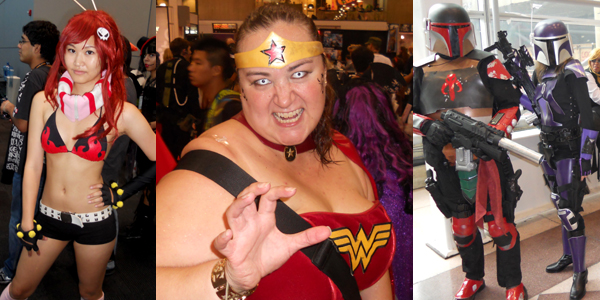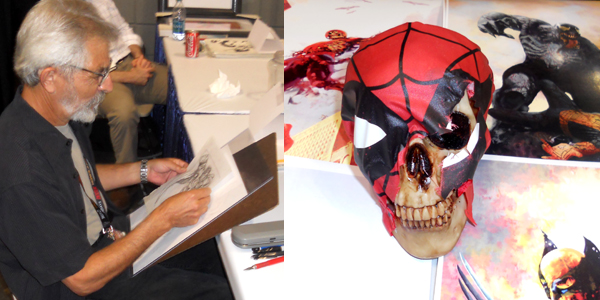 Two Of A Perfect Trio - StageOne, Fairfield, CT 9/30/11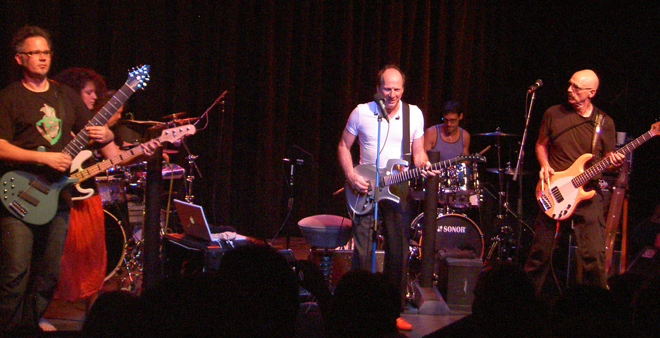 Before I even get into the show, let me throw out a few observations about the six players for the evening.
Tobias Ralph: All speed, muscle, precision. Like a hurricane with sticks!
Pat Mastelotto: A percussion visionary. His combinations of sounds within any given rhythmic moment can startle the ear. Or make you laugh. Or make you question reality.
Julie Slick: A gymnast on the low end. Very athletic and melodic at the same time. Her note choices are always interesting. Incredible.
Tony Levin: The master. He just is, OK? On Chapman stick, he wrote the book. On bass, he wrote the other book. Always thinking, always taking risks.
Markus Reuter: A nice balance of the technical and the conceptual. One moment it's a breathtaking run; the next he's generating textures. A delight.
Adrian Belew: Invention. He paints through the guitar. Constantly exploring. Danger with a smile.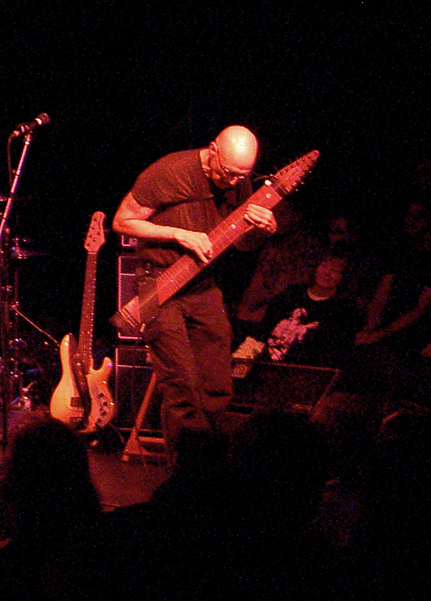 The evening began with the Stick Men, fronted by Levin. To my surprise and delight, they opened with a power packed VROOOM VROOOM. Mastelotto was everywhere! I loved the feel of Soup. It was bursting with power balanced by a sly sense of humor in Levin's vocal. Next was Slow Glide. This number went deep into the land of experimentation in the center section. Reuter played chilly soundscapes as Levin played the stick with a violin bow. Mastelotto also played his cymbals with a violin bow, eliciting shrieks and howls from them. The combined effect was otherworldly. Big Dog and Relentless were meaty slabs of prog rock fusion. The set closed with a slightly dark, electrifying interpretation of Stravinsky's Firebird Suite. An inspiring start to the evening!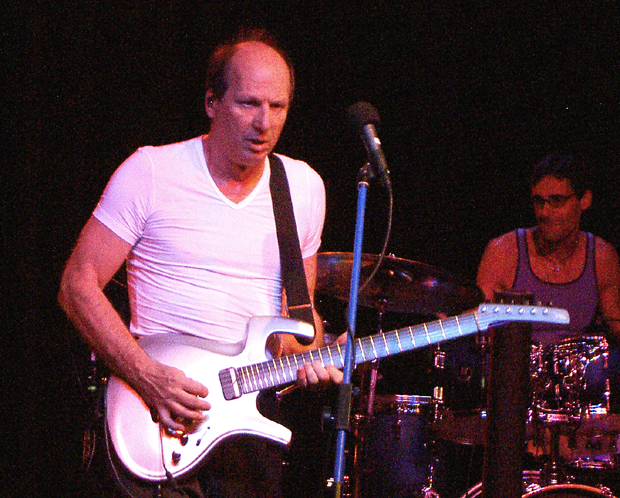 10 minutes later, it was the Adrian Belew Power Trio. If the Stick Men rocked, the trio rolled. Lots of jungle energy to be found in this set starting with Young Lions. Belew was all smiles, slinging that guitar and singing with great joy. Slick & Ralph anchored Belew's insane soloing on Beatbox Guitar. The second nod to King Crimson came with an edgy reading of Neurotica. Love that song!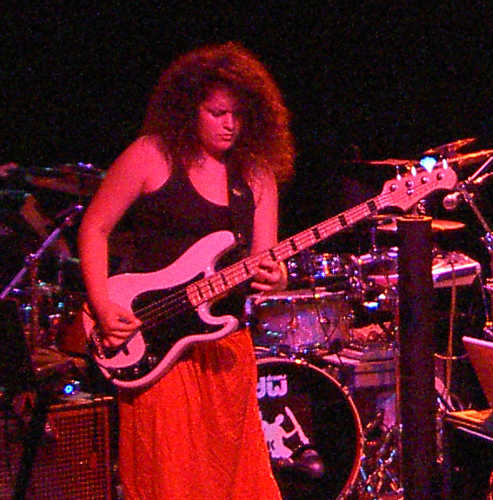 Madness was an intense piece for the entire trio. Slick was the star of Of Bow And Drum with her bass moving the number onward and upward. Belew the composer was well served by e. Complex and so very melodic it was rock it was classical it was something I have no words to describe.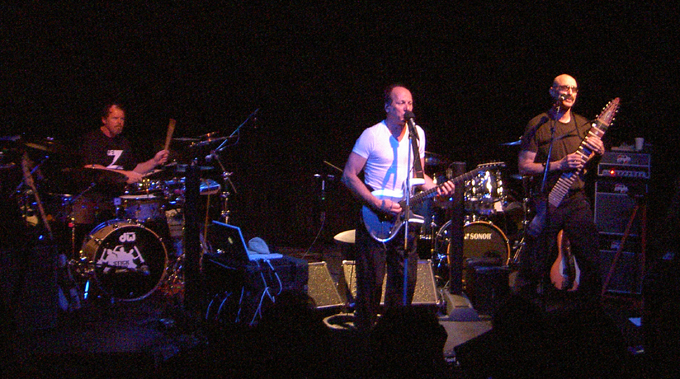 After a 5 minute break, Mastelotto, Levin, and Belew returned to the stage and launched into Three Of A Perfect Pair. It felt so very good and right. Sleepless went down like a hot fudge sundae of sound. The trio were joined by Reuter for a scorching take of Red. Ralph took to his kit as Levin and Belew exited, leaving the trio of Reuter, Mastelotto, and Ralph to guide us on the journey of B'Boom.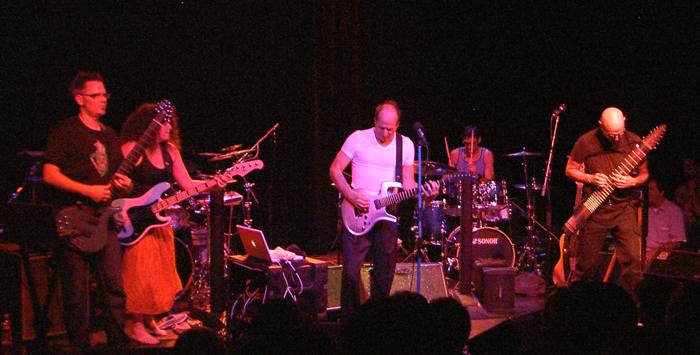 All 6 players gave us some double trio action with THRAK. The dark Dinosaur was nicely balanced by the beautiful One Time. Frame By Frame brought the energy level back up, and Indiscipline sounded like a parking lot of clowns exploding. Just this crazy energy level. The encore was a happy, laughing take of Thela Hun Ginjeet. This was such a positive, love filled show. I hope the players loved it as much as I did!

The Humans - The Highline Ballroom, NY, NY 9/27/11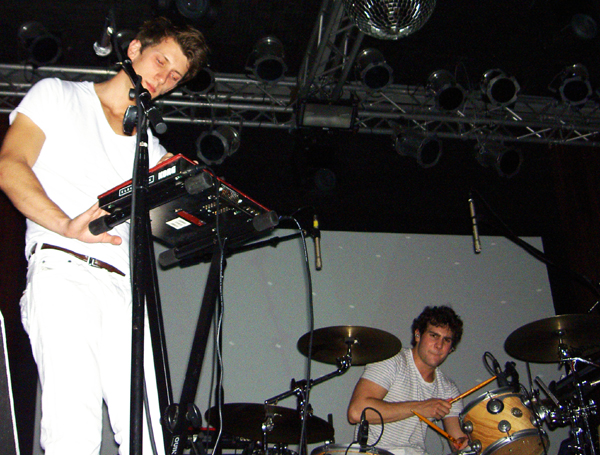 Being an opening act is an opportunity and an uphill battle at the same time as the audience is there to see an act that is not you. How does one improve your odds to make an impression? Play well, have strong songs, and be unique. Kid Savant delivered all 3, thankfully. Songs like Better Side Of Paradise, Drop It On The Stereo, and 4 Years had interesting, quirky lyrics. The quartet were inspired performers, pulling odd sounds out of their instruments, a bed of weirdness underneath strong vocals. They sounded modern with a nod here and there to European electronica and a bit of dark melancholy. They grabbed me and kept me for their entire 6 song set!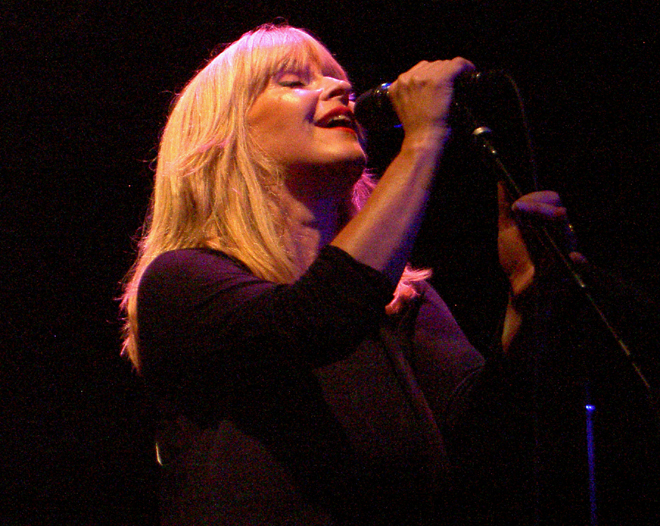 One of my "bucket list" artists I've been hoping to see in my lifetime was Toyah Willcox. This show was my opportunity, as she made her first ever live show in NYC with the band the Humans. She and they did not disappoint. Bill Rieflin and Chris Wong round out the Humans, and they were joined by live guest Human Igor for this show. Before I go further, great to see Tony Geballe nearby enjoying the show! Sugar Rush, the title track of their 2nd album, opened the set. Wong and Rieflin played dense layers of interlocking figures on their basses as Igor triggered buzzes, clicks, and beeps while adding patterns on guitar. Willcox added the technicolor to these dark textures - her voice soaring, flying, swooping passionately. Titanium Girl and Labyrinth blazed with power. Love In A Different Way was a soft, delicate affair, with Willcox cooing and gently intoning the melody. Small Town Psychopath was a bit of twisted fun with some raging sonic moments. Playing In The Dark and This Reasoning were great showcases for the almost psychic unity of Rieflin and Wong.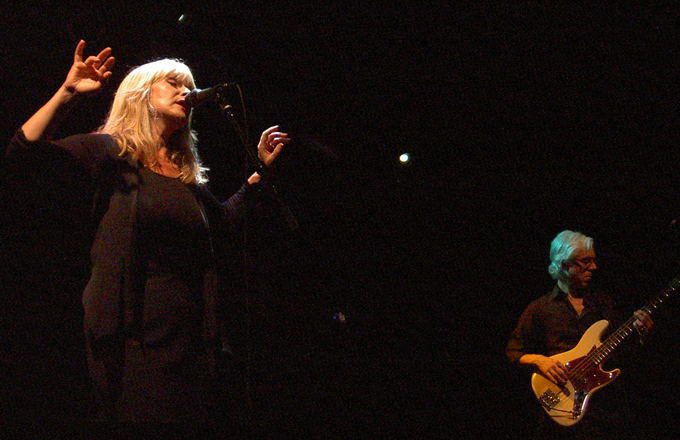 While complex in nature, songs like Fragment Pool and Pebble were nonetheless ear and brain-friendly - it all had a flow to it that drew you in and held your attention. Sea Of Size was one of the highlights of the set - a piece that drifted through the air and oozed a quiet sort of power. Wong, Rieflin, and the Igor with no last name created an interlocking tapestry for Toyah Willcox to glide over. Most impressive. Quicksilver and Telekinesis, both from the 1st Humans disc, were audio fairy tales for adults - bizarre little tales of life, slightly skewed. Twisted Soul led to the massively electric Put A Woman On The Moon, and the show ended with the caffeine rush of Demigod. The fun romp that was their cover of These Boots Are Made For Walkin' served as encore. An incredible evening! Bring this band back as soon as humanly possible!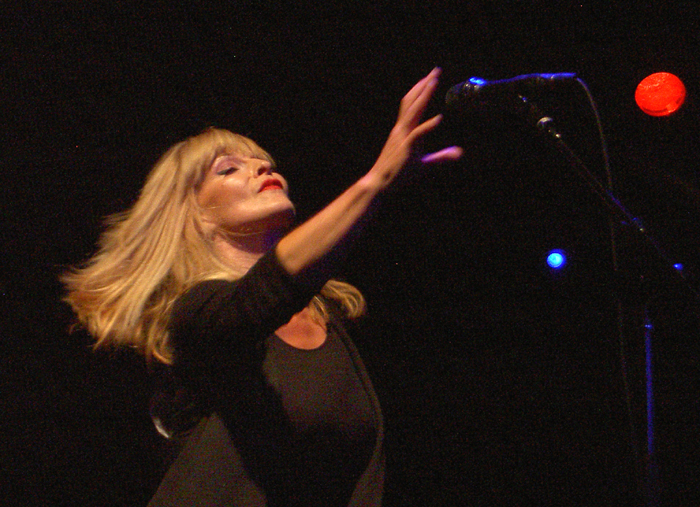 The Zombies - Wolf Den @ Mohegan Sun, Uncasville, CT 9/24/11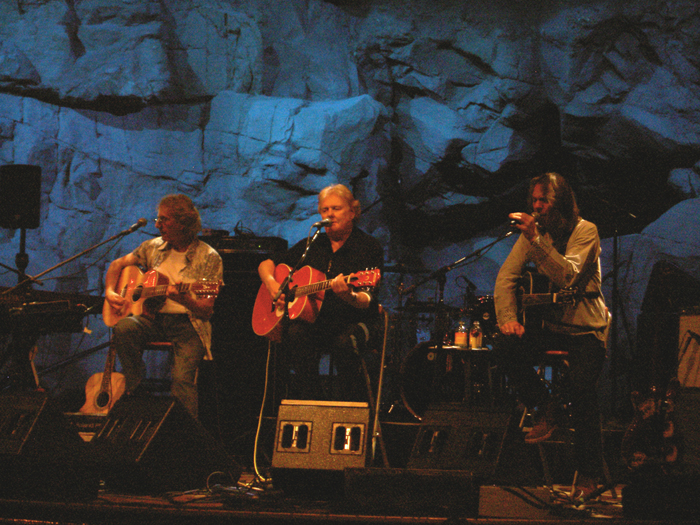 What an unusual and fine double bill: the Zombies (on their 50th anniversary tour) and the Strawbs (in acoustic trio mode). The pairing really worked well! Strawbs opened the show. The line up for this tour was Dave Cousins, Dave Lambert, and Chas Cronk. The set commenced with the beautiful Benedictus, glowing with lush harmonies and taking us straight into Simple Vision. 2 numbers full of positive sentiment. They were contrasted with the anger and melancholy of New World and Oh, How She Changed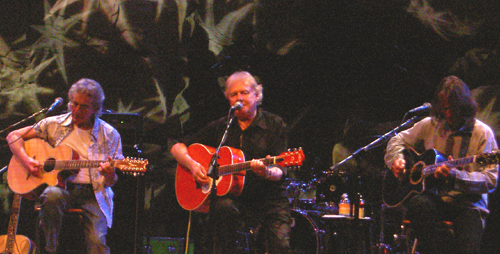 Before the show, I was listening to the band run through a sound check. Standing next to me was a Vietnam vet who'd never heard of the Strawbs. These guys are goooooood! he confided with a smile. I nodded in agreement. Ghosts was a thing of glory - still so very grand. Copenhagen was a fine love letter to Sandy Denny with Cousins telling a sweet story before the number. The set concluded with Autumn and Lay Down performed to perfection. That set alone would have been a more than satisfying evening of music, but there was even more to come!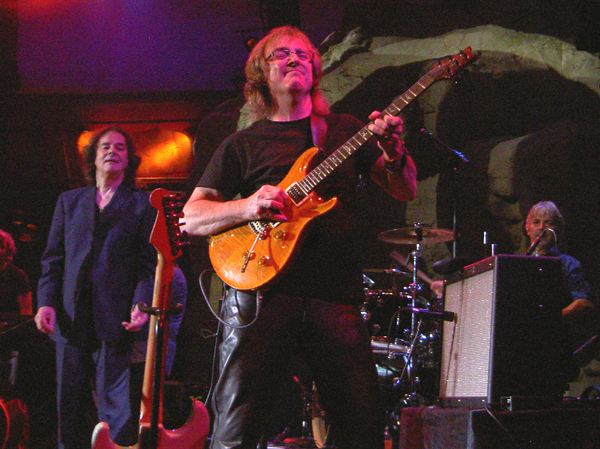 Before this show, I'd never had the pleasure of seeing the Zombies live. I was in for a real treat. Founders Rod Argent and Colin Blunstone were joined by former Argent / Kinks bassist Jim Rodford; his son Steve Rodford on drums; and guitarist Tom Toomey completed the line up. The band began on a high energy note with I Love You, Breathe Out Breathe In, and What Becomes Of The Broken Hearted. Blunstone has not lost a step - his voice strong and distinctive - one of the greats. I Don't Believe In Miracles, Show Me The Way, and Any Other Way were next. A nice blend of new tunes and classics. Speaking of classics, the band next performed a clutch of songs from Odessey And Oracle starting with the delicate A Rose For Emily. Care Of Cell 44, This Will Be Our Year, and I Want Her, She Wants Me showed why this album is so well regarded.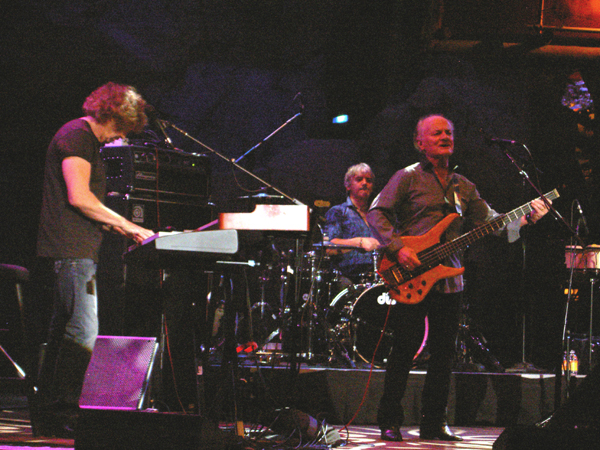 Time Of The Season concluded the visit to Odessey And Oracle on a crowd pleasing note. Play It For Real, A Moment In Time, and Whenever You're Ready went from strength to strength. The triumvirate of Tell Her No, the Argent classic Hold Your Head Up, and She's Not There brought the evening to an exciting conclusion. A winning evening for my smiling ears!

ABBA The Music - Wolf Den @ Mohegan Sun, Uncasville, CT 9/9/11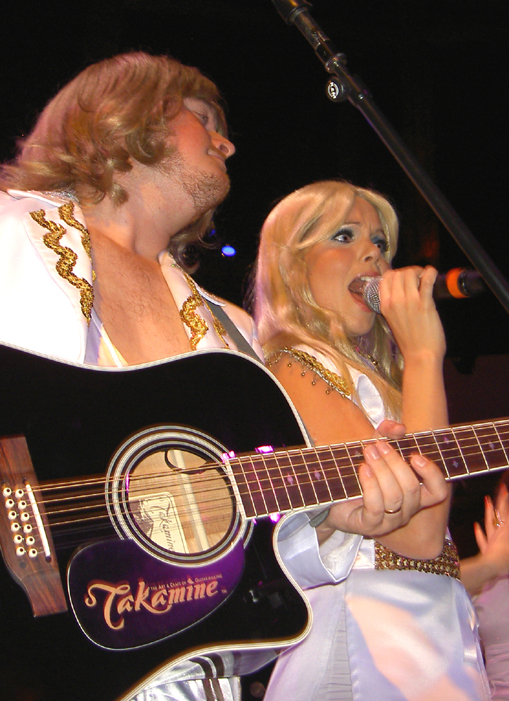 Much to the puzzlement of many a prog listener, I've always been a dyed-in-the- wool ABBA fan. Get pop writing, immaculate vocals, and that sheer ABBAness - I just eat it up. I'd seen this band back in '09 and they blew me away. This time out, 2 new girls sang the Agnetha & Frida parts and were every bit as impressive. The set was a fine balance of hits and a few rare tracks thrown into the mix. The sound of a helicopter landing took us all into Tiger which flowed effortlessly into Knowing Me Knowing You and Money Money Money. Joining the band for several tunes was ABBA studio sax / flute man Johan Stensgard who added his magic to Why Did It Have To Be Me and Chiquitita. No sooner did Stensgard take temporary leave of the stage than ABBA bassist Mike Watson joined the band. Watson added his fluid lines to The Name Of The Game and Take A Chance On Me to great effect. His playing spurred the band to an even higher level.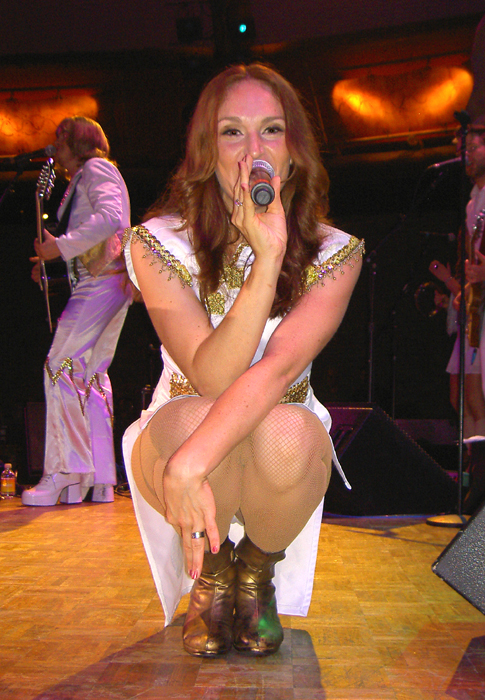 The guys took the lead on Rock Me as the girls went offstage for a costume change. They returned in new garb for rousing versions of Waterloo and S.O.S.. After Mamma Mia they were off again, leaving the guys to handle the delightful Suzy Hang Around. The girls were back in blue and white for the beautifully melancholy Eagle. Booties were on the move during Voulez-Vous and the crowd joined the band for a singalong on Fernando.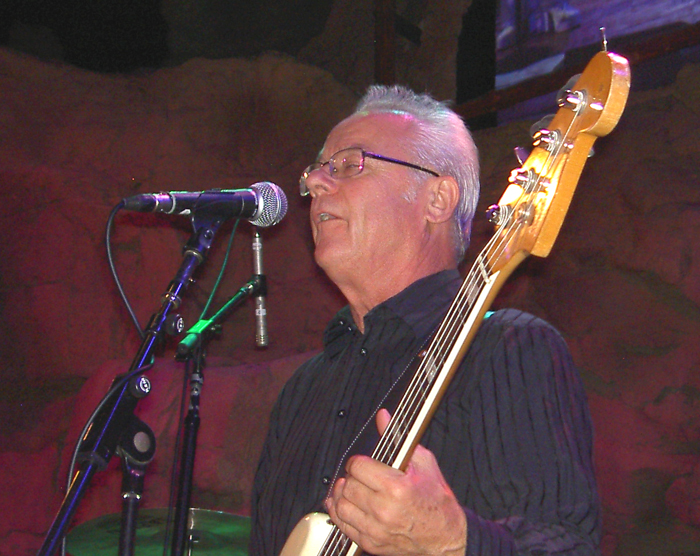 Excellent lead vocals on Super Trouper along with those memorable backing harmonies. The Winner Takes It All was followed by a medley of Lay All Your Love On Me & When All Is Said And Done. The set ended with the bright and bouncy 1-2-3 punch of Gimme Gimme Gimme / Does Your Mother Know / Dancing Queen. The heartwarming Thank You For The Music was the encore. As the last notes from the land of ABBAville reverberated, I was grinning from ear to ear. Magic!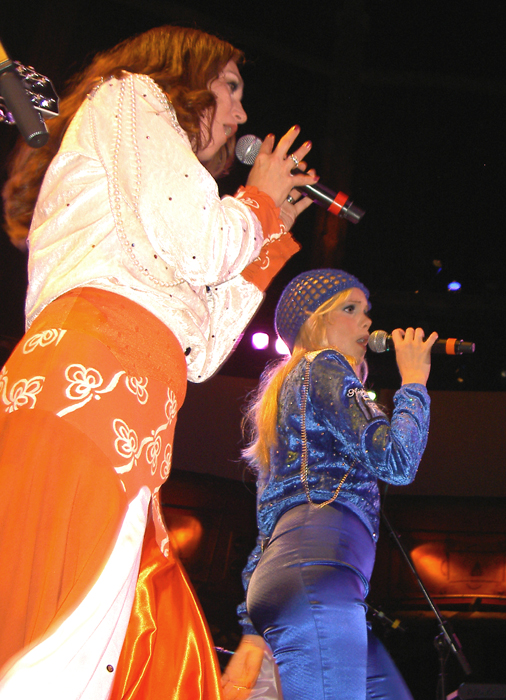 Tusk - City Center, Danbury, CT 8/19/11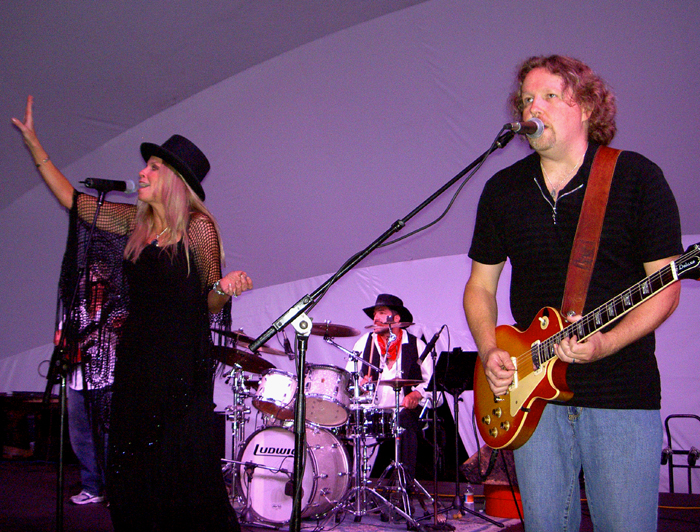 I've always had a soft spot for Fleetwood Mac. From the early blues beginnings to the exotic Bob Welch era to the classic Buckingham / Nicks glory days, it's all been quality music. Tusk pay tribute to the Buckingham / Nicks / McVie / McVie / Fleetwood period and do it to perfection. I braved the pre-show downpour to see them at a lovely outdoor venue and it was worth every drop! Their set opened with The Chain. I was immediately impressed by the rhythm section. Bassist Randy Artiglere and drummer Tom Nelson grabbed my ear with their precision. The vocal harmonies immediately stood out as well. Incredibly faithful to the record. Next up was Dreams with Kathy Phillips singing the Stevie Nicks composition dare I say better than the original. Phillips' voice hit the notes with power and assurance while retaining the character of the song. Kim Williams took on the Christine McVie role for the evening and turned in a strong vocal on Say You Love Me. Rounding out the quintet was Scott McDonald on guitar and vocals. He made Second Hand News shine. Gold Dust Woman and Over My Head were great showcases for the entire band. Big Love brought the energy way up and the subdued Silver Springs brought it back down.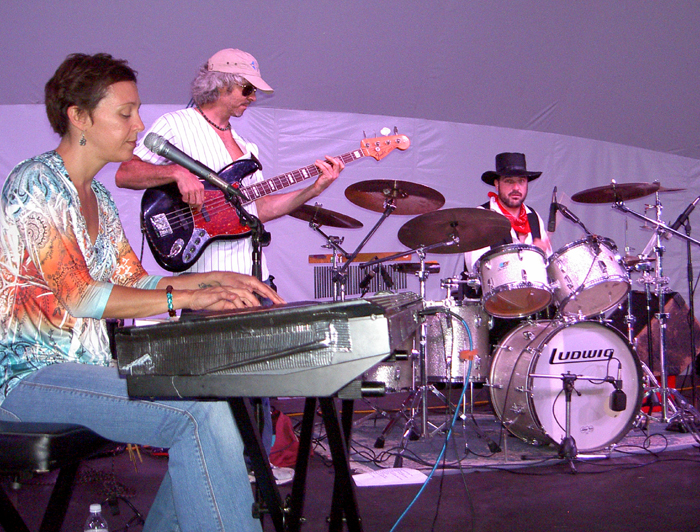 Everywhere led into a brisk take of Monday Morning - a personal fave from this era. Rhiannon, You Make Lovin' Fun, and Gypsy filled the ears of the crowd with hits and they were loving it! World Turning just might have been the highlight of the show with strong vocals and tasty guitar and drum work. Never Going Back was a sweet follow up.




After Little Lies and Hold Me, the guys left the stage to the 2 women, who performed a lovely version of Landslide, with piano replacing the guitar part. The ladies returned the favor, leaving the boys to rock out on Oh Well - representing the blues rock days of Mac. The evening drew to a close with Go Your Own Way, Edge Of Seventeen, and a massive take of Tusk. Don't Stop served as the sole encore - a singalong capper to a totally entertaining evening.

Riders On The Storm - Toad's Place, New Haven, CT 8/12/11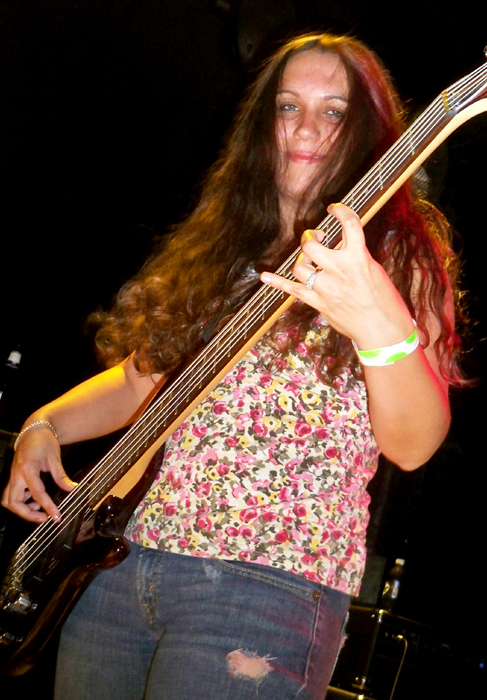 This would be my 4th time seeing Riders On The Storm in concert. Every gig has had its own vibe. This show was no exception. It started on a bland note: a band named Eggy And The Delegates.They played relatively generic jam band stuff with a Grateful Dead feel to it. The next act was a huge step up - Pink Missile. Hard rockin', heavy metallin', good timin' stuff. Pink Missile are a quartet: Danny Acedo on guitar & vox; Jessie May on bass; Rob Diroma on guitar; and Jim Clegg on drums. They played 6 songs: Anush Behosh, Stinky In Pink, Spanish Song, Roadhouse Blues, Satisfyou, 7th Year Dance - not a clinker in the bunch.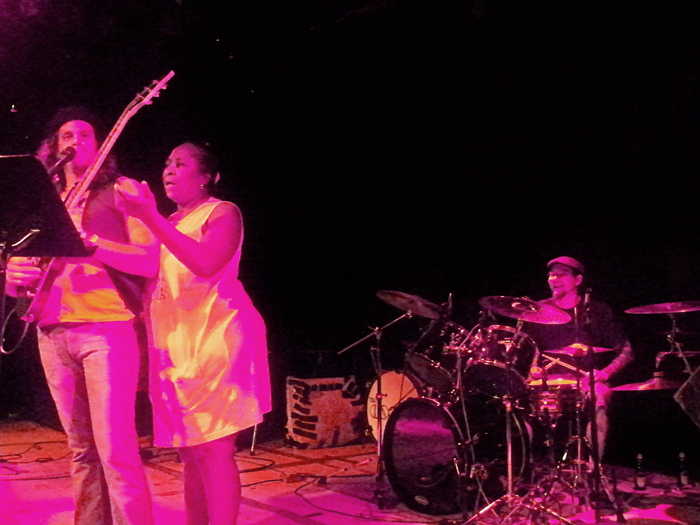 Frontman Acedo was packed with energy and brought tons of personality to the table and a good sense of humor. At one point, an obviously intoxicated woman climbed on to the stage and started grabbing Acedo as she rambled on about dancing and God knows what else. Just an added bonus for those of us out for a good time. The band steamrolled through their set with power and swagger. I have to say, if you have the opportunity to see Pink Missile - do it! I loved every moment of their set!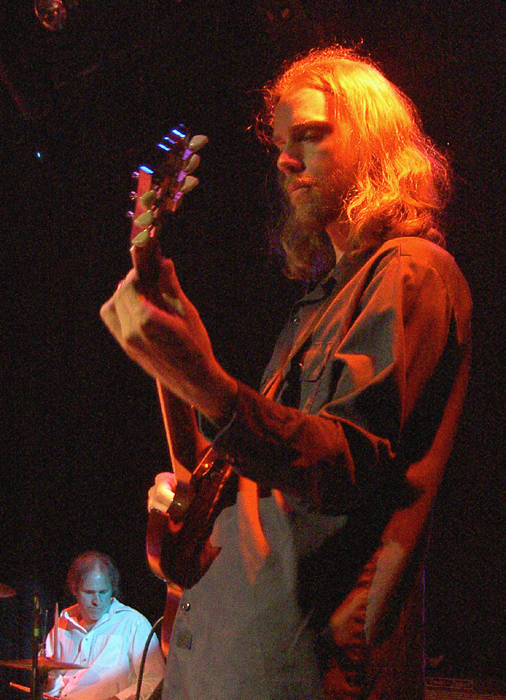 Welcome to the very edge of chaos. Riders On The Storm hit the stage with a very obviously wasted frontman. This would normally be a bad thing, but in this case, it only made it more Doors-like. Been Down So Long, Roadhouse Blues, and Hyacinth House started the set off well. As always, the band was spot on. The vocalist twirled and drifted as he sang Five To One, When The Music's Over, Break On Through, and Ship Of Fools in an alcohol induced haze.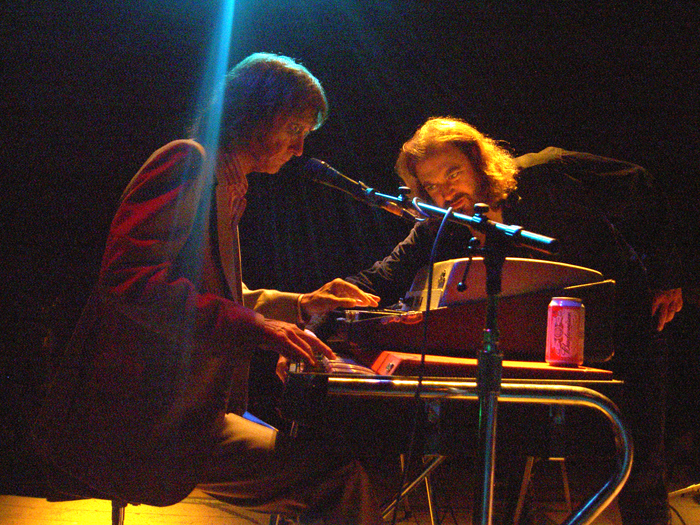 Spanish Caravan, The Crystal Ship, Light My Fire seemed to speed by. The crowd swayed and spun and sang and danced. Riders were playing the soundtrack to a Fellini movie live in front of our eyes. Lost Little Girl seemed very appropriate looking at the faces of the drunk and baked. Riders On The Storm, Peace Frog, and Love Her Madly brought the set to a close. As the band returned, we were asked "Are you in?" Everyone was. The End brought the band and the crowd and the club and maybe a small part of the universe together. It wasn't a show so much as a gathering. Boozers, losers, jocks, freaks, stoners, geeks, animals unite!

Kashmir - City Center, Danbury, CT 7/22/11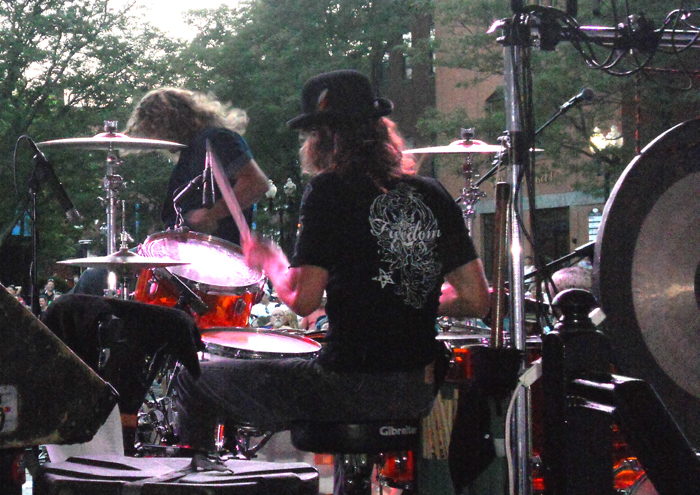 If I told you I was going to see Jean Violet, Andy Urban, Matt Stanley, and Paul Cooper in concert, it might not impress you. But if I told you I was going to see Kashmir do an absolutely stunning Led Zeppelin show, you'd most likely join me at the gig! The concert took place outdoors on a beautiful, warm Summer evening on the green at City Center in Danbury. It was most definitely an all ages crowd ranging from small fry to folks old enough to be my Dad. All to hear some Zep in the moonlight. Kashmir put smiles on every face.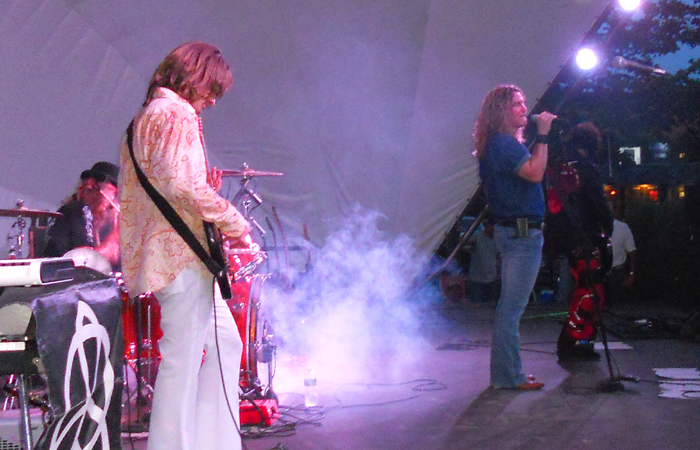 They started things off rather appropriately with Rock And Roll. From the get go, I was impressed. Kashmir had the chops, had the feel. It was all very organic. The Ocean, Black Dog, Heartbreaker, Livin' Lovin' Maid - all spot on. Violet was Robert Plant. It felt natural, it felt right. Custard Pie, Wanton Song, Ramble On, Good Times Bad Times - faithful 100%. Yet, they breathed, the songs breathed as if they were just written. Little kids started running up to the lawn just in front of the stage to dance. This was new music to them and it made them smile and made them want to dance and run. It was energy. The Rover and Dazed And Confused closed out the first set. By the way - I might have forgotten to write down a song here - I was so caught up in the fun!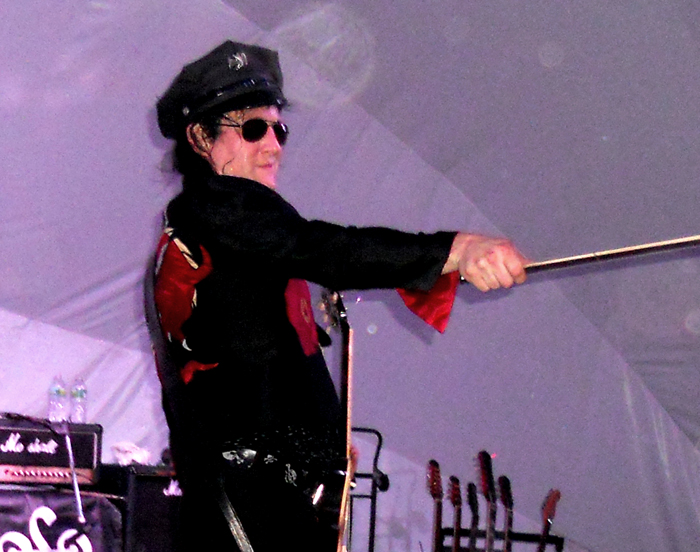 Young children sat on the apron of the stage for the second set opener - Stairway To Heaven - as if it was story time. Quite a sight! Urban, on guitar, had Jimmy Page's licks nailed. Respectful, confident, wild. The Song Remains The Same, Over The Hills And Far Away, Immigrant Song blazed onward. Whole Lotta Love segued into the middle section of Achilles' Last Stand, which then bridged into a hot take of Communication Breakdown. What Is And What Should Never Be brought us to Moby Dick with a propulsive drum solo by Cooper, pounding out a barehanded section minus sticks. This guy was great! Stanley traded his solid bass playing for keyboards on Misty Mountain Hop, and the set closed with How Many More Times. Lemon Song was the encore - all attitude and bluesy licks. Kashmir did Zep proud! Quite a gig!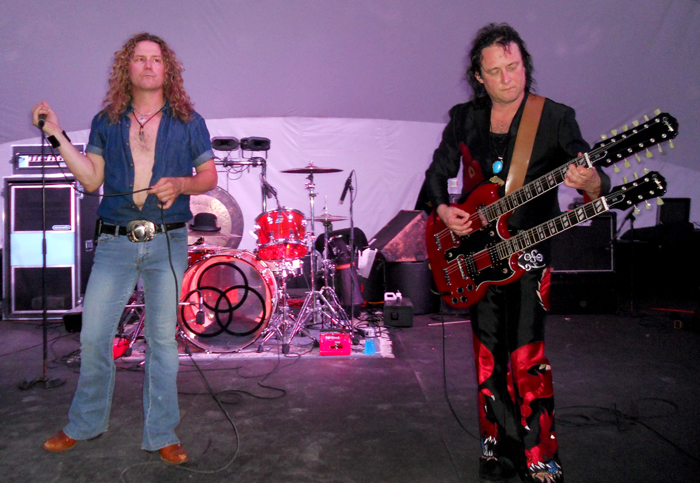 Yes & Styx - MGM Grand @ Foxwoods, Mashantucket, CT 7/8/11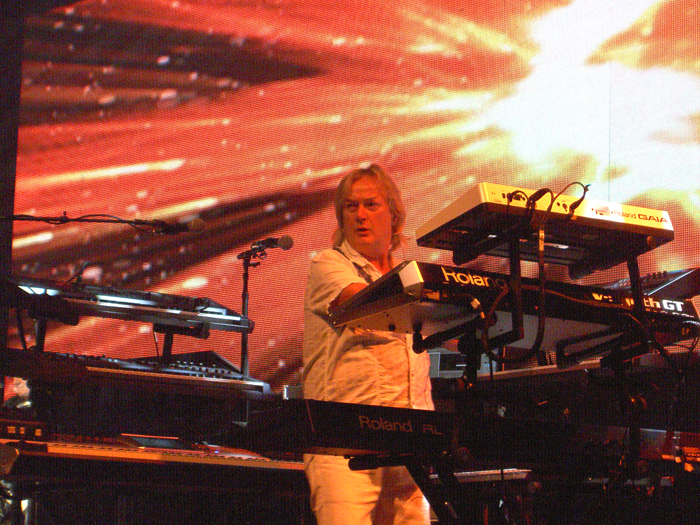 Quite an interesting pairing: Yes and Styx. Over the years, I've seen Yes on many occasions but never had the pleasure of seeing Styx live, so I was highly anticipating this double bill. Yes were up first for this gig. With Geoff Downes returning to the keyboard slot for the first time since the Drama tour, it was rather fitting that this show opened with Tempus Fugit. Downes and Steve Howe were especially hot on this one. Next was Yours Is No Disgrace. A bit slower than the original, but it allowed it to breathe behind Howe's guitar solos. Vocalist Benoit David was just terrific! Everyone had a moment to shine on I've Seen All Good People and the crowd sang and clapped along. Yes have a new album called Fly From Here and played the single from it - We Can Fly. The piece was full of positive atmosphere with a strong chorus and great keyboards. It was nice to see that the crowd ate it up - roaring their approval as the number ended.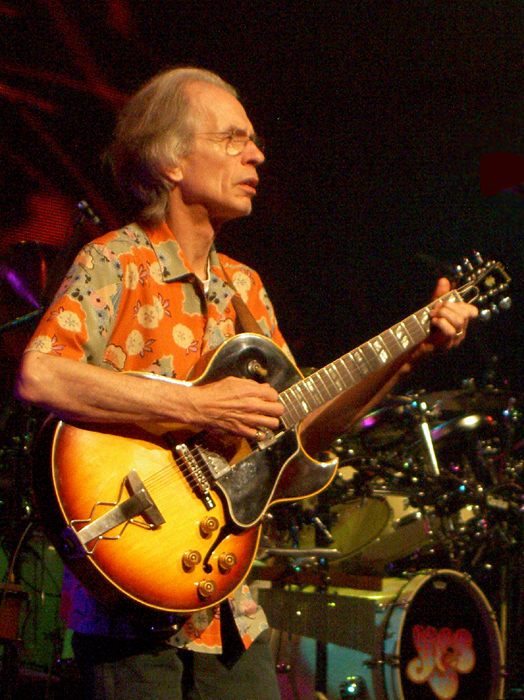 And You And I came next - one of the nicest live versions of it in many a moon. Alan White's drums were majestic and Chris Squire's bass was understated and elegant. Benoit David soared. Howe's pedal steel drove the song home. Easily the highlight of the night! Owner Of A Lonely Heart got a new coat of paint with Howe finally putting his own solo in the main solo spot, and Downes adding crisp textures on the verses. The main set closed with a strong Roundabout, and the encore of Starship Trooper saw Downes add some showmanship by soloing on keytar in the latter third of the song. Every version of Yes has a distinct character to it. I found this one to be wonderfully engaging, full of charm. I hope this line up stays together for many years!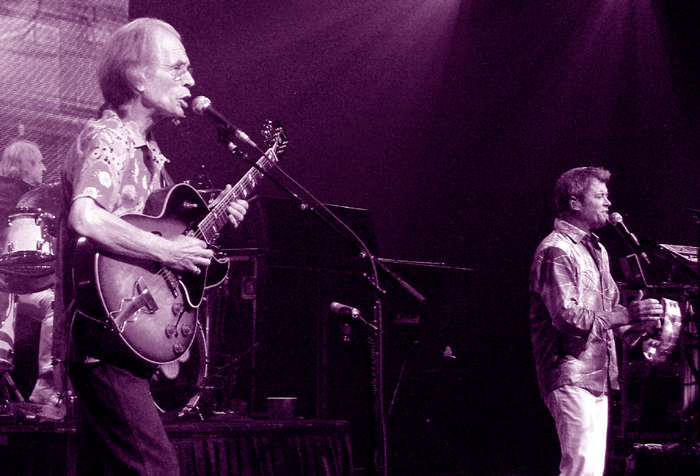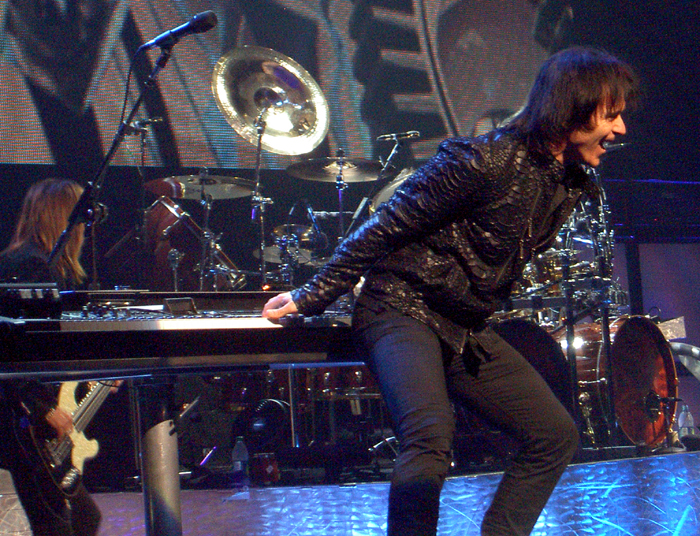 Styx are most definitely aggressive showmen. Lots of posing, running, physically engaging the audience. J Y Young and Tommy Shaw represented the old guard of the band. Lawrence Gowan on keys and vocals, Ricky Phillips on bass, and Todd Sucherman on drums rounded out the quintet. As soon as they hit the stage, they immediately flew into Blue Collar Man. I was immediately hit by how tight the vocal harmonies were. Young and Shaw were very locked together as well. Grand Illusion and One With Everything were equally tight. Phillips and Sucherman were the driving force behind Too Much Time On My Hands. Gowan was the focus for me in the set - a dervish in motion - playing the keyboards backwards, spinning, jumping, posing. Theatrical, dramatic, yet always wink a bit of a fun wink to him. Lorelei and Man In The Wilderness kept the good times going - the show never let up!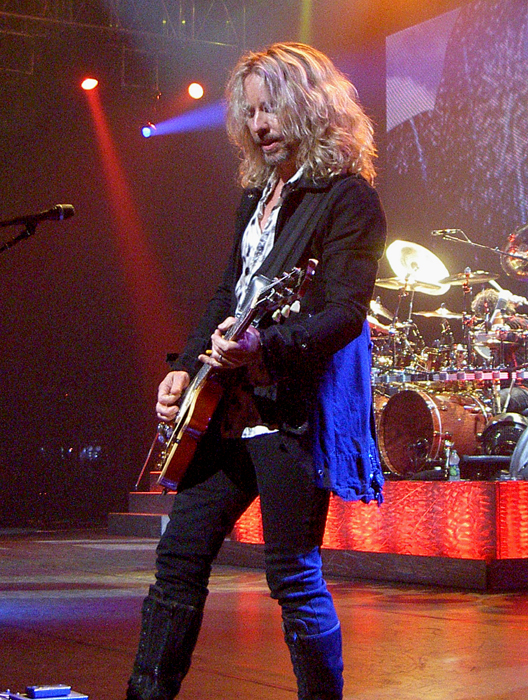 Suite Madame Blue and Fooling Yourself were the musical highlights of the set - Shaw's vocal on the latter just awesome. After Miss America, Gowan started a call and response with the eager crowd. "This is where we separate the classic rock fans from the prog fans" he teased. He then shouted "twenty first century" as a good portion of the crowd hollered "SCHIZOID MAN!" in return. Call and response took us to the set closing Sail Away. The audience were on their feet and shouting as they got the much deserved encore of Renegade. This was a night of 2 bands celebrating decades of entertaining fans worldwide. I'm still smiling!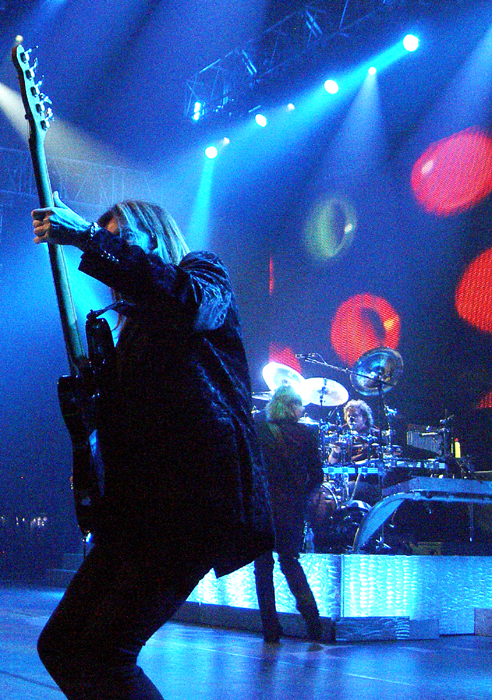 Uriah Heep - Ridgefield Playhouse, Ridgefield, CT 6/25/11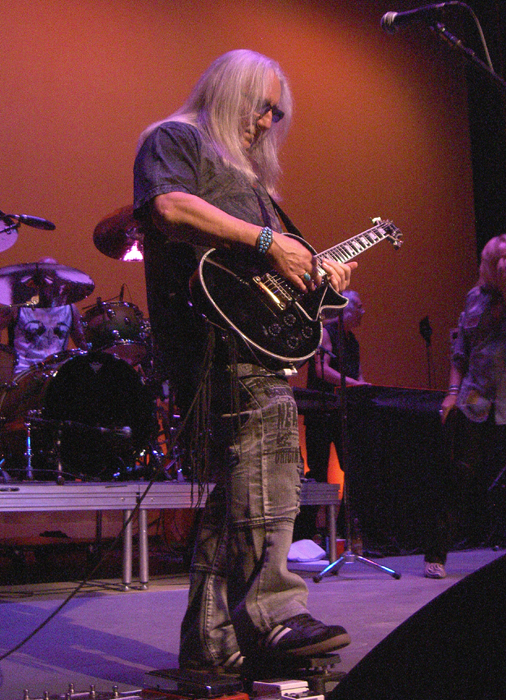 Why are Uriah Heep still around after 4 decades? This show at the Ridgefield Playhouse gave the answer: they rock hard and rock well. The Heep were on the road for their latest release Into The Wild. Currently, Uriah Heep is founder Mick Box on guitar, former Spider From Mars Trevor Bolder on bass, Bernie Shaw on vocals, Phil Lanzon on keys, and Russell Gilbrook on drums. They muscled their way on stage with a new number: I'm Ready. It was a very high energy piece leading into 2 classics - Return To Fantasy and the singalong Stealin'. A very nice surprise followed - Rainbow Demon. I never thought I'd hear that one live! 2 more new pieces - the gut punching Money Talk and the heavy Nail On The Head. In between, Russell Gilbrook turned in a dazzling drum solo. Stellar!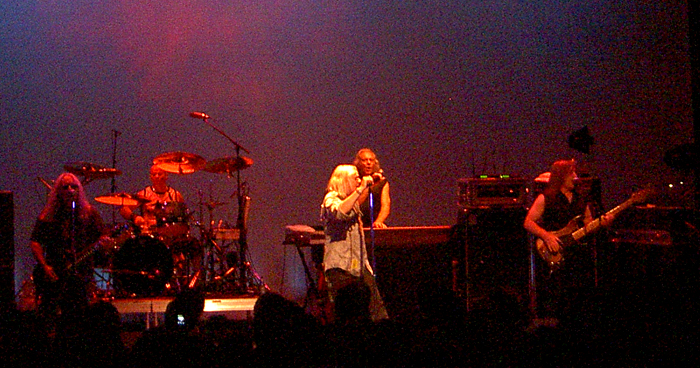 Mick Box on acoustic guitar and Phil Lanzon on keys led the way on The Wizard. The title cut from Into The Wild kicked hard. Back to the earliest days of the band for Gypsy and Look At Yourself, then a trip to the land of power ballads for the last new number - Kiss Of Freedom.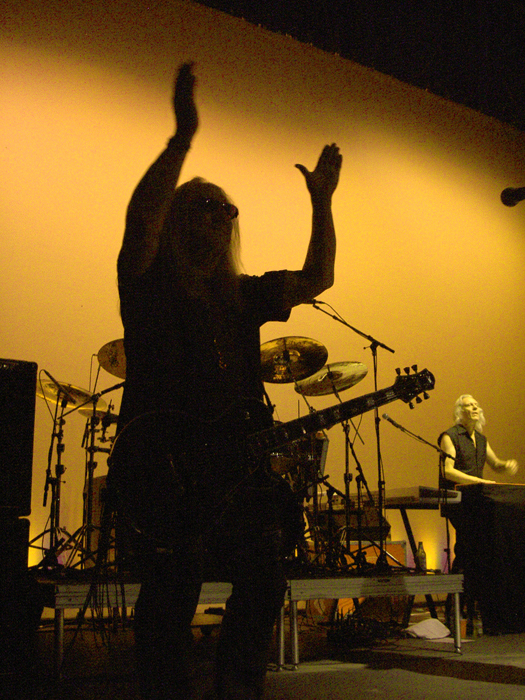 The main set closed with 2 more classic numbers - July Morning and Lady In Black. They sounded as fresh today as they did 40 years ago. The band brought some headbangers onstage to have a bash during the first encore, Free 'N' Easy. You could see that Heep were having fun. Bird Of Prey and Easy Livin' brought the evening to a conclusion. I'm very happy to say that Uriah Heep still deliver. The band has a sound that never gets old. This is the rock n roll you want every night! Very 'eavy, very 'umble!

Robin Trower - B B King's, NYC, NY 6/16/11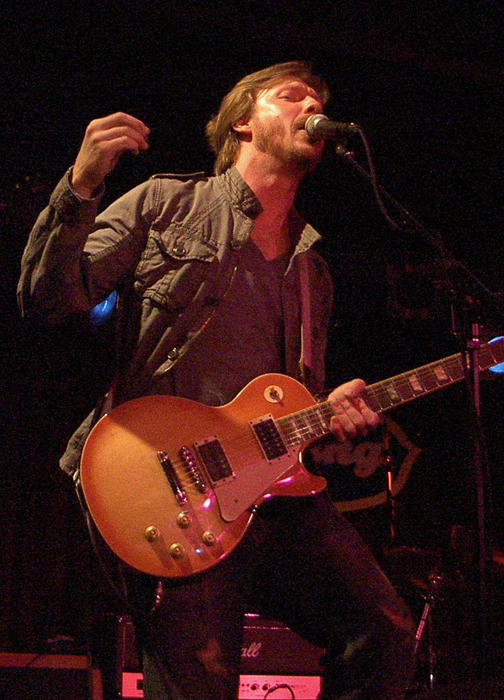 Once again, it was time to see the man himself: Robin Trower. First, though, an opening act - blues rocker Jamie McLean. I'm very pleased to say that McLean's trio were pretty damned hot! Backed by solid bass & drums, McLean tunes like Open Up and Cupid's Greatest Thief featured fine vocals and smokin' guitar. Their 35 minute set flew by. McLean is headed straight for the big time!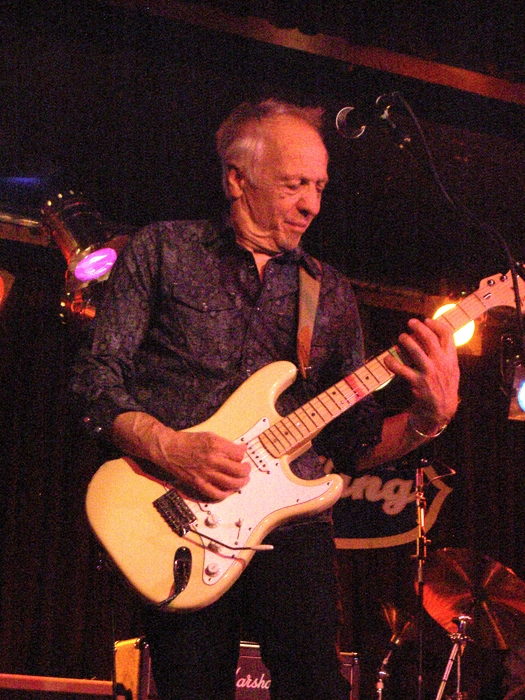 Just past 9, Robin Trower hit the stage. Backed once again by drummer Pete Thompson, vocalist Davey Pattison, and bassist Glenn Letsch (the latter 2 formerly of Gamma), Trower wasted no time jumping into an electrifying version of Confessin' Midnight. Lady Love and Somebody's Calling quickly followed. Trower's guitar was blazing away, stronger than ever. He slowed the vibe down with For Earth Below - aided by a compelling vocal from Pattison. Twice Removed From Yesterday brought us to the immaculate pairing of Day Of The Eagle and Bridge Of Sighs, with Trower's Strat moaning mysterious tales over Letsch's lurking bass.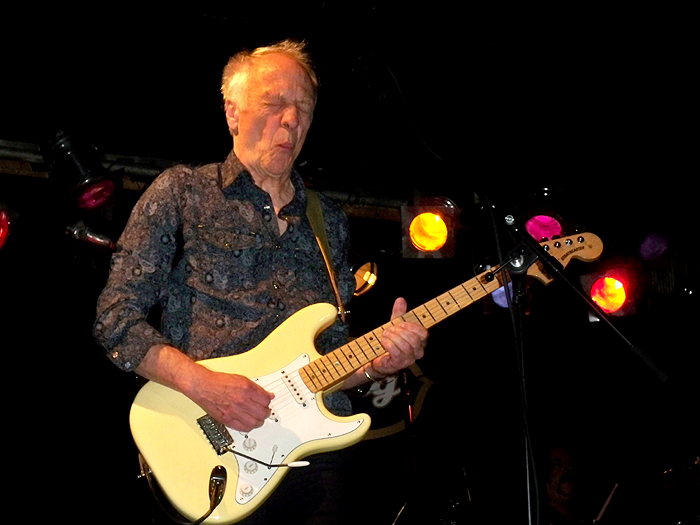 Shame The Devil, driven by Letsch and Thompson, kicked so much ass I was surprised that medics weren't called in! A long, glorious take of The Turning led to the set closing duo of A Little Bit Of Sympathy and Too Rolling Stoned. Rise Up Like The Sun and Daydream were the encores. This band and performance were a perfect example of what rock can aspire to. Aural nirvana. Emotion, power, inspiration, celebration. Trower stands proud atop a peak where few dare tread. As essential as it gets!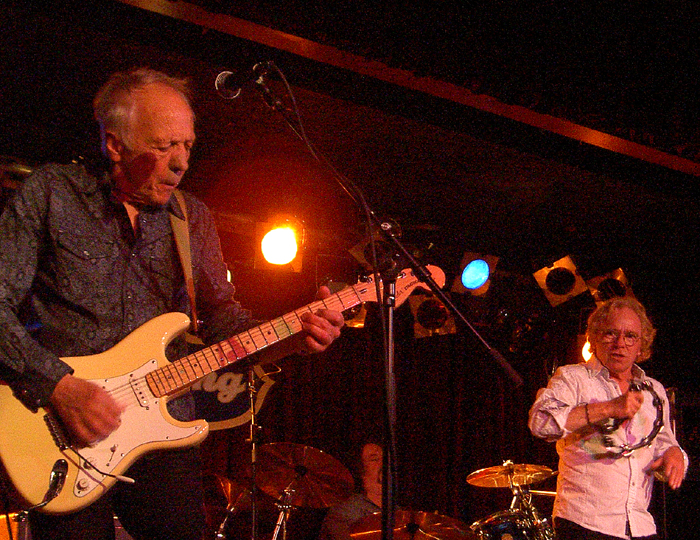 The Five Browns - Palace Theatre, Stamford, CT 5/7/11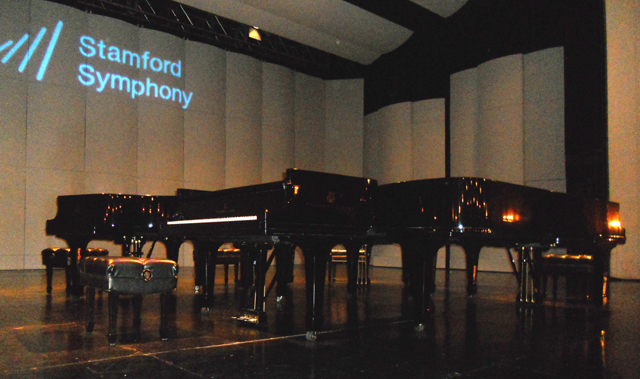 Technical ability can be a great thing, but really only goes so far. There needs to be more. There needs to be that something extra that keeps you riveted. The 5 Browns have that something extra X 5. They are 5 siblings - 3 sisters: Desirae, Deondra, and Melody; and 2 brothers: Ryan and Gregory. They're all graduates of Julliard and top shelf pianists. The show was simply the 5 of them at 5 Steinway grand pianos playing together, solo, and in pairs.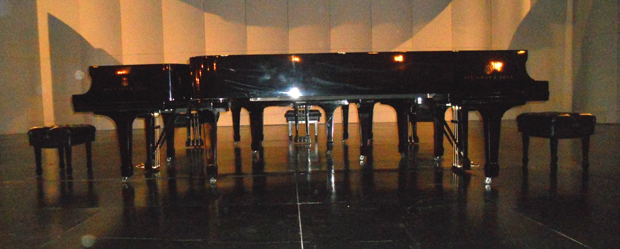 The quintet started strong with 3 pieces from Holst's The Planets: Mars, The Bringer Of War, Neptune, The Mystic, and Jupiter, The Bringer Of Jollity. I was especially fond of the exotic feel of Neptune with that eerie melody. Brother Ryan took a solo spot with a fierce performance of Rachmaninov's Prelude In G Minor. His playing was nothing short of stunning! In contrast, sisters Desirae and Deondra were all about bringing beauty and a delicate touch to Brahms' Sonata In F Minor, Scherzo (Allegro). The 5 reunited for a dreamy pastel of John Novacek's Reflections On "Shenandoah" - chords & melodies drifting from piano to piano in soft circles. Melody took a solo spot on 2 pieces: Bach's Nun Freut Euch, Lieben Christen Gmein - which flew at a breakneck pace, and Gluck's lovely Dance Of The Blessed Spirits. That girl played her heart out! The first set drew to a close with the 5 playing a 3 song suite of Herrmann pieces from Alfred Hitchcock films: Psycho: Prelude, Vertigo: Scene D'Amour, and North By Northwest: The Wild Ride. Virtuosity, emotion, and cinema for the ears brought us to the break!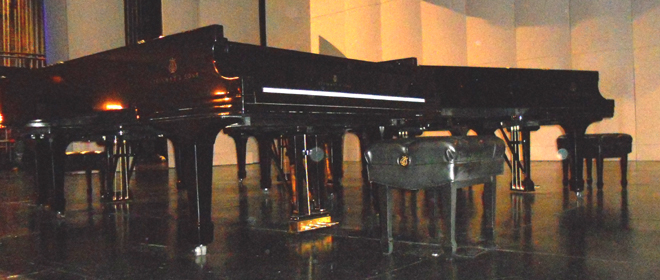 The force was with the 5 when they opened set 2 with John Williams' Star Wars: Suite For Five Pianos. They interwove pieces from all the Star Wars films to great effect. Truly thrilling. Desirae and Deondra once again paired to perform Bernstein's main title from To Kill A Mockingbird. It was full of melancholy and grace. Melody soloed once more with Henry Cowell's The Tides Of Manaunaun - an unusual number with surging clusters of notes and a feel of the ocean. Dario Marianelli's theme from the film Atonement followed - a haunting piece. Gregory gave us Liszt's acrobatic Hungarian Rhapsody No 2, positively flying across the keys! The set concluded with a fun and spooky arrangement of Saint-Saens' Danse Macabre For Five Pianos, and we also were treated to an encore of Mozart's Rondo Alla Turca. The show had lots of familiar pieces, which I admired - it was a very "family friendly" set and sure to bring many younger ears to the wonders of all things classical. Bravo!

3 - The German Club @ New Haven University, West Haven, CT 4/28/11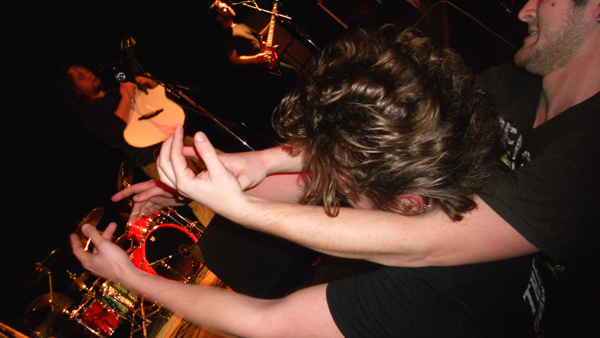 I've lived in Connecticut the entirety of my all-too-soon-to-be 51 years, yet I never knew we had New Haven University. It's about five minutes off I-95, in West Haven. Everyone I ran into there was super friendly and helpful. They pointed me to the German Club in short order. I got to the gig super early, so I took in some of the campus and chatted with a student or three. 3 drove in and I helped them load in. Kicked back a bit til showtime.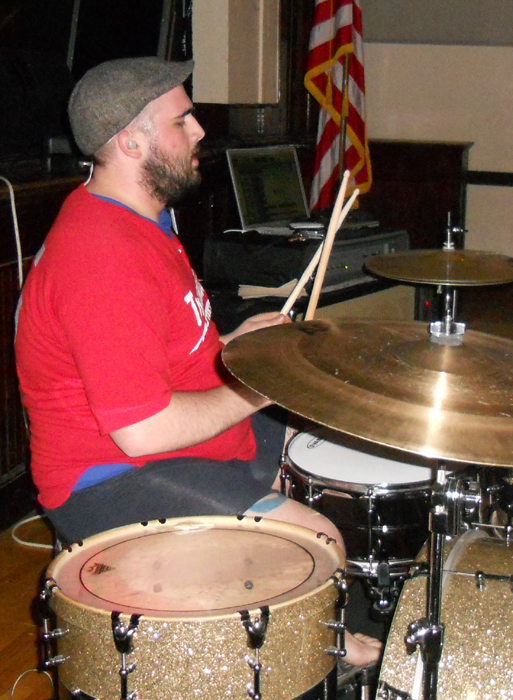 First on the bill was Wess Meets West. I enjoyed this band quite a bit. With the exception of a shouted line or two, they were instrumental and very experimental. Pieces like We Don't Have Our Fathers Fathers Wars To Make Us Men and The Mountains Are Shaking At Their Roots were loaded with buzzes and blips, textures and vocal samples. The music really drew me in - I felt like I was experiencing something unique. Wess Meets West's set was short but powerful.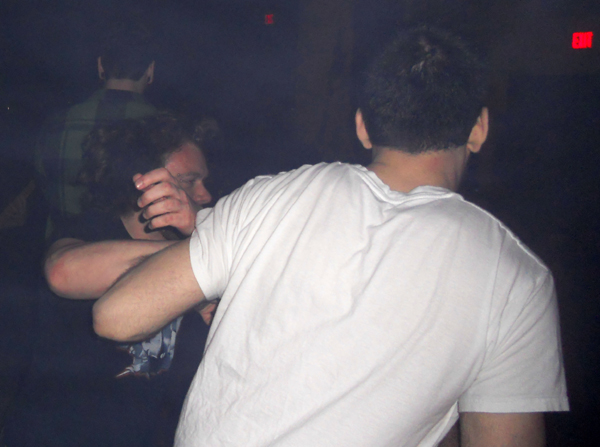 Next up were Heavy Breath. They were loud and had Cookie Monster vocals. The crowd at this point were far more entertaining than the music that was their backdrop as they moshed. At the same time, in an adjacent room, it was Mohawks For Mitchell Dubey. Dubey was murdered in March and students came up with the Mohawk idea in tribute. Very creative way of turning grief into something positive. I applaud the students for their lovely effort.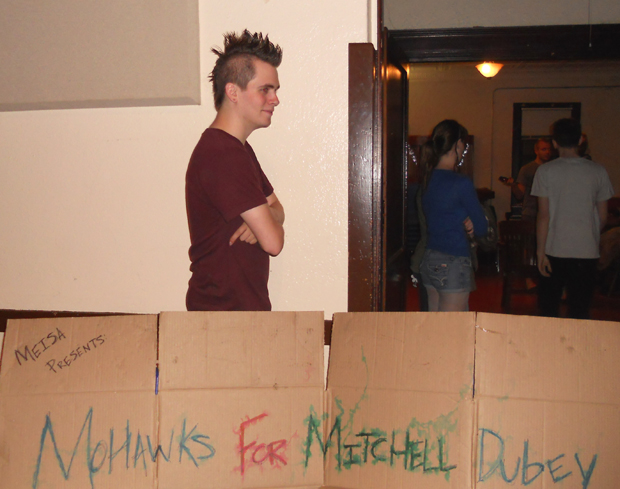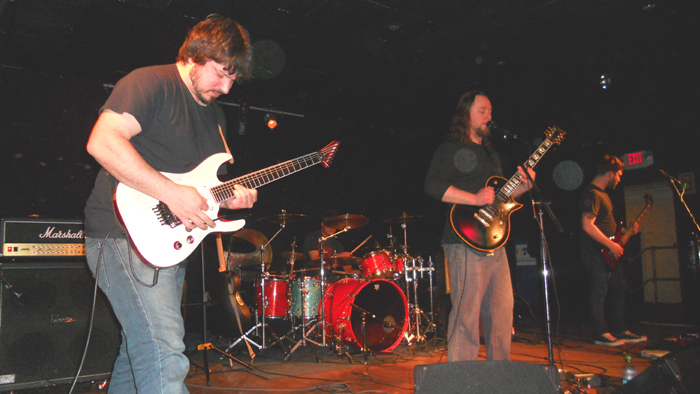 I last saw 3 in the summer of 2008, so I was champing at the bit! My Divided Falling and Battle Cry started the set off with a burst of energy. For this gig, 3 were a four piece: Joey Eppard on guitars & lead vox; Billy Riker on guitars; Dan Grimsland on bass; and Chris Gartmann on drums. The next number was a new song called Numbers from the next album due this fall. The band followed this with the 1-2-3 Red Bull kick of All That Remains / The Word Is Born Of Flame / The End Is Begun. More new material : Siren Scopuli / React / Sparrow / High Times. High Times had this great anthemic feel to it. Although new, I was already singing the chorus by the end.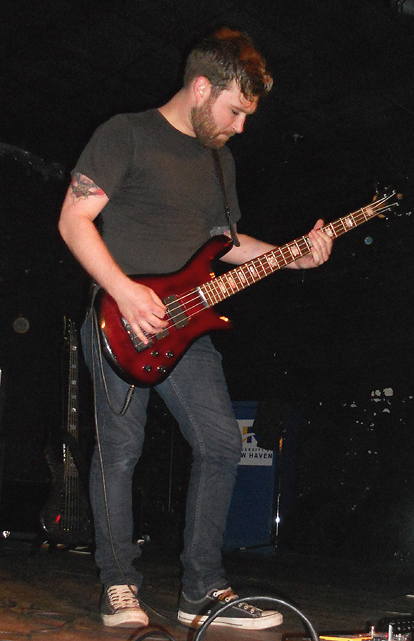 Earlier in the set, one of the crowd screamed for Serpents In Disguise - they got it in all its glory! Eppard talked about the John Carpenter film They Live and how it was the basis for Alien Angel before launching into a fierce version of it. There was a strong connection between band and crowd that was tangible. No walls here! These Iron Bones and a particularly hot version of Queen came next. The set surged to a close with Dregs / Bramfatura / Paint By Number (with a powerful solo by Gartmann!) / Amaze Disgrace.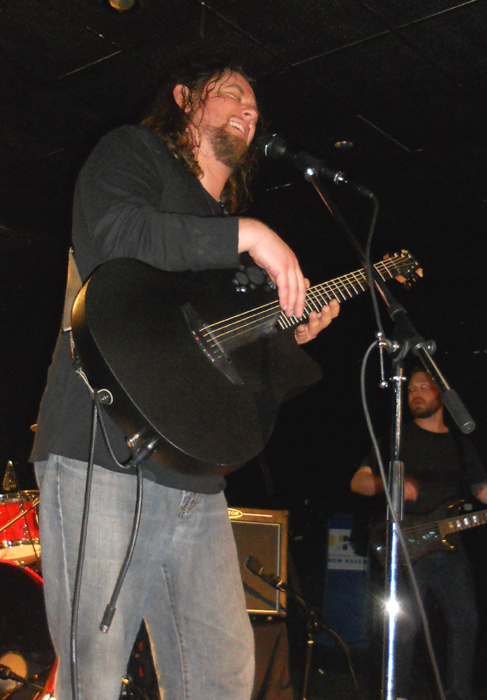 Encores were a funkified America Needs A Miracle and a spot on cover of Purple Rain. So much to absorb. Riker & Eppard were wildly inspiring, playing mind-blowing licks and equally inventive textures. Grimsland was a jet engine on bass when he needed to be, and subtle as hell on a piece like Sparrow. This was the first time I saw Gartmann without his percussive partner Joe Stote. I'm happy to say that Gartmann covered all bases and drummed with the fury of three drummers! I don't want to sound like a teenage fanboy, but what a great fuckin' gig!

UK - The Highline Ballroom, NY, NY 4/11/11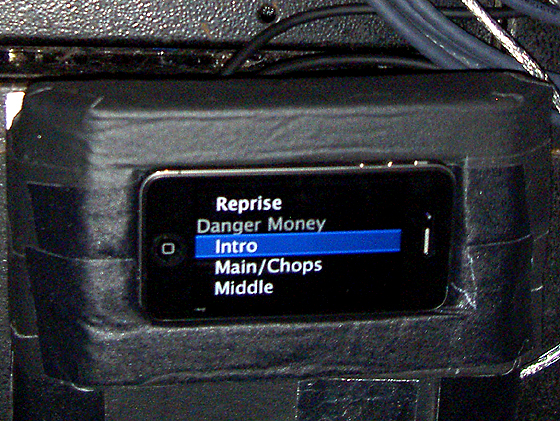 As you all know, UK like to rest between tours. So, some 32 years after their last tour, they've hit the road again. Eddie Jobson and John Wetton recruited Alex Machacek and Marco Minnemann for the guitar and drum slots. Both men acquitted themselves well at the groovy Highline Ballroom in NYC. UK hit the stage at about 8:16 in the PM, firing an opening salvo of In The Dead Of Night / By The Light Of Day / Presto Vivace And Reprise. The crowd roared their approval as the band roared back with Danger Money, Thirty Years, Alaska, and Time To Kill. Wetton was in great voice this evening and Jobson's playing was fierce. Next, they threw everyone a sweet treat with a nod to King Crimson in the form of Starless. A wobble or two in the middle, but it didn't matter as the spirit and the energy were there. This was followed by a scorching Carrying No Cross and solo spots by Minnemann and Jobson.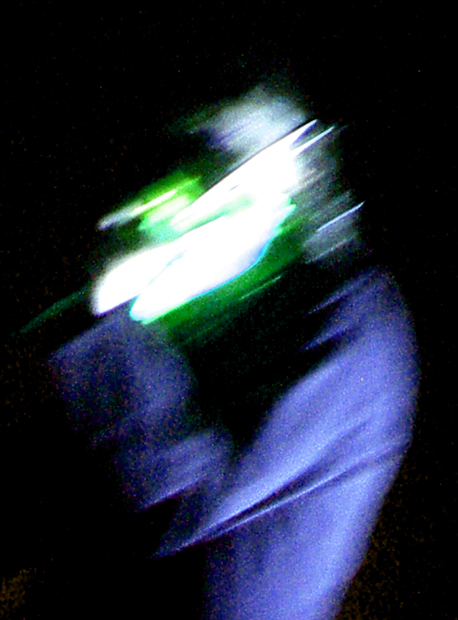 Wetton took stage with only an acoustic guitar and his timeless voice for a delicate Book Of Saturday. The main set closed with a flurry of fury in the form of Nevermore, One More Red Nightmare, Caesar's Palace Blues, and Sahara Of Snow Pt. II. Outrageously powerful! Encores were the appropriate Night After Night followed by The Only Thing She Needs. Jobson and Wetton closed the evening with a simple but very effective Rendezvous: 602.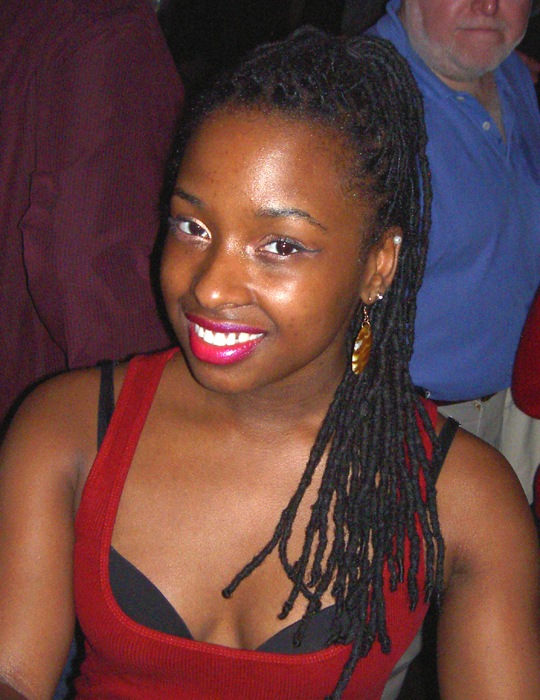 I've been meaning to mention this for a while, and this seems the perfect show to do so. The band is just 1 element that goes into a great show. At the Highline, everyone involved - the woman that checked my name on the guest list, the guy that seated me, my lovely waitress Collette (pictured above), the front of house sound guy, the road crew, and many more - they all play a part in how a show is perceived. From where I sat in a both on the front right, the sound was just awesome - well balanced, loud but not too loud. Collette the waitress was a joy - helpful but never intrusive. The other guys seated in the booth - friendly but silent during the songs! These things do make a difference. I thank them all for allowing me to have a splendid evening enjoying the mighty UK!

Stamford Symphony - Palace Theatre, Stamford, CT 4/10/11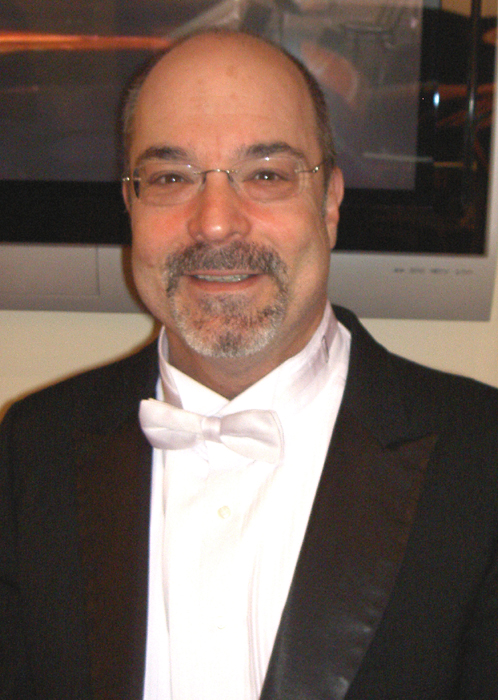 Ah, melancholy. Some things end too soon! The symphony's 2010 / 2011 season drew to a conclusion with 2 very large pieces. The first was Mahler's Symphony No. 4 In G Major. From the opening sleigh bells, I felt I was on a transformative journey. Whisked away to heaven. As the movements segued one to the other, there were wild delights and moments of pure unadulterated beauty. Clearly Mahler had tapped into something special. The piece built to this sense of late evening; I was sure it was about to conclude. Then out came soprano Dawn Marie Wolski singing a childlike melody. It was like the spirit of long forgotten youth. A tender embrace welcoming you home. I was genuinely touched by the simple beauty of it. Near tears, it was a small taste of eternity.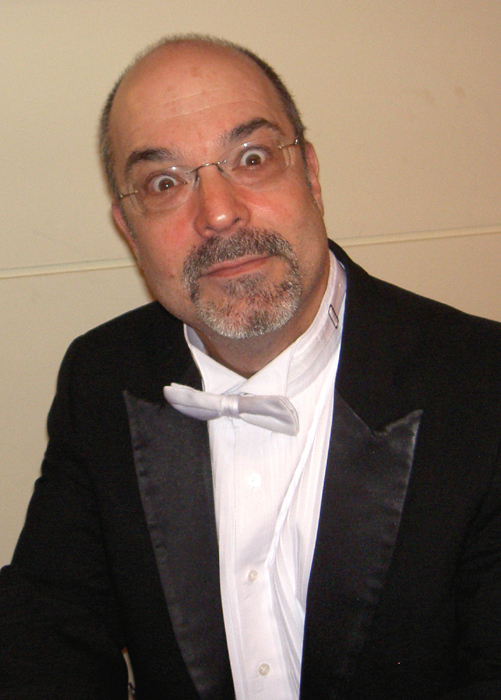 The featured piece for the 2nd half of the day was Brahms' Piano Concerto No. 2 In B Flat Major, Op. 83. It oozed with sublime colors and rugged textures. At times serene and wistful, at others confident and strident. At the center was guest pianist Norman Kreiger. As you can see from the photo above, offstage Kreiger has a great sense of humor. Put him behind a Steinway grand piano, and he's all focus and talent. The piano sings beneath his fingers. Notes sparkle like fine champagne. At times the piano was the solo voice. At others, a component of the whole. Under the guidance of Kreiger and Maestro Eckart Preu, Brahms' concerto came to life in full color with surround sound. Another season drew to a close in a robust fashion. My senses ache for the 2011 / 2012 season already!

Riders On The Storm - Toad's Place, New Haven, CT 4/1/11





A wet, dreary evening in New Haven. An evening that could use a bit of magic to brighten it. Riders On The Storm were the perfect ticket to play away my mood, but there were 6 local bands on before them. Some interesting acts, and some, well.....acts.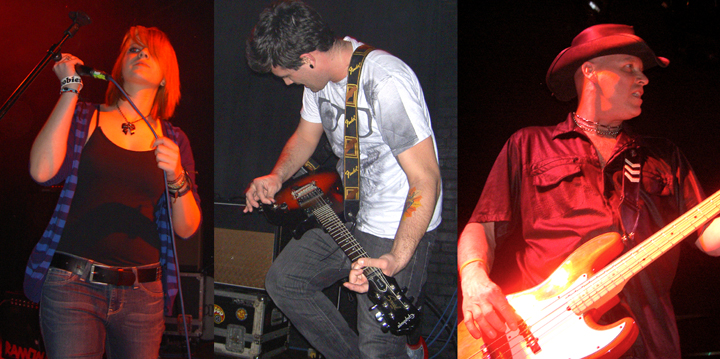 Here's who was on the bill:
Amity - Energetic, kinda punky. Not a bad way to start.
Silver Hammer - Very young band. A few looked to be age 10 or under. I can't decide which was more bizarre: a tiny kid singing lead on Queen's Fat Bottomed Girls, or a preteen looking girl singing Crazy Train. Entertainment of the third kind.
The Runaround - One of the best of the lot. Teen angst songs, slightly off-key but earnest vocals, and some great guitar riffs.
Split For The City - Another nice surprise. The punky sister of Strawberry Shortcake on vocals. Liked a song of theirs called John Wayne Isn't Batman. Lots of potential.
Angry Bears - Earsplitting, loud, wiseass punk. Brought out the moshers! Good humor and a hard pounding drummer that couldn't keep time.
The Bonesmen - The pros of the lot. Very well played Creedence style rock. The only problem? Not a single song that I can remember even the slightest bit about. Well played nothingness.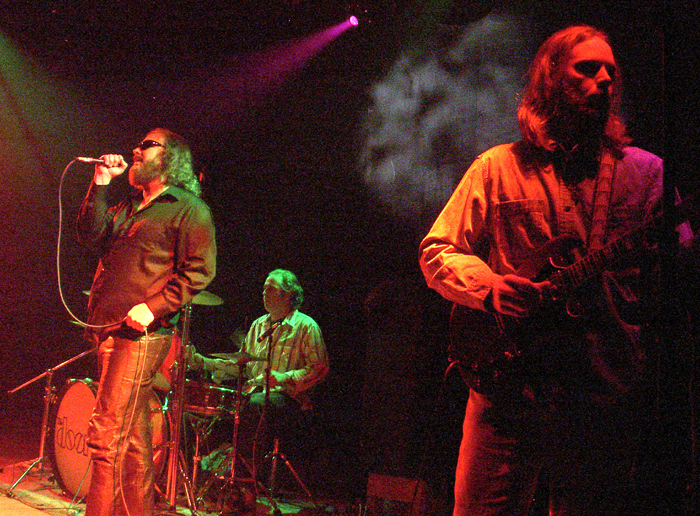 A bit past midnight, Riders On The Storm took the stage. What can I tell you? After seeing this band twice before, I've come to realize that they are The Doors. There is an organic flow to their performances. They don't try to painstakingly create the sound, the feel - it's just there. The set drew upon the known numbers as well as denizens from the vault of obscurity. Roadhouse Blues, Alabama Song, The Changeling, Back Door Man. A great start. The crowd started grooving. 5 To 1, When The Music's Over, Dead Cats, Dead Rats, Break On Through. Even better. Peace Frog started getting folks hot, bringing the energy up and up.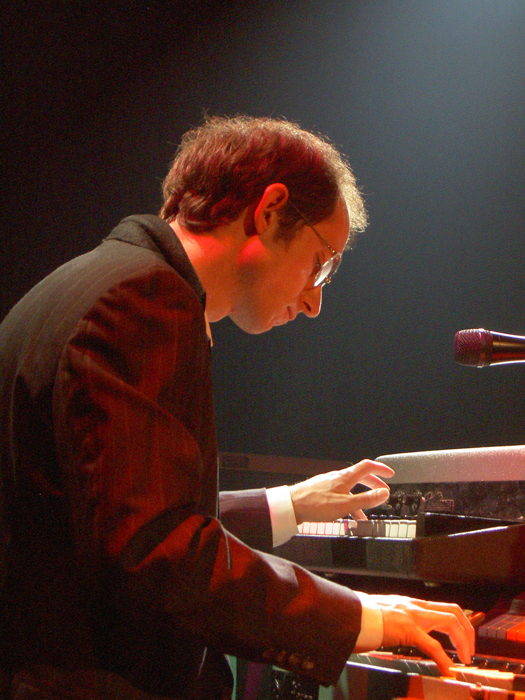 Blue Sunday and Light My Fire had a dark, smoky allure. A bit of Albeniz' Leyenda served to introduce Spanish Caravan. To the sea, to the sea for Ship Of Fools and a great reading of Crystal Ship. Riders On The Storm and LA Woman brought the set to a close with Soul Kitchen as the sole encore. Another memorable evening from this supremely talented act.

Stamford Symphony Orchestra - Palace Theatre, Stamford, CT 3/13/11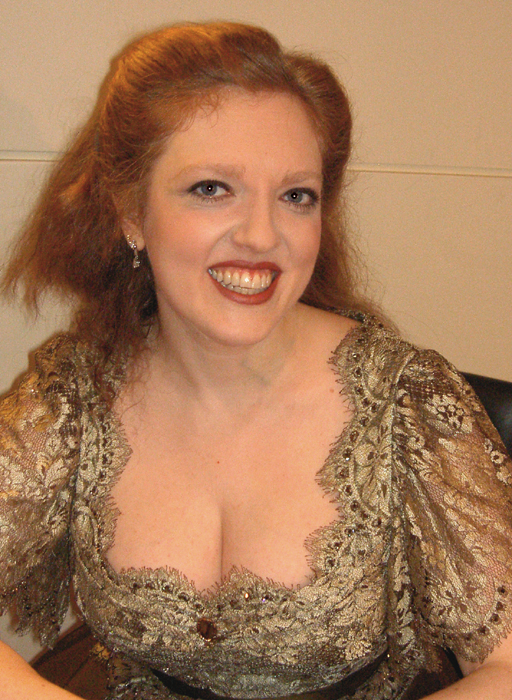 A lovely afternoon to get my symph on, peeps. How can you miss with Bach? You just can't. This afternoon featured his Brandenburg Concerto No.3 In G Major, BWV 1048. That hauntingly gorgeous melody. The intimate call and response between the strings. Topping it all off, Maestro Eckart Preu graced us with his skills on the harpsichord. Heaven!

In stark contrast, Martinu's Concerto For Double String Orchestra, Piano, And Timpani was dark and frightening. Like a Bernard Herrmann meets King Crimson soundtrack for an H P Lovecraft story, it was claustrophobic and threatening. Scary, uncomfortable moments galore. 16th notes building tension. Needless to say, I absolutely loved it! What a way to send us to intermission!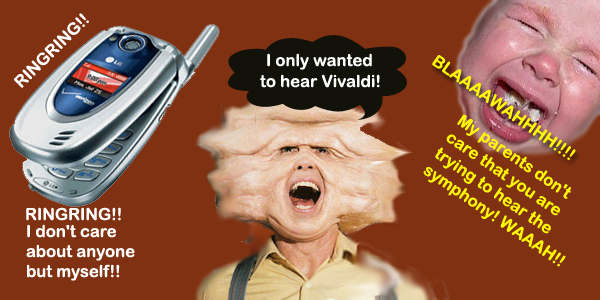 I'd like to take an intermission here myself. Manners. Try them. This show was full of screaming kids who didn't want to be there and parents that didn't care that there were other people there to hear the symphony. It was also a symphony of cells phones going off at virtually every quiet moment. Is it too much to ask that people actually listen to and obey the announcement urging folks to turn off their cells? Should anyone really need to be reminded of any of this? You are disrespecting the orchestra. You are disrespecting those there to actually enjoy the show. You are disrespecting the music. In the end, you are disrespecting yourself, by coming across as an uncaring clod. Be better than this. Please.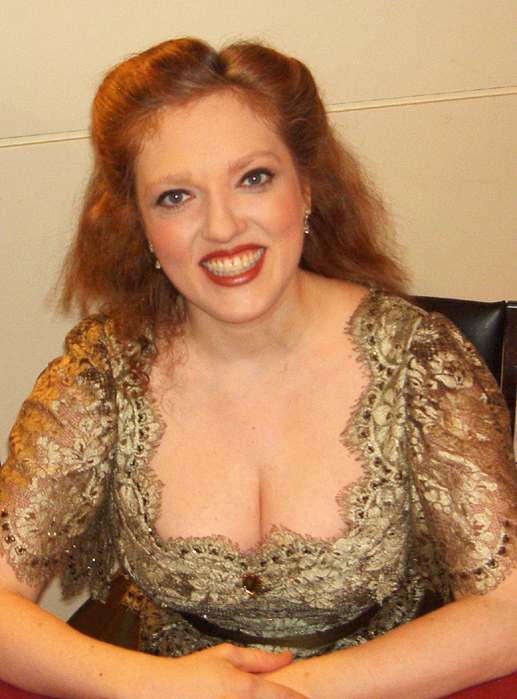 Rachel Barton Pine is an amazing violinist, to put it mildly. Under her fingers the violin sings, talks, cries, makes love to your ears. That, as one might imagine, would be more than enough. The delightful surprise this day was how engaging Pine was as narrator / host / presenter of Vivaldi's The Four Seasons. With Maestro Preu behind the harpsichord for the second time in one program, Pine took the reins in a fashion. She gave background to each of the four concertos, fairly bubbling with enthusiasm. Her playing was what I can only describe as fluid. Her fingers like liquid running over the fretboard. As a side note, all string players used baroque bows (they are shorter and the hair sits lower in relation to the wood) for this. The difference was subtle but it was definitely there. Rounder, softer tones. Preu's harpsichord was in full glory adding delicate delight within the Autumn concerto. As the seasons drew to a close, the audience demanded more. Pine returned, bearing a seldom seen viola d'amore and we were treated to Vivaldi's Viola D'Amore Concerto In D Major, 3rd Movement. The combination of Rachel Barton Pine and the Stamford Symphony was a recipe for pure bliss.

PSP - The Blue Note, NYC, NY 2/23/11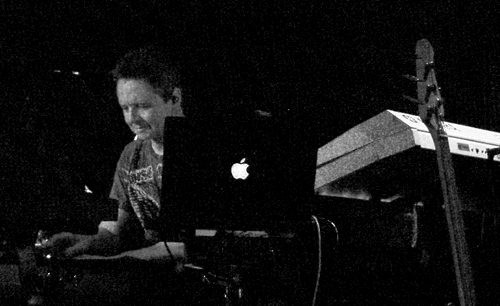 A chilly day in the Big Apple. I took the train in from Connecticut to hit the Blue Note down on West 3rd, a short walk from Washington Square Park. I was psyched to finally see PSP. PSP? Really? Am I suddenly reviewing Playstation hardware? Far from it. For those who may not be aware, PSP is a jazz / fusion unit Simon Phillips, Phillippe Saisse, and Pino Palladino put together 'round about 2009. These lads had a crazy energy - shmokin' hot. Swinging, gyrating, acrobatic, fluid dynamics. What I loved was that for all the chops, all the pyrotechnics, there was a sense of fun. Three guys having a great time and bringing the packed audience at the Blue Note along for the ride. Needless to say, it was a set full of smiles.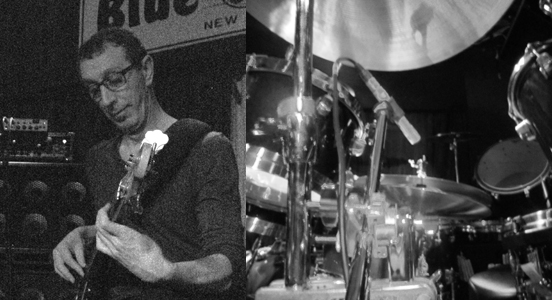 There were fantastic originals like Vigilante and Zaku Padadu and 3 inspired covers: Return To Forever's Sorceress, Dave Brubeck's classic Blue Rondo Ala Turk, and Herbie Hancock's Chameleon with that great bass hook. The group's vibe reminded me of Blow By Blow era Jeff Beck - breezy, fearless, flying high. Every player filled a unique space. Phillips was a giant rhythmic generator. Flawlessly driving every piece. Saisse was waves and flutters of sound. Cascading melodies running like cold vodka down an iceberg. Palladino was the conduit. Brilliant on the rhythm end. Solos bloomed from his fingers like fresh roses. This was knockout stuff.





My mind still hasn't caught up to what I saw and heard! I was on a musical rollercoaster ride strapped in and tearing through the place at Mach 2. PSP ventured into fusiony landscapes that were friendly, inviting, dangerous, and thrilling. The chill of the winter air gave way to the heat of the music. I already crave more!

Emily Wong & Jean Schneider - Steinway Piano Gallery, Westport, CT 2/20/11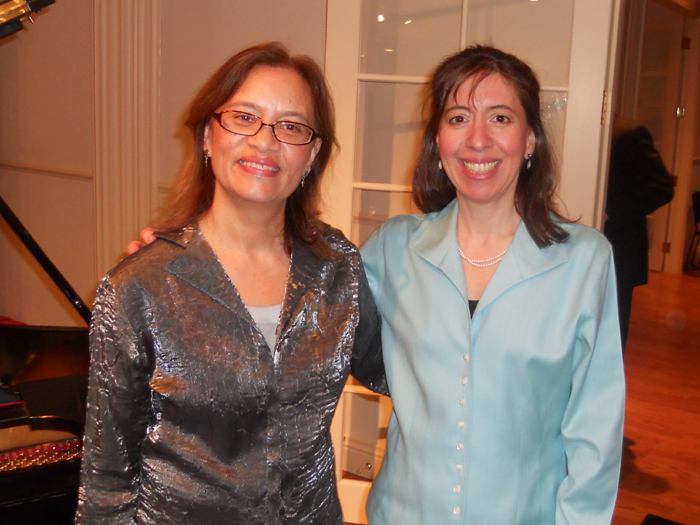 It's quite an experience to hear a nine foot Steinway model D grand piano in a sonically beautiful room. It's close to mind blowing to hear 2. It's past mind blowing to hear them played by twenty masterful fingers. Emily Wong and Jean Schneider play on a level one rarely has the privilege to witness. Wong almost stoic of expression as her fingers fly; Schneider leaning and weaving as she plays. Their set this day started with Mozart's Sonata For Two Pianos In D Major, K. 448. The allegro con spirito was a sort of brisk stereo as lines and phrases flew from piano to piano! The andante movement had a languid, longing melody with a few dark transition chords for a touch of spice. It closed playfully with the molto allegro.

Shostakovich's Concertino Op. 94 followed. With its huge chords so brooding and beautiful, this was the highlight of my day! Wong's hands worked octaves that crackled with power like an insane march! Listening to this number, I could see where John Williams, ummm, borrowed a bit for Darth Vader's theme.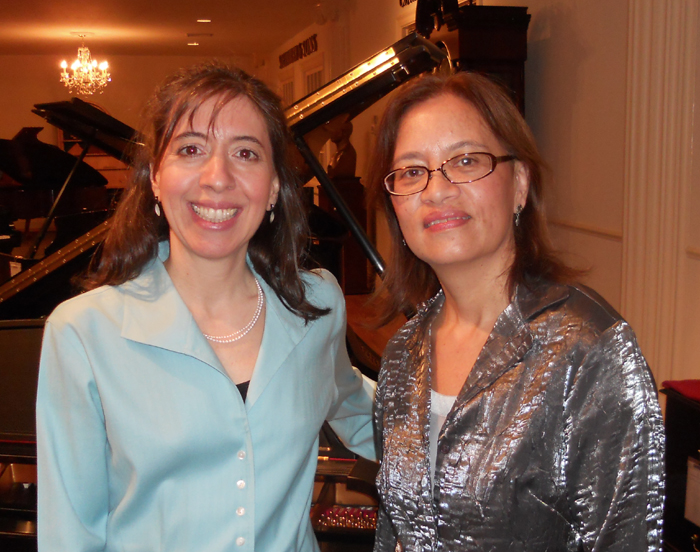 Schumann's Andante And Variations In Bb Major For Two Pianos, Op. 46 came after the intermission. the variations ranged emotionally from fragile yet assuring to dissonant and wildly obtuse! This had a cool rhythmic section toward the end that was all in threes, with the phrases starting on the three. It added an interesting texture and a sort of tension that was quite pleasing.

Two pieces by Piazzolla ended the show. the first, Tangata, had a spidery feel to it with a few hand slaps on the pianos at the beginning. Very much a timeless tango feel to this one. In contrast, Libertango For Two Pianos had a bit more modern feel, reminding me at times of Hernando's Hideaway from The Pajama Game. Ole! I must add here that the recitals just seem to get better and better. Between the players and the material, this was easily the finest recital I've ever had the pleasure to see. Truly outstanding.

Stamford Symphony Orchestra - Palace Theatre, Stamford, CT 1/30/11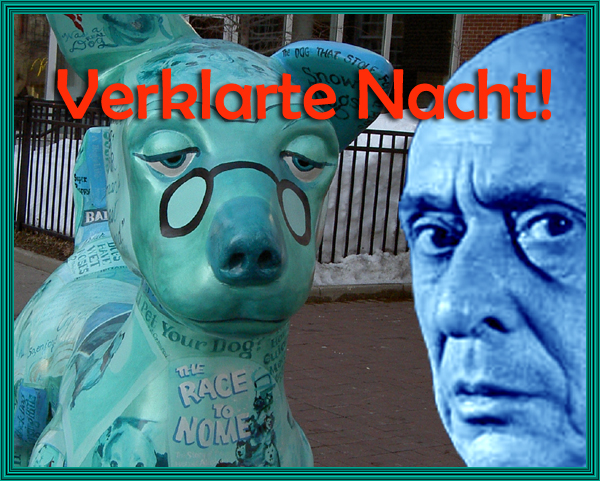 Passing the sacred blue dog of Stamford, I entered the Palace Theatre. Romantic Souls was the theme this day. Three big pieces covering all the bases of classical music's romantic era. This was well evidenced by Schoenberg's Verklarte Nacht, Op.4 (Transfigured Night). Very much a bittersweet piece, it started out brooding, slowly building. Sadness grew to aching, longing. This turned somehow gentle as the melodies had more elements of beauty. Shivering, shimmering, building to a warm, sweet resolve. Fireflies seemed to flit about toward the end. The strings were a thing of beauty, and it was a nice change of pace to have the basses set up in the center rather than to my right. Good to see Eliot Bailen on cello, fresh off the trio gig last week!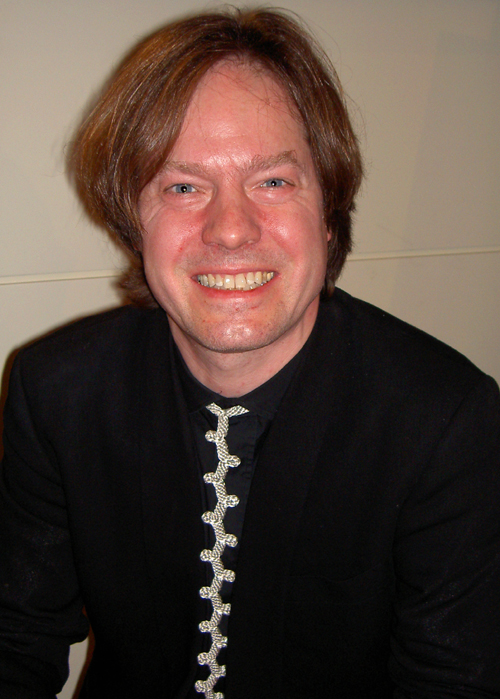 The featured guest for the show was Jan Vogler, cellist extraordinaire. It was amusing to see Vogler spar with Maestro Eckart Preu verbally during the pre-show Behind The Baton session. Two men passionate about their craft agreeing to disagree on the subject of Tchaikovsky! Speaking of Tchaikovsky, his Variations On A Rococo Theme, Op.33 was next. Vogler's cello was most conversational - his expressive playing seemed to almost narrate this piece, his tone so sweetly vocal. At times, Vogler's playing was a bird in the forest walking, strolling, strutting. His melodic foil was the flute - so animated as it answered the call of the cello. This piece had so many moments that made me smile. I went into the break with my heart full.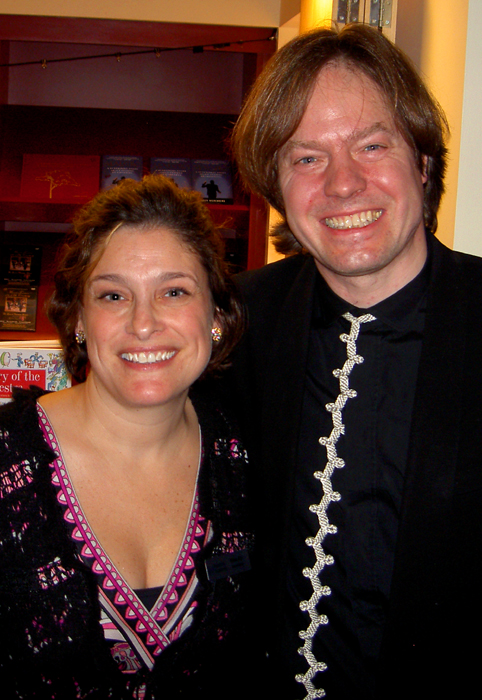 Schubert's Symphony No.4 In C Minor, D.417 brought us home. Known as the "Tragic" symphony, to me it spoke more of emotional beauty and complexity than it did of tragedy. The adagio molto - allegro vivace was full of pulses and stabs from the strings, working toward an almost nautical feel. Very interesting. The andante had gentle waves of woodwinds and a lush carpet of violins. An almost snakelike feel to the menuetto: allegro vivace with a 1-2 1-2-3-4 rhythm, heavy on the 3. The concluding allegro excited the ear. It was full of almost frenetic great rushes of strings. Descending phrases found themselves building back up to a huge, beautiful ending. A massive delight for heart, mind, ear, and soul!

Susan Rotholz, Eliot Bailen, Margaret Kampmeier - Steinway Piano Gallery, Westport, CT 1/23/11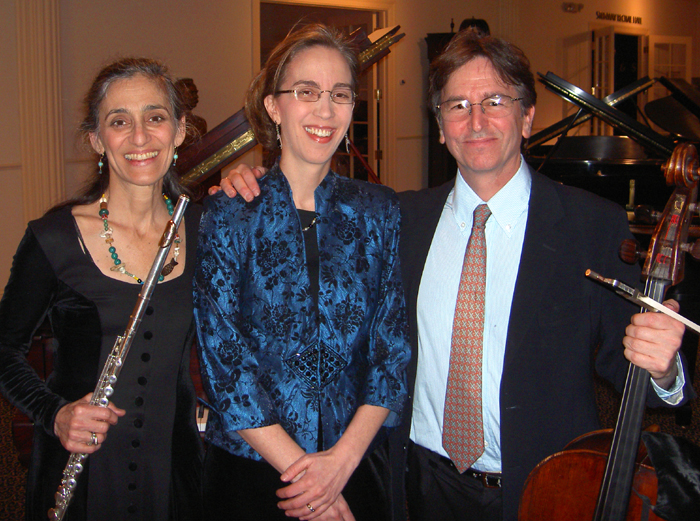 I've always enjoyed the tonal and textural possibilities that a flute / cello / piano trio affords. The players this afternoon - Susan Rotholz on flute, her husband Eliot Bailen on cello ( a cello from the 1720s, no less!), and Margaret "Peggy" Kampmeier on piano - were all musicians of the highest caliber, so the pieces were in good hands! The program began with Haydn's Trio In D Major, Hob.XV:16. The allegro movement was sprightly and full of vivid colors. The andantino piuttosto allegretto reminded me of early morning - just splendid. The concluding vivace assai movement showcased a bit of exceptionally nimble playing. Such a fine start!

Next on the bill was a piece for just flute and cello: Villa-Lobos' Assobio A Jato - a composition Rotholz said was inspired by trains. The allegro non troppo wove fluid descending and ascending lines to great effect. It was impressive to hear how much space two instruments were able to occupy. The adagio was full of angular moments, with fkute and cello unified by dissonance. The vivo brought the piece to a close and featured awesome left hand work by Bailen. It must be noted that Rotholz is a very active, mobile player, bringing a joy to her playing that is pleasingly emotive.

The first set concluded with Martinu's Trio For Flute, Cello And Piano. I loved the pizzicato on the cello during the poco allegretto. The adagio, in contrast, had colorful chordal cello playing leading to a beautiful reassuring ending to the movement. The andante-allegretto scherzando brought everything to a dashing, bouncing, careening close. A breathtaking finish to a remarkable set.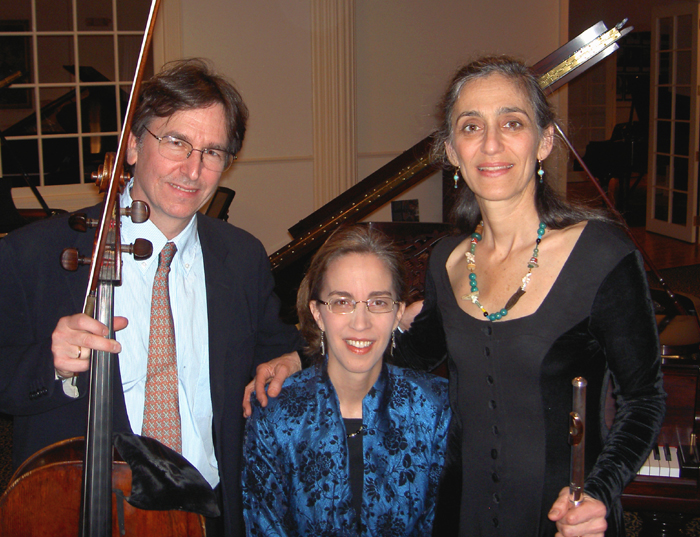 Chopin's Polonaise Brilliante For Cello And Piano In C Major, Opus 3 opened the second half of the afternoon's program. It was a piano / cello number, so we were fluteless for a bit. This was just wonderfully dramatic and Peggy Kampmeier's playing was absolutely jaw dropping!

Everything wound to a close with von Weber's Trio For Flute, Cello And Piano, Opus 63. During the allegro moderato the flute and cello lines seemed to intertwine with the piano lurking just beneath the surface, emerging to the fore now and then. The scherzo, allegro vivace featured a flute melody that ducked and dodged around, behind, and between the cello and piano. As the shepherd's lament, andante espressivo played, I was reminded of someone writing a letter to home. It was a very visual section of music. The finale: allegro was a vivacious a happy ending to the piece as well as the day's program. Quite a day at the Steinway piano gallery!

Crazy On You - Wolf Den @ Mohegan Sun, Uncasville, CT 1/13/11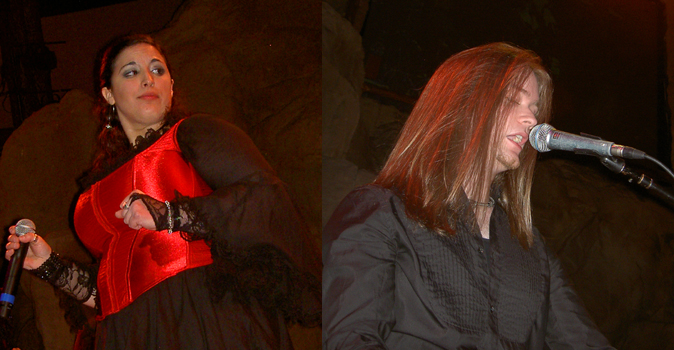 This was my third time seeing this fine Heart tribute band. For the third time, a new member: this time Ian Hogan taking over on drums. He seemed a perfect fit, so all was well! The set list was identical to the last time, right down to song order, the main difference being everything sounded even more confident. Cassandra Frazier (looking very hot!) was in strong voice on Who Will You Run To and Heartless. Hogan and bassist Matt Simpson were solid together on Straight On and Chris Piquette's guitar screamed and squealed through Magic Man like a wild beast. What About Love had a big anthemic sound as ever - a very dramatic tune. The charm of Nothin' At All is about running its course. It's a nice tune, but I think 3 times is enough. Hopefully the band look into Heart's rich catalog and dig out something like You're The Voice or Wild Child for this spot in the future.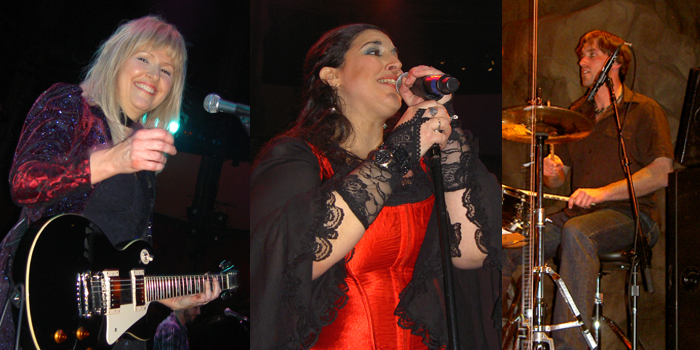 Derek Waldron on flute and Cathy Applegate on acoustic guitar really make Crazy On You the special tune it is. Frazier really took If Looks Could Kill and Alone through the roof with powerful, excellent vocals. Even It Up and BeBe LeStrange are true band pieces, with everyone pushing the songs forward. All I Wanna Do continues to chug along as a crowd pleaser.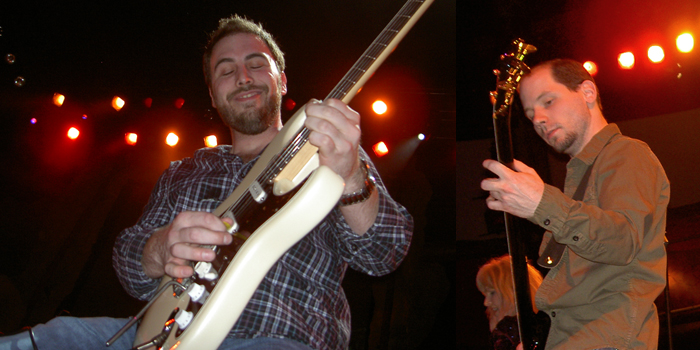 Applegate took the lead vocal on These Dreams with nice background vocals by Frazier and Waldron (who also added delicate key work). Love Alive continues to be magic, and the set closed strong with Never and Love Reign O'er Me. Everyone rocked out to the encore of Barracuda, with some absolutely killer guitar from Piquette. A grrreat set once again!

Ian Anderson - Warner Theater, Torrington, CT 11/19/10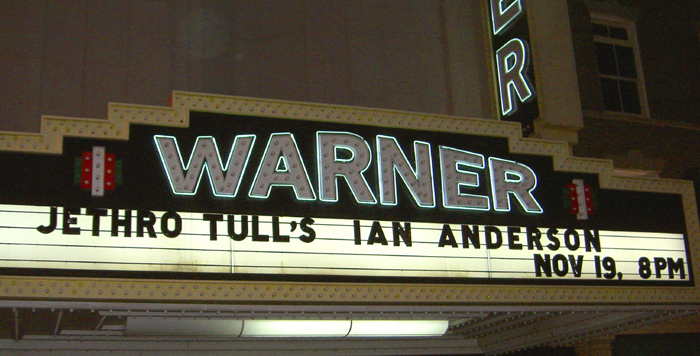 I don't believe I'd ever been to Torrington before this show. Lovely little town, and the Warner Theater is just beautiful. This Ian Anderson solo tour has had a nice buzz about it, so I came in with high expectations. Certainly a solid backing band: John O'Hara on keys, accordion, and percussion; David Goodier on bass on percussion; Florian Opahle on electric and acoustic guitars; and Scott Hammond on drums and percussion. My expectations were met and exceeded. The first three numbers set the tone: Life Is A Long Song, Up To Me, and Nursie. Gentle numbers with a bit of lyrical bite, and Anderson in the best voice he's been in in over a decade. A funny Dave Pegg story served as intro to In The Grip Of Stronger Stuff from Divinities. Anderson and Opahle performed the lovely Set-Aside as a duet. A recent Anderson composition - Hare In The Wine Cup - sounded magnificent, with each band member getting a bit of solo room.




Wond'ring Again was a perfect moment. Simple, elegant, timeless. Andantino, a solo acoustic spot for Opahle (if you don't count the handclaps by Ian & co) was a blazing contrast. Adrift And Dumbfounded was another memorable new number showing the growing bond between Anderson and Opahle. Old fogeys like me got quite the nice treat as the band blew the dust off of The Story Of The Hare Who Lost His Spectacles read lovingly by Ian Anderson with more than a bit of a wink. The set closed with two Bach numbers: Prelude In C Maj and Bouree. A packed first half with more to come!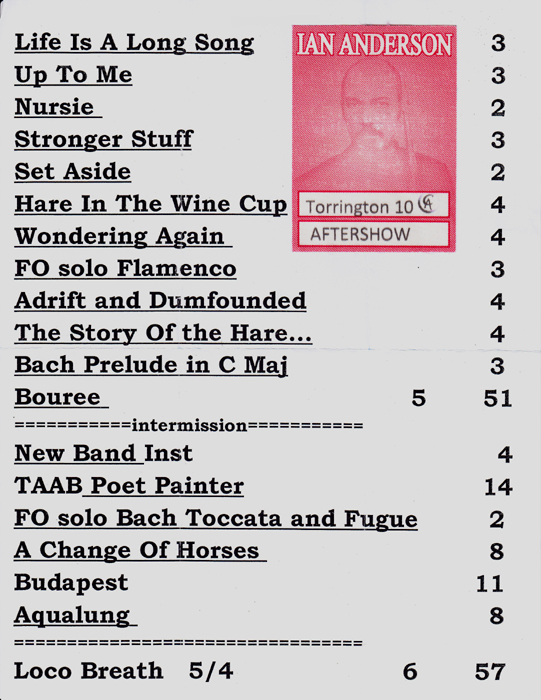 The 2nd, rockier, set opened with a new untitled instrumental that gave everyone in the band stretching room. This was followed by the longest section of Thick As A Brick I've heard in well over a decade. Brilliant! Opahle gave us another Bach piece - this time it was Toccata And Fugue - reinvented and presented in a near metal fashion. Hot hot hot! A Change Of Horses has been in Anderson's solo sets as well as Tull sets for a few years now and just seems to get stronger and stronger. Budapest led to the set closing Aqualung - this time turned inside out and upside down. No surprise that Locomotive Breath served as encore. Solid version, as well. This entire night went from strength to strength. Ian Anderson at his finest!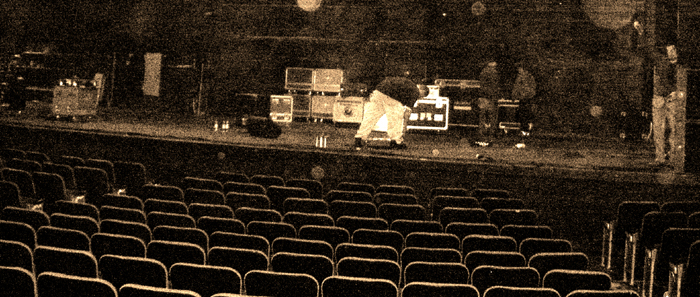 Project/Object - Toad's Place, New Haven, CT 10/27/10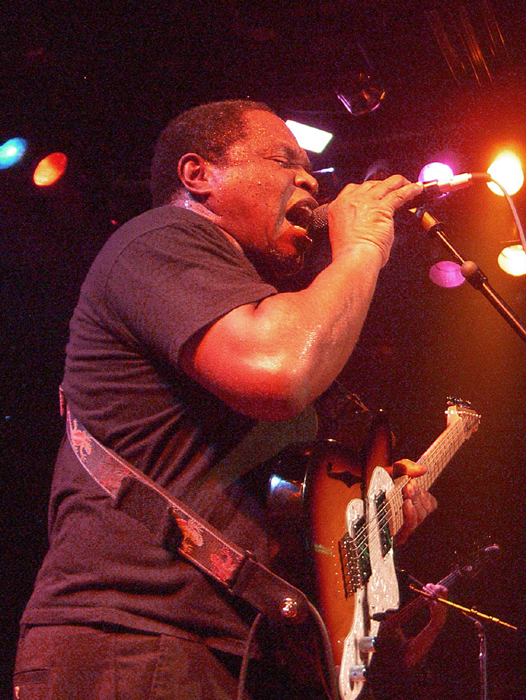 Getting to see Project/Object celebrate the music of Frank Zappa is always an event. This night was surely no exception! Before their set, we got an opening act - Mayhem Circus Electric. Very avant garde, very eclectic jazz/prog/rock. A nice appetizer before the main course! Led as always by Andre Cholmondeley, this Project/Object show once again featured the talents of Ray White and Ike Willis. The band started with the can't miss Zoot Allures then right into the classic tawdry tale of tweezers, pygmy ponies, and floss that is Montana. Son Of Orange County Lumber Truck and More Trouble Every Day kept the positive energy going.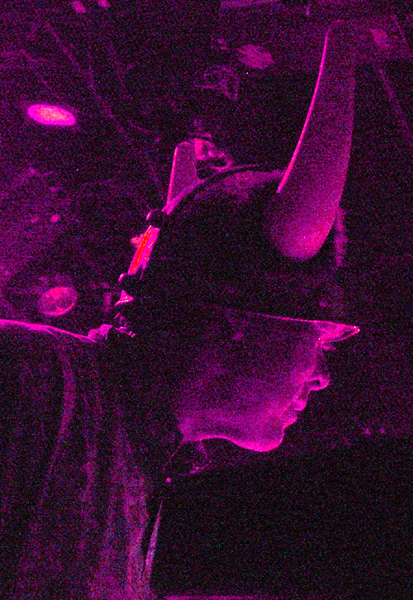 Leave it to FZ to come up with a twisty turny topsy turvy piece like T'mershi Duween and leave it to P/O to follow it with City Of Tiny Lights featuring a killer vocal from Ray White! Next we got some Big Swifty and Bamboozled By Love. Strong presence from Ike Willis on everything, including the lovingly perverse I'm The Slime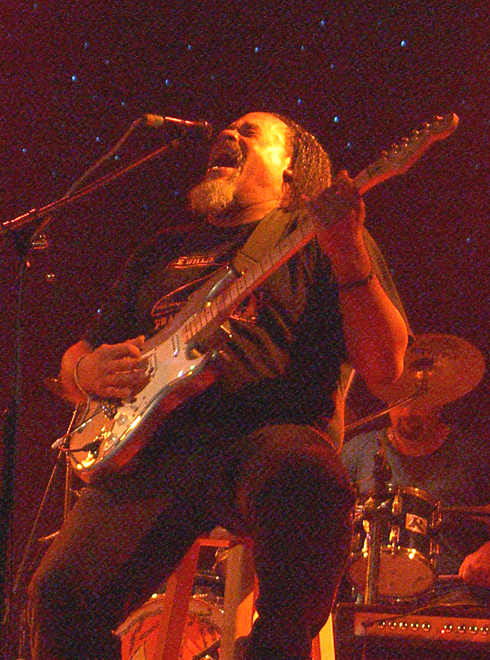 I was in 7th heaven as the band dusted off The Illinois Enema Bandit with that piercing White vocal that he pulls up from somewhere around his ankles. By the time we got to Filthy Habits and Pick Me, I'm Clean groups of young Zappa fans were flailing across the floor, mesmerized by the music. The big set closed with 2 signature pieces: Peaches En Regalia and a Willis tour-de-force vocal on Cozmik Debris.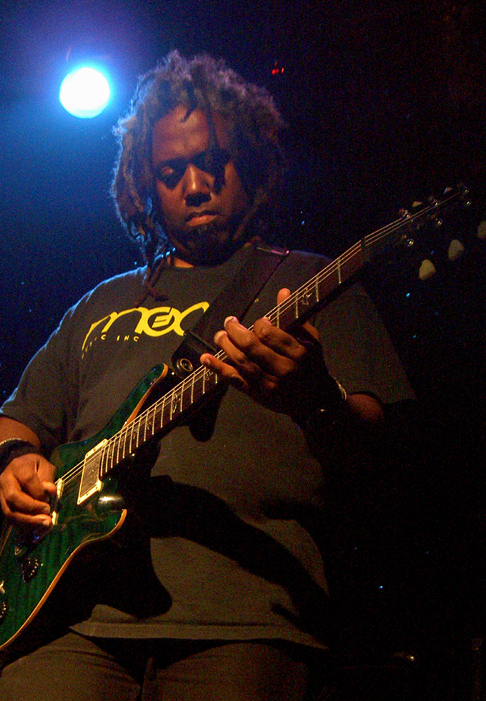 After a short break, Project/Object had 4 more tales to spin! Eat That Question and Packard Goose took us to the gloriously complex Andy, then brought us to the finish line with the spacy / jazzy awesomeness that Inca Roads represents! Yes Yes!

The Tubes - B B King's, NY, NY 10/26/10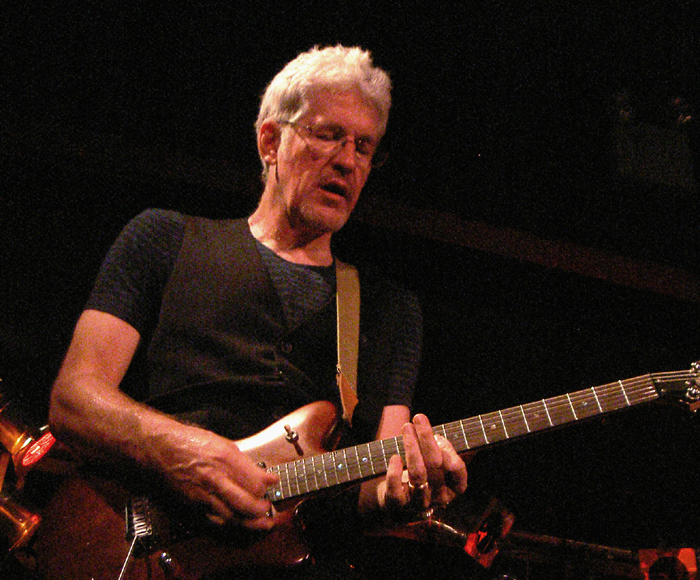 I was supposed to go to this gig with a pal of mine, but he broke his toe the night before and had to stay home. So I was by myself for the gig. Got a great seat up front on the Roger Steen side of the stage and got psyched for a great show. Since it was the Tubes, I had no worries as they always deliver! The band (Roger Steen on guitar, Prairie Prince on drums, David Medd on keys, and guest-bassist Atom Ellis) launched into a fine new overture that led into a tune I've not heard the Tubes play in years - No Mercy. Fee Waybill took the stage dressed in a black outfit with a priest collar and Quaker-ish hat. Staying with the Remote Control album, No Way Out was next. Absolutely killer version with Steen spanking the notes out of that neck during the solos. Waybill took off the collar and told a hilarious story of his pubescent obsession with Annette Funicello and her 2 major assets. The band played the theme to I Love Lucy as Waybill changed outfits for TV Is King. I loved the rhythm section of Prince and Ellis rocking hard on the ever -goofy social satire that is What Do You Want From Life. Steen led the band in a great wink to the past with a cover of the classic Link Wray instrumental Rumble. Waybill was back wearing a green Mohawk wig and a Misfits tee shirt with "Fuck Glam" scrawled on it for the Red Bull energy burst of I Was A Punk Before You Were A Punk and I Saw Her Standing There. The effect was like getting hit by a sonic hammer but loving every second of it!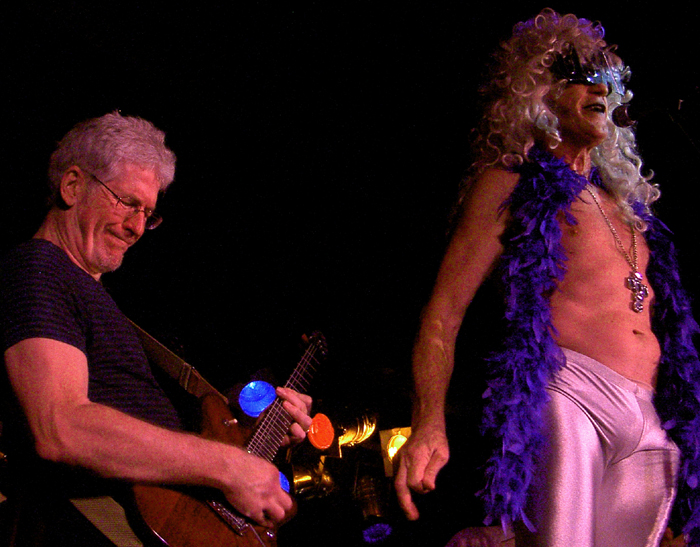 On came the leather mask for Mondo Bondage with synth swoops and bursts from Medd. By the way - glove shoes? The band got into a stone groove as a James Brown medley showcased the Waybill persona of Fee B Brown putting on the slick footwork and funky vocals that set the stage for Tip Of My Tongue. Prince and Ellis kept the groove sly with Medd's synth horns and Steen's hot as hell licks sliding over the top. I was grinning ear-to-ear to hear Attack Of The 50 Foot Woman and Amnesia - both performed flawlessly.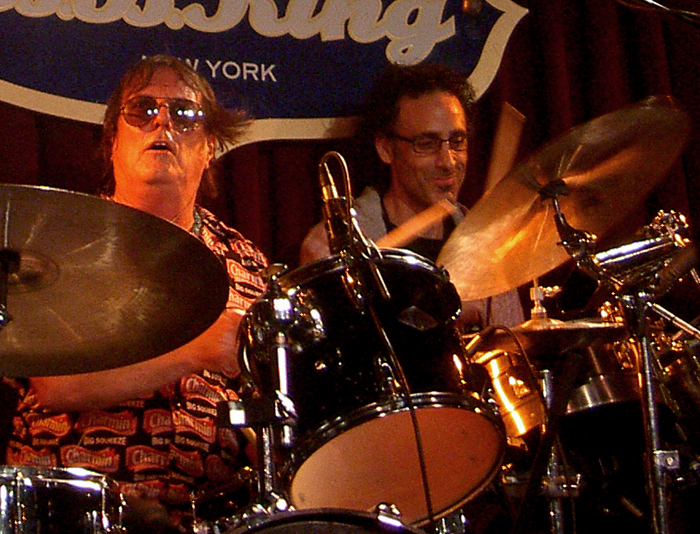 The guy sitting at my table referred to Roger Steen as the "Lord Of The Strings," and his stunning work on Don't Want To Wait Anymore made the moniker stick. The set ended, as ever, with our hero Quay Lewd staggering out for White Punks On Dope. It was pure rock theatre at the altar of the power chord. For the encores, the band called up Jonathan Mover to join Prairie Prince on drums for She's A Beauty and Talk To Ya Later. The band dedicated the evening to Marilyn Wood, who ran their fan club for decades and had died that afternoon from cancer. Having known Wood for years myself, she would have adored the show and I dedicate this review to her memory with love.

Carl Palmer Band - B B King's, NY, NY 10/19/10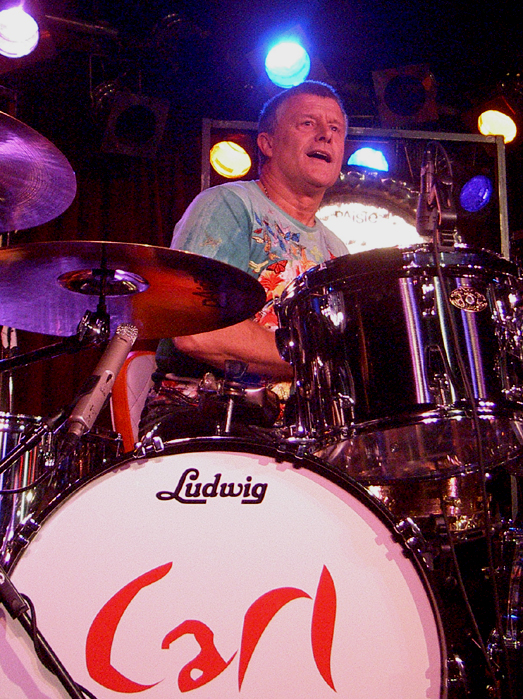 The night before this show, I basically did 2 days of work in 1 to be able to attend this concert. The grinding effort was totally worth it! Carl's band absolutely kicks it! Our very own Carl Palmer is touring with Paul Bielatowicz on guitar and new guy Simon (the hairy) Fitzpatrick on bass. Mighty players all. The set commenced with The Barbarian - full of head pounding energy. The perfect opener. Hoedown and Peter Gunn were nice balances of electricity, skill, and fun. Palmer seemed to be in great spirits as he introduced Bitches Crystal. Bielatowicz fairly flew through the melody line and Palmer's fills and cymbal work were breathtaking. Canario, from poor old Love Beach ("We looked liked the Bee Gees on the cover" Palmer commented wryly) sounded fierce, with the trio really locked and loaded. The band kept the momentum going with the Eruption and Aquatarkus sections of Tarkus - still a personal favorite.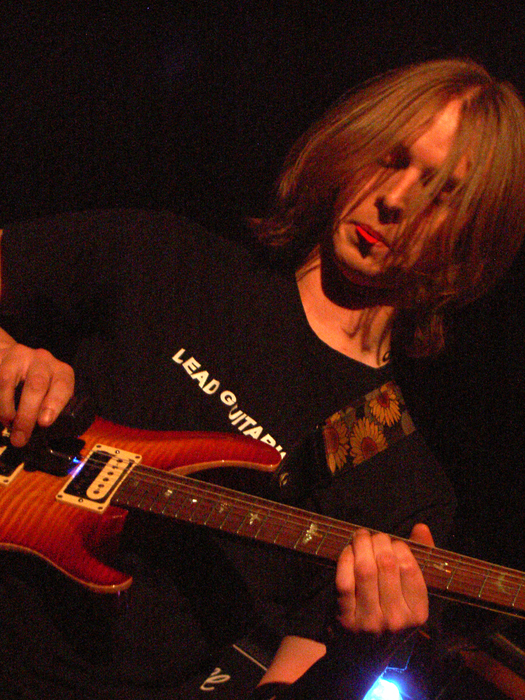 The spotlight was handed over to Paul Bielatowicz, who soloed with a tasteful, elegant Somewhere Over The Rainbow, then joined by Simon Fitzpatrick for a dizzying Flight Of The Bumblebee. Palmer joined them for a breezy improv jazz section, before handing the reins over to Fitzpatrick for a knockout solo bass version of Queen's Bohemian Rhapsody (Palmer adding the gong at the end!). A fired up Trilogy led us to a 20 + minute arrangement of Pictures At An Exhibition with some tasty E- bow work by Bielatowicz. Quite a nice and different version of this, with Palmer very much adding his own stamp to it.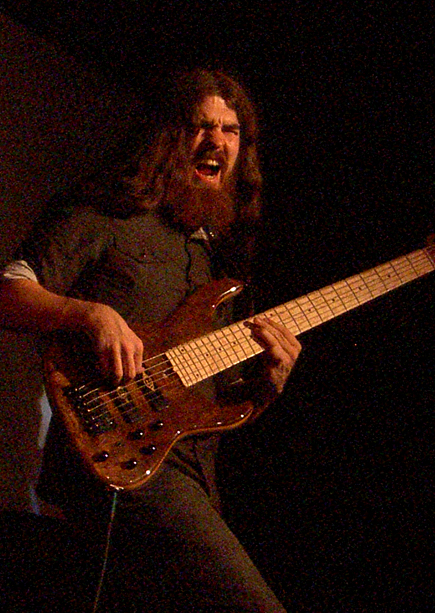 Fanfare For The Common Man included a brilliant solo spot by Palmer that combined dexterity, musicality, and showmanship to great effect! The set concluded with a propulsive take of Carmina Burana and Carl Palmer left us all grinning with the encore of Nutrocker. At the age of 60, Palmer has the energy of a man decades younger, and the ability of a master. Heady stuff!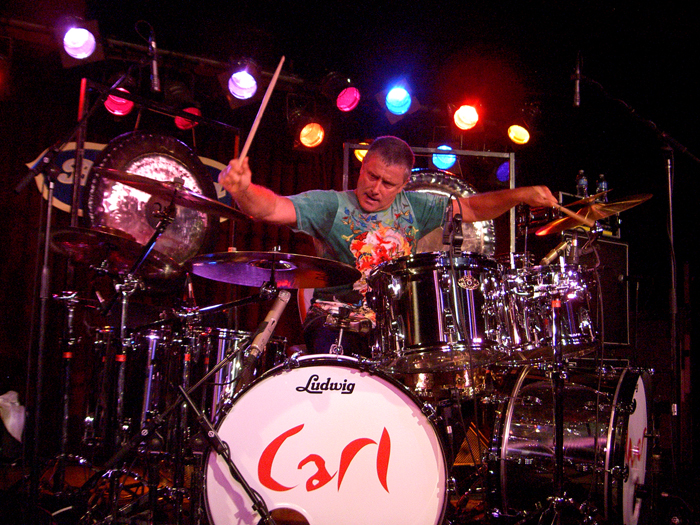 Stamford Symphony - Palace Theatre, Stamford, CT 10/17/10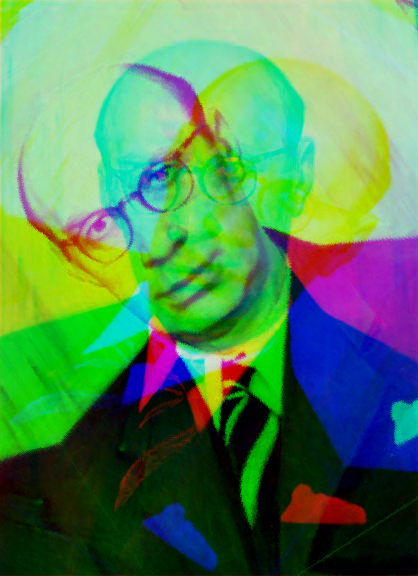 The Stamford Symphony, under the guidance of Maestro Eckart Preu, opened the 2010/2011 season with a trio of heavy hitters. We started off with Prokofiev's awe inspiring Symphony No.1 In D Major, Op.25 - "The Classical". The first movement was marked by lilting stabs and jabs by the strings eventually supported by winds. The second movement had a high, sweeping melody on the violins - gorgeous. The third "gavotte" movement felt like a very controlled, precise piece - an audio watercolor miniature. The finally movement soared and flowed to an emotive conclusion.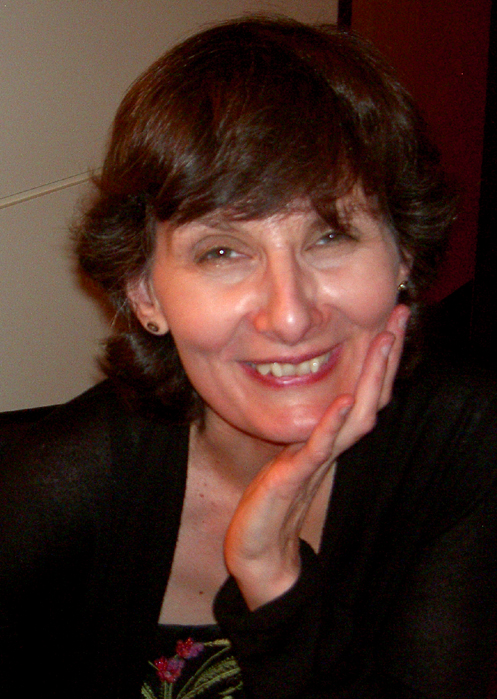 Brahms' Concerto For Violin, Cello, And Orchestra In A Minor, Op.102 was the feature piece for soloists Erica Kiesewetter (on violin) and Edward Arron (on cello). The opening of the first movement had a jarringly somber line on the cello. Arron seemed almost possessed by some wild spirit, all but attacking his cello. Kiesewetter's violin crept in and traded intertwining lines with Arron. As the piece progressed, the mood shifted to mournfully romantic. I loved how the piece would go from solo lines to beautiful full orchestra builds and back again, with a slinky, walking movement toward the end. A brilliant number to take us to intermission.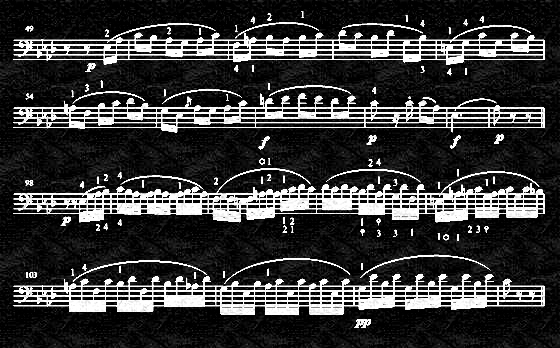 Ah, our sweetheart Ludwig van, how we've missed you! Perhaps the most famous piece of music ever, Maestro Eckart Preu and the gang gave us Beethoven's Symphony No.5 In C Minor, Op.67 to close the day's program. What struck me was how beautiful the second movement is. Yes, we all know and love the first movement and the inexorable power it contains, but the 3 movements that follow never get their proper due. Preu was a demon behind the baton, clearly relishing the piece and putting every bit of his energy into it, wiping his face & glasses between each movement. A strong ending to the show, as there's nothing that could possibly follow the mighty 5th!

The Stanley Clarke Band - Blue Note, NY, NY 9/29/10 (early set)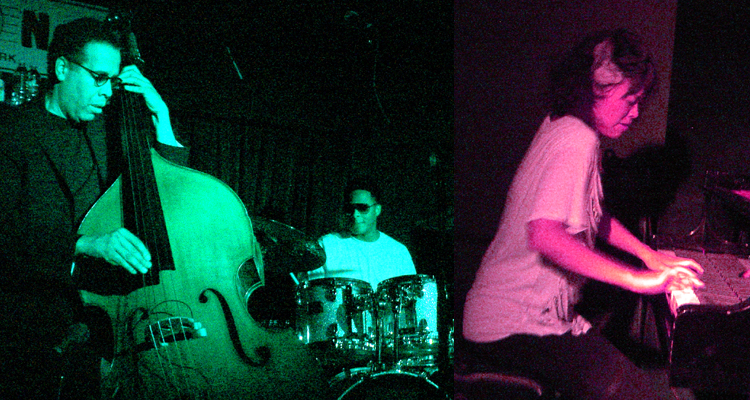 When I think of Stanley Clarke, I think of excellence. His playing is immaculate and imaginative. His note choices are inventive and mature. His excellence was on display in the heart of Greenwich Village at the Blue Note. Joining Clarke were Hiromi Uehara on grand piano, Ruslan Sirota on electric piano, and Ronald Bruner, jr on drums. Each player a virtuoso. 4 strong players on 1 small stage. The set-up, facing the stage, was piano, bass, drums, electric piano - nicely spread.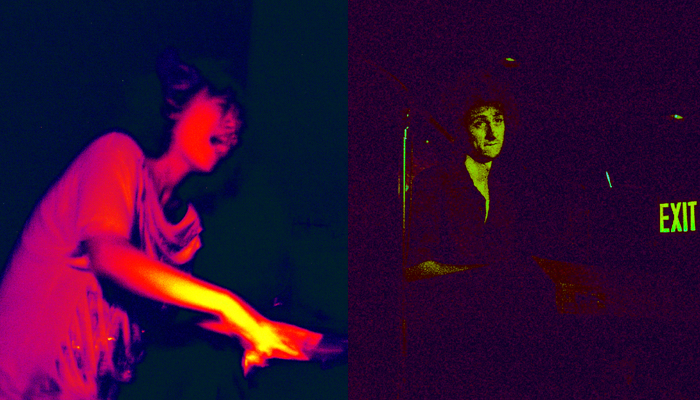 For this set, the ensemble played 4 pieces: No Mystery, Paradigm Shift, and two I do not recall the names of. Titles were irrelevant. It was all about improvisation and passion. Uehara and Bruner were full of fierce energy. Their solos were full of muscle and bone. In contrast, Sirota had a cool, calm energy during his solos. They were complex melodic abstractions ebbing and flowing beautifully. Somewhere in between was Clarke. He would fly and float, letting a single not resonate or a small phrase would introduce itself to your ear. Other times he was a blur - his fingers fluid and flashing about the neck. Dizzying. Death defying. The four players together were of another plane.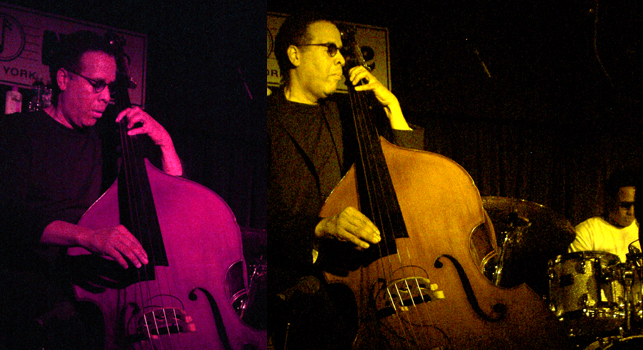 There was this moment in the middle of the set where I just felt it. I was totally in tune. I have to thank the players for that. Clarke put up no walls. Nor did the other three. He was constantly engaging the crowd. With a look, a smile, a line to someone in the seats. He enjoyed that we were there as part of his evening. As I said, I felt in tune. I was with them as they flew. As moments came and went by like snowflakes in the wind. Phrases born in a flash then on to the next. This was jazz. This was life. This was everything. And I got to be there to witness those fragile, precious moments. Joyous & humbling.

Strawbs - B B King's, NY, NY 9/21/10




I came into this gig in a great mood. Relieved to have some relaxation time. Opening for the Strawbs were Aztec Two-Step. I was very curious to see how they sounded. The answer? - Fantastic! Rex Fowler on acoustic guitar, harmonica, & vocals; Neal Shulman on acoustic guitar & vocals; and Fred Holman on electric bass & Donald Sutherland lookalikery were smooth, tight, and fun. I know I'm missing a tune or two here, but as I recall, the set was Dance, Going On Saturday, My Friend Billy, Faster Gun, Better These Days, The Persecution & Restoration Of Dean Moriarty (On The Road), Killing Me, Dancers All. My Friend Billy had a bit of Surf City thrown in for good measure. Vocal harmonies were astounding, and these guys were off the charts instrumentally! An amazing way to start the evening!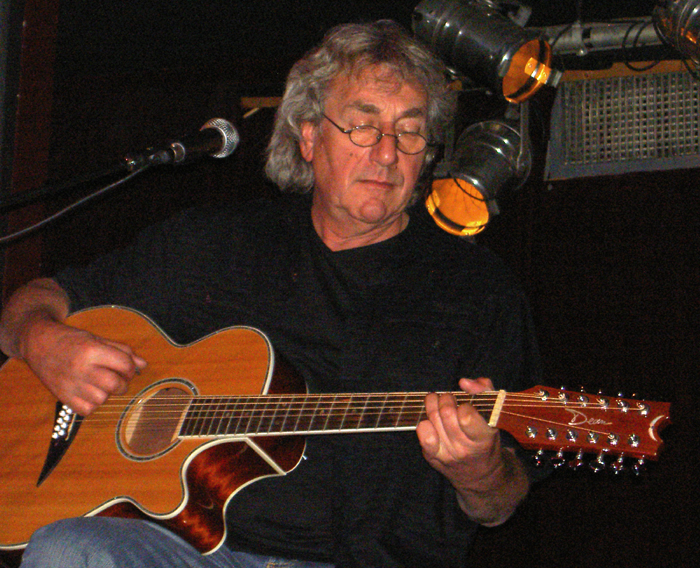 If there is an act that never disappoints, it's the Strawbs. A timeless combo of British folk/rock/prog/pop with evocative, intelligent lyrics. For this gig, they were an acoustic trio consisting of Chas Cronk on bass, 12 string guitar, pedals, and vocals; Dave Cousins on guitar, banjo, and vocals; and Dave Lambert on guitar, vocals, and shaky thingie (sorry to get so techie here!). They opened with a 1-2 punch of Benedictus / Simple Visions. The breadth of the vocal harmonies was like a warm tapestry of sound set over the sparkling bed of guitars. Cousins told one of his charming tales to set up A Glimpse Of Heaven with its lovely chorus. It was well matched with Josephine For Better Or For Worse. As Cousins matures, his voice has gained a sort of delicate quaver. It adds a worldliness to everything he sings.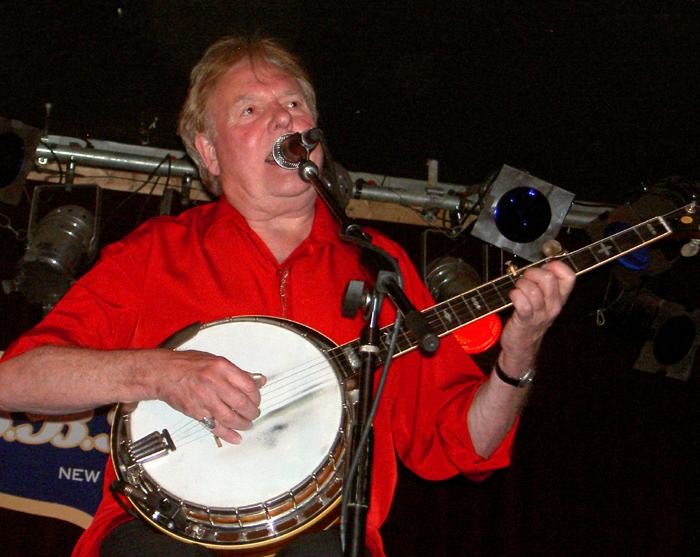 Two political numbers charged with anger and futility were served next. The Hangman And The Papist is a tale about 2 brothers on different sides of the deadly deed, while New World fumes in frustration over war and death. How nice to cool down the emotions a bit with Oh, How She Changed and the majestic Ghosts. Let me take a moment here to touch on Chas Cronk. His bass playing, as expected, is flawless. But I will never take his guitar skills for granted after this night. Always controlled, always in the pocket. Several songs in the set were also expanded on with some clever pedal work - sometimes adding bass while Cronk played 12 string; other times clever, subtle keyboards.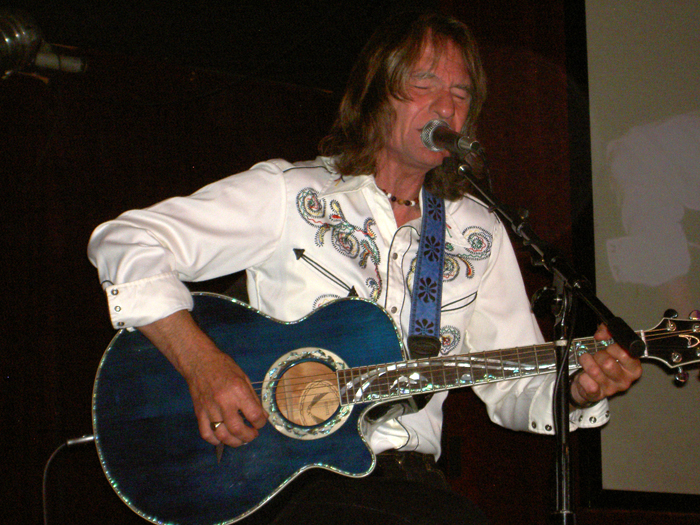 Cousins told tales of the much missed Sandy Denny next. The love in his voice was obvious. She was special - but we all know that, don't we? She would've grinned at the fine version of Tell Me What You See In Me the band pulled off. And thrown a kiss during the lovely piece of reminiscing that was Copenhagen. Dave Lambert had a strong featured vocal on Cold Steel and great lead playing on Autumn. Lay Down closed the set in singalong fashion and the encore was most appropriately We'll Meet Again Sometime. Despite a few loud drunkards in the crowd, a wonderful evening!

Riders On The Storm - Toad's Place, New Haven, CT 8/21/10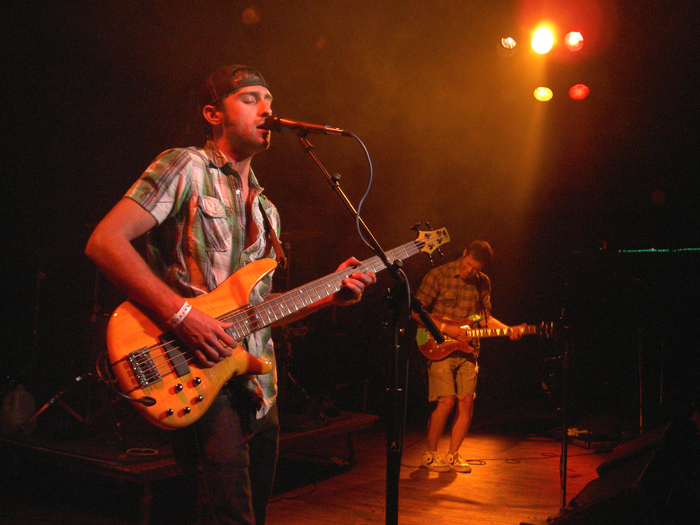 Another mixed bag of bands headlined by Riders On The Storm. I love this sort of gig because I get to sample a good spectrum of bands. First band on the bill was a perfect example. Indiana Handshake was a trio out of Providence, RI. They were a great "energy" band - high voltage tunes with a bit of punk to them. Songs like Weight Of The World, Sharks Eat Cancer, and Lucky 15 were power packed. Indiana Handshake grabbed my ear and never let go. Their set sped by waaay too fast. Bring this band back!




Falling Stickmen played next. A band with not 1, but 2 kilted members! Songs like Freakshow and Circle started folks dancing. Strong players with some excellent lead guitar. Very much in the jam band mode, they brought the dreadlocks out onto the floor!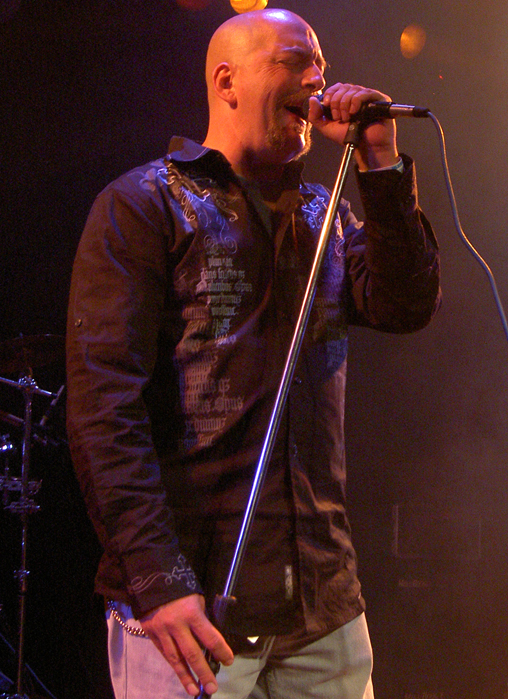 The jammy feel continued with Wallingford's own Far From Here. Solid twin guitars and strong vocal by Peter Easton Johns were the highlights of this set. The crowd were beginning to warm up during Make It Easy and got more and more into the groove as the set went on. A very solid unit!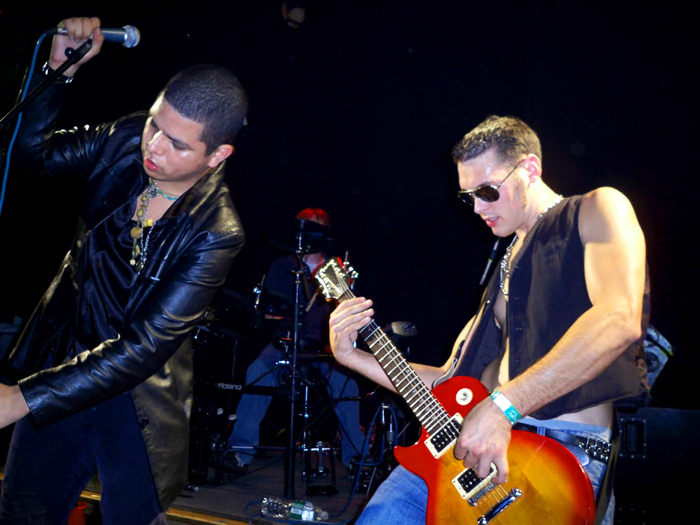 If any 1 band stole the night, it was Silvergun out of Bristol. This was badass rock and roll with no apologies. Guitar, vocals, bass, drums. Loud and in your face, packed with swagger. On the opening number, Demons, the lead vocalist sang the choruses through a bullhorn. At the end of the set, the guitarist beat his guitar with a vest. In between, they threw in a great cover of Paranoid in addition to their own rockers. This set was a total blast and a reminder of how great rock is! I wanna see this band again tomorrow!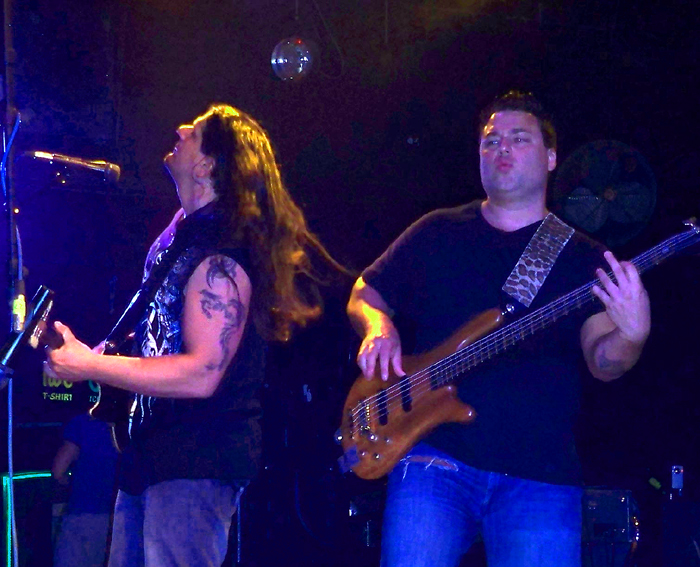 Ink was a heavy, heavy power trio, playing hardcore, old school dark metal. They sounded like a sonic hammer, pounding through songs like Khira Li and Ride with relentless precision. Not exactly a band to dance to, they brought out the headbangers with their quality goods.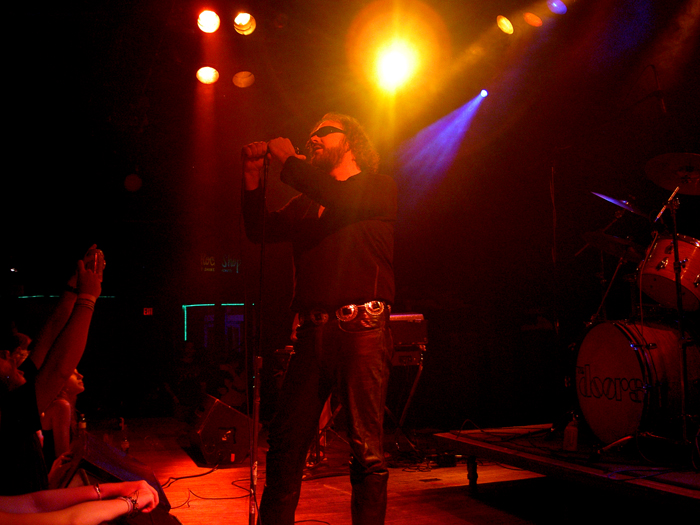 A few minutes after midnight, it was time for Riders On The Storm to open the doors of perception. These guys just are the Doors, OK? Even if the vocalist reminds me a bit of Will Ferrell in terms of looks. Close your eyes and it's Morrison & co. The set was Break On Through, Alabama Song, The Changeling, Back Door Man, Five To One, When The Music's Over, Light My Fire, and Roadhouse Blues. As if that wasn't enough, a long set of encores followed with Who Do You Love?, Riders On The Storm, Soul Kitchen, Peace Frog, Indian Summer, and LA Woman. It was a great mix of the known and the obscure, and the crowd were mesmerized acolytes spinning and surging in glory at the church of the Lizard King.

IZZ - Seaside Tavern, Stamford, CT 8/13/10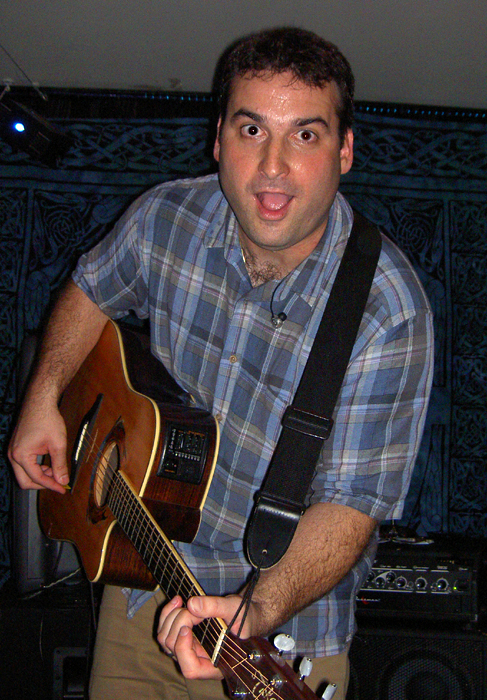 It had been over a year since I'd seen IZZ play at Marprog, so I was pretty jazzed for a night of IZZ tunes. They most surely did not disappoint. The 3+ hour show started with Spinnin' Round and I Move - 2 very strong ensemble numbers, the latter with killer bass from John Galgano. Next up, the band served us Anything I Can Dream (with a piano riff I just love and John G intoning a snatch of I Know What I Like at the end!), Can't Feel the Earth, Part II, and The Message. Tom Galgano was in great form on keyboards & vocals, and clearly having a good time. For those who think of IZZ as playing serious, tightly arranged prog, they were relaxed, even playful. Horizon followed with a great vocal by Anmarie Byrnes and a killer guitar solo from Paul Bremner. Much to everyone's surprise, the band threw in a bouncy cover of Lady Madonna with strong vocals from Tom G.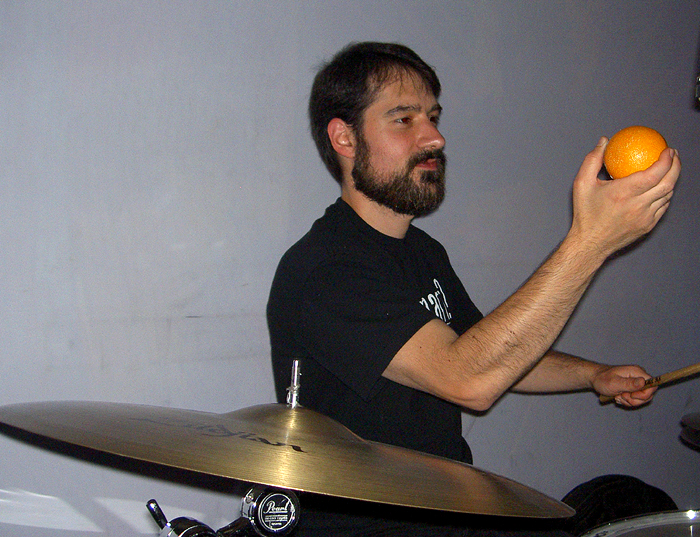 Stumbling and the classic Meteor followed - the latter sounding stronger than ever! Another cover - Red Rain was re-imagined by grafting it onto the rhythm of Run Like Hell - laughingly retitled Rain Like Hell by yours truly. I loved the heavy bass/drum groove on Swallow Our Pride, not to mention Brems' wailing guitar. Razor had that cool Latin section, and Light From Your Eyes featured another wonderful Anmarie vocal and a delicate keyboard solo from Tom. The Wait of It All brought us to a strong cover of Comfortably Numb to close the first set.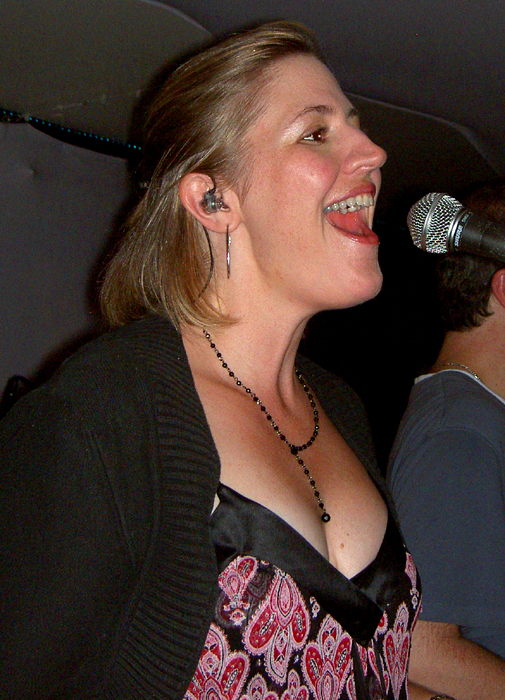 Let me take this moment to say that the Seaside Tavern has perhaps the most inept sound guy I've ever seen in action in my 50 years on Earth. He would leave bursts of feedback howling unattended, cut off entire sentences of vocals because he was staring off into space, not noticing that the band were performing, and sometimes just plain disappearing for parts unknown. Despite this cross to bear, IZZ managed to pull off a great show the entire evening! Set 2 started on an energy packed note. My River Flows got things rolling, while I Get Lost got a crowd of folks dancing in front of John G and having a great time! Regret and Endless Calling kept the ball rolling, and a cover of I've Just Seen A Face had everyone singing along.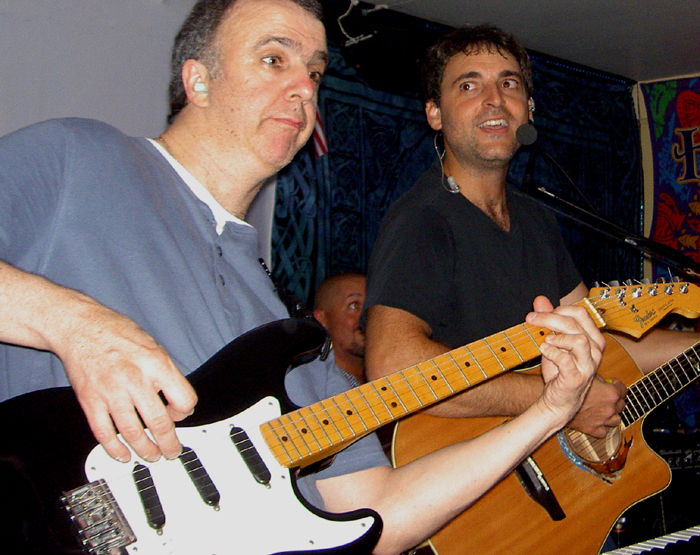 Speaking of singing, I heard quite a bit of the crowd singing along with the melodic fave Lornadoone. I loved the wah & bass solos on Just a Girl and John G's little snatch of From The Beginning at the beginning of the beautiful 23 Minutes of Tragedy. Some stellar harmonies by Tom, John & Anmarie on that as well. Next was a very loose, fun cover of Time. Can't Feel the Earth, Part III closed the set on a strong note. Drummers Greg DiMiceli and Brian Coralian (in his "got peart?" tee shirt) pretty much owned the encore of Late Night Salvation with a super energy drum duet smack in the middle of the tune. This was quite an unexpected evening. How often do I see a great prog band play their asses off and build a party atmosphere? Give me more & give it to me often!

Steve Hackett - Infinity Music Hall, Norfolk, CT 6/21/10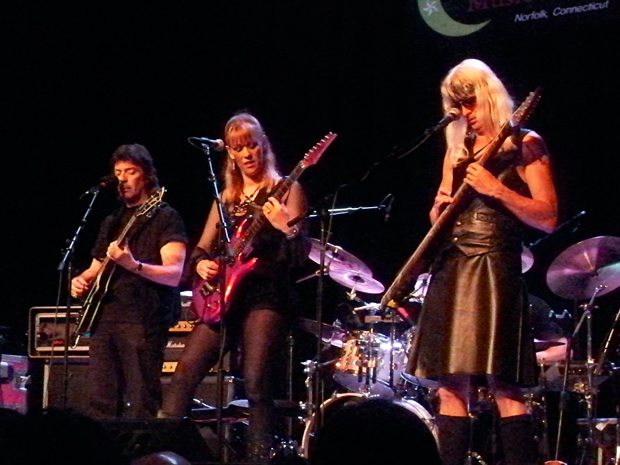 An interesting set of circumstances for me as I had just seen Steve Hackett perform at Nearfest in Bethlehem, PA 3 days earlier. Thankfully, one can never get enough of a good thing! This was my first time seeing a show at the Infinity Music Hall. It's a lovely, intimate venue with an incredibly friendly staff and great acoustics in the Northwest corner of Connecticut. For this tour Hackett was joined by Amanda Lehmann on guitar and vocals, Nick Beggs on bass, Chapman stick, and vocals, Roger King on keys, Rob Townsend on wind instruments and vocals, and Gary O'Toole on drums, percussion, and vocals. The set opened with Everyday. Lehmann's harmony guitar lines during the lead sections added a nice dimension to this classic. Fire On The Moon was full of creamy, dreamy harmonies. Very nice to hear Ace Of Wands - I loved Roger King's keyboards on this.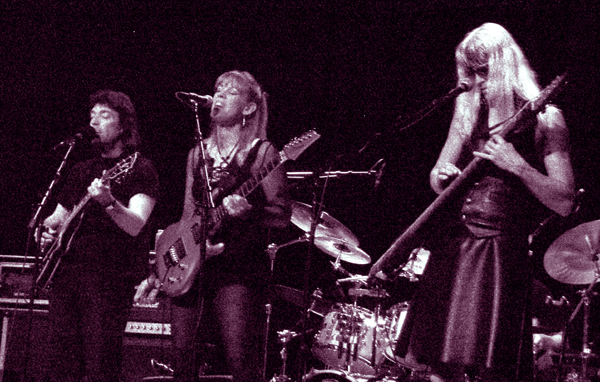 Emerald And Ash came next with some fine textural guitar work from Hackett. If there is a signature Steve Hackett song, it is surely Spectral Mornings. Beggs really added some oomph to it - a sort of conduit between Hackett and O'Toole. To the delight of all, a complete Firth Of Fifth (with piano opening) came next with great vocals from O'Toole and that goose-bump solo from Hackett. The acoustic guitar came out as Hackett teased us with a bit of Cuckoo Cocoon before leading in to a full, lush Blood On The Rooftops.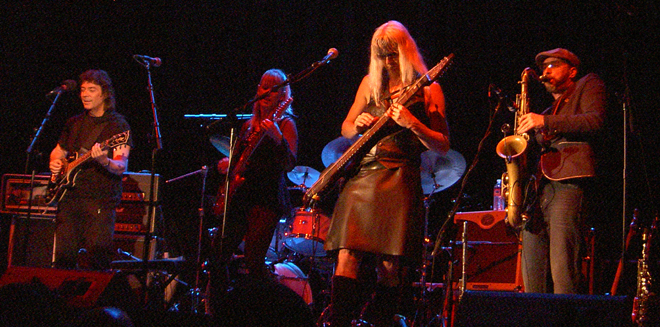 Decades have not dimmed the power of Fly On A Windshield, and Broadway Melody Of 1974 had the added bonus of vocals courtesy of our Mr O'Toole. The otherworldly Sleepers was starkly contrasted by the devilish blues of Still Waters. The latter featuring cool backing vocals and playfully sexodocious grinding from Lehmann and Beggs. The set ended with a blazing Los Endos that snuck in bits of Myopia and Dancing With The Moonlit Knight. Townsend honked some mean sax here! The encore was a massive version of Clocks with an octopus-like solo from O'Toole. At 60, Hackett is playing better than ever. This band is currently raging across the globe for the remainder of 2010. A definite "must see!"

Jethro Tull - MGM Grand At Foxwoods, Ledyard, CT 6/10/10





Quite a trip up to this one. Sun then rain then sun again. Great bacon pizza @ Marco's in Branford. Funny church signs, a crazy softball team, and beautiful waitresses with sore feet. There's a novel there somewhere. This was a very stripped down show for Tull. No backdrops, no projections, no wild outfits. Simple stage & some very elegant varilites. It worked well. For this tour, Ian Anderson and Martin Barre were joined by Doane Perry on drums, David Goodier on bass, and John O'Hara on keys. This has been pretty much the Tull line up in recent years, and they were unbelievably tight. No guests, no bells and whistles, just the band. I was thankful for this. One too many female violinists for too many years now. Nice to just get the band. In ass kicking mode, no less!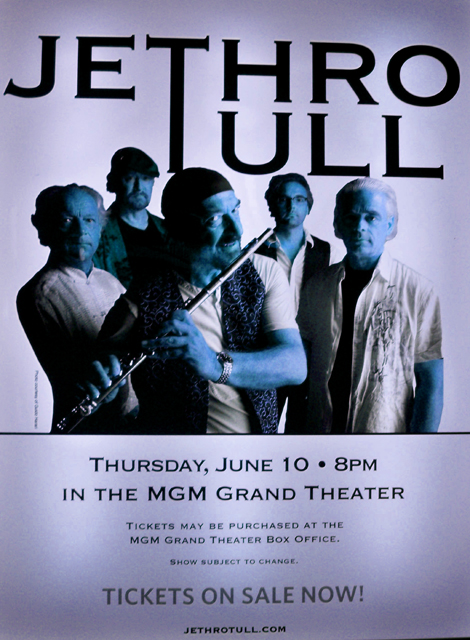 Nothing Is Easy started things off on an aggressive note, followed by the exotic Beggar's Farm featuring a jazzy solo section. Anderson broke out the harp for a searing reading of A New Day Yesterday with dirty, filthy guitar rocketry from Barre. King Henry VIII, though still deceased, was well represented by Tull's genteel cover of his Pastime In Good Company. A beautiful Jack-In-The- Green led to a re-arranged Songs From The Wood - first time I've heard it without the opening harmonies on tape, and all the better for that! Much grittier, ballsier. Another cover tune - Bach's Bouree - drew shouts of approval from the MGM crowd.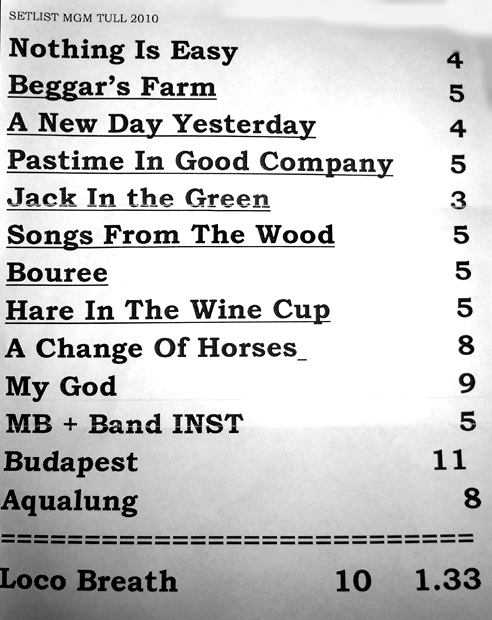 Two new songs were next. Hare In The Wine Cup and A Change Of Horses (the latter first heard on Anderson's 2009 solo tour) had all the hallmarks of prime Tull: acoustics, electrics, shifting time signatures, witty lyrics, and an exotic bit or three. A blessedly angry My God was a fist down the throat. Anderson stepped aside for a few as Barre took the spotlight, leading the band through an instrumental version of The Whistler that segued into a phrase or two from Thick As A Brick before bringing Anderson back for Budapest. The set closed with a powerful Aqualung and the band encored with a playful version of Locomotive Breath that incorporated the riff from Teacher as the big balloons came out. The band were clearly in great spirits from beginning to end. This was a very young and powerful sounding Jethro Tull. Here's to many more tours as energy-packed as this one!

Crazy On You - Wolf Den @ Mohegan Sun, Uncasville, CT 6/3/10





I had seen the Heart tribute band Crazy On You back in January and loved their show. So when I heard they would be back at the Wolf Den, I just had to be there. In the intervening months, they had a new member: Kathy Applegate taking over the Nancy Wilson role on guitars and vocals. Applegate brought everything up a notch - much more organic in the role and meshing very well vocally with lead vocalist Cassandra Frazier. The rest of the band remained the same, with Matt Simpson on bass, Scott Pearson on drums, Chris Piquette on guitars, and Derek Waldron on keys, flute, and backing vocals. The set opened this time with the powerful Who Will You Run To. Everyone was tight and together and very faithful to the original. Heartless and Straight On followed, sounding hot and right in the groove. During the show, Applegate proved to have the ability to banter with the crowd in a very gentle, friendly way - a nice addition indeed.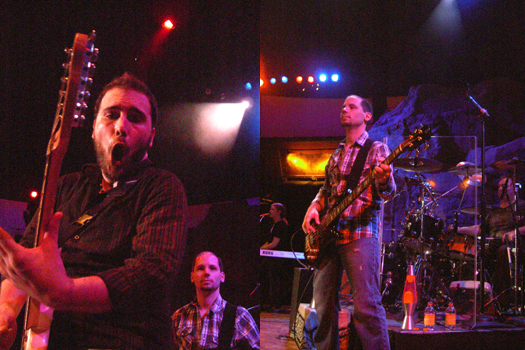 One of Heart's signature tunes, Magic Man, was next - still packing major heat after all these years. Another two Eighties numbers, What About Love and Nothin' At All were solid stompers. Crazy On You soared with wonderful harmonies and that wonderful acoustic / electric guitar combination that drove Heart's music in the Seventies. If Looks Could Kill lead into the wonderful Alone, marked again by Frazier's astounding voice.





Things got mighty funky with Even It Up before rocking out with BeBe Le Strange. I noticed all the women in the Wolf Den react to All I Wanna Do Is Make Love To You - clearly identifying with the tragic tear-jerker. Applegate took the lead vocal on an acoustic take of These Dreams with Frazier singing back-up. The mood stayed acoustic for the beginning of Love Alive before building to that powerful finish. Never buoyantly brought us to Love Reign O'er Me, which featured great keyboard work from Waldron. What might the encore be? Barracuda, of course! What a fantastic show! I'm ready for round 3!

Riders On The Storm - Toad's Place, New Haven, CT 5/11/10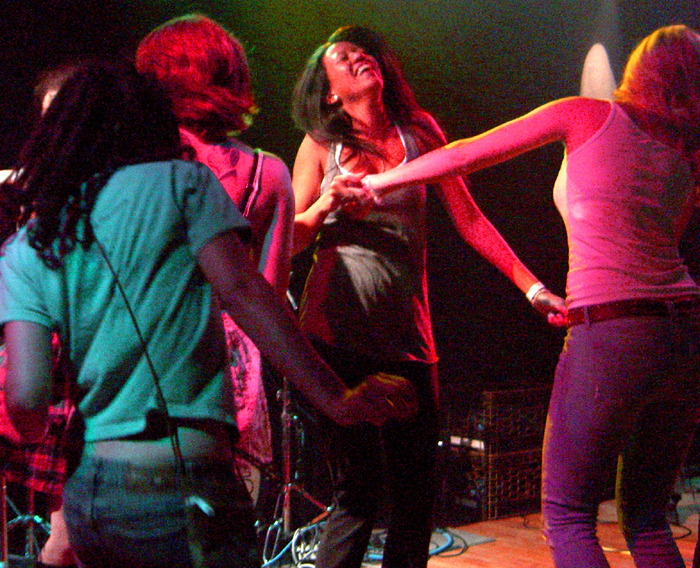 Dance, Yalies, dance! They sure did! Toad's Place was packed with beautiful women looking to dance all night. They got 6 bands and all sorts of music to choose from. Quite a varied bill, mostly Connecticut-based, but all worth the listen.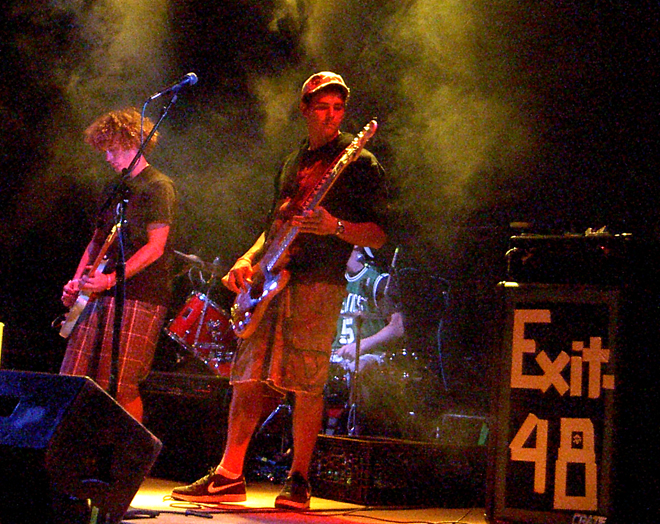 First band on the bill was Exit 48. Lots of energy here. The music was a sort of reggae-tinged surf punk amalgam. Songs like Shark Bite!, F.O.A., and Blue Sky Dub were packed with good stuff. Bassist Craig Hellthaler and drummer Garrett Poltak were a tight rhythm section. Dan Ebert was a wiz on the guitar, and frontman Alex Kennedy was great on vocals and guitar. I'd definitely see this band again - they had a real party feel!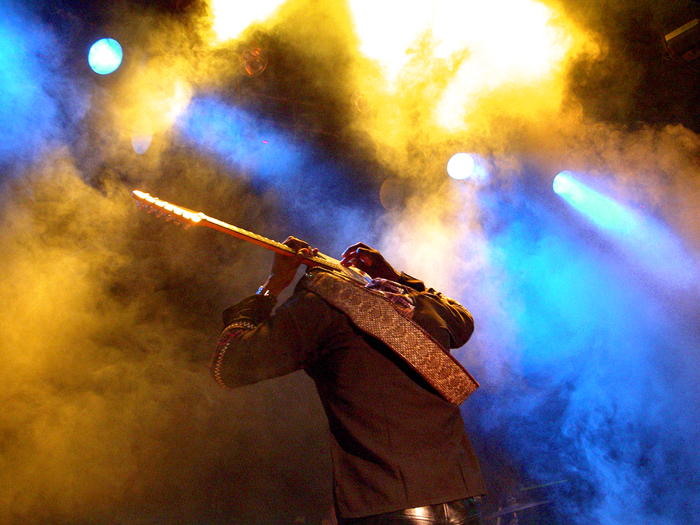 Fronted by guitarist / vocalist George Logan, The Electric Lady Band very successfully captured the spirit of the Jimi Hendrix Experience. Opening with Can You See Me you could feel the power of the music, the power 3 instruments can generate. Foxey Lady was slinky, sexy, seductive. Spanish Castle Magic and Manic Depression rocked out like great beasts, as did Purple Haze. During Hey Joe, Logan served up a blazing solo behind his back that just kicked! Voodoo Chile closed the set on a guitarlicious note. I was absolutely knocked out!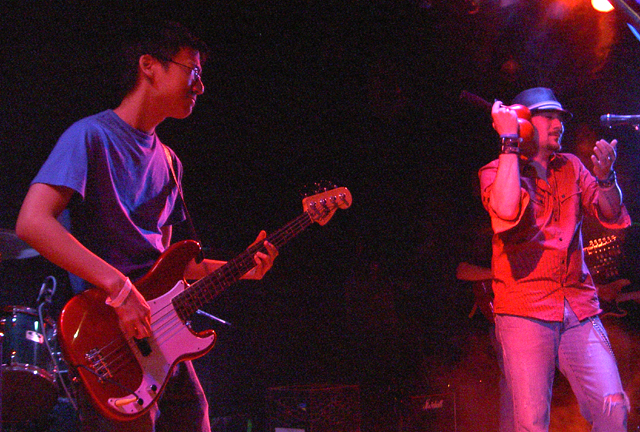 Something In The Attic was next. This was a difficult band to describe. 6 pieces, all ages, all heights! They were jammy, yet not jammy. Interesting chords & rhythms. Very much their own thing. Songs like Latin Doll, Spiders & Flies, and Trigger Finger were exotic and tasty. With 3 guitars, many textures were explored. Vocalist Jim Hedrik had strong pipes and a ton of charisma. The crowd ate this band up, and by the time they finished the set with Something In The Attic, I could surely see why!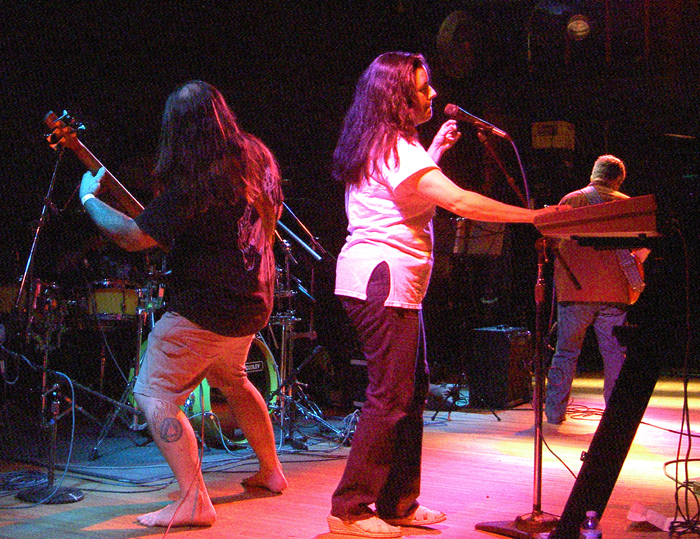 Damned if there wasn't a prog band up next! A fine one, at that! Built around the husband / wife team of Mark and Nora Tragianese (I last saw Mark ages ago in Kinetic Sect!) Trag put in a solid performance of prog with an alterna-twinge. Mark on drums and Nora on vocals & keyboards were joined by bassist Paul Kelly and guitarist Robert Iandoli. In addition to 2 songs from 11th House - On The Edge and Minutes Before Midnight - they previewed 4 tracks - Sorrowful & Pitiful, Chance For Change, Rusted Man, and The Moment - from their upcoming release Catch The Storm. A solid set with the Middle Eastern rhythms of Rusted Man and the stellar drumming on The Moment especially catching my ear!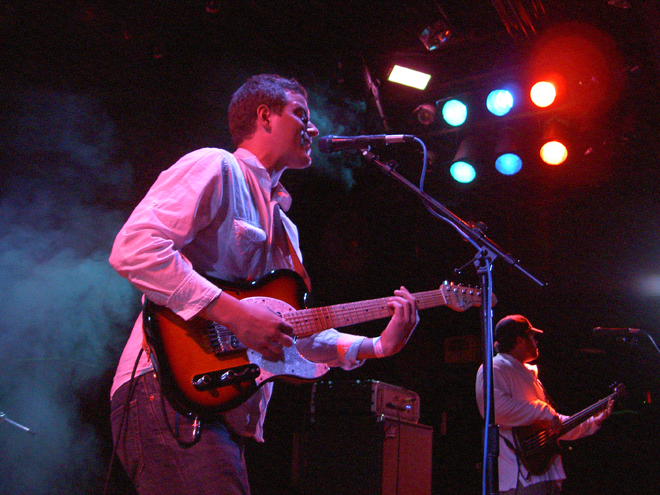 Hailing from the far off land of Branford, Connecticut, Live Now were a 4 piece ska / dub band. Their energy was straight through the roof, reminding me of the Police meet the Specials on superhypercrack. Mike McGinley on vocals and guitar, Jeff Abel on keyboards, Rocco Tondalo on bass, and Doug McGinley on drums kept the crowd moving, shaking, and screaming every second of their set (which I sadly forgot to write down)! Crazy good!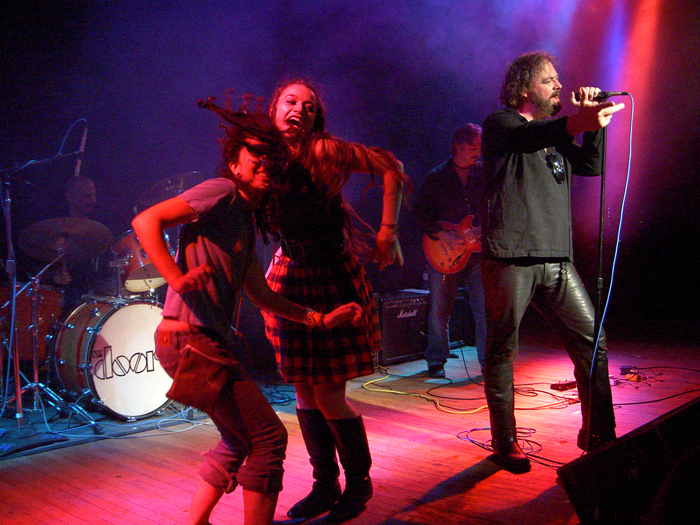 I don't even know the names of the 4 men in Riders On The Storm. In a way, it adds to the mystery. I will say this: they sounded more like the Doors than the Doors did. Roadhouse Blues and When You're Strange absolutely bled Jim Morrison. Five To One, Soul Kitchen, and Break On Through were so true to the spirit of the originals as to be frightening. "Adolph Hitler is alive and I slept with her tonight!" our Morrison intoned with a smirk. Riders On The Storm, Crystal Ship, Light My Fire - note perfect, true to intention. It was a spell over the dancing, swaying crowd. Back Door Man. Peace Frog with its reference to New Haven, in New Haven! LA Woman closed the set, packing dancers onto the stage. All the girls, guys, geeks, freaks, hippies, hoodlums, and mutants needed one more for the road, so we got When The Music's Over. The orgiastic crowd was spent and we all slithered off into the warmth of the early morning New Haven air, peppered with police, partiers, and memories...

The ELP Tribute Project / Mahavishnu Trio Project - Toad's Place, New Haven, CT 5/11/10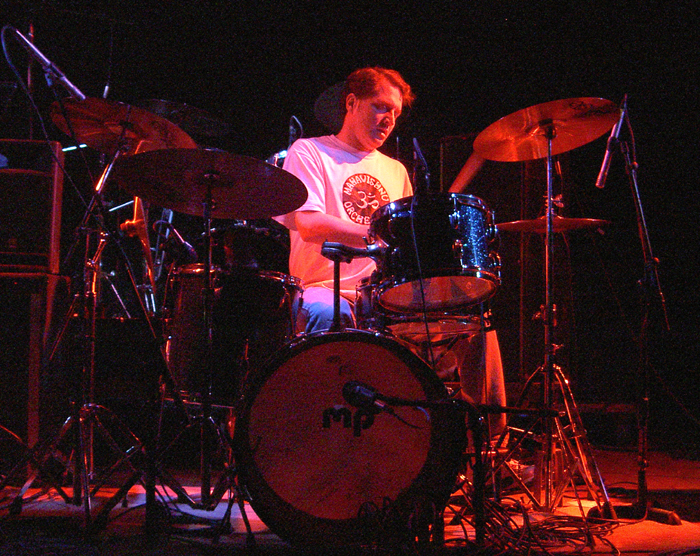 I am totally devoted to good music! To see this double bill, I went without sleep to get a deadline out early, and endured a massively painful bout of kidney stones that ended less than an hour before show time! It was 100% worth it. First up was the Mahavishnu Trio Project - the trio consisting of Gregg Bendian on drums, Chad McLoughlin on guitar, and Neil Alexander on keyboards. Each man a master of their musical domain. Their set opened with Hotel Terminus / John's Song #2. From the opening phrase I was slack-jawed from what I was hearing. A bajillion notes played at Warp 9, and none of it wasted. What a pleasure to hear jazz/rock/prog/fusion of this quality. A new composition, Sarkis The Warrior, followed. I loved the rhythmic shifts and the moods through this piece. Very engaging, and fantastic drumming from Bendian.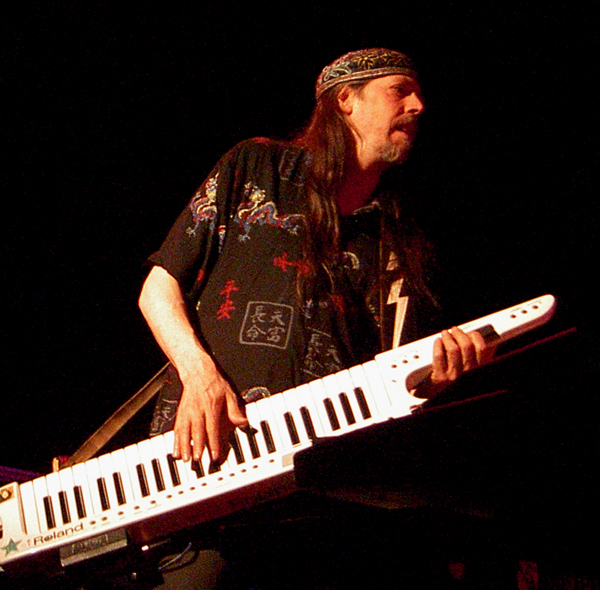 A medley of 2 classics from the Mahavishnu Orchestra's Inner Mounting Flame - Dawn and Awakening kicked the set up to another level, and an Alexander composition - 17 Seconds Over Eternity - kept it there. The set ended with the Jan Hammer tune Red And Orange. McLoughlin really tore it up on this one! I wanted to see 3 more hours of this band. This band truly keeps the spirit of the Mahavishnu Orchestra alive.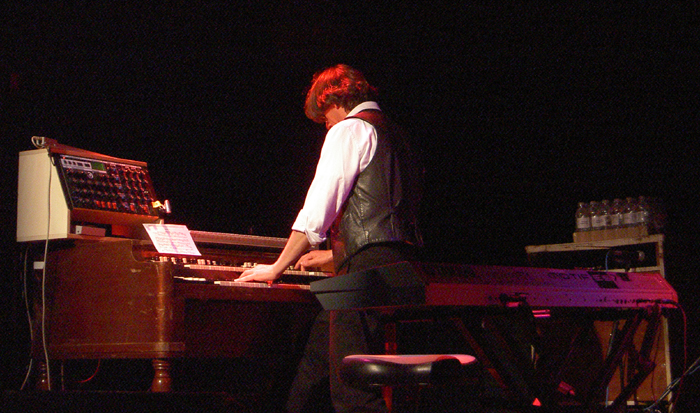 I first heard Emerson, Lake & Palmer back in 1972, when I was all of 12, when my brother bought Trilogy to learn From The Beginning to play in his cover band. After close to 38 years, they're in my DNA. I'm delighted to say they're also in the DNA of the ELP Tribute Project. Fabio Mancini - keys, Mauro Aimetti - bass, vocals, guitar, and Filippo Valnegri - percussion have every nuance, every note nailed! They breathe ELP. The show kicked off with The Barbarian and its brooding, dark genius. The dark power continued with Knife-Edge and only lightened with the beautiful Take A Pebble. The band truly captured that early energy of ELP to perfection, and this was perfectly expressed with a complete, mind blowing Pictures At An Exhibition. It was one of those "time machine" moments - I was very nearly overwhelmed by what I was seeing as well as hearing. Kudos to Mancini for slyly slipping in the main melody to Abaddon's Bolero for a moment!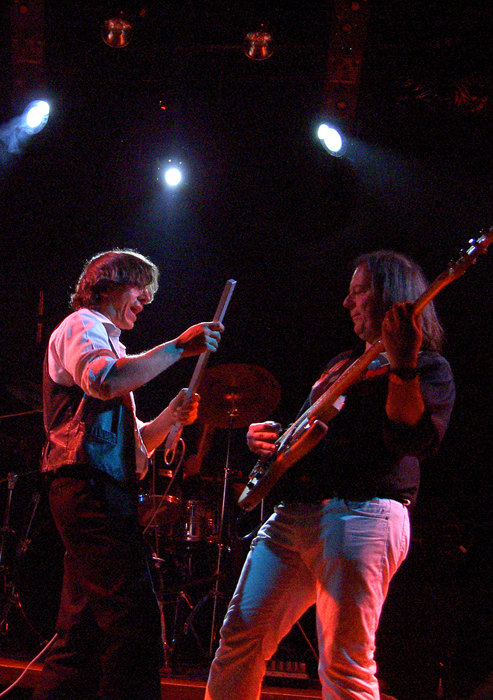 From The Beginning was lovely, followed by a very spirited take of Hoedown. I was basking in prog heaven at this point. Now it was time for...Tarkus. Perhaps my favorite ELP composition, the ELP Tribute Project really delivered the goods here. The opening through the Battlefield section were played spot on to the studio version. Then we got a fierce drum solo going into Battlefield again - this time acoustically, and seguing into Epitaph before going back to a full band Aquatarkus. This final section was played with that rolling rhythm Carl Palmer played in the live sets of the Seventies. I was in disbelief. The evening ended on a light note with the rollicking Nutrocker. See both of these bands if they are in your area. You are guaranteed a night of musical Mecca.

Stamford Symphony - Palace Theatre, Stamford, CT 4/18/10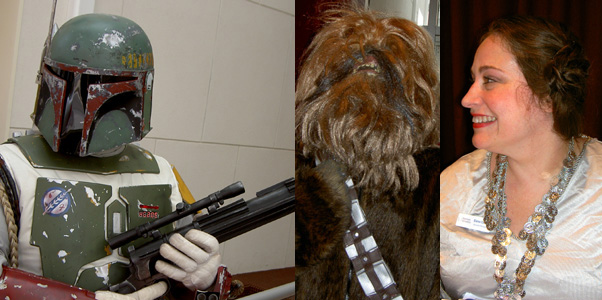 Kids! Loads of kids! Oh, and stormtroopers! A Princess! Aliens of all types were congregating at the Palace to hear the music of John Williams. This was the finale of the 2009 - 2010 season, and a grand way to close it. After maestro Eckart Preu gave us a pre-show "behind the baton" that was like a master class in composition, it was off to motion picture themeland! We started with a big one right out of the box: Star Wars, Episode IV "A New Hope": Main Title. Powerful, sweeping, brassy - a fine opener. In contrast, Star Wars, Episode II "Attack Of The Clones": Across The Stars (Love Theme) started out beautifully melancholy and got darker as it went along. A fine set up for the shark theme from Jaws. This was a personal highlight. As it built broodingly I was enamored with the movement of the sound across the stage. Next up was music from The Patriot - a slice of Americana with lots of incidental percussion. I found I enjoyed the music from Jurassic Park, with its island feel, much more than the movie itself. The first half of the program concluded with music from E.T. - a wistful lead in to intermission.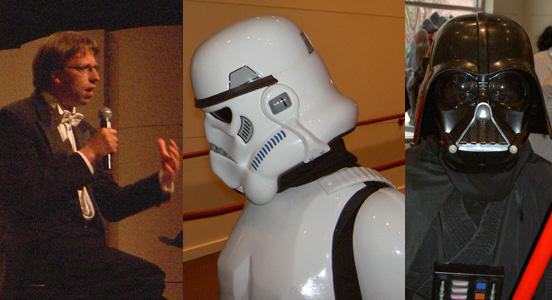 Williams' Olympic Fanfare let us know the second half was under way, sounding magnificent and huge. If there was such a thing as an audio movie this day, it was the score to The Cowboys. Grand, homespun, evocative, even a bit groovy in places. This was followed by 2 pieces made to pull the heartstrings: Munich: Hatikva (The Hope) and music from Schindler's List featuring violinist Joel Pitchon's deeply emotional playing. "Stirring" is the word I'd use to describe the march from Superman. The program finished with Star Wars, Episode I "The Phantom Menace": Duel Of The Fates - a piece with a lot of movement. But that's not all! The main theme from Raiders Of The Lost Ark was a surprise encore, sending everyone out of the building with huge smiles. Bravo!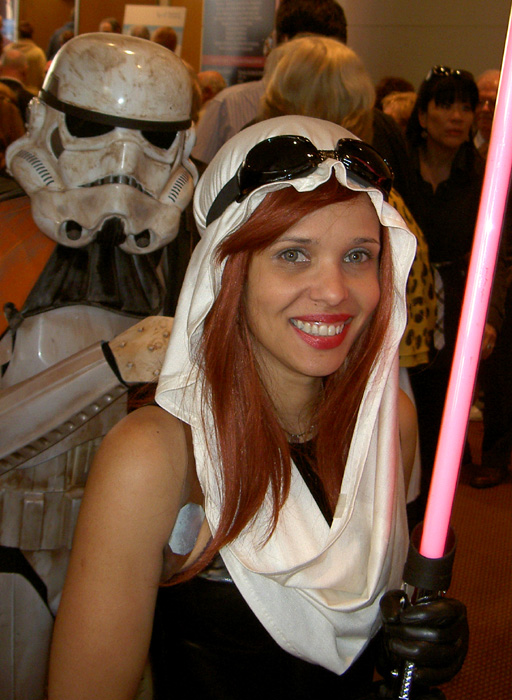 Jon Anderson - B B King's, NY, NY 4/11/10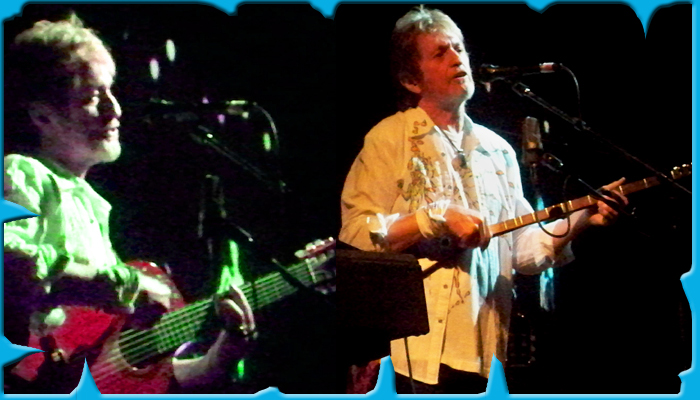 The last time I saw Jon Anderson was in 2003 with Yes. I believe. In the interim, he was due to play a gig in Fairfield, CT, but cancelled due to illness. So I was ready and willing by the time I entered B B King's in NYC. The venue was packed to the gills with incredibly enthusiastic Jon fans of all ages. A few minutes before he took the stage, the house music was replaced with the chirping of birds. the birds were joined by layers of Jon's voice oohing and ahhing on tape. Finally, the man himself walked on stage and picked up his acoustic guitar to the roar of the crowd. Jotting through a few open chords, and vocalizing a bit, Anderson settled into a breezy take of Yours Is No Disgrace, and we were underway. Sweet Dreams and Long Distance Runaround followed in quick succession. He was in fine voice and great spirits, telling stories and speaking lovingly of his wife, who sat a few tables over from me.

Throughout the night, Anderson switched between acoustic guitar, McNally strumstick, piano, and even ukulele on one number. His playing was very relaxed and his voice seemed to have an effortless time bubbling over the melodies. He was truly in the zone. Time And A Word (which included bits of She Loves You & What The World Needs Now), Under Heaven's Door and Count Your Blessings led into a funny story about Top Of The Pops & Vangelis which served as intro to the lovely I'll Find My Way Home.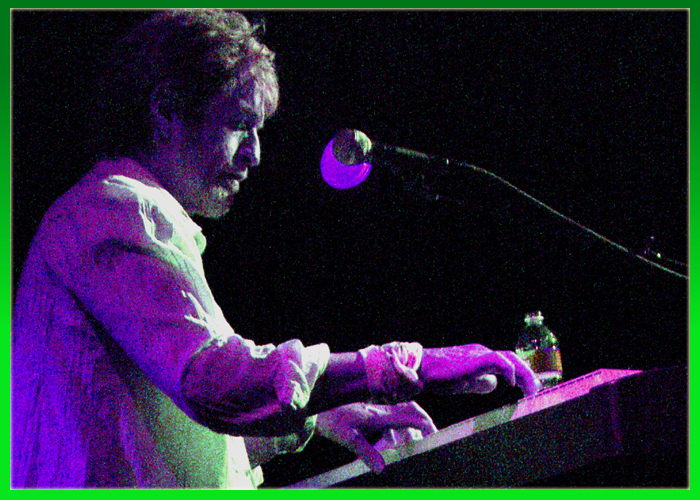 The journey through Anderson's storied career continued with Starship Trooper, Unbroken Spirit, and the delicate Nous Sommes Du Soleil section of Ritual. A new fun singalong number - Music Is God (Have Guitar, Will Travel) led us to Owner Of A Lonely Heart. I enjoyed this stripped down version, and Anderson delivered a great vocal on it. Next up, it was piano time. We were treated to a medley that included Set Sail Communication, Close To The Edge, and The Revealing Science Of God. In total contrast, Anderson accompanied himself on The Light Of Love with just a wee ukulele.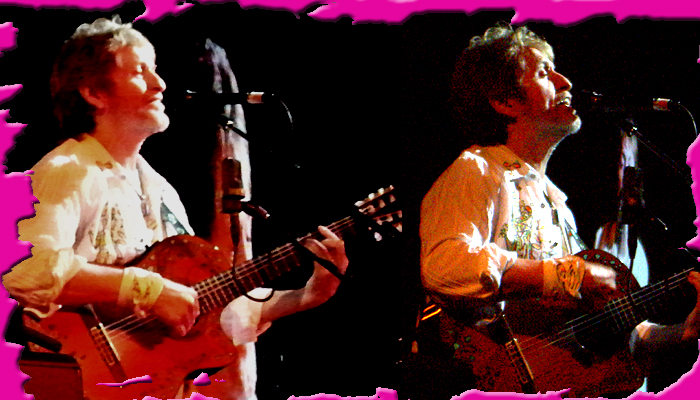 By the time we reached And You And I in the set, the audience's enthusiasm was going through the roof. After a strong Your Move, the crowd gave Anderson a long, roaring standing ovation, clearly bringing a lump to his throat. A series of sweet and funny stories were woven through Tony And Me - a song about Jon Anderson's brother with snippets of She Loves You, Wake Up Little Susie, and Help Me Rhonda.

The set drew to a close with a fine trio of tunes: To The Runner, Show Me, and State Of Independence. Roundabout, Soon, and a beautiful a capella version of O´er were the encores. So, what did I get from the evening? A ton of great music. A compelling, gently friendly performance. A reminder why I love the man and his music. Perhaps most importantly, a room full of friends all caught in a wonderful spell. Magic!

Elizabeth Mann & Margaret Kampmeier - Steinway Piano Gallery, Westport, CT 3/14/10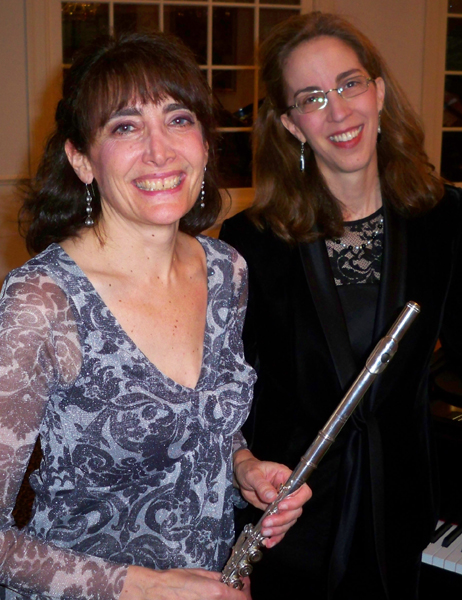 What I really enjoyed from the outset of this recital was the feeling of friendship between the two players. Elizabeth Mann on flute and Margaret Kampmeier on piano had an air of comfort with each other about them that only comes from playing together for some time. They started the recital with Telemann's Sonata In F Minor. I enjoyed this piece as it carried the listener through an interesting series of moods, at one time reminding me somehow of boats in a harbor. They followed with Schubert's Variations On The Theme Trockne Blumen. As cliche as it may sound to refer to the flute as playing the part of the bird in music, there were some definitely sparkly bird-like moments in this piece, and I loved the role the piano played here.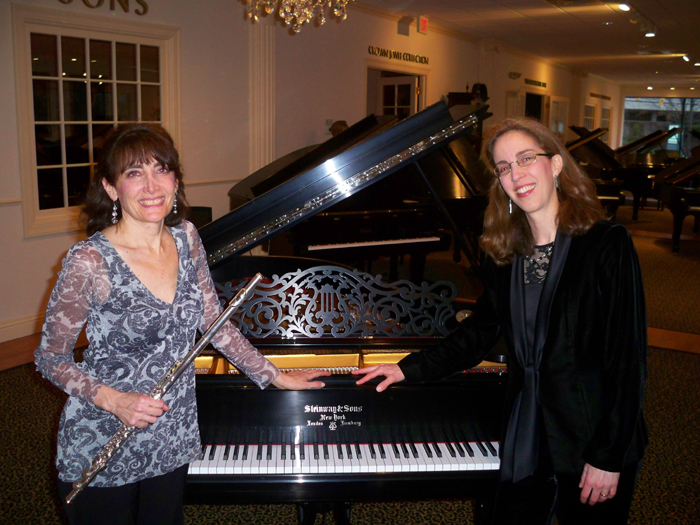 Speaking of birds, the second set began with a solo flute piece - Vasks' Landscape With Birds. Lots of interesting breathing & percussive techniques on this piece, reminding me of Jethro Tull's Ian Anderson on occasion. A colorful, evocative number. Two solo ragtime piano pieces followed: Niebergal's Hoosier Rag, and Aufderheide's The Richmond Rag. Both were comfy and old timey, with a sweetness to them. The recital finished with an American master - Copland - as they played Duo For Flute And Piano. It was wide in scope, Copland's folky melodies painted broadly on a huge sonic canvas. Thrilling. A fine conclusion to a glimpse into two brilliantly talented friends.

Puscifer - Palace Theatre, Stamford, CT 3/12/10





The sign set the tone early for the mood of the venue. I hadn't seen security like this in a loooong time. Roided out guys frowning and taking their jobs way too seriously. It was like you were going to meet both the Pope and the President at once. And just look at those ridiculous rules. No lasers being my favorite. Everyone obeyed, everyone was patted down like criminals. I was reminded that the people who make the rules as they take your money are not themselves bound by them. Interesting contradiction.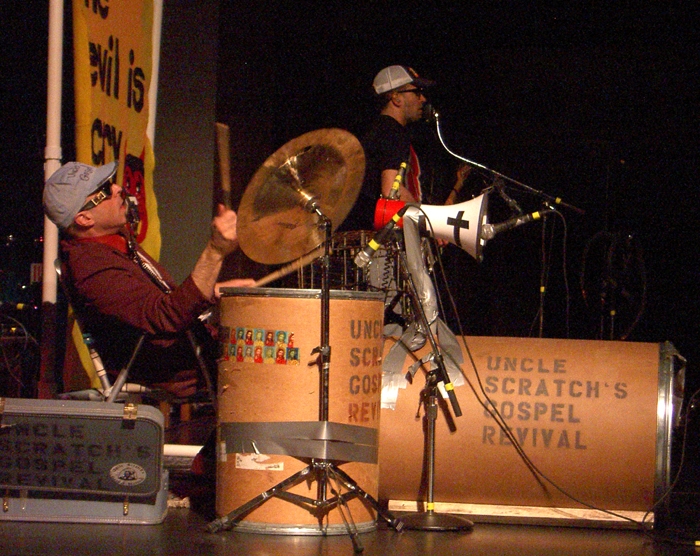 Once seated, things were a bit more relaxed. The actual Palace staff & ushers are friendly and kind. They definitely lightened the mood. First on the bill - a funny and talented duo called Uncle Scratch's Gospel Revival. Brother Ed on drums and vocals, and Brother Ant on guitar and vocals were there to save your soul and, in their words, kick the devil out of your butt! with songs like Gates Of Hell, I Banged A Sinner, and Gimme Back My Bible, they reminded me a bit of Mojo Nixon in terms of sheer gonzo rockabilly madness. I must note that outside the venue before the show, there were two protesters who bore more than a passing resemblance to brothers Ed & Ant. An excellent opener.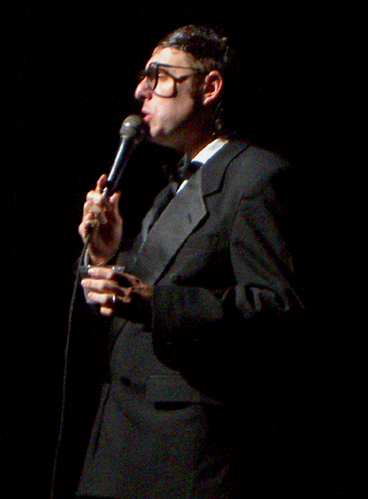 Second on the bill were the comedy stylings of one Neil Hamburger. A tawdry parody of every old lounge comic, Hamburger was sweaty, oily, crude, and hilarious. Routines about everyone from Courtney Love to Carlos Santana to Madonna to Michael Jackson were unforgettable as well as unrepeatable! I could watch Hamburger all night.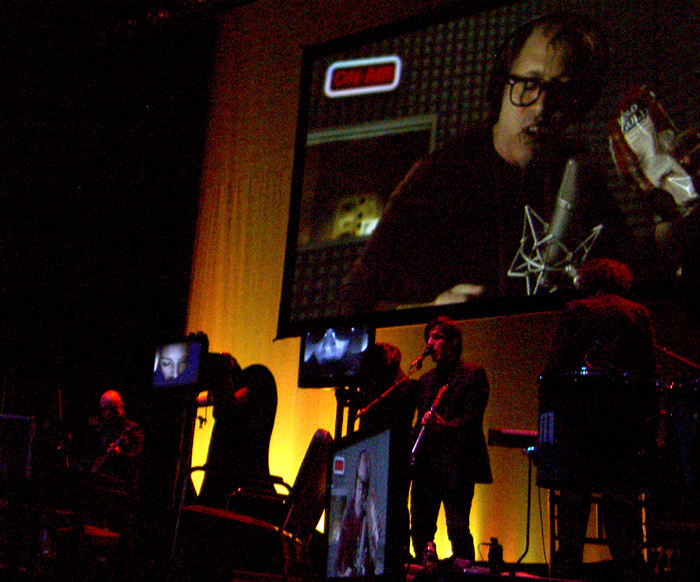 For those who may not know, Puscifer (pronounced pussy fur) is the brainchild of Tool's Maynard James Keenan. Joining Keenan was Primus drummer Tim Alexander, Nine Inch Nails henchman Mat Mitchell on bass, Jonny Polonsky on guitar, Matt McJunkins on guitar, bass, and keys, Jeff Friedl on drums and keys, and Carina Round on vocals and guitar. Keenan limited himself to vocals and the occasional tap on a laptop. The show was very video intensive. A large screen suspended over the band was continuously showing video to accompany every song, as well as several bridging pieces between numbers. Several smaller screens were set on either side of the stage showing other video elements. Additionally, Keenan and Round stood at mics behind screens, their faces only visible on the screens in front of each. Quite a striking effect.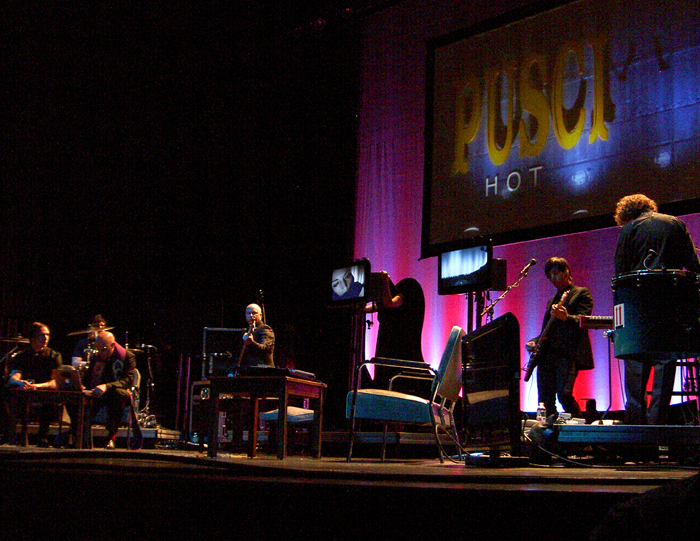 If there was an overall thread to the performance, it was a gentle mocking of Christianity. From Round dressed as a sexier version of a nun, to Keenan and Friedl in religious garb, to the others wearing priest collars, and at one point performing a sort of communion, religious symbolism was everywhere. I must admit, that while I was in no way offended by any of it, it eventually got old as the show went on. Thankfully, the music was the star. And it was powerfully engaging from first note to last. Stamford's setlist was as follows:
Sour Grapes
Rev 22:20
Dozo
The Undertaker
Drunk With Power
Momma Sed
Indigo Children
Potions
Vagina Mine
Polar Bear
Trekka
Queen B
The Mission
If there was a star to the show, I found it to be Mitchell's bass. Solid, fluid, pulsing, melodic - it was the glue for the band. The music was full of dark textures and moments of pure brilliance. Between band, lighting, and visuals, it was a Resident-ish work of audio/visual art. Beautiful in its way. After band introductions, the sole encore was The Humbling River after which the main screen showed credits. I do hope they bring this around again. I promise not to bring a laser!

Stamford Symphony - Palace Theatre, Stamford, CT 3/7/10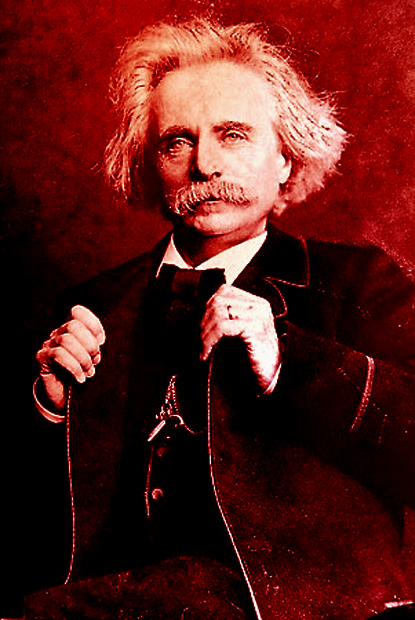 Hey, baby. Wanna get classical? This performance was one of juggernauts: Grieg, Chopin, Brahms. Mighty composers with much deserved reputations. Those seeking proof need only to have listened. Under the guidance of Maestro Eckart Preu's baton, we were first served a helping of Grieg in the form of From Holberg's Time, Op. 40. Sadly gorgeous as an abandoned bride, the symphony sang under Maestro Preu's direction - his body swooping and swaying, as if his baton was knitting the notes and instruments together in front of our eyes. As you listen, you marvel at his skill, his power, his love. Preu resurrected the soul of Grieg and laid bare the heart of this lovely beast. To Preu's left was concertmaster Erica Kiesewetter, her violin crying to heaven. A moving slice of genius.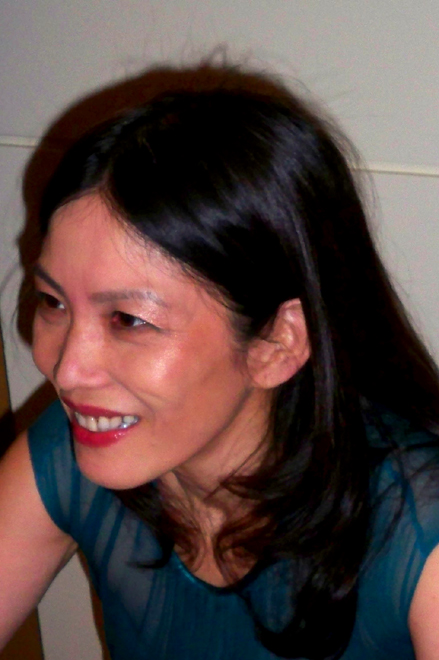 Manila born Cecile Licad, a true piano prodigy, took the stage to perform Chopin's Piano Concerto No. 2 In F Minor, Op. 21. That sounds so simple, with no fanfare or flourish. Yet, what her 10 fingers did to that piano was miraculous. Her technique left me breathless - complex, near impossible runs played effortlessly. At times you could see Licad singing the melody as she played it, like some giddy girl in the schoolyard singing a song she'd just heard that morning. Chopin himself would cry tears of joy. Supported by the symphony, Licad touched the ear of God with her fingers. I was awed, overjoyed, and overcome simultaneously. I felt I saw a glimpse of history and a preview of Heaven.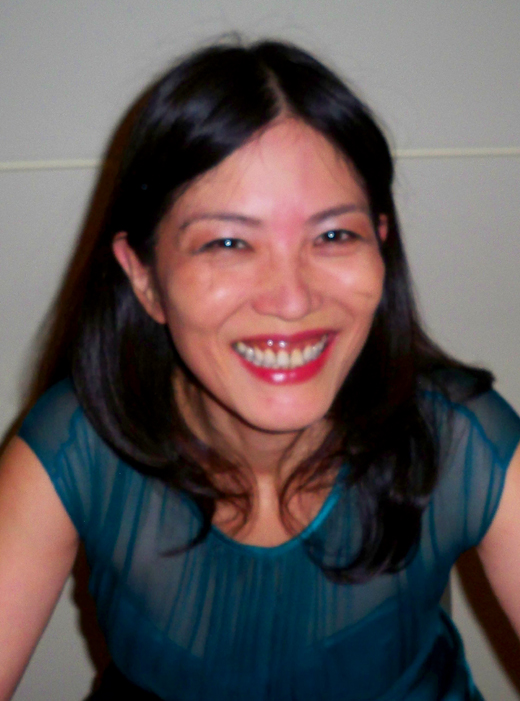 The entirety of the second half of the program was taken up by Brahms' Serenade No. 2 In A Major, Op. 16. An unusual aspect of this piece was the absence of violins, trumpets, and percussion. The brass and violas were the stars here. As the piece unfolded, I was struck with how much each movement reminded me of a chapter in a short novel. Each had its own character: the descending melodies in the early movements. The character of the violas as we moved into the later movements. Craft met passion and dark-ish beauty in a way only Brahms could bring to fruition. Quite a luxuriant finale to the program.

Sarah Chang And Andrew von Oeyen - Stamford Center For The Arts, Stamford, CT 2/21/10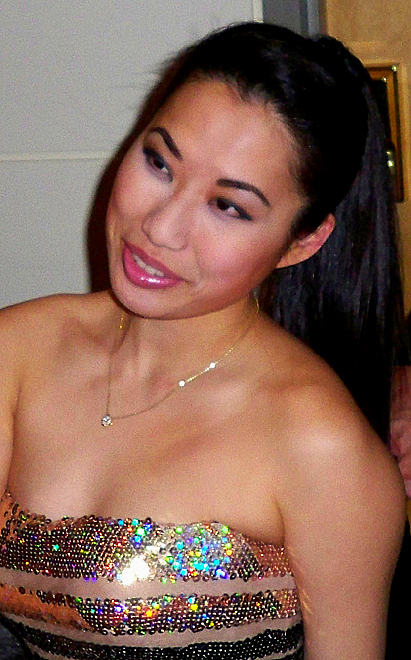 Take one building, add two virtuosos, and if everything goes just right, the sum is magic. Indeed, magic was delivered at this recital. There was no grand symphony here, just two musicians and a page turner. But they were enough to fill the hall with divine beauty. Sarah Chang on violin (a Guarneri del Gesu violin from 1717, I might add) and Andrew van Oeyen on piano (a Steinway NOT from 1717!) are each headliners in their own right. Together they were staggering. They opened with Brahms' beautiful Sonatensatz. Chang ran some fierce lines - at times flinging her bow arm behind her back after a particularly aggressive run. Watching her fury it made me ponder that some people, after years of playing, can be said to have mastered the violin. Chang has not only mastered it, she has conquered it! It responds to her every whim with loving obedience.
Another Brahms piece followed: Sonata No.3 In D Minor, Op. 108. During the 3rd movement, von Oeyen's fingers seemed to cry midnight tears in some dimly lit corridor in Heaven. I was almost overwhelmed with the emotion and unstained beauty of Brahms' vision.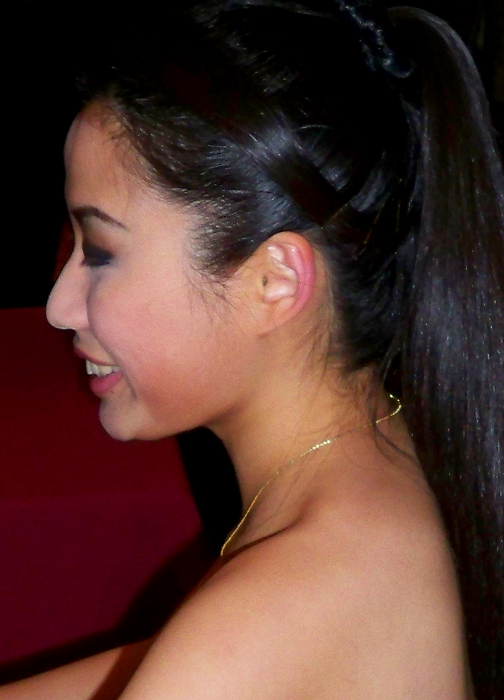 Composer Chris Theofanidis came out and introduced the opening number of the second half: Fantasy - written as a showcase piece for Chang. I loved this! It reminded me of one of those early March mornings with the last bits of snow still on the ground, the sun just a bit too bright, and the ping-ping-ping of water drops hitting some tin can. Cascades of light through some rough quartz spraying shimmering rainbows in the early light. A joyful short film for the ears.
The evening concluded with a biiiig one - Franck's Sonata For Violin And Piano. It's a huge, stately composition that showed how well Chang and von Oeyen work together. Lots of unison lines. Plenty of solos for each. Romantic, aristocratic, dramatic, grand. What an ending to an incredible show!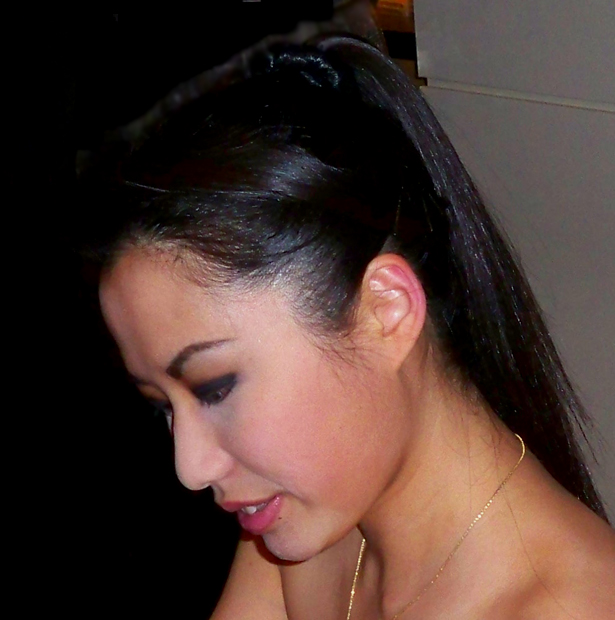 Classic Albums Live - Wolf Den @ Mohegan Sun, Uncasville, CT 2/5/10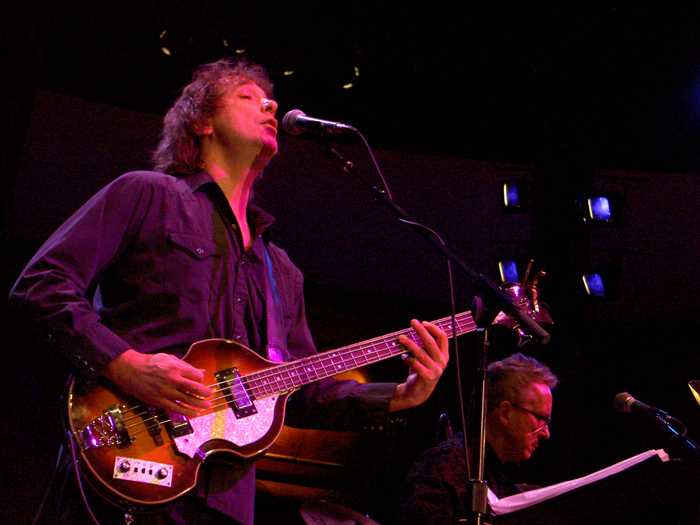 Anyone that knows me knows that I'm always enthused to see a Classic Albums Live gig as they are the bomb. Sparkling recreations of important albums. This evening was Rubber Soul from the Beatles - quite an important album indeed. Performing it were Rob Phillips on guitars and vocals, Marty Morin on percussion, vocals, and guitar, Doug Inglis on drums and vocals, Will Hare on keyboards, Mark Stewartson on bass and vocals, and new guy David Love on guitars and vocals. Rubber Soul is packed with hits, but also has many songs I've never seen performed live, so I was full of anticipation! Sticking of course to the album order, the set starter with two massive hits: Drive My Car and Norwegian Wood. Harmonies were crisp and tight and Phillips played some keen electric sitar on Norwegian Wood. You Won't See Me and Nowhere Man followed. David Love was proving to be a Godsend with strong vocals, solid guitar, and a strong stage aura. Two of the aforementioned rarely played pieces were next - Think For Yourself and The Word. Both were worth the wait, let me tell you!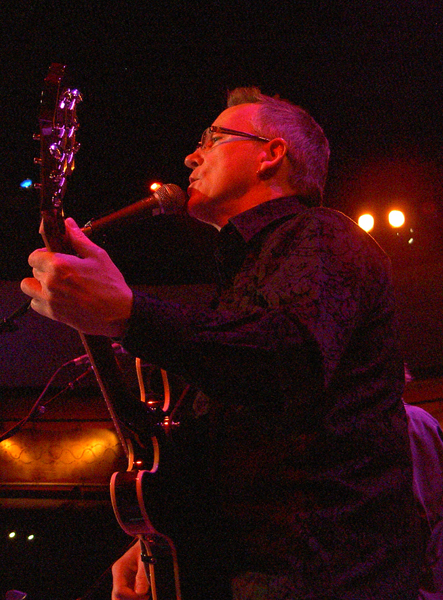 Michelle was pure heaven, with creamy vocal harmonies. Inglis took the lead on the "Ringo" vocal for the country-ish What Goes On with suitable aplomb. Girl was a thing of beauty sent from above. I'm Looking Through You is still one of my fave Beatle tunes ever with those great organ stabs by Hare. Next were In My Life and Wait - the latter the epitome of grooviness! If I Needed Someone and Run For Your Life closed out this incredibly strong album.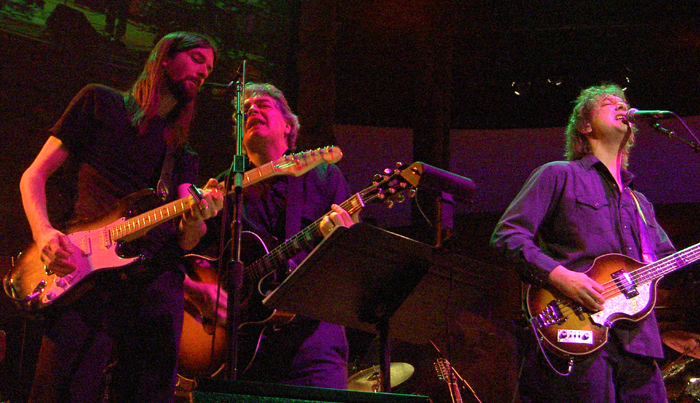 The encores had a singalong party aspect to them. Rock And Roll Music, Can't Buy Me Love, and You've Got To Hide Your Love Away came in quick succession, the latter with Braxton Hicks and Chris Robertson on flute & woodwind. The crowd just ate up A Hard Day's Night and Come Together. The encores weren't quite enough, so the crowd screamed for more and Classic Albums Live delivered with She Loves You immediately followed by its German language double - Sie Liebt Dich! The rock never stops!

Crazy On You - Wolf Den @ Mohegan Sun, Uncasville, CT 1/21/10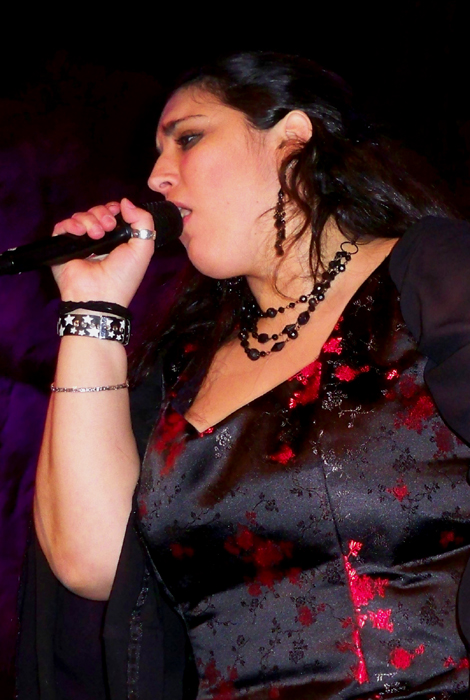 Anyone that knows me, knows that I adore Heart. I've followed them from day 1. Seen them many times live. Well, right now, they're not in town! I saw that a tribute band, Crazy On You, was playing up at the Wolf Den, so I thought I'd go and give a listen. They did not disappoint! The band was a six piece: Cassandra Frazier on lead vocals; Britt Lightning (from the band Jaded) on guitars and backing vocals; Chris Piquette on guitars; Derek Waldron on keys, flute, and backing vocals; Matt Simpson on bass; and Scott Pearson on drums. They were a tight unit with a fun energy to them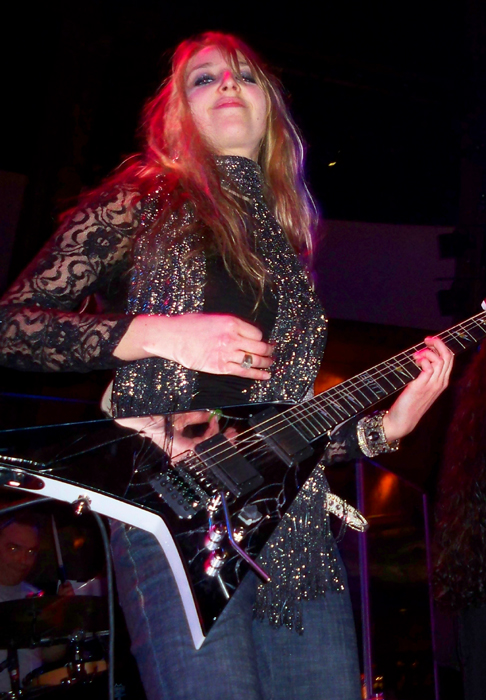 The band came out to the sound of a radio changing to various stations before tuning in to a Heart song as Crazy On You launched straight into Heartless, a big fave from the Magazine album. I was immediately struck by the power of Frazier's voice. Ann Wilson's vocals require major energy, while retaining a melodic beauty, and Frazier gave us exactly that. Straight On came next, with it's tight groove kept solid by Simpson and Pearson. They were locked in the pocket all night, a key ingredient to the sound. We jumped ahead to the 80's with Who Will You Run To and Never - both faithfully delivered with solid guitar from the very animated Lightning. Magic Man got a huge reaction from the crowd, and gave Piquette a chance to shine on the leads.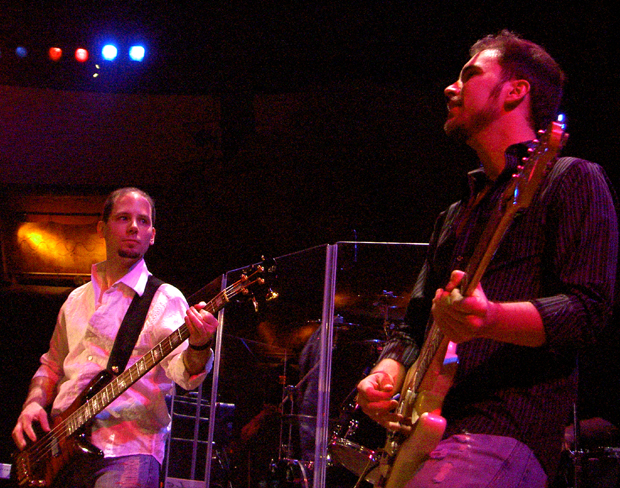 2 more "groove" based Heart classics: Bebe Le Strange and Even It Up. I always felt that Even It Up had pretty much the same feel as T Rex's Bang A Gong, which is not a bad thing! Next was the one Heart song I have just never liked: All I Wanna Do. The band did a killer version of it, but it's still just not in my DNA to dig that tune. On the other hand, I love both Nothing At All and Alone. To answer the question in your mind - Yes! Cassandra Frazier hit that orgasmic scream on the latter strong and proud! Such a great voice! These Dreams got a lovely, stripped down acoustic arrangement with Lightning on her Ovation and Waldron sounding all delicate on the keys. Speaking of delicate, Love Alive showed all the strengths of Heart with its acoustic first half and rockin' conclusion. Such nice harmonies as well!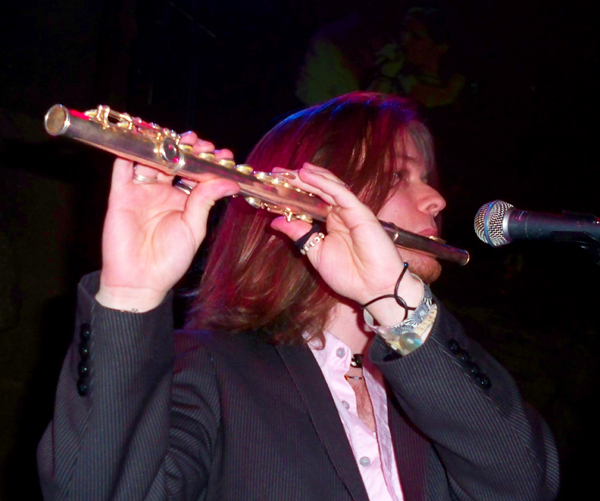 Next was What About Love, which fairly soared on the wings of Frazier's voice. Crazy On You also kept the long standing Heart tradition of including a few cover songs in their set. For this show we got Led Zep's Immigrant Song (featured on Ann Wilson's Hope & Glory album) and the Who's Love, Reign O'er Me - often played on Heart's more recent tours. The show wound to a conclusion with Crazy On You (which featured Waldron playing the original Howard Leese keyboard parts on flute!) and a crankin' take of Barracuda. A hot, hot set! I hope to get to see this band again soon!

Stamford Symphony - Palace Theatre, Stamford, CT 1/17/10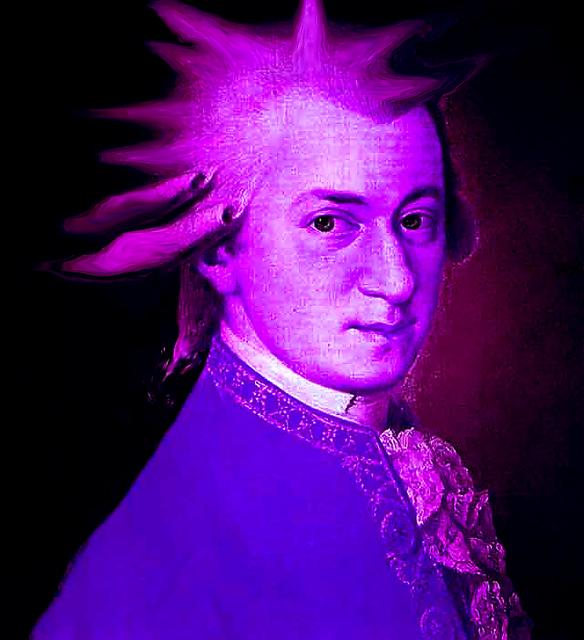 Ah, our little friend Wolfy A Mozart - the randy tart of the classics. Such a naughty, controversial boy! But could he ever write! To celebrate this talent our fearless maestro, the ever ebullient Eckart Preu, put togather an all- Mozart program for our listening pleasure and brought in the comely Elena Urioste and her magic violin of destiny (yes, that last part was a bit overboard) as a bonus. Overture To Lucio Silla, K. 135 was written by wee W A when but a lad of 13. Lucio Silla was an opera about a Roman dictator, and although the overture bears no relation to the story, it was quite a lovely number with lots of color and warm movement.
Written shortly after the death of his infant son, Symphony No. 36 In C Major, K. 425 "Linz" bore few signs of melancholy. It was bright and shiny, almost festive. I was amazed to hear that this symphony was written from scratch in but 3 or 4 days. Mozart was a quick young man. Despite the rapidity of composition, the symphony had a complete feel to it with lilting lines and an arrangement with a bit of breathing room. Nice tympani and cellos in this piece. Break time!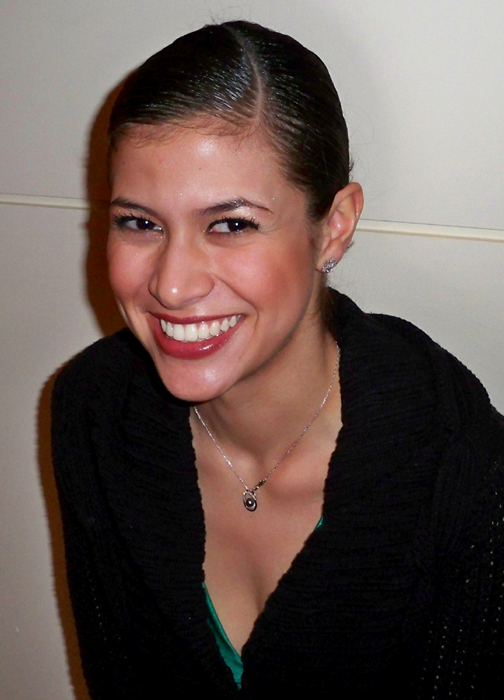 Violin Concerto No. 5 In A Major, K. 219 was a wonderful showcase for Elena Urioste. Her violin had a smooth, buttery tone well suited to her lithe, fluid playing. I moved up to the front row to get into the nuts and bolts of the piece. Mozart delivered the goods on this one, packing it with memorable melodies and creating excitement in the movements. A splendid bit came about 3/4 of the way in, as the basses and cellos smacked their bows percussively across the strings, as Urioste rode the lead line over the top. A thrilling, evocative moment. As the piece wound to its grand conclusion, Preu, Urioste, the symphony, the audience peaked as one. A breathtaking afternoon celebrating our favorite Wolfman!

The Musical Box - Nokia Theatre, NY, NY 1/16/10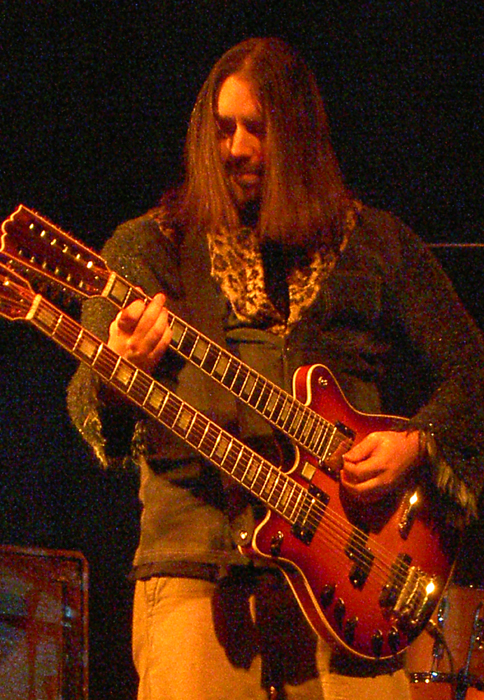 It was a surprisingly beautiful day in the Big Apple - sunny and in the mid-fifties. I took advantage of the day and headed down to the East Village to pick up a few things, grab a bite, and enjoy the afternoon before heading back up to midtown. The Nokia Theatre is breathing on Times Square in the heart of midtown Manhattan. It's a vibrant, packed area. The theatre itself has decent seating and nice acoustics. On the down side, it now has waitresses that stalk the aisles for the entire concert carrying trays with multicolored blinking lights. When you're trying to concentrate on an emotionally involving show, they are a major distraction. The other distraction, and the waitresses feed this, is talking drunks during the show. Shut up, folks! Why pay for a show you're not even bothering to listen to? Anyway, on to the performance itself.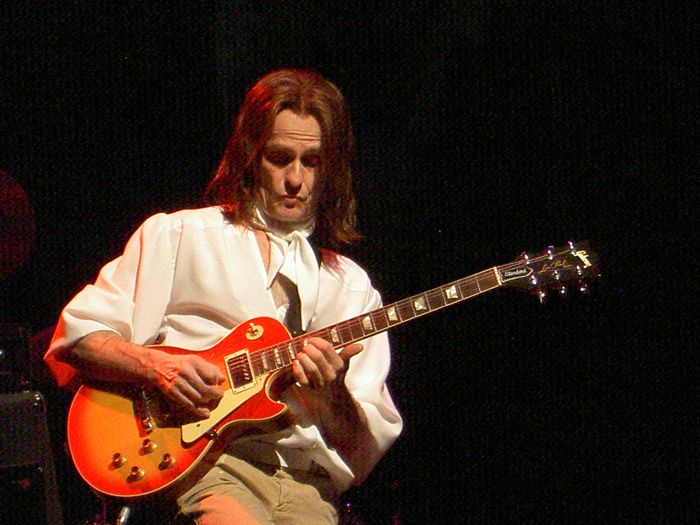 This was my second time seeing the Musical Box recreate Genesis' 1976 A Trick Of The Tail show. In the year that has passed, the band has grown even deeper into the set. There was a greater level of confidence, a smoother performance, and more smiles going around. Gregg Bendian (as Bill Bruford) and Marc Laflamme (as the drumming Phil Collins) seemed to be having a ball. Great dual drumming, and during the moments where Laflamme drummed with Bendian playing all sorts of percussion, it was pretty orgasmic! Sebastien Lamothe on bass and guitars matched perfectly with Francois Gagnon on lead guitar. David Myers was perfection as always on keyboards and occasional 12 string, and Denis Gagne seemed ever more comfortable on vocals.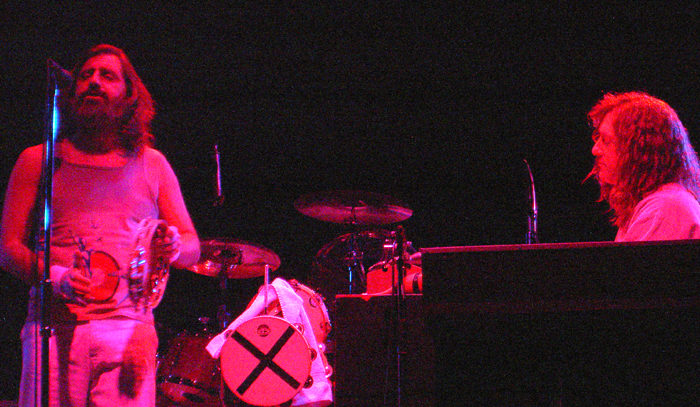 Genesis diehards know the set by heart: Dance On A Volcano, The Lamb Lies Down On Broadway, Fly On A Windshield, Carpet Crawlers, The Cinema Show, Robbery, Assault And Battery, White Mountain, Firth Of Fifth, Entangled, Squonk, Supper's Ready, I Know What I Like, and Los Endos with the encore medley of it. and Watcher Of The Skies. A powerful set - well paced, well balanced. On this evening, The Cinema Show and Supper's Ready hit me the deepest - so much energy contrasted by such beauty. Another home run for the Musical Box! Next time, can we think of bringing it back to a more civilized venue like Tribeca? Please?

Project / Object - Toad's Place, New Haven, CT 1/10/10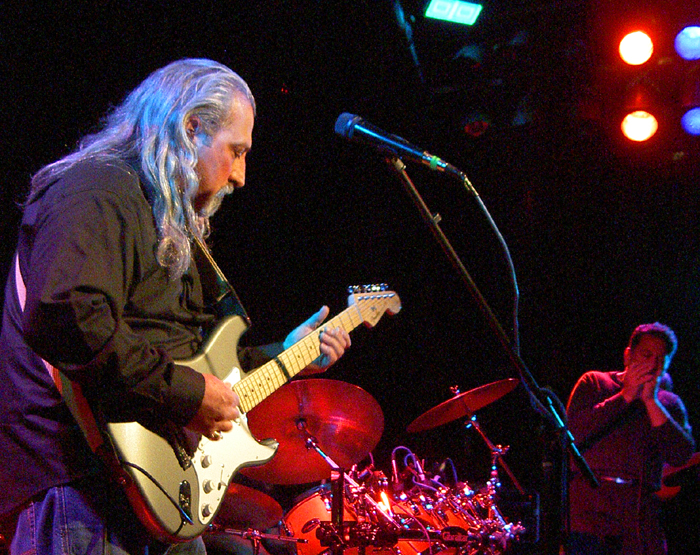 And now for something completely different... After an afternoon of classical bliss, I headed up to New Haven on a bitterly cold evening to what has been my home away from home - Toad's Place. The evening began with some red hot blues courtesy of Don't Tell Muddy. Featuring the one-two punch of guitarist Joe Montalto and harp player Chris DePino, this band was on fire from the first note to the last. Highlights of their set were Steppin' On The Funk, Bad Habits, a cover of the Allman Bros' Trouble No More, and a hot number called Play My Hand. DiPino was doing stuff on his chromatic harmonica that I swore was keyboards - this guy is a major talent. After the encore of the blues classic Hoochie Coochie Man, I was 100% sold! See this band if they hit your area - well worth the effort!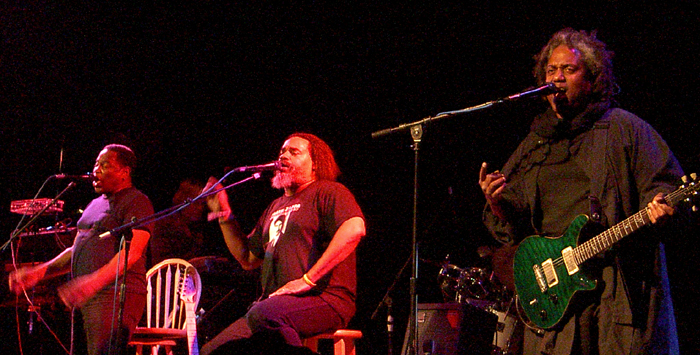 It's no secret that I love the music of Frank Zappa. It's complex, innovative, funny, melodic, inspiring. It's also very difficult to get right. Project/Object get it right. Led by guitarist / vocalist Andre Cholmondeley, the ensemble for this show was David Johnsen on bass, Jim Ruffi on drums, keyboardists Jordan Shapiro and Eric Svalgard, and special guest Zappa alumni Ike Willis and Ray White - both on guitars and vocals. The band was tight, but loose enough to improv at the drop of a hat.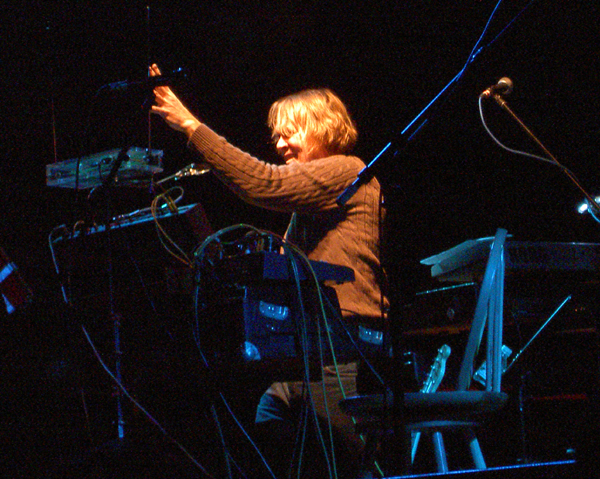 Set 1 included Pound For A Brown, More Trouble Every Day, The Idiot Bastard Son, Montana, Society Pages, Charlie's Enormous Mouth, Pick Me, I'm Clean, Magic Fingers, Tinseltown Rebellion, Filthy Habits, and City Of Tiny Lights. A bunch more I forgot to write down as well! I was often caught in the emotion of the music, so my pen was a low priority. FZ would have loved this band - they truly captured the spirit of the pieces. Very emotional, very transcendent.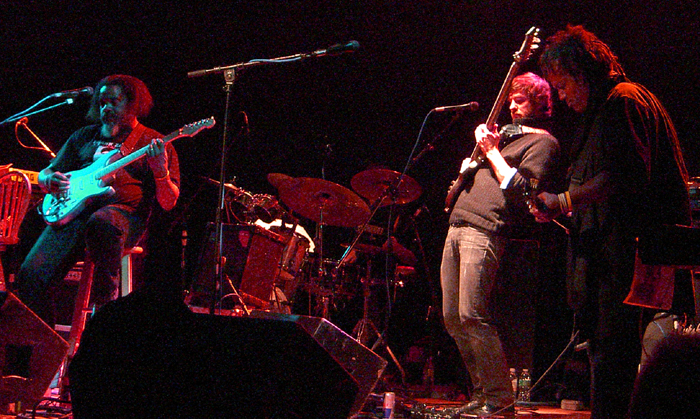 Set 2 was even more player intensive. RDNZL, Little House I Used To Live In, Apostrophe, Crew Slut, Outside Now, Cosmik Debris, Blessed Relief, Florentine Pogen, Evelyn, A Modified Dog, and San Ber'dino were just some of the culprits. Every player had their moment to shine, and all were monsters. But it was all to serve the music. To honor the compositions without pretension. They weren't museum pieces, or fragile musical butterflies trapped in a glass case. They were living, breathing pieces of art full of laughter, glory, and the odd tasteless joke. There is an "authorized" band out there trying to control Zappa's legacy without understanding it. Project/Object, on the other hand, bring you the real goods in widescreen and technicolor! See them often! Support genius!

Emily Wong & Jean Schneider - Steinway Piano Gallery, Westport, CT 1/10/10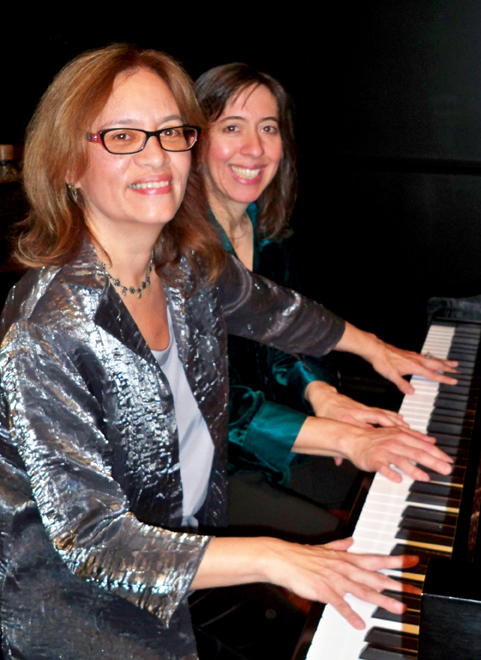 I look for passion of some sort in music. Passion and emotion. Emily Wong and Jean Schneider and their 20 magic fingers brought plenty of both to the afternoon's program. I totally lucked out and had the seat - front row center, so I was right up there under the hood! Two pianists, no waiting! The first number on the bill was Mozart's Sonata In F Major, K. 497. It was a "4 hands" piece with both players at the same piano. Wong was on the lower end and did all the pedaling as well, with Schneider floating on top. Their playing on this piece had a sort of call-and-response feel to it in several sections - quite a thrilling start.
Poulenc's Elegie followed, this one was a 2 piano piece with Wong to my left, Schneider to my right. As I sat in dead center, the sound seemed to roll left to right to left - like audio waves on a gentle ocean. The piece put me in the mind of an old 1920's movie house with a lonely piano at the back. Evocative, beautiful, fragile.
Our duo closed the first set with another 4 handed piece, and played Poulenc's Sonata. With its intertwining lines and overlapping hands, it was surely sly old Poulenc's get-to-know-each-other-better / make- out for piano. The eharmony.com for pianists of his day, and a flat out lovely piece. I must add that the final movement was pretty darned work intensive!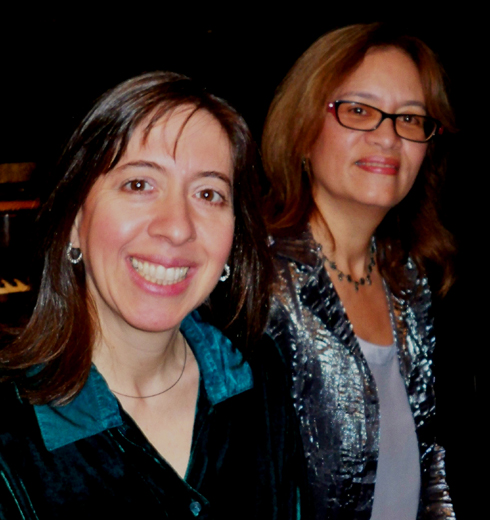 Set two was Rachmaninoff's Suite No. 2, Op. 17 - another 2 piano treat. Lots of nice builds and thematic restatements through the movements, with figures in six in the penultimate movement paving the way for doubled sixes in the final Tarantelle. Wong and Schneider worked as one on the two pianos, creating a massive sound. It's not often that I get treated to hearing two pianists playing in tandem, much less two such locked in, sympathetic virtuosos. A rare treat, indeed!

Steve Morse Band - Toad's Place, New Haven, CT 10/25/09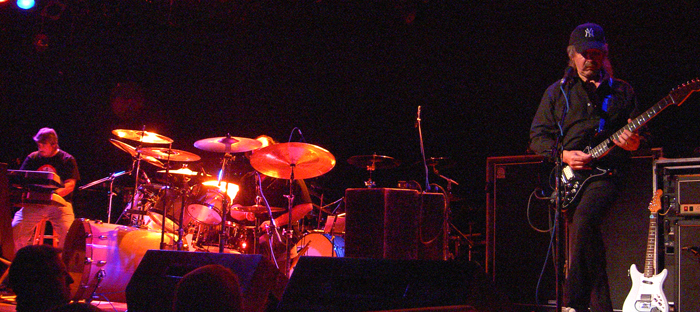 My first thought was that this wasn't going to be a singalong night! Once I walked in the doors of Toad's Place in good old New Haven, instrumentals were the order of business. Thankfully, the two acts on the bill were masters of instrumental rock. I had last seen Holding Pattern at Marprog during the summer months where they impressed the hell out of me. If anything, they were tighter, even more fierce for this set. Guitarist Tony Spada is the personification of precision. His leads are wild and flying, but he knows when to hang back and lay it down with a flawless rhythmic sense. Ground Zero, Balance Of Power, and Another Point Of View were perfect showcases for Spada. But Holding Pattern is a trio, and keyboardist Tony Castellano and drummer Rob Gottfried are every bit as vital to the picture. Trick Shoes, Honor Before Glory, and the wonderful Breaking The Silence showed a band at the top of its game. Ten Passed Midnight and Final Act brought a powerful set of prog instrumentals to an end far too quickly - I could listen to these guys all night!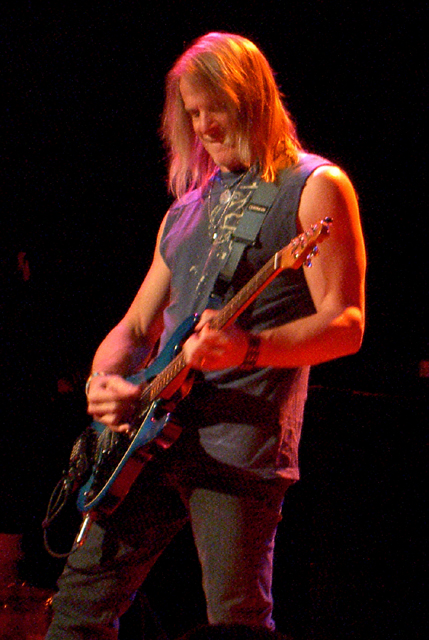 One brief break later, it was time for more smokin' instrumental stuff courtesy of Steve Morse, Dave La Rue, and the ever explosive Van Romaine. Wasting no time, they dug right into Name Dropping and the cinematic Vista Grande. Morse was all smiles as always, and all 3 players seemed relaxed and enjoying themselves.On The Pipe and Highland Wedding were next, sounding note perfect and impossible for other humans to even attempt playing. Ice Cakes was a treat I hadn't heard in years and was well paired with Relentless Encroachment.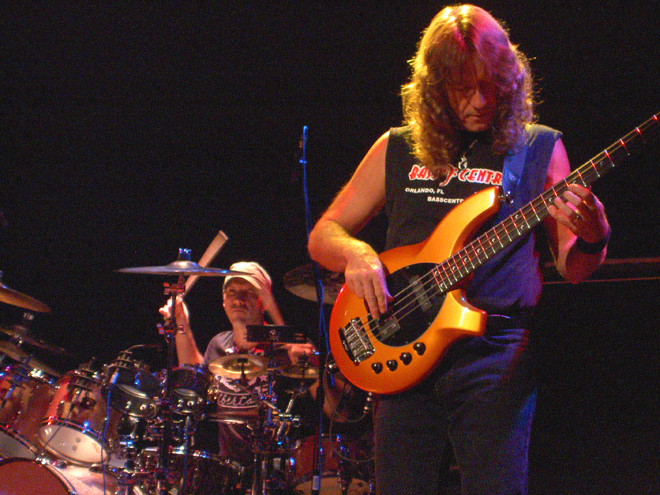 The Dregs classic Night Meets Light sounded glorious with those majestic lines from Morse. In contrast, John Deere Letter was just plain fun! Morse and La Rue gave us an acoustic thrill with Baroque 'N Dreams and Little Kids, filling the venue with enough notes for 17 songs and playing with a subtle beauty.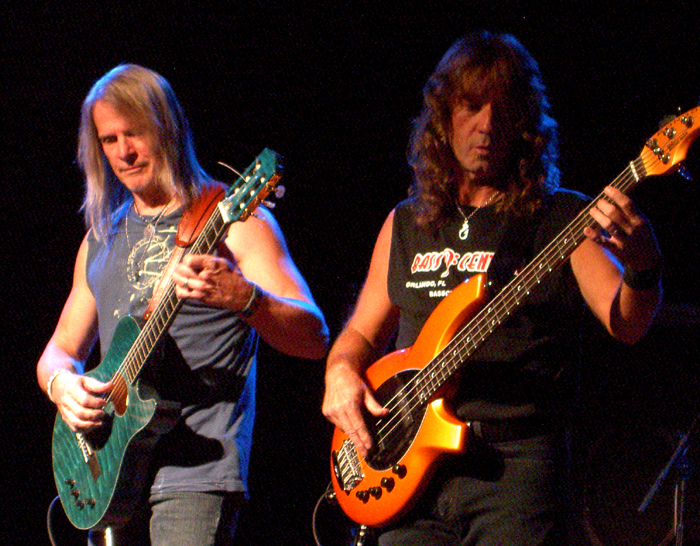 La Rue and Romaine were just sick on the crunky funky Sleaze Factor - those lads can play! As my best friend Jay-Z often says to me over linguine at Massimo's: "La Rue and Romaine represent!" Couldn't put it better myself! The set wound down with Here And Now And Then, Rising Power, and the mercurial Cruise Missile. A drum solo from Van Romaine led to the encore of Cruise Control - played as dizzying as ever! What a great night of ripping good music, shredding guitars, and fantastic ideas flying through the air and into the New Haven night!

Agents Of Mercy / Karmakanic - Crossroads Theatre, New Brunswick, NY 10/18/09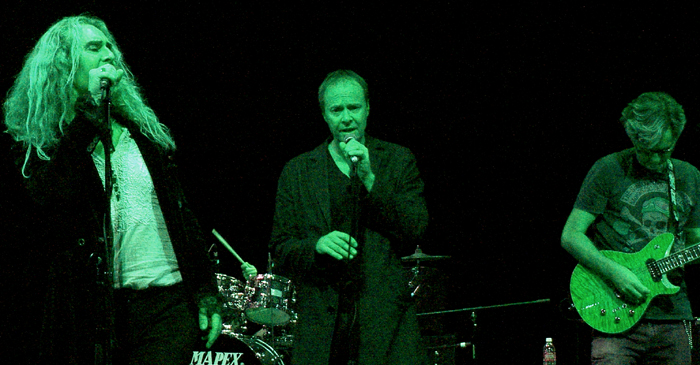 About 45 minutes outside of Manhattan you'll find the Crossroads Theatre on the cusp of Rutgers University in New Brunswick, New Jersey. It's a lovely, well staffed little theatre and was playing host to a New Jersey Proghouse offering: Agents Of Mercy and Karmakanic. Both bands boasted an identical roster: Jonas Reingold on bass, Roine Stolt on guitars and keys, Nick D'Virgilio on drums, Lalle Larsson on keys, Nad Sylvan on vocals and keys, and Goran Edman on vocals. For the Agents Of Mercy set, Sylvan sang lead, for Karmakanic, Edman took that role. It was very interesting to see Stolt in a supporting role through the evening. His guitar playing was awe inspiring, and his keyboards & backing vocals were spot on and added a lush atmosphere to every song.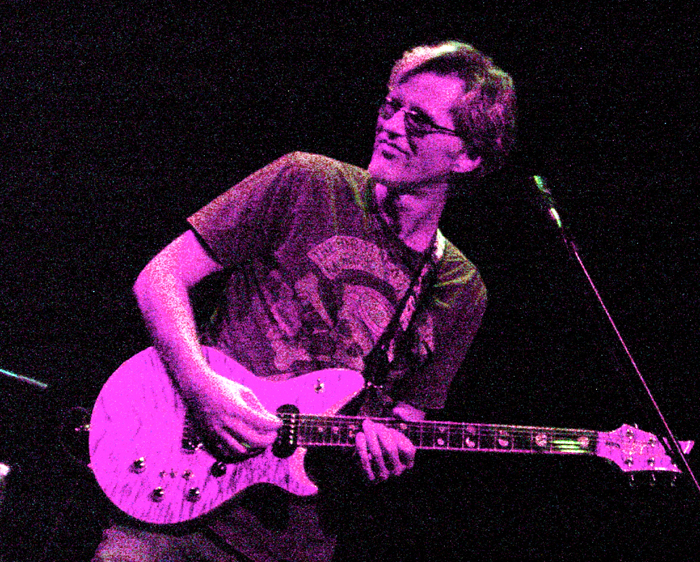 The Agents Of Mercy set started with The Fading Ghosts Of Twilight, which featured a strong, theatric vocal from Sylvan. He brought a ton of emotion into his vocals over the course of the evening. Roine Stolt introduced The Unwanted Brother, a tune with a bit of an eerie edge to the lyric and fine keyboards from Larsson. Sylvan and Edman's flawless vocals were the stars of Heroes & Beacons - these guys can sing! "What's this song about, Roine?" asked Sylvan about the next number, Jesus On The Barricades. "All my songs are about nothing" replied Stolt wryly. "Sounds a bit like Jon Anderson" quipped Sylvan as they launched into the soulful ballad. The Agents set closed with A Different Sun, a strong ensemble piece with great bass/drum work from Reingold and D'Virgilio. Quite a finish to act 1, with more to come!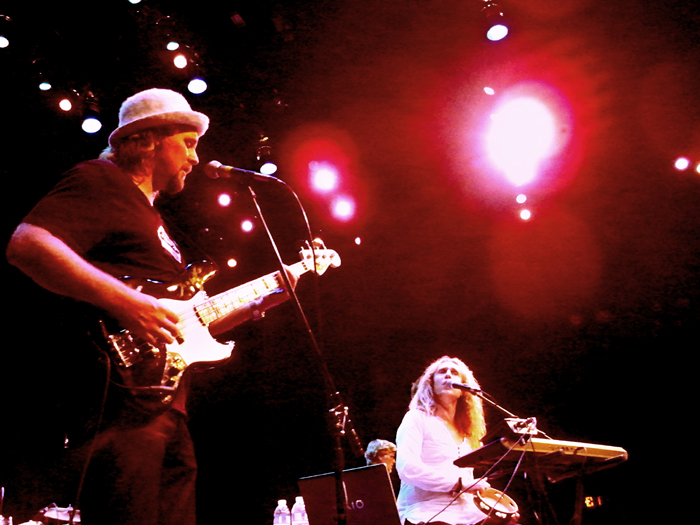 The voice of Jonas Reingold's son served as the intro to Send A Message From The Heart a big, big tune with more than a hint of a Flower Kings vibe to it. Goran Edman turned in a powerful vocal, then topped himself on Two Blocks From The Edge - a song I shouted along on the chorus with, unable to resist its charm. Speaking of big tunes, Where The Earth Meets The Sky was huge, with some ass kicking playing and soaring vocal sections. Butts were kicked up several notches by Do U Tango?, an instrumental with a massive drum workout by Nick D'Virgilio and incredible bass/guitar/key bits in ever-shifting time signatures. Exciting and impossible! This was followed by a mind blowing keyboard solo from Lalle Larsson. This man can seriously shred! He's not just speed, though - very tasty, expressive playing in addition to 7 billion notes. By the by, it wasn't technically totally solo, as Stolt held down a few bass notes on his keyboard, but who's counting? The set wound to a close with the melancholy Eternally pts 1&2, with a touching intro from Reingold, who lost his parents in a tragic accident & to whom the song was dedicated. "10 minutes can change your life" he said. So true. Karmakanic returned to the stage to give us Is This The End? - a fitting farewell that I hope is only a temporary one. This show was a jaw dropper from start to finish. I was instilled with wonder, hanging like a child on every note. Great musicians, great songs, great vibe.

Ian Anderson - MGM Grand At Foxwoods, Ledyard, CT 10/11/09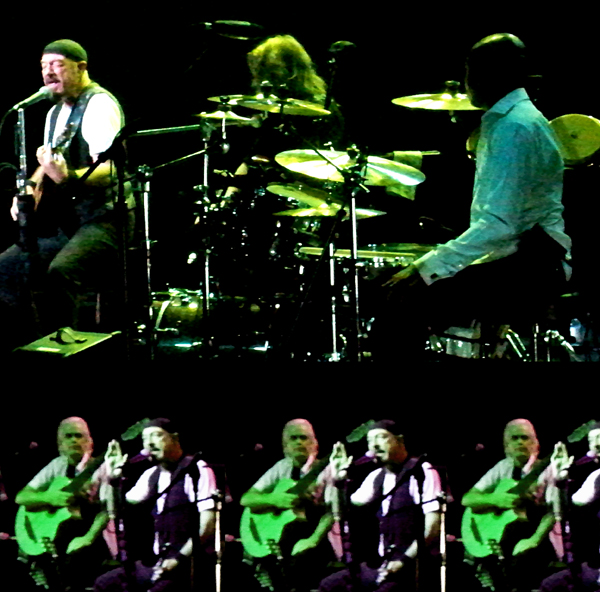 For more than half my life I've gone to see Ian Anderson perform live, both in Jethro Tull and as a solo artist. Good tours, great tours, voice problems, line-up changes - I've pretty much seen it all in a variety of indoor and outdoor venues. This particular show stands as one of the very best of the lot. Was Anderson in perfect voice? Nope. But he did his best with what he had! Joining him for this excursion were David Goodier on bass & percussion, John O'Hara on accordion, keys & percussion, Florian Opahle on guitar, Mark Mondesir on drums, and guest violist Meena Bhasin. Anderson and Opahle got the proceedings in gear with a staggering take of Dun Ringill that had me in awe. Goodier joined them for March The Mad Scientist - a song I frankly never expected to hear in my life. O'Hara and Mondesir completed the core band for the classic Jack-In-The-Green. Speaking of classics, Anderson pulled out a much beloved chestnut with Jeffrey Goes To Leicester Square. It gave such an overwhelming emotional rush - like seeing a dear friend that's been abroad for years. Hot on its heels was a lush version of Skating Away On The Thin Ice Of The New Day.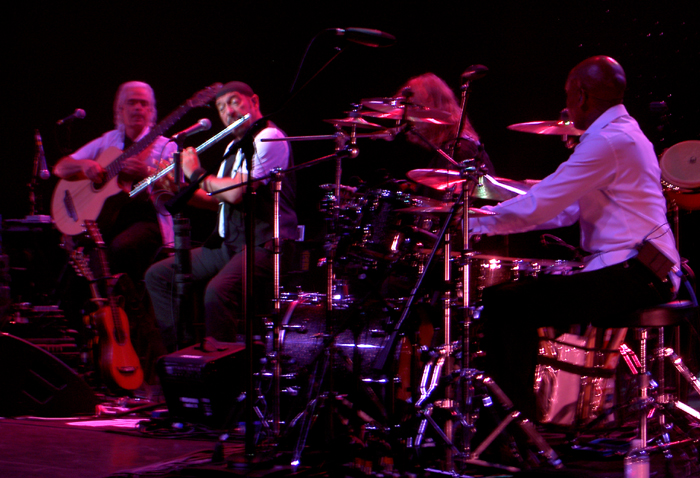 Anderson and Opahle took us back to the roots of Tull with Someday The Sun Won't Shine For You with ass kicking harmonica by our little Ian. Guest performer Meena Bhasin brought her viola to the stage to add her prowess to the complex Tea With The Princess, a number that allowed the band to stretch out a bit and flex their soloing muscles. A Bhasin instrumental called Driving Skies found her viola backed solely by Anderson's jangly mandolin - a hauntingly melodic number. Fat Man got turned inside out and became a sprawling piece of world jazz folk packed with ethnic percussion. Rocks On The Road brought us once more to the blues roots and was both powerful and sublime. Speaking of sublime - I was not ready for this version of Mother Goose. It had grown into this beautiful technicolor piece of audio cinema, now fully realized from its humble beginnings.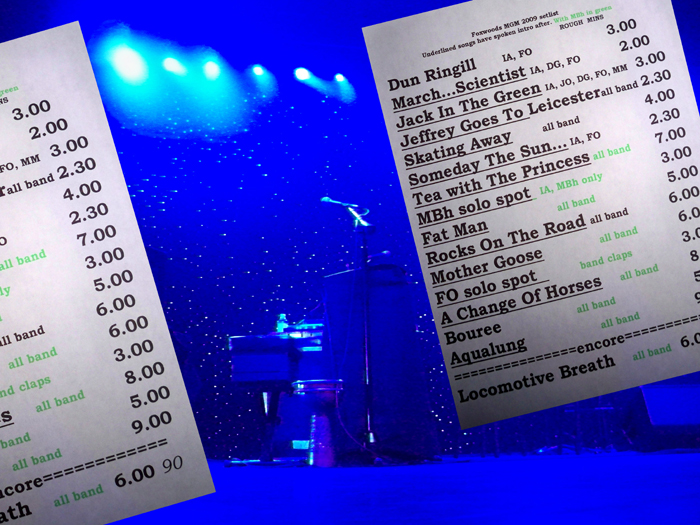 Florian Opahle showed his flamenco chops on a solo piece titled Andantino only to have the rest of the band jump out mid-song to add some snappy handclaps! Another new song was next - A Change Of Horses. It was a long, colorful piece with all sorts of world elements that made you want to hear it again immediately. The ever faithful Bouree followed, tuneful and joyous as ever. The set ended, as expected, with Aqualung, but a highly rearranged, reinvented, re-tweaked version that embraced and incorporated all sorts of musical idioms. The encore, as also expected, was Locomotive Breath - this time with the front end of it done to the rhythm of Living In The Past and the rest reshuffled, rearranged, and re-imagined. Nothing in this show was quite what one might have expected. Everything about this show was fresh, exciting, glorious, and 100% thrilling!

Renaissance - Society For Ethical Culture, NY, NY 10/9/09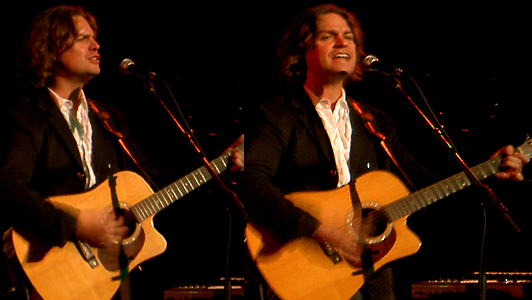 I love this venue. While far from acoustically perfect, it has a comfortable vibe and a friendly staff. The seats are padded pews, so lots of elbow room for this fat boy. Saw lots of familiar faces, some I hadn't seen in decades. As the anticipation grew for our headliners, Jann Klose took to the boards with just his guitar, voice, and a clutch of strong songs. Opening with Beautiful Dream, I was immediately struck by the clarity and strength of Klose's voice - very pure. His guitar work on Doing Time and Clouds was confident but understated, supporting his vocal without overshadowing it. Remember Your Name, Give In To This Life, and Watching You Go followed - the latter reminding me a bit of a song Neil Finn might come up with. Klose's set closed with a number called Still that had a ethereal, timeless quality to it that really caught my ear. Love to see a full set from this guy!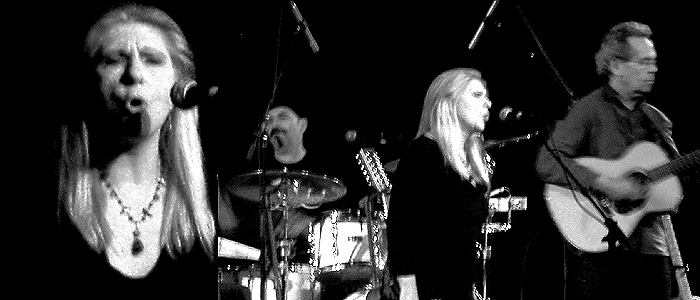 So, after 22 years, Renaissance was on stage again in the US! About time! The cast of characters this time was Annie Haslam on vocals & various bits of percussion, Mickey Dunford on guitars, David Keyes on bass, Rave Tesar & Tom Brislin on keyboards, and Frank Pagano on drums. The set opening most appropriately with Prologue. It had a few new twists and turns in the arrangement and some nice jazzy vocal harmonies. All the boys with the exception of Tesar added backing vocals all night, creating a nice lush vocal bed. With the opener under their belt, Carpet Of The Sun followed, with a nice vocal from Haslam, her voice floating like a cloud. Midas Man showcased strong acoustic guitars from Dunford & Keyes. Speaking of Keyes, he was the star of Running Hard with some muscular bass playing. The mournful Black Flame brought us to the mid point of the set with another memorable vocal from Haslam and great keys from Tesar.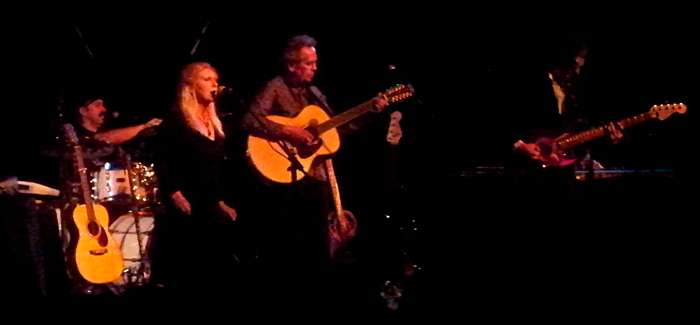 The tempo picked up a bit with the bands' 1978 radio hit Northern Lights with Dunford's guitar once more to the fore. The otherworldly Ocean Gypsy came next, with its Bronte worthy lyric that still inspires shivers. Things I Don't Understand was the highlight of the show for this old sod. Everyone in the band got their moment to shine, and the harmonies were from another era. Mother Russia closed the set with nice moments between Tesar & Brislin dividing up the wind section of the orchestra on their keys. The roaringly ecstatic crowd got Ashes Are Burning as their sole encore. The hero here was Tom Brislin, with a scorcher of a keyboard solo midway through! A fine evening for all in attendance!

Stamford Symphony - Palace Theatre, Stamford, CT 10/4/09

Autumn has reared its russet head, which means a new season of the symphony. Eckart Preu and the band in command hit the stage ready to deliver. Uncompromising Genius was the theme of this performance, and the pieces chosen truly reflected the title. Our appetizer was Mozart's Overture To Idomeneo, King Of Crete K.366, a tasty little opus, all of about 7 minutes long, yet packed with feeling. It was a simple but well crafted number, a nice set up for the 2 large pieces to come. Even in such a short composition, Mozart is Mozart and gives you a piece that is pastry for the ears. Maestro Preu wove his usual magic, bringing his love and zeal for the music to his baton, urging the orchestra ever upward, ever onward.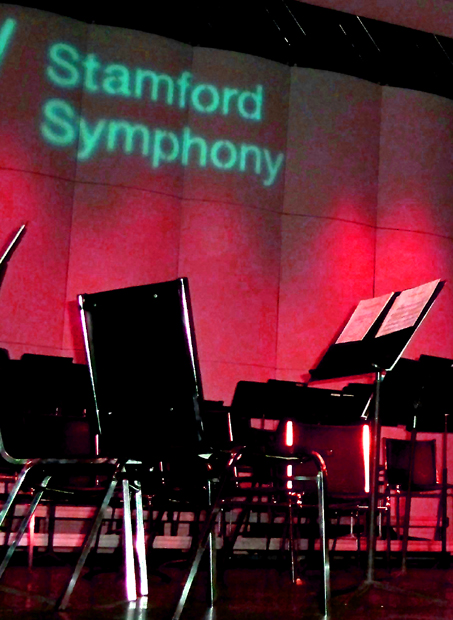 Next was Mendelssohn's Violin Concerto In E Minor, Op.64, featuring the Met's David Chan on violin. Mendelssohn would have loved David Chan. His fluidity was inspiring. His tone warm and deep. His solos surged to the fore gracefully, with a power balanced by pure melodic elegance. Chan and Preu took the listener on a journey full of deep polished oak and velvet drapes. Rich and redolent in burgundies and gold. The concerto was thick with strings and an effective use of woodwinds. The listener was fairly bathed in sound. Glorious!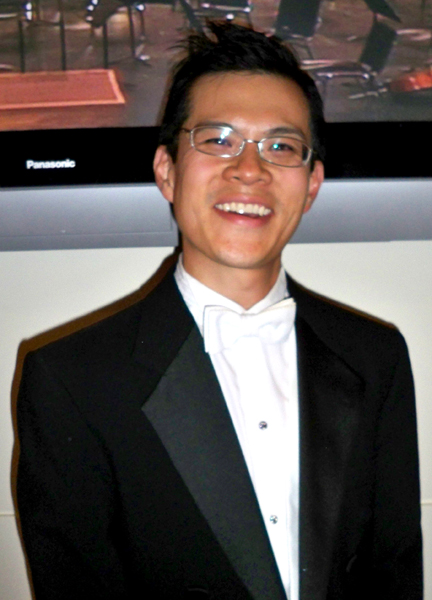 Once again, the send portion of our show was a piece by our dear old friend Ludwig! It was none other than Beethoven's Symphony No.3 In E Flat Major Op.55, perhaps bestter known as "Eroica." Eroica is sort of the antipasto of classical music - it has a little bit of everything. Grand moments. Pastoral bits. Religious moments. Waltzy bits. Marchy bits. You name it, it's there (with the exception of a wild drum solo)! I loved the interplay between the violins and the basses in the 3rd movement. I loved the huuuuuge sweeps of strings in several sections. A few too many false endings, but that's how they did it back in the day. As we have come to expect from LVB, plenty of melody, interesting counterpoints, movements within movements within movements like musical cogs in a symphonic machine. An auspicious start to another promising season!

Robin Trower - B B King's, NY, NY 9/19/09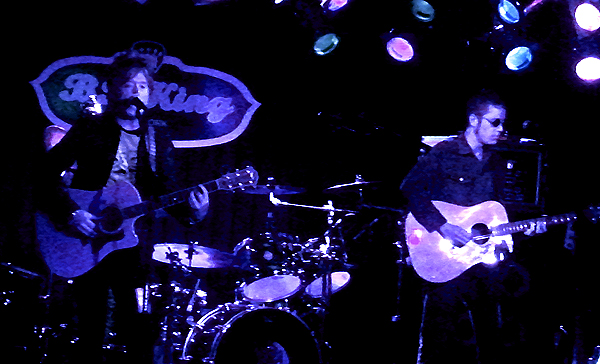 The crowd was like a reunion of felons from the Cops TV show - rough and ugly. Louts, by and large. Loud drunks for the most part. In a weird way, they created a very interesting ambience. An acoustic duo - 2 guys from the Chicago-based Tom Fuller Band - served as the opening act. They played solid rock tunes that reminded me of early Small Faces meet the Kinks meet Bowie. The crowd were at times downright rude to them, interested only in Robin Trower and nothing else. Before long, they got their wish in spades.


I had last seen Robin Trower live back in the mid 80s, so it had certainly been a while. He opened the set with Twice Removed From Yesterday, and I was happy to see that his playing and his energy hadn't diminished even 1 iota. Joining Trower on stage were vocalist Davey Pattison, bassist Glenn Letsch, and drummer Pete Thompson - a stunningly tight ensemble who complimented him to perfection. Somebody Calling, For Earth Below, and Shame The Devil came next. Behind the killer rhythm section, Pattison's vocals were remarkable, and Trower's ability to be both fluid and ferocious were on full display. The crowd were loud and rowdy, shouting their approval of Time And Emotion, The Fool And Me, and the 1-2 punch of Day Of The Eagle going straight into Bridge Of Sighs.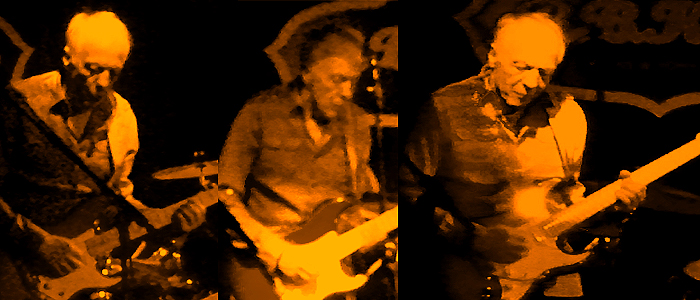 Trower's fingers were confident and seemingly boneless as they wound their way up and down the neck of his Strat on Go My Way, Victims Of The Fury, Rise Up Like The Sun, and the lovely Hannah. The set closed with the ever powerful Little Bit Of Sympathy, and the bellowing mass got the band back out for Too Rolling Stoned and the appropriate Another Time, Another Place. Despite an abrasive crowd, a fantastic show that confirmed Robin Trower's place among the finest guitarists on the planet!

Adrian Belew Power Trio - B B King's, NY, NY 8/28/09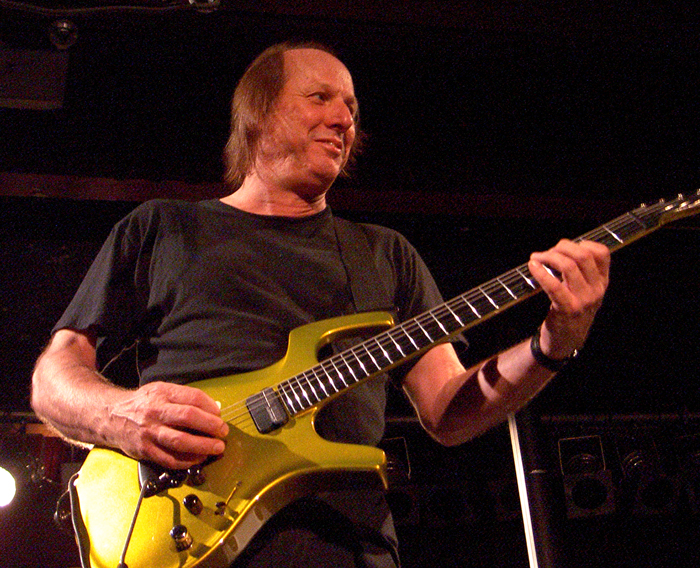 This was a rare show for me - I was in a sort of perfect listening position. I sat about a foot from Adrian Belew in the center, with bassist Julie Slick to my left, and drummer Eric Slick to my right. A wide stereo field, perfectly balanced. From the opening notes of Big Electric Cat to the final strains of Three Of A Perfect Pair the band filled my ears and my brain with joy and wonderment. I last saw the power trio back in 2006 and they were quite impressive. 3 years later, they brought their game up untold levels to what I'd call murderous. Julie Slick has grown into a monster in terms of chops, and her mind seems very engaged in the performance - proactive when she can be, reactive when she needs to be. Eric Slick does stuff I just don't understand. I mean, I hear it, but I just don't understand how one human does that with a drum kit. Scary. Add Belew on top of that, at the absolute top of his form and having a great time. For all the chops, they purely serve the music - quite simple at times, really, but more than able to handle complexity with ease.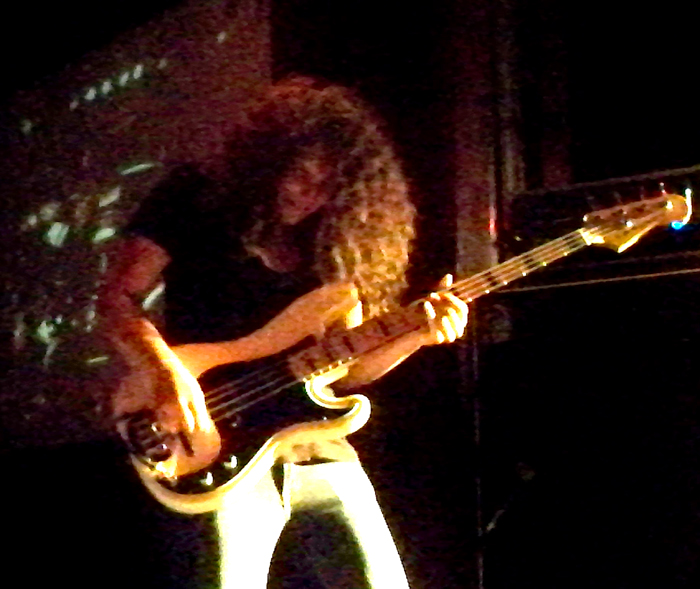 As mentioned, Big Electric Cat opened the set, still sounding fresh over a quarter century later. The centerpiece of the show was Belew's latest release, e. This was the stuff I was there to hear! e is a very exciting instrumental album. The band ripped into a first. This number reminded me of moving traffic as the bass and drums walk and dance while Belew's guitar buzzes and yelps and lays down interlocking lines with the bass then skips around the piece on its own. b had this crunch factor with Julie Slick laying down these loping, growling lines - all power and grungy sleaze. Ampersand sounded almost poppy in contrast, with Belew's great, shiny vocal, and the snap of Eric Slick's snare. Speaking of Eric Slick, he took an amazing solo spot next - jazzy in spots, tribal in others, exciting in every respect. The solo served as intro to the ever wonderful Young Lions. Belew's vocal and guitar lead the way through the audio veldt as the Slick siblings provided the jungle rhythm. Beat Box Guitar was a piece of art. Mostly improvised, it showcased every member of the trio. Belew's guitar raged, beeped, whooshed, flew, crashed, screamed. The Slicks were totally locked at times, flying in opposite directions at others. At moments, they would all hit that spot together as one - it was beautiful and terrifying at the same time. Such a tough piece to follow, but c definitely held its own. Belew introduced it as a very difficult piece to play & it sure seemed to be! Complex, rolling lines with tons of movement and much to do for all three players. A treat for the ears.




A brief glimpse into the King Crimson catalogue came in the form of Neurotica, a bit rearranged and kicked in the butt. "Robert Fripp just rolled over in his bed!" Belew said with a grin. Madness and Of Bow And Drum followed - both sounding strong and melodic. A pleasant surprise from the Here album, Futurevision, was a huge high point with a fabulous vocal and some wild soloing. The set concluded with the title track from e - a piece that had the trio firing on all pistons and building to a glorious conclusion. But it wasn't enough! We wanted more and got it! During the first encore of The Lone Rhinoceros, it occurred to me that the first time I saw Belew perform this song at Toad's Place in New Haven, this rhythm section had not yet been born! It was a lumbering beast barking through the club. Three Of A Perfect Pair took us to the end of the concert, quirky herky jerky as ever. I left thinking that this trio can do pretty much anything - they're somewhere above amazing, in a zone I have no words for. After leaving the club, soaked to the bone in the evening rain, I smiled all the way home like a kid on Christmas morning.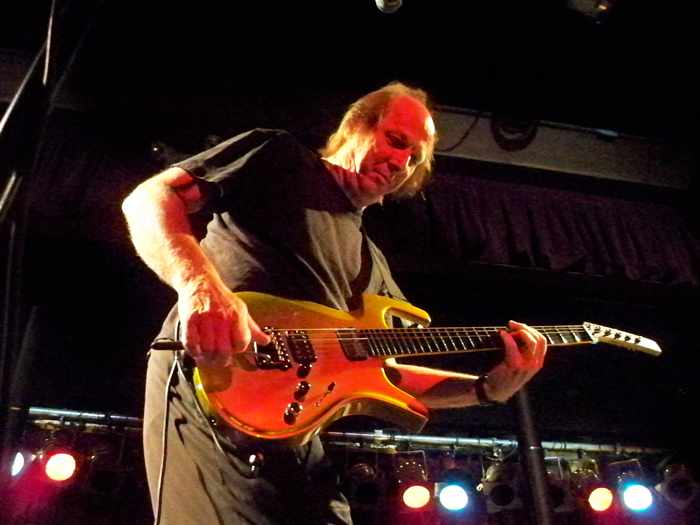 Eddie Jobson And UZ - B B King's, NY, NY 8/18/09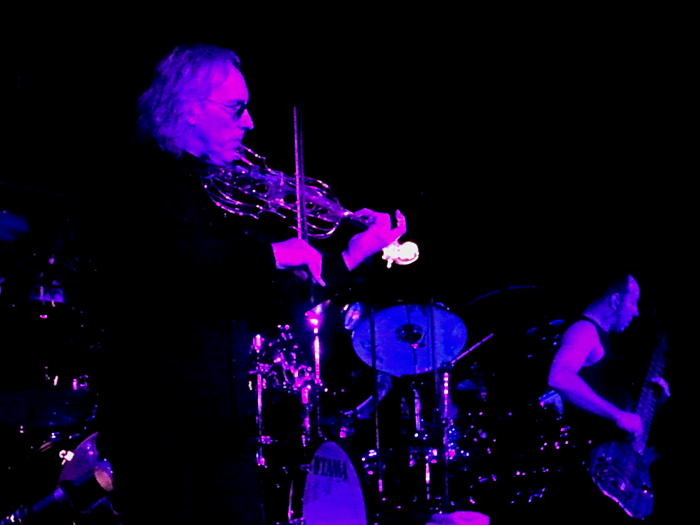 Well, it was back to B B King's in the Big Apple. A hot, muggy day leading into a hot, muggy night. Eddie Jobson and his latest project UZ (for Ultimate Zero) were in town for a super rare gig. Joining Jobson were Trey Gunn on Warr guitar, Christopher Paul Robinson on guitar, and twin drumming powerhouses Marco Minnemann and Simon Phillips. There was no way on Earth that I was going to miss this ensemble, so I got in early to get a good seat. Worth the effort? Good Lord, yes!




Jobson came out to the system playing Transporter and Walking From Pastel whipping out a violin for some fierce plucking and bowing. One by one, the rest of the band took the stage building upon a tasty improv. This lead to the first of 2 Mahavishnu Orchestra covers: Awakening. The band was a massive beast, heavy on rhythm accented by deft intertwining lines, with Gunn walking the wire between the two deftly. The version of King Crimson's Larks' Tongues In Aspic, Part Two had some genuinely delicate, regal moments amidst the power chords and thrashing. Quite a powerful start to the evening!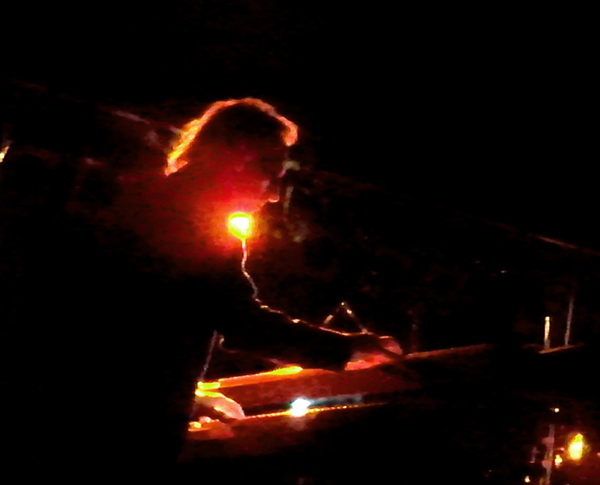 Carrying No Cross was fairly breathtaking, with a bit of business for each member of the band. Jobson took a solo spot that included portions of Memories Of Vienna and Nostalgia. Both his keyboard and violin playing were sensitive and explosive when required! A UK medley was next featuring bits from Alaska, Presto Vivace with great interplay between Jobson and Robinson, and In The Dead Of Night. The second Mahavishnu piece came next - Vital Transformation with some furious playing, leading into an extended drum solo from Minnemann. More than a solo, it felt like an all percussion song, played, at times, at warp 11!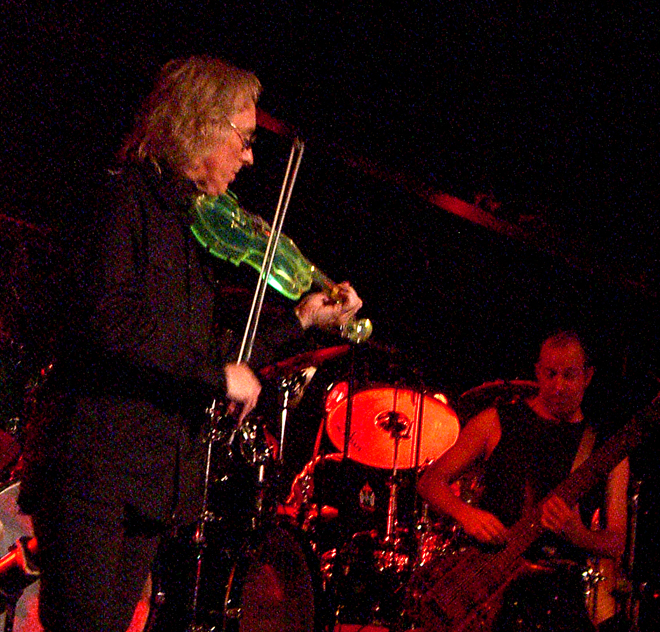 TU-95, from the UKZ EP was next, sounding nothing short of huge! The Only Thing She Needs and a section of Nevermore brought the pulse pounding set to a close. The crowd demanded and received an encore - Caesar's Palace Blues. A hot conclusion to a hot night. Phillips and Minnemann were murderous together. Gunn and Robinson were both last minute guys & sounded as if they'd rehearsed for months. Jobson was fluidly brilliant. Great to see you again, Edwin!

. ABBA: The Show - The Wolf Den, Uncasville, CT 7/29/09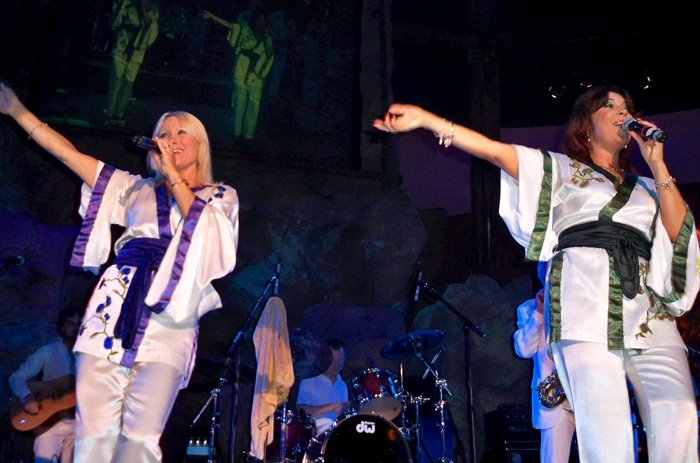 My second ABBA-related show in as many months, and a superb one at that. This time around, a much larger ensemble: Katja Nord singing Frida's parts, Camilla Hedren sang Agnetha's. Bjorn Dahlberg in the Benny slot on piano and vocals, and Matti Alfonzetti in the Bjorn position on guitar and vocals. Behind them there were the Swedish band Waterloo with Joel Salin on guitar, Patrik Hjerling on bass, Magnus Anderfjard on drums, Andreas Hollsten on keys and sax, Maria Nilsson on vocals and guitar, and Helena Ohlson on vocals. Very tight, very in the pocket, they really hit every mark perfectly, sounding unerringly like the original recordings. Every player was of first call quality.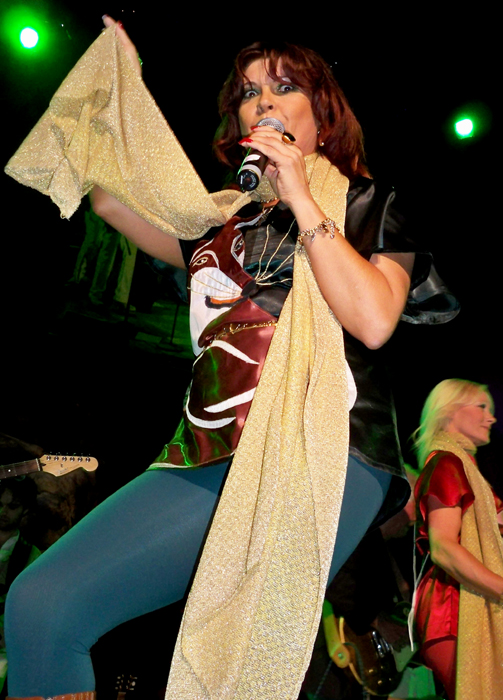 The band came out to the helicopter sounds from Arrival then leapt straight into the pulsating Summer Night City. The harmonies were perfection, and Nord & Hedren could easily be mistaken for their original counterparts, especially in their replica mini kimonos! Take A Chance On Me bristled with energy and got the crowd shouting and squealing. I Do I Do I Do brought up the first of 2 surprise guests: original ABBA saxophonist Ulf Andersson. Andersson rocked that sax and was quite the showman - commanding every inch of the stage he trod. Fernando rather quickly became an audience singalong, and before I knew it, a mic was thrust toward me and I did my best to sing a chorus on the higher limits of my range!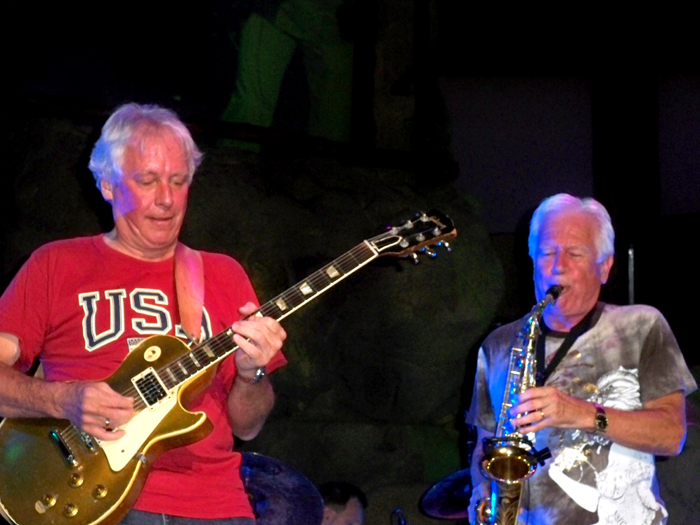 As the girls went back for a costume change, the guys pulled out 2 of the more obscure nuggets from ABBA's back catalogue: Suzy-Hang-Around and Rock Me - the latter featuring strong vocal turns by Nilsson and Ohlson. Great fun! Now in bright tights and ornate tops, the girls were back to deliver S.O.S.. Then came guest #2 - ABBA guitarist (and member of 70s Swede prog sensations Kvartetten Som Sprangde) Finn Sjoberg and his mighty 1956 Les Paul goldtop. Sjoberg joined them first on Knowing Me, Knowing You and Money Money Money, but he and Andersson guested on the majority of the songs for the rest of the evening. Both turned in nothing short of stellar performances and really helped drive home the magic of the music. Next was the song that started it all - the poppy, peppy Waterloo with its seemingly boundless font of energy. It's seldom that I turn shades of red and purple, but I've no doubt my face was scarlet when Katja Nord took my hand and sang directly to my face for a full verse and chorus during The Winner Takes It All, blowing me a kiss, to boot. Her vocal was clear and powerful, and she was nothing short of stunning on the long notes. The naughtily playful Does Your Mother Know was conrasted by the more serious instrumental Intermezzo #1 that featured killer solos by Andersson, Sjoberg, Hollsten, and Salin.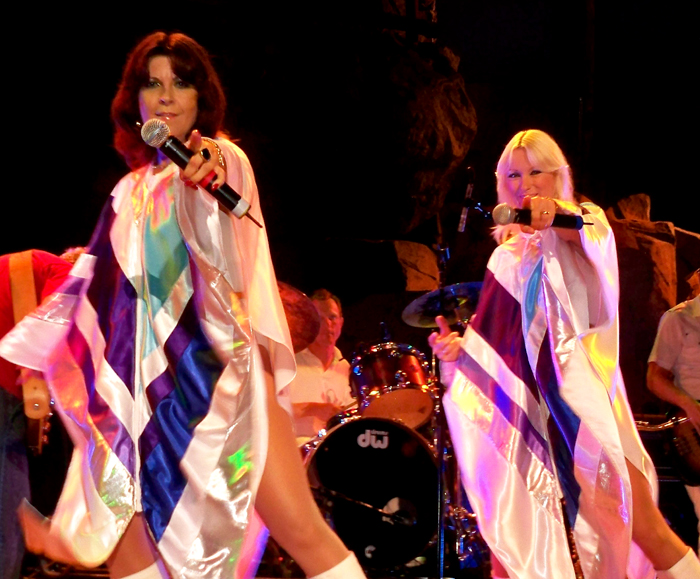 Now clad in the polar "triangle" costumes Agnetha & Frida wore on one of the later ABBA tours, Katja and Camilla sang Mamma Mia to a crowd that was shouting along with every word. Camilla Hedren took the lead on Gimme! Gimme! Gimme! with such a clean, dynamic voice. So Long rather appropriately was the set closer, with the encores being Dancing Queen and the gorgeously corny Thank You For The Music. It was a night of celebration, friendly feelings, and great tunes. Too many smiles to even count!

Marprog - Toad's Place, New Haven, CT 7/19/09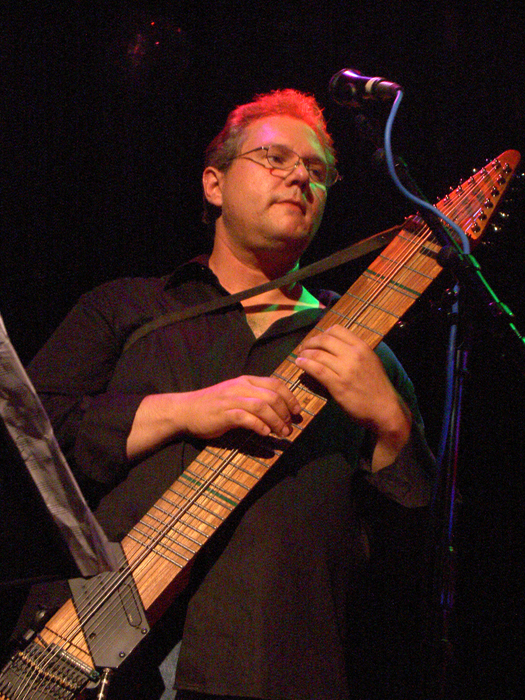 Well, well, well! Connecticut got its own prog festival! It's about time, dammit! The first Marprog came to Toad's Place in the heart of the seemingly eternally under construction New Haven. I was excited to see such a diverse line up. A bit of something for everyone. Starting things off was Toy Masheen. I was unfamiliar with the band, but was quietly blown away. Lead by stick player Brett Bottomley, Toy Masheen delivered an energetic brand of jazz tinged prog that matched my mood perfectly. Drummer Stephen Ziemnski was a powerhouse who knew when to hang back to compliment the composition, or swing that ride on the jazzier moments. Numbers like Moonshot Me and One Truth showcased the talents of sax player Keith Lafond and keyboardist Marco Scott well. Molto Vivace had a nice vocal blend, starting with Rich Broga at the front end and transitioning to the operatic vocals of his young daughter Deanna. The set kicked from start to finish. Their hour onstage passed far too quickly - quite an impressive start to the fest!




Izz were the next act on the bill: melodic symphonic prog with tight vocal harmonies and impressive double drumming. The material was very strong, as was the playing. Bassist John Galgano & guitarist Paul Bremner interacted quite a bit and seemed to really be enjoying themselves on songs like Late Night Salvation and Assurance. Their high spirits were infectious. Brian Coralian and Greg DiMiceli fairly exploded on drums & percussion the entire set. I loved Tom Galgano's vocals on the latest single, Places To Hide, nicely contrasted by Anmarie Byrnes' lovely voice. The Wait Of It All and Mists Of Dalriada smoked as well! If the right ears hear them, Izz should be huge worldwide.




The power trio Holding Pattern followed. Think Morse Code meets Godzilla as he stomps Tokyo. Big riffs, badass 'tude, and power! Guitarist Tony Spada was well supported by Tony Castellano on keys and bass, and the thundering skins of Rob Gottfried. Instrumentals like Ground Zero and Iraqiroll were just packed with wild guitar lick after even wilder guitar lick. Spada combined his 3 Tunnels tunes from over the years into a seamless, organic medley that was the highlight of the set. This band was hot and loud. After more crunchy rock fusion like Honor Before Glory and Mile High, the 90 minute set drew to a close; but before the dinner break, we were served a pre-dinner mint in the form of a 15 minute set from 15 year old guitarist / vocalist Ariel Bellvalaire. She played hard pop / rock with strong originals and an impressive cover of Crazy Train. Don't be surprised if you see her on TV in the coming years. She has that spark about her that stars possess.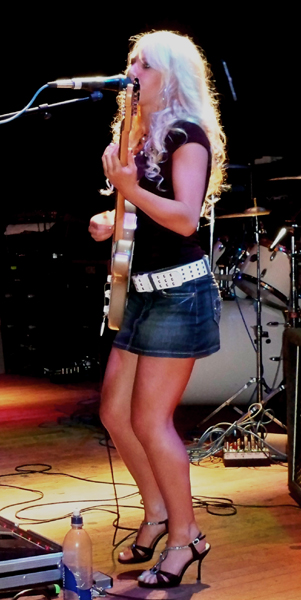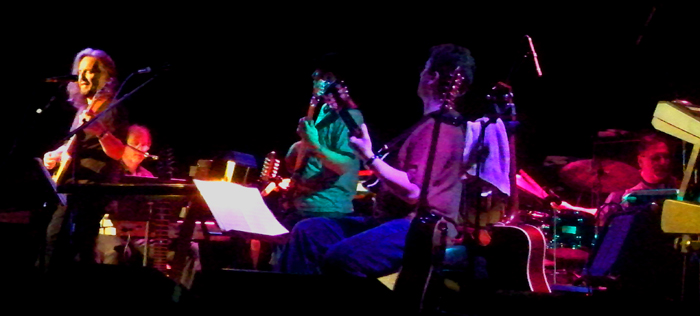 With my belly full of curry chicken noodle soup from the slice of Heaven known as Ivy Noodle, I sat down to see Advent's set. They started off with a first for me: a stick / harpejji duet played by Alan Benjamin and Benjamin Rose, respectively. The exotic opener set the tone for the set: expect nothing, be open to anything and everything. Awaiting The Call, In The Tree, and Nowhere Else To Go featured all manner of instruments playing all sorts of music. A bit of classical blending with folk here, rock with a medieval touch there. Mark & Henry Ptak - both on keys and vocals, with Henry throwing in mandolin as well, set the landscapes. Bassist Benjamin Rose and drummer Drew Siciliano showed us the roadmap. Guitarist Greg Katona and multi-instrumentalist Alan Benjamin were the color and the romance. Alison Waits told its beautifully eerie ghost story in a sort of sonic widescreen, a movie in sound. Firmus Finale made me smile and wish I could see Advent perform this sort of magic every week!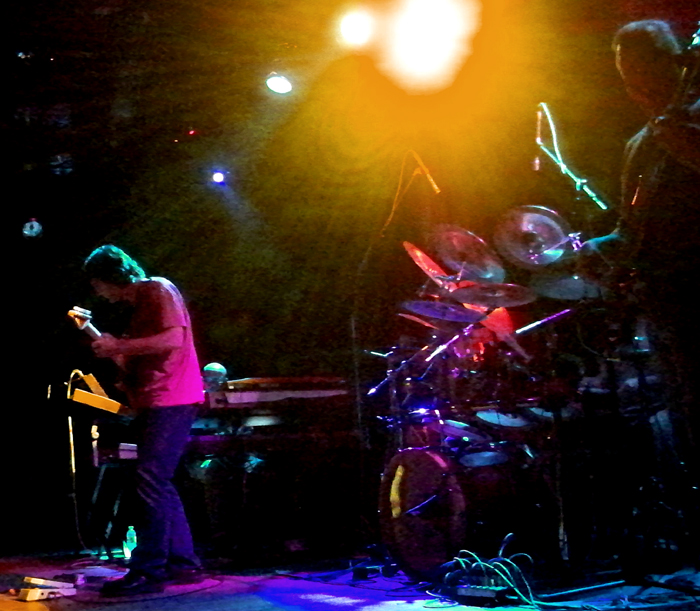 Following such powerful acts would be a daunting task for anyone, but Helmet Of Gnats were truly up to the task. The quartet of Chris Fox (geetar), Wayne Zito (bass), Matt Boccino (keys), and Mark Conese (drums) played with a tightness and ease one hears of but so seldom sees. Tsunami, Tin Whiskers and Crumbs reminded me of everything while they reminded me of nothing I'd ever heard. They fit somewhere in with Zappa, Weather Report, George Gershwin, Joe Pass, and Traffic. Yet not. Daring, slick, experimental, nostalgic, fresh. Misfit Toys and Almost Babylon grooved, moved, funked and spunked. Their set ended too soon, but if it was an hour longer, I'd say the same! Yowza! Marprog was an unqualified success from start to finish. Please repeat next year!!

Stratospheerius - Ray Kelly's Pub, Bridgeport, CT 7/17/09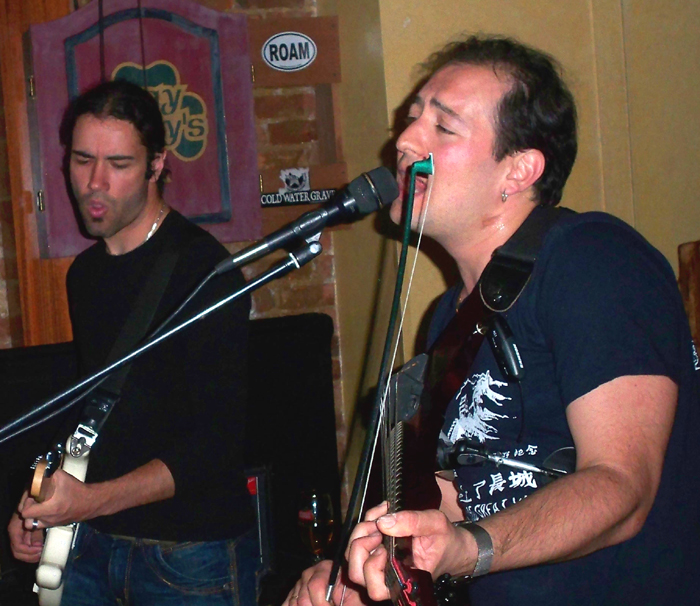 It just amazes me. This is a stellar rock / jazz / fusion / prog / jam band that should be playing large stages around the globe & I get to see them in the dark & dinky Ray Kelly's Pub in the Black Rock section of Bridgeport. No complaints here, as it allowed me to see them up close and personal as can be. Stratospheerius is lead by violinist / mandolinist / vocalist Joe Deninzon, who plays with the tastiness of Jeff Beck and the speed of Allan Holdsworth. Joining Denizon were guitarist Aurelian Budynek, bassist Jamie Bishop, and drummer Lucianna Padmore. The quartet have an almost psychic rapport, able to slide in and out of moods and time signatures with an incredible fluidity.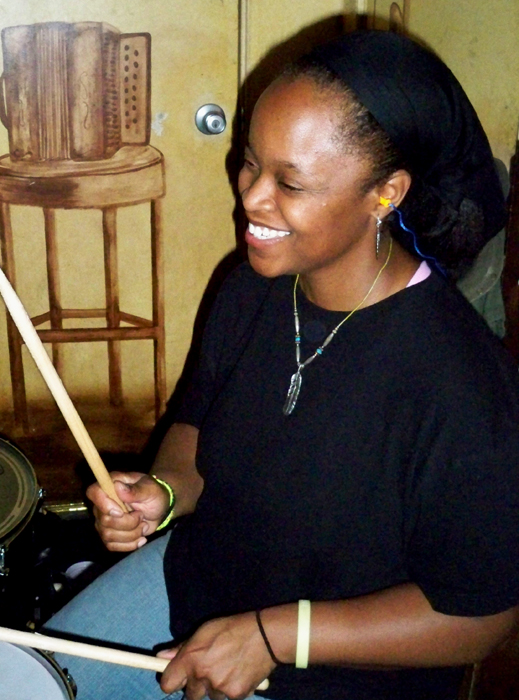 The first set opened with Hindsight from 2002's The Adventures Of Stratospheerius. Strong violin and guitar on that! Long Rd followed with solid bass / drumwork from Bishop and Padmore. A new number, Release, from the band's upcoming album came next leading into Today Is Tomorrow from 2007's Headspace. Old Ghosts and Mental Floss kept things cooking with heavy grooves and biting solos. Padmore is fun to watch during it all, handling vicious rhythms with smiling ease. The set ended on the powerfhouse duo of Pleasurepain and Driven To Tears (yes, the Police song).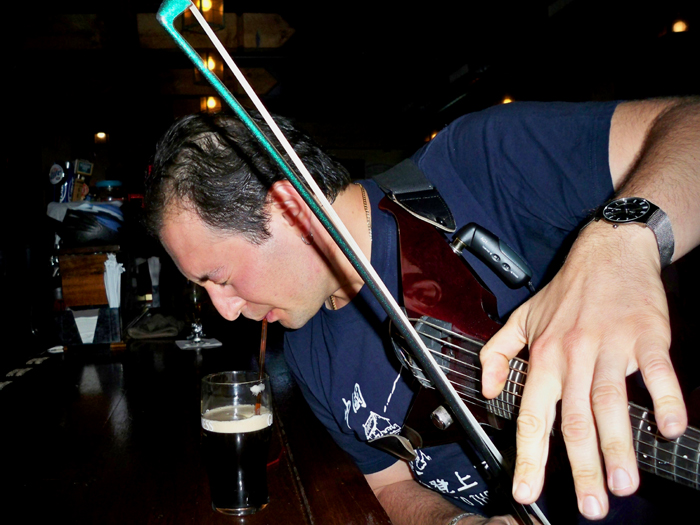 Deninzon broke out the mandolin in the second set for The House Always Wins and Gutterpunk Blues. Both had a blues meets the swamp feel with a bit of smoky backyard jazz in there floating around for good measure. The next song, another newbie called Gods, just sounded big. Obtuse melodic figures abounded in Tech Support with nice interplay between Deninzon and Budynek. Earlier in the evening, Padmore mentioned to me that she was working on being a licensed masseuse, so I kept asking for songs about massage! Deninzon responded by introducing the song Climbing as Climbing Up The Vertebrae. Whatever you want to call it, it rocked out pretty hard! Sold Out and the exotic Magic Fingers brought the evening to a close. Stratospheerius deliver uncompromisingly great playing and high quality tunes with no ego and no rock star attitude. You just can't lose!

Asia - The Wolf Den, Uncasville, CT 7/14/09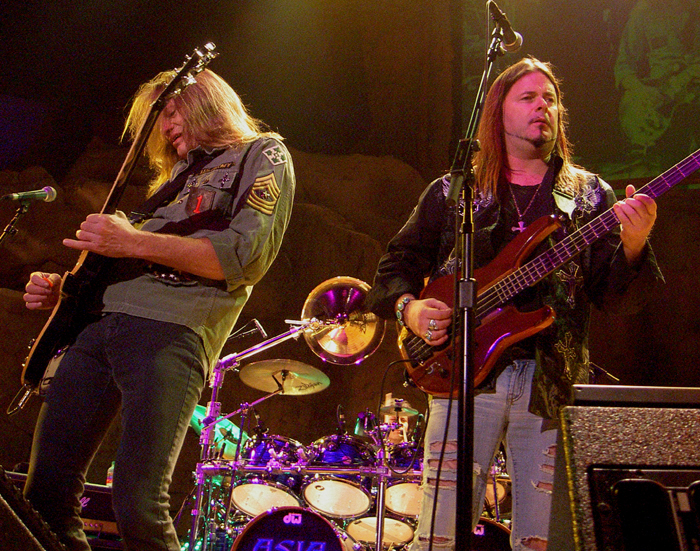 I've seen what is currently billed as "Original" Asia on several occasions and they had put on a great show. I'd never had the pleasure of seeing Asia featuring John Payne until this evening. I think I can best describe it as Asia on megavitamins - full of energy, packed with aggression and power. In addition to bassist / vocalist John Payne, this incarnation of Asia included Erik Norlander on keys, Mitch Perry on guitar, and Jay Schellen on drums. Every one of these guys has strong prog and rock credentials, so I knew I was in great hands in terms of playing. But was it Asia? Yes, indeedy it was!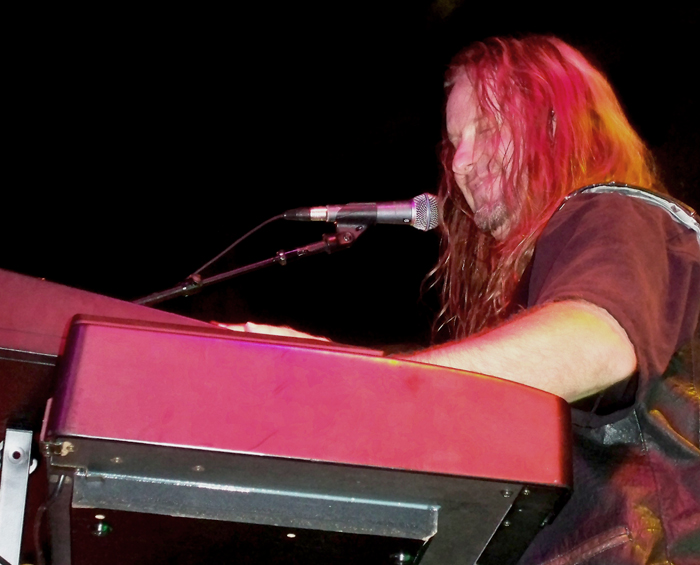 Long Way From Home was a strong starter. Payne is a mobile frontman, utilizing most every inch of the stage - when he's not at the mic, he's working the crowd or interacting with his bandmates. A very enjoyable aspect - not just a bunch of guys frozen in one spot. Only Time Will Tell had tight backing vocals from Norlander and Schellen, and a nice fat bottom end. Who Will Stop The Rain featured a great vocal and fine guitar from Perry - who is a total madman on guitar. Perry pulled, pinched, cajoled, squeezed, and manipulated his guitars to get every imaginable sound and several unheard of tones as well - all with the look of a man having a great time on that stage. The excellent Silent Nation was followed by an Asia hit overlooked by many - Days Like These.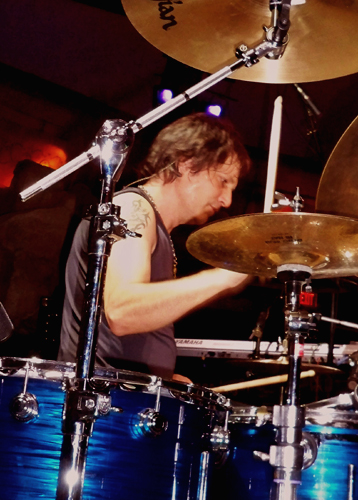 During the aforementioned Days Like These, Payne had a glitch in his wireless thingie for his bass, so he threw it over to a solo spot by Erik Norlander. Norlander fluttered and blazed through two songs from his solo catalogue: Dreamcurrents and the pulsating Neurosaur - joined by Jay Schellen, who also threw in an asskicking drum solo with double bass work that shook the 'Den. With his gear back in working order, Payne told the back story to the exotic Desire, saying that the lyric was inspired by director David Cronenberg's disturbing film The Naked Lunch. I loved Perry's Middle Eastern riffs on it.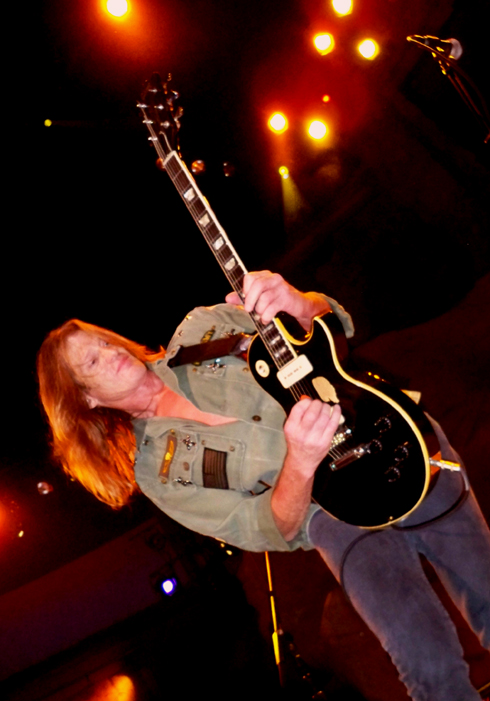 Next up, a brace of Asia classics: Go, Time Again, and Don't Cry - all fairly crackling with electricity as delivered by this ensemble. Military Man and Heat Of The Moment closed the set, quickly followed by the encore of Sole Survivor. Payne ended the evening by inviting everyone to come hang out afterwards for chats and drinks. A great feeling of positive energy surrounded this band. Do not miss them!

Classic Albums Live - The Wolf Den, Uncasville, CT 7/11/09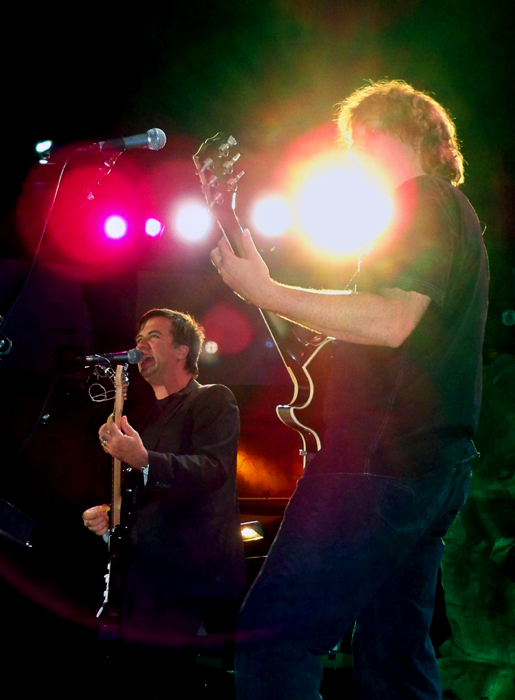 Every gig has its own vibe as does every Beatles album. In the case of Let It Be, both the album and Classic Albums Live's show, the feel was one of a band just doing it - no gloss, no artifice. For this show, the band was Mike Daley and Mark Stewartson on guitars and vocals, Russell Gray on bass, Marty Morin on drums and vocals, Jill Daley on keyboards, Providence's own Kirk Feather on sax, Alex McMaster on cello and backing vocals, and a violinist whos name I sadly cannot recall! The feeling was very light and friendly, I must say. As always, a totally accurate presentation, including all the spoken bits and false starts.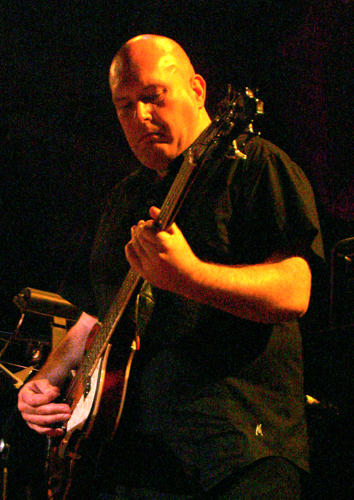 The beautiful Two Of Us was a delight, with Gray playing the bass parts on guitar, just like on the album. Dig A Pony was heavy with its killer guitar riff. Across The Universe was like a delicate flower with its fragile phased vocal. I Me Mine rocked out and got the crowd going. The all too brief Dig It lead right into Let It Be with a sensitive vocal from Mike Daley and keyboards from both Daleys - Jill on piano, Mike on organ. The bawdy Maggie Mae brought side 1 to a rousing close.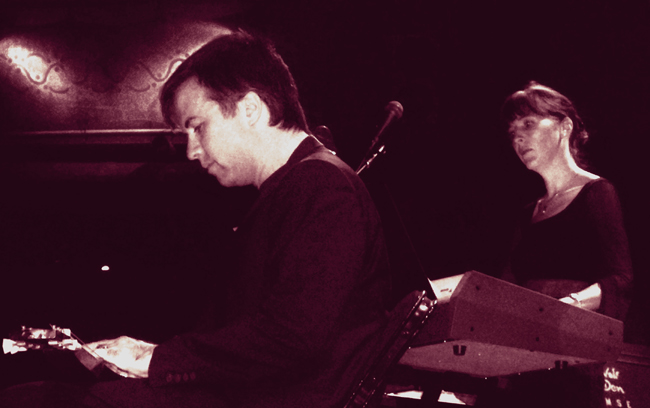 I've Got A Feeling had a searing vocal by drummer Marty Morin - full of passion and raw energy. One After 909 captured the spirit of the original - the Beatles may have been at odds at the time, but they could rock with the very best when they chose to! Loved the guitars by Daley & Stewartson on it. The tender The Long And Winding Road gave way to the bluesy For You Blue with some hot slide guitar from Dr Daley. Get Back rocked and grooved with its sly, steady backbeat and the Let It Be album was once again history.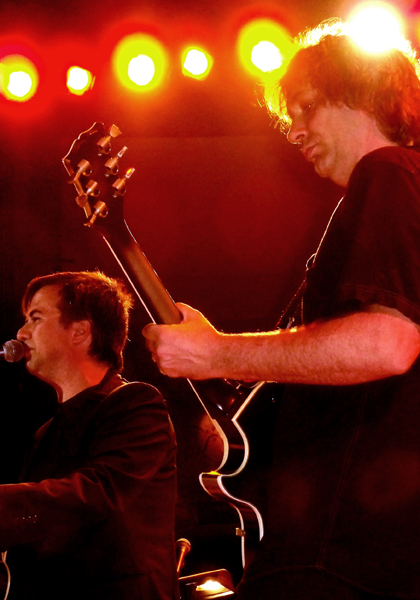 I was taken by surprise by the first number of the encore set - Ballad Of John And Yoko. It had totally fled my head, so its appearance brought a grin. Revolution was crispy and crunchy. Come Together slinky, and Oh! Darling good ol' rock and roll. The beauty of Blackbird was well contrasted by the heavy dirt of Helter Skelter. The night ended with the always anthemic Hey Jude. An intimate, personal evening that touched me deeply.

The Yardbirds - The Wolf Den, Uncasville, CT 7/6/09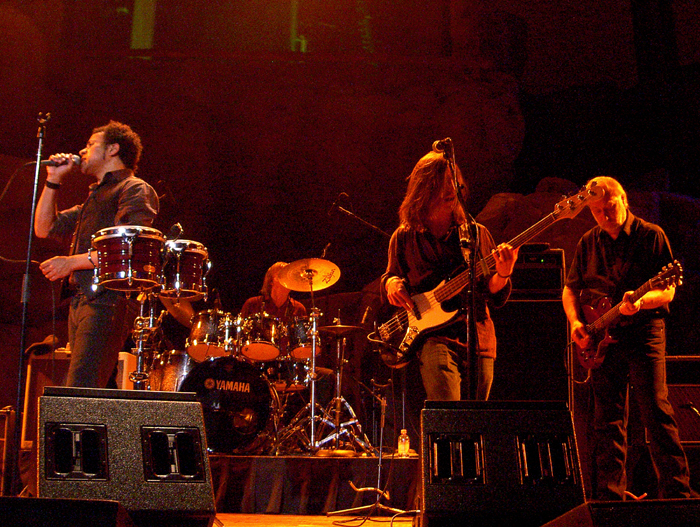 I had no clue that the Yardbirds were still active, so this show was quite a surprise to me. As I heard they still had founding members Jim McCarty on drums and Chris Dreja on rhythm guitar, I figured it would be worth a shot if for no other reason than to support the cause. Joining McCarty & Dreja were guitarist Ben King (not to be confused with Ben E King), bassist David Smale, and on vocals, harmonica, acoustic guitar, and percussion - Andy Mitchell. Let me tell you, from the opening chords of Train Kept A-Rollin', these guys absolutely smoked my ass! I was stunned. Pure, unadulterated blues rock that took no prisoners. Please Don't Tell Me 'Bout The News was next with a great vocal by Mitchell. But the best was just starting to reveal itself...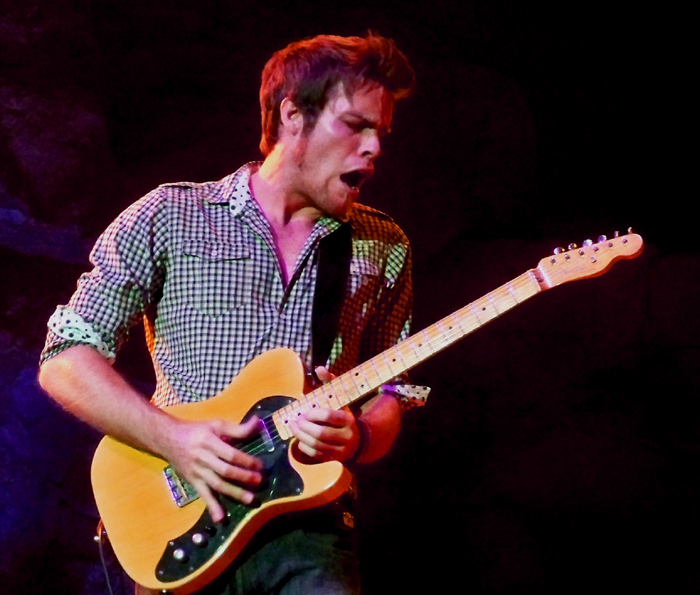 ...Ben King, the lead guitarist, might just be the Devil! As he wrung the neck of his Telecaster through Drinking Muddy Water, Heart Full Of Soul, and My Blind Life, I was nothing short of stunned. King, obviously, had big shoes to fill, sitting in the slot once occupied by Clapton, Beck, & Page. I say without hesitation that he exceeded the task - simply one of the finest rock guitarists I've seen in my entire life! The Nazz Are Blue, Shapes Of Things, and Mystery Of Being were vibrant, alive, wild. Mitchell was fab on vocals and blew a wicked harmonica. Smale was beefy and agile on bass - totally in sync with McCarty as well as being locked in with Dreja's solid rhythm playing. This was no nostalgia act, this was a living, thriving beast of a band!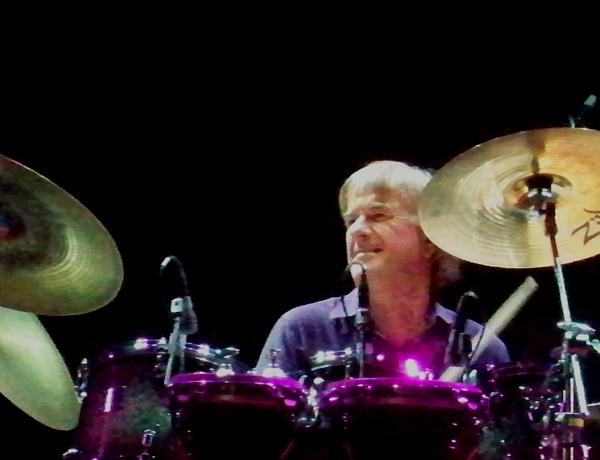 Over Under Sideways Down and Still I'm Sad glowed, and Little Games had a very cool percussion bit involving all of the band. For Your Love, Happenings Ten Years Time Ago, and a murderous Dazed And Confused with a truly brutal, hellacious guitar solo closed the set. The hard hitting I'm A Man was the sole encore. I applauded in a state of disbelief. This was something more than a concert. It was something primal. It was the DNA of rock without any gloss, any artifice. Is it legal? Is it fair to other bands to rock this hard? I'm still in a daze!

Bjorn Again - The Wolf Den, Uncasville, CT 6/14/09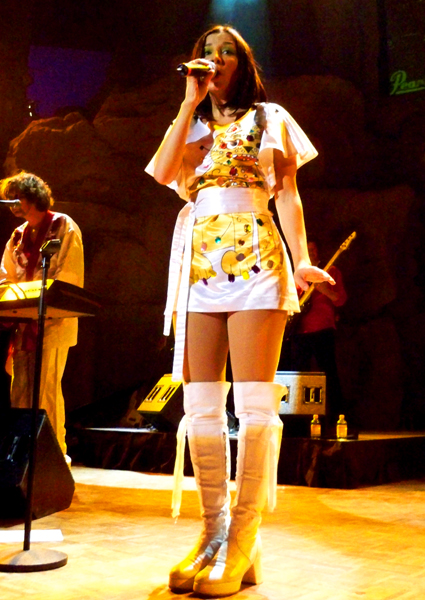 I have never hidden my love for ABBA. Fantastic pop songwriting, perfect harmonies, top notch playing. What's not to love? When I heard that Bjorn Again were heading this way, I had to attend! Before I get into the set, let me say that every player was spot on, recreating the feel of the band with unerring accuracy. Stephanie Iverson was Agnetha; Summer Brockwell was Frida; Chad Holtzman was Bjorn; Mark Olexson was Benny. Matt Atkins on drums and Jeremy Coates on bass rounded out the band.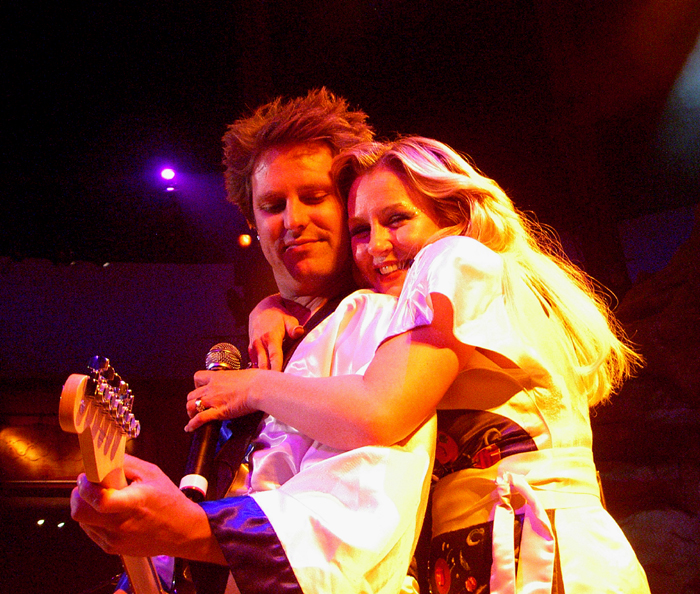 Waterloo started the set with a bang! Right on its heels was the twofer of Gimme Gimme Gimme blending straight into Super Trouper - voices sweet as candy, music smooth as caramel. Honey, Honey had a bit of audience participation, while SOS had the "sending out an SOS" tag from the Police's Message In A Bottle grafted on to the end. Knowing Me, Knowing You was as sultry as Ring Ring was cute. Arms were waving during Fernando and the relatively obscure So Long brought a smile to my face. The girls left the stage to change out of their white outfits as Holtzman charged up his guitar to blaze through the main riff from Foxey Lady before jumping into a goodtime cover of Rock And Roll All Nite.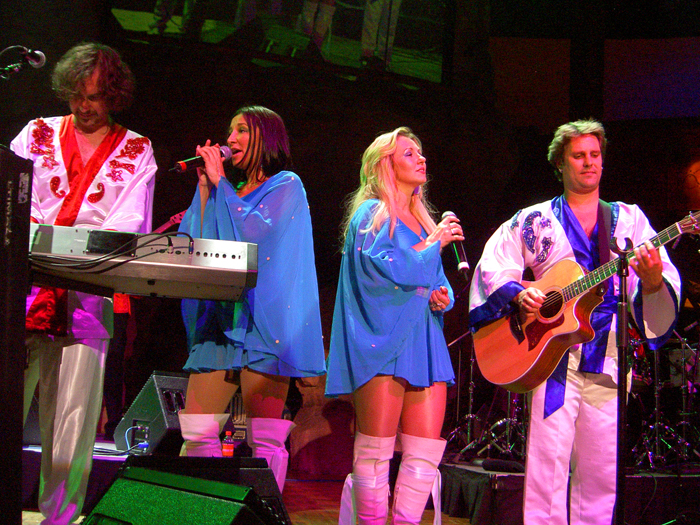 The girls were back out in flowing blue chiffon for Voulez-Vous and Lay All Your Love On Me. Things took a turn toward the acoustic with glowing renditions of Name Of The Game and I Have A Dream. The tender Chiquitita was contrasted nicely by the sly Money, Money, Money. The crowd were dancing their buns off by the time of the set closers Mamma Mia and Does Your Mother Know. Thunderous applause brought the band back out to give us Take A Chance On Me and Dancing Queen before leaving the stage for the night. It is a testament to ABBA that a 90 minute show still didn't cover all the hits. It's a testament to Bjorn Again that they were able to capture the magic so very well!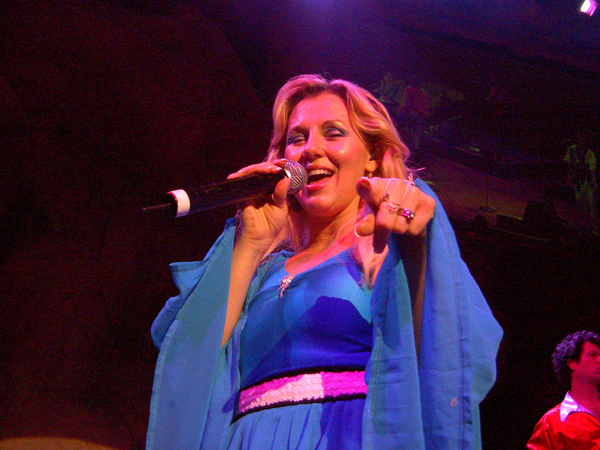 The Tubes - B B King's, NY, NY 5/31/09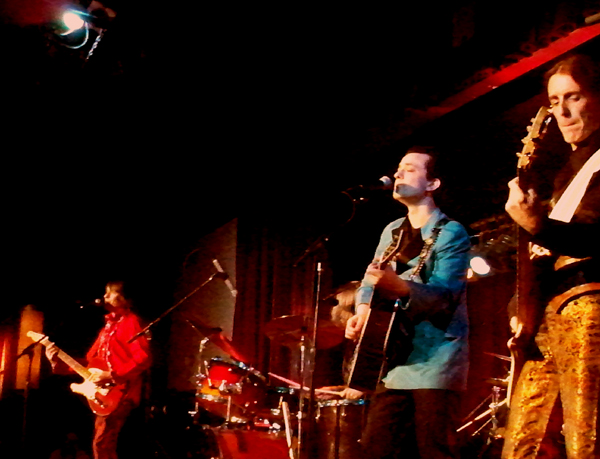 It was a very Tubocious day in the Big Apple. I ran into 1 faux Geisha, 3 real ones, a Japanese girl in a French maid outfit, and a psychoneurotic cop. All before I even went into B B King's! A good sign, I believe. Into BB's to throw down a meal & catch the opening acts I didn't know were on the bill! First up was the acoustic duo of Steve Augeri (ex-Journey vocalist) and Jack Morer - both from the band Tall Stories. They played a short 4 song set highlighted by the song No Justice and a swell version of Journey's Faithfully. Great chops and a friendly vibe. Next were a quartet called Fun Puppet. Their sound was somewhere between the Byrds and the funkier side of the Doobie Bros with a touch of Marshall Crenshaw. Solid American pop-rock with nice guitars and tight harmonies. Hold Me Up, When I Saw The Sun, and Fly Away Girl were the stand outs, but there wasn't a clunker in their meaty 11 song set. I'd definitely check them out again.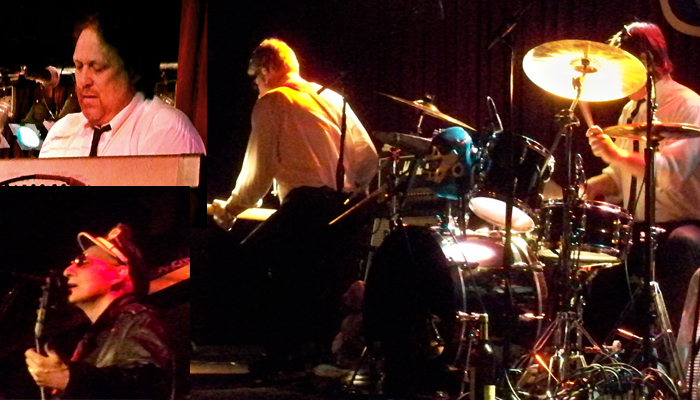 The first thing I noticed was Prairie Prince back behind the kit. It's been a few years, so very nice to both see & hear him. Up From The Deep, sans Fee Waybill started things off well. Prince and Rick Anderson on bass are an almost psychic rhythm section - impossibly tight. Waybill hit the boards dressed in a breakaway business suit for the anthemic Out Of The Business - in fine voice and dynamic as ever. No Not Again kept things moving, propelled by fine keyboard work from David Medd. Special guest Jonathan Mover sat in on drums for the next two numbers: I Want It All Now and What Do You Want From Life - with Prince moving over to percussion. The percussive duo sounded like one huge monster, rattling the roof and making jaws drop! The exotic and ever-welcome Amnesia with its unusual chords and spidery bass followed. On with the hat and striped jacket for the hit She's A Beauty - still full of life several decades later!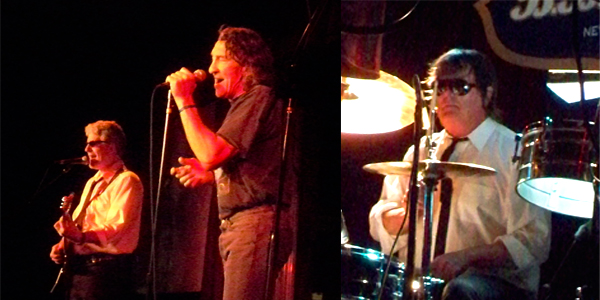 Another personal fave - Turn Me On - was next, closely followed by a metall-y reworking of Sports Fans - a Tubes B-side I'd not heard in ages. Another costume change for the ever-present James Brown medley, featuring a hot-hot-hot Sex Machine sliding into Tip Of My Tongue with a raging drum solo from Prairie Prince. A trenchcoated Waybill eased onstage to bring us This Town before bringing things up a notch with No Way Out, showcasing an evil, nasty guitar solo from Roger Steen. Don't Want To Wait Anymore was a mellow oasis with a touching vocal from Waybill.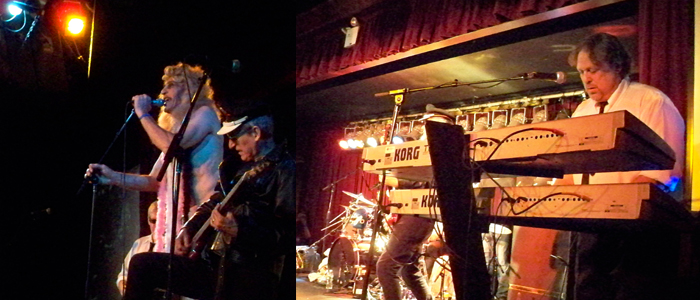 Mellow went straight out the window once Quay Lewd stumbled on to the stage bringing Mover back on percussion as well! Angry Inch lead into Boy Crazy with Lewd um, lewdly assaulting poor Rick Anderson with unsavory intent. The main set ended, of course, with a wild rockin' White Punks On Dope with an extended psychedelic instrumental ending. Encores were a high energy punk take of I Saw Her Standing There and it's perfect mate: I Was A Punk Before You Were A Punk and the traditional final encore of Talk To Ya Later with insane soloing by Steen. Burn baby burn!!

Nightwish - Webster Theater, Hartford, CT 5/1/09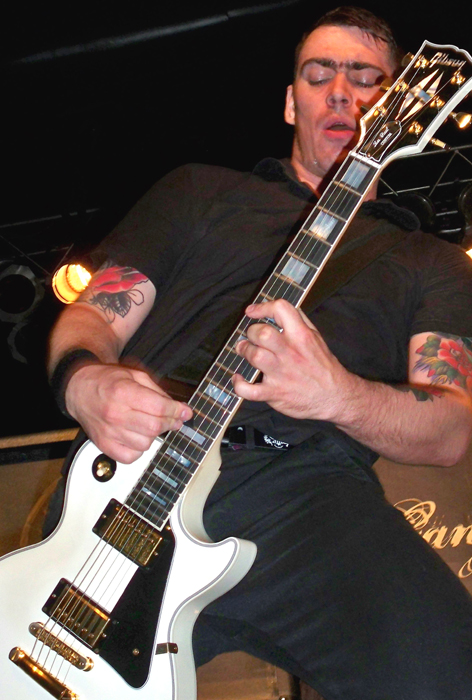 This was a sort of "make up" gig, as Nightwish had to cancel their May 6, 2008 show @ the Webster. The evening was definitely worth the wait. While the Webster is notorious for having 3, 4, 5 or more opening acts for any given show, this had only one. The band in question hail from Denmark - Volbeat. Lead by vocalist / guitarist Michael Poulsen, Volbeat were stompin', pulsin' metal/punk/rockabilly packed with enthusiasm and exuding confidence. Bassist Anders Kj m was solid, with a great personality - very animated. Guitarist Thomas Bredahl was all smiles, and looked like the crazy cousin of Henry Rollins, jr. Drummer Jon Larsen was athletic without being overwhelming. I didn't get a chance to grab their set list, but in addition to their originals, they threw in ultracool covers of Folsom Prison Blues and I Only Wanna Be With You. Poulsen, with his sweaty hair and huge grin, was a great frontman - connecting with the audience with self-effacing humor and a genuinely positive vibe. Their 40 minute or so set was way too brief - I hope someone has the sense to book them over here as headliners. Judging by the reaction of the crowd, I'd say they would agree!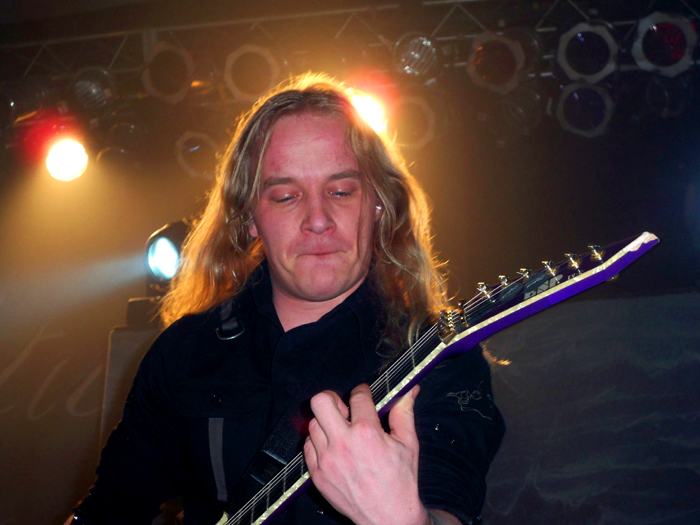 Nightwish took the stage to the Beatles-level screaming of a mostly young crowd who looked like they answered a casting call for extras in a Crow sequel. They started with an atmospheric intro piece that had a Celtic-meets-Finnish feel aided by the uillean pipes of guest musician Troy Donockley. Vocalist Anette Olzon joined the band as they jumped straight into Seven Days To The Wolves. Guitarist Erno Vuorinen was in fine form, making his guitar squeal and fairly weep. Dead To The World and The Siren came next. Olzon was especially strong on the latter and keyboardist Tuomas Holopainen added atmospheric textures to the mix. Anchored by bassist Marco Hietala and drummer Jukka Nevalainen, Amaranth and Romanticide kept the momentum of the show building higher and higher as the venue grew hotter and hotter in response.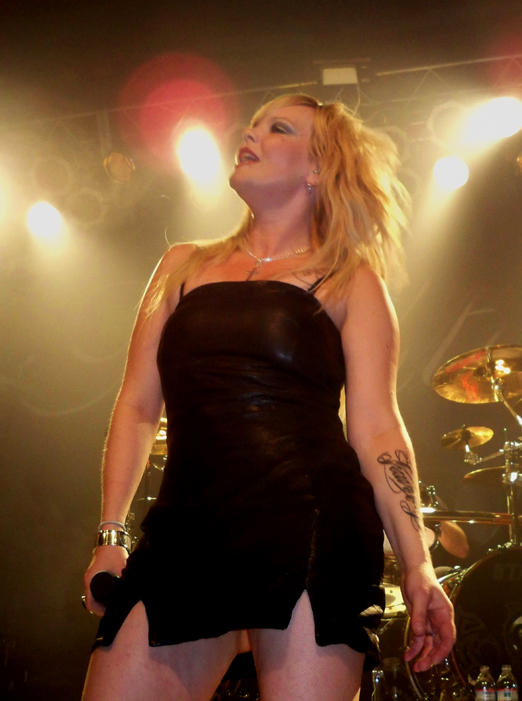 It was all the way back to 2000's Wishmaster album for Dead Boy's Poem, a nice lead in to the very long The Poet and the Pendulum bursting with colors from Holopainen's keys. Olzon's vocals and Vuorinen's guitar helped drive Nemo, while the exotic Sahara was dominated by the crowd's chant of Hep! Hep! Hep! Hep! under Olzon's command. Great support vocal on that by Hietala as well. Troy Donockley came back out to add pipes and whistles to both The Islander (with a nice lead vocal from Hietala) and Last of the Wilds (one of the highlights of the show!). The Escapist and Dark Chest of Wonders closed an exceptionally strong set.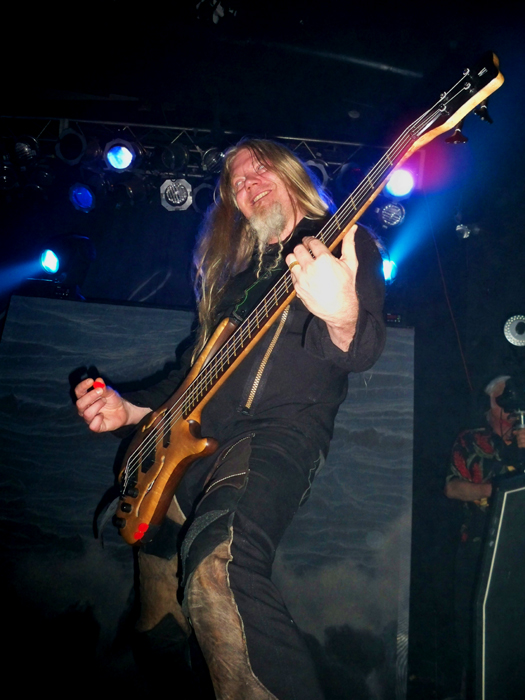 You don't often hear crowds shriek, but shriek they did for the first encore - Ghost Love Score. It was a massively symphonic number entirely dominated by Holopainen's keys and Olzon's long notes. Very dramatic, and a huge hit with crowd. Wish I Had An Angel was a sing / jump / clap along that ended the evening on an upbeat, almost poppy note. The Webster was a cloud of human generated humidity and the crisp night air was a welcome contrast. Volbeat and Nightwish came, saw, conquered. As I hit the highway home, I left drained but happy - quite a hot show in many respects!

Ambrosia With Marty Balin - The Wolf Den, Uncasville, CT 4/25/09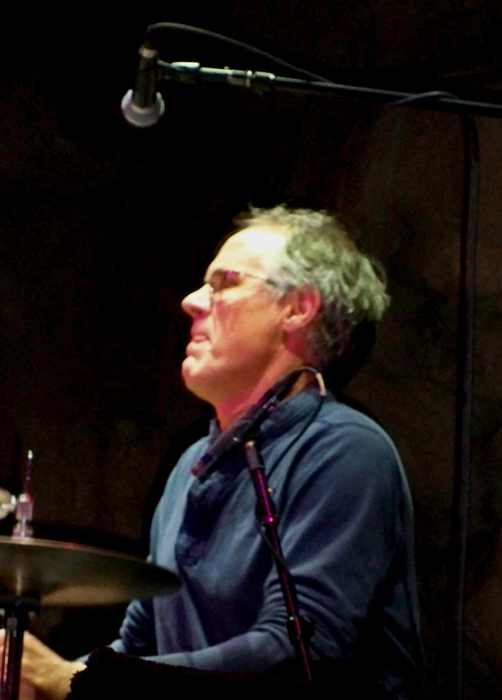 This was an unusual bill as far as I was concerned. Two very different vibes going on here - the smooth lushness of Ambrosia, and the yearning singer/songwriter style of Jefferson Airplane founder Marty Balin. Yet, it worked! Ambrosia got things off to a great start with Nice, Nice, Very Nice. Bassist / vocalist Joe Puerta was in great form - his vocals immaculate, his bass playing right in that pocket high and tight with drummer Burleigh Drummond. Keyboardist / vocalist Tollak Ollestad added just the right amount of cool harmonica as icing on the cake. Keyboardist Christopher North's organ, pushed through a spiffy Goff leslie, provided a nice bed under You're The Only Woman's creamy harmonies. Things took a turn to the progressive with Life Beyond LA and its rhythmic interplay and nice instrumental sections. The crowd got it's groove on as the band launched into their massive hit How Much I Feel - once again with those heady stacked harmonies. A slice of pop heaven.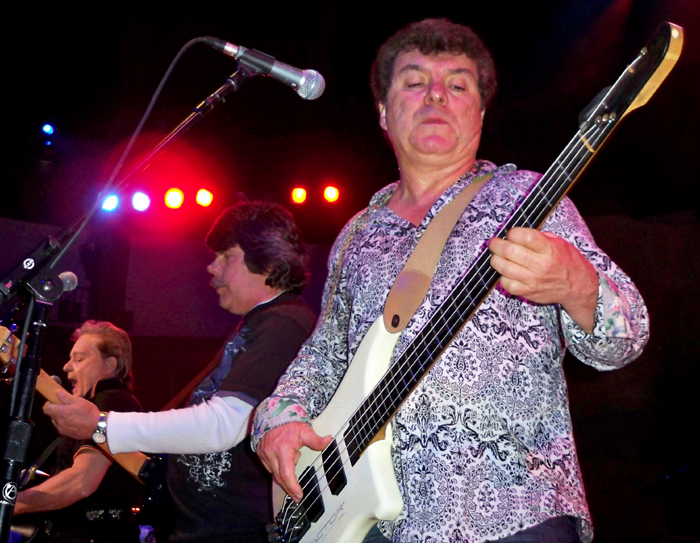 With a clutch of Ambrosia powerhouse tunes already played, it was guest star time. Marty Balin, along with guitarist Slick Aguilar took the stage and immediately launched into the delicate With Your Love. Balin had some pitch issues hitting long notes, but more than made up for it in charisma and the ability to touch the crowd. Aguilar was as fluid as warm mercury, his fingers gliding across the fretboard effortlessly. Runaway and Count On Me, with its singalong chorus followed. Hearts and Miracles closed Balin's set within a set and the crowd just adored him!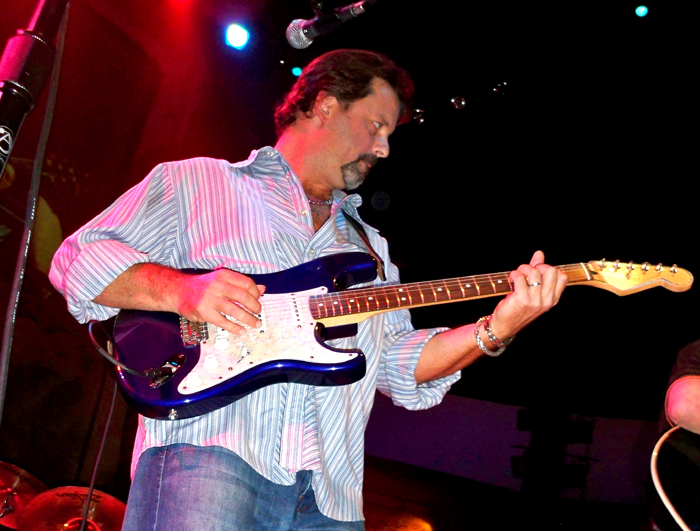 Ambrosia heralded the last third of the set with their All This And World War II arrangement of the Beatles' Magical Mystery Tour. Fab harmonies and a sly, creative interpretation. Another huge hit, You're The Biggest Part Of Me, was next with a honkin' great sax solo from Alan Tilles (the sax playing lawyer!). Holdin' On To Yesterday, with great interplay between Tollak Ollestad and guitarist Doug Jackson closed the set on a strong progressive note. Balin and Aguilar joined the band once more for a rousing encore of the Jefferson Airplane anthem Volunteers. It had the crowd singing and dancing in the aisles - a strong ending to a very strong show!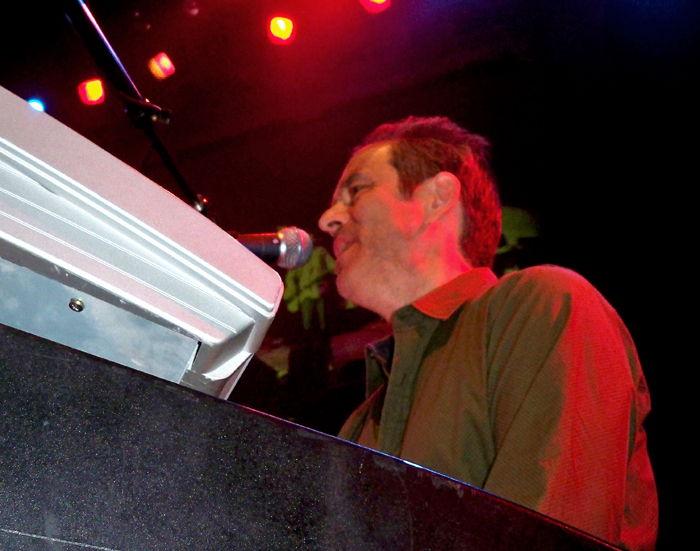 Stamford Symphony - Palace Theatre, Stamford, CT 4/19/09

Judith Sugarman, leader of the double bass section, asked me why I like to sit so close to the orchestra. I told her that I liked hearing the fingers on the fretboards, the scraping of the bows - I liked to dig in there and hear the guts of the symphony - the blood, the heart. Sitting close like that is not for everyone, but it is a learning experience for those who do. Classical music is too often stuck on a pedestal in a sealed glass case, to be admired from afar like some vase or knick knack. A shame, as it is alive and vibrant and not a dead memory of the past. A note is a note, a chord is a chord, and they transcend era, belonging to the now.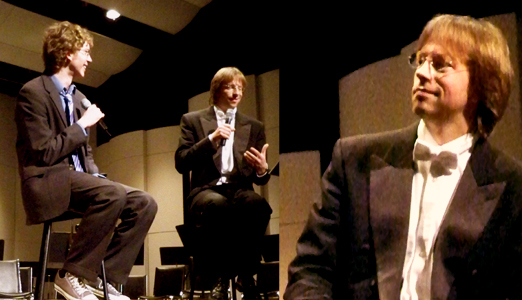 Fantasy & The Familiar was the theme of the season's closing performance, and the featured soloist was cello sensation Joshua Roman. Ralph Vaughan Williams' Fantasia On A Theme By Thomas Tallis started us off just beautifully. This entirely string driven piece had its major lines divided into 3 parts: the main symphony, a smaller section in the rear right, and a string quartet front and center within the symphony. It was inspiring to hear the melodies literally move across the symphony. Quite a strong opener!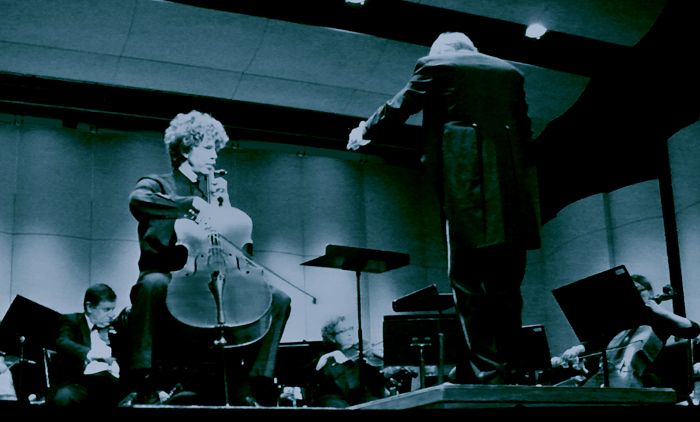 Roman joined the symphony for Edward Elgar's Cello Concerto In E Minor, Op. 85. His playing had a definite vocal quality to it - at times seeming to sing the lines. Elgar's piece had much to offer in terms of lushness and soul, and Maestro Eckart Preu broke a sweat from his empassioned conducting. The crowd roared for more, and Roman obliged, playing J S Bach's lovely Prelude To Cello Suite No. 1, a touching solo effort that took us to a much needed intermission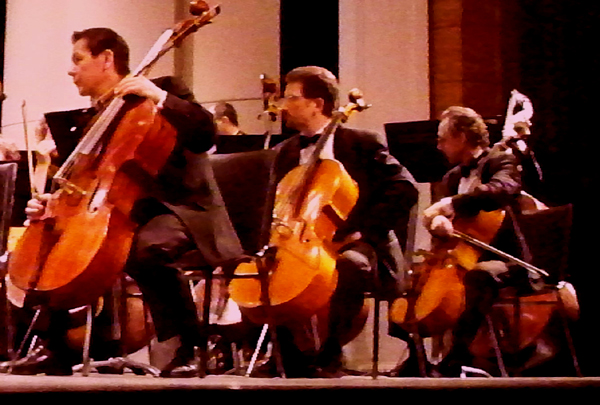 The sun set on another season with one of the big dogs: Antonin Dvorak's Symphony No. 8 In G Major, Op. 88. Such a huge piece! A perfect balance of delicacy and aggression, with strong cellos and basses, and nice bits of brass and woodwind. It had a "big event" feel to it and I couldn't help but feel it would work well in an outdoor setting - big notes flying in the breeze. I left the symphony feeling full of heart and finding October to be too damned long a wait!

Classic Albums Live - The Wolf Den, Uncasville, CT 4/10/09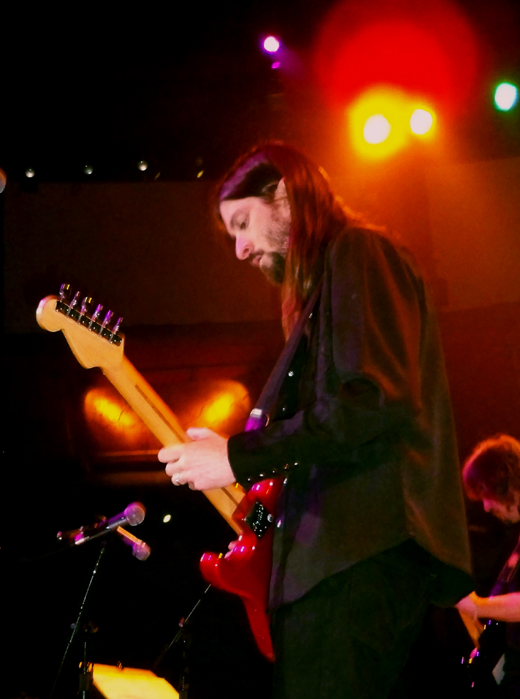 Dark Side Of The Moon. This was my second go around for this landmark Pink Floyd album. The first time was a jaw dropping experience, and this performance was certainly no less so. From the opening notes of Speak To Me / Breathe to the closing heartbeat at the end of Eclipse, Classic Albums Live had the album down pat, with every effect, every overdub, every nuance there. Once again, Leslea Keurvorst won the night with an orgasmic reading of The Great Gig In The Sky. The woman has pipes beyond pipes! I also totally dug the interplay between guitarists Rob Phillips and Des Leahy on Any Colour You Like. Truly impressive.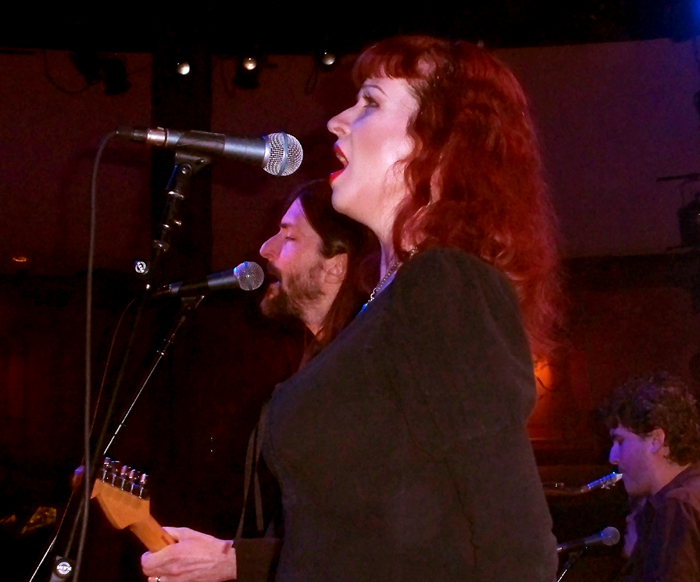 A different encore set this time, starting with a take of Shine On You Crazy Diamond Parts I-V that gave me chills. Braxton Hicks wasn't a crazy diamond, but he definitely shone on sax! Hearing Pigs On The Wing and Mother back to back brought out both the similarities and the evolution of Roger Waters' writing - lovingly played on acoustic by Phillips. Johnny B on bass and his partner in crime on drums Troy Feener were the stars of Have A Cigar along with a great vocal by Murray James Bosch.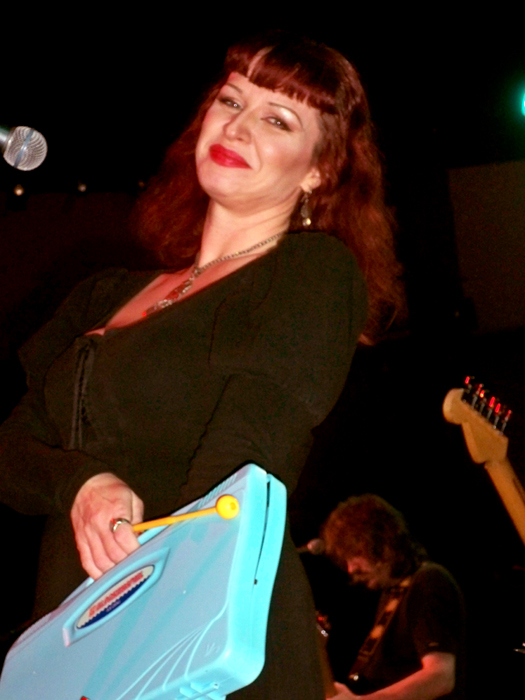 CAL turned the clock back to the early days of Pink Floyd with See Emily Play and One Of These Days - the latter featuring some wildass pedal steel work. An extended Wish You Were Here closed the encore set - but wait! - the encore set earned yet another encore! The crowd pleaser Comfortably Numb - featuring Keurvorst rocking the glockenspiel - sent the crowd off with a big buzz. An out-of-the-park home run for CAL!

Ariande Piano Trio - Steinway Piano Gallery, Westport, CT 3/29/09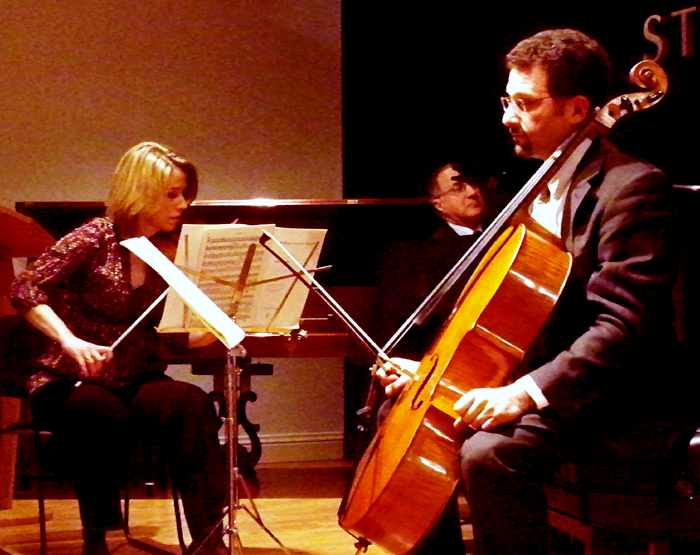 The Mozart And Friends series for 2009 ended on a brief but strong note. Pianist Albert Stanziano, cellist Peter Sanders ( a regular of the Stamford Symphony ), and his wife, violinist Basia Danilow are the Ariande Piano Trio. They had a well balanced sound, and I liked how the personalities meshed. Danilow was the most active of the bunch, banging her heels on the floor & pitching to and fro as she played. Sanders more quietly expressive, and Stanziano a smiling anchor.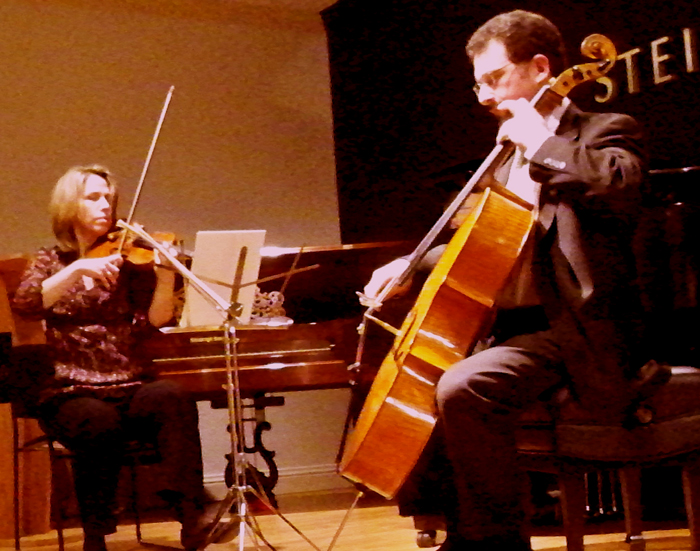 Act 1 was Mozart's Piano Trio In E Major, KV 542, a comfortable piece with familiar moments. Stanziano's piano was smooth and snuggly, well counterpointed by Danilow's violin. Her playing was confident and jaunty in places - lots of character to it. Sanders' cello was perhaps more supportive on this piece, but definitely had spots to shine. Husband and wife together meshed in an almost psychic way - I'd like to see them perform together more!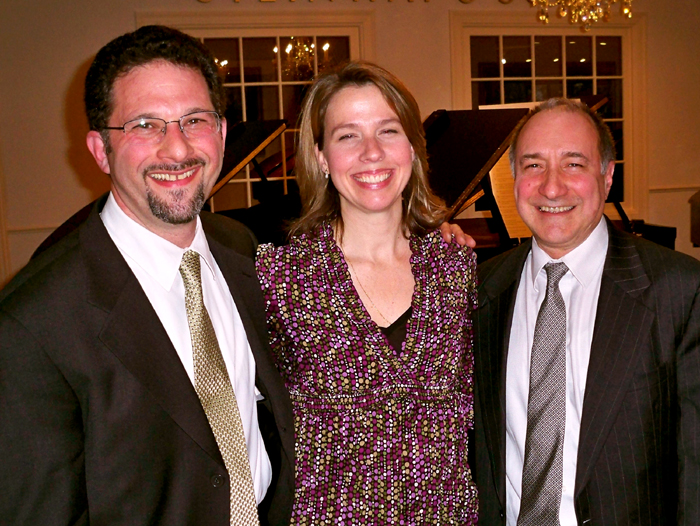 Act 2 featured Bedrich Smetana's Piano Trio In G Minor, Op. 15. As the saying goes, this one had the juice! Exotic, passionate, expressive - it grabbed me and never let go. The cello had much more business to do as did the violin - apart and together, intertwining and flying solo as well. The role of the piano moved in and out of the forefront - teasing, supporting, throwing lines into the wind, bringing the piece back to earth. A fine conclusion to a fine season, but give us a longer recital next time, as both pieces totalled less than an hour!

Glenn Hughes - The Highline Ballroom, NY, NY 3/28/09

He's often called "the voice of rock." A title he certainly lives up to. I first heard Glenn Hughes back in 1974 on my brother's copy of Deep Purple's Burn. A voice that could jump octave to octave, up and down scales like a rubber band. Powerful bass playing full of color - rock, funk, jazz, and soul in equal measure. My question was: could Hughes deliver on the same level as those misty, halcyon days? The answer is a resounding "Yes!!"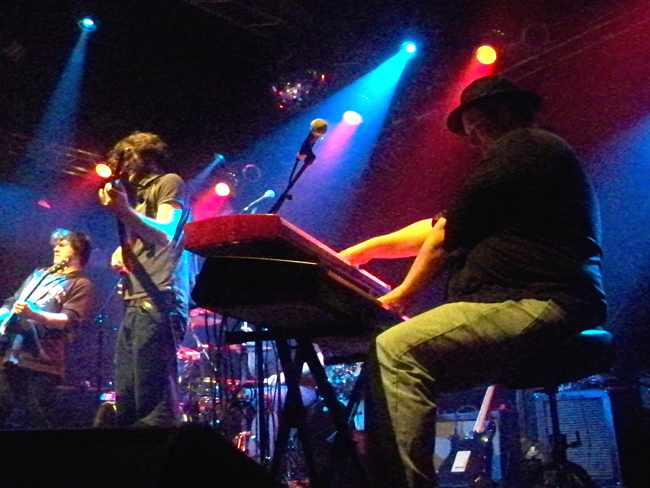 First up was a talented young blues guitarist by the name of Luke Mulholland. The twentysomething axeman was backed by a solid trio of drums, bass, and keys. The sound reminded me of Stevie Ray Vaughan meets Little Feat. Not a bad zone at all! Mulholland's set included a hot cover of Rambling On My Mind, as well as self-penned numbers like Midnight Carnival and Further. The band was very well received and I'd definitely like to see them headline in the future.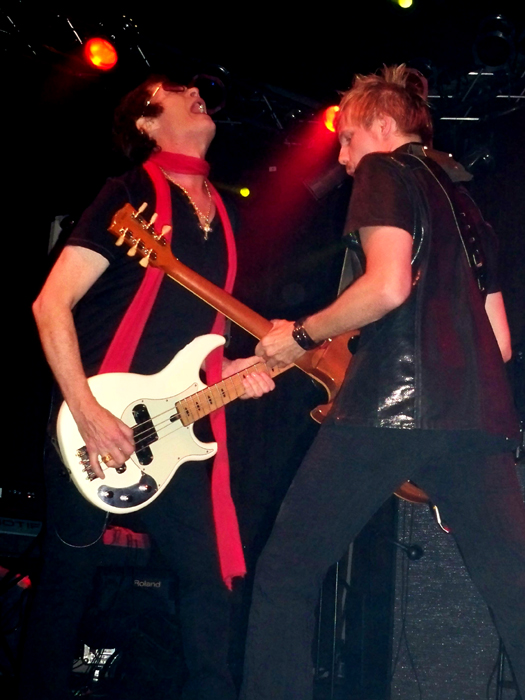 Eddie Trunk, host of VH1 Classic's That Metal Show took the stage to introduce Glenn Hughes, saying that none other than Ronnie James Dio declared Hughes to have the finest voice in rock! As the crowd roared, Hughes and his band ( drummer Steve Stephens, keyboardist Ed Roth, and guitarist Jeff Kollman) greeted us by jumping feet first into Crave - a heavy funk rocker. Hughes was in great voice and his bass playing was down and tight. F.U.N.K. (or First Underground Nuclear Kitchen) kept the groove going. Hughes and Stephens were a monster bass/drum combo on You Got Soul, so immaculately tight and crackling with power, it was impossible to sit still! Jeff Kollman's guitar had the spotlight on the Deep Purple classic Mistreated. The man can play! His fingers moved with a speed and dexterity I only thought possible from Data, the android from Star Trek. A real show stopper!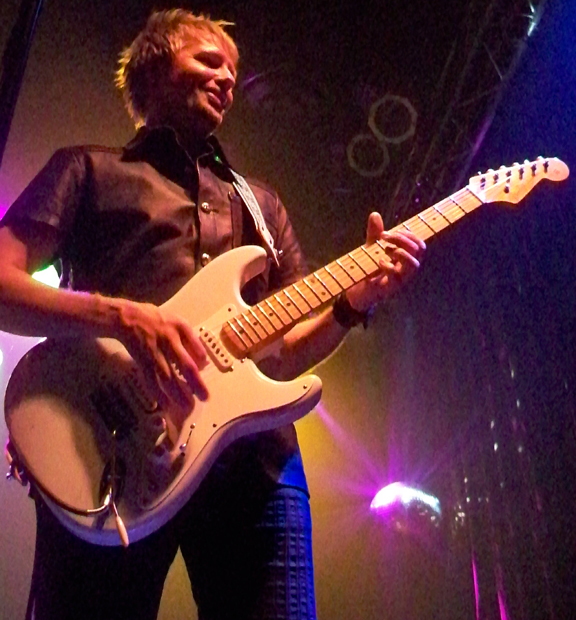 Oil And Water and We Shall Be Free - two more tracks from First Underground Nuclear Kitchen followed, with Roth's keyboards solid on the latter. Putting down the bass & donning a guitar, Hughes paid fine tribute to the sadly departed Mel Galley, his bandmate in Trapeze, with Coast To Coast - perhaps Trapeze's best known number. It was quite an emotional moment, and Hughes' guitar playing was nothing shy of awesome. The uplifting Love Communion was next, followed by a song about a baaad woman - Don't Let Me Bleed. The rock/funk/soul/fusion of Steppin' On closed the main set with the sonic power of a jet engine. Encores were Soul Mover (with a snatch of, of all things, the Carpenters hit Superstar!), and the Deep Purple monster that is Burn. Glenn Hughes owned the crowd, and owned the venue from first note to last. Deadly hot rockin'! Gotta have more!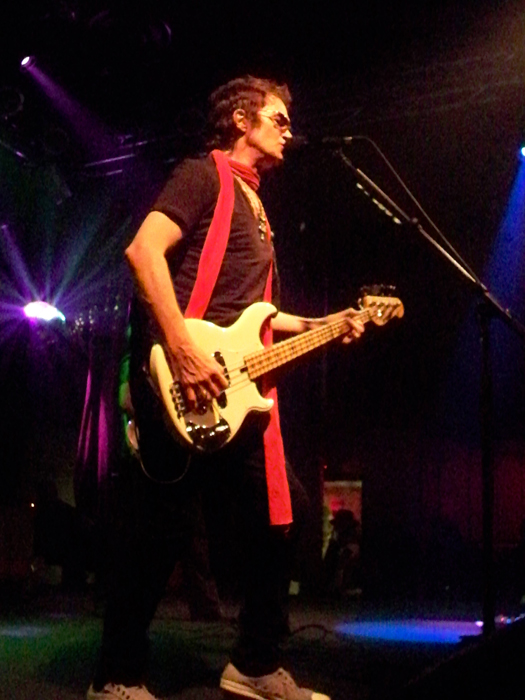 Sneaky Sound System - The Mercury Lounge, NY, NY 3/23/09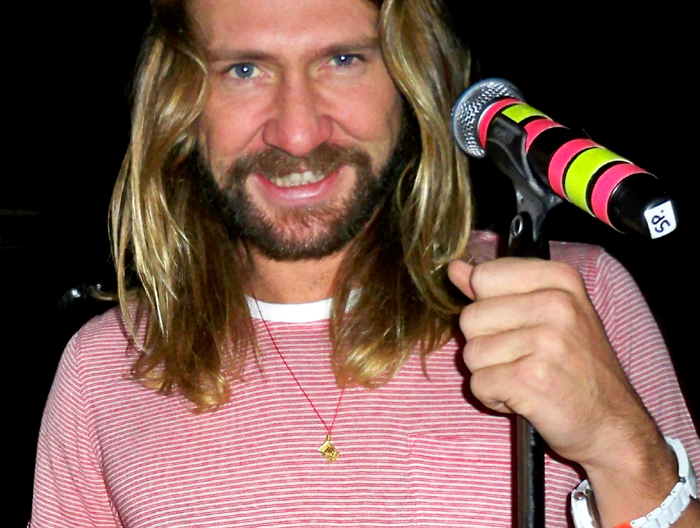 I first became aware of Australia's Sneaky Sound System when they performed at Live Earth in July of 2007. Their energy, pop hooks, and strong vocals made them the surprise stand-out of the event. When I found out they were coming to the Mercury Lounge, I threw aside all plans and headed straight to the Big Apple! The crowd was on the young side, friendly, and looking for a party. Sneaky Sound System delivered, with electricity to spare! Because Of You People Think I'm Crazy opened the set on a strong note. Drummer Shaun Sibbes and keyboardist / bassist Donnie Sloan laid down a tight groove, reinforced by the slick guitar of Black Angus. When We Were Young kept things moving with grrrreat vocals from the gorgeous Miss Connie Mitchell, slyly doubled by the energetic MC Double D. The urgent call for sex that is Hip Hip Hooray was next, with the crowd shouting the chorus loudly.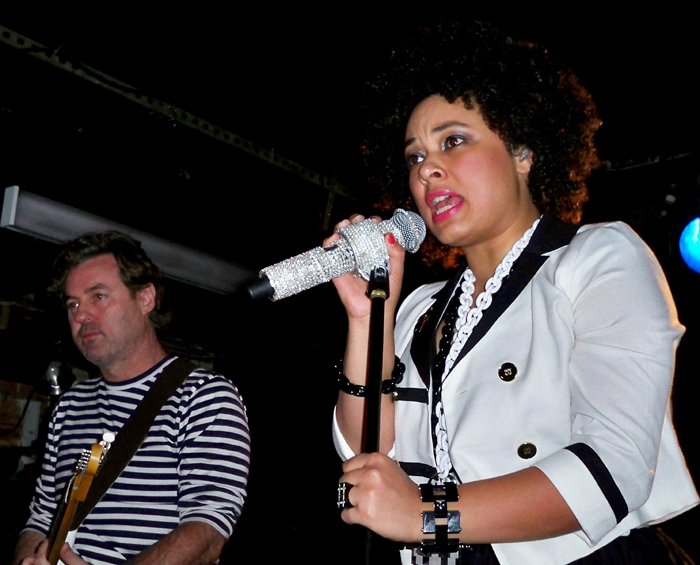 MC grabbed my camera during the appropriately named Pictures and snapped a photo of me as well as one of Miss Connie's left elbow. Fun stuff! The crowd and the band fed off of each others' energy, hitting high upon high. You could really feel this during Goodbye as everyone swayed to the groove, punctuated by MC Double D's staccato vocals and Miss Connie's piercing long notes. Utter magic. 16 oozed with confidence and the sharp snap of Black Angus' guitar, slicing through the beat with short chordal smacks. Kansas City pulsed and flew under Miss Connie's guidance as she sang Somebody in Kansas City loves me. Somebody is waiting til we're all alone. Cool chorus and even cooler ending!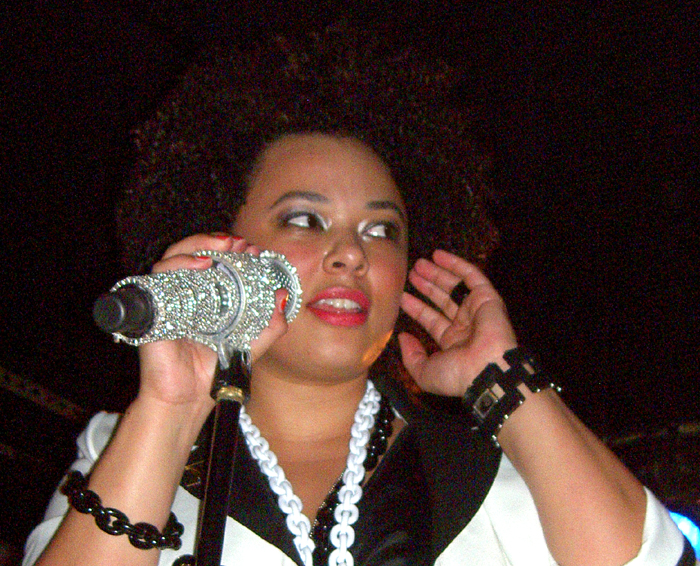 The set headed toward the finish line with Black Angus donning an acoustic guitar for one of the highest points of the set: It's Not My Problem, with a lovely vocal. I Love It and UFO, two impossibly perfect pieces of propulsive pop closed things out, leaving everyone in attendance somewhere in the stratosphere. A dizzying evening of unadulterated pop ambrosia. More, please!

Stamford Symphony - Palace Theatre, Stamford, CT 3/22/09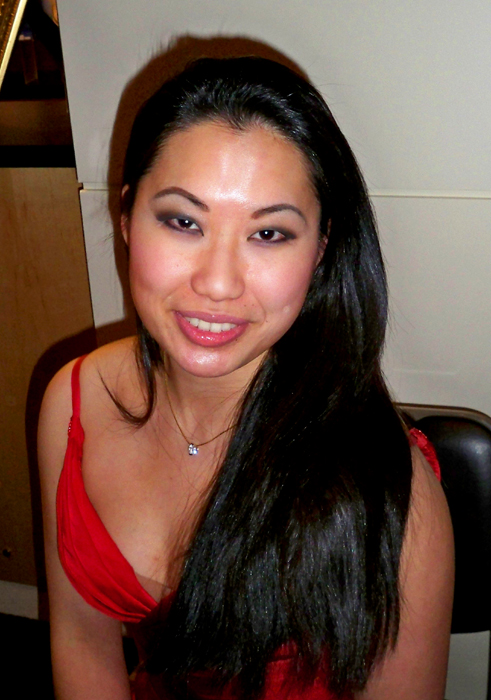 It's nice to see an ensemble at the height of their powers. Romancing Sarah Chang was the name of this program, and the presence of Chang seemed to have lit a fire under everyone. Whatever the reason, my ears were delighted! We started with a number I was not familiar with. Anton Webern's Langsamer Satz had some dark, brooding moments with violins, violas, and cellos painting wide tapestries of sound. Maestro Eckart Preu lorded over the symphony, coaxing soul stirring notes with his baton, or a gentle sigh of strings with the gesture of a hand or a nod of the head. Conductor and players were a solid unit, acting as one for the entire afternoon.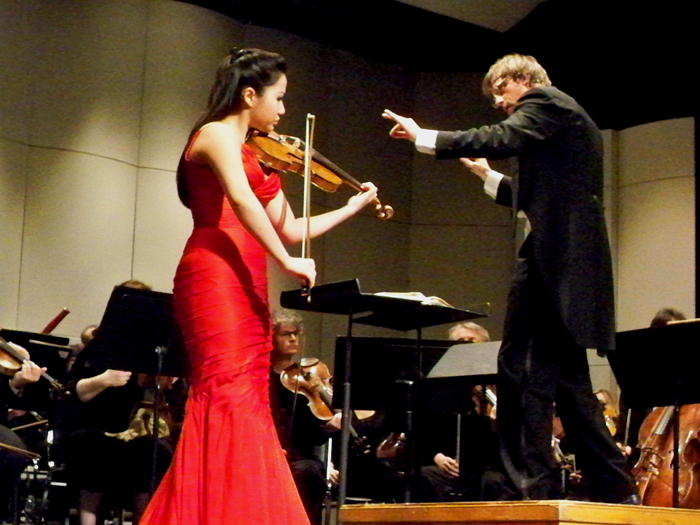 Felix Mendelssohn's Symphony No. 3 in A Minor, Op. 56, known as the "Scottish" symphony, had very little within it to evoke a Scottish air. This long piece reminded me of a film for the ears. We start with the titles, setting up our establishing shot, and slowly drinking in, say, a castle in the hills. As the mist crawls along the ground, we look out onto a damp Scottish morning with gray clouds obfuscating the sun. Violins carry us out the door, tramping over the moist earth underfoot. The second movement beckons us with woodwinds, looking over majestic cliffs and lush green hills as the day moves on. There is a feeling of motion, perhaps horses, in the third movement as the basses play in pulsing unison with the violas. The opening theme is restated in the final movement as night falls and the closing credits roll. A thrilling piece full of color and wonder.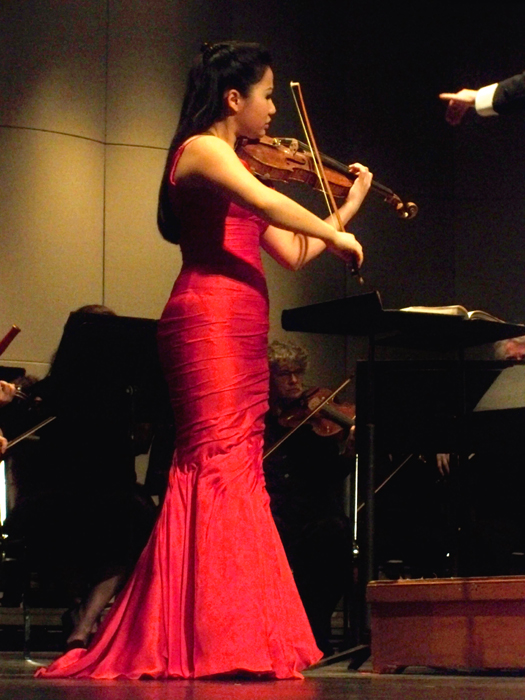 The featured soloist, the amazing Sarah Chang, had an opportunity to shine brightly on Johannes Brahms' Violin Concerto In D Major, Op. 77. Looking like a beautiful mermaid in a form fitting scarlet gown, Chang played the violin with speed, control, fluidity, and muscle - often simultaneously! Chang and Maestro Preu were great visual foils - Chang stalking the stage as Preu fluttered and swayed. The concerto was charged with drama and moments of a luxurious richness, full of heart and timeless beauty. Chang seemed born to play this one. As the piece ended with a brisk flourish, I felt truly satisfied. Maestro, symphony, soloist - all delivered the goods without holding back. A splendid time was guaranteed for all!

John Wetton - B B King's, NY, NY 3/5/09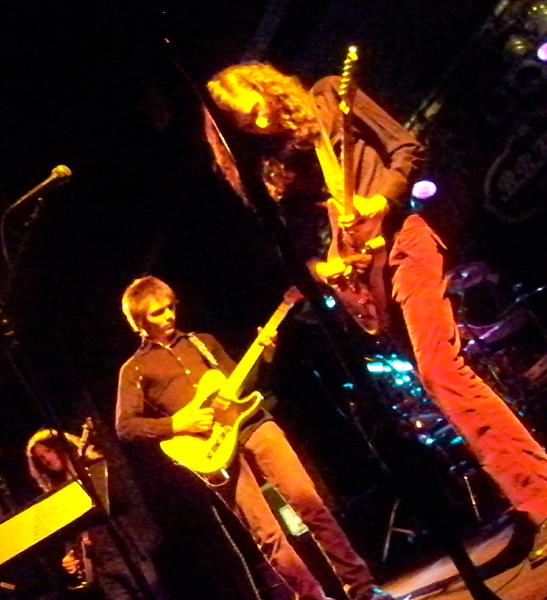 We all have a mental list of things we would love to see, but most likely never will. Hearing King Crimson play One More Red Nightmare and Fracture live has always been on mine. To my amazement and delight, I came pretty damned close at this show. I'm getting ahead of myself. Starting the evening off was a very talented warm up act called The Will. These four young gents played slammin' jammin' psychedelic prog rock with a bit of a jam band influence. Their four song set of Black Hole (Summer's Over), What Is This, Emil Sinclair, and Nothing Else To Say featured nice quirky vocals over a solid rhythm section and rifferama Telecaster work. A young band with a lot of potential, they were a solid opening act. I'd definitely enjoy seeing them again.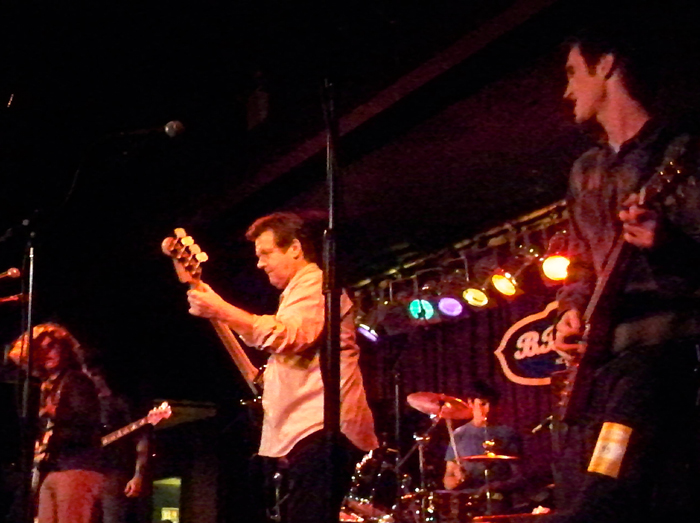 John Wetton was playing with the School Of Rock All Stars for this gig. Incredibly gifted young men & woman that took on the unenviable task of accurately performing the music of King Crimson, UK, & Asia. There were about a dozen or so of them, and five or six were on stage at any given time, rotating from song to song. Before Wetton took the stage, members of the school opened the first set with a beefy take of 21st Century Schizoid Man. Wetton joined them on bass for the most powerful Red I've ever heard. It was a vicious, nasty, growling beast followed by the no less powerful Lament. Wetton was a bit slimmer than when I last saw him in Asia. His voice was in great shape, and his bass and acoustic guitar playing totally top notch. An Asia piece was next - Days Like These - a bit of an eclectic choice and a nice set up for the sleazy, thundering Easy Money.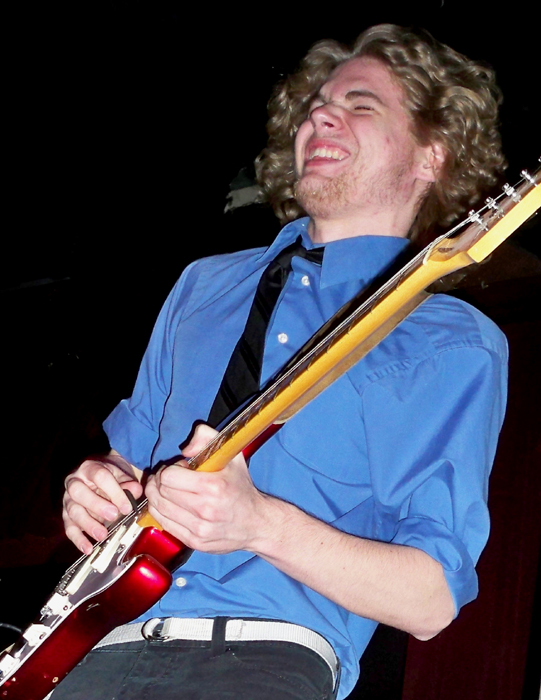 Wetton left the stage to the kids for two prog numbers: Rush's Tom Sawyer and the Jethro Tull classic Mother Goose. Both were well played, and a sort of palate clearer for the next burst of Wetton. He came back with all guns firing on In The Dead Of Night - Wetton's voice driving the song onward and upward to perilous heights! Only Time Will Tell and Exiles closed the first set, leaving the crowd all aglow. One short break later, set 2 barrelled ahead with Larks' Tongues In Aspic Part 2 - energy personified. A solid Don't Cry was next, with a plaintive vocal from Wetton.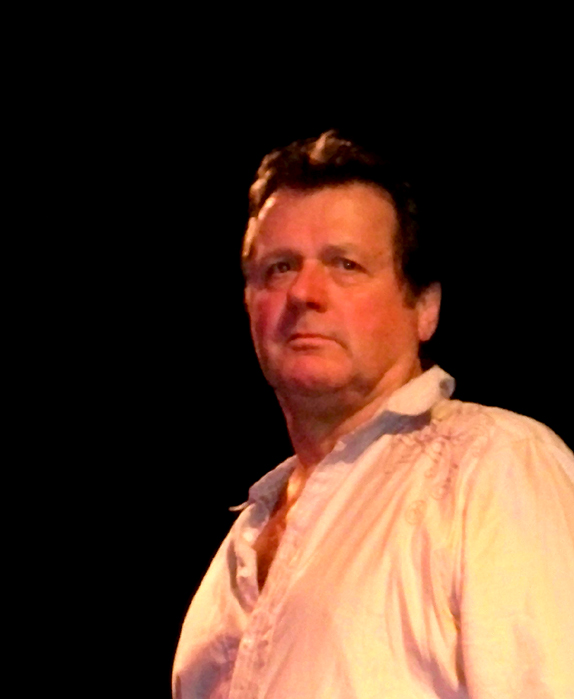 Then the sky opened and One More Red Nightmare and Fallen Angel appeared in all their dark glory. Was it a dream? Was I really experiencing this? Wetton took a break once more as the schoolmates ripped through Three Of A Perfect Pair and Yes' Tempus Fugit with aplomb. Wetton roared back with beautiful versions of Rendezvous 602 and The Night Watch. I must say, he sure knows how to end a set! Those familiar lines hit my ears and I was overwhelmed with the emotion and polyrhythmic passion that is Fracture. Every note was spot on. Every solo, every build. After Fracture I was drained. The encores of Book Of Saturday and Heat Of The Moment were fabulous, but I was already loopy at that point - knocked out by what I just saw and heard. Life is good, my friends!

Erica Kiesewetter & Catherine Kautsky - Steinway Piano Gallery, Westport, CT 2/22/09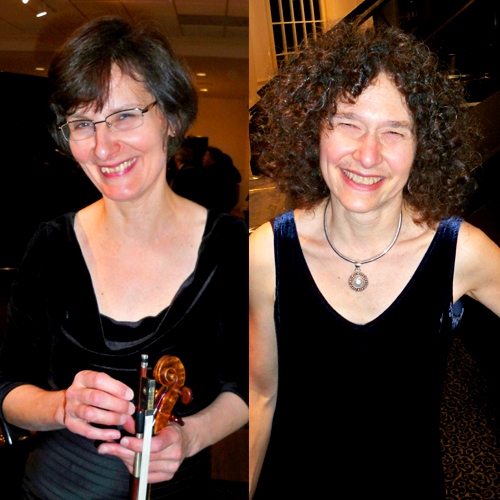 As the concertmaster of the Stamford Symphony, I was quite familiar with Erica Kiesewetter's stellar violin playing, but pianist Catherine Kautsky was an unknown quantity to me. WOW! Kautsky is a tiny woman with an easy smile. When she sits behind the piano, look out! She is 20 tons of pure dynamite! Her playing was so passionate, so aggressive, I was worried that the keys might snap! The duo started the recital with our dear friend and bird lover Wolfgang Amadeus Mozart's Sonata In B flat Major, K 454. The first movement was full of spinning, intertwining melodies with tight interplay between the two Ks. The second movement had grand, stately chords building and releasing in a very satisfying fashion. The concluding movement rather playfully carried us to the end of the piece.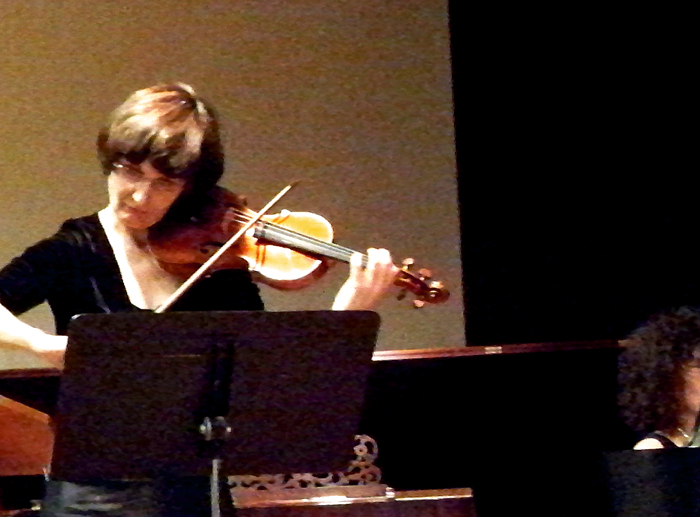 Exit Ms Kautsky, leaving our Ms Kiesewetter by her lonesome to deliver Eugene Ysaye's Sonata No. 3 In D Minor, Op. 27 - a "ballade" for solo violin. I truly enjoyed Ysaye's unusual harmonic choices and Kiesewetter positively shredded on the violin, with runs that would leave Eddie Van Halen or Allan Holdsworth in the dust! I went into the intermission goggle-eyed and breathless!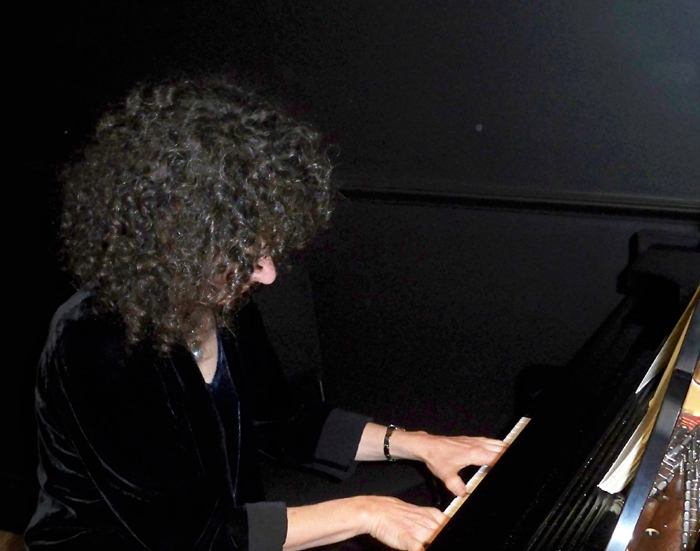 Leos (The Hammer) Janacek's Sonata was a wonderful, colorful number with melodic lines in the second movement creating a feeling of bouncing drops of water. The allegretto saw Kiesewetter playing stabs that sounded like unearthly gulps of breath. Very effective! Sonata No. 3 In D Minor (the saddest of keys), Op. 108 by Johannes Brahms brought us home. A piece of great beauty with a few exotic touches, it was a nice showcase for the interplay of the two Ks - each having several moments to shine. All building to the positively stirring presto agitato that ended both the piece and the recital. So very nice to see two players so in tune with each other as well as the music. Pure, unfiltered magic!

Stamford Symphony Orchestra The Palace Theatre, Stamford, CT 1/25/09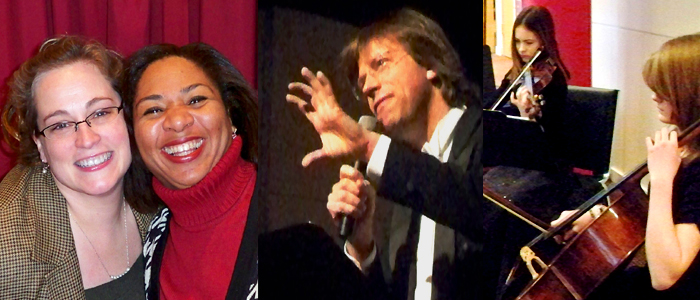 American Voices was the theme of the afternoon, but I thought of the day as the Kellogg's Variety Pack - a bit of everything all in one package. Pre-show was packed - saw my dear friend Elaine & her baby, listened to Maestro Eckart Preu's Behind The Baton lecture, watched the Norwalk Youth Symphony perform in the lobby, and had coffee & a few Milano cookies. Never underestimate the pleasure Milano cookies bring! The program got off the ground with Samuel Barber's Adagio For Strings, mournful and emotive with great sweeps of strings slowly building wave upon wave of heart wrenching beauty. In stark contrast was Bernard Hermann's Music From Psycho. Tense, brooding, threatening - a crazy train of evil and nervous energy. This was truly amazing to experience live and well away from a shower!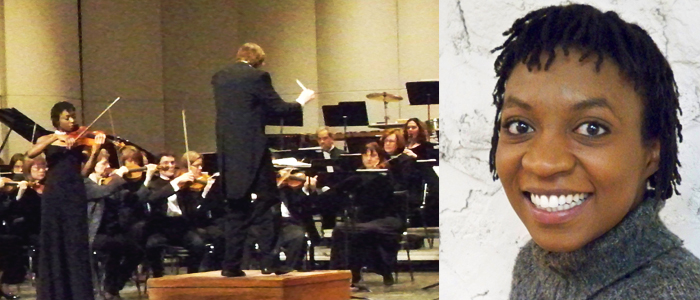 James Reese Europe's Castle House Rag lightened the mood. It was rousing, jaunty ragtime, with Preu bobbing and bopping to the rhythm. The symphony went off-program, playing James Sanderson's Hail To The Chief in tribute to our new President, complete with a lifesize Obama cut-out being walked across the stage to the delight of all. Set 1 closed with Samuel Barber's Violin Concerto, featuring the amazing fingers of guest soloist Tai Murray. Ms Murray doesn't play the violin - she commands it. From the beautifully snaking melodies of the body of the piece, to the athletic final section, Murray was a living master class in control, speed, and fluid expression.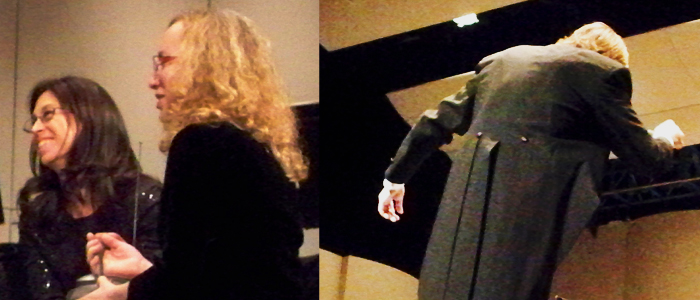 The second act opened with the single most unusual piece of "music" I've experienced live. John Cage's Imaginary Landscape No. 4 was "played" on six radios by twelve members of the orchestra changing volume and station to specific cues on the score. A true mind-expander. From the avant garde to the friendly, came Hans Peter (brother of the Maestro) Preu's engaging Bach On Broadway (Jazz Fugue). The piece had a nice lushness and created a feeling of place, and of movement. I'd love to hear it again! Our main program concluded with a dear old friend: Aaron Copland's Appalachian Spring Suite. So very American, so very heartland. This suite is apple pie, corn flakes, and fresh churned butter in Kansas. A perfect closer - but wait! There's more! Preu and the get down funky folks of the symphony threw a grateful audience a hot fudge sundae of an encore: a medley from Leonard Bernstein's West Side Story with tasty chunks of Maria, Tonight , One Hand, One Heart, and America. This program revealed the genius of Maestro Preu in his ability to construct a travelogue of America and Americana that was daring, thoughtful, humorous, and compelling - often simultaneously! It also revealed the genius that is the American composer - a vital component of the past, present, and future of music of all genres.

The Musical Box - Nokia Theatre, NY, NY 1/4/09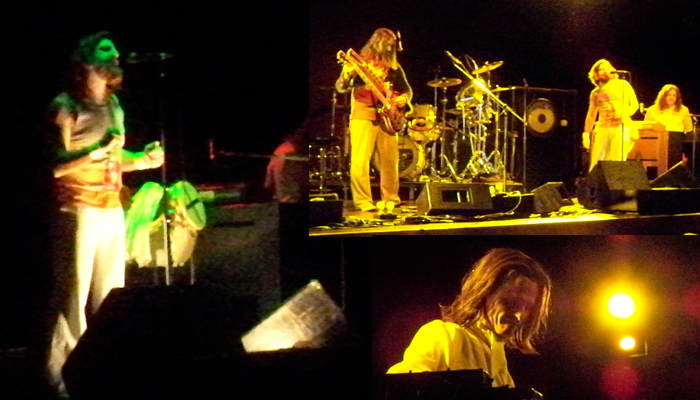 It was cold. I mean that kind of cold that just gets right into you. Cold in the way only New York City gets cold. I was beat and had twisted my lower back, but once I got my fat, tired, sore self into the beautiful Nokia Theatre, none of that mattered. It was time to see the Musical Box bring Genesis' tour for A Trick Of The Tail to life. I was especially curious to see how vocalist Denis Gagne, who did such a superb Peter Gabriel in past shows, would interpret 1976-era Phil Collins. As the opening number, Dance On A Volcano, got under way, any trepidation was erased. Gagne, in full beard and groovy tank top, captured the feel delightfully. The "drumming" Collins, by the way, was very ably played by Marc LaFlamme as Gagne would quickly slip behind a curtain. Next on the bill was the "Lamb casserole" medley of The Lamb Lies Down On Broadway / Fly On A Windshield / Broadway Melody Of 1974 / Carpet Crawlers. Guitarist Francois Gagnon shone on the medley, with a strong command of the subtle effects and powerful bits of slide work. Drummer Gregg Bendian, now in the Bill Bruford slot for this tour, added tasty percussion to Cinema Show - the musical dash of dill & tarragon mixed in with the 3 guitar blend of the number.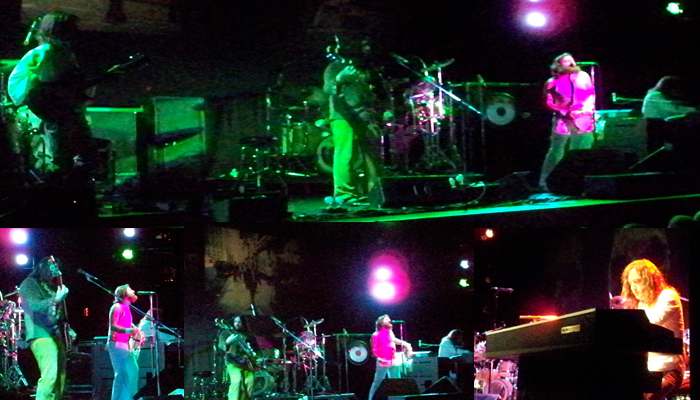 2 greatly contrasting pieces followed: Robbery, Assault, & Battery with its shifting time signatures and intense solo section, and the classic White Mountain - a song that still gives me chills, with breathtaking acoustic guitar by bandleader Sebastien Lamothe. Keyboardist David Myers provided the one deviation from total historic authenticity by playing the awesome piano intro to Firth Of Fifth, but I'm sure not a single soul minded. Gagnon nailed the solo masterfully, by the way. As I was 16 and broke when the original tour came around in 1976, this was my first time hearing Entangled live. It was a true lump-in-the-throat moment as the chorus mellotron kicked in during the end section. As with the album, next up was Squonk, all brassy and powerful - a nice burst of energy. Speaking of energy, the entire band melted into one during Supper's Ready. Power beyond power - video screens and a green laser cone added a bit of visual icing to the cake.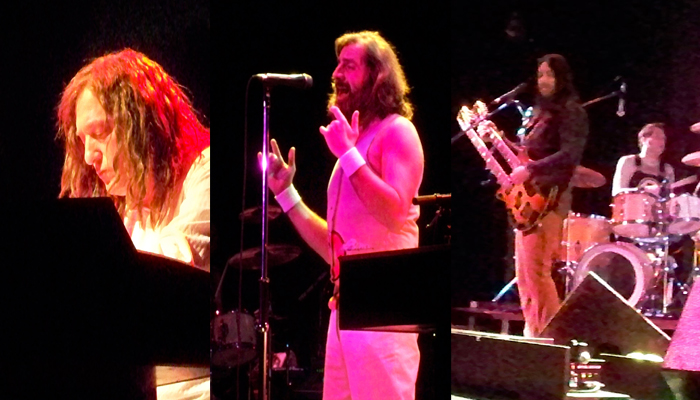 I Know What I Like (In Your Wardrobe) and Los Endos (with full opening!) ended the main set. The encore medley of It / Watcher Of The Skies capped an extraordinary evening. Do not miss this show, do not miss this band. The love, sweat, and hard work they put into recreating a slice of musical history pays off in spades. Pure misty-eyed wonderment, my friends.



Table Of Contents

Contact