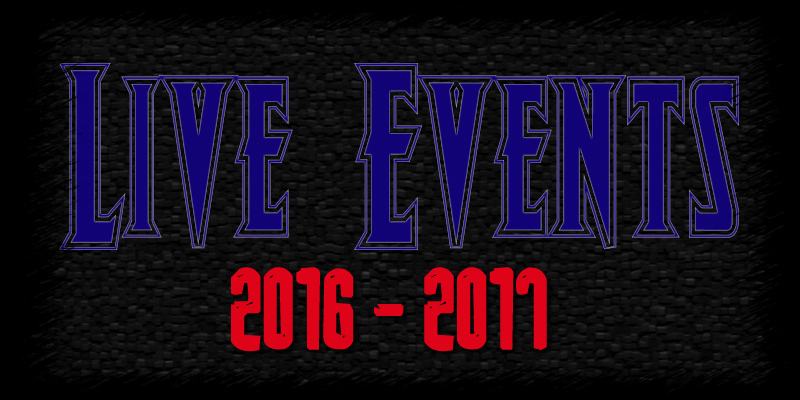 all reviews and photos by John A. Wilcox
Lez Zeppelin - The Warehouse, Fairfield, CT 12/15/17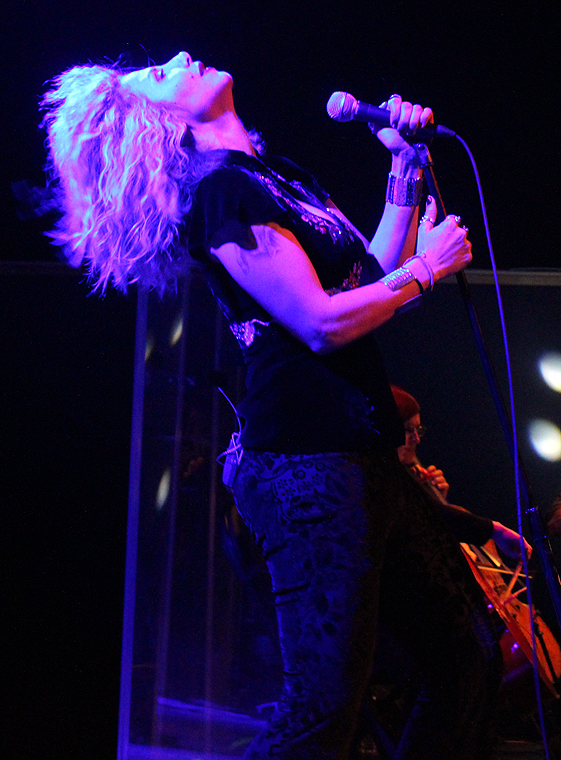 A crappy, cold, snowy night. A hyper-extended knee on top of it. Ordinarily, I would stay at home & let my knee continue healing. But Lez Zeppelin were back in town. I had to be there! Thank God that I was! This is fast becoming a yearly tradition: Lez Zep at The Warehouse on or around guitarist Steph Paynes' birthday. Joining Paynes this time were drummer Leesa Harrington-Squyres, bassist / keyboardist Megan Thomas, and vocalist Marlain Angelides. I've seen many different permutations of Zep, but I must say that this is the definitive lineup! For this gig the band was joined by a 4 piece string section on many of the numbers. It was an awesome combination and added a sort of special aural spice.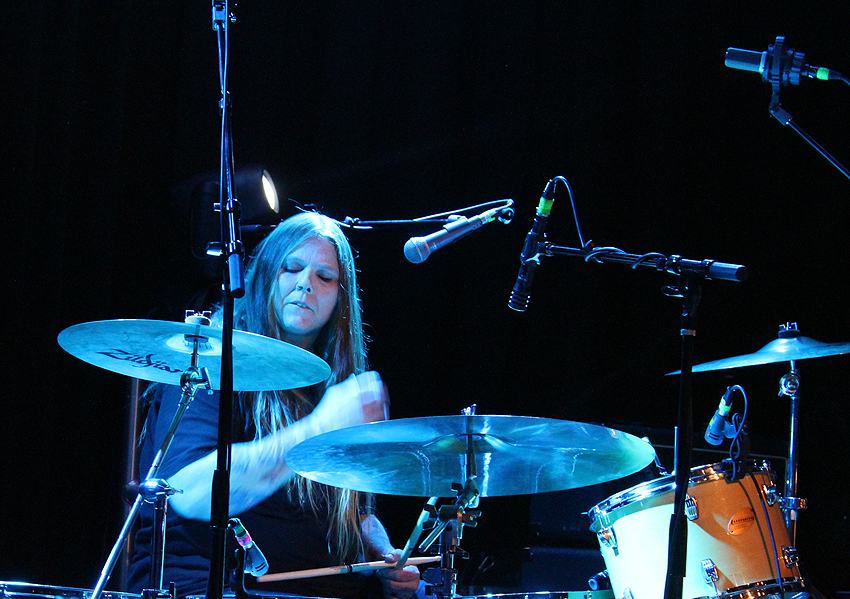 Much to my surprise, the set opened with In The Light. The strings added a warmth to the piece. A total wow! The power ramped up with Immigrant Song. Paynes and Thomas were conjoined twins joined at the riff. Harrington-Squyres counted in The Ocean. It cast my mind back to my teens when I'd play along on guitar to my Houses Of The Holy cassette over and over. Ditto Good Times Bad Times. Angelides wailed and Paynes was searing. High emotion ruled on Babe I'm Gonna Leave You. Such a great live number!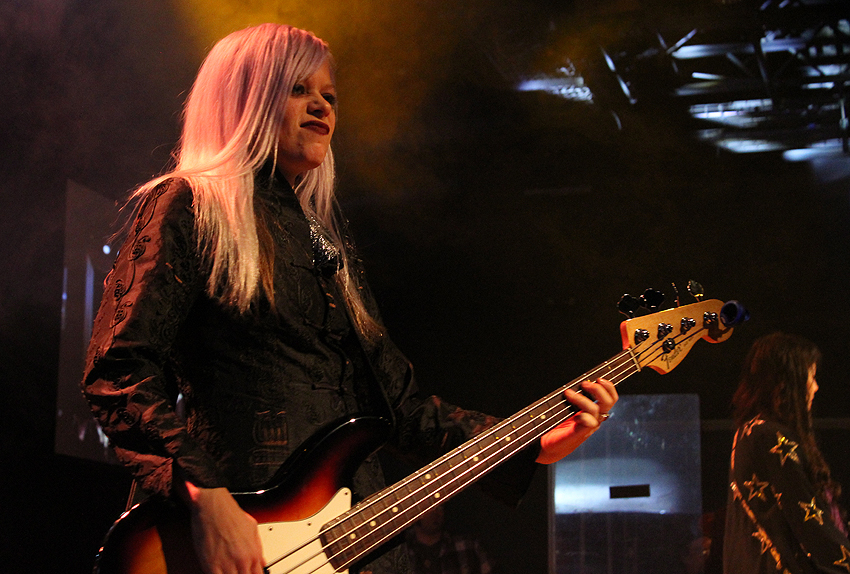 Thomas' bass boomed and Harrington-Squyres was the anchor for Dazed And Confused. Paynes was playful here, exploring lots of sonic textures. Who decides to throw an utter obscurity like Friends into a set? Lez Zeppelin. Part of why I love them so. A magic piece. As was a beautifully moody take of The Rain Song with a brilliant vocal. My brain then exploded. The seemingly impossible happened. In my years of seeing the band I had all but given up hope of ever hearing Achilles Last Stand. Yet there it was in all its glory. With strings. The band absolutely killed it! BOOM went my mind! A tight, strong Ramble On carried me back to Earth.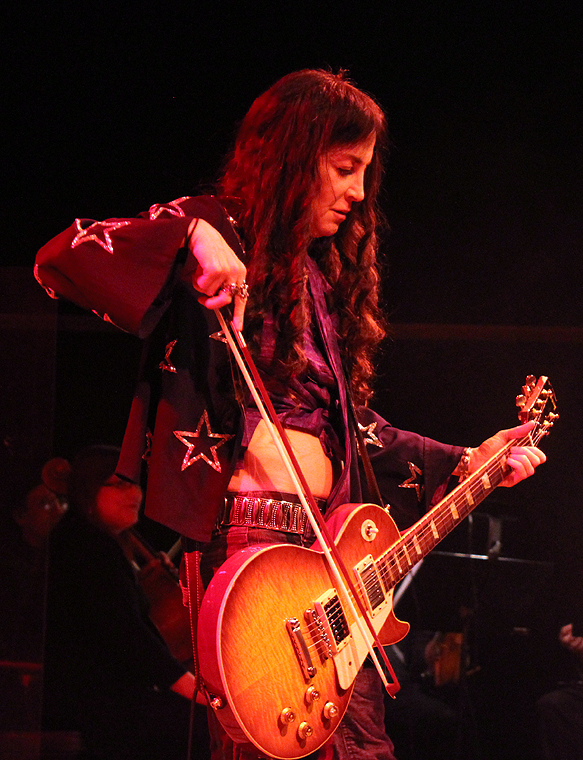 I spent most of Black Dog staring at Thomas' fingers. So spot-on and her tone was vicious! Rock And Roll was another triumphant band piece with everyone having room to shine. Harrington-Squyres had some solo space here and impressed all! The set closed rather appropriately with a smoky Kashmir. Again, the combination of band and strings took this waaaaay over the top. An herb-altered crowd was clearly taken to another plane. Encore 1 was a compressive and powerful Communication Breakdown. The band were so very clearly having fun and enjoying their time on stage. Encore 2 was Whole Lotta Love. Paynes got wild. Angelides got down. Harrington-Squyres and Thomas got hard and greasy in a good way. A definite party for all things Zep. If you have not seen Lez Zeppelin yet, you are officially out of excuses!!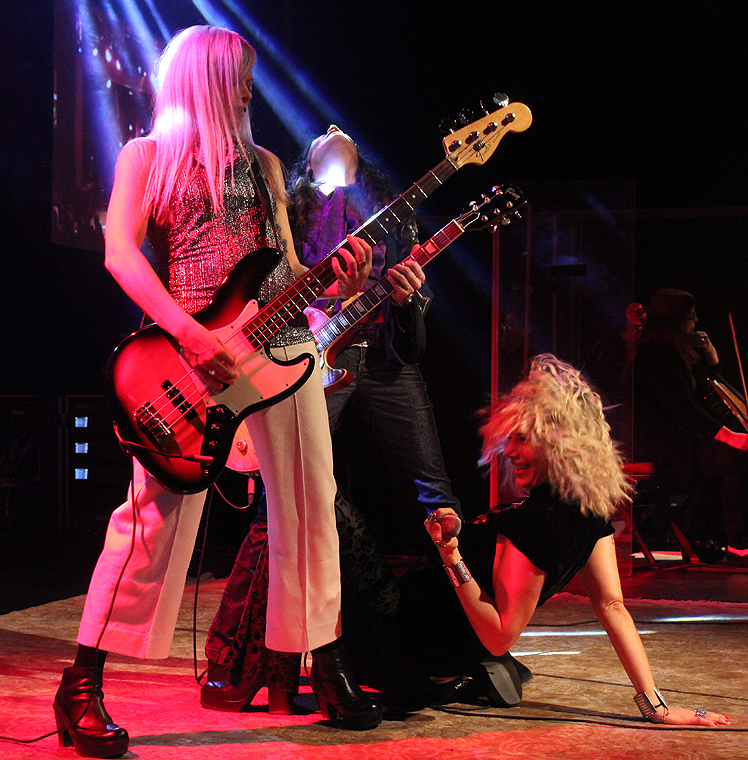 King Crimson - The Capitol Theatre, Port Chester, NY 11/15/17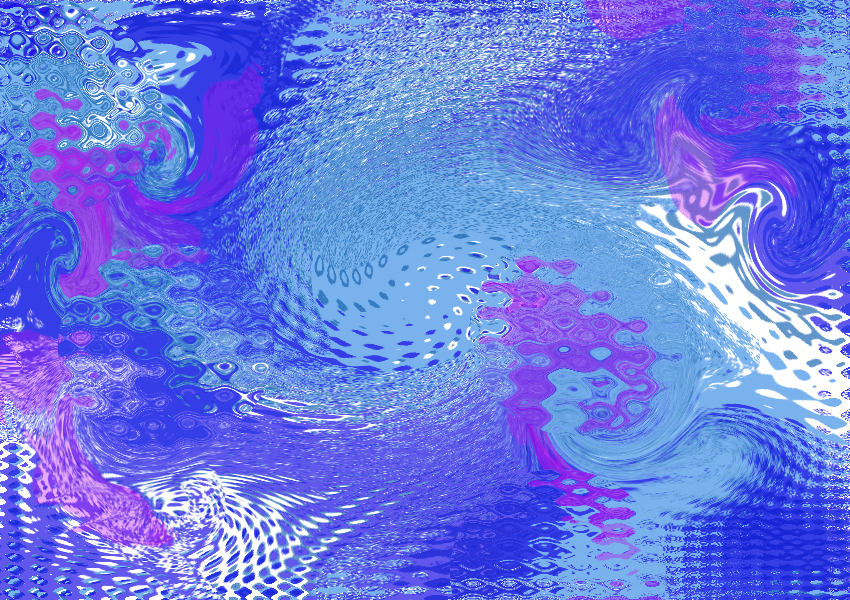 The last time I saw any iteration of King Crimson was in 2003, in support of The Power To Believe if memory serves. The band is...larger. Joining Robert Fripp this time were Jakko Jakszyk on guitar and vocals, Chris Gibson on keyboards, Mel Collins on saxes and flutes, Tony Levin on basses and backing vocals, Pat Mastelotto on drums and percussion, Jeremy Stacey on drums, percussion, and keyboards, and Gavin Harrison on drums and percussion. Wow! Before we get into the songs, let me share my thoughts on this ensemble. Powerful. Big. Brutal. Beautiful. Widescreen. Everyone had their role and their moments to shine. The 3 drummer thing totally made sense. It was crackling with sounds and propulsive...stuff.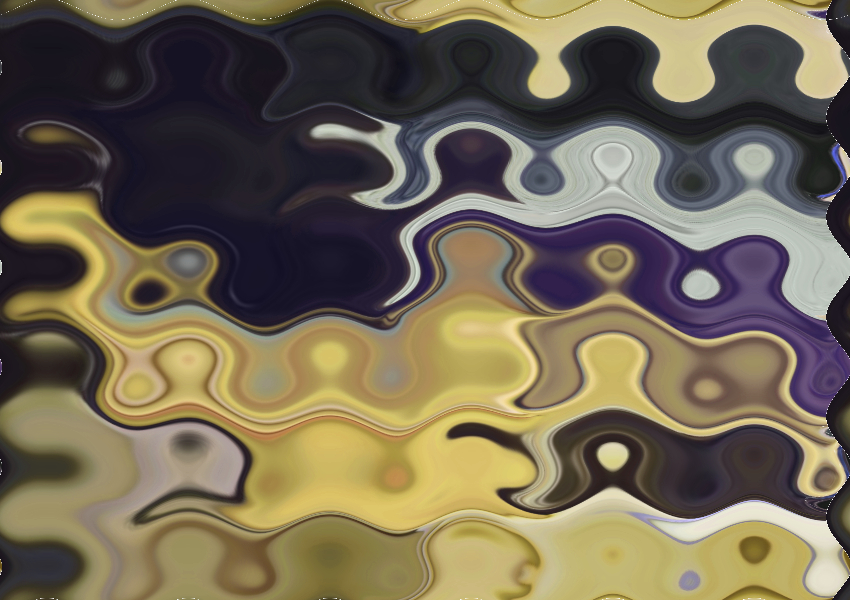 After Robert Fripp's recorded announcement asking folks to please not take photos until Tony Levin picks up his camera (sadly ignored by far too many) we heard the Coda from Islands play over the system. The ensemble then launched into Lark's Tongues In Aspic, Part One sounding totally contemporary. An angular beast. I was smiling already. Levin was my focus on Neurotica. The drums here added to the aural cityscape. My teen dream fulfilled next with a corker of a version of Cirkus in full demented glory. Jakszyk's vocal was splendid. A nice chunk of Lizard followed. Fripp at the fore. Aching Jakszyk vocal. March forward. Everyone pulled me in deep here. Collins and Gibson. The ConstruKction Of Light was a delicious after-lizard mint. Ping pong balls of sounds in my brain. I just loved it. Very emotional so far.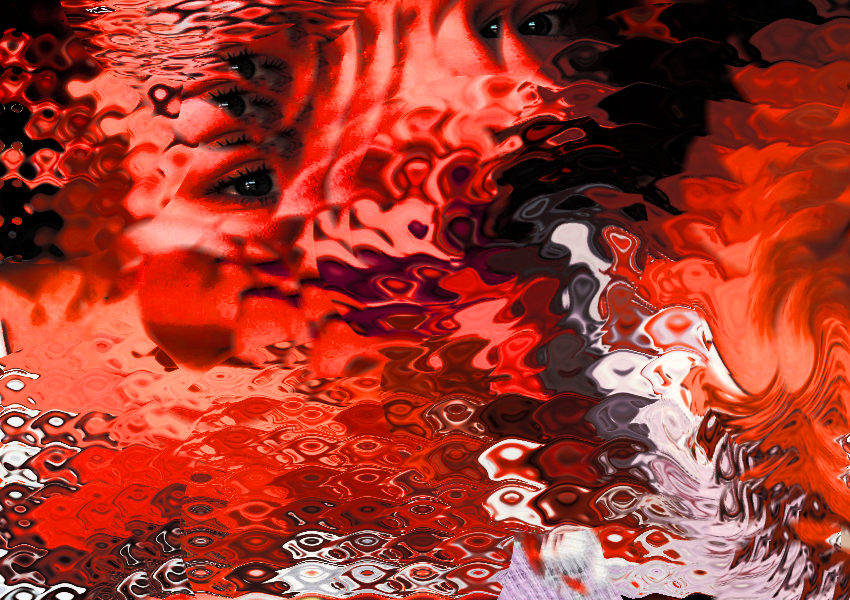 A big crowd moment when the band launched into a scintillating Epitaph. Big. Very, very big. Radical Action/The Errors kept things moving. Fine vocal in the center of it all. The fury of Lark's Tongues In Aspic, Part Two fit well here. As an aside - all during set 1, Fripp seemed to be having a grand time. This warmed my heart. As did the simple beauty of Islands with Collins and Fripp creating magic. Set 1 ended on a huge note with Indiscipline. Mastelotto, Stacey, and Harrison were incalculably insane! Tigers tearing through a glass house. It was wonderfully cacophonous. Break time!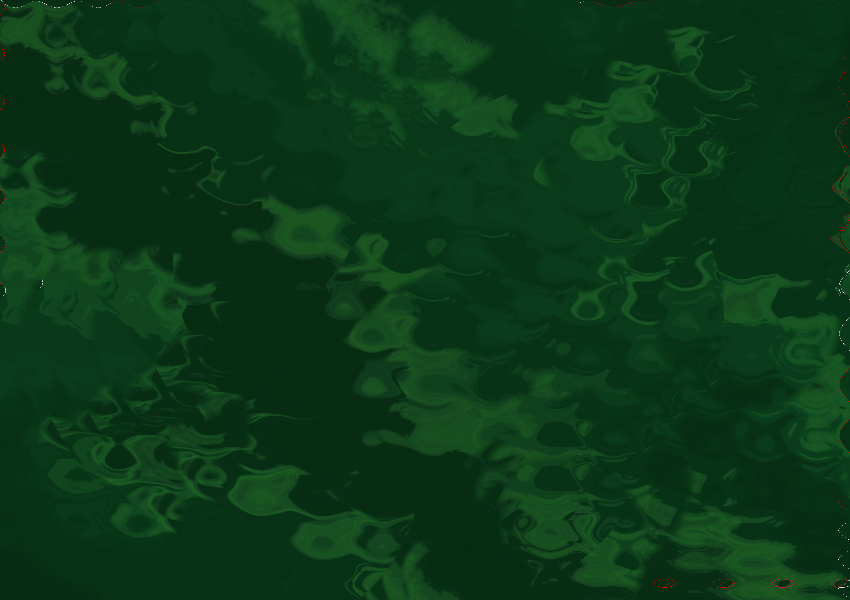 Set 2 began with what I believe is called Hell Hounds Of Krim before transitioning into a well-appreciated Discipline. Very nice and expansive. Such a treat to hear Breathless from the Fripp catalogue. Compelling and luxurious may sound like an odd fit, but that was how it resonated with me. Deeply emotional aptly describes Starless with an awesome Jakszyk vocal, masterful Collins sax, and brilliant Frippery. Levin and Fripp had me laughing with their call-and-response moments on Moonchild. Another crowd frenzy moment during the opening strains of The Court Of The Crimson King. Mesmerizing.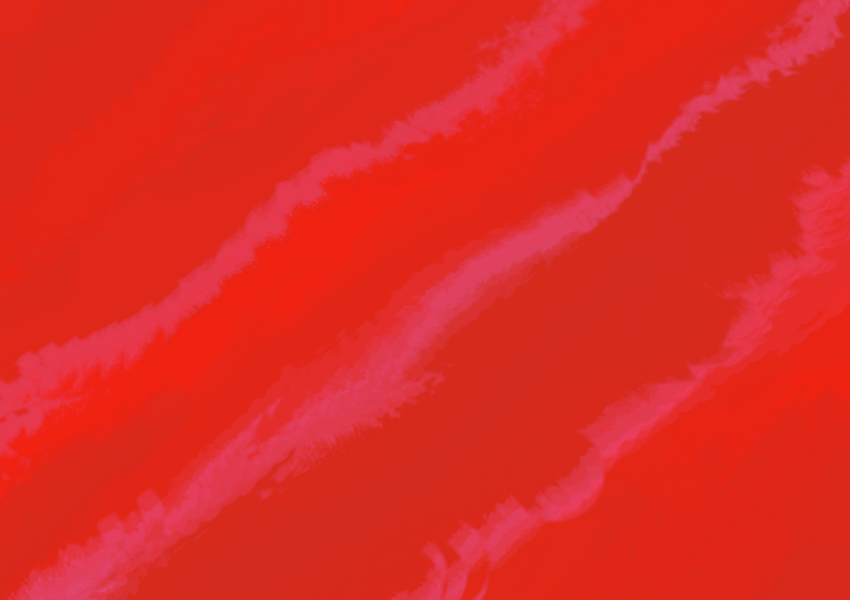 I immediately re-named Easy Money Greasy Money as it was grimy, greasy, oily, filthy, unsavory - all in the best possible way! Radical Action II into Level Five with more buzzes and beeps and wonderment closed the set. First encore was "Heroes" with Fripp in total command. It made my heart swell for many reasons. Second encore was a piledriver take of 21st Century Schizoid Man. The energy was staggering and Harrison turned in a memorable drum solo. For several hours I was in another world. I cannot accurately describe the depth of my feelings for what I saw and heard. I guess love will have to suffice. Thank you for an evening of love.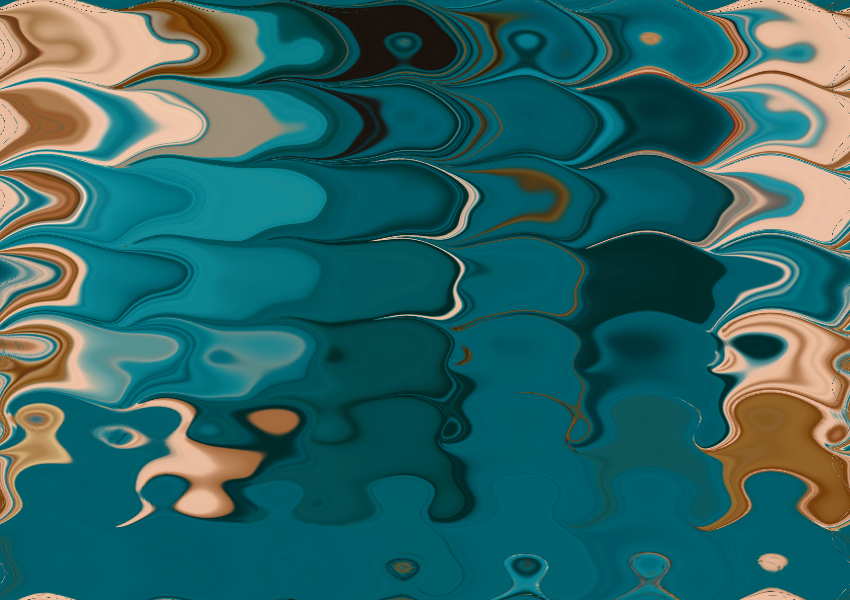 The Security Project - Daryl's House, Pawling, NY 11/08/17



You know, I promised myself I would never go back to Daryl's House, but I just had to see the Security Project again! Once more the line-up was Jerry Marotta on drums, Trey Gunn on Warr guitars & stuff, Michael Cozzi on guitar, David Jameson on keyboards, and Happy Rhodes on vocals and guitar. Everyone except Jameson sang, and Gunn & Cozzi also played percussion. Got it? The band started strong with Fly On A Windshield / Broadway Melody Of 1974. You couldn't grab my heart more immediately if you tried! I Have The Touch was next. Marotta drove the piece along. Rhodes' vocal was killer. Gunn and Rhodes were the focus of Family Snapshot. Very emotional. No Self Control followed. 3 songs in a row about obsession. I wonder if that was intentional? Hmmmmm. Wallflower, a song of hope, fit perfectly in that regard. Nice keys from Jameson here.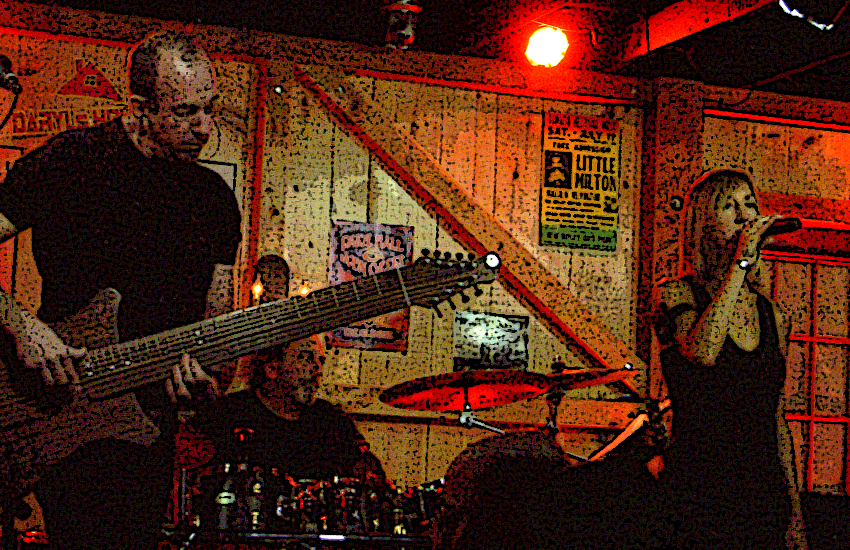 The Family And The Fishing Net had exactly the right amount of cowbell and headless chickens! Rhodes was achingly perfect on Kate Bush's twisted Mother Stands For Comfort and delivered a luxurious vocal on her own Collective Heart. If you're not already a devotee of Rhodes' work, do check it out! Lots of band fun with Intruder including nice work from Cozzi on gee-tar. Whistling time presented itself during Games Without Frontiers. Always a fun piece. I was gutted by a spectacular, moody Here Comes The Flood. Cozzi's solo was perfect and Rhodes just nailed the vocal. Drink up, dreamers.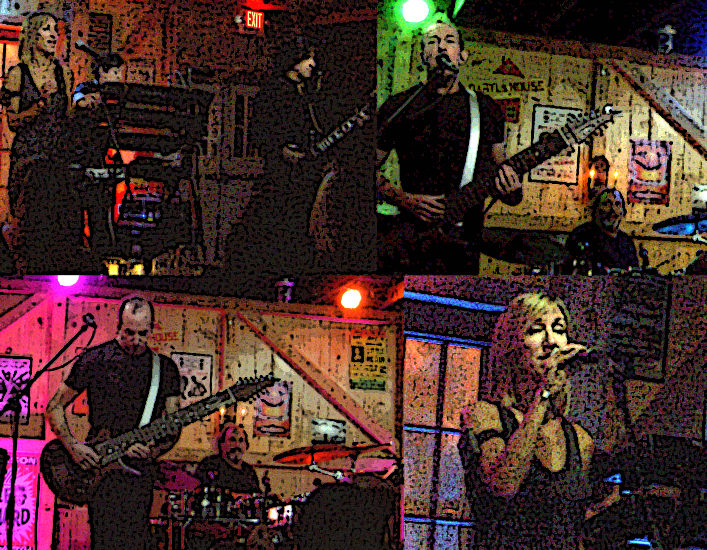 A sly rhythmic approach to I Don't Remember had me grinning. It phased into the lovingly caustic Lead A Normal Life with great keyboard atmospheres. Kudos to Jameson. San Jacinto was huuuuuuuuuuge. Gunn was sublime. Hold the line. It seems I was inadvertently Happy Rhodes' living teleprompter during The Lamb Lies Down On Broadway. She later told me that she just watched me to cover any words she might've forgotten. Anytime, maam! The set closed with a spirited take of Lay Your Hands On Me. After a few stories from Marotta, the encore was a tribalistic The Rhythm Of The Heat. The Security Project are well past a Peter Gabriel cover act. They are a must-see band full of ideas, electricity, and considerable charm.



The Motels With Annabella Lwin's Bow Wow Wow - Ridgefield Playhouse, Ridgefield, CT 11/01/17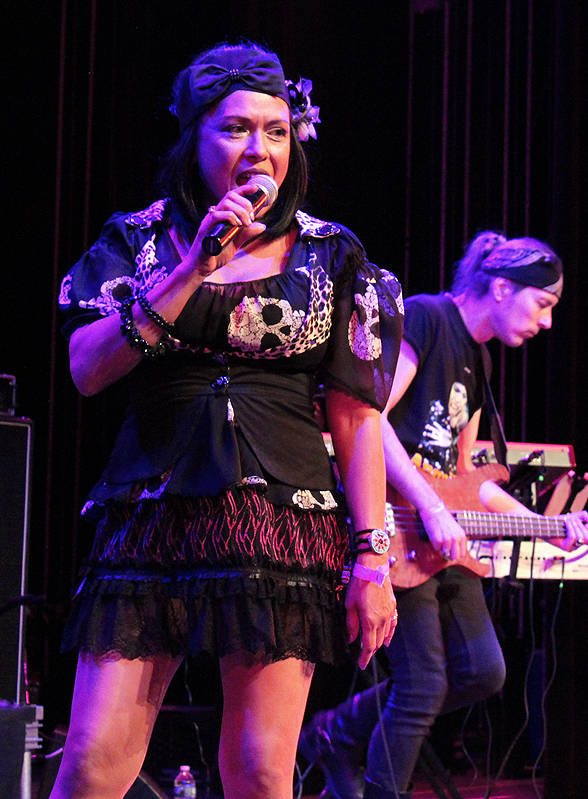 The night after Halloween and decorations were still in full bloom on the ride over to Ridgefield. Celebration was the order of the day as Bow Wow Wow with original vocalist Annabella Lwin hit the boards. Launching right into W.O.R.K. (N.O. Nah, No No My Daddy Don't), the band were pure unfettered energy. Lwin danced and bounced through Aphrodisiac with a friendly fervor. She was in great voice and full of endless enthusiasm! The band next tore through one of my faves: C30 C60 C90 Go! with some high altitude guitar slicing through the relentless rhythm. I was singing along with Baby, Oh No! and drew Lwin's attention when she announced Cash. Poor boy me yelled "what's that?" which made her grin & give me the "I see you" gesture. Sparkling version of it!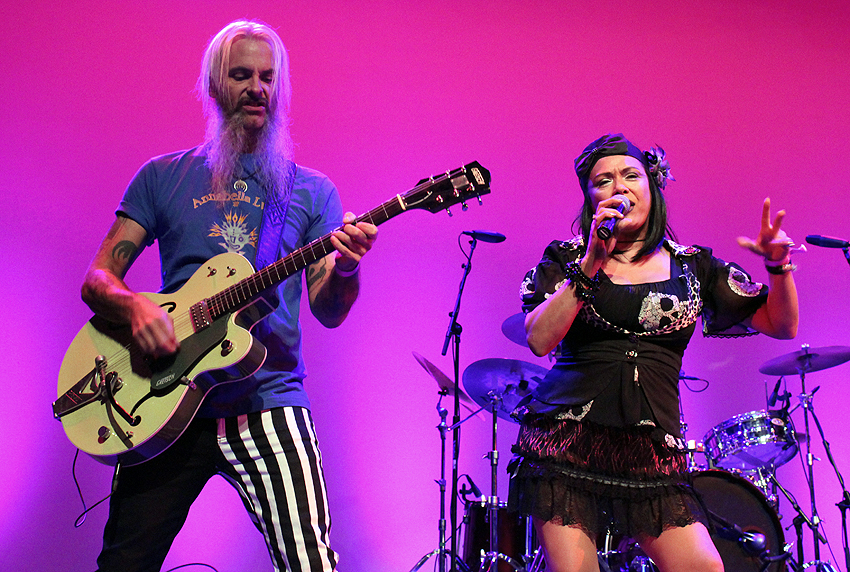 Stone Jumping followed with an irresistible rhythm and The Man Mountain was just absolute fun! My throat was getting raw shouting on the choruses to Golly! Golly! Go Buddy!, but I was in the spirit of the show so I kept it up! If there was a topper to the set, it had to be Do You Wanna Hold Me? Confident vocals, locked-in band, in-tune crowd. It was a beautiful concert moment. I Want Candy, of course, capped the set. So much positive vibration. That Bow Wow Wow / Adam And The Ants tribal beat to the max. Every moment was a treasure! Do not ever miss this band!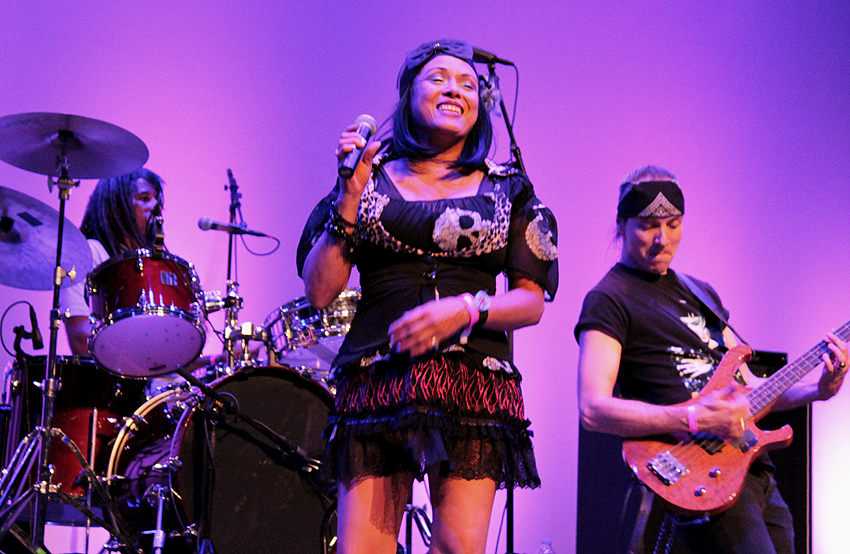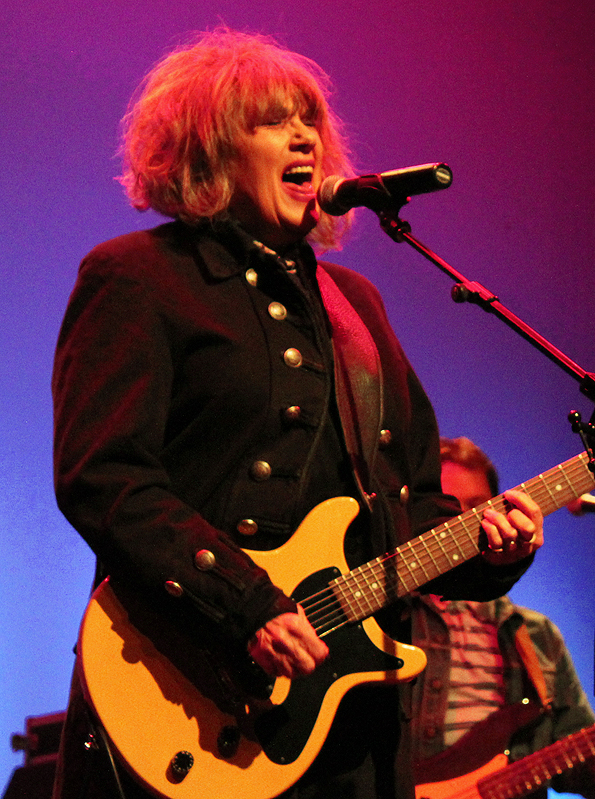 The last time I saw the Motels was over 30 years ago & lead singer Martha Davis was fighting a cold. Decades later they were back and Martha Davis was fighting a cold. You wouldn't know it from her performance! The band started off strongly with Party Professionals. Every player was in top for and it was great to see Marty Jourard on keyboards and saxophone. Mission Of Mercy was next. Davis was emotive and passionate. Take The L was so incredibly solid. Danger is as good a place as any to make mention of how enthralling it is to see how Martha Davis inhabits her work. The depth of emotion was right there on Suddenly Last Summer in the vocal and the feel. So L.A. was a definite treat and I was surprised to hear the band turn the clock waaaaaaay back for a wonderful performance of Closets And Bullets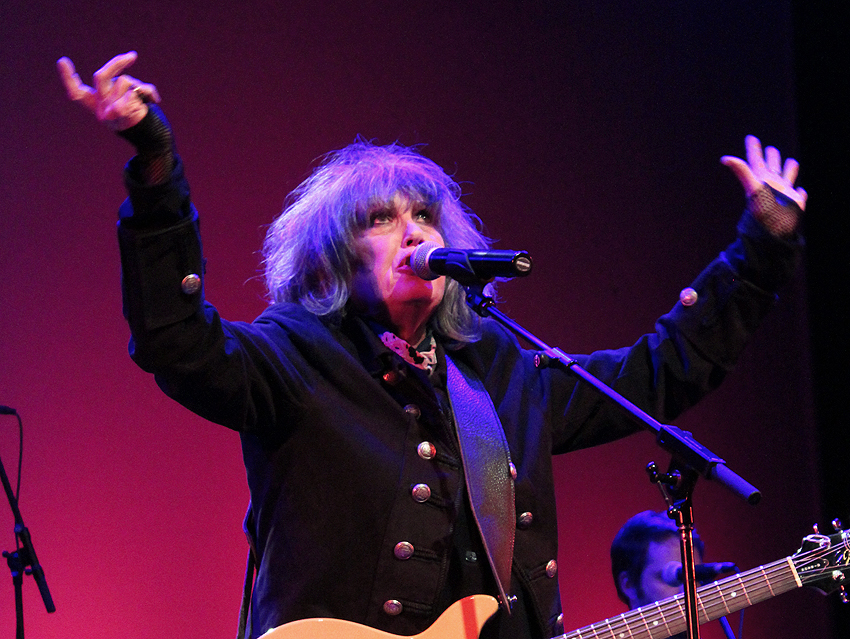 If Not Now, Then When sounded great with fine playing from guitarist Clint Walsh. As the phrase goes, the new Motels single, Lucky Stars, dropped on November 1, so the timing was perfect. Strong and satisfying. I'd expect no less! Folks were singing along with Apocalypso. Still an essential number. 2 more new songs followed: Punch Line and Tipping Point. Davis was on another plane delivering the former and gave off an aura of urgency on the latter. Only The Lonely fit perfectly here. A bit of a "we're all in this together" feeling. The evening concluded with the title song from the forthcoming new album: The Last Few Beautiful Days. It started out as a sort of waltz that finished in a deconstructed entropic bit of anarchy. Every note of the set was a reminder of why the Motels have never stopped speaking to my mind, heart, and soul. More than a concert, really. An undefinable but necessary happening. Hopefully a return in less than 30+ years!!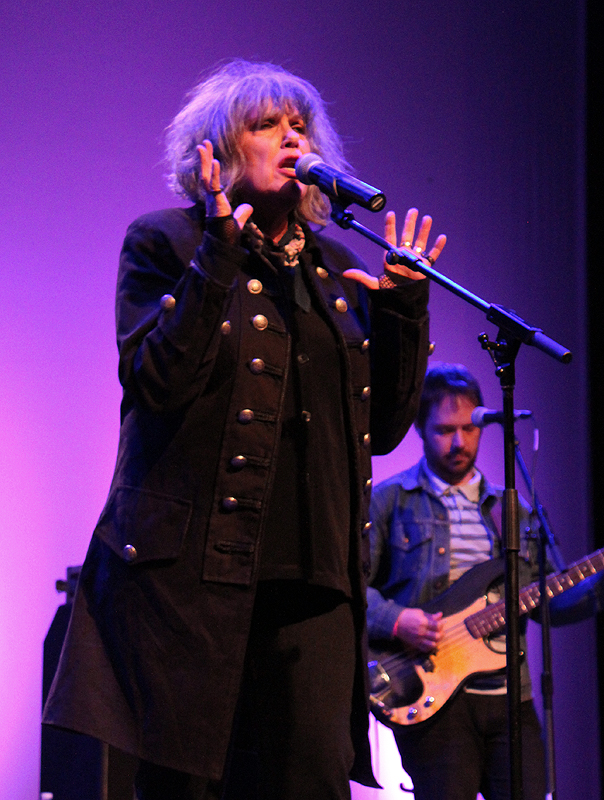 Renaissance - Ridgefield Playhouse, Ridgefield, CT 10/26/17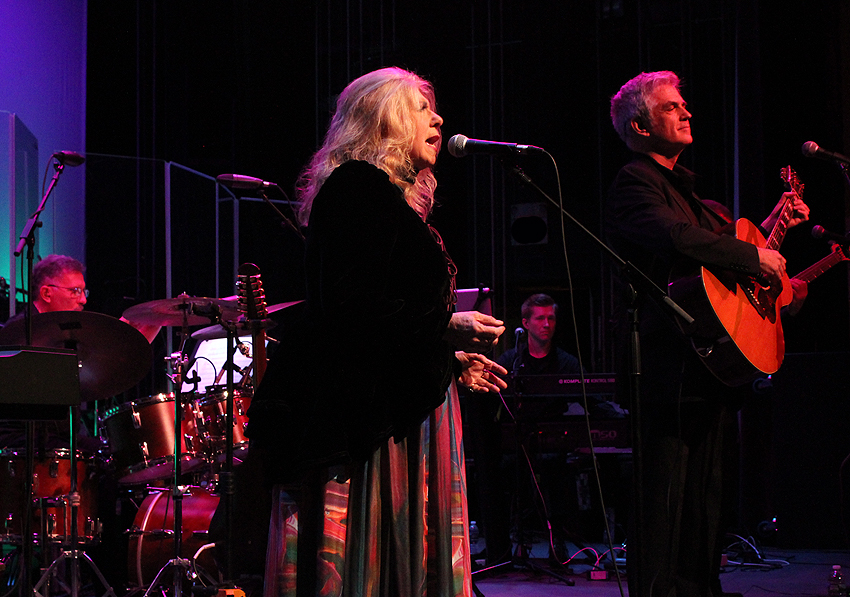 For me, this gig came off at the very last minute. My friend was ill & there was a good chance we wouldn't be able to attend. Thankfully, it turned out well and we headed off to Ridgefield. I've seen Renaissance a zillion times, yet every gig has had a character of its own. This one was no exception. The band brought along a 10 piece chamber orchestra led by my violinist pal Joe Deninzon from Stratospheerius. But I'm getting ahead of myself. The band proper opened the evening with Prologue. Annie Haslam sounded great and was wearing a cool looking dress she painted herself. Rave Tesar shone on piano and Mark Lambert gave great harmony vocals. Excellent start! About a month ago I'd been thinking about how much I love the song Trip To The Fair. Well, wouldn't you know it? There it was! Keyboardist Geoffrey Langley killed on this. Absolutely. The crowd was deservedly insane.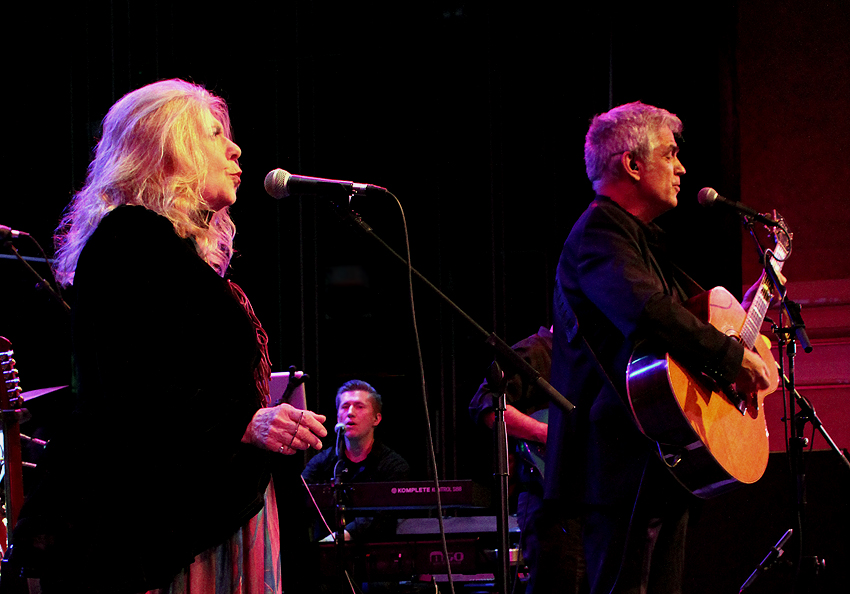 The 10 piece Renaissance Chamber Orchestra made their concert debut with a glorious Carpet Of The Sun. The sound was plush. Haslam was pure and inspiring. Lambert's acoustic sounded swell in front of the orchestra. Leo Traversa's bass was absolutely spot on! I believe I'd last heard At The Harbour back in 1983 on the tour for the Time-Line album. Here we had a widescreen, HD, technicolor dream version. I was shivering a bit at the Earthy beauty of it. Set 1 ended with The title track from Grandine Il Vento. The orchestra added dimension. Charlie Descarfino was the bridge between orchestra and band - no doubt aided by his extensive Broadway experience. A thrilling number with a timeless feel. Break time!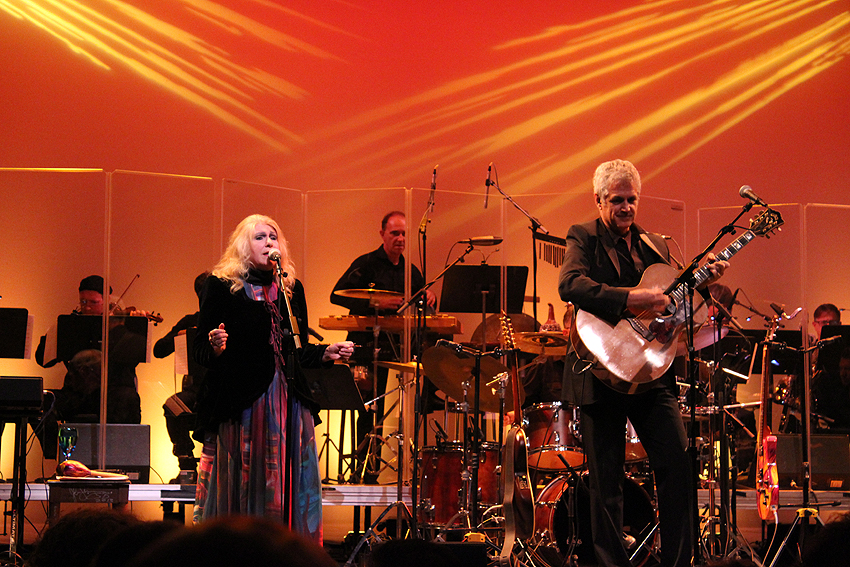 Another track from Grandine Il Vento - Symphony Of Light opened set 2. Traversa and Descarfino provided the muscle behind Tesar and Langley's insane keyboard figures. Lambert slid in and out and in between as Haslam sang her tale of Leonardo DaVinci. A polyrhythmic knockout. OK, pause. I am a sucker for 1979's Azure D'Or album. Hearing Kalynda (A Magical Isle) brought a lump to my throat and a smile of joy to my face as I quietly sang along. I had never heard that played live! Nor had I heard Haslam sing Island from the Keith & Jane Relf iteration of the band. Every member shone here, as did the orchestra. None brighter than Traversa's off-the-charts bass work in the instrumental section. Mind blowing!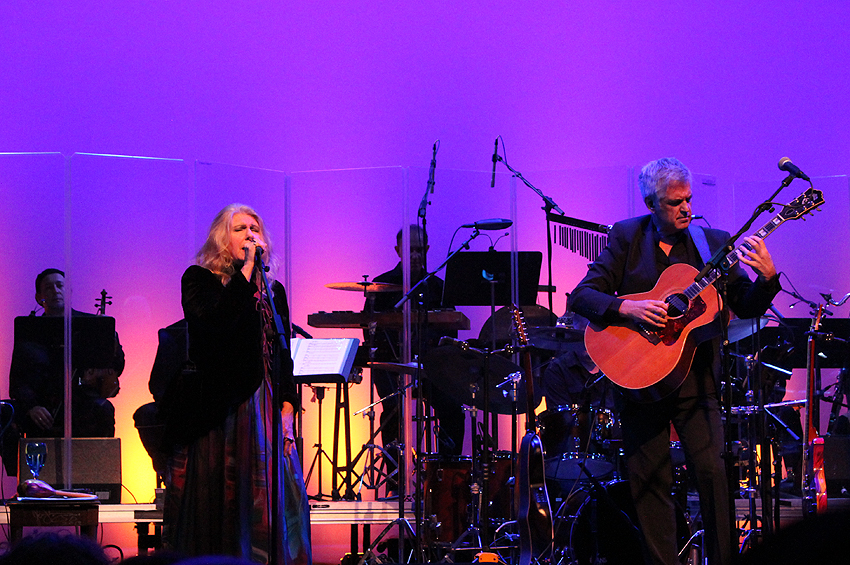 I honestly never thought I would get to hear Mother Russia live with an orchestra, yet here it was. It's hard to make comparisons in such a strong set, but I'd say that this is where I felt the orchestral element struck me deepest. So mournful. Set 2 closed with a sparkling A Song For All Seasons. Haslam soaring. Orchestra at full throttle. Band firing on all cylinders. Total eargasm. The encore was sans orchestra, but it was, after all, Ashes Are Burning. The band had much work to do and they did it well. Anchored flawlessly by Descarfino, Tesar, Traversa, Langley, and Lambert delivered grand, gorgeous solos. Haslam was tenderly embracing the main vocal and powering through the bigger parts. I feel like I just caught a slice of music history I shall never forget!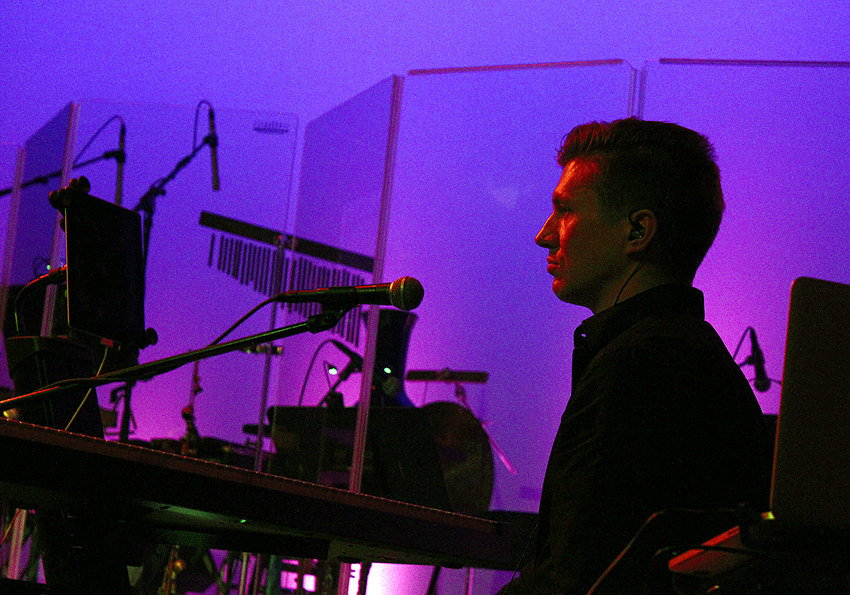 Carl Palmer's ELP Legacy - Ridgefield Playhouse, Ridgefield, CT 10/8/17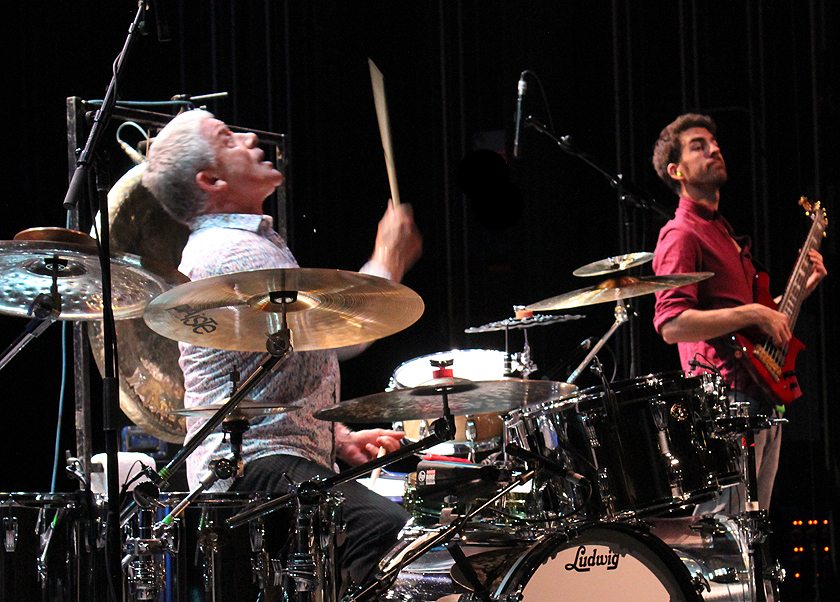 This show brought out an interesting set of feelings in me. In 2016, as you know, the world lost both Keith Emerson and Greg Lake under very different but equally tragic circumstances. Was I up to a celebration yet? Turns out that the answer was "Yes!" This tribute by Carl Palmer and his band was a totally respectful & perfectly assembled show that touched my heart and made me smile from end to end! Joining Palmer were Paul Bielatowicz on guitars and Simon Fitzpatrick on bass & Chapman stick. Hoedown was an apt start. The trio was crisp and muscular. Palmer was on fire right out of the gate. The band transitioned right into the theme from Peter Gunn without missing a beat. The audience were exceptionally vocal with their approval! Then came Karn Evil 9: 1st Impression Pt 2 - a veritable flurry of runs, rolls, pings, and smacks with Palmer grinning each and every second. This was already a sort of progressive party night! Bielatowicz and Fitzpatrick impressed me all night and The Barbarian was a great example why. Not just chops. We know they have that. It was all about fitting in with Palmer and the music. Here we have exciting young musicians who are masters at what they do, fitting organically within the ensemble.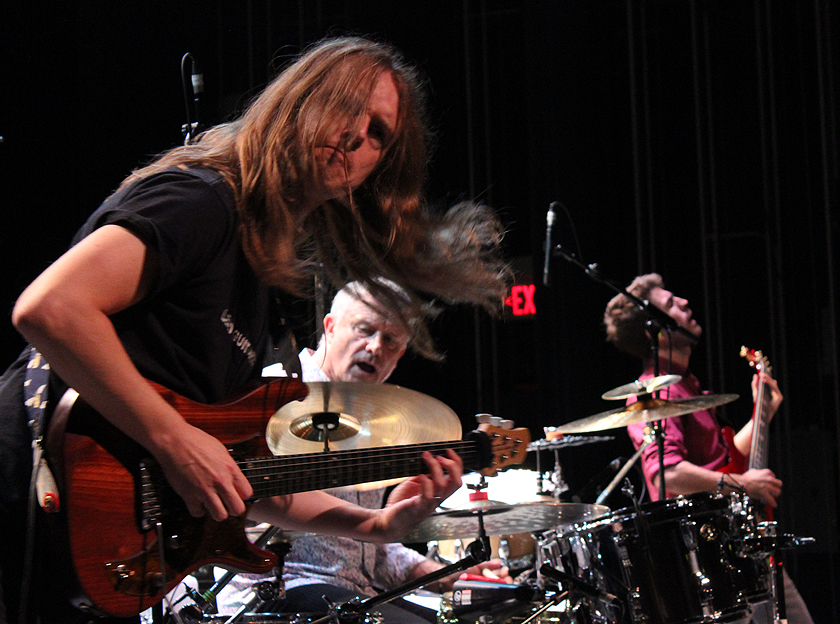 45 years later, I never tire of hearing the song Trilogy. Very striking video was projected behind it to boot. Fitzpatrick switched over from bass to Chapman stick for the remainder of set 1 starting with a powerful reading of America. Knife-Edge was...heavy. I mean massively heavy. Fantastic! A story Palmer told about the earliest days of Emerson, Lake & Palmer led to a frenetic cover of 21st Century Schizoid Man. It was evidently the 1st song ELP ever performed together.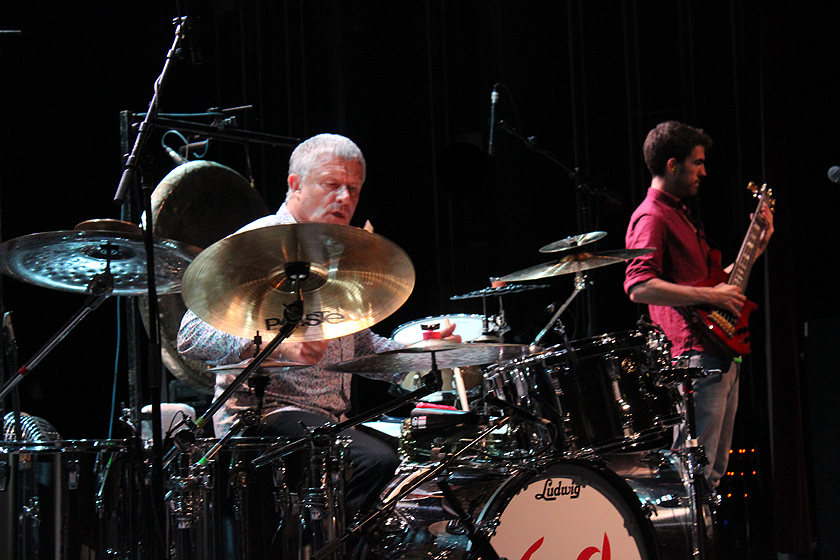 A story about foolish record company folks brought us to a beefy Jerusalem. Classic stuff! Bielatowicz left the stage and Fitzpatrick wowed everyone with an impressive Take A Pebble where he played keyboard, bass, vocal, and guitar lines on the stick, with Palmer adding drums in the final third of the piece. I was honestly a bit stunned. Bielatowicz returned as the trio gave us a lovely Lucky Man. Palmer and Fitzpatrick left the stage in the capable hands of Bielatowicz, and he did not disappoint! Sensitive, redolent renditions of Clair De Lune and Arabesque No. 1 ( I fondly recall the latter being used as the theme to the astronomy show Star Hustler). He was truly a 10 finger orchestra. I felt transported to another plane. That closed set 1 and I honestly needed the time to absorb what I just witnessed.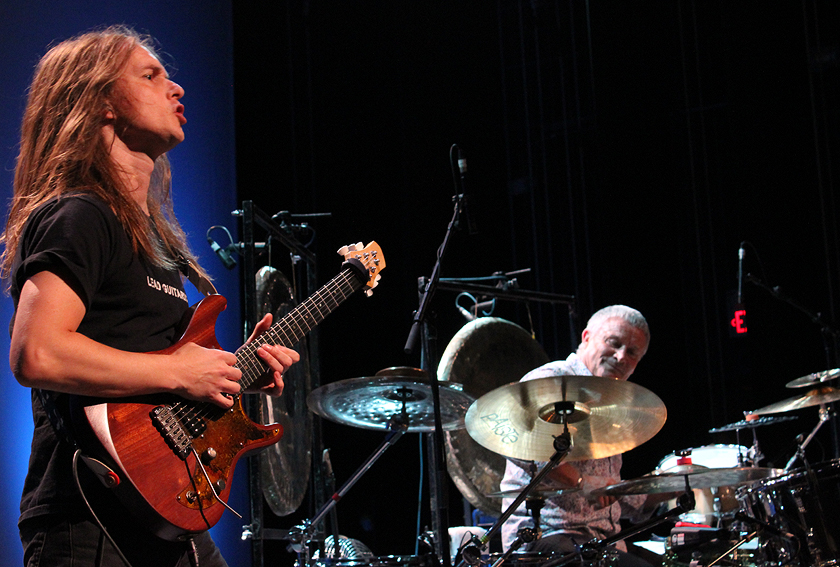 A maniacal, explosive Rondo opened the 2nd set. Then Palmer announced they would be performing the complete Pictures At An Exhibition. It was a revelation. Old & recent film & TV footage of Russia played behind the band. There was a drive. There was energy to spare. There was dynamic musical color. It was as exhausting as it was rewarding. It was...something else. Elevated beyond performance. That the best I can do to explain it. What can follow that? Palmer chose Fanfare For The Common Man. Wise choice. Huge drum solo stuck right in the center. It was a clinic. Everything was hit in every possible way and some impossible ways as well. I'm positive there were at least 3 invisible hands! The crowd went from stunned silence to lung-popping shouts for more. The band responded with the encore of Nutrocker - a lighthearted coda to an evening of thrills and laughter. A glorious one!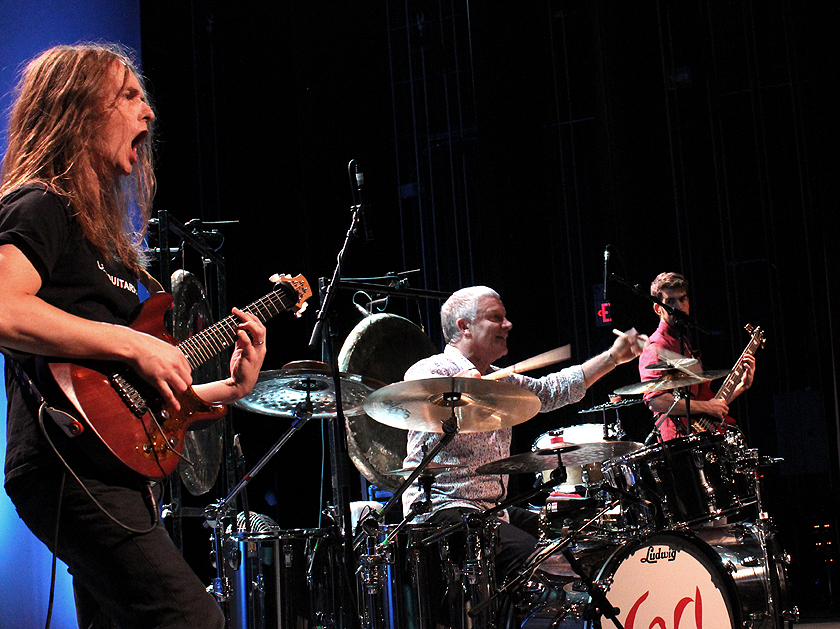 Martin Barre - Ridgefield Playhouse, Ridgefield, CT 10/5/17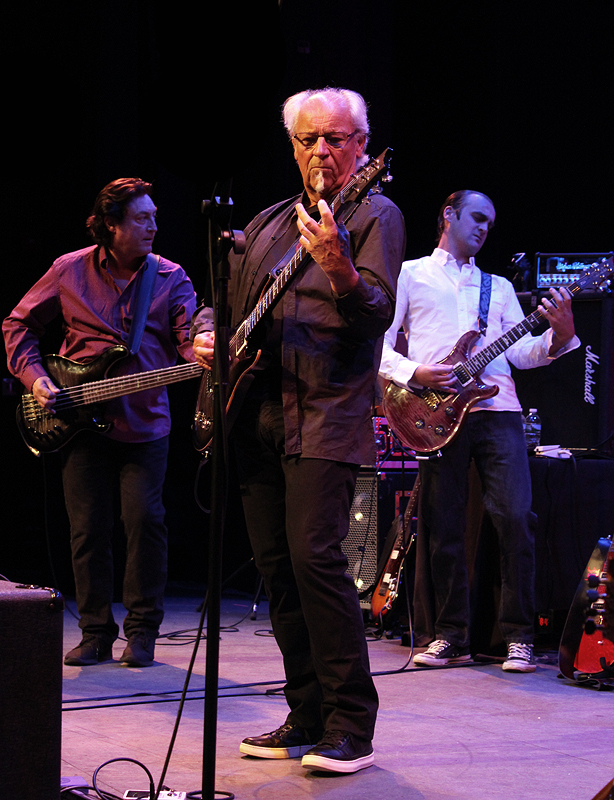 A cloudy, drizzly day soon turned into an explosive night at the Ridgefield Playhouse courtesy of Martin Barre and his band. Joining Barre were vocalist / guitarist Dan Crisp, bassist Alan Thomson, and drummer Dave Schoepke. They hit the stage shortly after 8 and wasted no time - launching right into Minstrel In The Gallery. With the mood set, another Jethro Tull song - Steel Monkey - with Thompson playing the keyboard line on bass to great effect. A hit of the blues followed - Steal Your Heart Away with a vocal by Dan Crisp like whiskey in a dirty old glass. These lads weren't fooling around! The title cut of Barre's Back To Steel had lots on display with stunt guitars and crisp Crisp vocals. Next came a double dose of Beatles. A rockingly re-imagined Eleanor Rigby and a jet fuel injected I Want You (She's So Heavy). Things were definitely hitting fever pitch!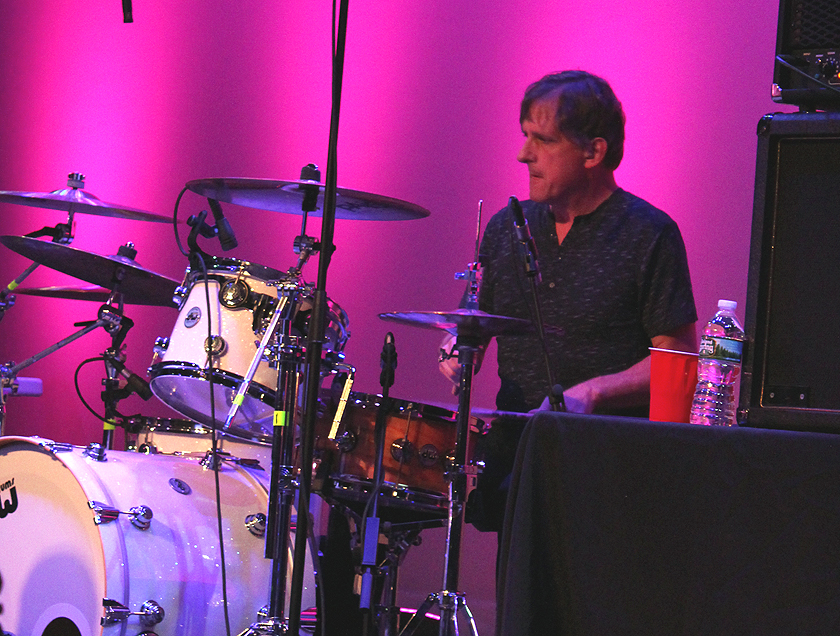 Barre dedicated A Song For Jeffrey to original Tull guitarist Mick Abrahams. I was knocked out by Barre & Crisp's wicked guitar harmonies! Quite a nice to hear Love Story reworked for added color and texture. Barre told a hilarious tale of the brief period when Tull was a prog band and everyone caught a case of the uglies as an intro to Sealion Always a Wilcox favorite, it smoked righteously. Hunting Girl really showcased what a truly fine drummer Dave Schoepke is. Some mighty vicious rolls and runs! Set 1 closed with a tasty section of Thick As A Brick that began around the Poet and the piper point. Time for a walk & a drying out!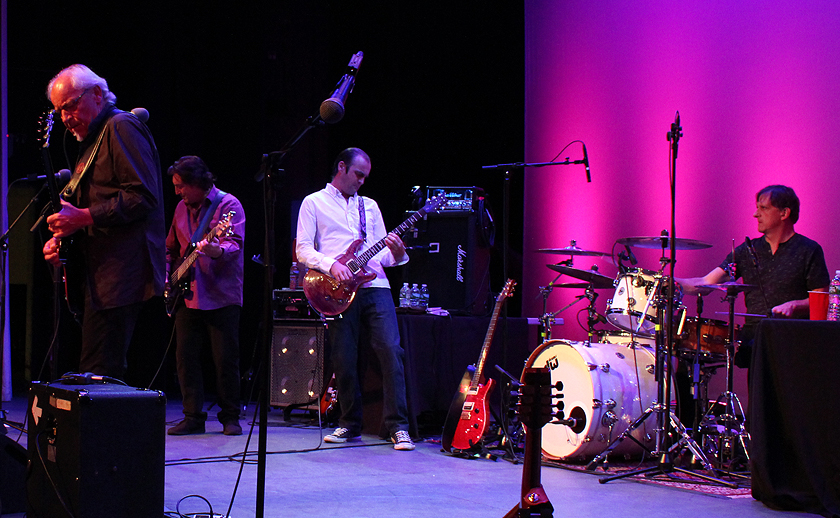 Set 2 opened with the majestic instrumental Misere. It still has this feeling of the distant past in its core melody. Butts were kicked severely via To Cry You A Song. Everyone was just naaaaasty on it! Wild! Martin Barre eschewed his guitar for a few pieces in favor of the mandolin. A slightly folkified blues cover of Robert Johnson's Cross Road Blues was first and had the crowd hooting in approval. That was followed by Martin's Jig / Hymn 43. While the band was all smiles, the audience was heated up and vocal. Everyone was feeling the effects of a stratospheric show! With Barre back on his 6 string, Dan Crisp took over the bass reins as Alan Thomson played blazing slide guitar on Bad Man. Both acquitted themselves well. Peace And Quiet was driven by a memorable vocal by Crisp and some sly guitar from Barre.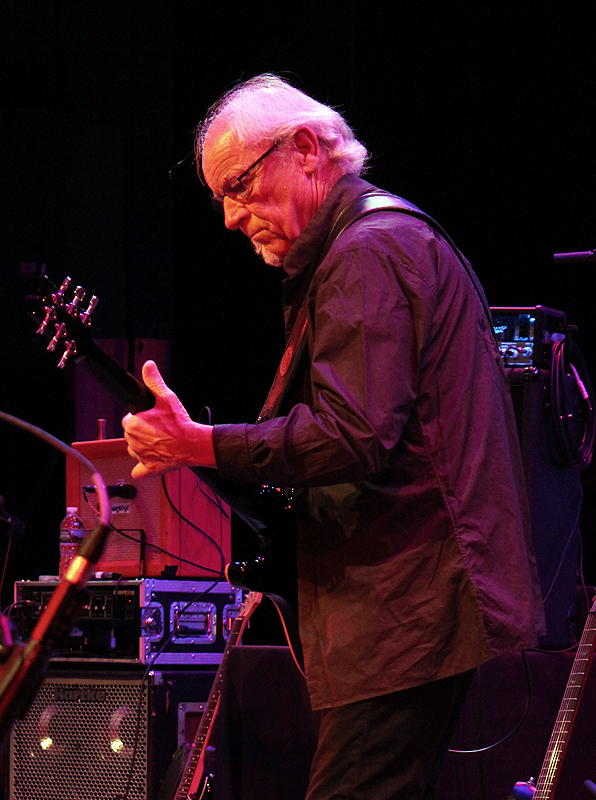 Frantic, brief, and a piston engine was Moment Of Madness. Wowzers! Teacher sent a woman behind me into dervish mode as her sweeping dance movements added extra fun to the number! Fat Man was turned inside out into a hard rocker with lots of clapping along. Surely the highlight of A New Day Yesterday was Alan Thomson's dynamite bass solo. It was fluidly muscular and never became indulgent nor wore out its welcome. The perfect number to end the set! The crowd was straight-up nuts when the band came out to encore with Locomotive Breath and Aqualung. Balls-to-the-walls rock, blues, and prog that satisfied every soul in attendance. Can't wait for another helping!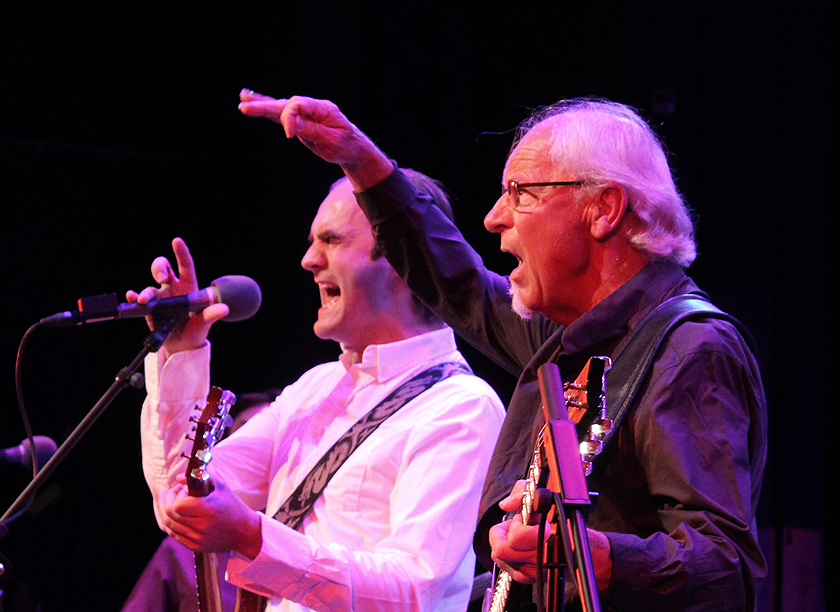 Todd Rundgren - Ridgefield Playhouse, Ridgefield, CT 09/18/17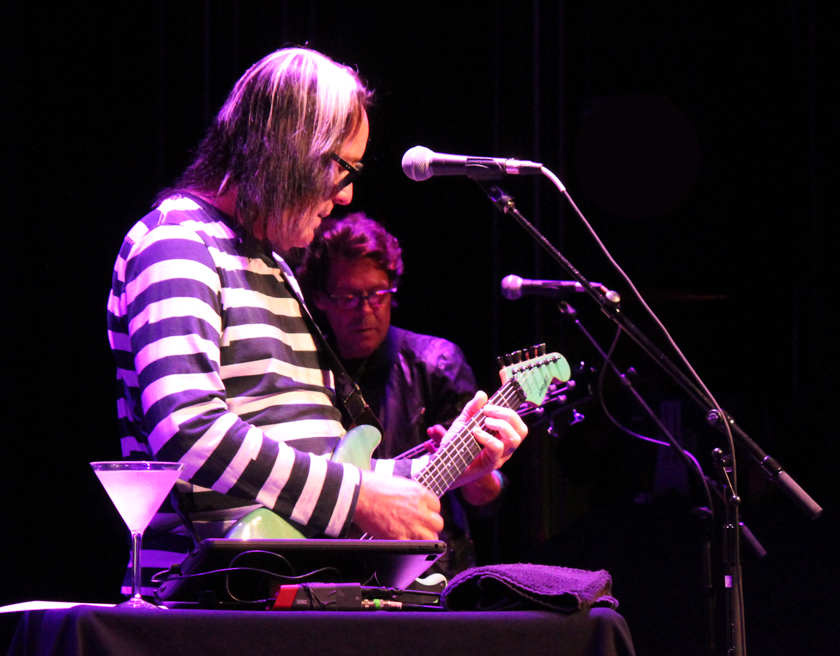 An Unpredictable Evening with Todd Rundgren is what we were promised. Talk about an understatement! Joining Rundgren for this show were Jesse Gress on guitar, Kasim Sulton on bass, Greg Hawkes on keyboards, and Gregg Bendian on drums. The evening mystifyingly began with Jann Pahechan Ho an obscure old Bollywood piece that was once used in a Heineken ad. Hilarious. Next up was a fantastic Lysistrata from the Swing To The Right album. Hawkes and Sulton caught my ear. Cliche off of Faithful saw Rundgren singing like he was 30 instead of 69! A goofy cover of Monty Python's The Meaning Of Life was another indicator that this was going to be a lighthearted show. Running Bear confirmed it. Funny observations about the Big Bopper led to the band serving up a chorus of Chantilly Lace for good measure. Oh, baby, that's a what I liiiike!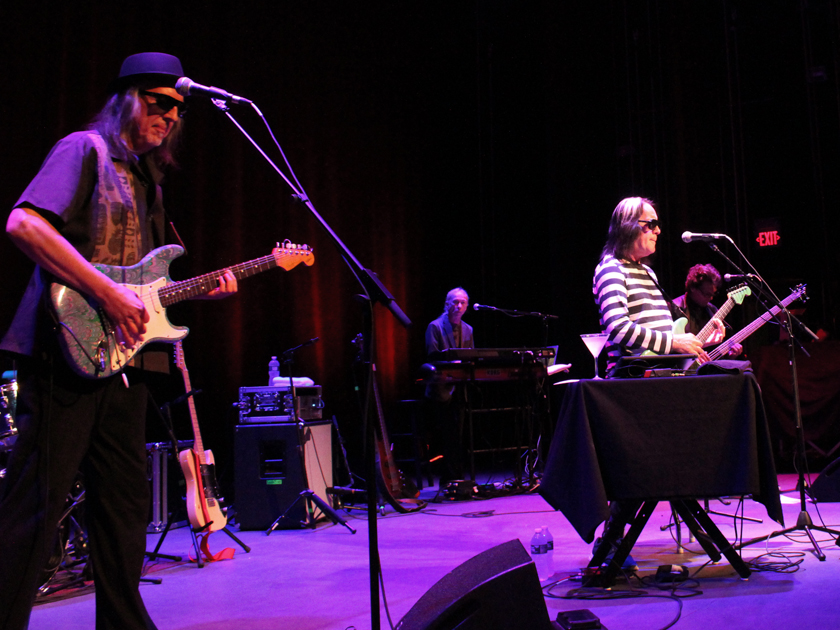 Todd Rundgren is a wise man. He knows that no human can resist a cover of Incense And Peppermints. Being a clever lad, he followed it with a breezy Tony Bennett tune - Are You Havin' Any Fun? Just all kinds of awesome! Another visit to the Faithful album came via Black And White. I hadn't listened to the original in several years, so it was nice to be reminded how great a number it is. A visit to my childhood in the form of Zager & Evans' In The Year 2525 had me singing along with a huge stupid grin on my face. As did the Proclaimers hit I'm Gonna Be (500 Miles) that packed a smack courtesy of Bendian. Another strong vocal from Rundgren.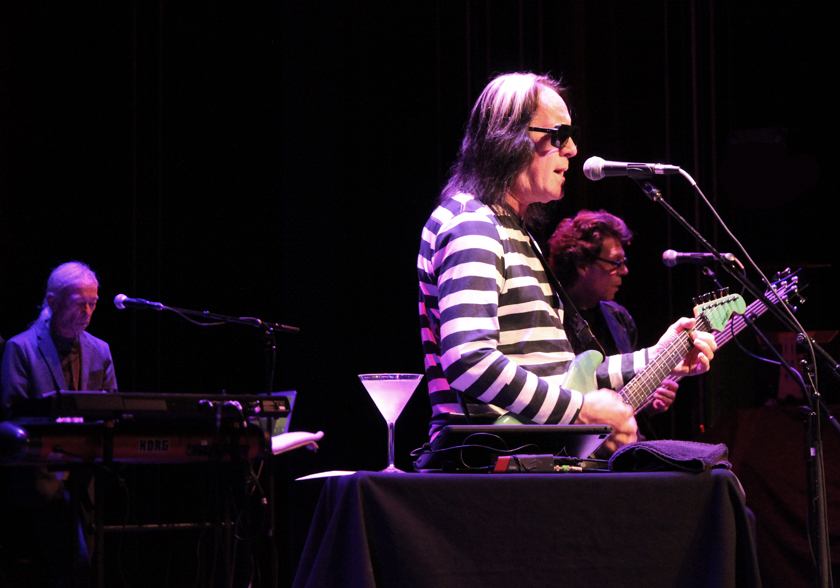 After the song, a woman kept shouting out a song. Rundgren reminded her that the band's policy is that it doesn't play requests and the surest way to never hear a song is to keep shouting it out. I could not resist the opportunity, so I shouted out Sweet Home Alabama. The audience all laughed as did the band and Rundgren. In mock disappointment he said We just practiced it at sound check today, and now you've spoiled everything! Everyone laughed again and the band launched in to a cool cover of Weezer's Hash Pipe! I Don't Want To Tie You Down from A Wizard, A True Star was next and beautifully done. Excellent vocal. Rundgren touched upon his album of Robert Johnson blues covers with a hot take of Kind Hearted Woman Blues. Gress and Rundgren acquitted themselves well on guitar. Something/Anything's It Wouldn't Have Made Any Difference led to Born To Synthesize from Initiation. Gress, Sulton, and Bendian all "got their rocks off" in Rundgren's words. Still such a fun number!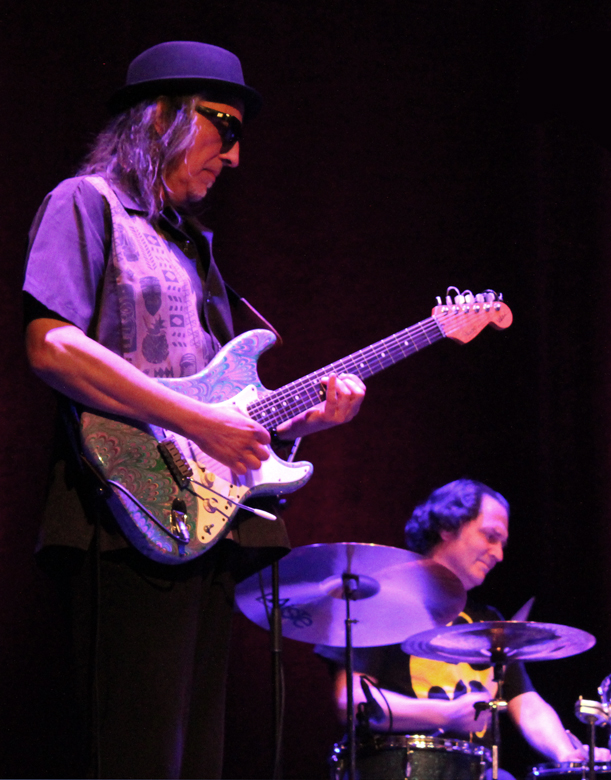 Todd Rundgren really sold The Call's The Walls Came Down with a faithful, earnest vocal. In contrast was a visit to the vocal world of Bonanza star Lorne Greene via Endless Prairie. Following the unforgettable classic, Greene's actual recording of I'm A Gun played over the system as Rundgren psychoanalyzed the lyrics. I nearly busted a gut laughing! The technicolor Soul Brother from Liars was a personal highlight. As was Another Live's The Wheel. A great band piece.




Something/Anything's I Saw The Light got a smoky, emotive jazzy treatment that suited it perfectly. A cover of The Crazy World Of Arthur Brown's Fire kicked major ass and inspired a funny Donald Trump quip afterwards. At Jesse Gress' suggestion, we got a gorgeous Too Far Gone from The Hermit Of Mink Hollow. The set closed with a rockin' version of the Cars' Good Times Roll. There was no way that the crowd would let the night end without encores! Rundgren & co returned to give us Faithful's Love Of The Common Man and Swing To The Right's anthemic One World. A magical night of adventure, fun, and good vibes. As close to perfect as a concert gets!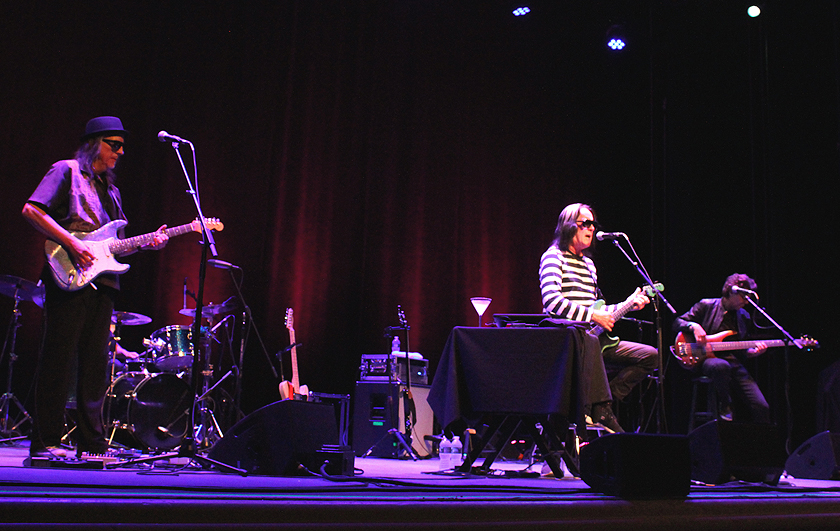 The Neal Morse Band - Ridgefield Playhouse, Ridgefield, CT 08/25/17


It was about as beautiful as a day can get in Ridgefield. Warm and soft breezes charged the air. A nice dinner put me in a mellow frame of mind. I was in the mood for some deep progressive music. Thankfully, that was exactly what The Neal Morse Band was there to deliver! They were on the final leg of the tour for The Similitude Of A Dream, playing the double album from stem to stern. Joining Morse were Mighty Mike Portnoy on drums; Randy George on bass; Eric Gillette on guitar; and Bill Hubauer on keyboards and other stuff. Everyone also sang. The lights went down and Long Day filled the building. Overture and The Dream set the tone for the show. Super-precise playing, videos to punctuate the story, masks, and costume changes for Morse. City Of Destruction and We Have Got To Go found Neal Morse in very strong voice and playing ridiculously well. Makes No Sense kept the story in motion. The crowd was experiencing pure prog bliss!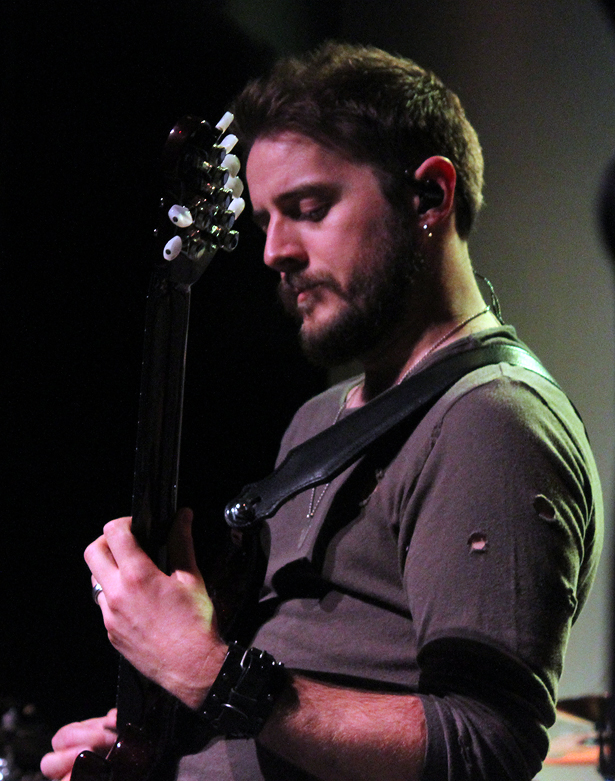 Draw The Line was a definite highlight with Portnoy adding a fine vocal turn. The Slough led into Back To The City. I'd be remiss if I didn't mention the superb guitar work from Gillette. Occasionally joined by Morse on guitar (formidable on the axe as well!) Gillette just flew across the frets. Having said that, he handled light phrases perfectly when called for to boot. Also psychically connected to Hubauer's keys! The Ways Of A Fool was full of color and emotion. So Far Gone and the pulses of the beautiful Breath Of Angels took us to intermission.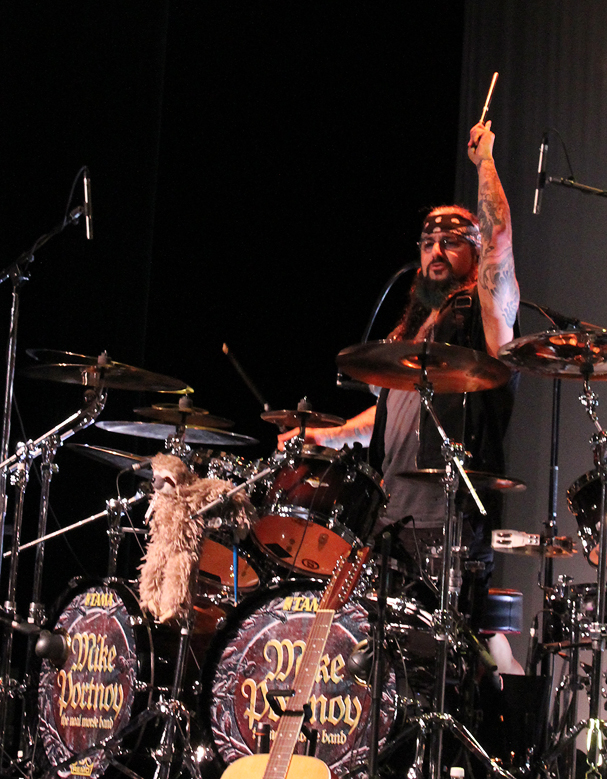 Slave To Your Mind opened set 2. The crowd, if anything, was even more wound up than they were for set 1. Shortcut To Salvation and The Man In The Iron Cage featured tasty drumming from Portnoy. Let's be totally honest: the entire show featured tasty drumming from Portnoy! The Road Called Home took us to a fun take of Sloth. Morse asked the crowd to sing and clap to Freedom Song. Newsflash: we were going to anyway!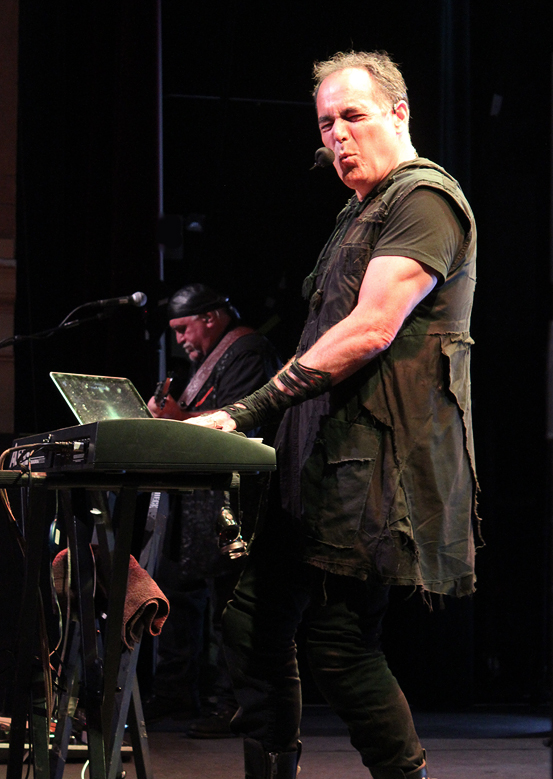 I'm Running brought us to The Mask where Morse was suitably attired. Confrontation and The Battle had fantastic interplay from Portnoy and George. A rhythm section for the ages. All too soon Broken Sky / Long Day (Reprise) took us to the end of the album. The crowd was just insane. Clapping, stomping, screaming their appreciation for the amazing show they experienced.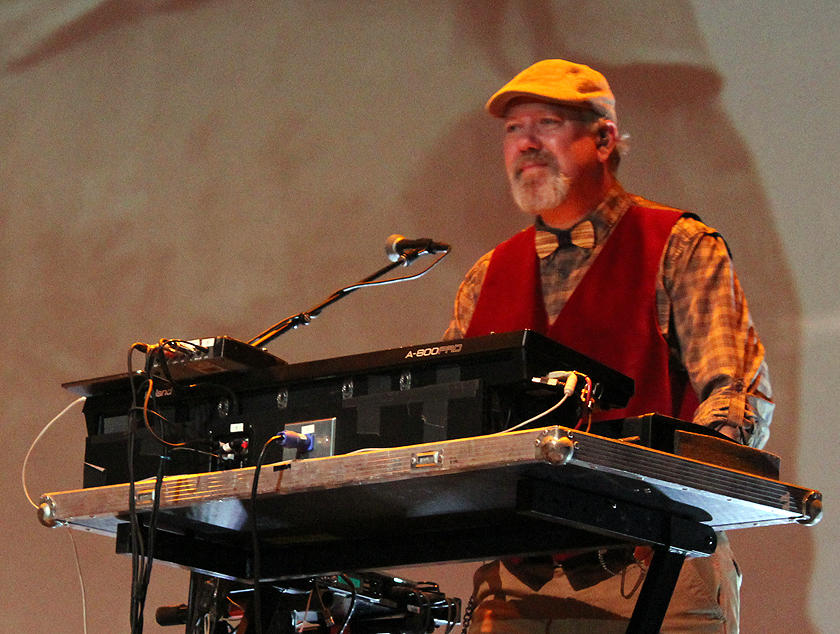 The band responded with The Call. Hubauer was a true hero here. His playing was majestic, muscular, wild. On this night, every player gave their all to a crowd that ate it up like manna from Heaven. Prog meets theatre for a show to touch your mind, heart, and soul!


Ann Wilson - Ridgefield Playhouse, Ridgefield, CT 08/22/17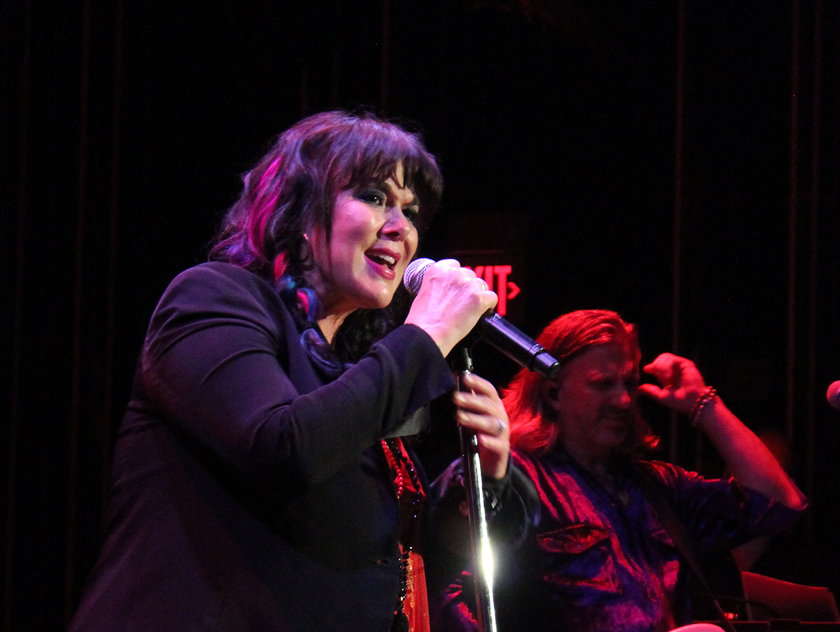 I've been seeing Ann Wilson live for well over 30 years now. This was my 1st time seeing her outside of the structure of Heart. Flying solo was a totally different concert experience. Joining Wilson were Craig Bartock on guitar; Denny Fongheiser on drums (both from past incarnations of Heart); Andy Stoller on bass; and Daniel Walker on keyboards. Wasting no time, the band tore right into a cover of the Who's The Real Me. Totally fitting! Next we got Barracuda - back to its original tempo for the 1st time in ages! What a vocal! Following that was Crazy On You once more in the moodier acoustic mode Wilson used in the early 90s. The set was off and running on the good foot!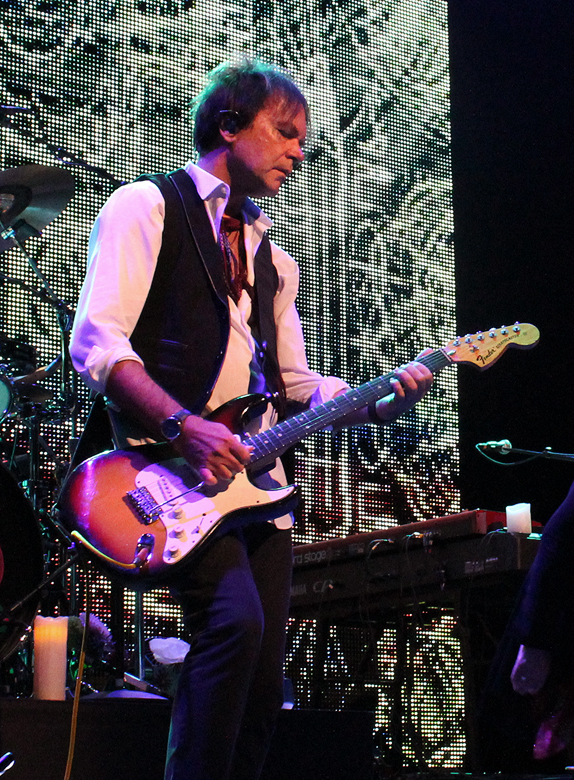 Walker played the opening strains of the Beach Boys' God Only Knows before taking us into What About Love. The number was massively re-invented with a crackling vocal from Wilson and a strident solo from Bartock. Great strings as well. 2 recent solo numbers followed and brought us all up to date on Ann Wilson's romance. Fool No More was plaintive and bluesy, while Anguish was drawn from the emotions of missing someone you love so deeply. Stoller added some lap guitar for extra color. Set 1 ended with a cover of Steve Winwood's Higher Love as a sort of singalong celebration to take us into the break.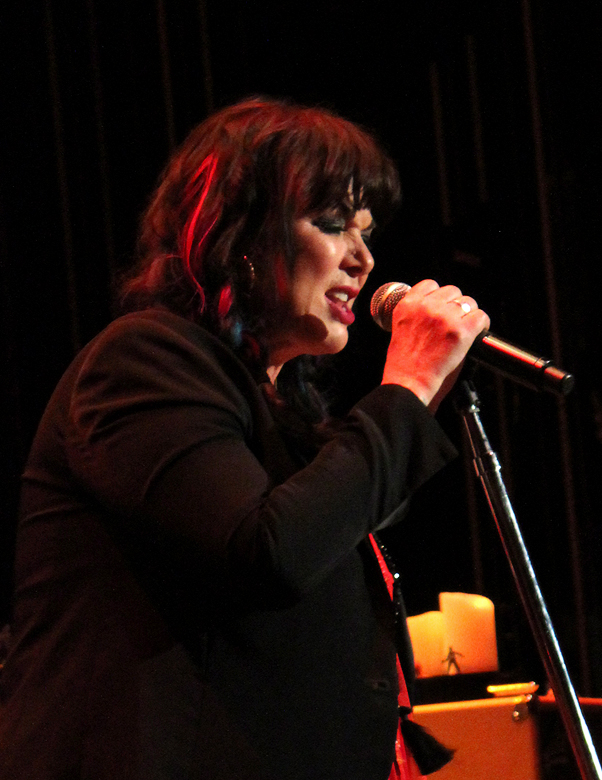 If set 1's theme was Ann Wilson and the love in her life laid bare, set 2 was about the world she lives in. The band began with an overlooked song from Heart's Fanatic album - A Million Miles. So full of life and imagery! Next we got a prog treat in the form of Yes' Your Move section of I've Seen All Good People with Bartock on acoustic 12 string, Stoller on acoustic 6 string, and Walker on accordion. The crowd were crazy for it! Wilson's vocal was nothing short of breathtaking on She Talks To Angels. So beautiful. The rendition of Peter Gabriel's Don't Give Up had me on the edge of tears. Ann Wilson drew every ounce of feeling from it and gave it to the crowd. Staggering.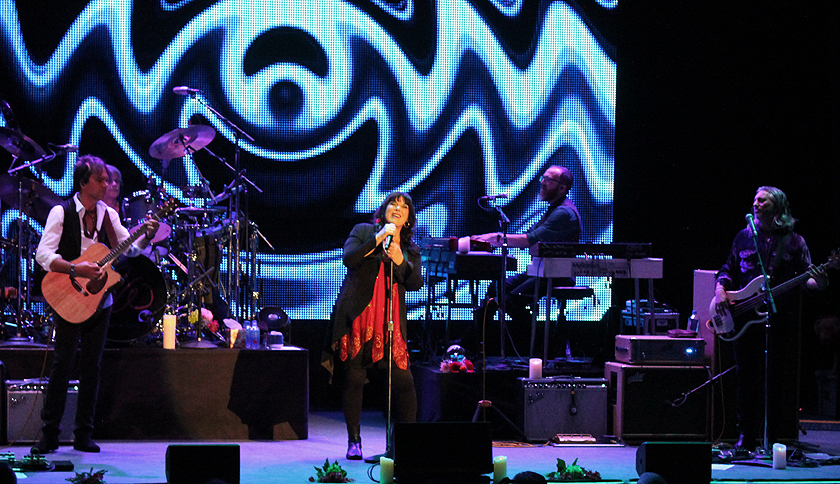 We've Gotta Get Out Of This Place provided the perfect release. That beat that gets in your butt and your feet is impossible to ignore. You have to move and groove and style and profile! Won't Get Fooled Again kept building on that release. Wilson's vocal was elevated by Walker & Fongheiser's interplay. Wilson commanded a reworking of Alone with the depth of her vocal. Let me note here that it was so nice to hear her voice in a venue that showcases every nuance of the voice. Set 2 concluded with a huge technicolor Love, Reign O'er Me. The band were dangerous and Wilson prowled through a muscular vocal. A real wow of a piece!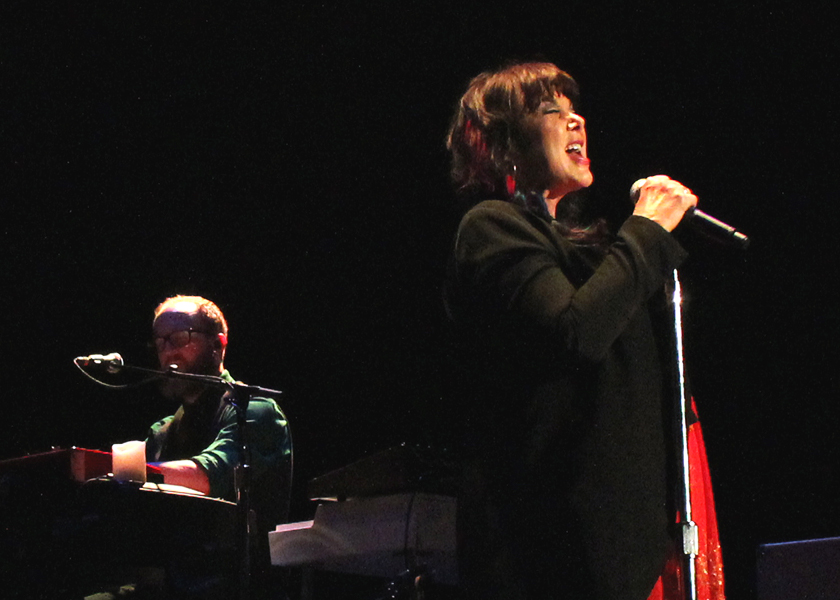 For the first encore, we got a blazing take of For What It's Worth absolutely driven by Denny Fongheiser's infectious rhythms. It was a mover and a groover with Ann Wilson piloting the ship over Fongheiser's engines. Bartock was screaming and wailing on guitar in the co-pilot seat! The phrase for Ain't No Way would be "testifying!" Unleashed raw emotions on 10. Power. Pure vocal power. The vocal grabbed me and didn't let go until the last note.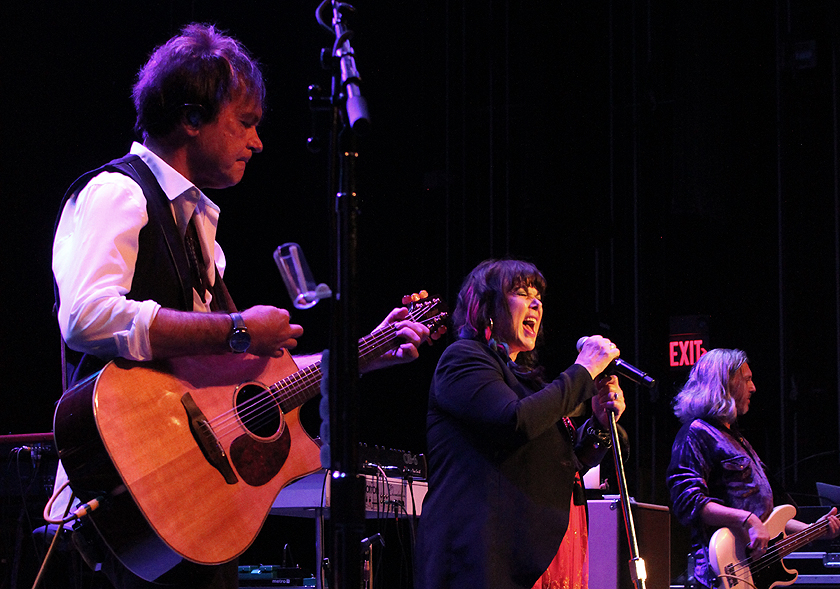 A 2nd set of encore! Yeah! 1st up was a bodacious cover of the gold-from-the-crypt I Put A Spell On You. Wilson even held up a crystal ball as she and the band powered through the voodoo of the number. In total contrast, we got Paul Simon's American Tune as the final song of the evening. This was just Daniel Walker on piano and Ann Wilson singing her heart out. Highly emotional, it left us all with a gentle caress from the most treasured gem in the vocal stratosphere.


Lock City Anime & Comic Convention - Sheraton Hotel, Stamford, CT 07/22/17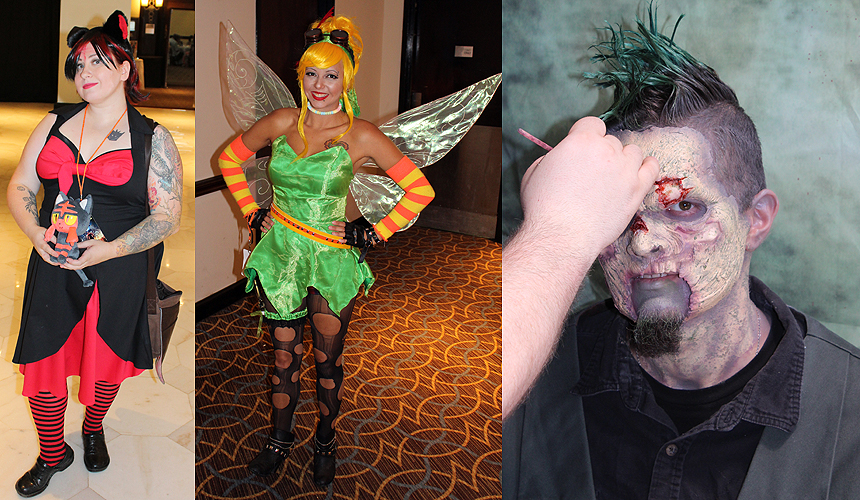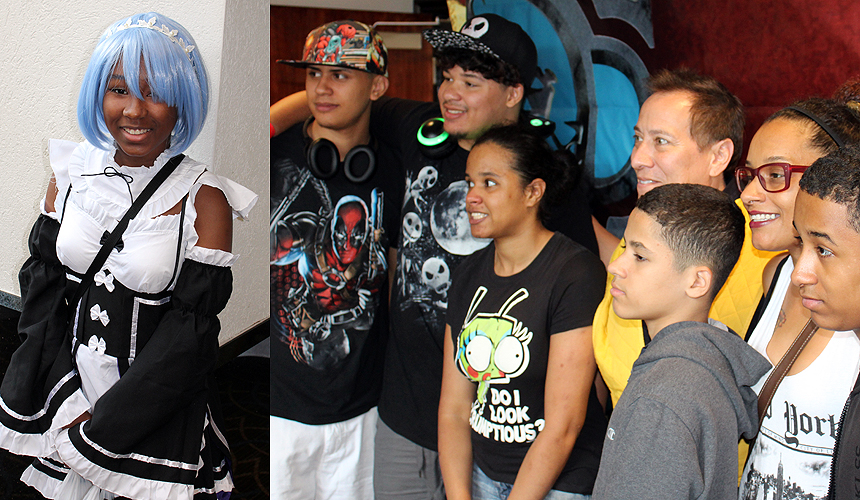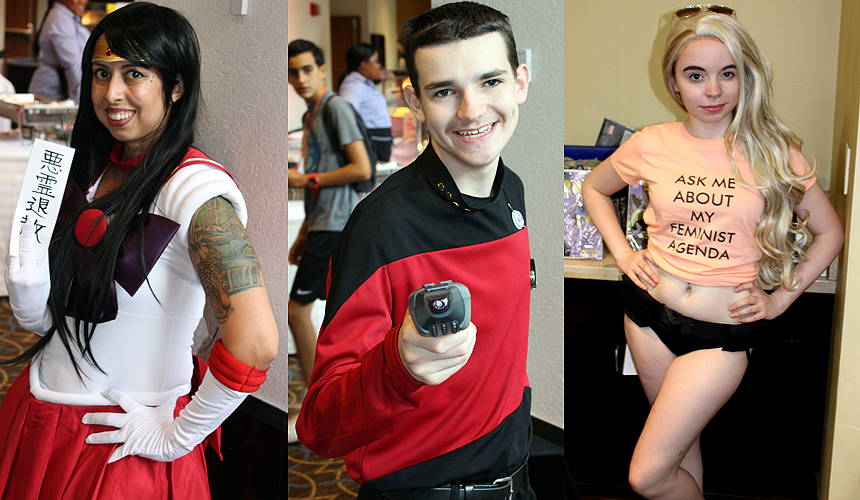 Here I am - a 57 year old guy. Disabled and using a cane to get around. Still showing up at conventions. Does that sound silly to you? I assure you that it is not. This convention was smiles every second I was there. I felt like I was back in 1980. Lock City Anime & Comic Convention was packed with kids of all ages (myself included) and dreamers galore!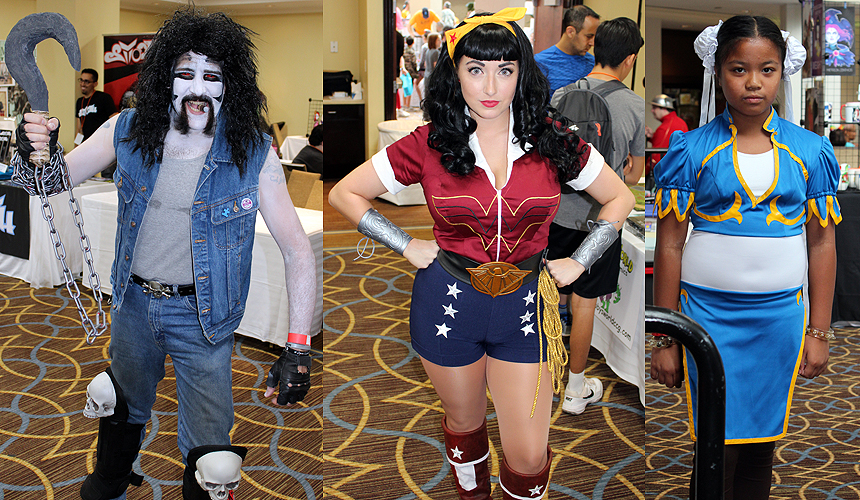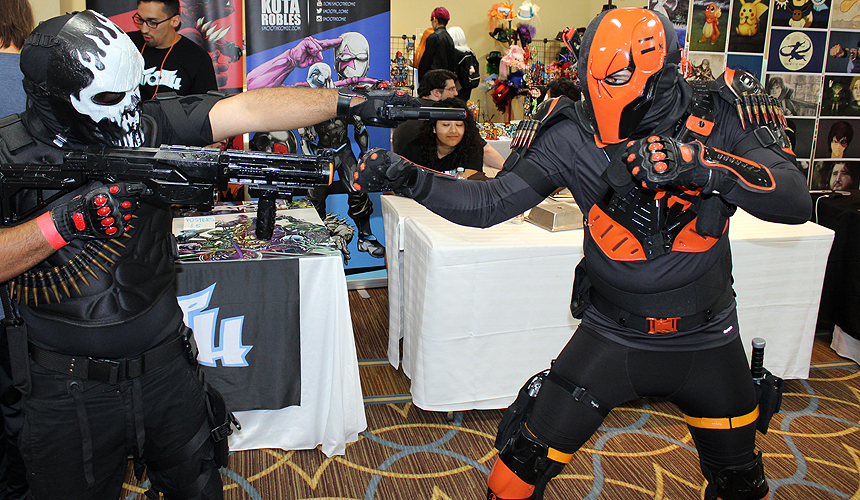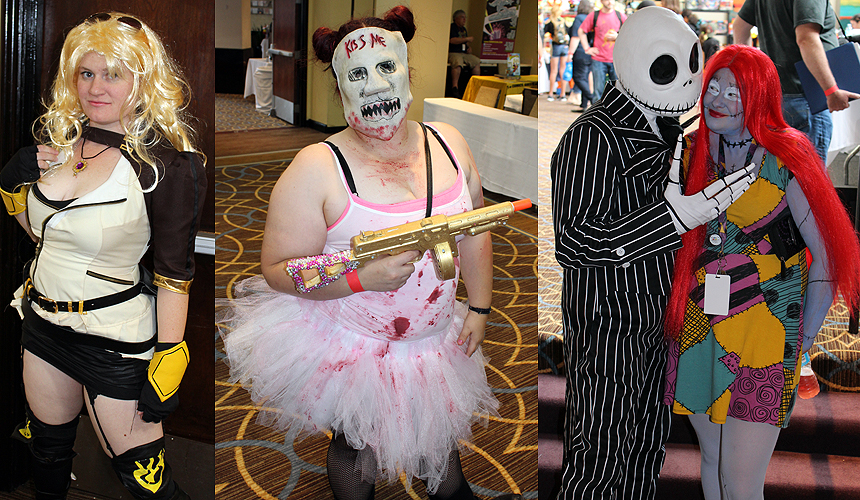 Right out of the gate I met Daniel Pesina from the Mortal Kombat films. Incredibly friendly and chatty. We talked several times during the day and I watched him be engaging and gracious to every fan. Great sense of humor and a deep love for his craft. Lots of other live action and anime talent were greeting fans. Awesome start to the day!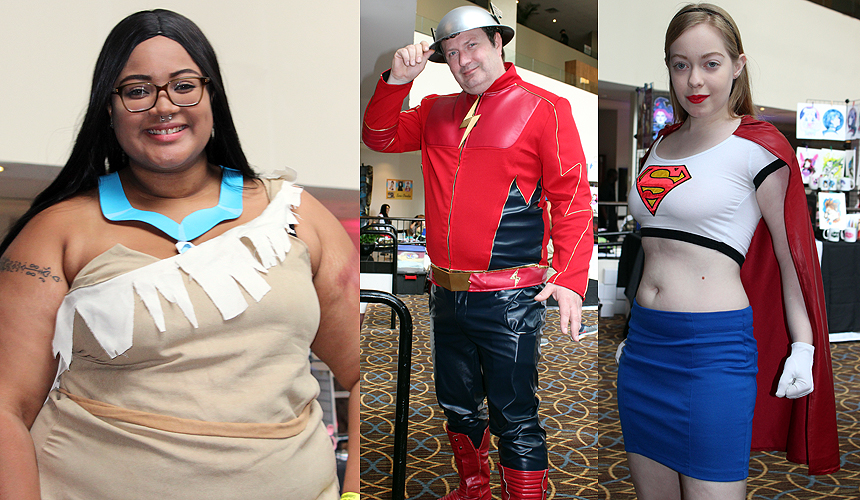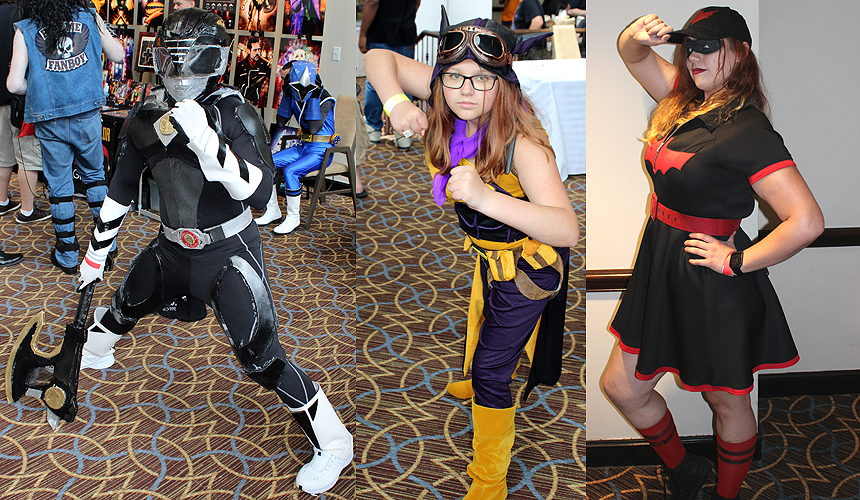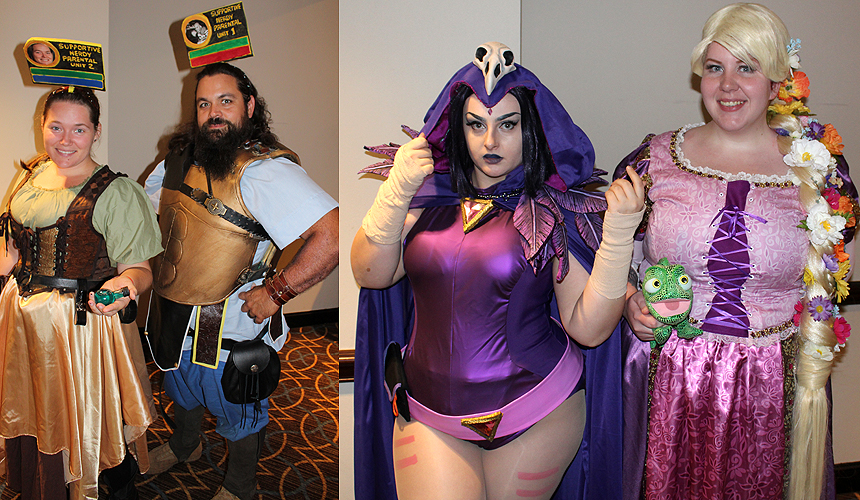 More cosplayers than you can imagine including Briezerker, Morgan Le Gay, Alana Leilani, and the Cares O-Lot crew. Top cosplays of Lobo, Supergirl, Captain America, Chun Li, Sailor Mars, Batgirl, Kiki, Pocahontas, and so many more. I was both touched and inspired by the level of work everyone put in to their gear. Wonderful!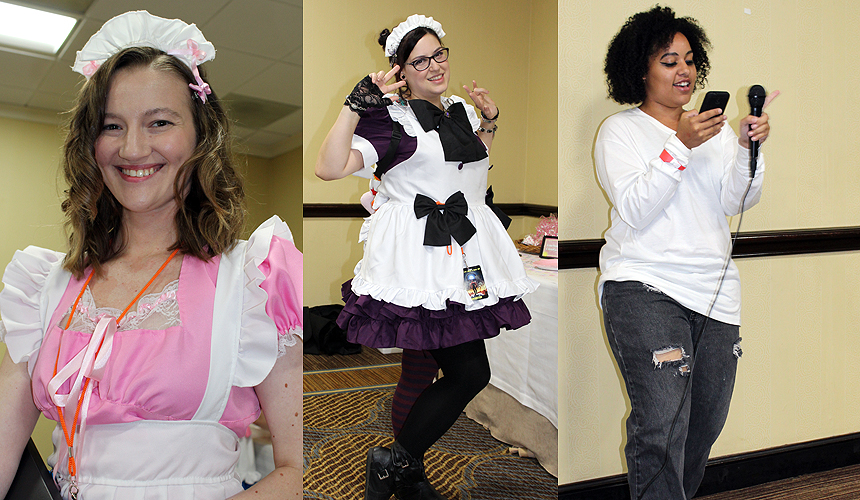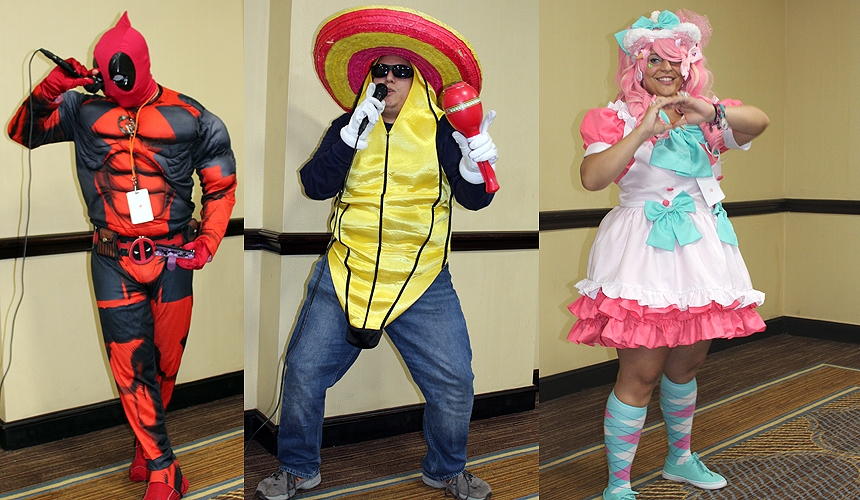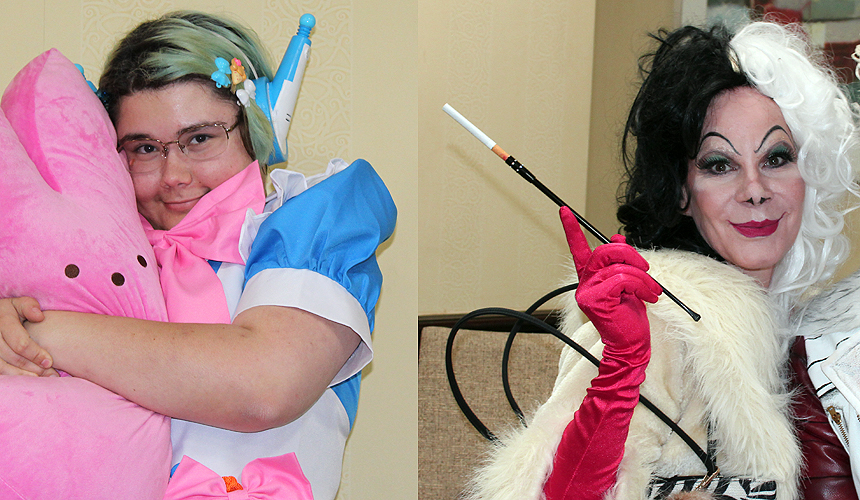 Upstairs on the mezzanine I kicked back and enjoyed the Moe Mahou Maid Cafe. The maids were, of course, lovely. That is a given. They sang, they danced, they hosted karaoke, and served food to boot. I had yummy cheesecake that was bright pink and blue! I got to see Deadpool sing a Backstreet Boys song as the maids sang and danced with him. Wrap your mind around that one! I ended up spending several hours in the cafe and I want to go back there right now!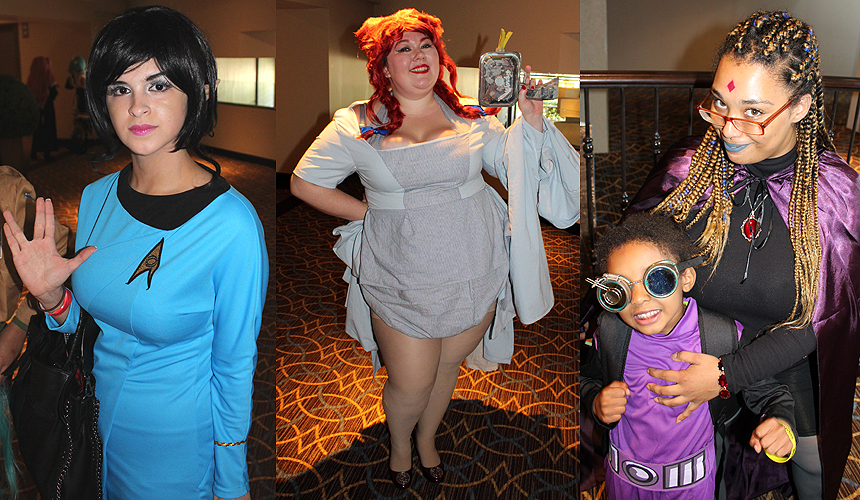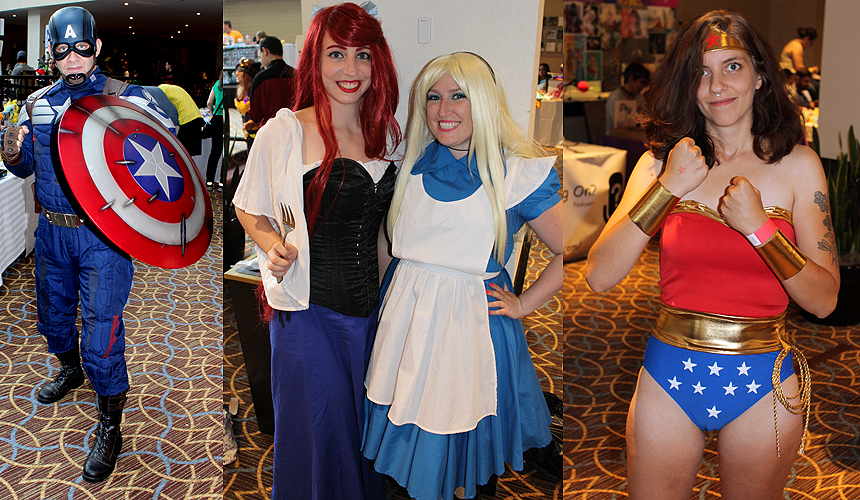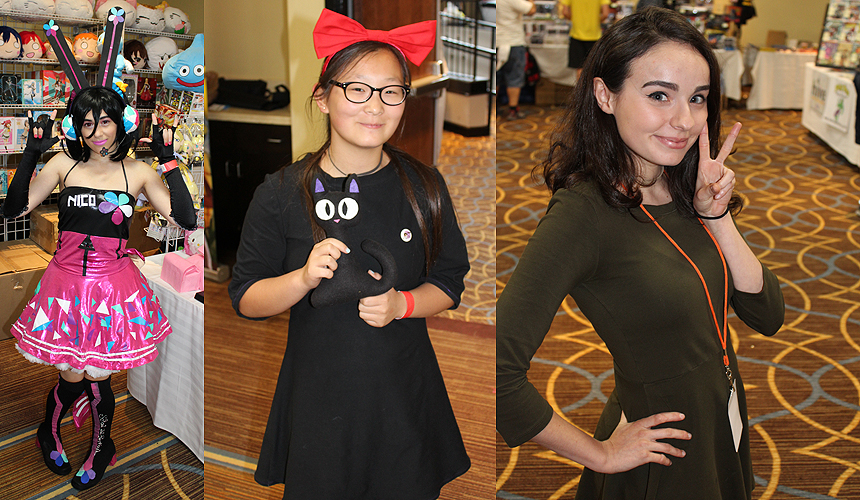 Back on the main floor, I picked up some old comics and a hand made stuffed Jiji (from Hayao Miyazaki's Kiki's Delivery Service) from fine vendors. I saw a bit of everything for sale: toys, plushies, comics, clothing, buttons, badges, food and drink. Dragons and Dragonballs. Felix Velez put together a convention I want to come back to next year and every year!

NEW Wrestling: Future Of Flight - Danbury PAL Building, Danbury, CT 07/14/17

Time for some summertime fun! I made it over to the Danbury PAL building for some wrestling madness! I was not disappointed. WWE superstars Ryback, Jack Swagger, and Cody Rhodes were all there. The Bacon King held court in the squared circle! Karen Q - the Asian Invasion - took on local talent Adira. Ricochet, Robbie E, Wrecking Ball, Brian Anthony, and many others thrilled the packed venue. Kids were popping around like squirrels on a hot pavement. Families rooted for the faces and booed the heels! I'll let the photos do the rest of the talking!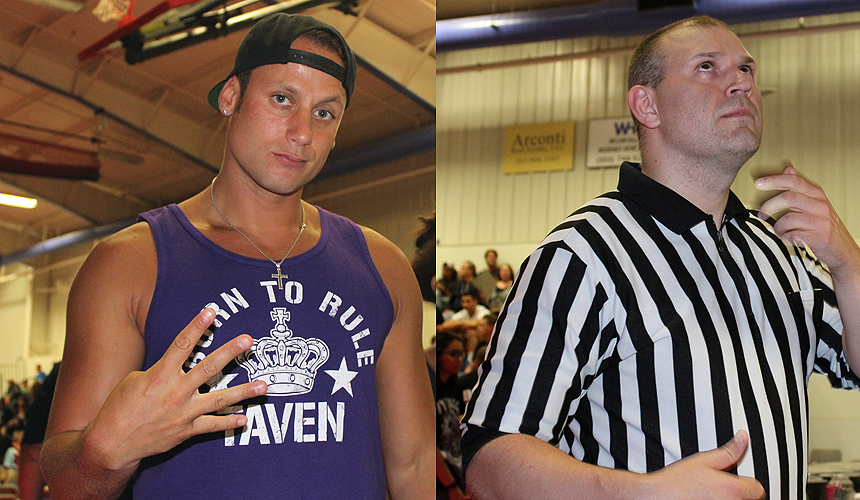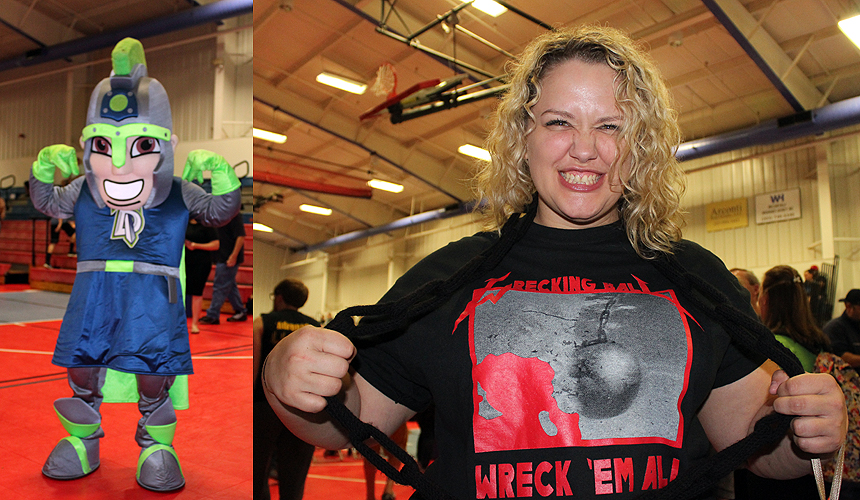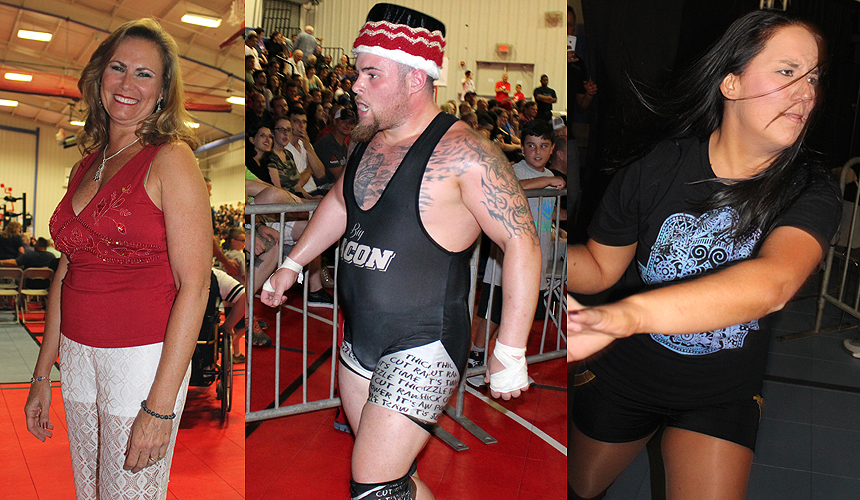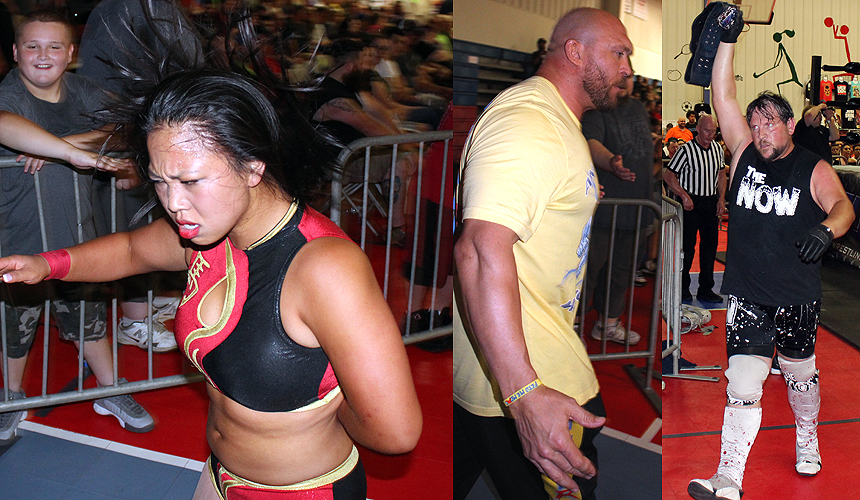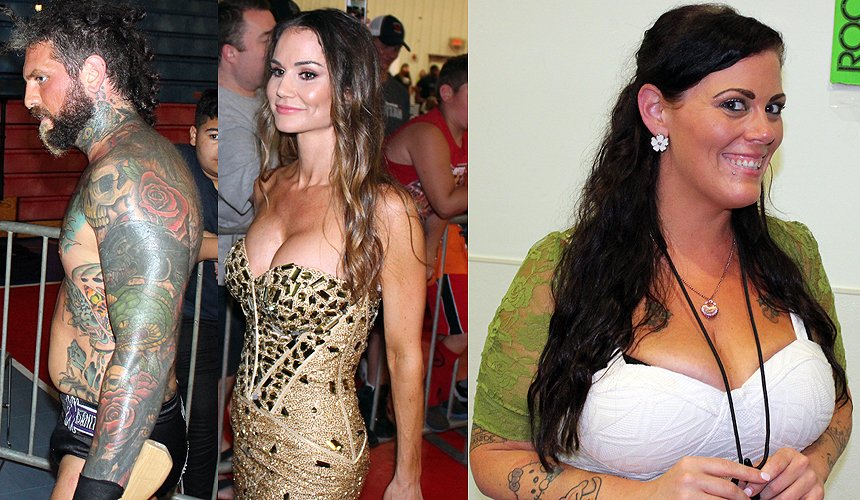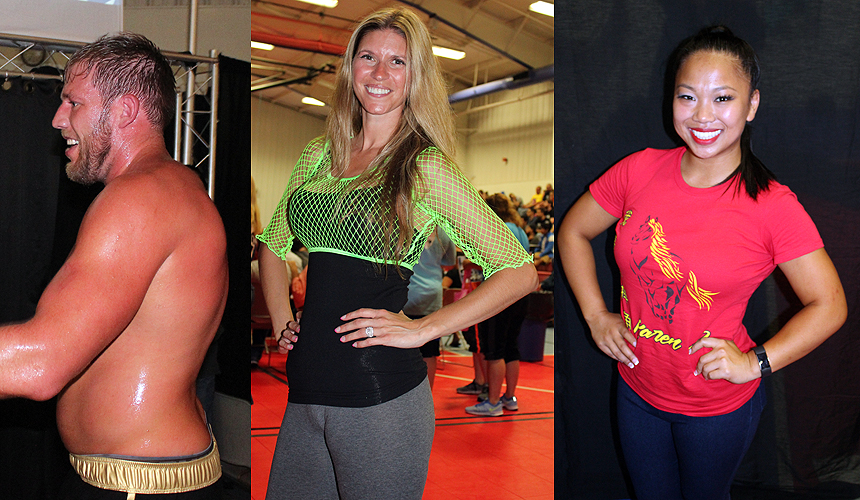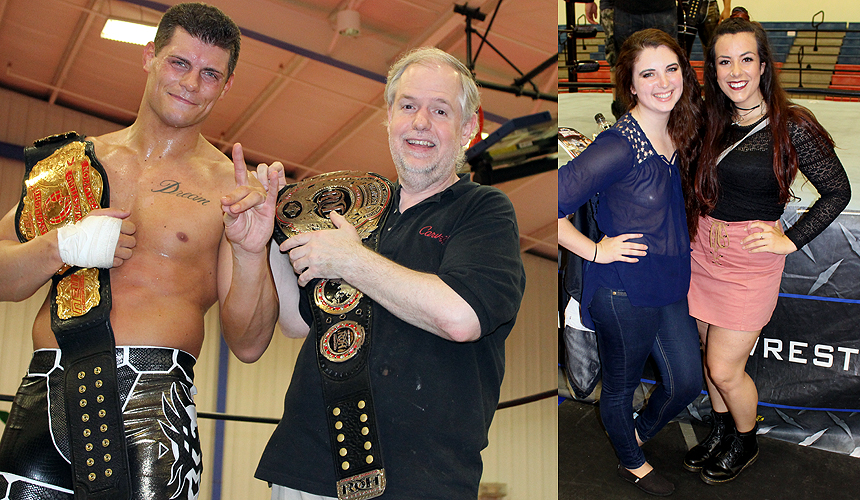 The Midsummer Fantasy Renaissance Faire - Warsaw Park, Ansonia, CT 07/02/17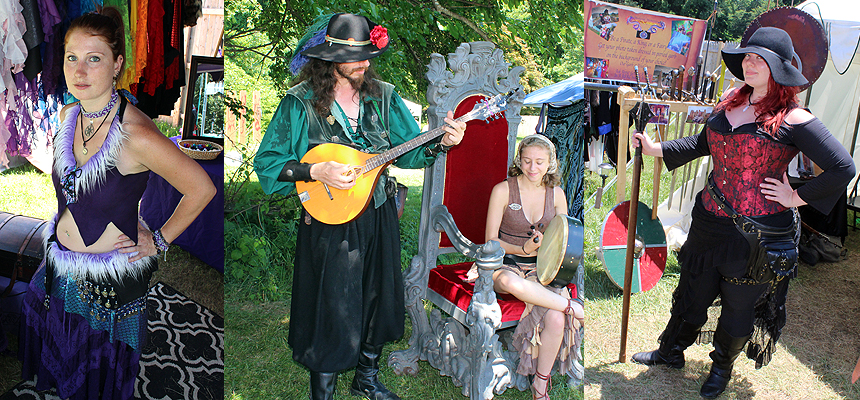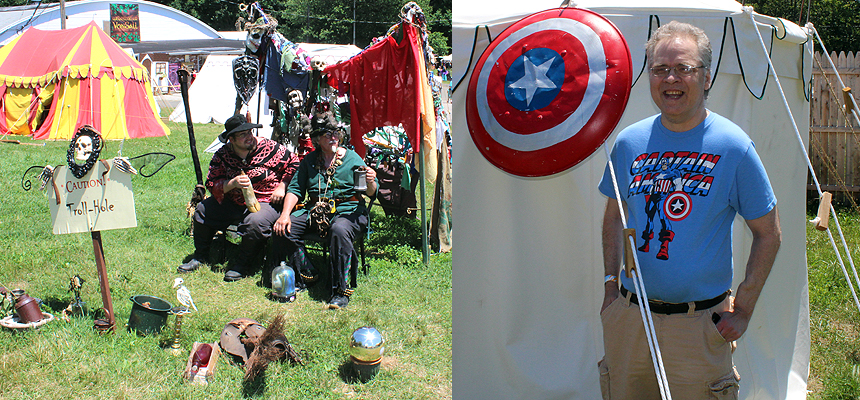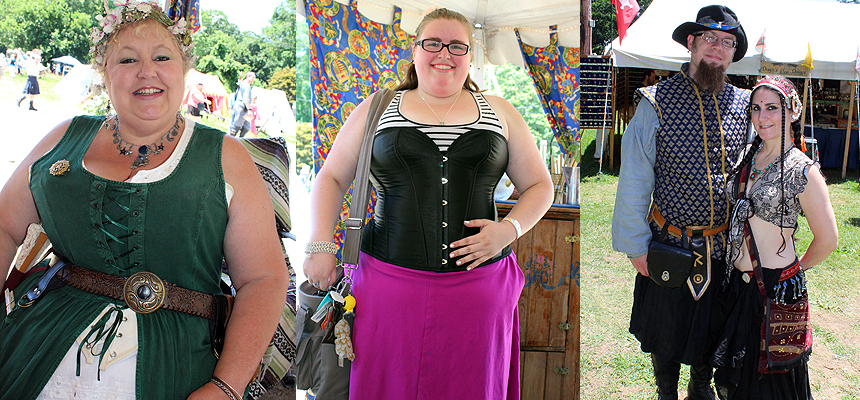 Sit, my friends, for I have a tale to relate. In late May, I suffered quite a nerve injury, rendering my right arm, shoulder, and leg numb and painful. It has seriously effected my balance, so I've scaled down my events. That said, I love this faire so I decided to attend! I'm truly glad I did. The faire is nestled away in Ansonia. The afternoon was warm but breezy - quite pleasant, really. The faire was full of families and couples. Many attended in garb. This year I opted for comfort over historical garb (I often attend dressed a bit like a first mate on a pirate ship, arrrrrrr!).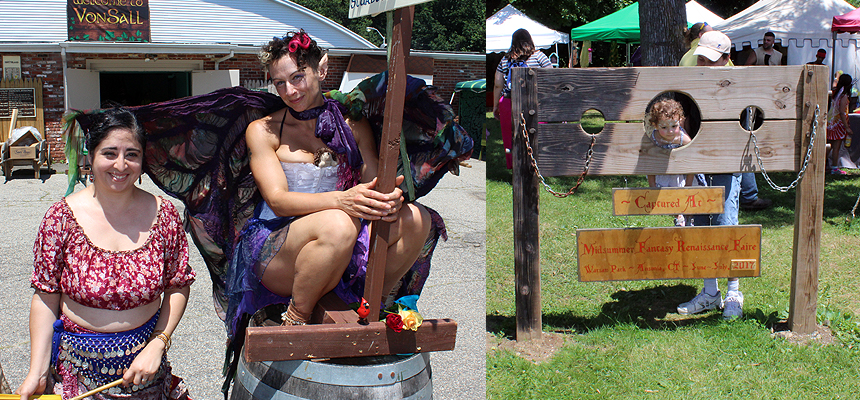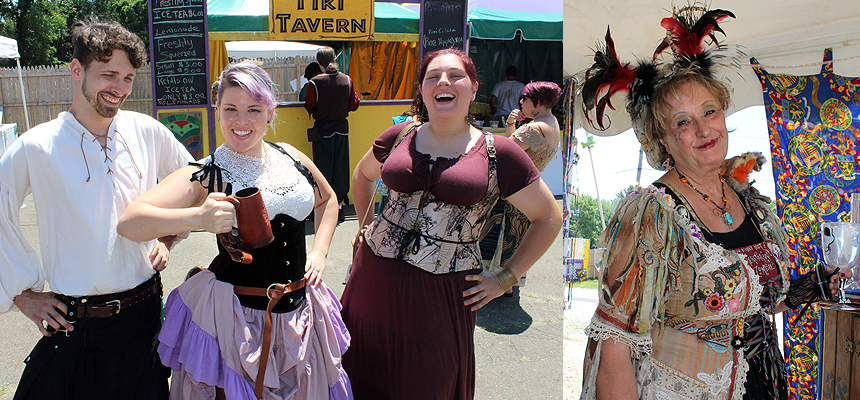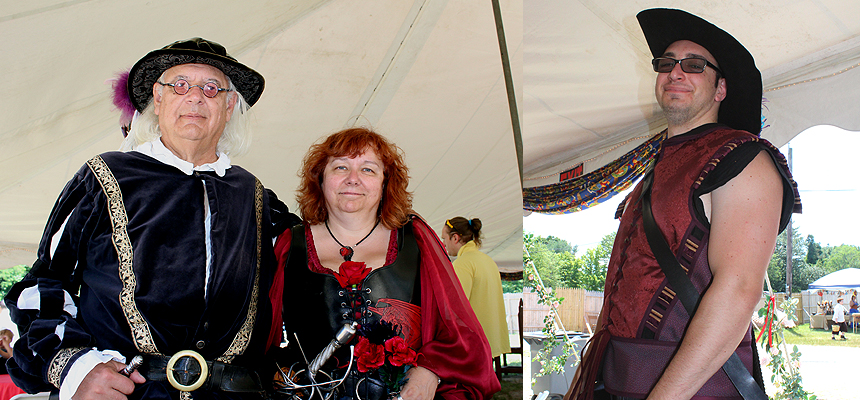 My leg made my footing hazardously unsteady, so I spent most of my time in the comfort of Momma's tent. It's a great place to relax and converse and a sort of central hub to all of the events. I watched fire-eating, dancing, jousting, and I even caught a glimpse of a dinosaur who traveled through time to have fun! Perhaps the dinosaur wanted to chomp on a delicious roasted turkey leg! I surely would not blame them - yummy stuff! I bought myself a wonderful herb mix that reminds me of a tasty variation on herbs de provence. I also picked up 2 bottles of scented oils. Great prices and super-friendly vendors!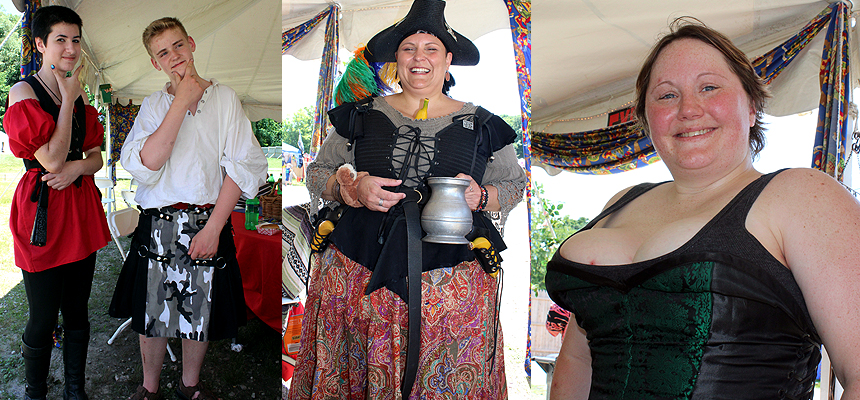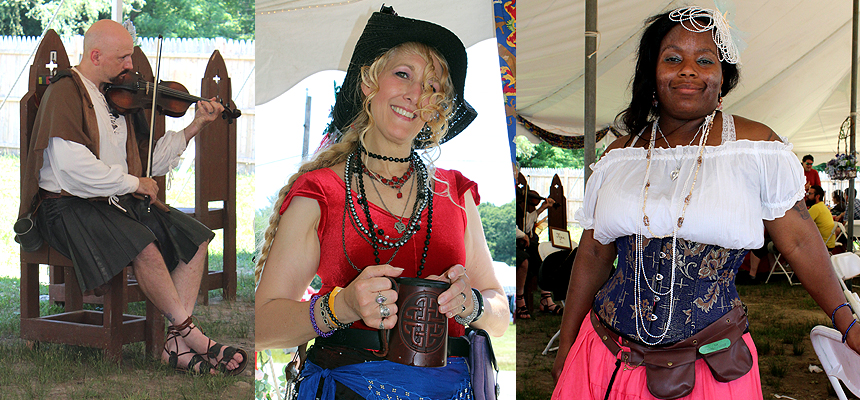 As the day progressed I met lots of folks, had fun & funny conversations with friends new & old, and took the pictures you see here. Since I was limited in my walking for the day, I brought the faire to me and had folks come and pose for me - thankfully they happily obliged! I'm so very glad I sojourned out to take a brief trip back to the days of yore! Kings, Queens, Wizards, Bards, Maidens, and 9000 feet of cleavage! Will I be back next year? Just try and stop me!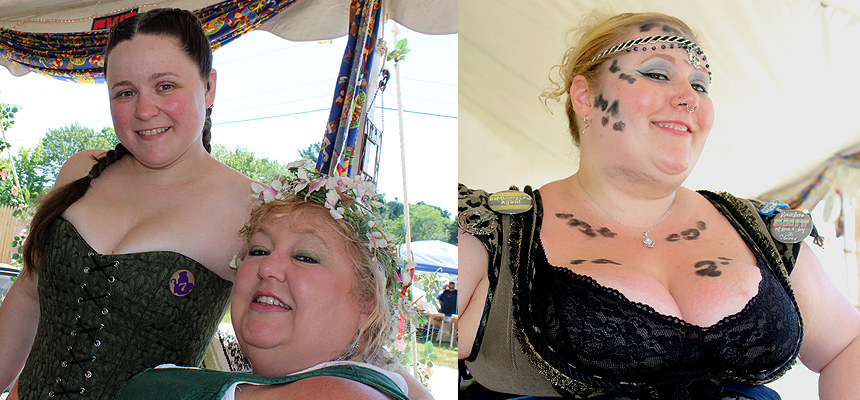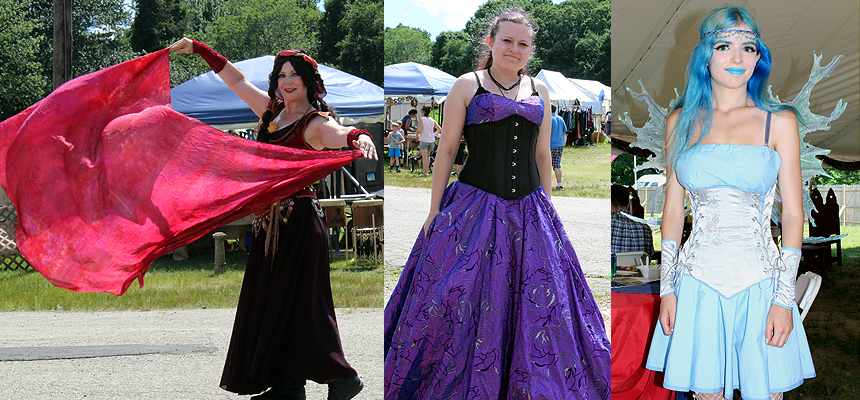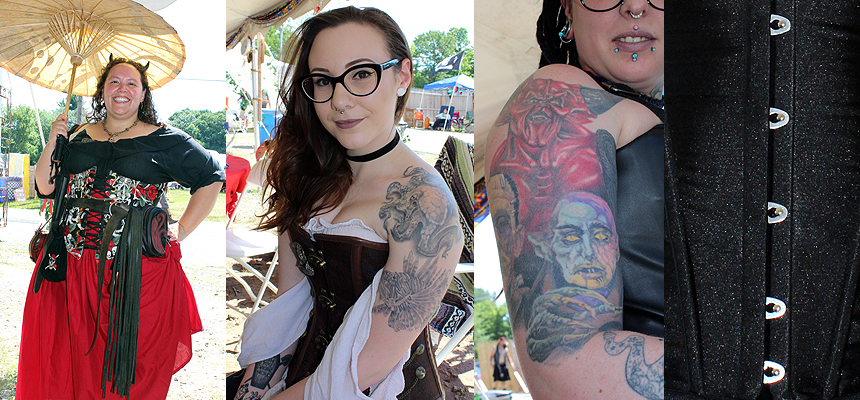 The Zombies - Ridgefield Playhouse, Ridgefield, CT 05/08/17


I must be honest - before I even arrived at the Ridgefield Playhouse, I'd already had a great day! I entered the building in a great mood. It was about to get even better! Here were the Zombies and they were bringing terrific music with them. The current Zombies are Rod Argent, Colin Blunstone, Jim Rodford, Steve Rodford, and Tom Toomey. Set 1 was a sort of history of the band. It started with an energetic take of I Love You (There's a neat version of this by the band People, by the way!). I Want You Back Again and Moving On followed. Blunstone was in particularly great voice and the band were all power and spine. Edge Of The Rainbow kept things rolling. The crowd were LOUD!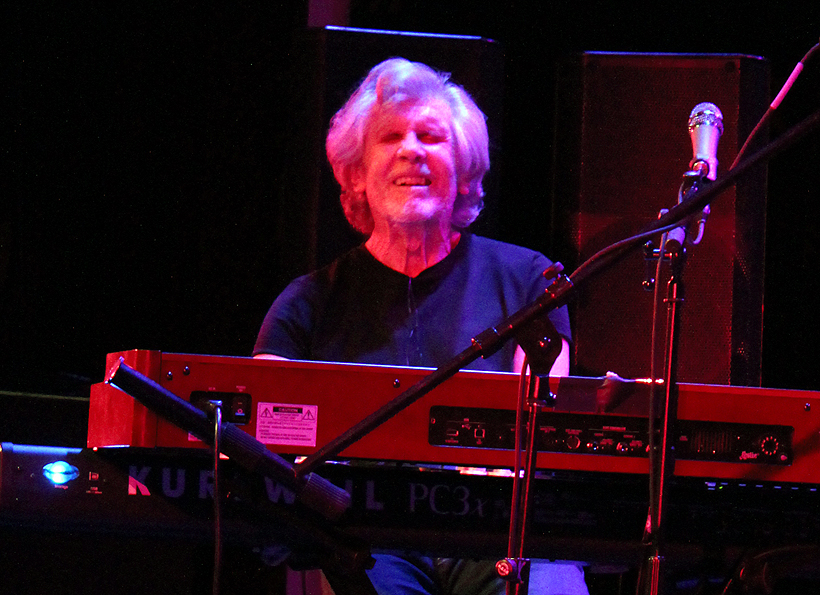 The 2 Rodfords were locked as 1 on Tell Her No. Argent seemed to be having fun driving through the oldies You've Really Got A Hold On Me / Bring It On Home To Me. A bit of stretching out from Toomey on the classic Roadrunner was most welcome! From the Laurence Olivier vehicle Bunny Lake Is Missing we got a cracking Just Out Of Reach as well as a story that had the building echoing with laughter!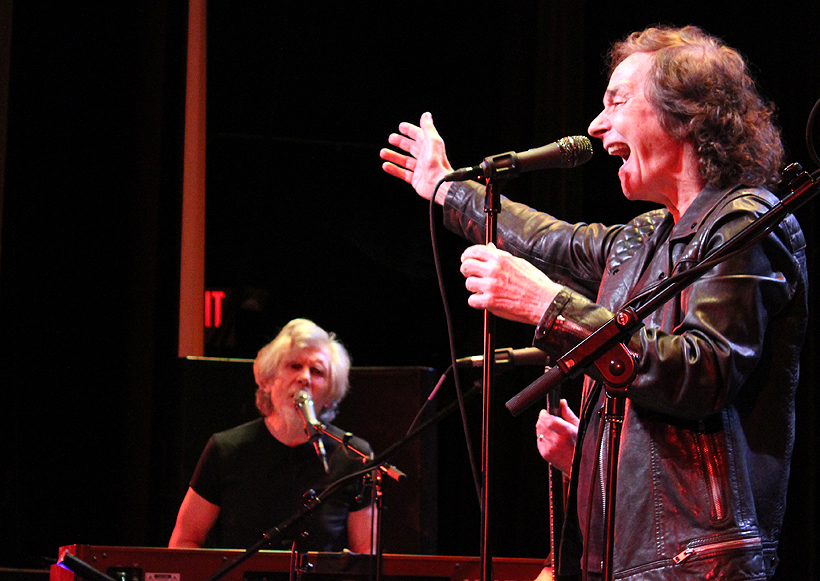 Chasing The Past was the delicious lead-in to the Argent number Hold Your Head Up. Rod Argent was a demon on the keys! During the solo section he quoted several pieces - most notably Beethoven's Ode To Joy. Nothing short of dazzling! A killer She's Not There got a long and deserved standing ovation, and set 1 concluded with Argent & Blunstone alone on the stage for a delicate The Way I Feel Inside. Time to exhale...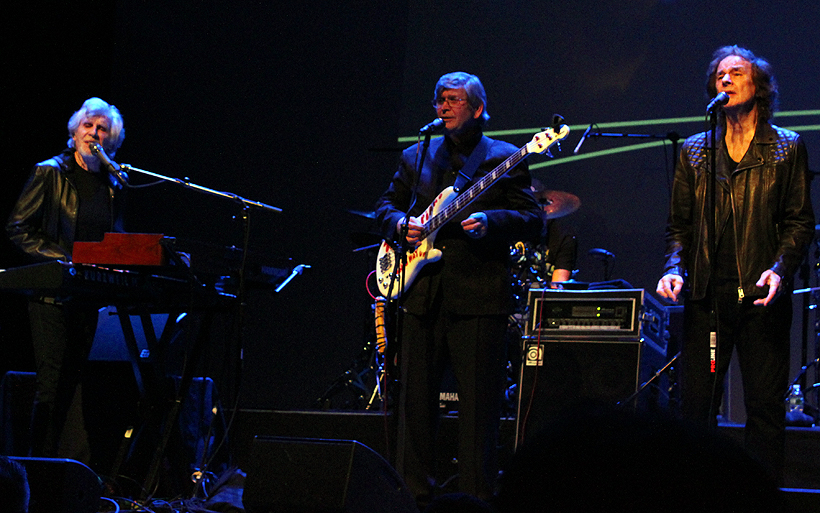 Set 2 presented the entire Odessey And Oracle note for note. Not only did we get the bonus of original Zombies Chris White and Hugh Grundy join the touring unit, but Darian Sahanaja and Vivienne Boucherat joined the ensemble to recreate everything accurately. As if that wasn't enough, Boucherat also created animation to accompany the entire album! As with the album, they started with Care Of Cell 44 and the melancholy A Rose For Emily. Blunstone's voice so touched me on the latter. Maybe After He's Gone and Beechwood Park came next.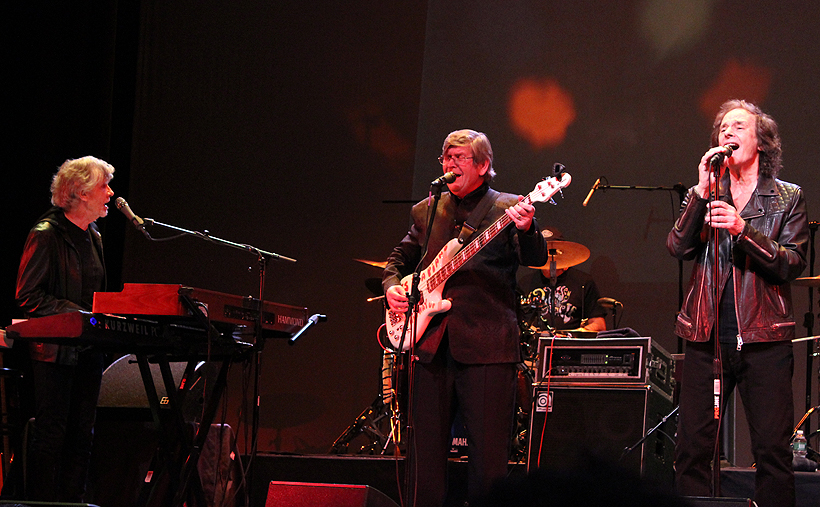 Brief Candles had a sort of quirky glory to it. Hung Up On A Dream and Changes were full of the essence of 1967. I Want Her She Wants Me featured a delightful lead vocal by Argent.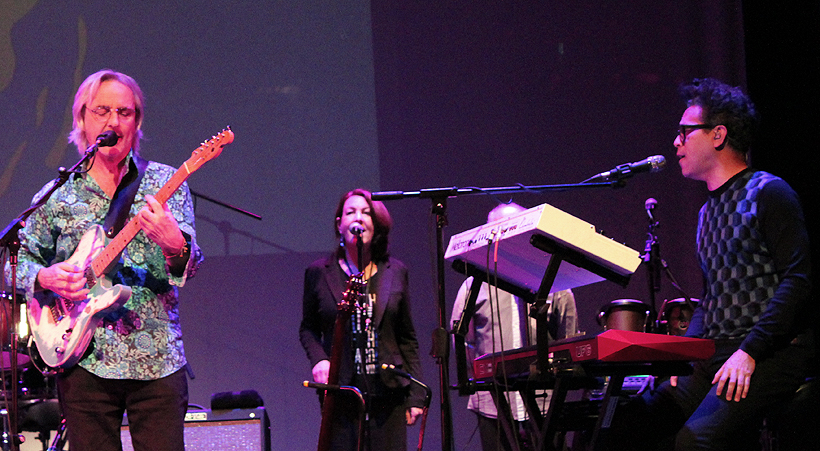 This Will Be Our Year captivated me, but nothing prepared me for Butcher's Tale (Western Front 1914). Argent played harmonium as Sahanaja joined on keys to back White's earnest vocal - all accompanied by Boucherat's bleak animation. A strong anti-war statement that kicked me in the gut and made my jaw drop. I caught my breath during Friends Of Mine. Before I knew it, Time Of The Season ended the album. The crowd went insane. Even the band were a bit stunned by the length & volume of the ovation. On time, Argent told us a series of tales about the musicians and the band in general. The encore was a different version of She's Not There with lots of tasty solos. Easily in my top 20 shows I've seen in my life!

CT Gamercon - The Convention Center At Mohegan Sun, Uncasville, CT 04/01/17




An early start for me as I had a haul ahead to get to Mohegan Sun's convention center. A stop at Denny's in Westbrook for an economical & filling breakfast and an engaging waitress named Gee Gee. On to Mohegan! The convention center is nestled deep in the Sky casino. A bit of a stretch of the legs, but I was still fresh!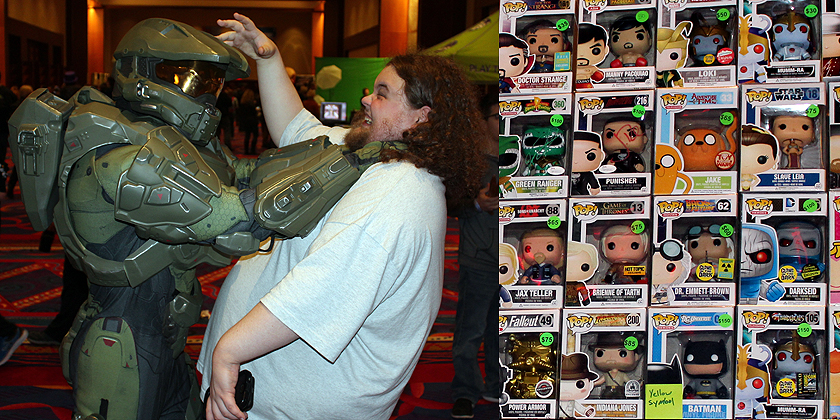 After getting my wristband, I started checking out the situation. Everything was on 1 floor. A huge floor with several huge ballrooms branching off the main artery. The main floor had food and drink as well as several tables with creative talent including the jaw-dropping folks at Decimated Designs as well as racing arcade machines that were free to play. They were full of kids, which was a great sign! Lots of places to sit, by the way. This was an awesome thing!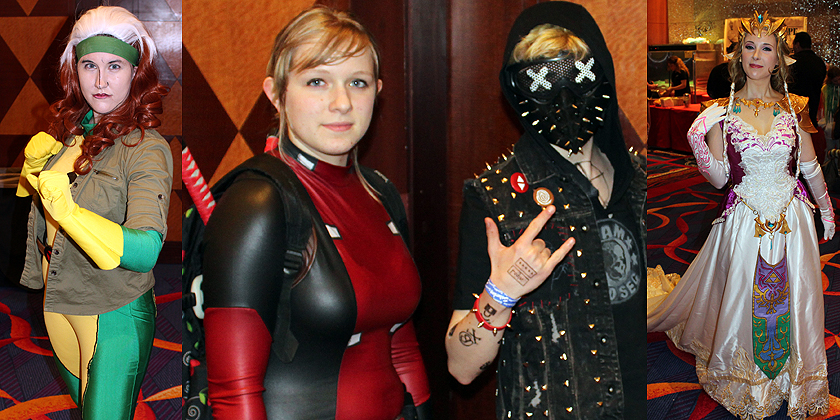 I wandered into the main gaming room. Huge screens on 2 of the walls where there were live gaming competitions going on the entire time I was there. Lots of seats to sit and watch the competitions. There were also dozens and dozens of monitors connected to original Nintendo 8-bit consoles, PS4 consoles, and everything in-between. All were there for anyone to just sit down and play for free! A few vendors were there as well as a wonderful organization to raise money for children's hospitals! Be a hero and check them out at www.extra-life.org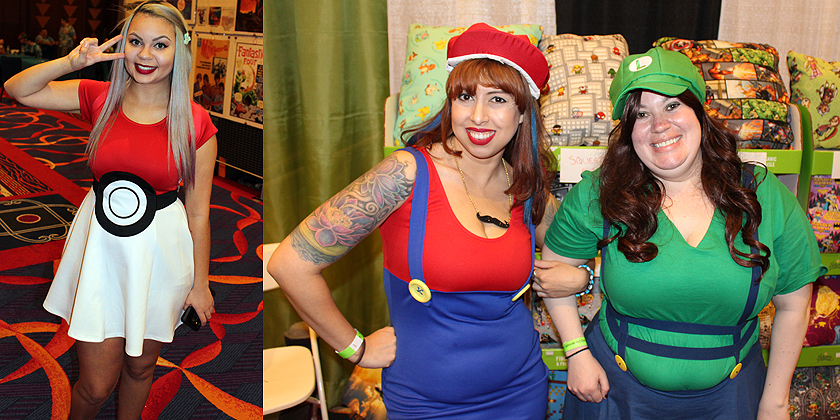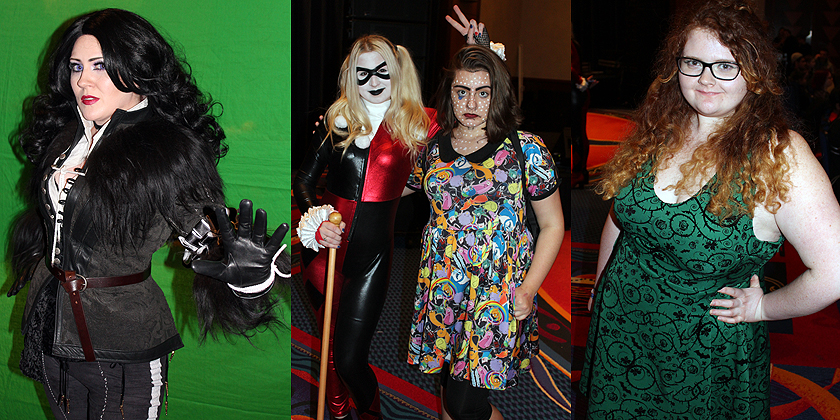 The next room over was filled with vendors as well as D&D-type gaming and gamers. So many nice folks! I had laughs with a great band called Lame Genie - these dudes were pure fun! Lighthearted author Dexter Herron was giving me the scoop on his latest novel - Shard's Thugs. Sounded like a rollicking tale full of laughs and adventure! Check it out on Amazon!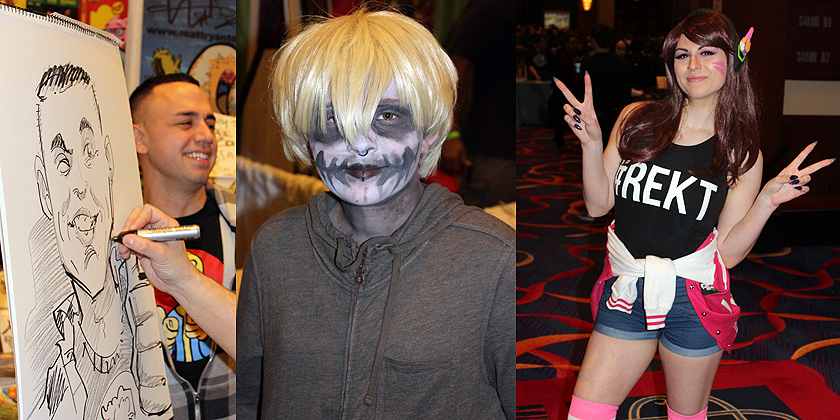 On the board gaming front, I ran into the wacky folks at Angry Duck Games. It did my heart good to see a locally produced board game! Very well done. I saw lots of folks all wearing blue tye dye t-shirts. Who were they? According to the unforgettable John "Hoss" Haskell, they were the Ellis Tech Simulation Club out of Danielson, CT. Haskell grabbed my attention with astounding stories of using board games to teach teens about everything from shipping lanes to the Constitution! I was in awe!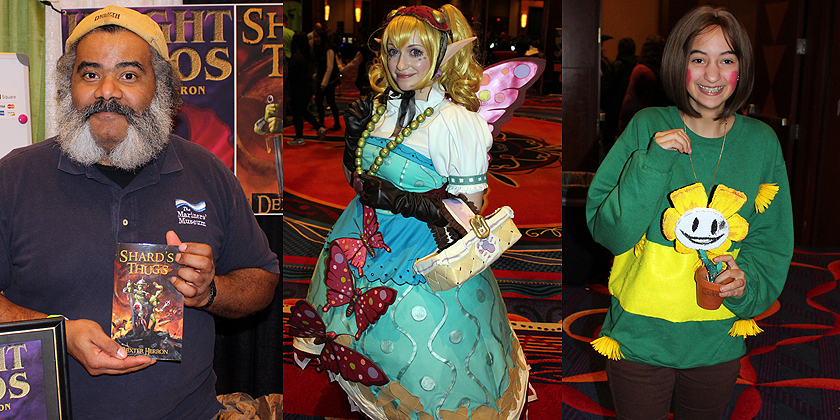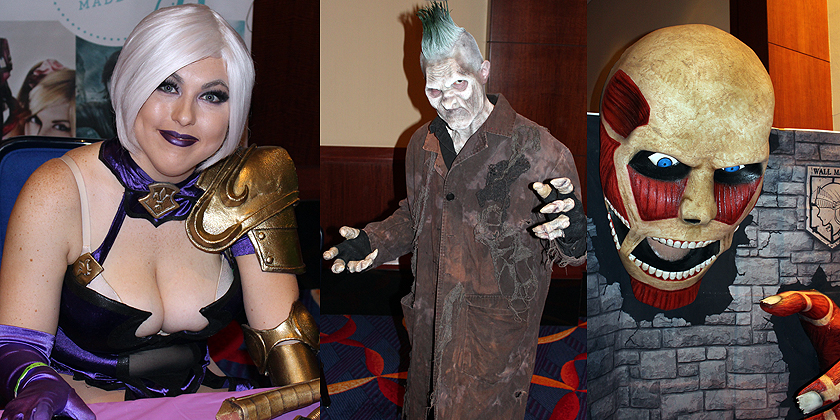 Hey! I forgot to mention - tons of cosplayers! I saw Harley Quinn, Joker, Twisty the clown, Cammy, Obi Wan Kenobi, Mario and Luigi, Rogue, and so very many more! Imaginations were clearly on fire for cosplayers of all ages!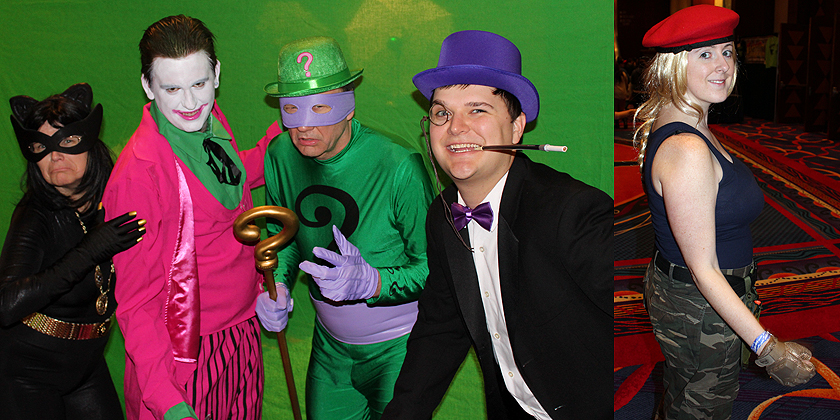 I would surely be remiss if I neglected to mention the fine representative of our Navy who was there to hand out resources for veterans and their families. vetcenter.va.gov is the website for more info. I proudly shook the vet's hand and thanked him for his service to our country. These gentlemen & ladies desrve our love, thanks, and respect.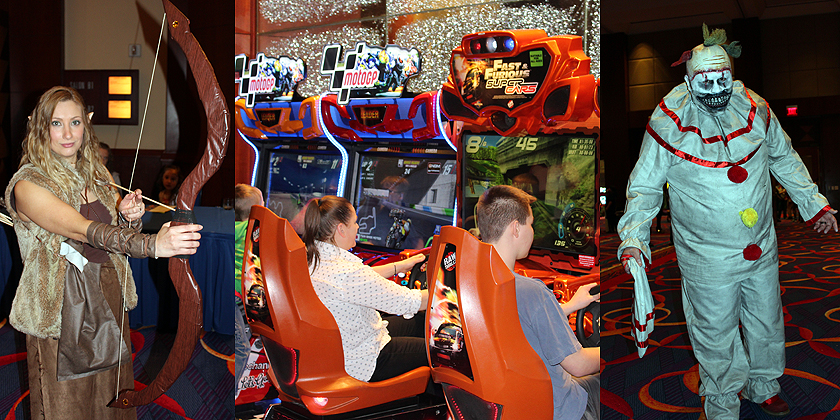 As my time drew to a close and I headed back home, I felt a happy buzz. CT Gamercon had a friendly, laid back, positive vibe. I felt like I was spending time with long-lost friends I never knew I had! I'll have fond memories and fun stories to tell for years to come! Thank you, Mitch!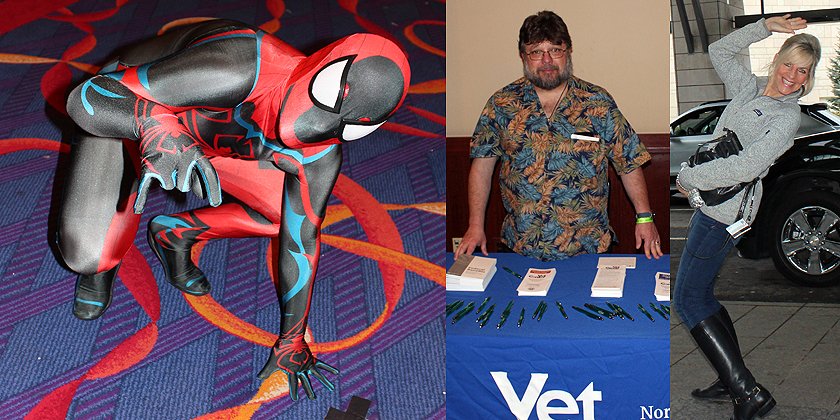 The Musical Box - Ridgefield Playhouse, Ridgefield, CT 03/05/17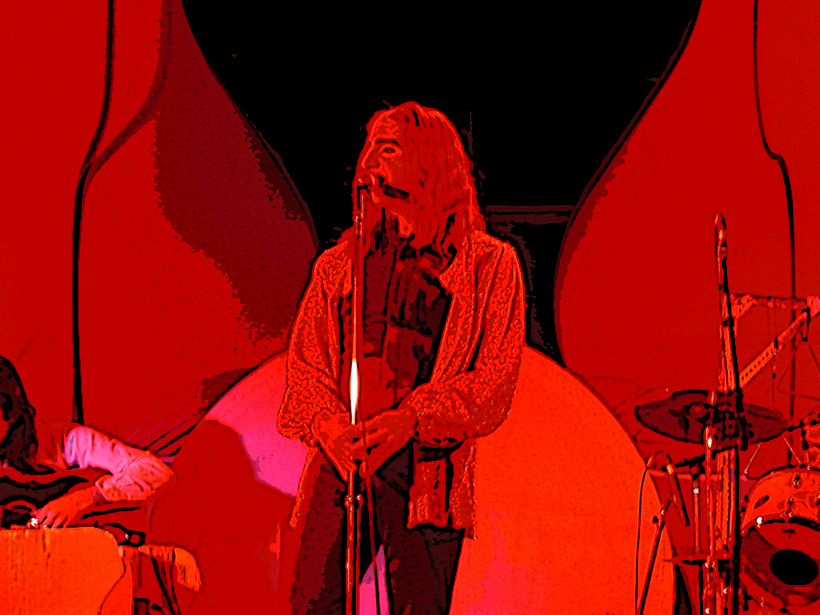 Let me preface this review with a small caveat: the band were not allowing the press nor the audience to photograph this gig. A first in my 19 years of covering The Musical Box. The images I've included are from a show over a decade ago. The were never used & I had a bit of fun with them for your viewing pleasure! This was a White show from the early leg of the Selling England By The Pound tour minus the standard More Fool Me that was played during those shows. The set opened with Watcher Of The Skies. Full of power and packed with emotional energy. The band had all pistons firing. The same was true of Dancing With The Moonlit Knight. Guitar ablaze and perfectly counterpointed by the keyboards. Follow on! With a twist of the world we go! A lush take of The Cinema Show followed. Harmonic guitars and voices teased my ears building to that massive guitar / drums / keyboard section! Thrilling is the proper word!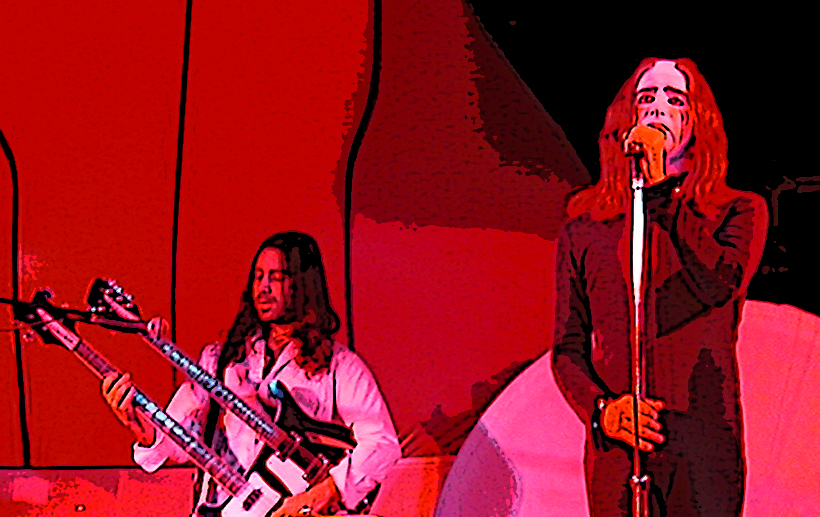 Lopping off time with the cosmic lawnmower! I Know What I Like (In Your Wardrobe) once again pushed the boundaries of what a hit single can and cannot be. 97.04% of the crowd sang along! A spot-on perfect Firth Of Fifth had us all slack-jawed in amazement. The band were on a serious roll! Lambs were lying down with lions and we nowhere near Broadway! The sad tale of Henry & Cynthia and their fatal game of croquet had the crowd roaring to hear The Musical Box. Why don't you touch the guitarist now as he plays a note-perfect Horizons? Absolutely lovely.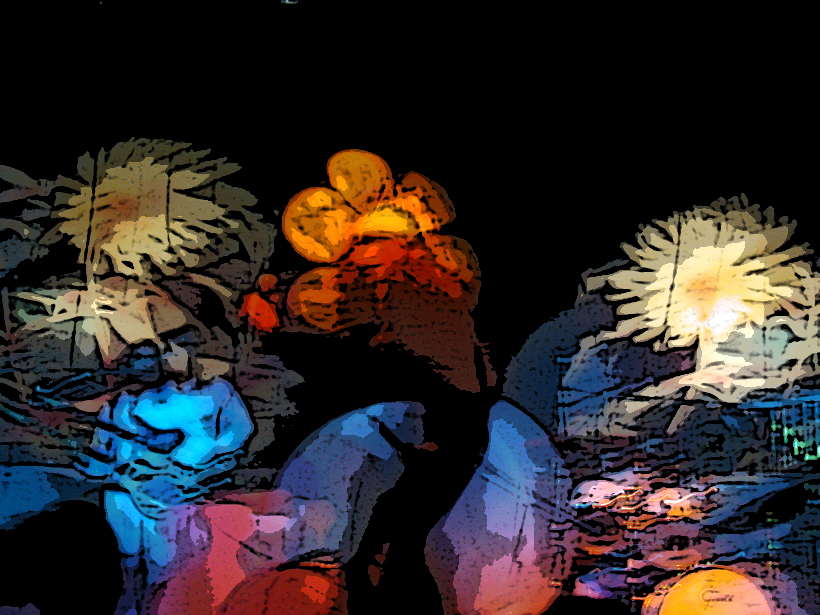 The drums started a marching beat on the snare to herald in The Battle Of Epping Forest. Liquid Len and Bob the knob were there to sort it out. An audio/visual gang war as we all sat safely in our seats! Old Michael's wormy tale prefaced a stunning Supper's Ready. It was breathtaking on so many levels. A spent crowd got a superlative encore of The Return Of The Giant Hogweed to drain their last jolts of energy. Easily one of the very best performances I've seen of The Musical Box ever!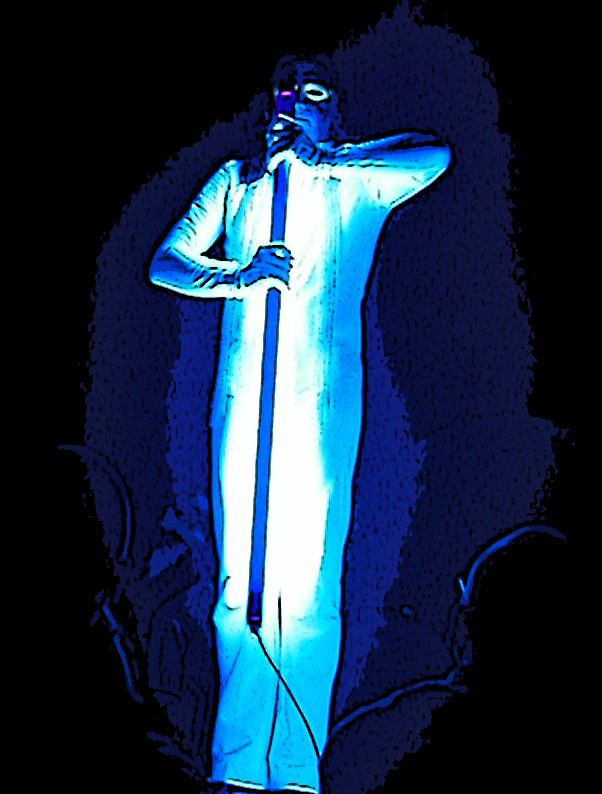 Steve Hackett - Ridgefield Playhouse, Ridgefield, CT 02/22/17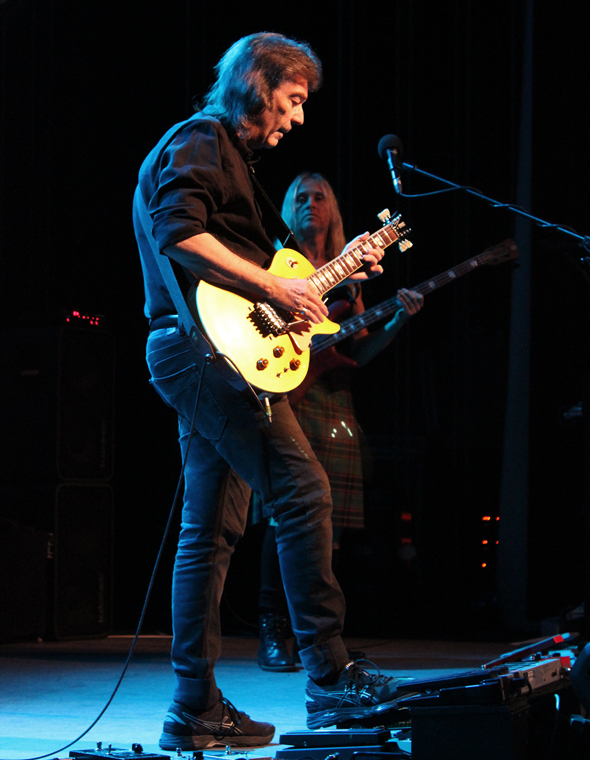 Nice day. Cool but not cold. Nice crowd. Nice vibe. Had a pre-show talk with Nad Sylvan, Steve Hackett, and his entrancing wife Jo. Spirits were high. Everything felt good. Smiles all around. Before long, it was showtime. Everyday started the evening on a brisk note. Harmonies were tight, the band were spot on, and that long closing solo was sheer lunacy! Most certainly off to an auspicious start! The upcoming new album The Night Siren was represented by 3 songs, the 1st of which was the instrumental El Nino. It packed a huge wallop thanks in no small part by the drums of Gary O'Toole abetted by Rob Townsend's deft percussion. Strong as iron! Over to the flute went Rob Townsend for the intro to Defector's The Steppes. A giant technicolor widescreen film made entirely of sound. Steve Hackett's guitar wailed as Nick Beggs played that bass as if it was made of rubber bands. Wow! This is as good a time as any to point out that although this was a Steve Hackett show, every player was of equal stature on that stage. This was truly a tightly-knit ensemble. New piece #2 arrived in the form of In The Skeleton Gallery. It was an exotic globe-spanning slice of eeriness that served the brain all sorts of textures, moods, and motifs.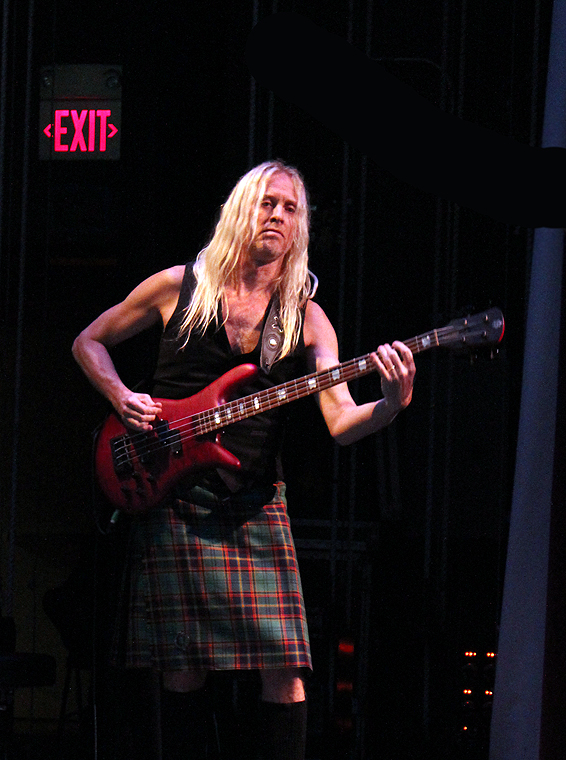 Steve Hackett told a story about his family emigrating from Poland to England in the 1800s as a preface to another new number from The Night Siren: Behind The Smoke. It sounded ominous but with shards of hope. A story about his dad selling paintings served to introduce the lovely Serpentine Song from the To Watch The Storms album. Rob Townsend's whistles added a charming touch. Next was a chestnut from the Darktown album - Rise Again. It sounded luxurious with magic keyboard textures courtesy of Roger King. Shadow Of The Hierophant was a highlight. Nick Beggs sat cross-legged on the floor pounding his bass pedals with his fists as Gary O'Toole raged ever more frantically on his kit as the number bloomed, boomed, and grew to monstrous proportions.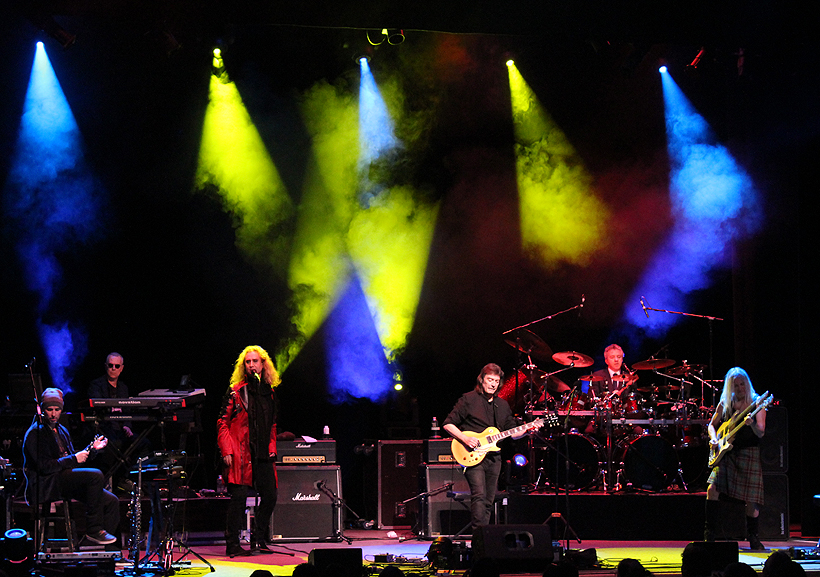 Nad Sylvan took the stage as we entered the Genesis portion of the show. This tour focused on the 40th anniversary of the Wind & Wuthering album, so we got a nice chunk, starting with Eleventh Earl Of Mar It gave me chills! Steve Hackett was about to introduce the next number but mistakenly started to introduce the number just played. Then, laughing, he introduced Twelfth Earl Of Mar before a near-religious take of One For The Vine. This gaffe came back later in the set as he said How many Earls of Mar would you like? Out came the classical guitar for Blood On The Rooftops. Gary O'Toole lent it a superb vocal and the crowd went nuts! The next 2 numbers were dedicated to the late great John Wetton: ...In That Quiet Earth going into Afterglow. The closing line of I miss you more now all the more poignant.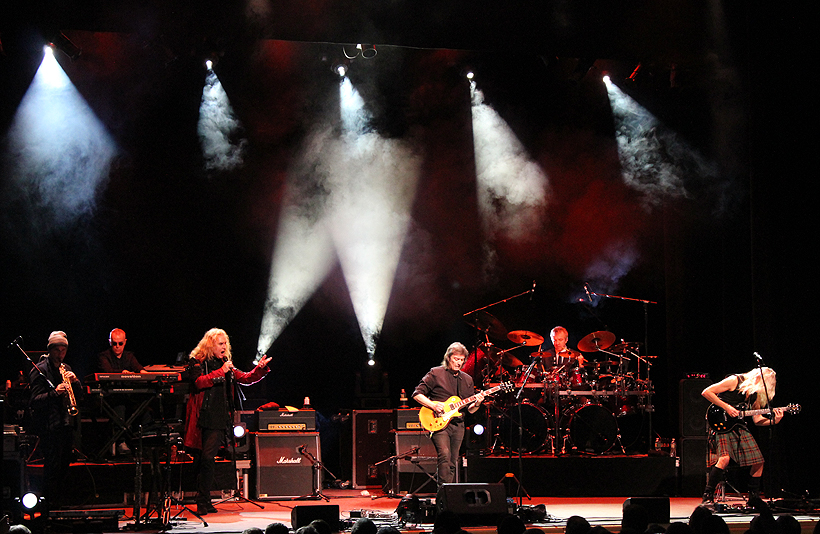 We stepped back 1 album to 1976's A Trick Of The Tail for the piston engine that is Dance On A Volcano. Dark vocal from Nad Sylvan. Crazy playing from Steve Hackett. That whirling dervish closing instrumental ending always excites my ears! If there's an old Genesis tune I have championed for years, it's Inside And Out. An orphan of the Wind & Wuthering that saw the light of day on the Spot The Pigeon EP, it was never played live by Genesis on their US shows. Here it was live at last and sounding strong, thanks in no small part to Nad Sylvan's vocal and the locked-in band interplay. Roger King and Rob Townsend were the stars of Firth Of Fifth. Not counting, of course, Steve Hackett's classic solo we all know and love so well! All good shows must come to an end, so it was the task of The Musical Box on this evening. Ever-grand, the melodramatic tale of unconsummated spirit/human desire was executed with vigor and all that good stuff! Huge blocks of sound pressing ever outward. Savage. The sole encore was rather appropriately Los Endos. It featured bits of Myopia, Imagining, and Slogans scattered across its framework. A big, energetic finish to a triumphant evening celebrating the musical legacy of Steve Hackett.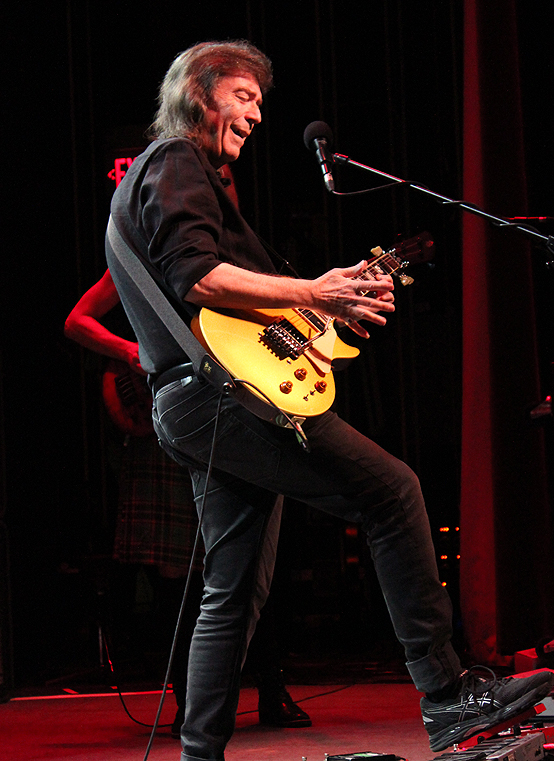 Lez Zeppelin - The Warehouse, Fairfield, CT 12/16/16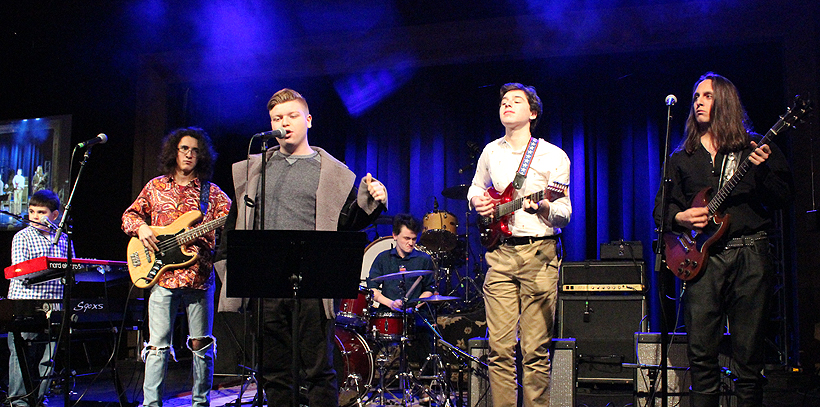 A frosty cold evening - perfect Zep weather! After a delicious calzone at Captain's Pizza, I walked across the street to The Warehouse. Just like last year, the young band Clueless had the opening slot. 6 talented you men energized the crowd with their impressive playing and great song selection. Starting with Steely Dan's Kid Charlemagne, they plowed through classics like Medicated Goo, No Sugar Tonight, and They Call Me The Breeze with total assurance. The crowd were moving and grooving!




Twin guitars and a tight rhythm section with colorful keyboards were a perfect bed for their big-voiced frontman on Magic Carpet Ride and Them Changes. He left the stage for a version of Frankenstein that had jaws dropping. The heat continued with Mustang Sally and Whipping Post. The encore was The Letter. Clueless deserve a full headline slot. Hopefully 2017 sees that become a reality!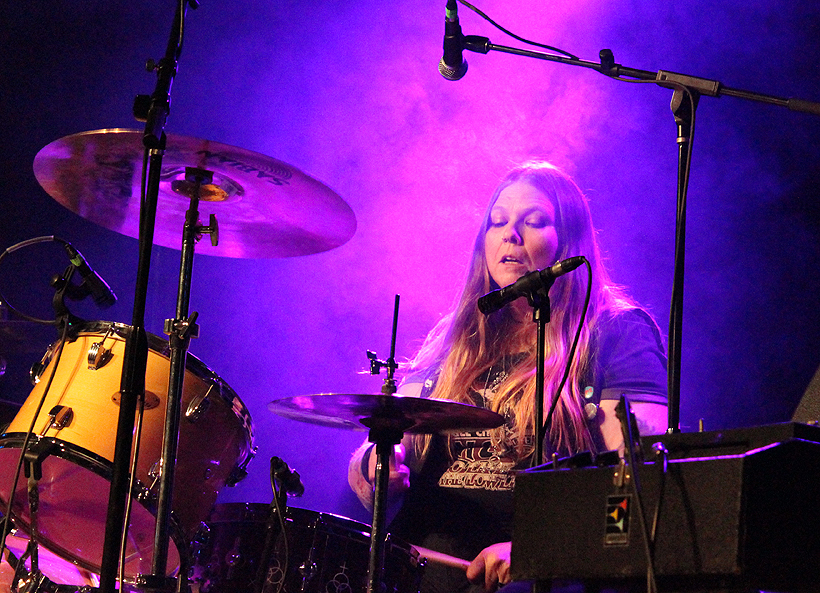 This was my 4th time seeing Lez Zeppelin, and yet another line up change. Bassist / keyboardist Joan Chew and vocalist Marlain Angelides came into the fold, joining stalwarts Steph Paynes on guitar and theramin, and Leesa Harrington-Squyres on the drum kit. The drums were on a riser this time & it added to the feel as well as giving a much better view. Every line up of this band has had a unique vibe to it, and this one was no exception. Chew was simply massive on the keyboards and a muscular bassist. Angelides added considerable drama and a likable charm as well as one hell of a voice!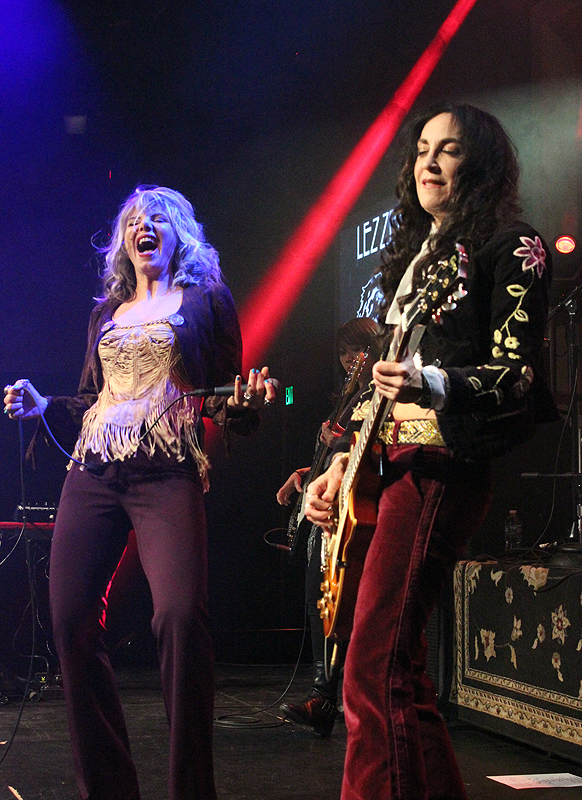 Did I mention it was Paynes' birthday? The festive atmosphere started right off the bat with a ripping Immigrant Song. Everyone was firing on all cylinders. My brain started to melt from the passionate take of Nobody's Fault But Mine with a particularly memorable vocal by Angelides. The inseparable 1-2 of Heartbreaker and Living Loving Maid (She's Just A Woman) sounded great with Paynes sounding the best I've ever heard her.




Babe, I'm Gonna Leave You was owned by Angelides. Chew switched from bass to keys for Trampled Under Foot and Misty Mountain Hop. Those 2 numbers truly hit all the right notes for me. definitely a highlight. Let me take a moment here to celebrate the powerhouse drumming of Harrington-Squyres. The dimensionality was there. John Bonham would've surely nodded his approval. Dazed And Confused was another Paynes feature piece. So much color and emotion in her playing this evening.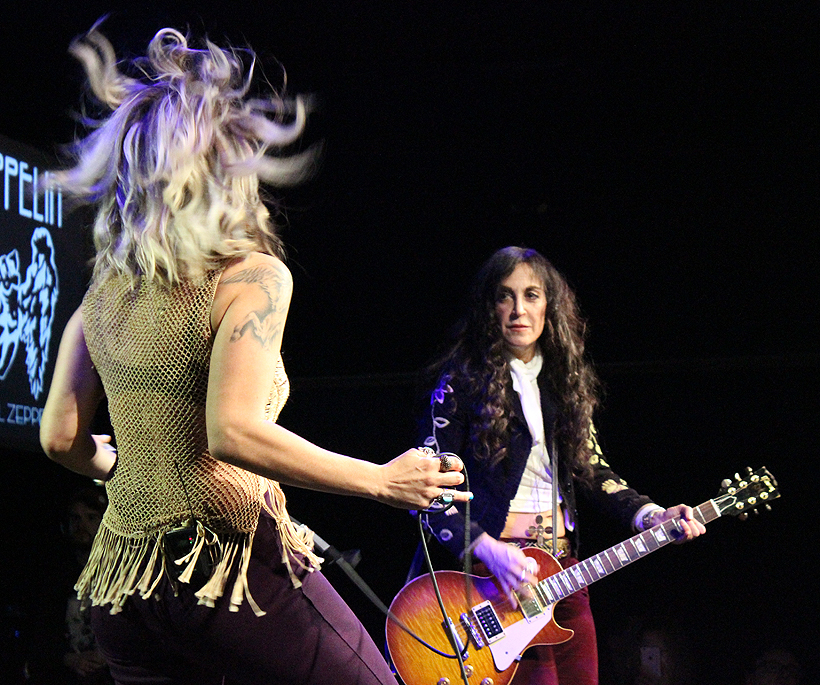 Back to keyboards for No Quarter with Chew and Paynes taking us all on quite a sonic journey. Hypnotic. Rock & Roll and Black Dog were simply put balls-to-the-walls rock of the highest caliber. A positively demonic Whole Lotta Love brought home a exhausting set. I was sweating and emotionally wrung out by all that energy. But wait - there's yet more! Kashmir was the encore. A perfect ensemble number with all 4 musicians having their spots. A fantastic capper on 2016 for this boy. Happy Birthday, Steph!!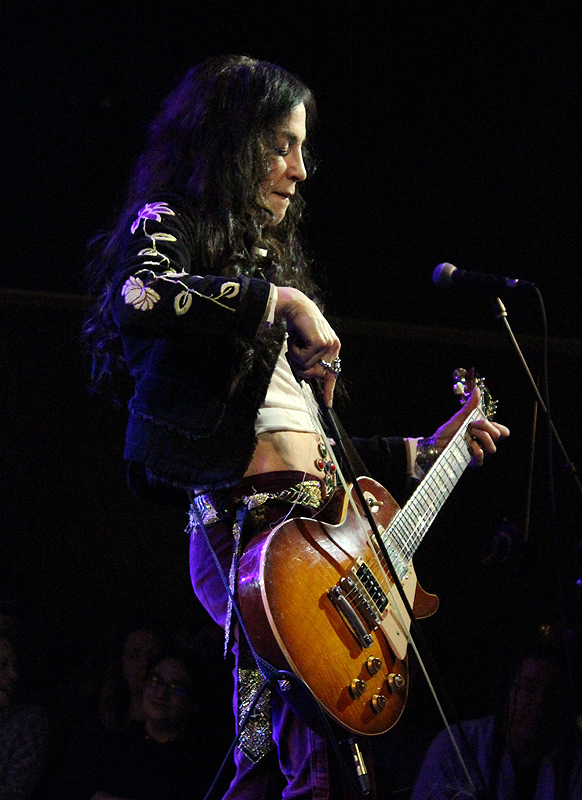 The Security Project - Daryl's House, Pawling, NY 11/02/16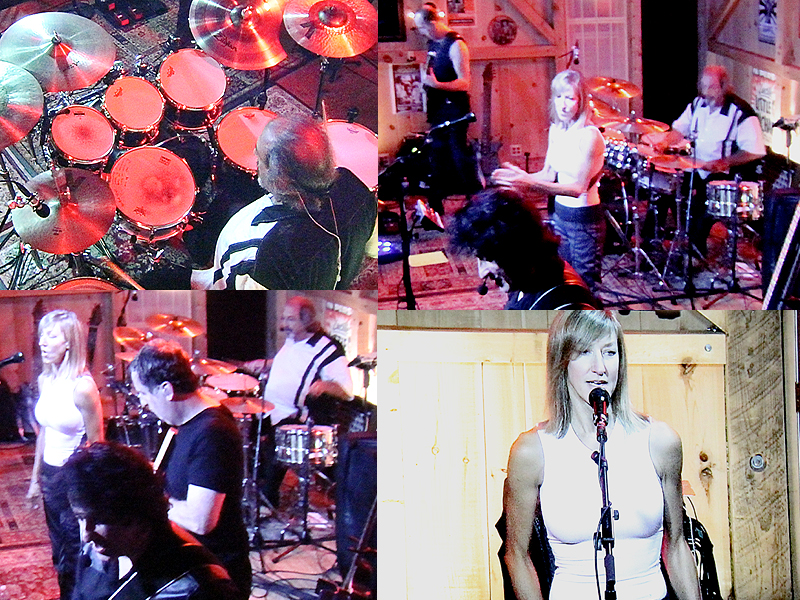 The last time I was in this venue, it was called the Towne Crier. In recent years, Daryl Hall took it over and it now bears his name. Within moments of walking in, I was unhappy with the venue. The manager was rude and dismissive of me. A good manager offers solutions to a patron. Not this one. I was stuck over in the astoundingly loud bar. Over an over a drunk loudly shouted during the performance that he was "the plumber at the local prison" at all too regular intervals. Oh joy. The woman next to me was sure that the band was going to play Groovy Kind Of Love. Welcome to my personal Hell. File all that in your mind as the setup for the Security Project. They were in town to bring us all plenty of Peter Gabriel goodness. For this go round, they were Jerry Marotta on drums, Trey Gunn on Warr guitar and backing vocals, ex-Shriekback member Michael Cozzi on guitar backing vocals, and David Jameson on keys and Eigenharp. Joining them as lead vocalist was Happy Rhodes. A very impressive set of players who really brought it that evening!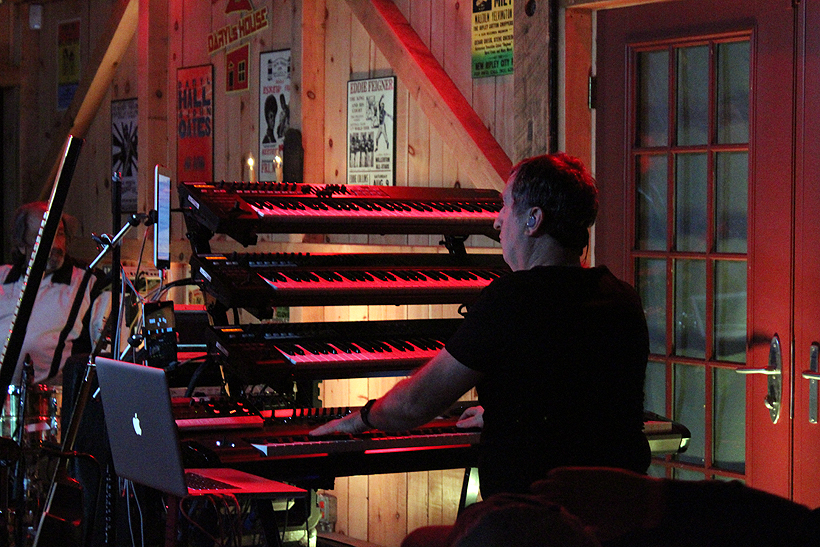 Opening the set was The Rhythm Of The Heat. It cast my mind back to the 1982 Peter Gabriel show I saw in NYC, as it was his opener on that tour. Rhodes was on point and there was lots of tribal percussion. The ever-caustic Intruder was next on the menu. Brilliant. Gunn was the hero of Family Snapshot, capturing the essence of the original bass lines yet making them his own. Up came another 3rd album fave - No Self Control. Rhodes and Marotta drove this one. They tore my heart out with the gorgeous Humdrum. Stellar set so far!




Into the meat of the evening now. The ritualistic The Family And The Fishing Net was a set highlight. Jameson and Cozzi bounced well off of Gunn's rubbery lines. Rhodes was marvelous on I Have The Touch - her voice deep and enthralling. Marotta's backing vocal on Wallflower added a sort of pleading feel. It was beautiful. The dark humor of Games Without Frontiers morphed into a long experimental improv full of color and emotion. Killer! My heart flipped with a Kate Bush cover. Rhodes owned Mother Stands For Comfort - a song I never thought I would hear live. Such a treasure!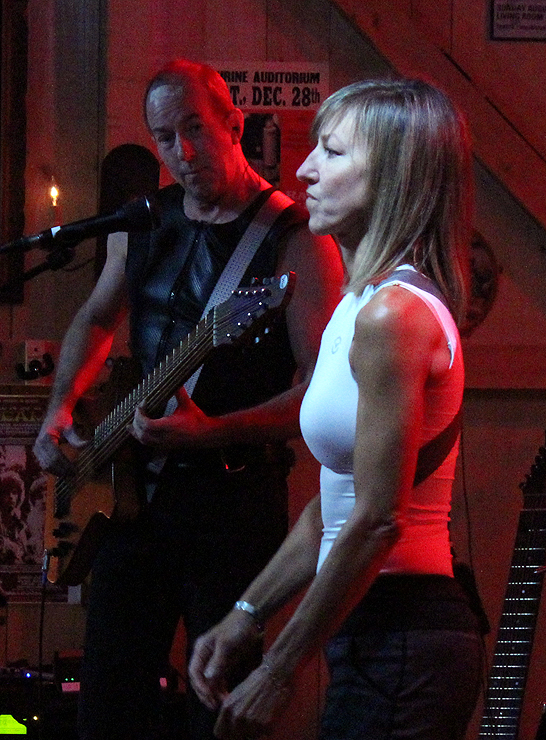 The ensemble then played a Happy Rhodes number - Collective Heart. The vocal was fragile yet buoyant, and the band really knocked me out! A propulsive I Don't Remember segued into the anthemic Red Rain. San Jacinto was positively huge! It was perfectly counterpointed by Lead A Normal Life God, I love that song!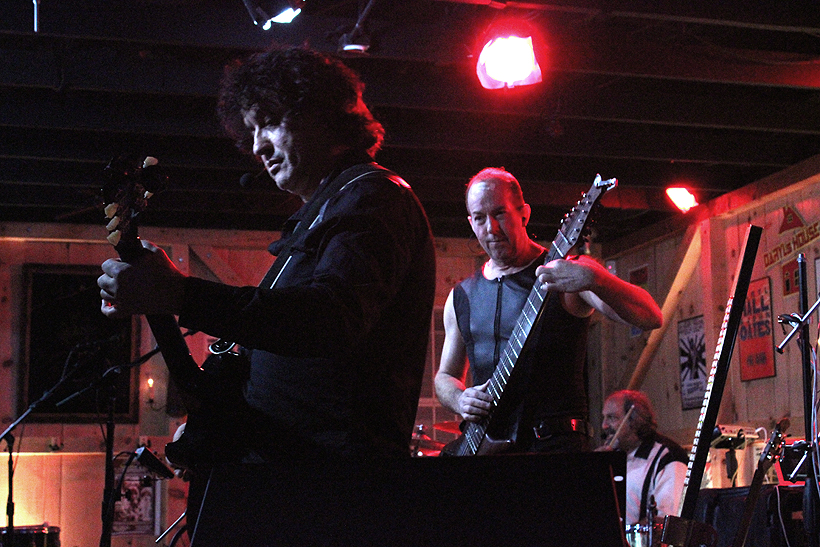 Back to the Genesis days for a clutch of songs. First up was Fly On A Windshield with acoustic guitar by Rhodes. It was followed, of course, by Broadway Melody Of 1974. The set closed with a crowd pleasing take of The Lamb Lies Down On Broadway. Rhodes was absent for the 1st encore as Marotta took the mic for Back In NYC. Room for 1 more! Rhodes intoned Lay Your Hands On Me with great backing vocals! The show was emotional and spiritual. The playing transcendent. Yes, no Groovy Kind Of Love for the woman at the bar. Thank God! A spectacular show at a venue I shall never return to!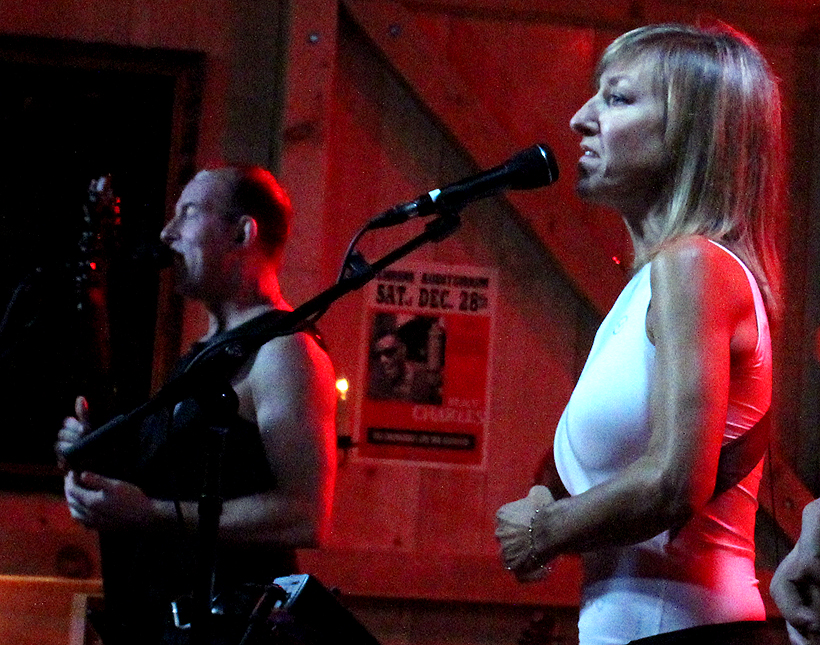 The Australian Bee Gees Show - Ridgefield Playhouse, Ridgefield, CT 10/23/16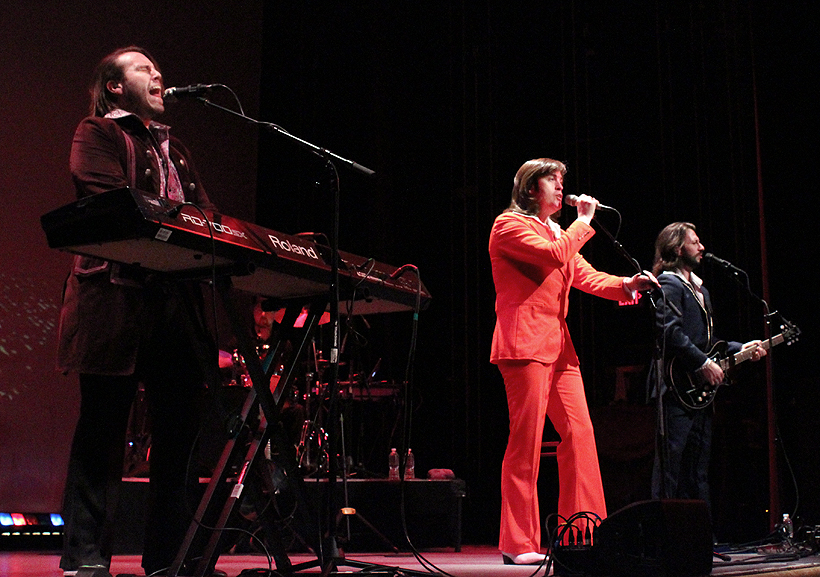 Whether one admits it or not, we all go into a concert with some sort of expectation. In the case of The Australian Bee Gees Show, I thought it'd be a nice night of light entertainment. Perhaps a song or 2 I would hum along with. I was so very wrong! This act blew me away with their stellar musicianship and unbelievably tight harmonies. The band were Matt Baldoni in the Barry Gibb slot; Paul Lines in the Robin Gibb slot; Jack Leftley in the Maurice Gibb slot; David Inamine on bass; Jeff Tetrault on drums. The show began with old commercials and TV show introductions before the group flew into Nights On Broadway. The funkatocious Jive Talkin' grooved up next. More Than A Woman featured butter soft harmonies, then it was back in time for a gorgeous I Can't See Nobody. They served me 2 faves in a row: I've Gotta Get A Message To You and I Started A Joke. Splendid!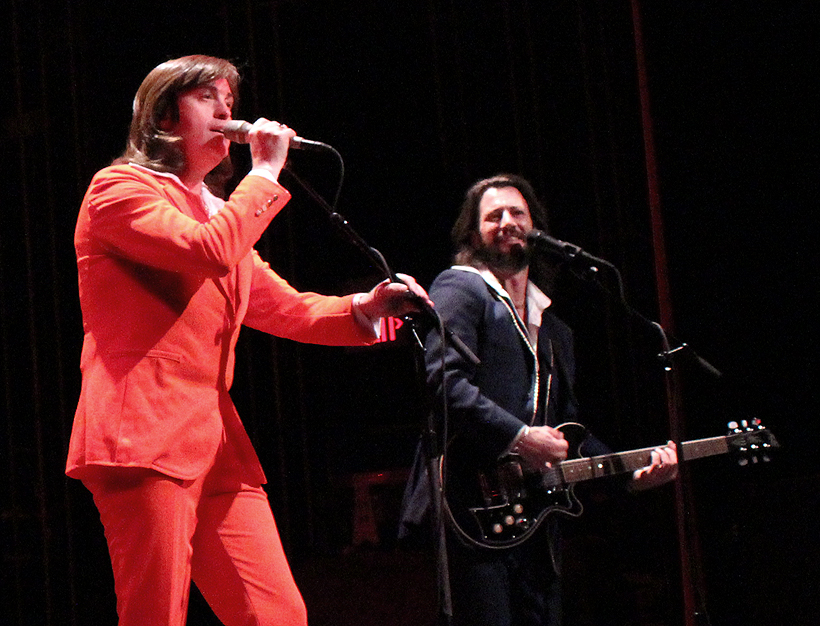 Baldoni, Lines, and Leftley gathered around a single mic for an acoustic medley. New York Mining Disaster 1941, Run To Me, and Morning Of My Life showed why this act is famous worldwide. Vocal magic. Perfect harmonies. The spirit of the Bee Gees was right there on stage. Tetrault and Inamine rejoined the trio on stage for an infectious Lonely Days that had me singing my lungs out! Another classic - Massachusetts - had everyone singing. Next, a sweet moment. Lines left the stage to slow dance with a young woman in the front row as the band performed a tender take of Words. Very emotional. The entire house clapped and sang and grooved to Tragedy. The 1st set concluded and I got to rest my hands & throat!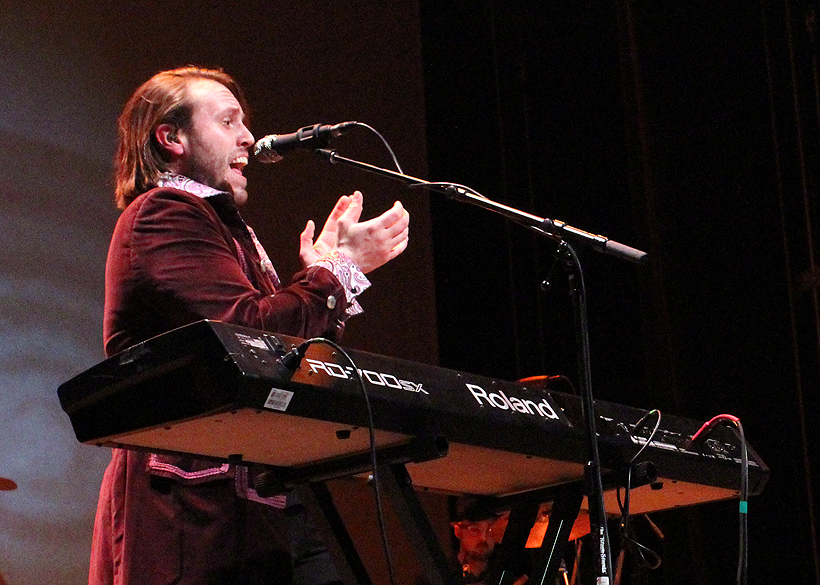 Set 2 began with the band teasing us with a bit of You Should Be Dancing before moving in to Alone. The clock ticked back again for the harmony-rich To Love Somebody. Another medley: this time songs written for other artists. It began with the Barbra Streisand hit Guilty. Next, the Kenny Rogers / Dolly Parton duet Islands In The Stream. A tribute to brother Andy Gibb via (Our Love) Don't Throw It All Away. The medley closed with the Diana Ross hit Chain Reaction. All sounding infinitely better with the Bee Gees vibe!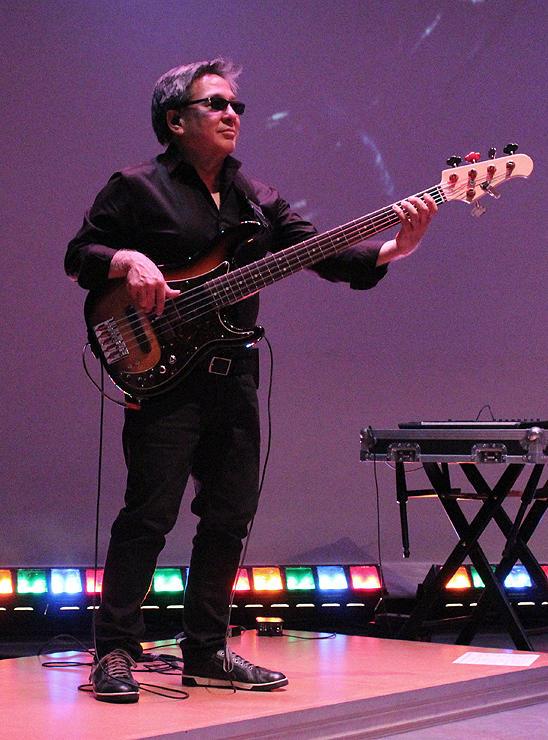 1987's upbeat You Win Again sounded bright and sunshiny. Everyone in the crowd went bonkers for Grease with a fun vocal from Leftley. The whipped cream harmonies on How Deep Is Your Love were smooth and oh-so-tight. Inamine and Tetrault were a refreshing burst of energy on the sly Night Fever. As one might expect, the 2nd set closed with Stayin' Alive. The crowd was insane. For the encore, the band asked security to let people dance in front of the stage and scores of folks rushed up front to dance and sing along with the rather apropos You Should Be Dancing. A pure celebration packed with party atmosphere. Don't miss these wonders from down under!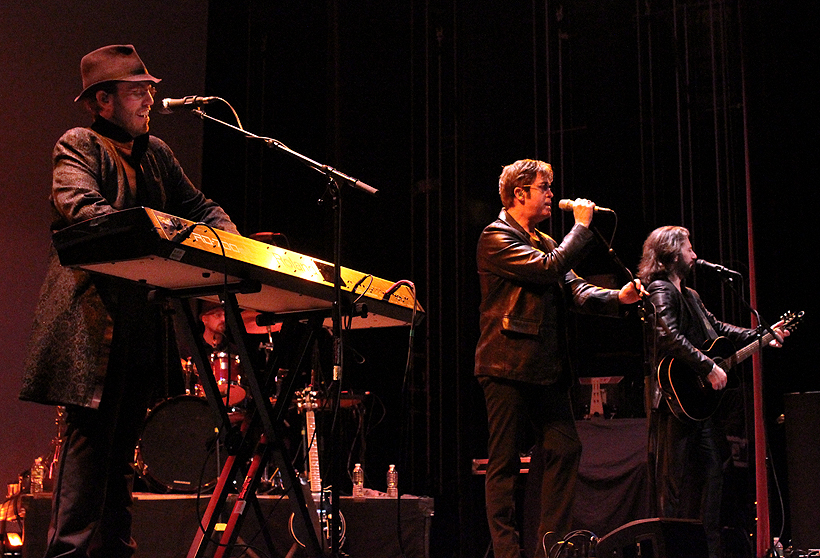 The Yardbirds - Ridgefield Playhouse, Ridgefield, CT 10/14/16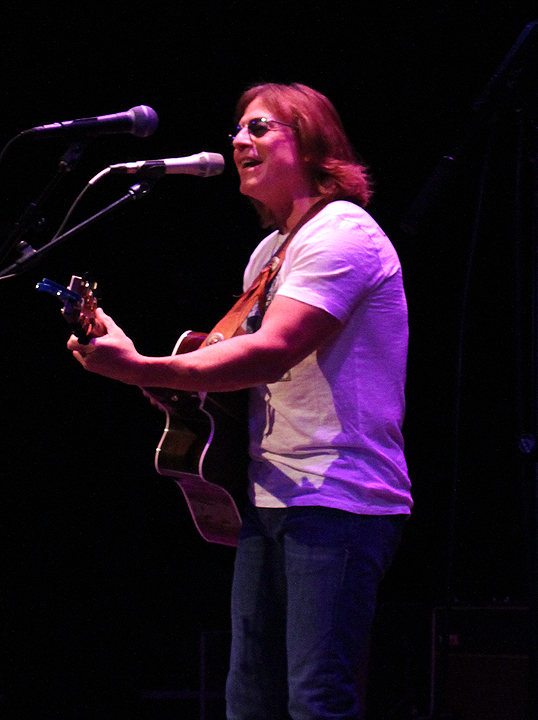 Back to Ridgefield! Had an early dinner in town, then off to the venue. Opening for the Yardbirds was a solo act: singer / songwriter Larry Stevens. Tunes like Ain't We There Yet and It Ain't Right For Wrong To Rule were smart, friendly pop. Stevens reminded me of a cross between John Sebastian and Jackson Browne. Deja Voo Doo Glow was the apex of the set for me. A cover of Wonderland led to Always You. Stevens' set closed with Love Just Happens To Be. This guy never wore out his welcome and I'd most definitely love to hear more!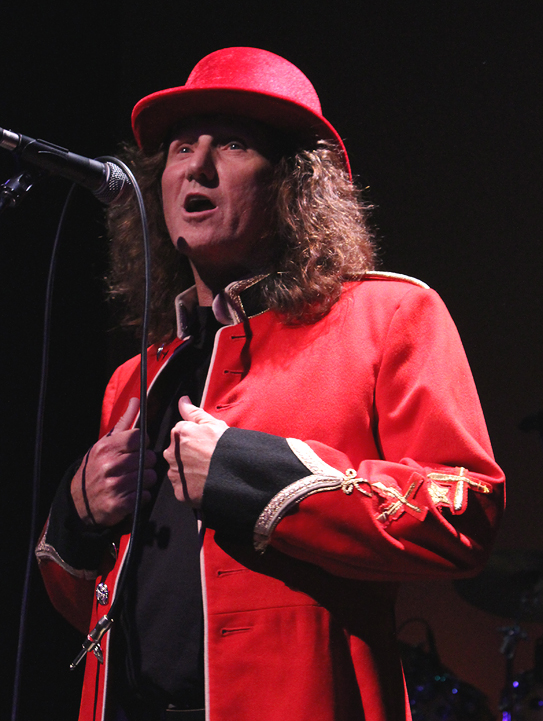 Just after 9, the Yardbirds' merch/crew guy introduced the band: drummer Jim McCarty; guitarist Johnny A; bassist Kenny Aaronson; vocalist / guitarist John Idan; percussion / harmonica / vocalist Myke Scavone - 5 live Yardbirds! Right out of the gate they tore up a hit - Heart Full Of Soul. I was floored by the power here. Drinking Muddy Water and I'm Not Talking were next on the menu. Idan's voice was rough and ready. Please Don't Tell Me 'Bout The News and The Nazz Are Blue showed how locked in Aaronson and McCarty were. This was hard-edged rock with a blues underpinning. You're A Better Man Than I and I Ain't Got You kept the voltage high.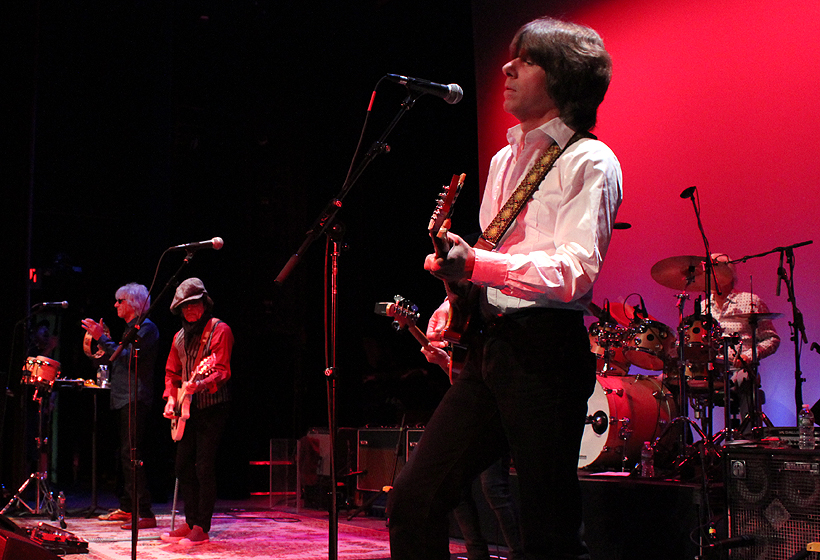 The 1-2 wallop of Little Games and Shapes Of Things was just 1 of many highlights. Johnny A was absolutely vicious. The momentum kept edging forward thanks to New York City Blues, Back Where I Started, and Evil Hearted You. Lost Woman led to a superlative version of Still I'm Sad with fine e-bow use by Johnny A.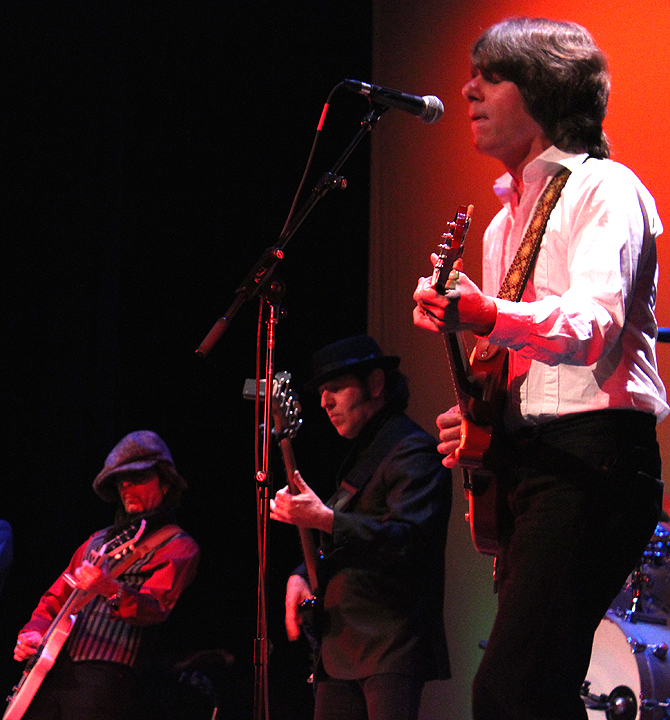 That unforgettable guitar riff meant that Over Under Sideways Down was here! Everyone rocked out on Smokestack Lightning. Scavone's percussion launched For Your Love. Happenings Ten Years Time Ago dunked us in the psychedelic well, and an explosive Dazed And Confused closed the set on a mind blower of a note! The encores were a freight train of sound courtesy of Train Kept A Rollin', and a blues rock closer via I'm A Man. A fist of sound pounding at the sky. Give me more!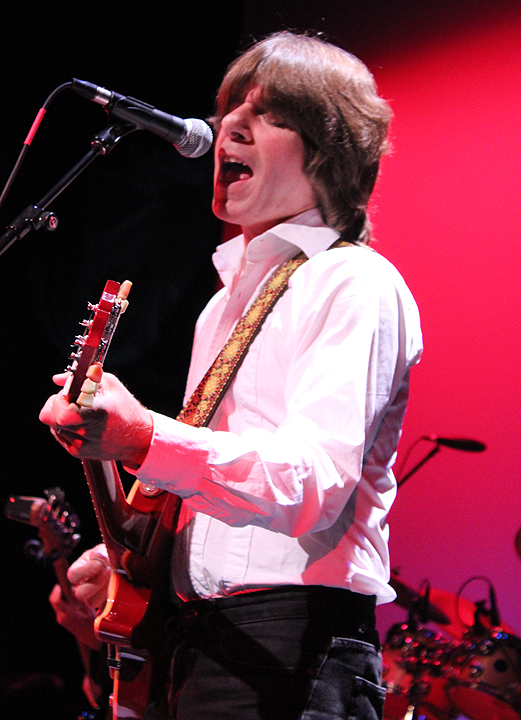 Fairfield School Of Rock - The Acoustic, Bridgeport, CT 9/23/16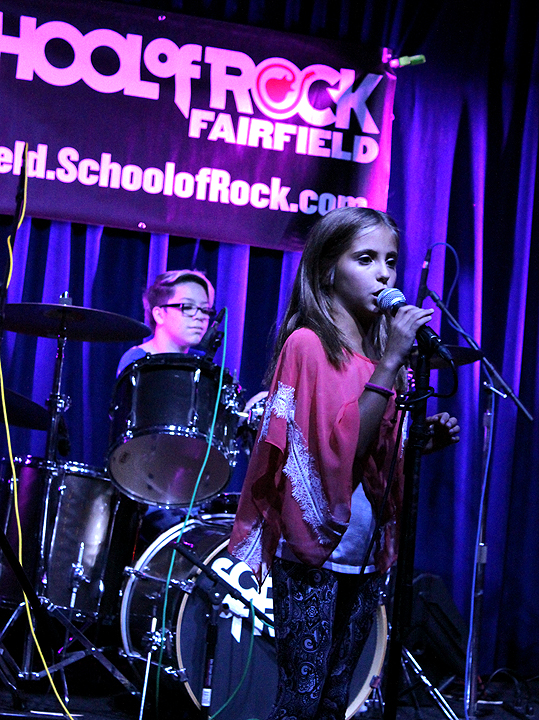 The last time I was in this building was 3 or 4 years ago when it was called the Acoustic Cafe. It was a coffee and cakes kind of place - very laid back. Gone if the cafe part - no coffee, no cakes that I could discern. Lots of booze & bring your own eats. The stage was now on the opposite end of the space. Hey, it worked! I was here to catch my great niece drum with the Fairfield School Of Rock. The theme was '60s Psychedelic Radio Hits. The soundtrack of my childhood! Cool! The kids jumped right into It's A Beautiful Morning and we were off to the races. Elenore and Incense And Peppermints followed. Everyone seemed to have fun up on the stage. Good Lovin' and Judy In Disguise kept the good vibrations going. I sang along with everything. How could I not?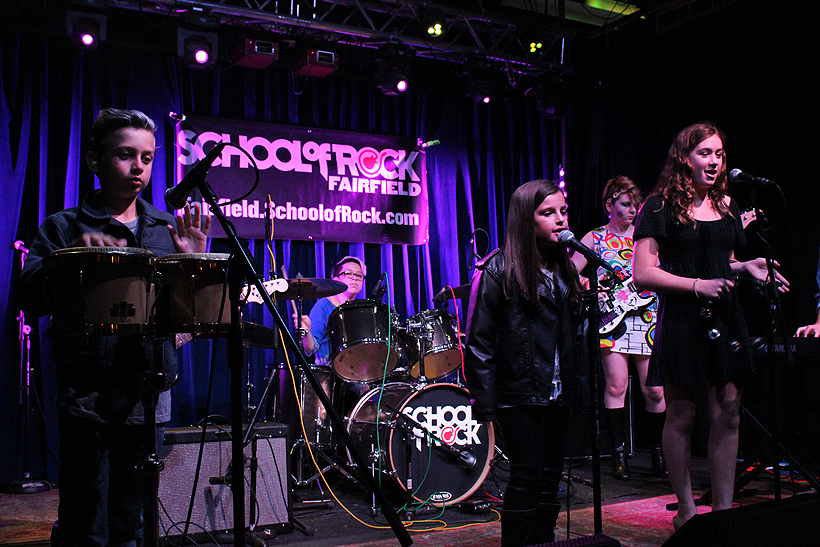 Hanky Panky took us to Sooner Or Later. The kids ranged in age from the single digits to about 15 years old. All united in music. For What It's Worth led to the celebratory Mony Mony, and the 1st set ended with Summer In The City.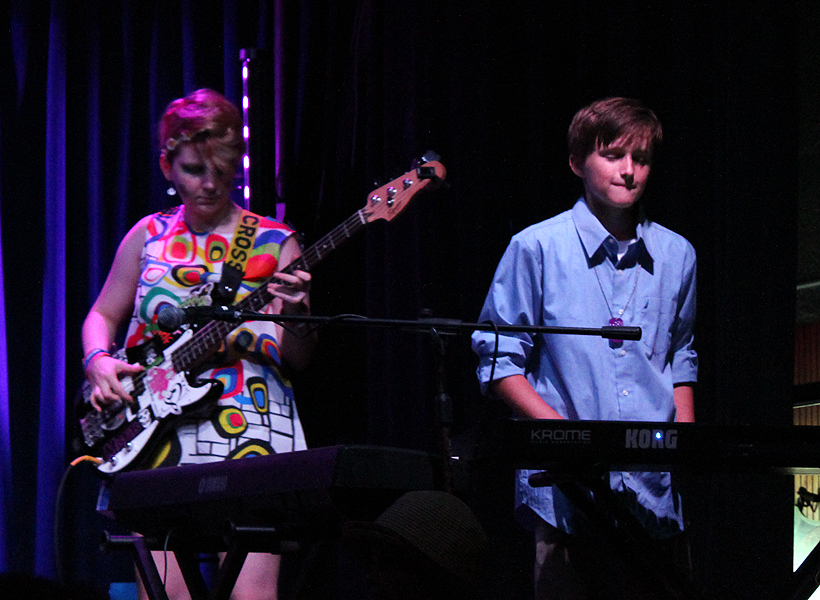 After a 15 minute break, the 2nd set began with Groovin' and Hang On Sloopy. There were 21 players in the ensemble and they changed from number to number so everyone had plenty of time to rock. Do You Believe In Magic and Get Together were positively groovy. Mr Tambourine Man represented both the Byrds and Bob Dylan for the show!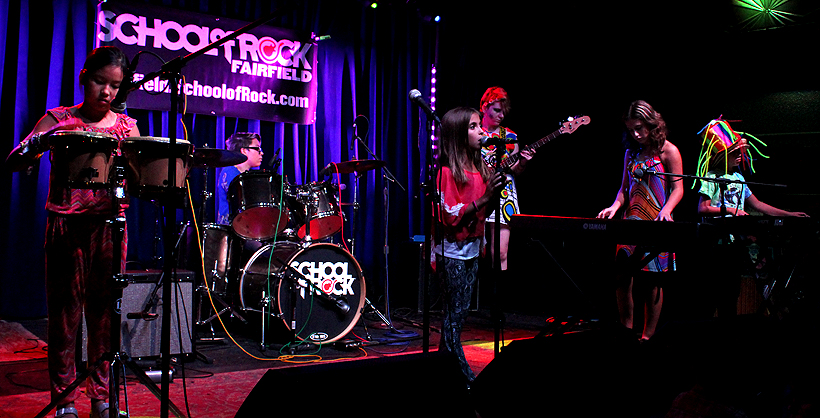 People Got To Be Free had the moms swinging and swaying and Along Comes Mary was a real clap-along! Next up were a pair of Monkees tunes: Last Train To Clarksville and I'm A Believer. The show closed with Happy Together. Everyone on stage had much to be proud of. A new generation of players rocking out. Truly hope for the future!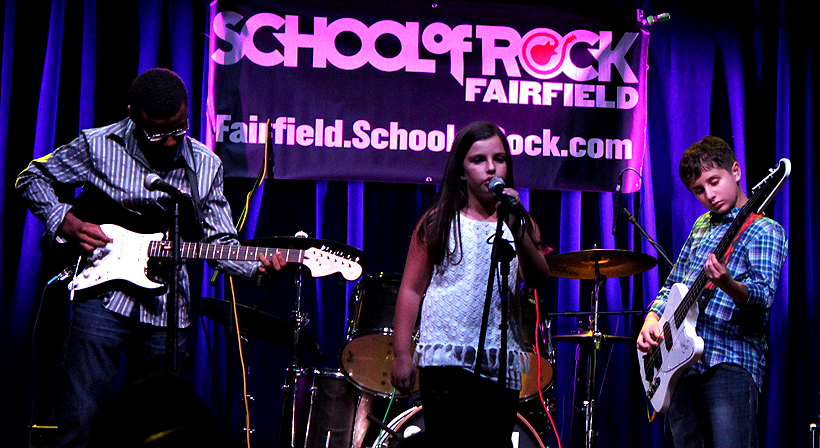 The Bangles - Ridgefield Playhouse, Ridgefield, CT 8/26/16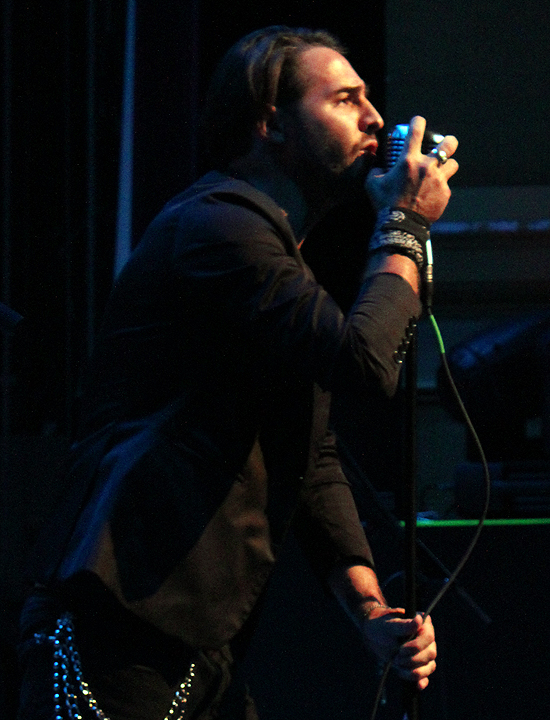 Warm, steamy afternoon in Ridgefield swiftly mellowed to a pleasant Summer evening. I was in a relaxed mood - ready to enjoy my time. Opening up the show were a band called Cardiac. A trio featuring David Jonathan DiSarro on vocals, Don Bish on drums, and Jarod Woznik on guitar. Their sound was straight up rock. Another Hero Dies started things off. In-your-face stuff! I was lovin' it. Rot In Rhode Island was next. Dark energy. Really enjoyed Woznik's guitar textures. The trio were joined by the Bangles' bassist Derrick Anderson for a shmokin' cover of Jumpin' Jack Flash. Lick The Blade was moody and powerful.




DiSarro introduced Breathe by talking about the video for it. Very strong song. I thought the vocal was great! Summer Saved Me reminded me that I need to mention Bish's drumming. A powder keg of percussion - this guy's fierce! A fine number called Silver Lining took us to the set ending I Feel Alive. For this one, DiSarro brought his parents up on stage to clap along. The last several pieces were from an upcoming rock opera the band is working on. Cardiac were much more than an opening act. They were a thunderstorm of sound and emotion. I fully expect to see them headlining across the world in the near future! Hot!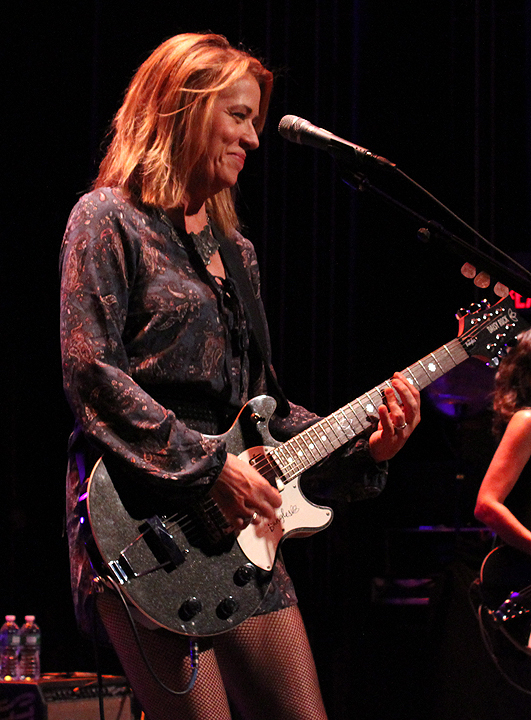 The last time I saw the Bangles was 29 years ago at the University of Bridgeport with the Hoodoo Gurus opening up for them! Far too long! For this go around, Vicki & Debbi Peterson and Susanna Hoffs were joined by the aforementioned Derrick Anderson on bass. A perfect fit, in case you were wondering! The set began with a tune off the very first Bangles EP - Mary Street. Over the evening, they played all 5 songs from it! Definitely a good omen! Strong vocal by Vicki on it. Some Dreams Come True from the Everything album saw Debbi take lead. Great groove on this. Susanna was next with Manic Monday. Not everyone is aware that this band has 3 rock solid lead vocalists who rotate throughout the evening. The Petersons also bring that family thing to their vocals. Think Ann & Nancy Willson, the Cowsills, or Brian, Dennis & Carl Wilson. Next up were 4 songs from All Over The Place starting with Restless. Next was 1 of my highlights of the evening: James. I've had a spot for this number since I first heard it in '84 & it sounded just as vibrant in 2016!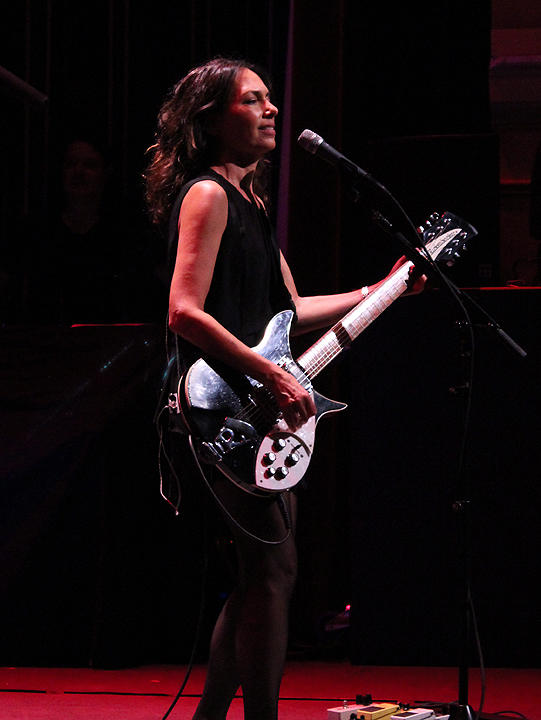 A hot take of He's Got A Secret led to the first Bangles song I ever heard: Going Down To Liverpool. A beefy, crunchy performance of it that hit me like a zap from a generator! Off to the Different Light album and their cover of September Gurls. The night just kept building energy as it progressed. Back to the EP for I'm In Love and The Real World. Garage rock in the best possible sense. Raw and honest. Debbi delivered a super vocal & rocked her kit on Live!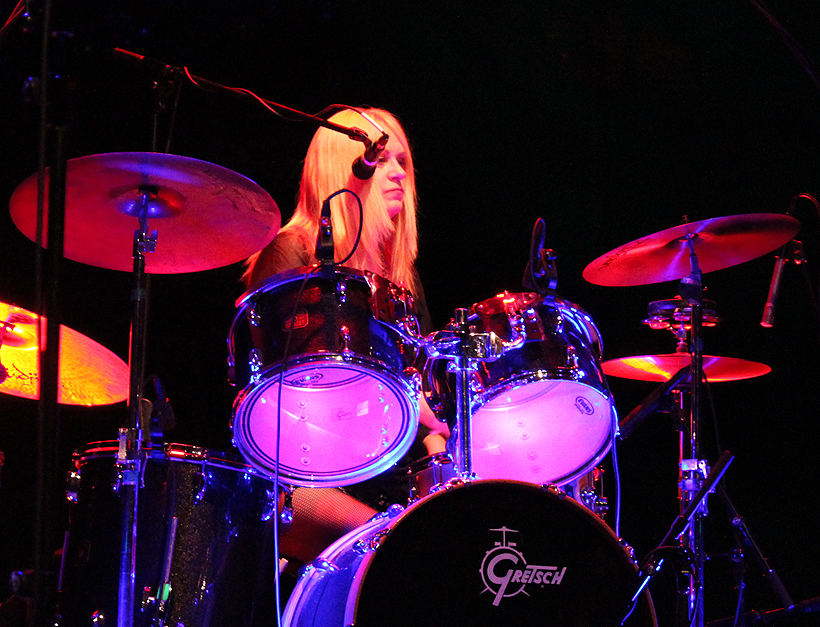 The crowd went crazy for A Hazy Shade Of Winter. The ladies' harmonies were nothing short of dazzling. It was followed by the sweet If She Knew What She Wants that had the girls in the row in front of me dancing and swaying. Vicki's Want You and Dover Beach were my 2nd show highlight as I'm crazy for both songs! Todd Rundgren would've given a massive thumbs up to their cover of Open My Eyes from his days in the Nazz. Pure fun, no filler!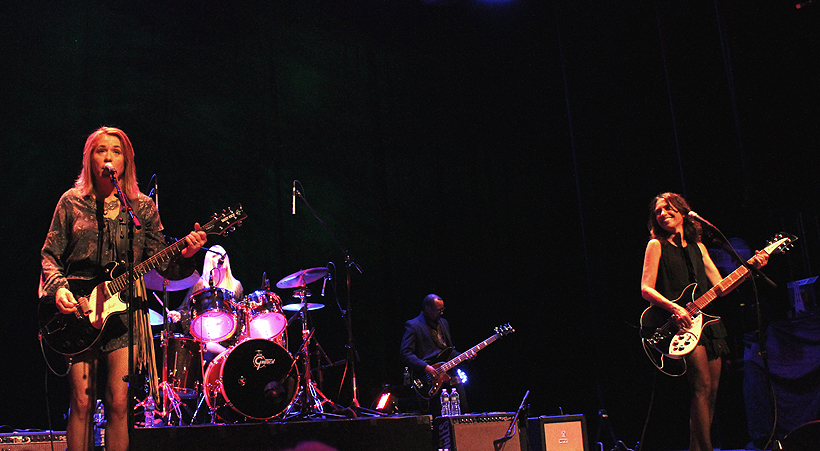 The set ended with a 3 song non-stop burst of Silent Treatment, In Your Room, and Hero Takes A Fall. It was brilliant pop rock that showed how much ass this band continues to kick! 1st encore was How Is The Air Up There - awesome choice. Debbi Peterson joined the others at the front of the stage for a super fun Walk Like An Egyptian. Last but far from least was a fragile acoustic version of Eternal Flame with no microphones. The crowd sang along with every syllable. A beautiful coda to a dynamite evening!!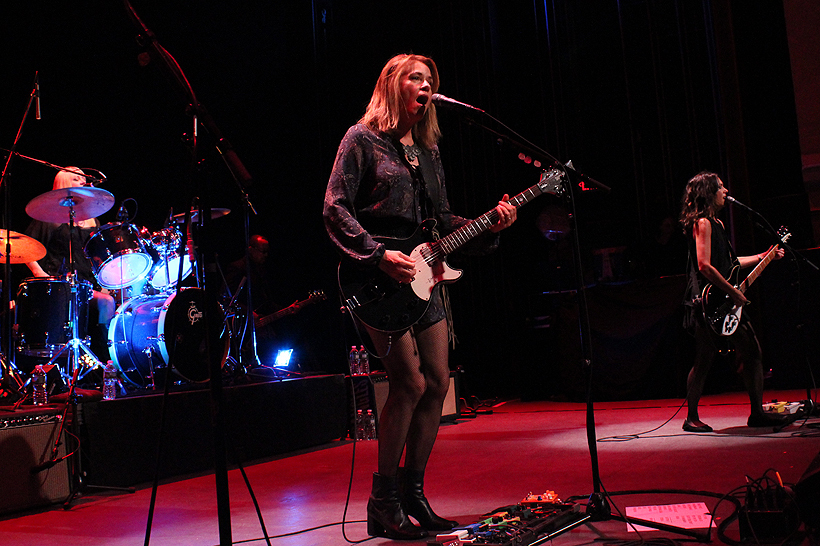 Blackmore's Night - Ridgefield Playhouse, Ridgefield, CT 8/12/16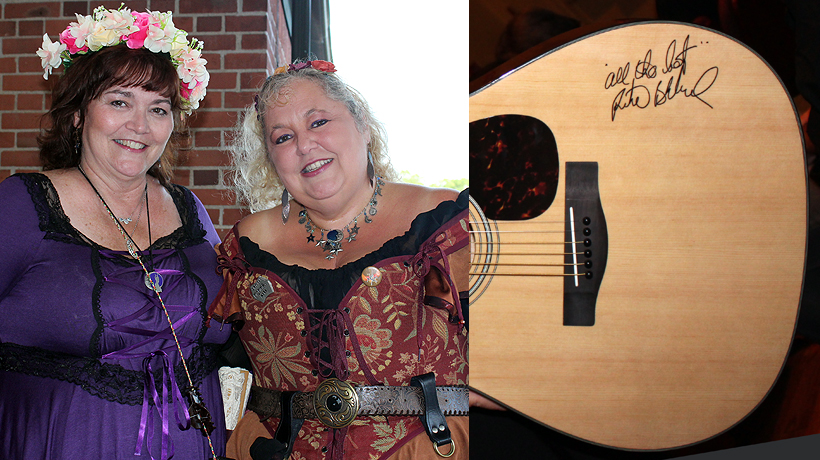 It was an oppressively humid day. Quite hot as well. My friend Marcie picked me up in full garb and was clearly feeling the heat with all those layers. I was semi-garbed as well - wearing my white cotton nautical looking shirt and my "Mr Smee" striped cap. No A/C in the car, so open windows would have to do! Wending our way from Westport to Ridgefield, we had a nice Italian meal at a place called Venice. I had some very fine fettuccine Alfredo & an iced tea. Excellent food & service; well priced. I highly recommend it if you're in the area. Off to the Ridgefield Playhouse to grab our tickets and wait for doors to open. We ran into our mutual friend Dot Sweet and several other friends.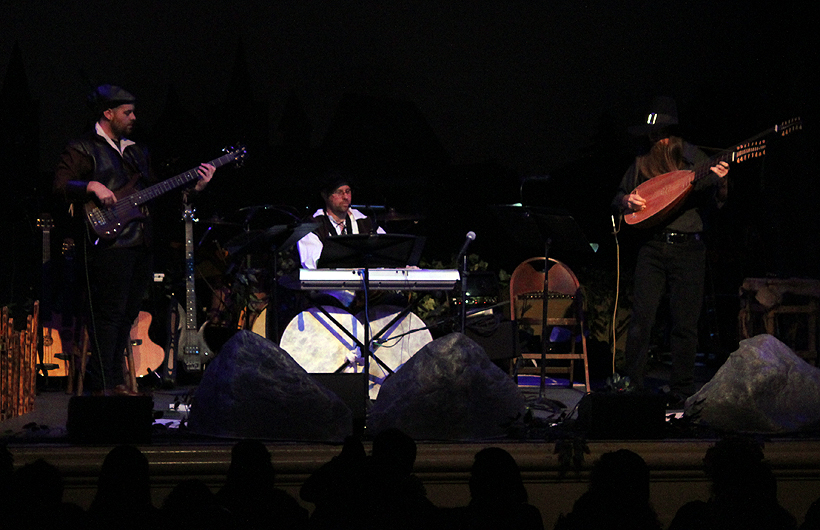 The venue was pretty much sold out and they were also having a silent auction for an acoustic guitar freshly signed by our very own Ritchie Blackmore. I had several conversations with friends new and old and then the lights came down. As with Blackmore's Night's 2014 tour, Wizard's Consort opened the show. This trio weave medieval magic as they give new life to very old music. Bouree was a highlight of the set with that bassist throwing in the Jethro Tull version's bass solo. Their musicality was just off the charts. I was riveted to their 45 minute set.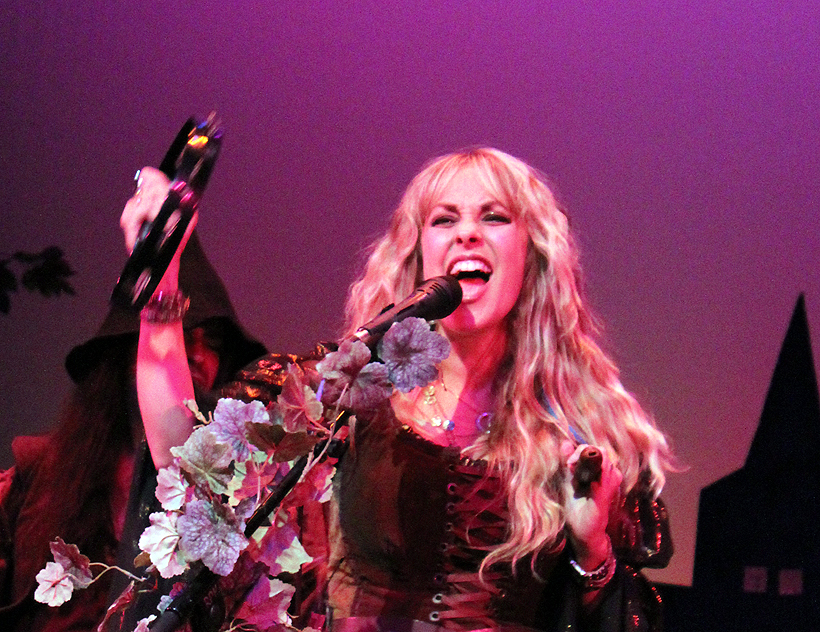 Blackmore's Night hit the stage a bit after 9 PM with Ritchie Blackmore flying on hurdy gurdy to lead us all into Dancer And The Moon. Candice Night was in fine voice and the band were flawless. The joyous opener was followed by the moody Darkness. It transitioned into Dance Of The Darkness and I believe a bit of Queen For A Day Pt II if I am not mistaken. Shawmtastic! Time for us all to sing the colorful Under A Violet Moon. The crowd seemed to be in good voice! Night added some effective dramatic staging to Soldier Of Fortune - sitting on the floor on house left for the final verse. Wonderful.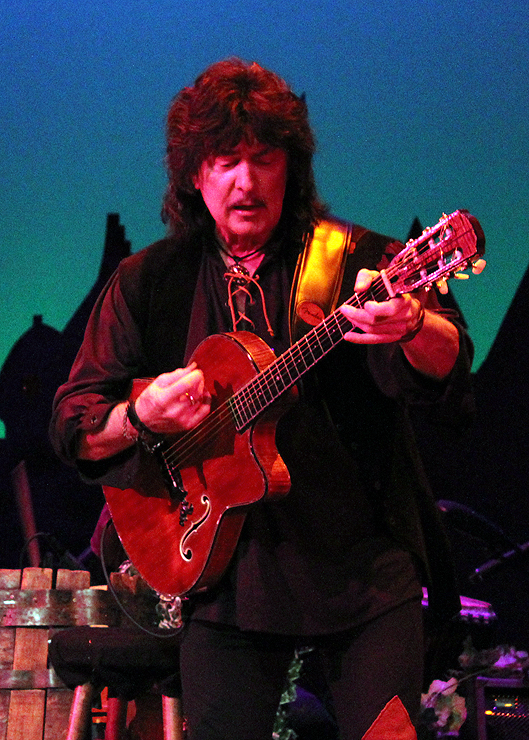 The band had a chance to flex their muscles a bit on the instrumental Durch Den Wald Zum Bach Haus. In the course of the number the Scarlet Fiddler played a familiar Hungarian number, and I swear that Bard David of Larchmont threw in some Mozart! Speaking of Bard David, next we got a breathtaking keyboard solo that had hearts racing and jaws dropping. Everyone was back onstage for the ominous World Of Stone. It was well contrasted by the joyfully anthemic Renaissance Faire. It had everyone in the house singing and dancing in the aisles due in no small part to Troubadour of Aberdeen's hypnotic drumming.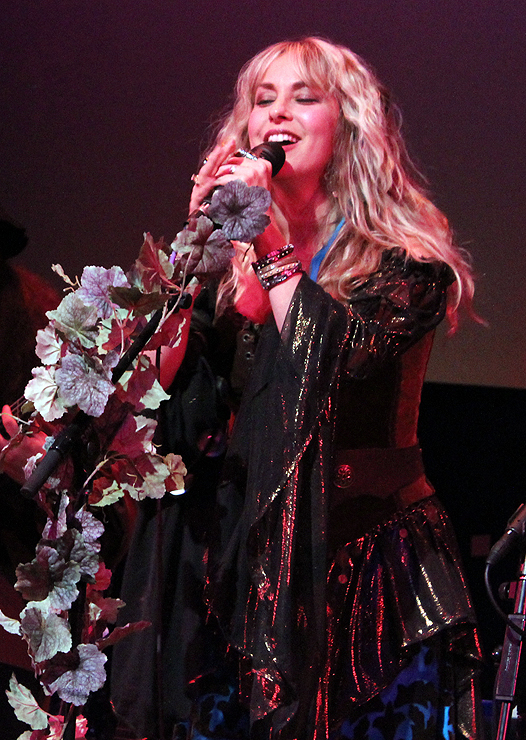 The instrumental Allan Yn N Fan was the first of 3 numbers played this evening from the band's latest release All Our Yesterdays. The gorgeous number The Peasant's Promise followed with Blackmore and Night front and center as the band surrounded them with a majestic backing. Singalong time again courtesy of Toast To Tomorrow. I never tire of this fun piece! A very dramatic Ghost Of A Rose came next. Moody, darkly beautiful. Goosebumps during this one.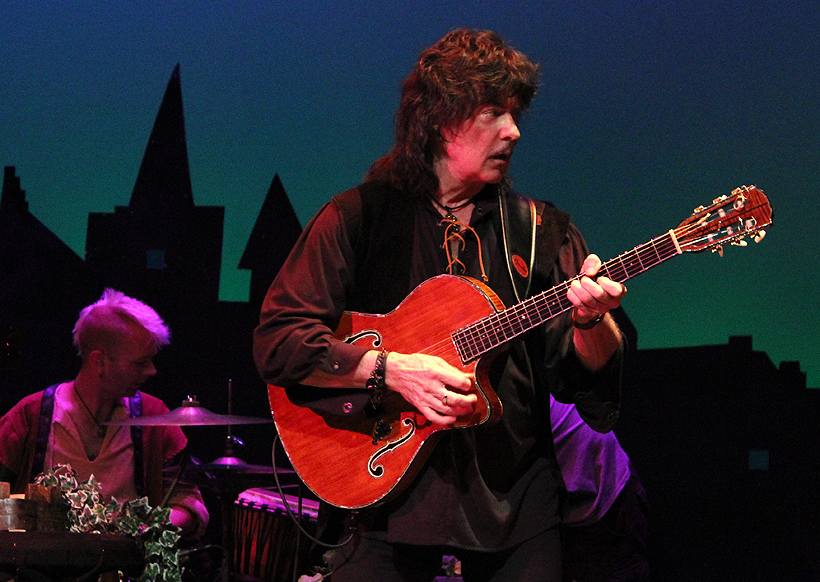 Let's talk about a beautiful song. Wind In The Willows. Such a subtle vocal. Not an instrumental note wasted. Gorgeous. Being a fat mouthed boy on occasion, I shouted out a request to hear Moonlight Shadow. This seemed to please Blackmore who motioned the band to take a break. "This is how Candice and I play it at home." I never want to hear it any other way again! Such simple elegance. Blackmore said he'd like to play another English tune so we got the timeless Barbara Allen with the band returning to the stage as the piece progressed. Singing and dancing were the order of the day for Home Again with its bits of Hall Of The Mountain King, Hava Nagila, Drink! Drink! Drink!, and The Happy Wanderer. Earl Grey of Chimay, Lady Lynn, and everyone on and off stage had their opportunities to get festive!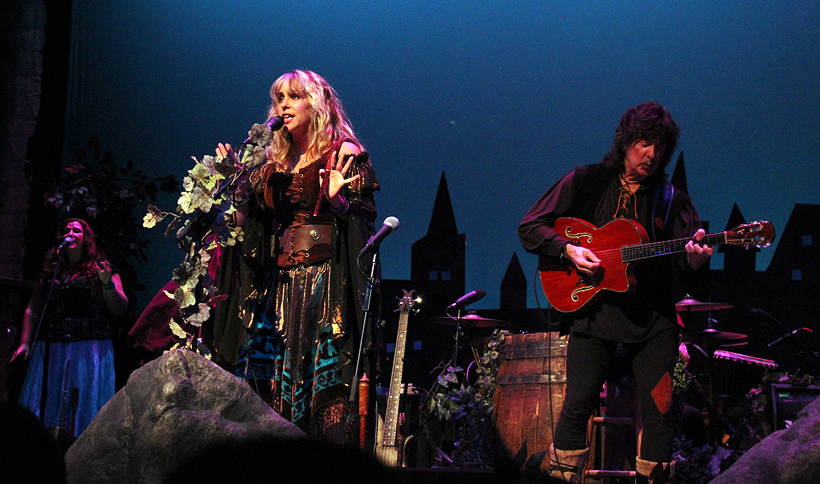 The mood settled back down again for lovely readings of Diamonds & Rust and Long Long Time. The simple honesty of Night's voice and Blackmore's guitar manage to fill the venue while remaining blessedly intimate. Next up were 2 requested numbers: the powerful Loreley that included a dizzying violin solo, and a cover of Whiter Shade Of Pale that was bursting with electricity. The evening concluded with Fires At Midnight. Blackmore threw in a solo that brought me to tears with its melodic invention and quiet power. A night to remember, Lords and Ladies! Simply fantastic!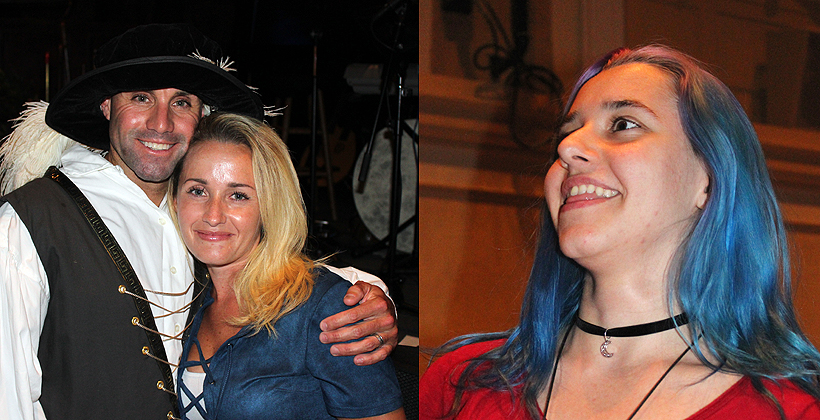 Midsummer Fantasy Renaissance Faire - Warsaw Park, Ansonia, CT 6/26/16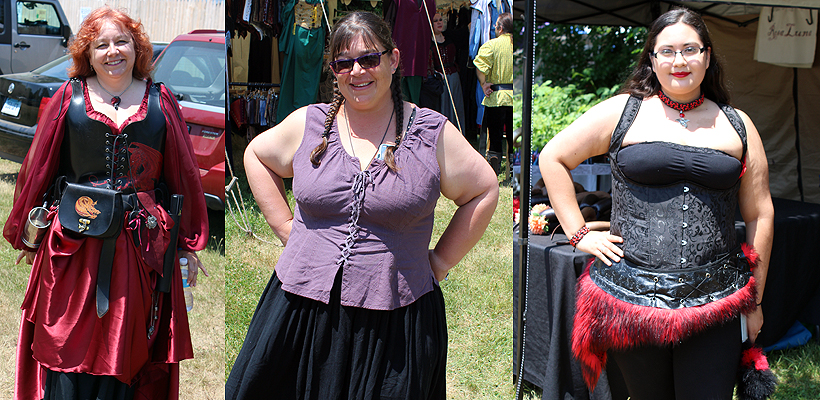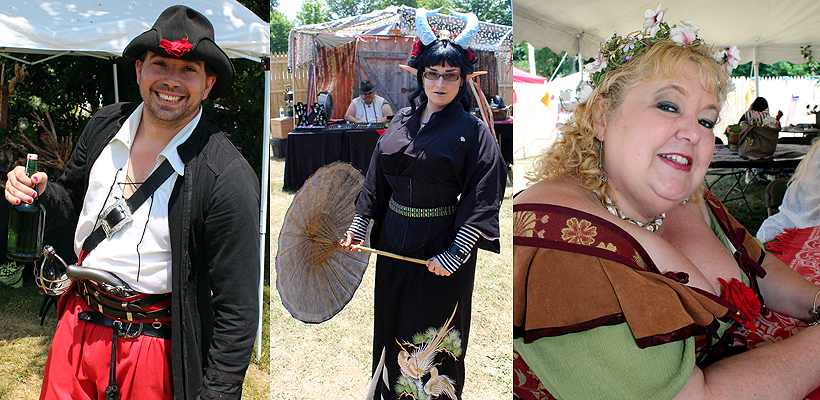 It was a lovely afternoon in Ansonia. Warm but not hot. Not very humid and the occasional breeze. A perfect day for a Ren Faire.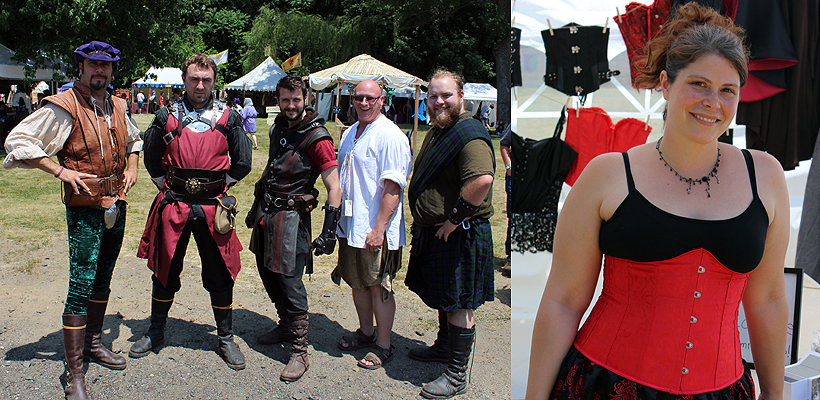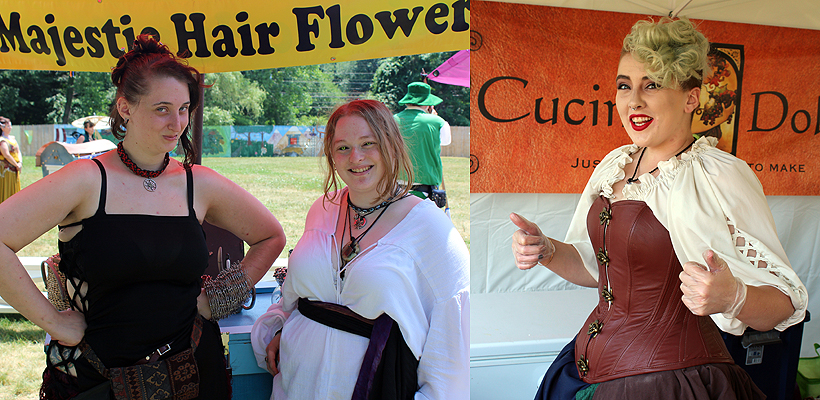 This has become my essential Faire. A very positive feeling. A family vibe in 2 ways: it's a great afternoon event for family fun. It's also a place where I've come to feel like part of the family. Wonderful!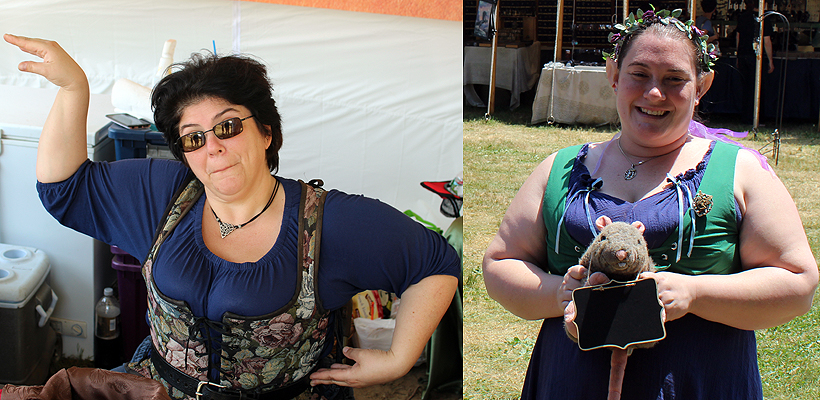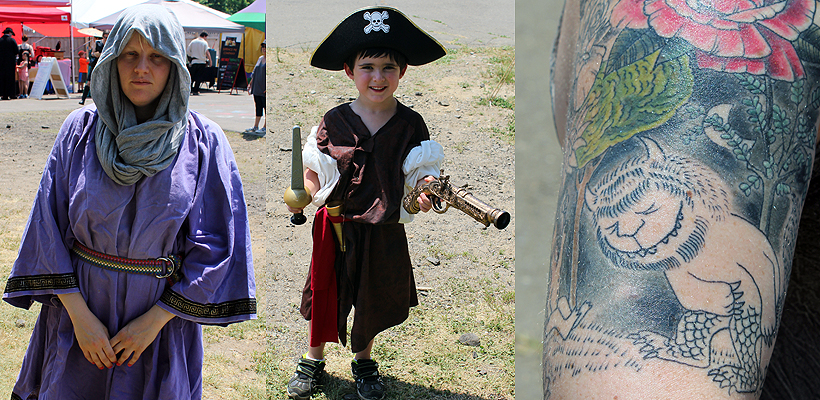 I saw Granny Gruesome once more as well as Momma. I heard some inspiring violin playing, caught some whip work and a bit of juggling. Also watched a bit of a fire act.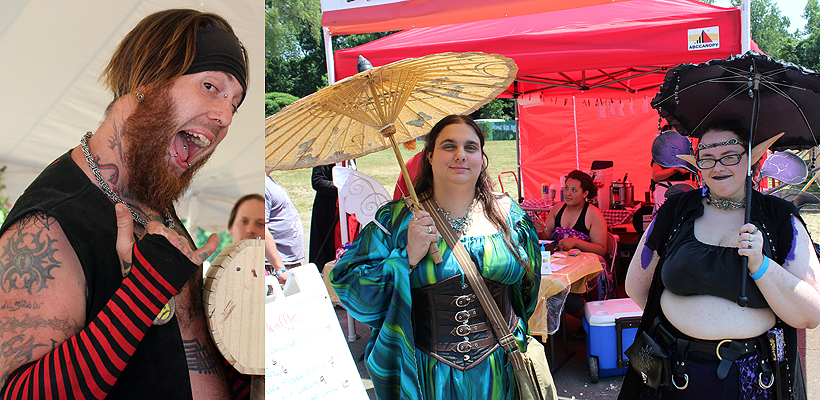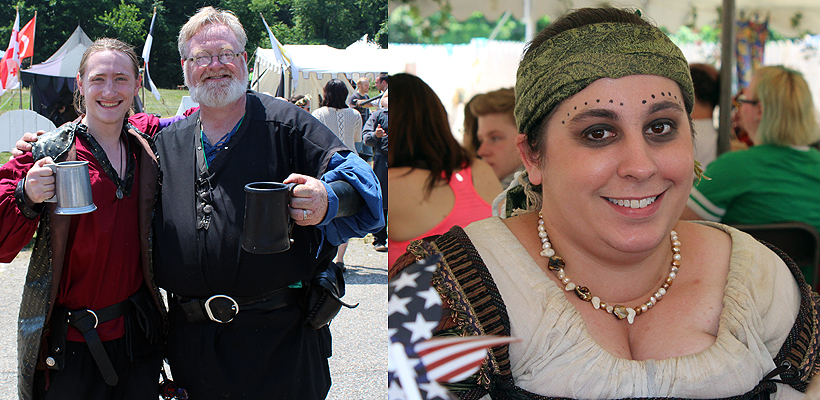 At the many booths, I plunked down cash for a cool figurine, amber oil, and a fabulous Indian spice blend. So many great items & vendors. Midsummer Fantasy Renaissance Faire continues to warm my heart and tickle my brain. Have thee a great time, ladies and gentlemen. Adventures await you and yours! Huzzah!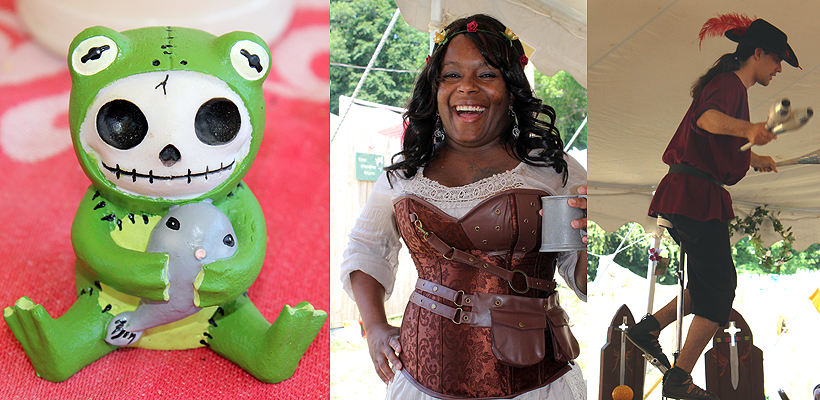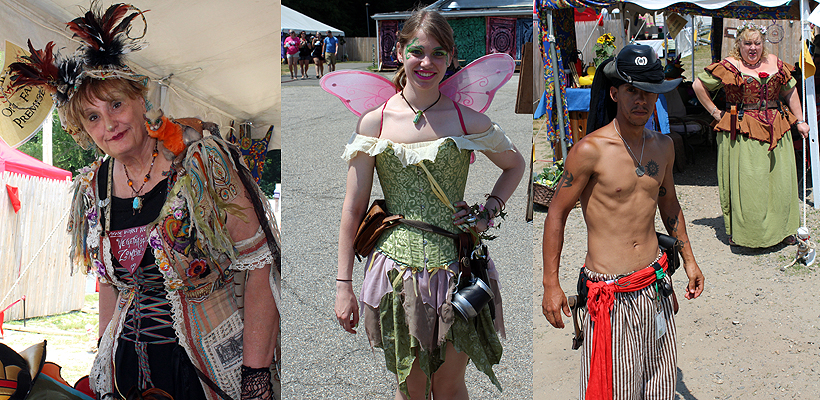 Lacuna Coil - The Wolf Den At Mohegan Sun, Uncasville, CT 5/26/16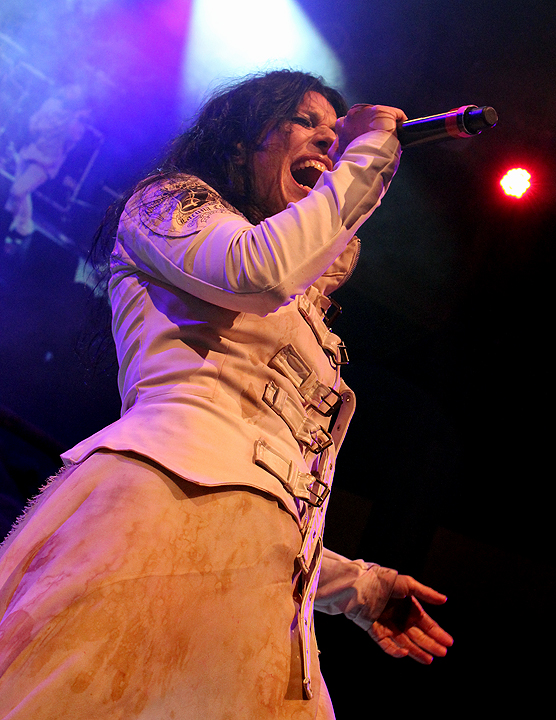 I haven't taken the trip up to Mohegan Sun casino in several years. The opportunity to see Italy's Lacuna Coil demanded I take the voyage. On the way, I hit the Parthenon diner for some chow then it was back on the road to Uncasville. Lacuna Coil have hit the road to support their new album Delirium. A new guitarist - Diego Cavallotti - has joined the band for this tour. He joined vocalists Andrea Ferro and Cristina Scabbia; bassist Marco Coti Zelati; and drummer Ryan Blake Folden. The crowd was eager and impressively tattooed. Showtime!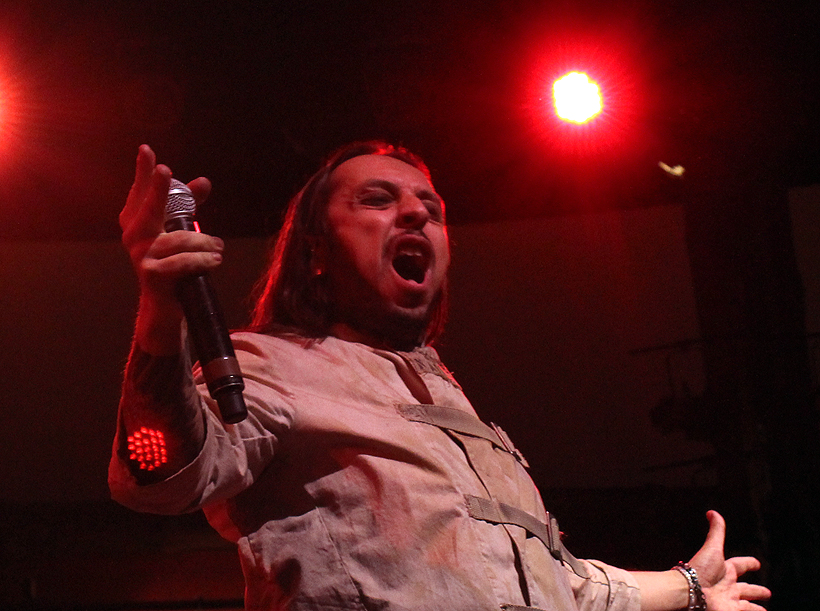 Broken Crown Halo opener Nothing Stands In Our Way got things off to an energetic start. I was immediately impressed by the musicality of the players and how well the vocals fit within the music and within the lyric. Die & Rise was a sonic blast. Ferro and Scabbia pushed this one into the stratosphere. Scabbia grabbed the hungry crowd with Kill The Light from Dark Adrenaline and Ferro was a dervish of kinetic energy.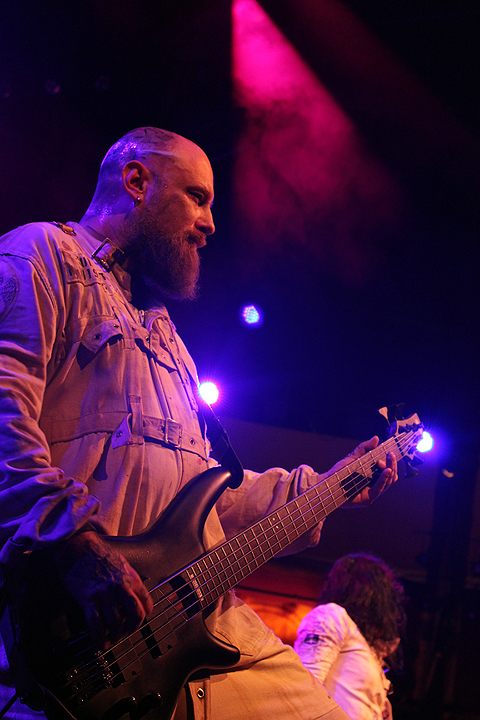 I loved the bass and drum assault of Victims - Zelati and Folden were crushing it as a rhythm section. The crowd went crazy for Spellbound off of Shallow Life. Scabbla introduced the band's new single The House Of Shame. Very heavy, full of a fresh sort of power. Everyone ate it up!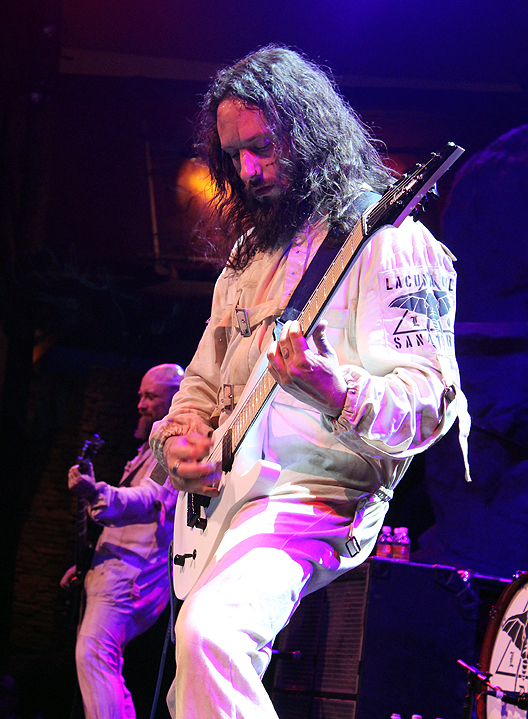 Back to the Comalies album for Heaven's A Lie. Cavallotti's guitar work meshed perfectly with the older pieces. A most excellent fit. Upsidedown was next leading into Swamped. The band was cooking and the crowd was amped up. The vibe was electric!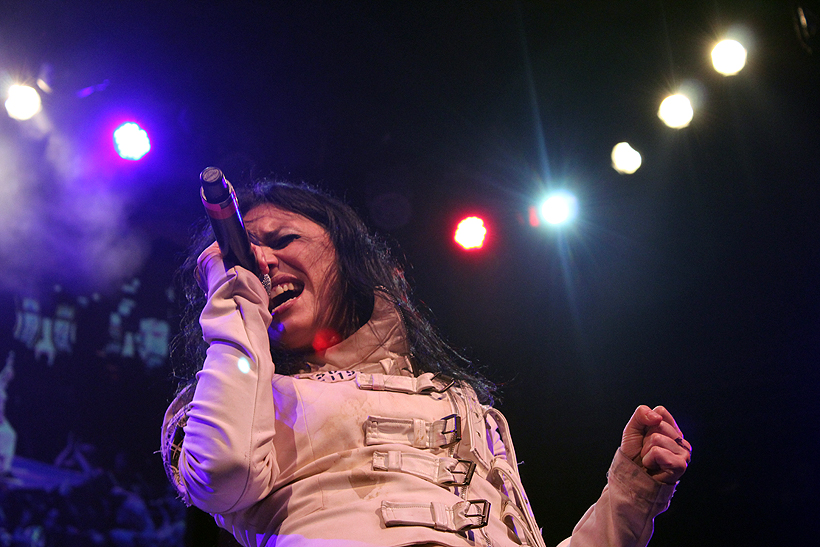 I smiled at the force Zelati and Cavallotti brought to To The Edge. Fire and Cybersleep were like gigantic pistons of sound. I felt myself flowing with the rhythms of each number. Very much in tune with the band. A glorious feeling.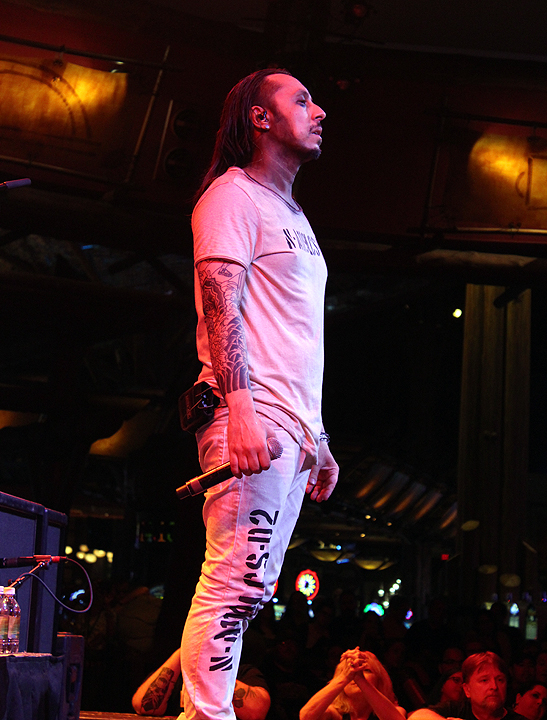 The title song from Delirium dovetailed nicely in the set. New but still most definitely Lacuna Coil. Cristina Scabbia had the crowd in the palm of her hand as she urged them to sing the choruses of Depeche Mode's Enjoy The Silence, Everyone was more than happy to oblige! The set was winding down as we headed into Trip The Darkness. No shortage of energy, thankfully.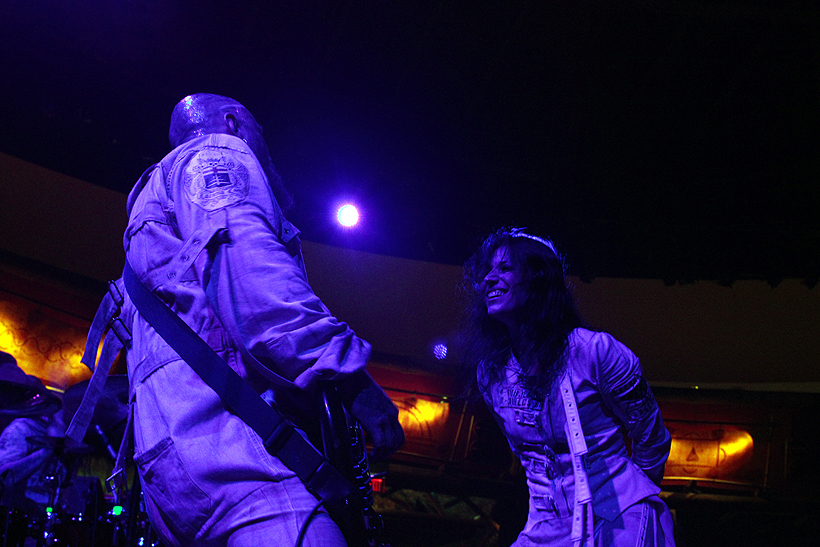 Zombies and Karmacode's Our Truth brought the evening to a close. Astounding set. Crazy, crazy performances by everyone. I cannot overemphasize the quality of Ferro and Scabbia's vocals. They totally compliment each other and merge into this imposing aural beast. Once heard, never forgotten! Killer good crowd. As icing on the cake, the band sat at a table a few hundred feet away and signed CDs for the fans. Fantastic evening!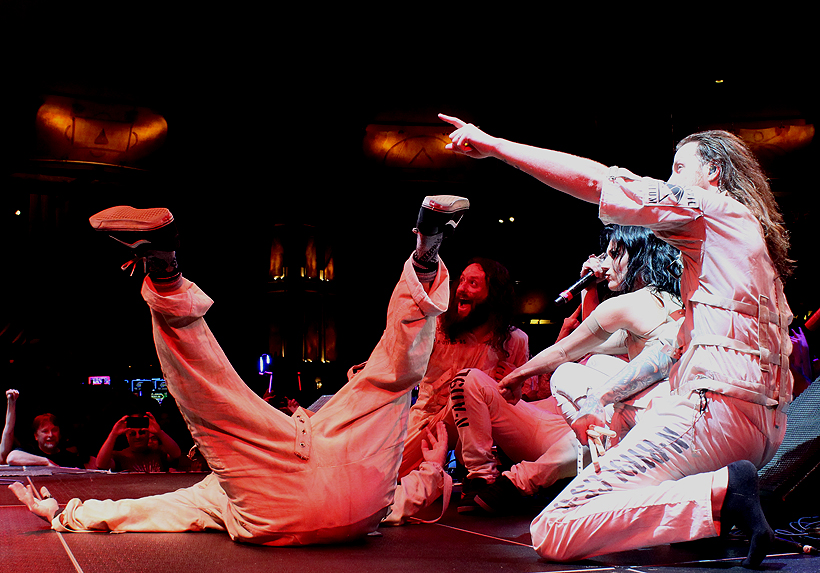 Anderson Ponty Band - Ridgefield Playhouse, Ridgefield, CT 5/23/16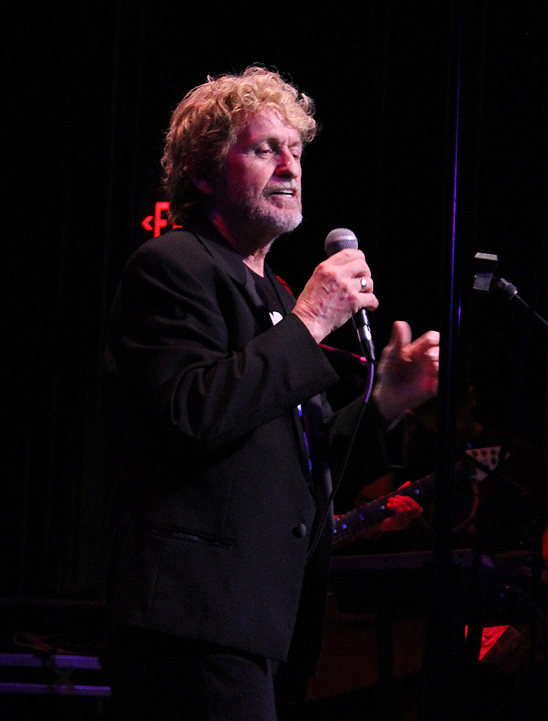 I really enjoy the concept of this band. Jon Anderson and Jean-Luc Ponty are each headliners in their own right. Put them together and you get progressive rock jazz fusion with classical and reggae elements as well. Take a look at the players joining them! Jamie Glaser on guitars, keys, and backing vocals. Wally Minko on keys. Baron Browne on bass. Rayford Griffin on drums and percussion. The list of credits between them is just ridiculous. Needless to say - my ears were in good hands!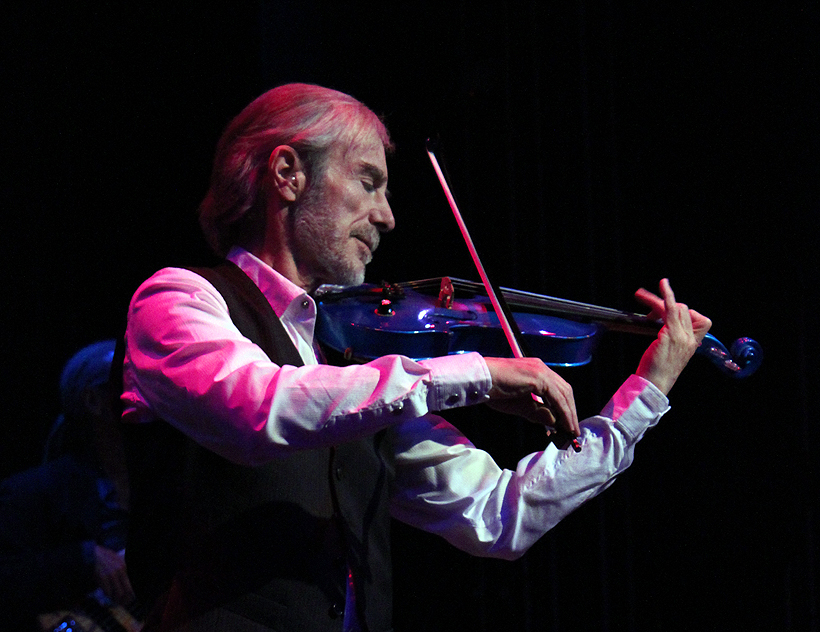 The first of 2 sets started with One In The Rhythm Of Hope. A For Aria came next and the show was off and running - quickly finding its feet. A peppy Owner Of A Lonely Heart featured some off-the-hook violin from Ponty. A successful reinvention with Anderson in fine voice! The world/planet/universe vibe kept building with Listening With Me. The combination of musicians made more and more sense with each song. A reggaefied Time And A Word incorporated bits of She Loves You and What The World Needs Now Is Love followed by a fun chunk of One Love. Lighthearted and breezy. Infinite Mirage and Soul Eternal surged and melded together into what felt like 1 massive number. Ponty and the band roared through Ponty's Jig and set 1 finished on an up note courtesy of New New World.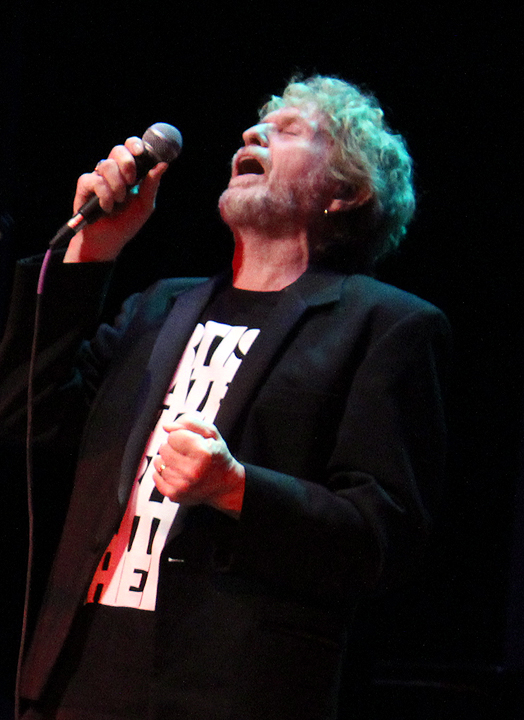 This is a great time to discuss drugs and alcohol. Anderson began set 2 with a wonderfully spiritual reading of the first few verses of The Revealing Science Of God totally marred by several altered women in the crowd yelling to Anderson and eventually taking him and us out of the moment. As if to punctuate, an altered lout was loudly shouting "haha! Charade you are!" over and over at random intervals. He even said "Sorry. I know I'm being an asshole!" before continuing to prove himself correct for the rest of the evening. This type of obnoxious juvenile behavior is even more pathetic when the folks in question are in their 40s/50s/60s. Pathetic. Back to the set! Ponty's violin and Glaser's guitar were the heroes of the Texas tinged New Country. I loved the fun and lilting Never Ever. Back to the Yes catalogue for Wonderous Stories and Long Distance Runaround.Both were turned inside out and Griffin rocked the cajon!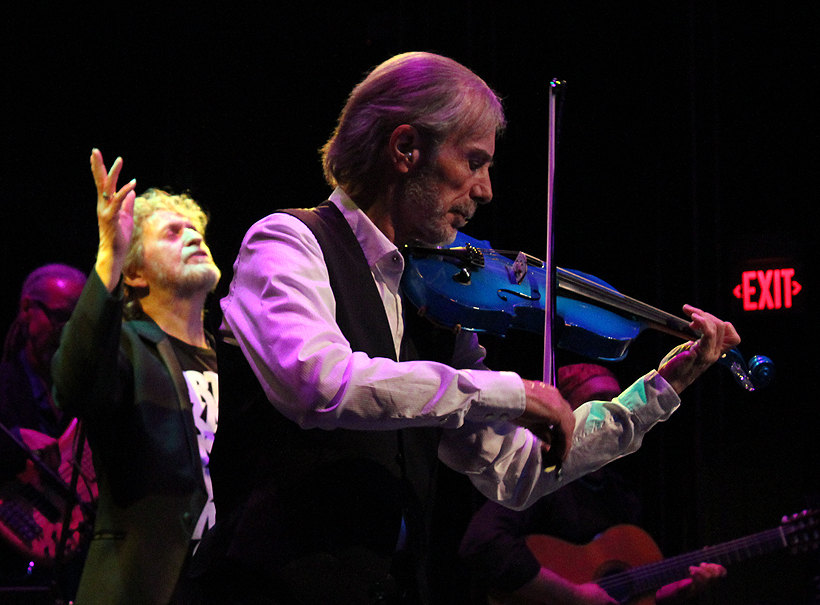 Renaissance Of The Sun was an outstanding ensemble piece. State Of Independence was a personal highlight as it's been a favorite number of mine for decades! This was followed by a Ponty classic: Enigmatic Ocean. It bookended an absolutely murderous, furious drum solo from Griffin that registered as a tornado on the Weather Channel! I was quite simply speechless.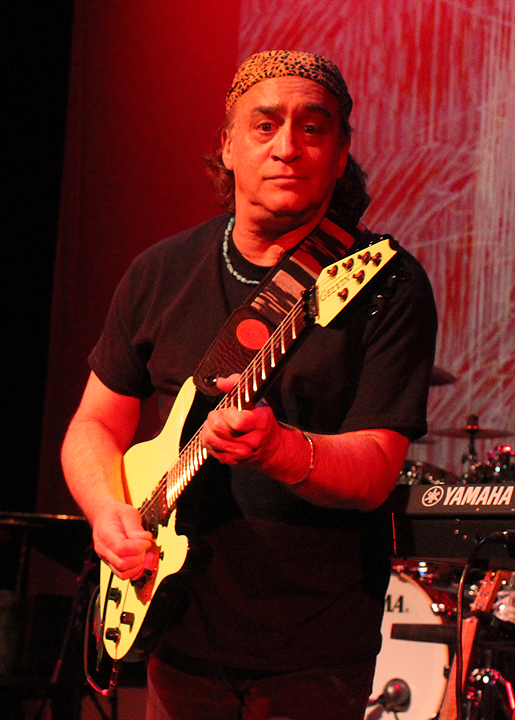 Jon Anderson told a wistful story about the first time he met Chris Squire. Glaser came in with gorgeous, delicate guitar work that brought us into And You And I. As the song progressed, it phased into a highly emotional violin solo from Ponty with Minko providing sweeping backing keys. A bass solo by Browne served as an introduction to the set closing Roundabout. The crowd was gonzo, wanting more! We got Egocentric Molecules morphing into Yours Is No Disgrace. The evening came to a close perfectly with a sweet take of Soon. Positive vibes from all, to all. Our reason to be here.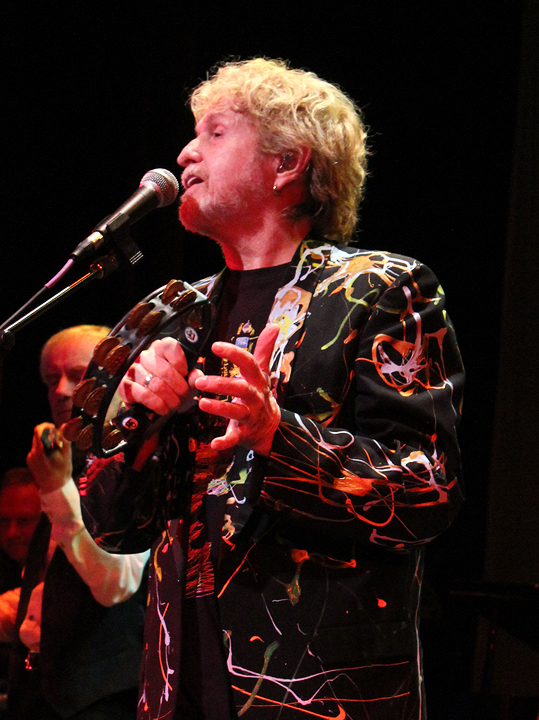 Justin Hayward - Ridgefield Playhouse, Ridgefield, CT 5/17/16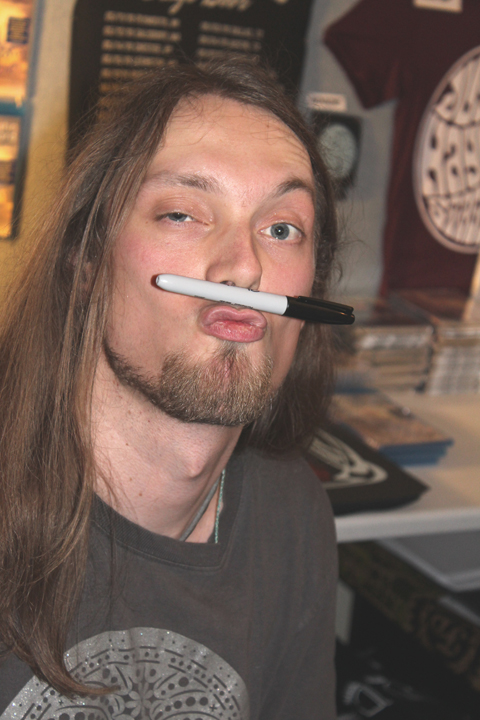 The last time I saw Justin Hayward live was a Moodies show back in 2005. Far too long! First, though, was his opener - the dazzling Mike Dawes. Dawes is a true 10 finger band. Bass, rhythm, lead, and percussion all from those 10 fingers (and 2 palms). He opened with a number called The Impossible. There was something very King Crimson-tinged to the vibe of it. Quite a nice beginning to the evening! Next he used a number titled Somewhere Home to explain his techniques before playing the song outright. Boogie Shred lived up to its name. Some molten riffage on it, yet playfully tuneful. Dawes' too brief set closed with a beautifully soulful cover of Prince's Purple Rain. A smart booker will book Dawes as a headliner. Top flight player & set!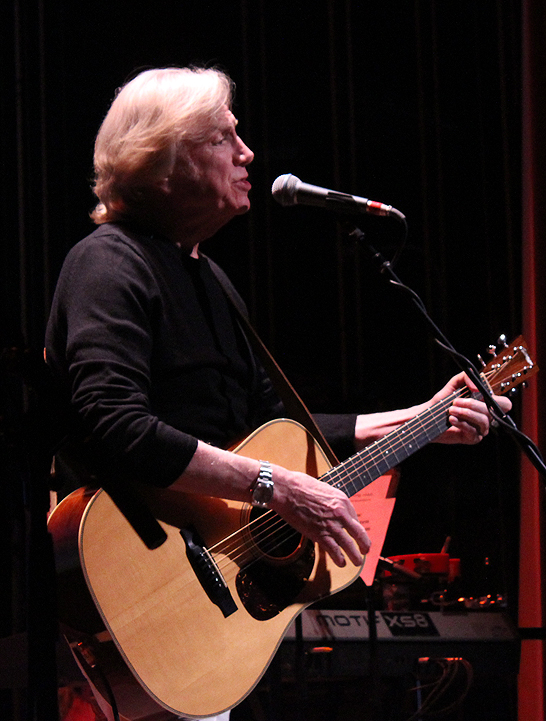 Justin Hayward took the stage and was joined by Julie Ragins on keyboards for a very satisfying Tuesday Afternoon. A number from his album Songwriter - One Lonely Room followed. Mike Dawes had joined the stage during that one. Lovely To See You put a smile on every face in the venue. Hayward told the story of a new film in the making. He played us a song he wrote for it: an emotional, reflective piece called The Wind Of Heaven. Such a strong number.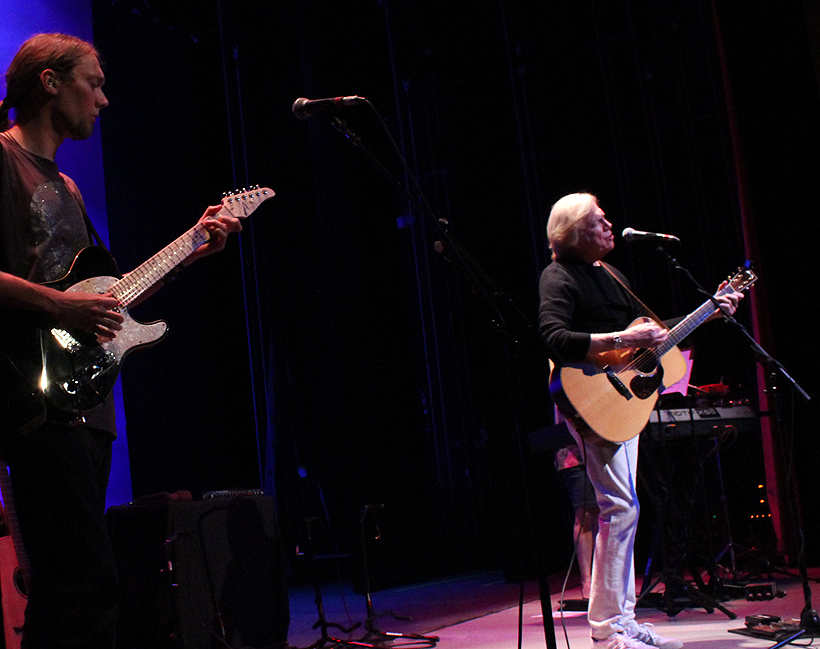 Before I go any further, a guitar note. It seemed to me that Hayward played 2 different acoustic 6 string guitars (perhaps different tunings?) and an acoustic 12 string. OK Back to the set. In Your Blue Eyes was gorgeous and The Western Sky had the added lushness of Dawes and Ragins in full force. Next, Justin Hayward dipped deep into the Moody Blues back catalogue for 2 unexpected treats: You Can Never Go Home and Watching And Waiting. The crowd all but went berserk! Most everyone (myself included) sang along with both!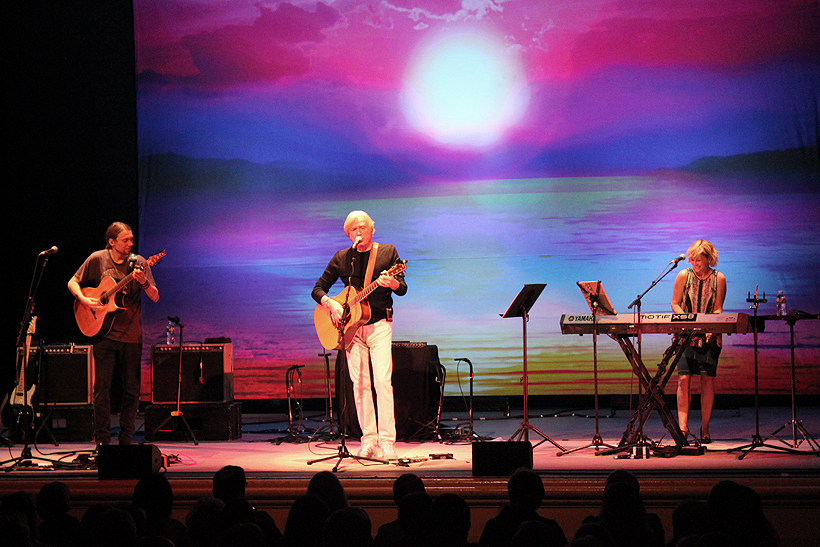 One Day, Someday kept the set rolling. This is a good time to point out that Hayward's voice sounded amazing. The years have added depth and confidence without taking away power. The Eastern Sun sounded gorgeous as did the sly What You Resist Persists. Never Comes The Day was a welcome friend that washed over the crowd like soft colorful waves of sound.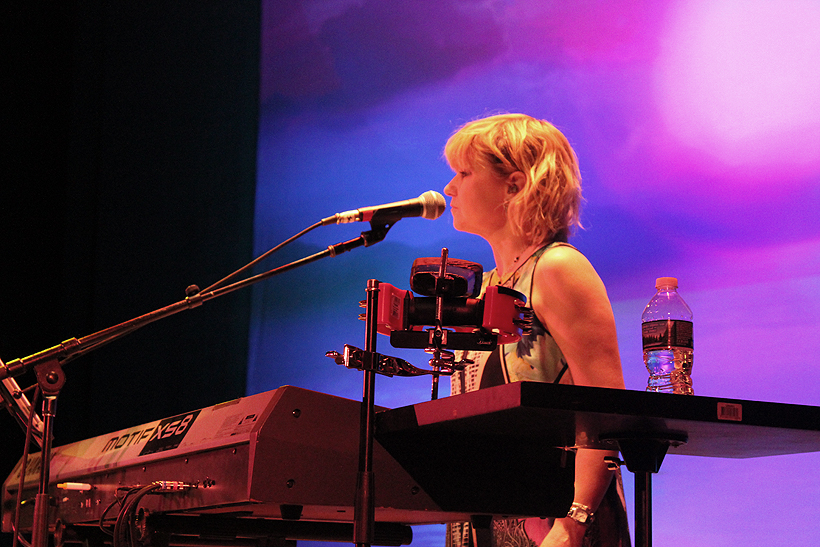 Another singalong tune in the form of Your Wildest Dreams delighted one and all. A hilarious behind the scenes tale served to introduce Forever Autumn from the Jeff Wayne project War Of The Worlds of the far flung 70s. A stunner! The set closed with the 1-2 punch of Question and Nights In White Satin. Dawes and Ragins supported Hayward tightly to leave the frenzied fans roaring. It was up to the front of the stage to sing and dance to the encore of I Know You're Out There Somewhere. An evening none will soon forget. A true legend.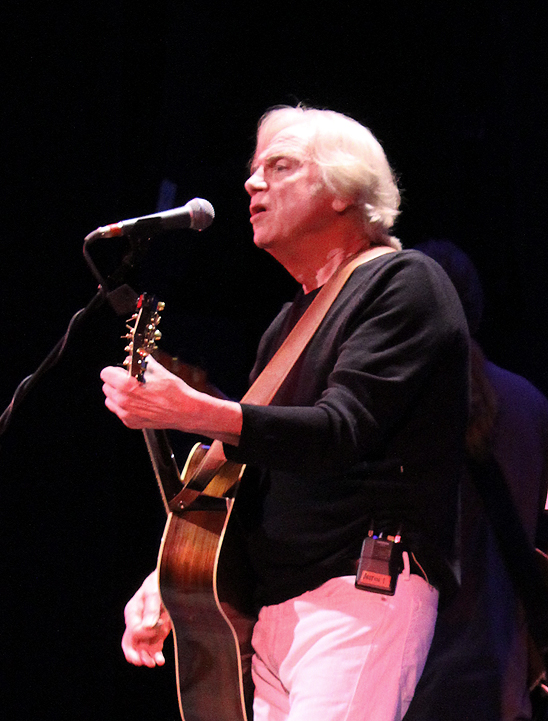 Bright Night Winterfest 2 - Toad's Place, New Haven, CT 2/26/16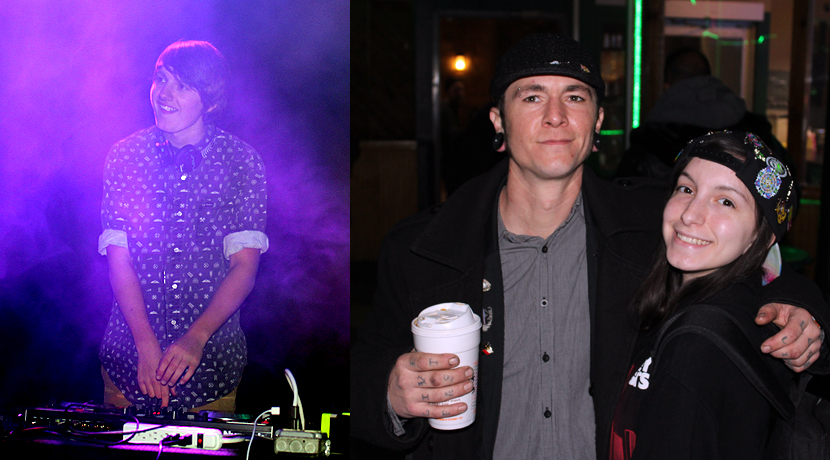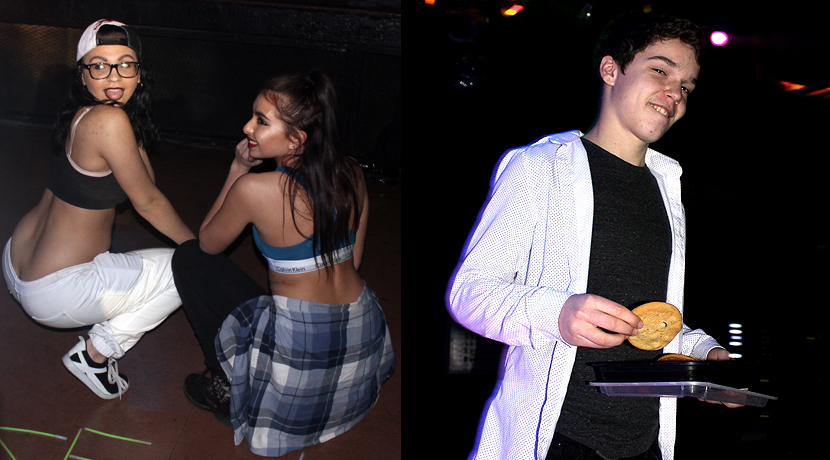 As I walked in to this show, the DJ was in fine form. I want to say his name was DJ MuMu but I cannot swear to it. Great beats. This was going to be a good one! I spoke to soon. As I started making my rounds, taking random shots of the crowd to catch the vibe - this little guy with a bad attitude started harassing me. Jumping to block my shots & trying to show off to his dim witted crew. Not just me, eith. Over the course of the night he was disrupting the DJs, yelling "play some fucking Hip Hop!" and pushing folks around on the floor. Quite a little buzz killer. The DJs were all in fine form, however, so the majority of the crowd was able to circumvent the blowhard boyz and enjoy themselves.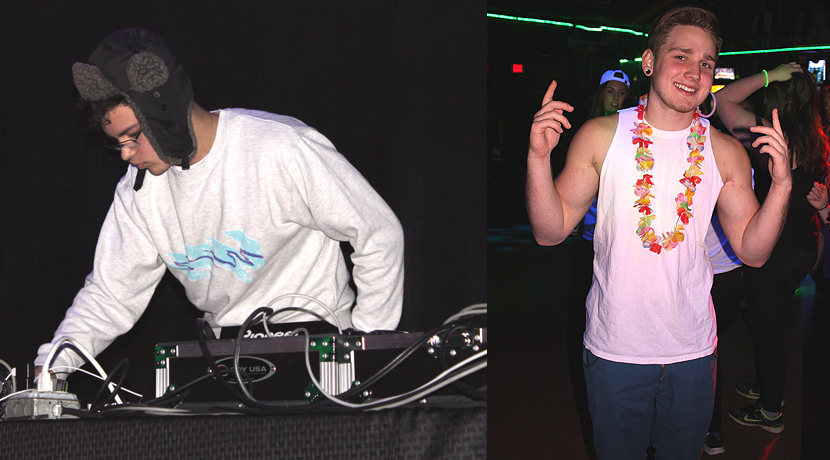 As the night started to wear on, more friends made their way in and the vibes got more positive. I had a nice conversation with a dancing guy & his model companion. Both very down to Earth and there to have fun. Great people. A few folks with lit fingers doing hand magic. A handshake here, a hug there. That's more like it!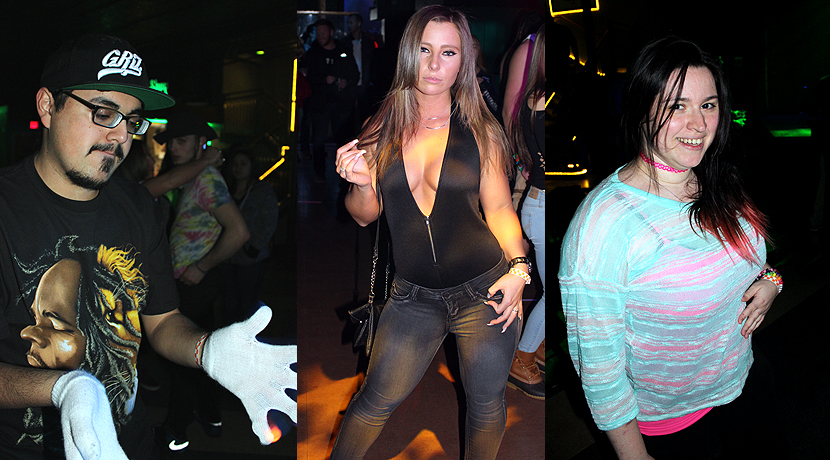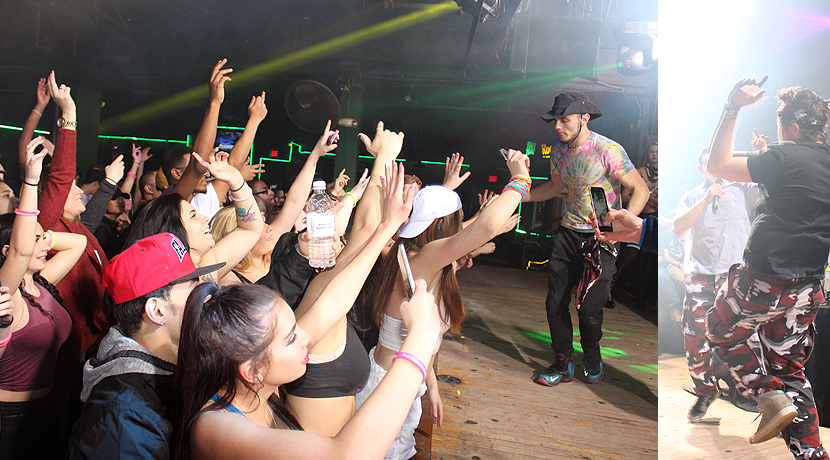 Mary and Abby had a new dancer with them - I believe her name was Renata (I apologize if I got that wrong). Some of her friends were there to show support. She was a perfect fit - full of spirit and kinetic energy. I hope to see lots more of her at future shows! Not to neglect Abby & Mary - they deliver the goods every time they hit the stage!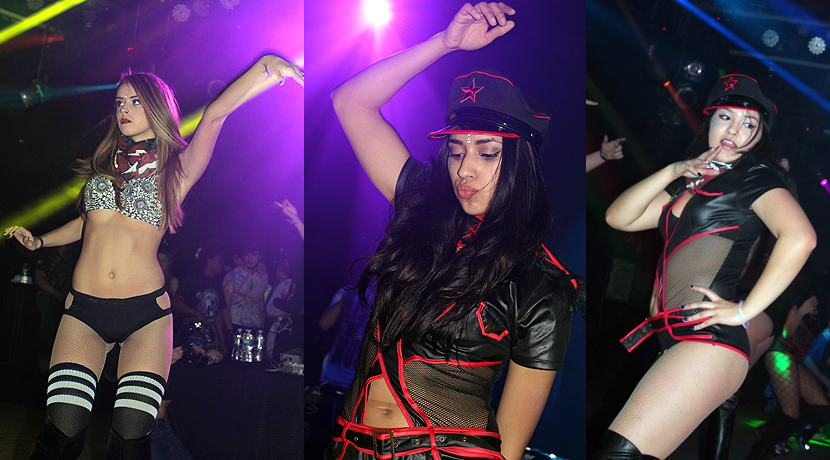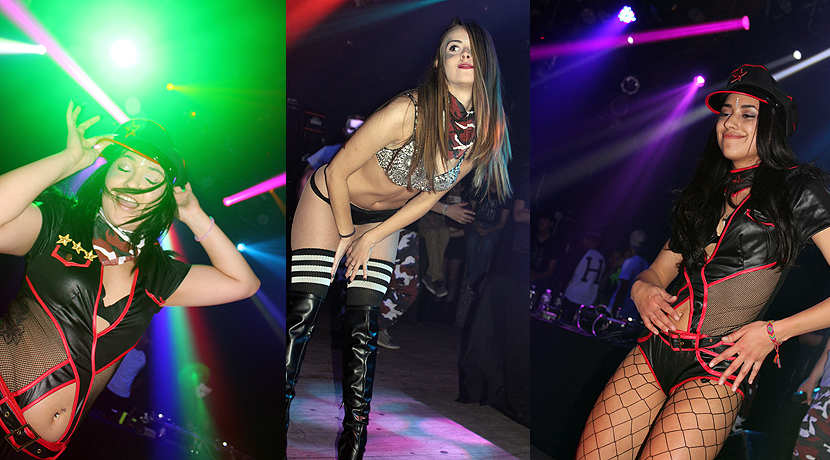 I must say, despite the obnoxious ill-mannered idiots trying their very best to disrupt the evening, good friends & good spirits prevailed! The true dubstep DJs, dancers, and audience burst with love. That is never easily crushed. Take a look at my photos here and look at all those smiles! It's a beautiful thing. Sadly, I had to leave before a friend of mine did his set, but I will most definitely make up for that! Back soon, folks. :)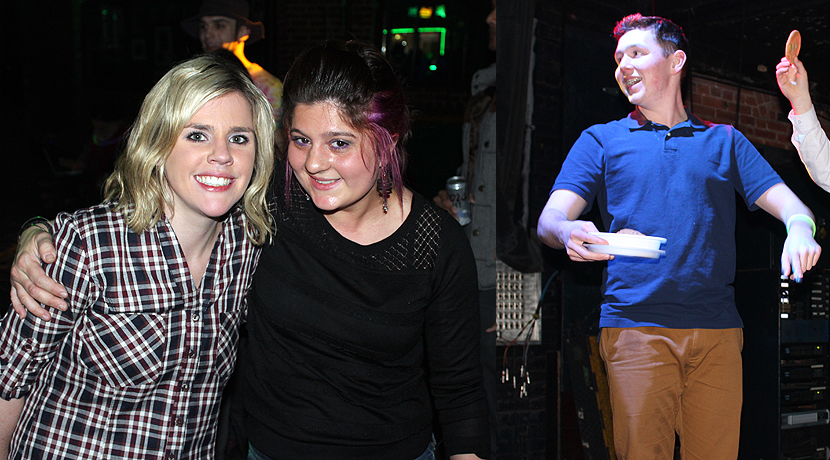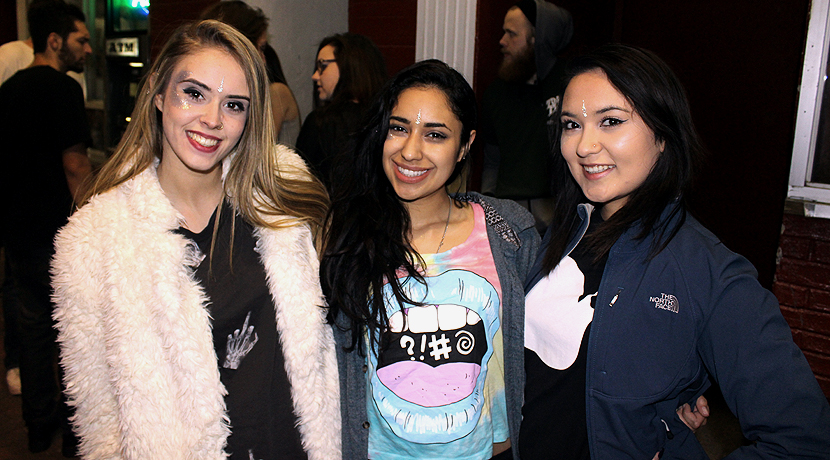 The Highland Rovers - Brennan's, Bridgeport, CT 2/19/16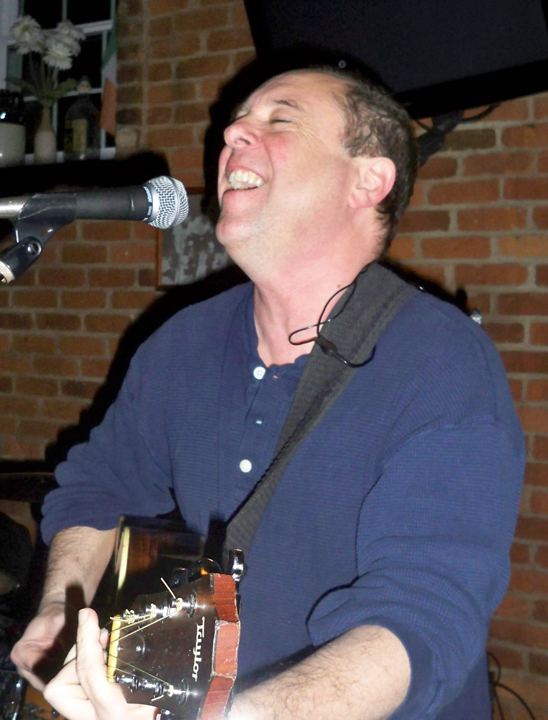 I've been seeing my good friend Tom Portera play live music since the early 80s as part of Food On The Roof, then as a member of Diamond Roller. Both bands also featured the talents of Al (The Natalian) Natale. So I jumped at the chance to see them do a gig at Brennan's in Bridgeport with their Celtic ensemble The Highland Rovers. The band features Portera on guitars and vocals, Natale on bass, Jimmy Cyr on mandolin and vocals, Colleen Filush on fiddle and vocals, and Michael Ryan on drums and percussion. A very tight unit!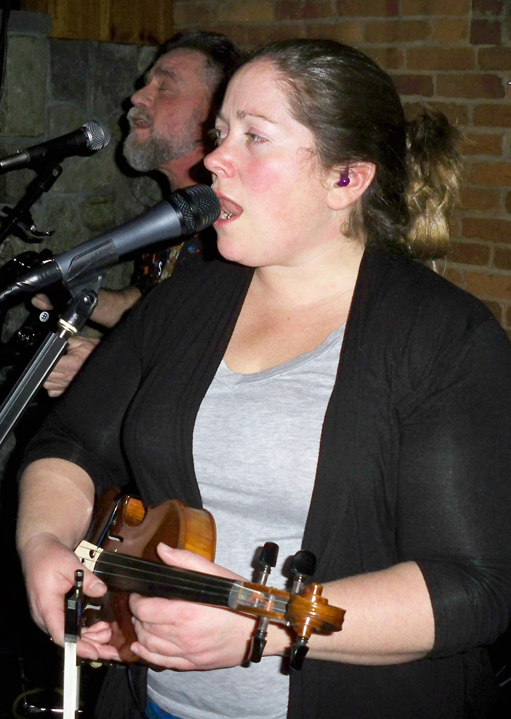 Brennan's was packed to bursting as we heard lots of traditional favorites: Whiskey You're The Devil, The Night Pat Murphy Died, The Old Dun Cow, Fields Of Athenry, Health To The Company, and Star Of The County Down to name a few. Vocal harmonies were spot on and the boisterous crowd joined on many of the choruses.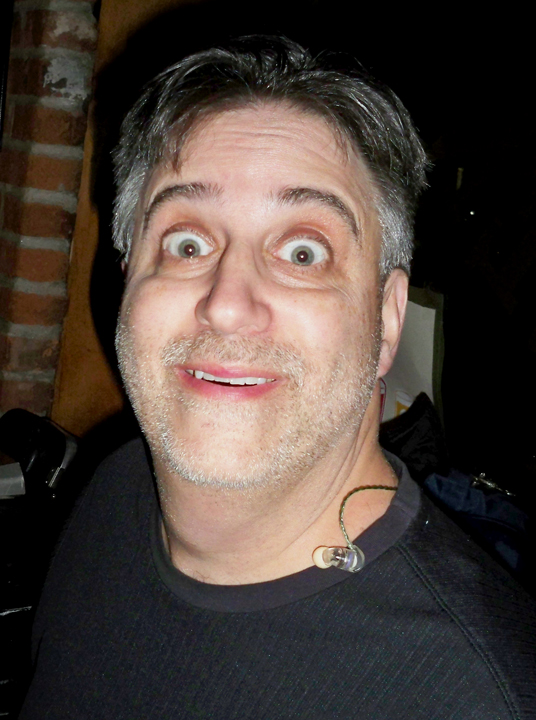 Filush had a nice spot with a medley of St. Anne's Reel / Silver Spear / Miss McLeod. Strong, fluid playing. Several judicious pop/rock covers like Seven Bridges Road, Galway Girl, 500 Miles, and Can't You See kept the crowd shouting and raising seemingly endless pints!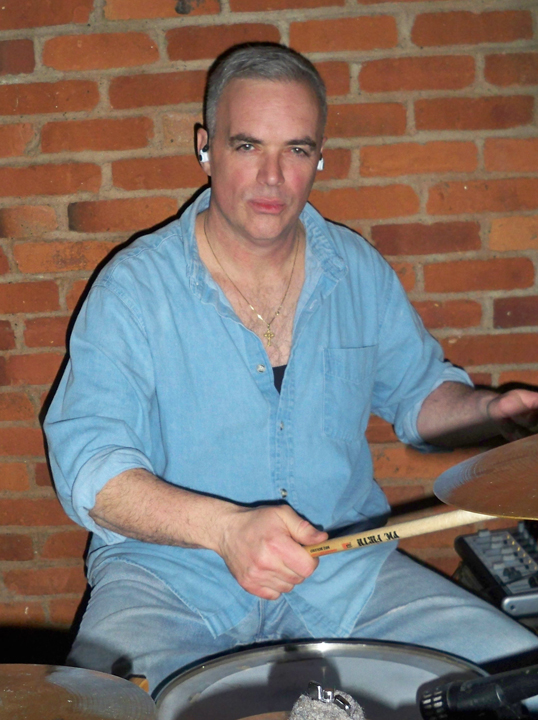 The band's originals like Alice and Paddy It'll Do stood every bit as strong as the trad pieces. As the night wore on, I had several nice conversations with patrons - most notably a bubbly woman named Katherine and her sister. Lots of drinking, dancing, singing, laughs, smiles, and wonderful music. Who could possibly ask for more?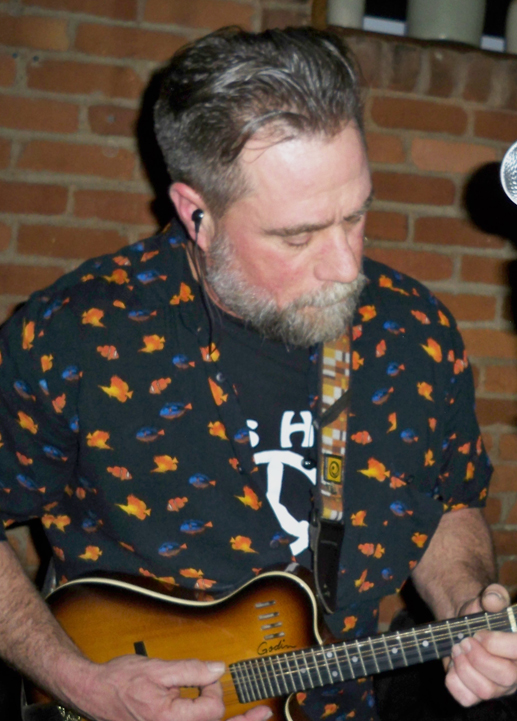 Dynamo Glow Party - Toad's Place, New Haven, CT 1/29/16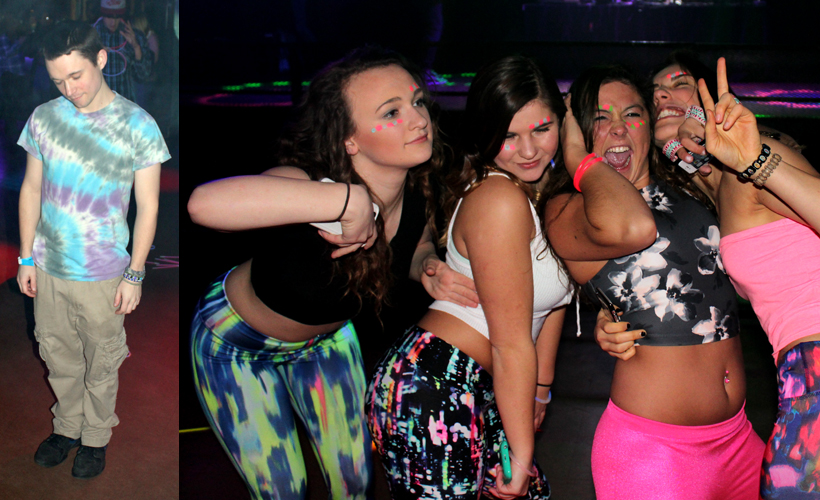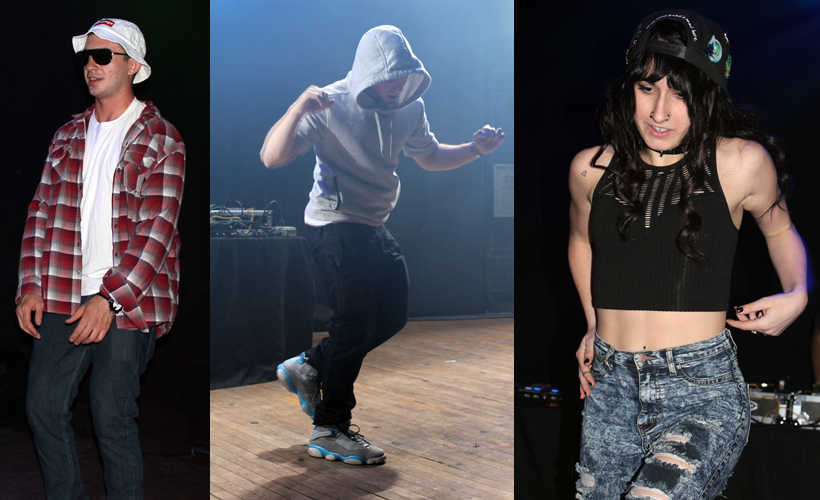 The night was bitterly cold but clear. One of the scantily clad girls in line behind me was leaning up against the warmth of my jacket. I let them go in ahead of me because they just looked so cold. A guy on the street was handing out free pizza as a dude who said he was Bosnian professed his love for the butt of one of the scantily clad girls. I wasn't even inside Toad's Place yet and I was already having fun!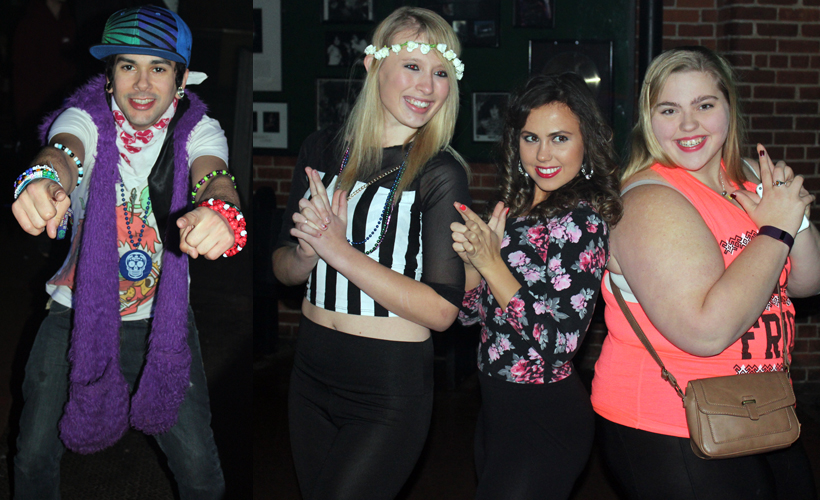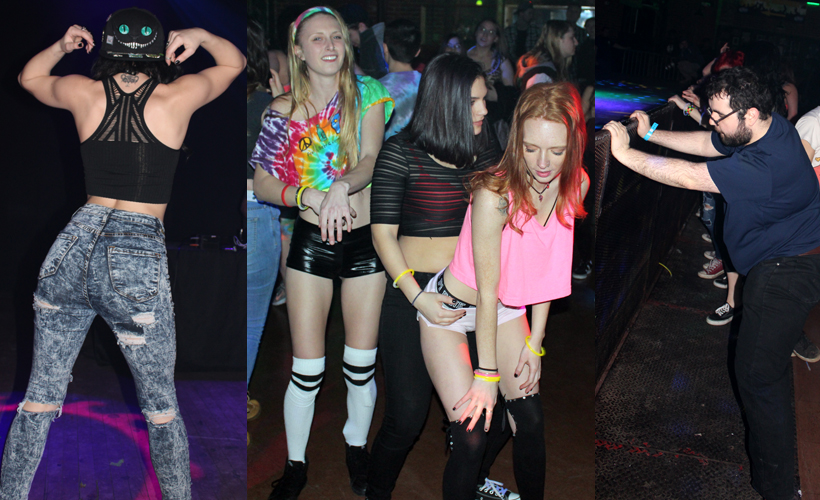 The DJ working onstage as doors opened turned out to be the best of the evening for the hours I was there. It was a fun and friendly crowd. A few women in impossibly tiny outfits defied the cold. Weed was in the air. Quite a few friends showed up. Kara, Mary, Keara, and many more.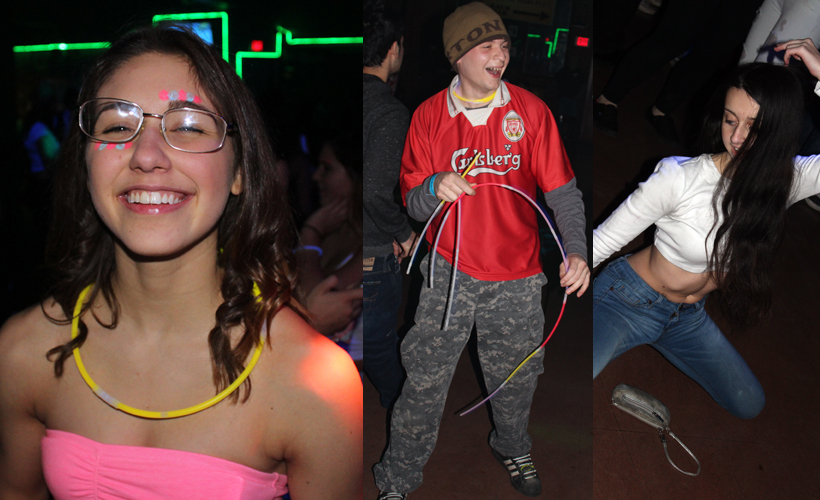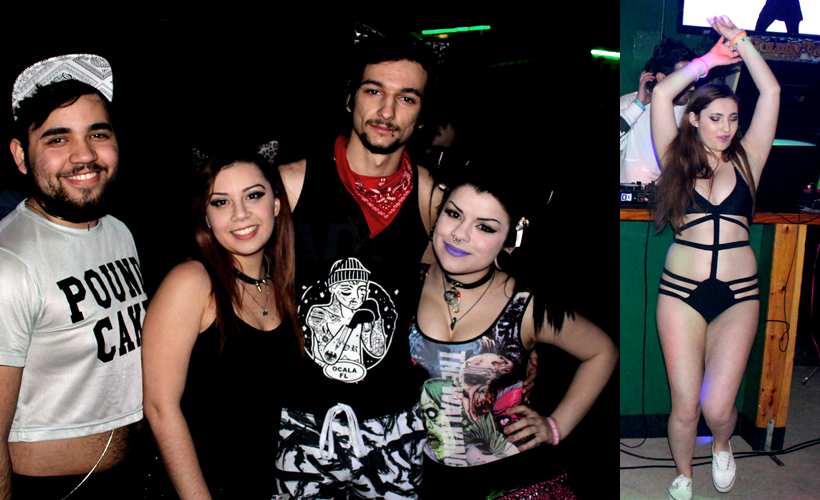 As the crowd grew, they were looking to be taken to another level and these particular DJs were delivering fussy beats that just went nowhere. Clumsy mic work wasn't sealing the deal either. The crowd made the best of it but they deserved much better.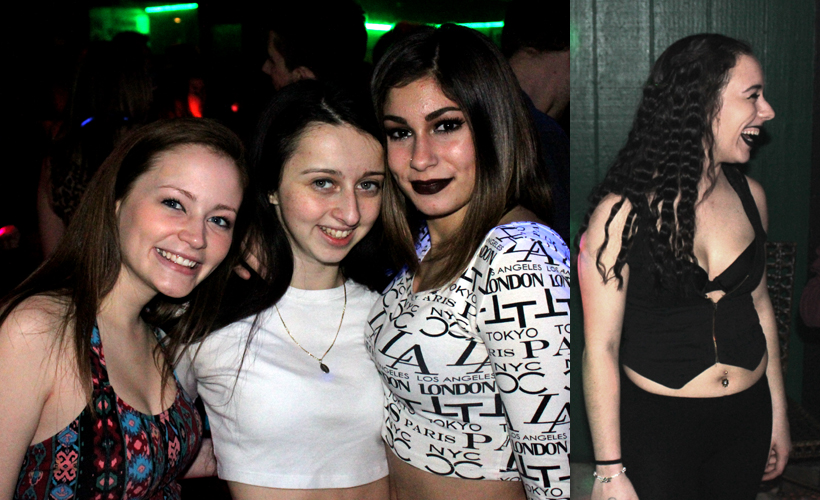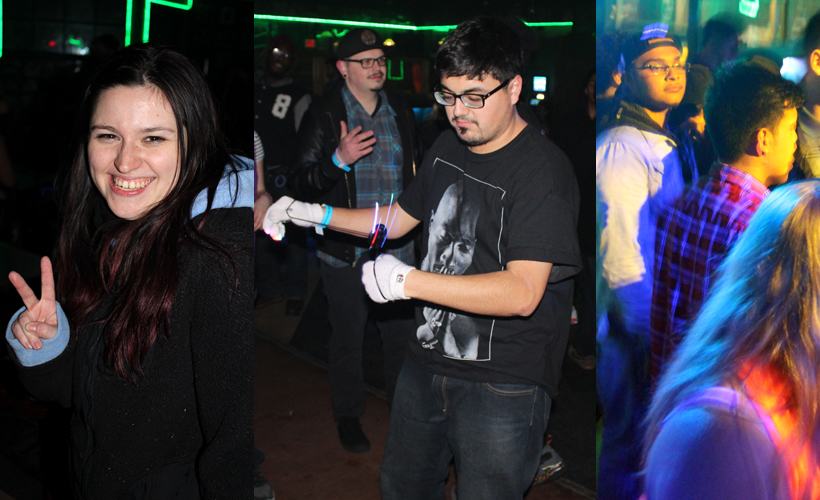 Having said that, I had tons of fun anyway thanks to the people. Someone asked to try on my glasses & I happily obliged. Hugs from friends & lots of laughs and smiles. I don't know how others perceive these dubstep shows, but these are great folks just looking to smile and dance and forget their cares for a few hours. Next time, stronger DJs can help immensely!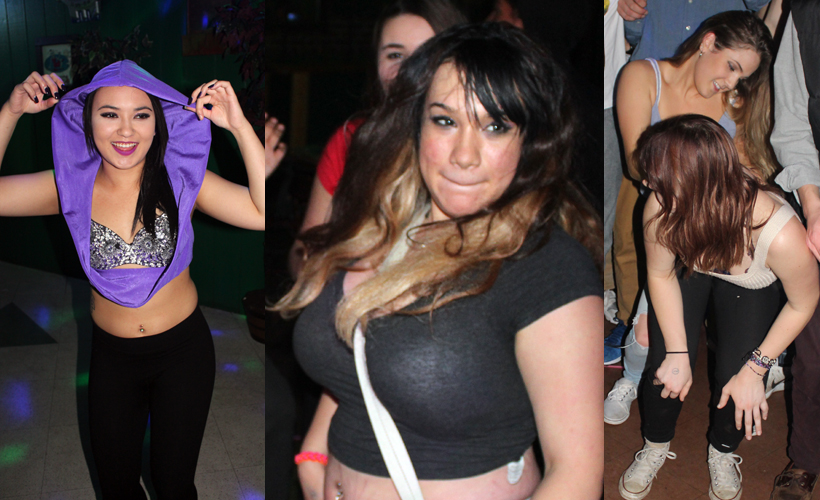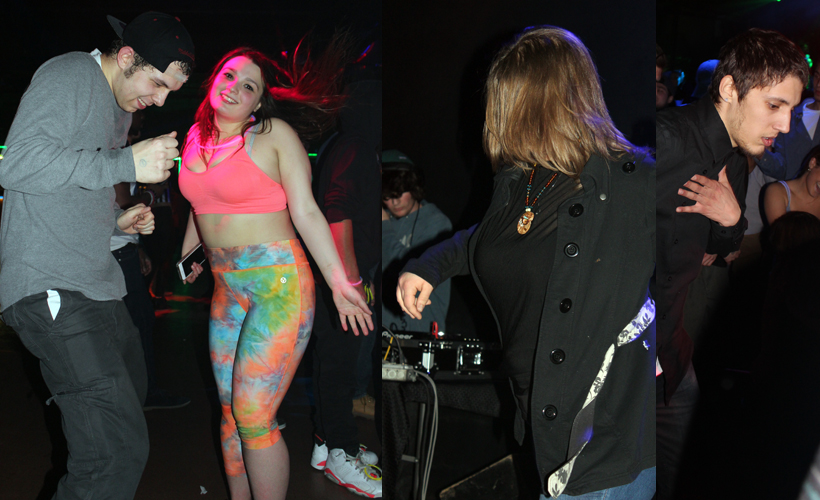 The Musical Box - Ridgefield Playhouse, Ridgefield, CT 1/15/16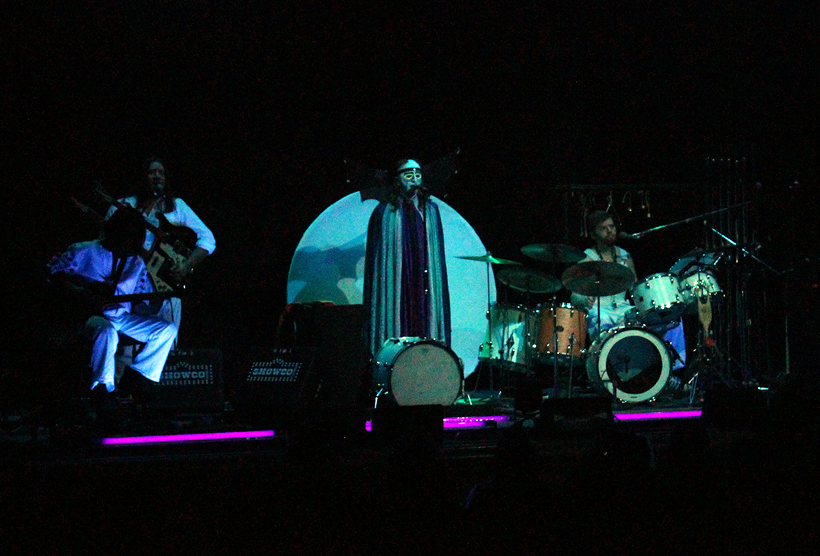 I'm going to say at the outset that this performance was haunted by glitches. The mix was unbalanced and more than a bit muddy. Guitars and keyboards kept cutting in and out as well as several miscues by the guitarist, keyboardist & drummer. The drummer overplayed & went way off- book throughout the night. Having said that, it still felt right! It felt like a vintage Genesis show. Back in the day, Genesis had their share of gaffes on any given evening. This was a Black show supporting Selling England By The Pound. Watcher Of The Skies started the show. A very strong version with 1975 instrumental break rhythm. Fantastic vocal. Fine start. Next up was a solid performance of Dancing With The Moonlit Knight. Great vocal, a few dings instrumentally, but all were forgivable. 2 songs were in danger of unraveling during the show. The 1st was a hesitant take of The Cinema Show. There were moments where I swear they forgot where they were in the song. Not The Musical Box at their finest.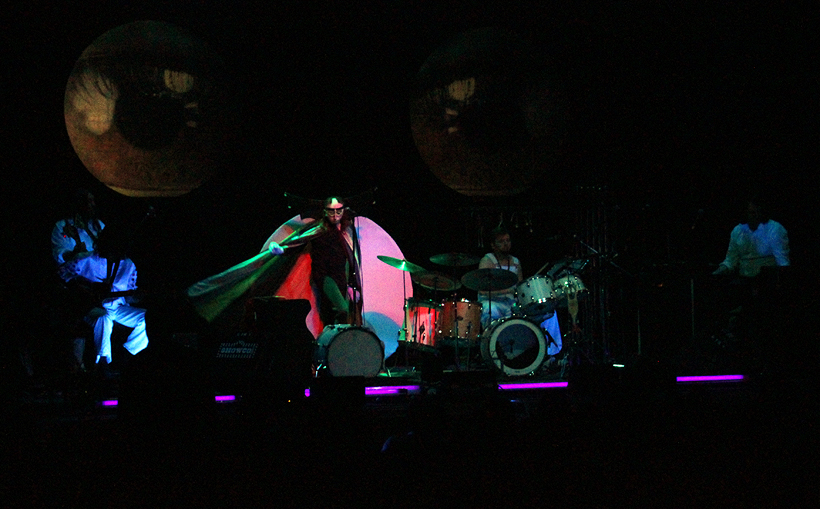 A pretty straightforward I Know What I Like (In Your Wardrobe) with some fine bass work. The other incredibly plagued number of the evening was Firth Of Fifth. A botched keyboard intro & outro & wild timing issues on the guitar solo took me out of the song. We started to head back in the right direction with The Musical Box. Just a missed cue or two, but otherwise pretty darned power packed! A woman at the back laughingly complained: It's like porn!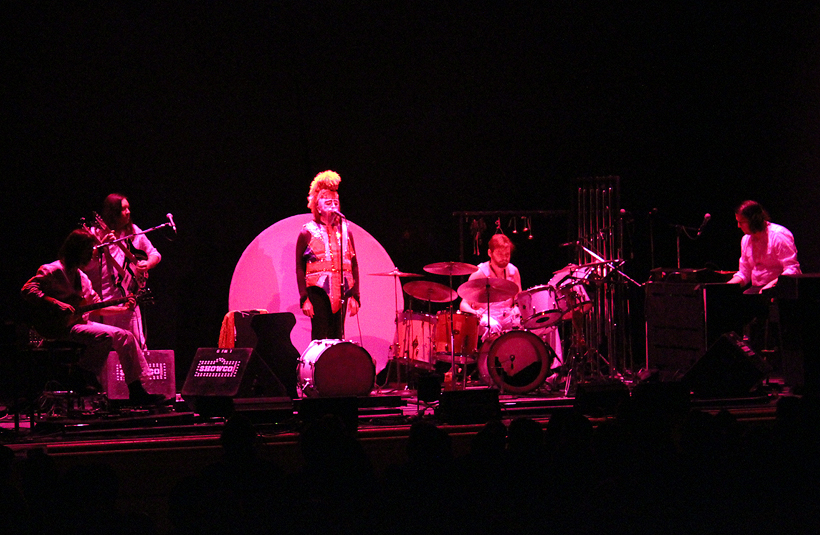 This was the best version of Horizons I've ever heard anyone other than Steve Hackett play. Superb! Interesting to note that a number that gelled well was the ultra-complex epic The Battle Of Epping Forest. Vocals were nothing short of inspired and the guitar was stepped up a notch. Clearly, things were getting in gear! Well-timed as a glitchy Supper's Ready wouldn't have been very welcome. I needn't have worried. A splendid version. Why, the "spiny pickle head" headpiece even made an appearance during the Ikhnaton And Itsacon And Their Band Of Merry Men section. Another sartorial note: The outfit for the final reveal was the later Gabriel silver/white jacket & slacks. Excellent little touches!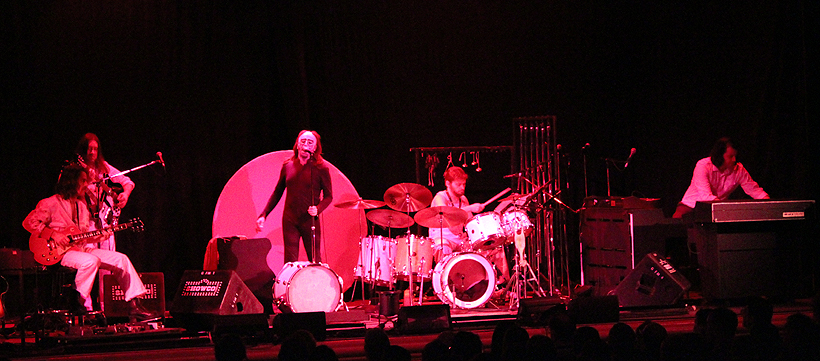 Encore was a high energy reading of The Knife. Despite the gaffes & glitches & the drummer overplaying like a crackmule, I left the show feeling great. The Musical Box will easily move past an off night & I will happily be there for the next tour! They remain a must-see!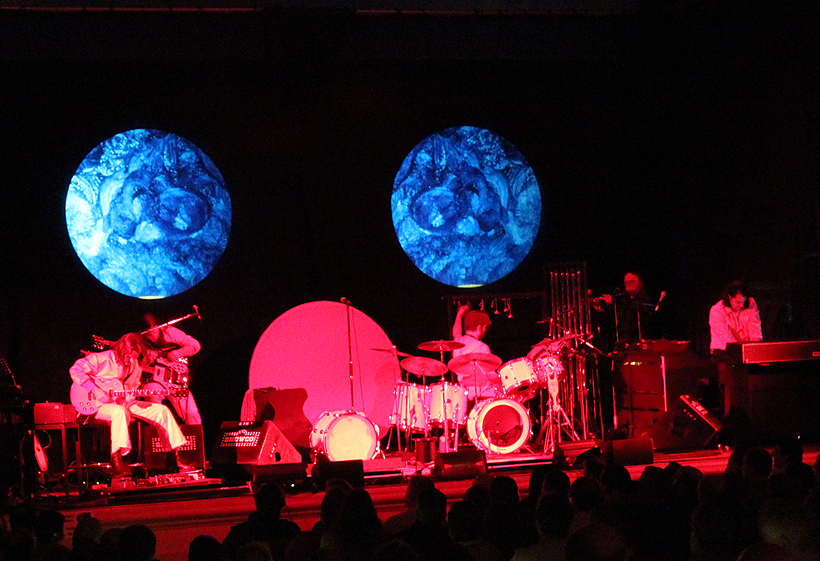 Table Of Contents
Contact