Track By Track: Derek Sherinian - Molecular Heinosity


By John A. Wilcox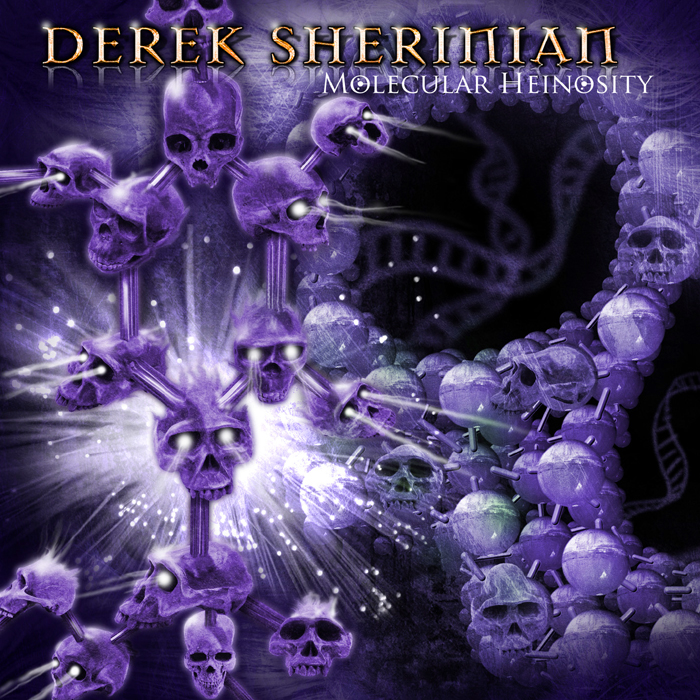 If you're looking for folk songs of the Pacific Northwest, Molecular Heinosity may not be quite your vibe. Both solo and with Planet X, Derek Sherinian plays keyboards like a car with bald tires driving 130 on the ice covered Autobahn. Out of control gonzo madness in time signatures you never thought of. Joined by the likes of Virgil Donati, Tony Franklin, and Taka Minamono among others, Sherinian delivers the prog fusion goods! I asked him to take us through the album track by track, and here's what Derek Sherinian had to say...

Track 1: Antarctica (Sherinian / Donati)
Track 2: Ascension (Sherinian)
Track 3: Primal Eleven (Donati)
Brett Garsed - guitar
Jimmy Johnson - bass
Virgil Donati - drums
DS: I wanted to write a trilogy with Virgil reminiscent of Atlantis off of my first record. This pompous epic had to be worthy of a title grand as a continent, I think that we more than hit the mark with Antarctica. This song could have easily been a Planet X song, even the same line-up was used that was on the Quantum record.

Track 4: Wings Of Insanity (Sherinian / Tichy)
Zakk Wylde - guitar
Brian Tichy - drums
Rob Mules - bass
DS: This is the first song written for this record. The verse melody reminds me a bit of Satriani on steroids The track is very Sabbath and Meshuggah influenced. Zakk's guitars are brutal as ever, and this is probably the sickest drum track Brian Tichy has recorded to date. Let us not overlook the mighty Rob Mules on bass.

Track 5: Molecular Intro (Sherinian)
Track 6: Molecular Heinosity (Sherinian / Tichy)
Taka Minamono - guitar
Brian Tichy - drums
Rob Mules - bass
DS: The title track is very "Swedish" in that the main inspirations for this song are Yngwie and Meshuggah. Again, Taka shreds it up on guitar. I think that I am the first to ever use the word "heinosity" in an album or song title.

Track 7: Frozen By Fire (Sherinian / Cooley)
Rusty Cooley - guitar
Brian Tichy - drums
Rob Mules - bass
DS: Somebody turned me on to Rusty Cooley about a year ago and my first impression was that he was an amazing player. Rusty contacted me about six months ago about doing something together, Frozen By Fire is the result. I think that Rusty has the potential to be one of the big guitar names of the future. This was the last song written on the record.

Track 8: The Lone Spaniard (Sherinian)
Taka Minamono - guitar
Tony Franklin - fretless bass
Tina Guo - cello
DS: The Lone Spaniard was an unfinished piece that was written during the Blood Of The Snake sessions. This piece was original written for Yngwie to play the guitar part, but our schedules were not permitting this time around. Ladies and gentleman....introducing Taka Minamino!! Besides his obvious blistering speed and precision, the thing that moves me the most about Taka's playing is his spot on bends and beautiful vibrato. This is rare for a player of any age, let alone a 23-year old.

Track 9: So Far Gone (Sherinian / Tichy / Wylde)
Zakk Wylde - vocals and guitar
Tony Franklin - fretless bass
Tina Guo - cello
Brian Tichy - drums
DS: I get goosebumps everytime I hear this song. Brian and I wrote this in three days, and recorded the rhythm tracks on the fourth day. When Zakk recorded his tracks, he was going through a very dark period in his life and it bleeds through his performance, especially in the vocal track. The song was missing a vocal chorus, and Zakk started singing "So far gone, there's no return...So far gone, there's no return..." It fit perfectly, completing the epic. The combinaton of Tony Franklin on fretless bass and Tina Guo on cello provide a haunting low end to the song that completed the arrangement perfectly.


###
Table Of Contents
Contact