A Few Words With...Rob Reger


Interview by John A. Wilcox



Emily The Strange is a not so strange success story. The character has gone from local image to international icon. You can find Emily on shirts, comics, notepads, you name it. Her image has appeared on everything from MADtv to her own Epiphone guitar. The creator behind it all is Rob Reger. Progsheet had the pleasure of cornering Reger for a few words of wisdom...




PS: What's the first comic book you remember reading?

RR: GI JOE. And my dad didn't want me reading it. I was really into Dr. Seuss- he's more of a surrealist than a comic book artist, but that was my earliest influence in drawing cartoon type stuff.

PS: What's the first concert you ever attended?

RR: My first "real" one was the Beach Boys with my Mom in the 6th grade. First time I really remember noticing people smoking pot and the smell of it.

PS: When you were a child, what did you want to be when you grew up?

RR: I definitely wanted to be an artist. Actually, I started practicing my signature in the 3rd grade (ha ha). At that point, I wasn't sure what kind of artist -- I was interested in painting, sculpture, cartooning...I always liked album cover artwork -- I really liked Kiss and Led Zeppelin covers and the logos...some of the Beatles' stuff...the Yellow Submarine movie in particular...but anyway, I just always liked expressing myself through visual art. I knew that I'd end up following that path somehow.

PS: Were any artists or writers in particular an inspiration in wanting to become a cartoonist?

RR: Oh, there are several artists who've inspired me...Escher, Rube Goldberg...I loved "Where the Wild Things Are" by Maurice Sendak. And I was fascinated by Dr. Seuss characters. And like I said, I really got into Yellow Submarine, as well as other art from the psychedelic '60s era.

PS: What was the initial inspiration for the creation of Emily?

RR: It was probably all the oddballs, including myself, running around Santa Cruz! (ha ha) Emily was originally a skateboard design for Santa Cruz Skateboards done by Nathan Carrico. My inspiration was initially just to put her on a T-shirt for my friend. Really my goal at the time was to make strange, oddball T-shirts. My company, Cosmic Debris, offers tees with weird stuff on them. Back then, there was really nothing out there that was creative, inventive, or that different on girls' T-shirts. I sold my shirts to a couple of stores when I was in Santa Cruz, and I thought Emily made a worthy design for girls' shirts. Ultimately, the girls thought so, too.

PS: What about Emily is strange?

RR: Emily's interests, motivation and attitude are not standard for most 13-year-old girls. Pink is her worst nightmare...she wears the same black dress every day. She loves math and science. She's into old rock -- punk from the '70s and '80s especially. Emily would have loved to meet Joey Ramone. She also digs The Runaways, Blondie...cool girl bands, but also newer bands like My Chemical Romance - which is why Gerard Way is featured in our newest Dark Horse comic book, Revenge at Last. She likes free jazz, squid ink pasta, nightmares and stuff others generally don't. So she's got varied, unusual musical tastes for a junior high girl. And probably most importantly, she doesn't spend all her time swooning over boys-she prefers them to leave her alone...well, she prefers everyone to leave her alone for that matter- she has more important things to be doing!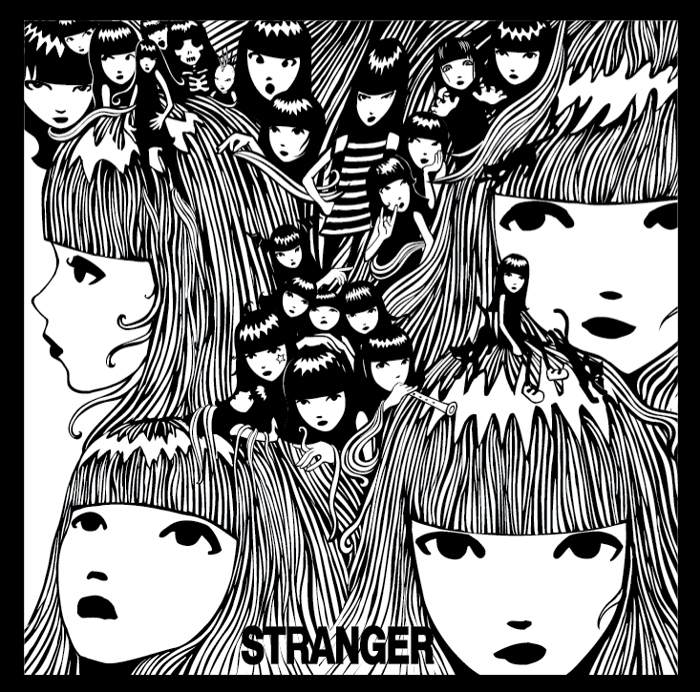 PS: What aspects of your life filter into Emily's?

RR: That's easy -- my love for rock and experimental music, and my love of cats! Plus people I've known throughout my life...during grade school, high school, college and nowadays...have influenced Emily's character and the world surrounding her.

PS: What about the character lead you to feel she had a strong merchandise potential?

RR: Emily is very different from the typical Barbie Doll type that society seems to encourage in girls, and I think a lot of people can identify with not fitting the mold. After a few dozen stores continued to buy the same 5 or 10 designs for 5 years, I knew there was something that people were identifying with...Once I saw it start resonating with people, it made me think wow...this could really go somewhere. I starting thinking about why people liked her, and how to put more of myself into the character, how to incorporate all the things I believe in, all the things that ultimately helped me out in life - like the art and punk rock. And it just caught on, more than I ever imagined.

PS: How do you perceive Emily, what makes her tick?

RR: Emily is a strong young woman. She encourages everyone to be themselves and do it themselves by example, because that's the way she lives and what she does- not that she really cares herself too much what you do, as long as you leave her to her own thing. Her motto is Get Lost...this is both an instruction for people to leave her alone AND to explore their imaginations. One of our new clothing themes is "Save Yourself"...this means, be your own hero...don't depend on others to lead or "save" you. It also means Emily is too busy being her OWN hero to save you. ...so she is definitely not a codependent! (ha ha)

PS: Who are you trying to reach with Emily in terms of audience?

RR: Her primary audience is 12-18 year olds, and her secondary audience is 18-34 year olds. But I've had people in their 50s come up to me and tell me that they love Emily. Almost everyone, I think, can relate to Emily for different reasons -- sometimes it's the artwork, sometimes it's her attitude, the rock references....And cat lovers...definitely.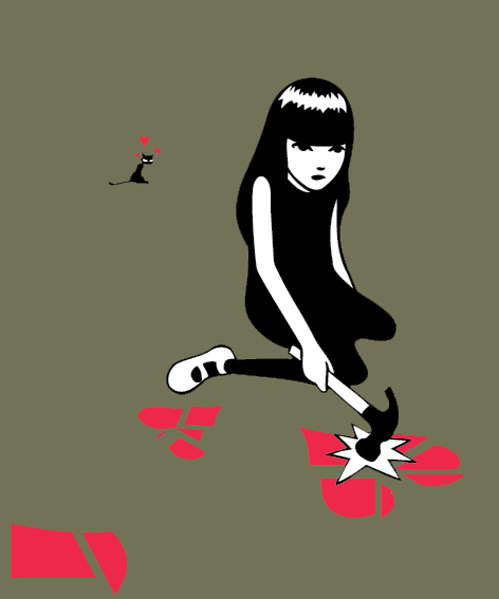 PS: Do the books & merch reach outside the US? If so, where does she have the largest impact?

RR: Oh yeah...Emily has a loyal customer base in 26 countries....she is especially popular in Hong Kong, Germany, Italy, and Australia. Actually, an Emily store just opened in Taiwan and there are 2 others in Hong Kong- they have nothing but Emily stuff...it's all pretty amazing.

PS: An Emily film is now in the works. How big of a say do you have in the script?

RR: As I'm sure you know, Mike Richardson from Dark Horse Entertainment has signed on as our producer, and I'm completely psyched about that. For now we are still working out details with the top interested studios, and hope to have the deal sorted out soon! The plot we are going for is based on the plot from our first Harper Collins novel, which will be out next spring (2009).

PS: Any word on who will be directing it & acting in it?

RR: We are tossing around several ideas, but nothing is concrete yet. There's nothing I can share with you at this point...but stay in touch!

PS: Are there areas you'd like to bring Emily that haven't been tapped yet?

RR: Oh, I've got a lot of dreams for the future....we've already got an Emily Gibson guitar, but one day we could expand that to other instruments...that would be really exciting. I'd absolutely love to have an Emily theme park some day or a section of a theme park dedicated to crazy Emily rides... And there are all sorts of other untapped product markets that I think could be wildly popular...Emily pet products...especially for cats....Emily home decor...But the biggest dream is to have more ties into the music industry-I imagine an Emily Strange recording label sometime to help cool bands starting out. We also have plans to start the Emily the Strange Foundation- which will be dedicated to giving back to teens and helping them with the troubles of teenhood and encouraging teens to explore the creativity that everyone has inside to express themselves.

PS: Do you have any other projects on the burner, or is it strictly Emily?

RR: We have a new character called "Emiwee" -- she was created to be a childlike take on the more grown-up version of Emily as we know her. She's for toddlers' and children's merchandise. The idea behind Emiwee was to give the youngest generation a shot at being different in a world dominated by Winnie the Pooh and Tweetie Bird. And wherever Emiwee goes, Trouble follows -- Trouble is her kitten (ha ha). We think parents who like Emily will love Emiwee for their kids. And I do a lot of fine art on the side.. You can check out some of my paintings and serigraphs at www.emilystrange.com. I also have a couple of bands -- "This Isn't It" and "Beno + Minnie." So I like playing music on the side, too.

PS: Please tell me 6 comics you love reading.

RR:
Emily the Strange
The Super Fuckers
8 Ball
Hate
Sin City
Steven

PS: Annnnnnnd 6 CDs you never get tired of listening to.

RR:
Adolescents - Blue Album (First)
Van Halen - 1
Fucking Champs - 4
The Damned - Damned Damned Damned
AC/DC - Dirty Deeds Done Dirt Cheap
David Bowie - Hunky Dory



###





Table Of Contents

Contact