Chris Jericho And Fozzy Storm B. B. King's


by John A. Wilcox






First to go, last to know - I just couldn't get the line out of my head! First to go, last to know over and over. It's from a song called Storm The Beaches from Fozzy's latest album - Sin And Bones. I was about to talk to frontman Chris Jericho - yes, that Chris Jericho of WWE & Robot Combat League fame - on the eve of a tour with British heavy rockers Saxon. I mentioned the lyric to Jericho and he laughed: I wrote all the lyrics for that song except for that one phrase. That was Rich's phrase. Every time he writes something, that's the lyric that people get tattooed on their arms. It's like "Dammit! He did it again!" The Rich Ward two line contribution ends up being the most memorable out of the hundred and seventy five thousand words on that song! Touring with a legacy act like Saxon excites Jericho: A legendary, influential band like Saxon - to get the chance to tour with them is quite an honor. This is their first extensive US tour in years and they chose us to go out with them and went out of their way to make it work. Kind of smart on their part as well. It's a different demographic. You get a lot of Fozzy fans that don't know Saxon. A lot of Saxon fans that don't know Fozzy. It's going to bring a bigger cross-section of fans in. I think that in the end it's going to make new fans for both of our bands. That's one of the reasons you want to do a tour like this. Another reason why I was really attracted to it is that I think Saxon's latest record Sacrifice is one of their best. I was really impressed by the fact that they're not phoning it in at this stage in their career. They're still putting out great releases. They're still a living, breathing, vibrant rock 'n' roll band. That was important to me as well. I wouldn't have been as excited to do it if I felt they were cruising at this point. Our mission is to go out there and kick their asses every night. I'm sure their mission is to kick our asses every night. All that matters is that it's going to be a great show and the fans are going to win either way!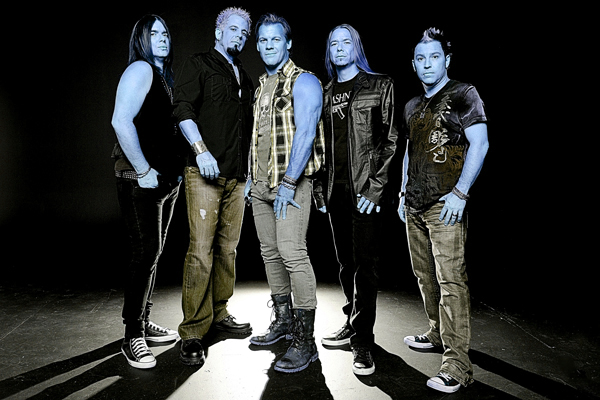 Part of keeping the fans happy is mounting a strong show. I asked Jericho how the band chooses what songs go into the show. Jericho: It's the eternal question, especially when you start doing more and more records. Sin And Bones was our biggest selling record. Our most critically acclaimed. Our highest charting. Most played on the radio. So you want to do as many songs from that as you can. We also don't want to completely ignore the people that have been with us for thirteen years. It gets harder and harder to do especially if you're doing shorter sets. If you're co-headlining or supporting. On the Saxon tour we're doing forty five minutes a night, so it's still a good chunk, it's eight songs. You've really got to choose what you're going to play.
Whether it's in clubs or arenas, Fozzy always deliver their best. Jericho again: You don't punish the people who came. I learned that in wrestling years ago. Sometimes in the WWE you show up at a ten thousand seat arena and there's twelve hundred people there. You don't go up there and half ass it because those twelve hundred people paid the exact same amount of money than if there were ten thousand people there. People might have waited to see Fozzy for a year. Just because the venue sucks and the sound sucks or it's a small crowd, you still want to treat every show like it's Madison Square Garden because that's the only way to get to Madison Square Garden!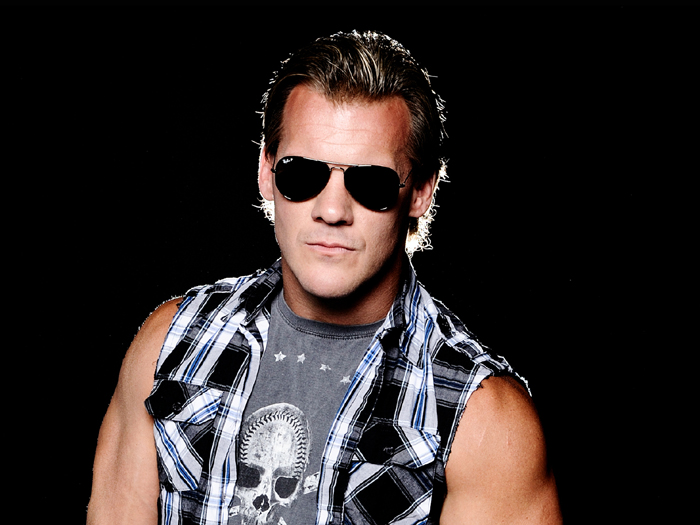 It's a personal standard that Chris Jericho applies to every aspect of his life and career. In Jericho's words: I don't take projects that I don't feel that I can do well on. I don't take anything for the money or do anything just to be on TV. Everything I do is very meticulously selected by me to appeal to me and more importantly to appeal to my fans. I have to take care of all the fans that have followed me for years and years and years and not lead them astray. Anything that I do does come from the same place and that's to be the party host. To get that connection with the crowd where people are going to enjoy watching me. Whether it's music or wrestling or acting or hosting a TV show or hosting a radio show or writing a book, it has to be very Chris Jericho oriented. That's the way it's always going to be for me. I'll never do anything half assed. I'll never do anything that I think my fans won't like. If I'm not into it, and I don't feel it, I know that the people who enjoy what I do will feel ripped off.
That sort of dedication is no better evidenced than the commitment of Fozzy to up the ante with every album. Everything has to be as good if not better Jericho said. We really refocused and reconfigured the band back when we started doing Chasing The Grail in 2009. Rich and I both said "Listen. We want to take this to the next level. We have real potential with this band." That's why everything that we started doing from that point forward was 100% Fozzy. Scheduling-wise. Attitude-wise. Focus-wise. We figured out that what we do best is very heavy riffs with melodic choruses. A lot of harmonies. Because we're doing something different - that's why we're able to get to the next level and why we're able to expand as much as we have. We always knew what we had. We knew that this was not some kind of vanity project or novelty project. It's a kickass rock 'n' roll band with a lot of passion, great songs, a lot of energy. We always had to work twice as hard to gain half the respect. But once we gain that respect, we have it for life. We're not stopping! So either join up, join us, or step aside and let the people who've joined us get a better seat! Catch the magic at B. B. King's!
Fozzy and Saxon
Friday, September 13, 7:00 PM
B. B. King Blues Club & Grill
237 W. 42 St
NY, NY 10036
1-212-997-4144
www.bbkingblues.com



###







Table Of Contents

Contact