Track By Track : Gary Lucas & Jann Klose - STEREOPTICON


By John A. Wilcox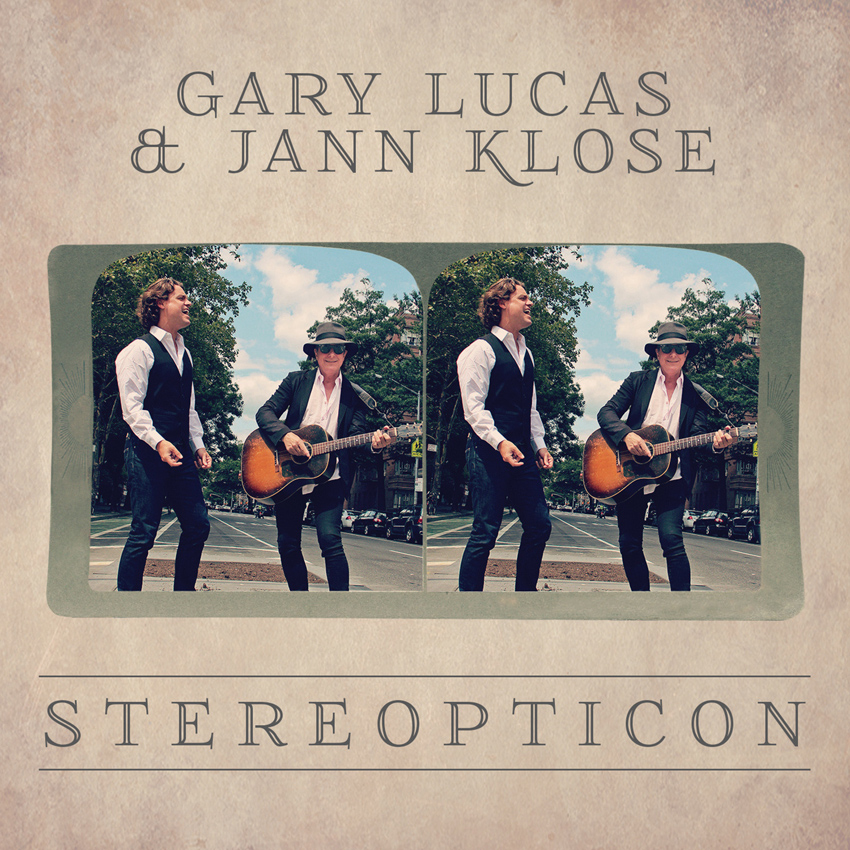 I yield my intro time to Gary Lucas & Jann Klose! : With the exception of Take Your Medicine, most of the songs on the Gary Lucas & Jann Klose urban Americana album, STEREOPTICON, were born with Gary playing ďrootsy acoustic guitar.Ē Jann would find a vocal melody, and then either Jann or partner Dan Beck would come up with lyrics.
Gary writes, ďI believe that a strong guitar instrumental composition can often serve as the basis for a truly memorable song. Many of my best collaborations-- with artists as diverse as Jeff Buckley, Joan Osborne, David Johansen, and Najma Akhtaróbegan with my original solo guitar instrumental, as did nearly every song on this album (the exception being Take Your Medicine, which was spontaneously composed by Jann and me).Ē
In 2011 when Gary and Jann started writing together, their goal was to create 10 indelible songs of short, singles-style length, using only acoustic guitar and voice. ďThe songs on this album speak for themselves. They could be viewed as templates for more embellished and Ďproducedí versions down the line, but I think paring them down to their essence here to just acoustic guitar and voice more than proves the dictum that a good song is a good song, regardless of elaborate arrangement and production technique. They also point up the beauty of collaboration, where the sum of the total parts oftentimes exceeds the creative efforts of the individual.Ē
Now let's go track by track...

Track 1: Fair Weather
GL: A rolling feel-good anthem for the summer in your mind, which might turn chilly if you aren't careful. Breezy and bluesy and bittersweet, just like life-- and the perfect way to kick off our album.
JK: Gary and I wrote this together in his West Village apartment. It was a breezy, warm and sunny day in Manhattan and I was looking out the window with a view of the Hudson River. I thought about moving on and letting go of a person who I let control me for way too long. I think itís something Iíll be able to apply to my life again in the future.

Track 2: Secret Wings
GL: A personal liberation anthem designed to help you tear down the walls that surround you both physically and emotionally. Perhaps my favorite track on the album. I love NYC but I can't wait to get out of here often. Absence makes the heart grow fonder.
JK: Living in NYC can be difficult. One is constantly pulled in many directions by different people. The idea behind the songs was to let out that frustration in a positive way and not let the City and its energy overwhelm.

Track 3: Let No One Come Between Us
GL: A good old advertisement in song for personal services rendered, dirty deeds done dirt cheap.
DB: I think it is about the sexuality a singer and an audience share at a live show. Itís about getting turned on and the tension of instant attraction and trying to take it somewhere between two very willing parties.

Track 4: Walking And Talking
GL: A soulful strut about the joys of touring and connecting with the audience, living in the moment, and not looking too far forward (or back for that matter). This one is a joy to play for me, and the fingerpicking feels like striding forward relentlessly--what you need to do to stay in the game.
JK: A song about being a traveling musician. Youíre only in town for a night or two; what are you gonna do? Itís a circus on the road sometimes so you may as well have some fun when you can, right?

Track 5: Well Of Loneliness
GL: One of my favorites--perhaps the most easily apprehended song on the album at first listen. Everyone has been down in the bottom of that well before. Jann's vocals really lift this song. Jason Candler's sax kicks it up a notch and brings it all back home.
DB: While the music is upbeat and anthem-like, the lyric is like old, traditional, basic blues. The song feels like a Three Dog Night tune, which is kind of fun comparison.

Track 6: Take Your Medicine
GL: A spontaneous composition/combustion that came out just perfectly. I'm not sure what Jann is referring to here though in the lyrics--Luden's cough drops maybe?
JK: Itís really a song about addiction and dealing with it. I know it probably sounds more tongue in cheek and itís meant to give a light hearted, humorous angle on it. However, weíre always reminded that addiction can take over if itís not kept in check.

Track 7: Nobody's Talkin'
GL: One of those undeniable musical motifs with a pronounced NYC swagger, describing a ďDay of the DeadĒ contemporary situation all too true currently all over the world. Entitled zombies on cell-phones short circuiting meaningful dialogue for a simulacrum of the real thing. Stare into those cell phone screens too long folks and you might just turn to stone.
DB: Itís just a little bit of fun about phone gazers. We all do it. But it is also about freedom and how people seek it. Some find it in their cell phones and some find it through more personal engagement. Some find it on the left and some find it on the right. Itís about not taking it all too seriously.

Track 8: Jewel Julia
DB: Itís a familiar Irish shanty. A seafarerís tale about discovering you are inexplicably and inescapably in love. Itís the realizing love changes you whether or not you want to be changed.
GL: A sinuous winding guitar figure that perfectly describes the ever changing moods of one of the most complicated and elusive females ever. Maybe you know someone just like her? Sitting right next to you...

Track 9: Mary Magdalene
GL: Anthemic, tender and tragic. Really encapsulates the feelings of devastation and scary loss we felt here living through Hurricane Sandy in a mini-epic in a 3 minute and 30 second song.
DB: The chorus is a drinking song about recovery and redemption. Itís about resurrection from disaster. The story is essentially an Irish American tragedy, of the first responders in Breezy Point losing their own homes to a devastating fire. They were prevented from fighting it by flood waters, the very resource they used to fight fires.

Track 10: Overture
DB: This started out as just a little prog riff with an elliptical poem. Jann was really able to expand it with his jazzy scats. I really love it as the closing piece to the album. Itís different and it takes the listener to a new place and a new direction. It just felt like a great place to take everyone at the end of the listen.
GL: This could be the beginning of a whole new phase not only in music but in one's life. I love these lyrics of Dan's, and Jann's singing is otherworldly here. I think it's the perfect album closer, and hopefully will send you to press the "Re-Play" button on your personal mobile handheld device or computer (or ideally, your high-end stereo system). Forward!


###
Table Of Contents
Contact