The keyboard slot in Jethro Tull is an intimidating one to fill. John Evan, Eddie Jobson, Don Airey and others have all made memorable impressions. For close to a decade, Andy Giddings has occupied that slot and made it his own. Deft with textures and fleet of finger, Giddings has a marvellous panache as a player. It was my pleasure to talk to him recently about Tull and whatever else popped up at the moment!

PS: What was the very first instrument you played & how old were you?

AG: I painted a garage door for my then girlfriend's father. It took me a whole weekend but my fee was a cheesy electronic organ he had in the garage. I was around 12 years old.

PS: What was your very first professional gig as a musician?

AG: A dinner-dance band called 'Diamond T.' We played every Saturday night at one particular restaurant, I ended up falling for the bartender. I was 16 and she was 42.

PS: How did you find out the keyboard slot was open in Jethro Tull?

AG: They found me really. Ian was looking for a drummer that lived slightly nearer than Los Angeles, where Doane Perry lives. I was playing in my own band called 'The Chase,' in pubs and clubs. We were a great band, even if I say it myself, and covered everything from The Water Boys to Paul Brady and Pink Floyd. Anyway, the drummer in the band's wife worked with the production runner's daughter, and a tape of a gig was passed to the production runner with the hope of the drummer getting an audition. I was oblivious to the whole convoluted process until I got a call from Anderson Towers. Ian wasn't impressed with the drummer but had found out who I was, and the rest, as they say........

PS: What pieces did you audition with?

AG: Let's see, Farm On The Freeway, Jump Start, and I think we jammed for a while. I had very average gear at the time but I could make it do just about anything.

PS: The fans took to you immediately. Was it a comfortable fit for you in the band from the get go?

AG: The fans were and are BRILLIANT. I am very lucky to have been accepted as well as I have been. I regularly consider who's shoes I am hoping to fill and I'm rewarded constantly by their warm and genuine encouragement.

PS: You've appeared on several Tull records, as well as 2 solo records of Ian's, was the working process any different for you on the solo albums as opposed to the band projects?

AG: The main difference is that on the solo albums it was just Ian and me working in the studio from scratch. we would work late into the night and I had the opportunity to contribute significantly both musically and technically. With 'The Secret Language Of Birds' particularly, I spent many hours 'playing' with the arrangements on the computer using Hard Disk Recording technology. I would take recordings of real acoustic performances, cut them up, move them around, change the pitch, and eventually come up with an arrangement that felt good.

PS: While slighting no pieces, do any Tull or Ian songs stand out in your mind as being especially satisfying to work on?

AG: I love to make music period. If I had a time machine I would set it to be in the studio when Tull was recording Stormwatch or Songs From The Wood. Imagine listening to those tunes loud, knowing you had just contributed to them!

PS: What keyboards are you currently using on tour?

AG: Two (old but irreplaceable) Roland D-70's housed in a purpose-built wooden stand made to look like a Hammond Organ (or writing desk), Roland S760 Sampler, Hammond XM1 module, Mackie Designs 1604 Mixer.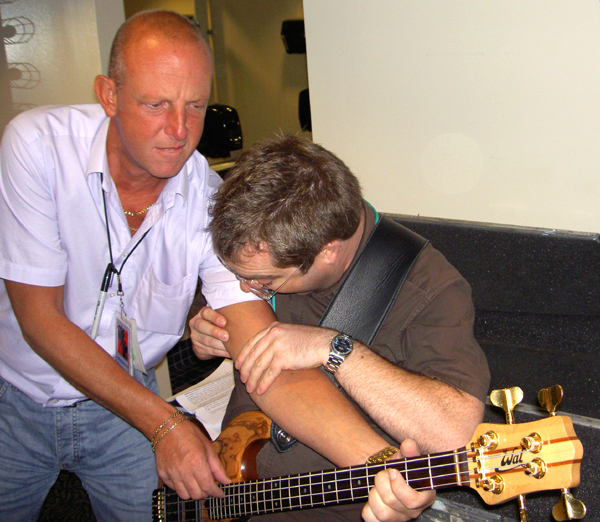 PS: What's the very first record you remember buying?

AG: How acutely embarrassing — honestly, it was a collection of standards 'performed' by two singing pigs called Pinky & Perky! I bought it because I knew that they had recorded the vocals at half speed, thereby producing that really annoying 'chipmunk' effect when the record is played at the correct speed. I wanted to slow it down again and hear what the singers actually sounded like. I did actually progress to more acceptable selections, erm, I think.

PS: Any chance of an Andy Giddings solo album in the future?

AG: Not a solo album as such, although as I write this, I am in production of an album by Vyktoria Keating, the talented singer/songwriter who opened for TULL on our 1999 US and UK tours. As producer, I am engineering, creating soundscapes and responsible for the finished and much anticipated product. We are recording at my studio in England, The Wychwood Recorder, and I am proud to use and endorse the STEINBERG range of digital audio products. More information on Vyktoria can be found at http://www.vyktoria.com

PS: Of all the cities in all the countries you've played, who had the nicest hotel?

AG: I think it has to be the Oberoi Bombay. We were given flower garlands and made to feel really special. The Indian people are so warm and amiable, I'll never forget our tour of India.




PS: Is there any Tull song that you'd like to play live that the band has yet to perform?

AG: Martin and I do a solo piece live that includes the massive guitar riff from 'Pibroch.' I'd love to play the whole song. We also played 'Black Sunday' for a short while, I'd love to include that song again.

PS: What's the next project in your future?

AG: The 'Vyktoria' project. It's sonically, musically and spiritually gonna kick ass.

PS: Please tell me 6 albums you can't stop listening to...

AG:
Nik Kershaw - 15 Minutes
Pink Floyd/David Gilmour - anything
Sting - The Soul Cages
Peter Gabriel - So
Wang Chung - Mosaic
Gustaf Holst - The Planet Suite