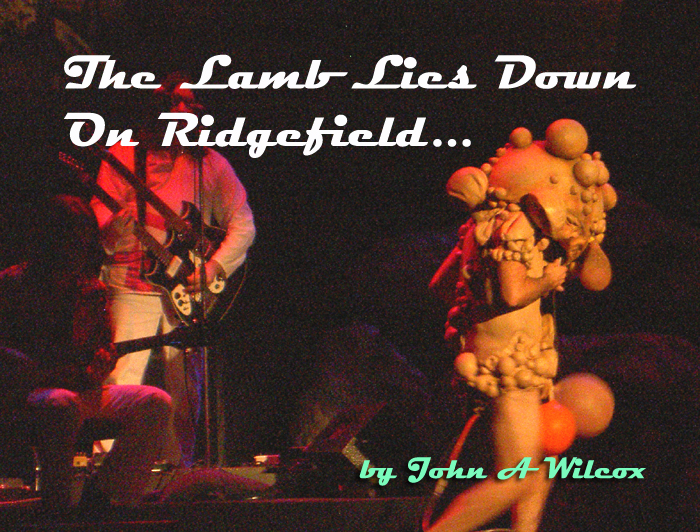 The Lamb Lies Down On Ridgefield...


by John A. Wilcox

To the public at large, Genesis are perhaps best known as hitmakers with such massive sellers as Invisible Touch, No Reply At All, In Too Deep, and Land Of Confusion. All led by Charlie Brown's balding cousin - the ever-friendly Phil Collins. There was a time, however, when Genesis was a much different entity. Fronted by vocalist/flautist Peter Gabriel, Genesis were purveyors of avant garde art rock serving the public albums like the menacing Nursery Cryme, the majestic Foxtrot and Selling England By The Pound, and the esoteric, soul searching concept double album The Lamb Lies Down On Broadway. Their multimedia show for the latter featured elaborate costumes, wild sets, panoramic slides, and state of the art lighting.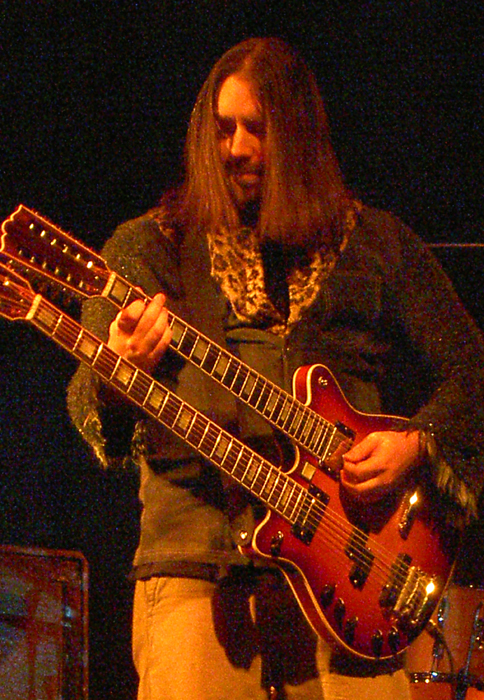 In addition to Gabriel, the Genesis of the early 70s featured Phil Collins on drums and backing vocals, Steve Hackett on guitar, Michael Rutherford on basses and guitars, and Tony Banks on keyboards and acoustic guitar. It is this era that the band The Musical Box painstakingly recreates. The Musical Box are Denis Gagne on vocals, flute, and percussion, Sebastien Lamothe on bass and guitars, Francois Gagnon on guitar, Michel Cloutier on keyboards, and Mark Laflamme on drums. While the band has performed this particular show many times over, this tour will be the last opportunity fans will have to see it. Sebastien Lamothe explains: We've been performing The Lamb Lies Down On Broadway 2 times now internationally. We feel that we've pretty much covered that part of Genesis history, and it's time for us to move on to another production of old Genesis.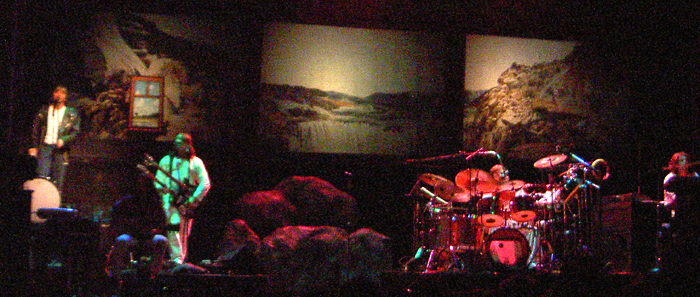 Lamothe found that this specific show had a different set of challenges as a player: Specifically in that show, Mike Rutherford took a chance. He was not playing bass anymore, but a 6 string baritone guitar. That gave him a lot more melodic possibilities. He was very busy on the whole record, which makes me very busy as well. Lamothe and the entire band bring to life the final vision of Peter Gabriel within Genesis. It's the story of Rael - a Puerto Rican punk who finds his life turned upside down and inside out in a transformed New York City. It's a strange tale brought to life through compelling music, bizarre costumes and props, and an unforgettable set of images projected behind the band. It was a difficult task for Genesis back in 1974/75 and surely a challenge for The Musical Box. Thankfully, it's a challenge they relish. Lamothe again: It has always been our mission to try to bring back on stage as accurately as possible everything that was done, for the simple reason that we would love to be part of the audience just like you. We're so fascinated with what was created by Genesis that we want to relive it for people. We want people to have the illusion that they are seeing the real thing.

The Musical Box will be performing The Lamb Lies Down On Broadway at 8:00 pm on Sunday, November 18 at:
The Ridgefield Playhouse
80 East Ridge
Ridgefield, CT
(203) 438-5795
www.ridgefieldplayhouse.org



###





Table Of Contents

Contact