A Few Words With...Malcolm Mortimore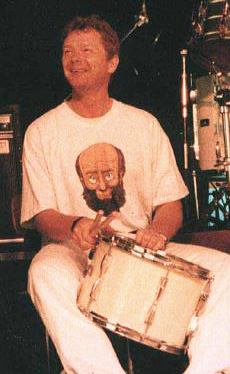 Recently I was listening to Gentle Giant's 3rd album: Three Friends. Unique, quirkily melodic, and rhythmically adventurous, it has always been a personal favorite. I was curious about the man in the drum seat on that album - Malcolm Mortimore. I knew nothing about him. I searched the web and next to nothing turned up. Quite by chance, I found his email address and asked if he would grace ProgSheet with an interview outlining his time in Gentle Giant. Malcolm generously agreed. Read on!

PS: Before you were a member of the band, were you aware of Gentle Giant? If so, what was your impression of them?

MM: Yes, I was aware they existed due to an advertising campaign waged by Vertigo Records in the Melody Maker music paper. The method of the campaign was to print a very small Gentle Giant face from the cover of the first album, in the corner of a page in the paper, with no text what so ever. This went on for on for several months and I thought it was a clever and subtle way to get interest in the band. I had never heard Gentle Giant until I auditioned for the gig.

PS: How did you get the gig to play on Three Friends?

MM: I answered a small ad in the Melody Maker, it read something like " Pro band with recording deal need drummer NO TIME WASTERS".

I went to a room above the Reobuck pub in Tottenham Court Road London along with three hundred other drummers, so I was told later, and played with the band. They asked me back for a second call down in Portsmouth a week later, then I got a call from Phil Shulman to tell me I had got the job.

I had a week of rehearsal to learn the set they were playing live at that time, then we started gigging and touring. Playing on Three Friends was as a result of me being the drummer at that time for Gentle Giant.

PS: What sort of kit did you play on the album?

MM: A Ludwig Super Classic. I bought the kit from a shop called Drum City in London two years before making Three Friends.

It was an ex-hire kit and I was told, after I had bought the kit it was used by the Beatles when recording the Sergeant Pepper Album, I still use it.

I used the bass drum and toms single headed on Three Friends. If you want to see it and me for that matter, go to malcolmmortimore.net and there should be a pic of me playing it circa 72/73.

PS: Were any of the drum parts on the album written in advance, or did they leave it all up to you?

MM: No parts were written but Kerry did have clear ideas of what sort of feel, and where he thought the drums should be playing, but Kerry was also very open minded about letting me try my own ideas on the pieces. So I guess you can hold me responsible for the drum kit rhythm patterns, fills and pick ups, the more orchestral percussion patterns were Kerry's ideas.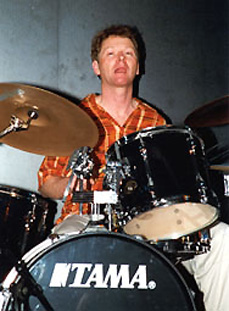 PS: How did the drum/guitar section of "Peel The Paint" come to be? Were you & Gary Green just left to your own devices?

MM: I seem to remember Derek Schulman suggesting that Gary and I go and improvise something about two minutes long. Gary and I then had a brief chat about what form this improv might take, loud - quite loud seemed a good plan, and so in to the studio we went and did it. The thing starts with Gary tearing off big bluesy cadenzas I then answer with a four beat pick up then we are into it, it just happened that way.

Gary had the use of an Echoplex, which his brother Jeff had borrowed from the Soft Machine; Gary turned this on in the quiet and second loud section.

At the end of the first loud section Gary pauses and I play four quarter notes on the snare. This is when Gary is turning the Echoplex on, again, this was just the way it happened. I then play cross stick patterns over Gary's patterns played thru the repeated echo, we then gradually built to a climax, and finally ends in a sort of musical road smash with Gary turning the speed of the Echoplex up to max and with me on choke cymbal. This section of Peel the Paint was recorded live at Advision Studio London and then spliced into the rest of the piece.

PS: Very little is known about Phil Shulman. What was your perception of his role in the band?

MM: Well as you can hear and see from the records Phil sang, played Tenor/Baritone Sax, and sometimes wore a funny hat, but as well as that in my time I guess I viewed him as a sort of foreman come gang master. Well he was the the guy that told me I had got the job, and then when I had the Bike accident he was the guy who told me I was out.

PS: Was any one person driving the band, or was it more of a collective effort?

MM: Phil used to do a lot of the driving especially when the Band got a new Volkswagen Bus, Nah…. I know what you mean. So in my time with the band :
I think the Compositional driving force of the band came from Kerry.
I think the front-runner in so far as ambition for commercial success was concerned was Derek.
For feel and soul Gary and Kerry.
For playing great all the time Ray.
For being killer performers on stage everybody.

PS: A song like "Schooldays" seems like a very carefully arranged piece. How diagrammed out were the parts before you went into the studio?

MM: I agree, I think "Schooldays" is very carefully and brilliantly arranged. Diagrammed out? Are you referring to the use of graphic scores and the like? I cannot remember seeing any parts for "Schooldays."

All the orchestral Bass drum, Snare drum, Hi-Hat and Cymbal parts to my best recollection came from and were stored in Kerry's head. Kerry also played most of the percussion parts in the first, third and fourth sections.

Gary is then heard on my kit in the slow section, note Gary's four beat laid back pick up, no part for it again, but it's probably best described as a " ka fripp frapp blodiddy bonk Bosh!''

PS: In the history of Gentle Giant, your time in the band comes between Martin Smith & John Weathers. How do you feel your approach to the band varied from theirs?

MM: Each time I played the songs I played as fresh and alive as I could, if I could play something different each night and it worked for the song and the band, I was a happy Bear.

I was eighteen years old at the start of my time with Gentle Giant and my three favorite drummers at that time were, Mitch Mitchell, Robert Wyatt and Elvin Jones. If you had asked me this question back then, I may have said something like "I just want to be free. Know what I mean?"

PS: Do you look back fondly on the sessions for Three Friends?

MM: I think those sessions should serve as a warning to all…no, I really enjoyed certain parts of the recording. However, the tracks were often recorded in quite small sections then overdubbed and linked together. So way back then, it was not always clear to me what the final arrangements of the pieces were to be, and now with hindsight I think I would have played some pieces differently and more effectively.

I now look back with amusement on those sessions. I was in certain areas a different player and person than I am now and therefore see myself as fortunate to have a snapshot of where I was at back then, not to mention flattered that people are interested in my contributions to that Album now.

PS: Are you still in touch with anyone from the band?

MM: No I am not in touch on a regular basis, but I talked with Gary a couple of weeks ago, and I get Christmas cards and e-mail from Lesley and Kerry.

John Weathers, Kerry and Lesley, Gary and his wife and my wife and I are all going to meet at GORRG in Wales this October.

PS: I am told that you were in an accident shortly after the Three Friends sessions. What happened & how long did it keep you out of commission?

MM: I had a "Big Off" on a Norton Motorcycle into an Oak Tree. I broke my Arm, Leg and Pelvis but not my sunglasses! I then joined GT Moore and the Reggae Guitars in 1973 and made the first Album with them in 1974.

PS: I ask all musicians this question: Off the top of your head, what 6 albums could you not do without?

MM:
The Planets Suite - Gustav Holst
The Atomic Mr. Basie - Count Basie
I Sing the Body Electric - Weather Report
Clear Spot - Captain Beefhart
Kind of Blue - Miles Davis
Catch a Fire - Bob Marley & the Wailers

PS: Fans want to know: where can we currently hear your work?

MM: malcolmmortimore.net





Table Of Contents

Contact