A Few Words With...Oliver Wakeman


Interview and photos by John A. Wilcox



The Wakeman name has been synonymous with brilliant keyboard playing. Oliver Wakeman has kept the tradition going with albums like Jabberwocky (with Clive Nolan) and The 3 Ages Of Magick. Currently on tour with Yes on their In The Present 2008 - 2009 tour, Wakeman shared a few thoughts with Progsheet for your perusal! Enjoy...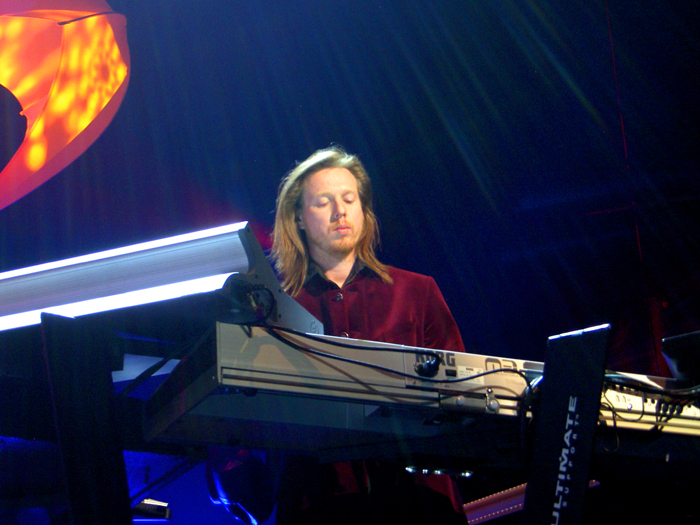 PS: What was the first keyboard you ever bought and why that particular one?

OW: I can't remember the first ever keyboard that I ever bought but I can remember the one that was the most important, it was a second hand Korg T1 (which I still use to this day as part of my set up). It is a great 88 note weighted keyboard and I had saved up for a long time to buy it and when it arrived I was very excited!

PS: What was your very first paying gig as a musician?

OW: I think it was at a pub in Barnstaple in Devon in the UK. It must have been in the late 80's, and I remember that I had borrowed a few keyboards, I had one of my own and I had one keyboard stand and an ironing board to rest them on. Pretty low budget stuff - it was nerve wracking but a great experience....!

PS: I've seen you mention Jon Lord as an influence. What about Lord's approach has inspired you?

OW: I loved his 'on the edge' approach to playing, there was an energy in his soloing that really appealed to me. Still does. I've recently re-bought some of the records I loved as a kid on CD and they still excite me in the same way they did then.

PS: You've worked on a few projects with Clive Nolan. How did the two of you first meet?

OW: I used to do a radio rock show as a guest presenter talking about Progressive rock and one day the main presenter, Jim Ling, interviewed Mick Pointer who is the drummer with Arena and who was the original drummer with Marillion. He came down to do the interview and Jim asked if I would like to come along that night. I said 'yes' and got a couple of albums signed and Mick invited me up to London to meet the keyboard player from Arena, which was Clive, and it all started from there.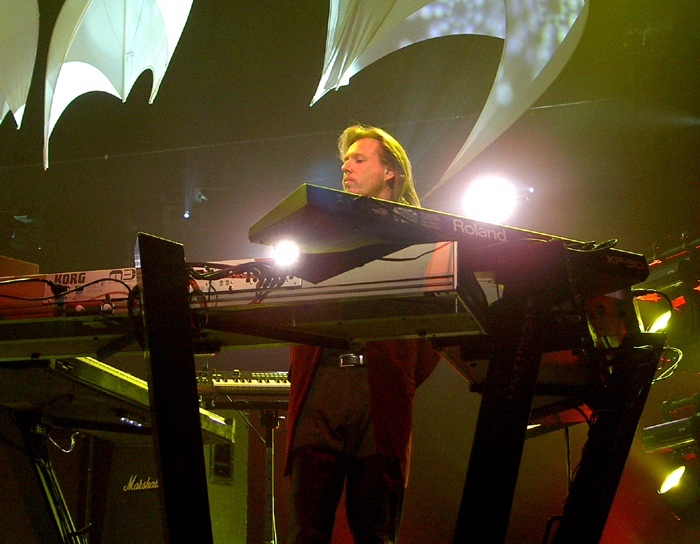 PS: You've done albums with two Yes guitarists: Peter Banks & Steve Howe. What would you say they have in common as players & how do they differ?

OW: They both have a unique style, Peter is very improvisational and never plays the same thing twice, which means you get some great things that come out of no-where!
Steve and I have worked together over many years and he is just a superb player who I admire enormously. I've been fortunate enough to spend lots of time in his company discussing music and songs and he really lives his instrument and he's always open to thoughts and ideas which is great.

PS: How did Moon Kinnaird get the vocal slot on the Mother's Ruin album?

OW: He had worked with Clive and I on The Hound of the Baskervilles and he had a voice that I felt would suit the songs I'd written for that album.

PS: When you went out to support the album live, Paul Manzi took over on vocals. What does he bring to the band that wasn't there before?

OW: Firstly, Paul has a great voice and is a pretty good acoustic guitar player too. He really likes the music I write and I really enjoy how he interprets my music so we have a great working relationship. We are also really great friends too. He is also a great front man with a dynamic personality which gives the band another dimension when we perform.

PS: Give me some background on a few songs, please. Let's start with Mother's Ruin.

OW: My 'ecological' song, but in my defense I did write the main words to the song long before it became fashionable to do so! The version on the album was quite involved and so I decided to do a stripped down acoustic version for the live set and this can be heard on the DVD Coming to Town which came out earlier this year.

PS: Glimmer Of Light

OW: This was a track from the Jabberwocky album and featured Tracy Hitchens on vocals. She has a great voice and sang really well on the whole album. The song is basically a 'don't give up' type song which I really enjoyed writing. We still include it in my bands live set sometimes.

PS: Dangerous World

OW: This was a collaboration with Clive and appeared on our Jabberwocky album. Again, Tracy did a great job with it although Paul has interpreted it really well for the live set. I came along with the main musical part of the song and the harpsichord section and Clive had some chorus ideas and the two parts moulded together really well and it always goes down well when we play it. Even though it's a pretty slow song it's very uplifting in its own way.

PS: And finally, The Whales Last Dance.

OW: Ah, this was from my 3 Ages of Magick album that had Steve Howe on it. I was watching TV one day and saw a documentary about some whales that had been stranded in a bay and then were beached and I thought how sad it was and I wrote a piano piece about it but I started to develop the music further and the whole story of a whale swimming in the bay seemed to be very strong for a musical idea. I must be honest, it is one of my favourite songs from that album.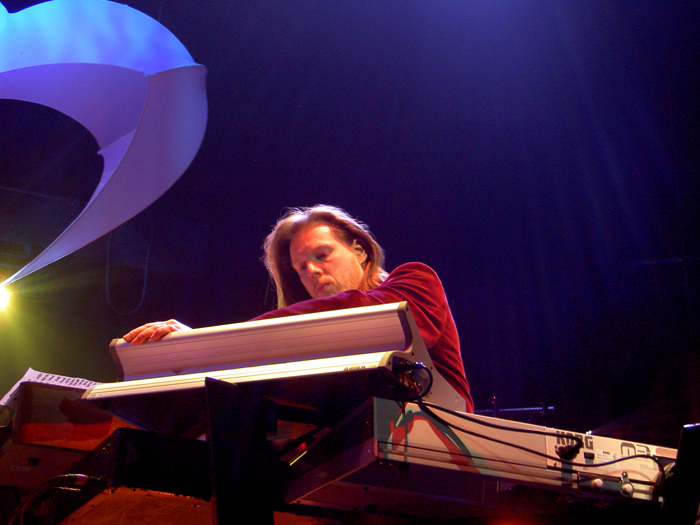 PS: How did you become involved with Starcastle?

OW: I was approached by John Jowitt of IQ and then subsequently by Al Lewis (the singer). We wrote to each other and got on really well and when we met to do the show (with just 1 1/2 days rehearsal) we all got on really well. Al and I are in regular contact as I am with Steve Tassler (the drummer). Hopefully we'll work together again in Starcastle in the future, although Al and I are working on a new project together which should be fun.

PS: As you tackle the Yes material for the In The Present tour, how closely do you stick to the studio arrangements & sound choices? Are you given carte blanche in that regard?

OW: Not really, Steve Howe and I had discussions about how to handle the music and after discussions it was decided that it wouldn't be right to try and just copy what Dad had played live so I went right back to the original records and learnt all the parts from those whilst bearing in mind the live arrangements that have evolved over the years. It was a lot of hard work but it seems to work and the responses have been great so far!

PS: After the tour concludes, what are your next plans on the horizon?

OW: Other tour legs are being worked on at the moment but when I get a gap I intend to try and record my next solo album which is to be called Cultural Vandals. It is all written I just need time to finish off the keyboard parts and start recording the other guys. Maybe we'll get a gap to play live too next year on a mini tour.

PS: Please tell me 6 CDs you never get tired of listening to.

OW:
Deep Purple - Who do We Think We Are
It Bites - Eat Me In St Louis
Rick Wakeman - No Earthly Connection
Oliver Wakeman - Mother's Ruin (is that allowed?)
Dream Theatre - Images and Words
Pretty much anything by Styx!
*Please note the above list is subject to change at a moment's notice!



###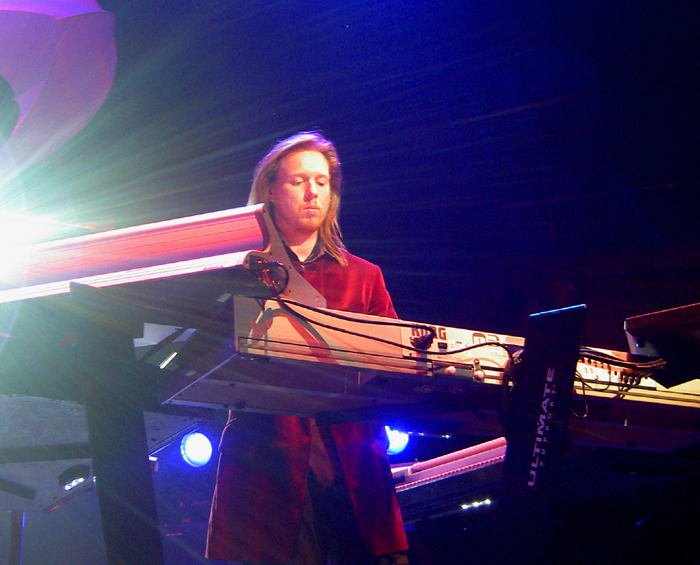 Table Of Contents
Contact