Track By Track: Ricky Byrd - Clean Getaway


By John A. Wilcox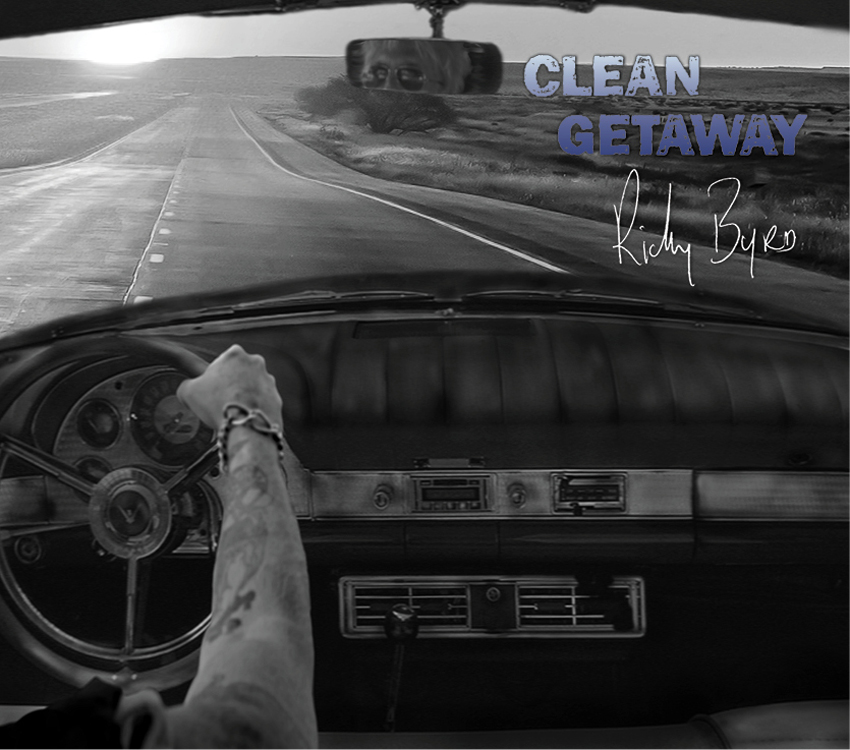 This is a straight-up rock record. It also has much to say about getting clean and sober. I'm going to let Ricky Byrd fill you in. Take it away Ricky:
All of these songs except for Kicks are the songs I play at treatment facilities when I lead recovery music groups.

Producing yourself can be a nightmare, especially when using protools where you have so many choices. So my go to for the truth when I had a question or late at night when my tank was empty and found myself in a recording corner looking like a deer in the headlights was my pal Michael Des Barres…long distance therapy I suppose. Always good to have an extra pair of ears.

Towards the end of mixing I would send Steven Van Zandt a track and ask if he thought this or that was too loud or soft and for vocal sound ideas.

When you are deep into a project you sometimes are too close to the canvas to see the whole picture.

In the end I do what I feel is right but it's good to have an opinion or two from the right people.

Wilcox again. If you buy this CD from the link here, a portion of the proceeds go to the non-profit Clean Getaway. https://rickybyrd.hearnow.com/. Let's all go track-by-track...

Track 1: Kicks
RB: I knew I wanted to cover one cool R n R tune that addressed addiction and might be a good introduction to radio. There I was driving in my car, minding my own business, listening to Little Steven's Underground Garage and this gem came on. Problem solved.

Track 2: Better Days
RB: Musically as I wrote these songs I was thinking about what grooves I would like on the Cd and what would be fun to play live. I tend to express myself with a nod and a wink most times so this one is the juxtaposition between active addiction and before the listener lost control of the car. It has a bit of a Traveling Wilbury's strummy thing goin' on. I usually start my group with this one and ask at the end if anyone could identify with the lyrics. The response is always "Bro, you told my story"…mission accomplished.

Track 3: Kid (A Cautionary Tale)
RB: Again I wanted a few songs that didn't hit you over the head with the serious message so I might get some airplay. The more airplay , the better the chance someone who needs the message might hear it. I came up with music that was a direct result of being a teenager in the 70's and listening to Mott The Hoople. Didn't hurt that I toured with Ian Hunter in the 90's . I love that descending guitar line in a song.

I brought what I had to Mark Hudson and said let's write something about a parent talking to a kid who is at that curious age of experimenting we all went through. Prevention is the strongest weapon we have in this opioid epidemic, and I think parents need to communicate more with their kids. We can't stop someone from making bad choices, but we can tell them the truth and educate them on the possibilities. The key is not to be preachy because that's the last thing a teenager responds well to.

Steve Holley's drumming on this kills!!

Track 4: Clean Getaway
RB: Lyrically it's pretty much my story. Co-wrote this one with Richie Supa. Musically on this CD I had the freedom to be all over the place with styles, because It's not really a Byrd solo CD as much as it is a story about Addiction, Recovery, Hope and Possibilities. I'm just the narrator. Most if not all the Rock n' Roll I listen to has it's roots in the Blues and R&B , so I had to put one like this on the CD. The Asbury Juke Horns with just the right parts, plus my new pal Bobby Whitlock testifyin' on the organ and piano…as Larry David would say...pretty, pretty...pretty good.

Track 5: I Prefer Wakin' Up...To Comin' To
RB: Somebody asked me why am I still in Recovery after 30 years…that was my response. Knowing I just came up with a cool song title I quickly wrote it down on my phone's note pad. I knew from that one line the music needed to be greasy and fun so I went directly back to my Chuck Berry roots. Which is where my playin' starts. When we cut the track I told Steve Holley I wanted to stay away from that straight beat you would expect and go for that hurky, jurky beat that Chuck used on Bye, Bye Johnny. My guitar playin' is straight outta the Berry textbook. Mop em's on rhythm and single note leads. Simple and pure.

Track 6: Lighthouse
RB: I was sitting around with my guitar on my lap playin' nothing in particular, when I started foolin' with this Otis Redding style chord pattern. Next thing you know I'm humming this melody and mumbling some words. I took what I had and made a quick recording of it on my digital handheld and emailed it to Supa in Fla. We discussed the theme, which would be about hope and he said I'll get back to you. Then we do the back and forth phone thing until the lyrics hit you in the heart. I started ending my groups at the treatment facilities with Lighthouse which always brought tears to the eyes of the clients. That tells me we done good.

I love how it came out on the CD. I wanted that soul vibe with horns and organ. Strictly old school baby.

I sent the finished product to Steve Cropper and got the thumbs up...lol

Again we done good.

Track 7: High Wire
RB: My songs always start with the guitar first and this was no exception. I'm just pickin' and a grinnin' and something either shows up worth working on or not. I knew immediately this was gonna pull on the heartstrings without one word being written.

The first line "I'm up on the High Wire, workin' without a net" came flying out of my mouth first time I played the opening chords. It sounded like my active using days so I went from there. It's all about having a moment of clarity where you can actually look at your using and abusing with some logic. Knowing there are people around that want to help.. It's that trip between denial and surrender that's a bumpy road but there is gold at the end of the journey.

I wanted a chorus you wouldn't expect. It sounds almost like a separate piece.

"So I pray for life. Put my heart in your hands. Please make it right. And save this desperate man". The gift of desperation. The subject in the song is ready for change…

He or she is finally asking for help.

I wanted the recording to sound simple and honest like I play to the people in my groups.

Track 8: Paranoid
RB: I wanted to have a bit of humor on this and when I play this at treatment everyone is laughing and singing along on the chorus. If you get deep enough into drugs and alcohol paranoia is common. We took the craziest situations and put them into a lyric. Something people who know can identify with.

I can't tell you how many hours I spent in my hotel room, high on cocaine staring out the peep hole because I was convinced the DEA was walking up and down the hallway looking for me. Funny now…not so much then.

The music is a straight up greasy groove. All the guitar riffs you'd want me to play on this one I played…

Track 9: Sweet Surrender
RB: This is a co-write with Mark Hudson. Basically about one friend helping another through some rough times, which is what recovery should be all about.

I brought mark a big 60's soul groove. Kind of has that Righteous Brothers feel. You know it as soon as the intro starts. In fact we held up the drums for a few bars to let the groove settle in with chords and cool backgrounds courtesy of Hudson.

The last duet I was part of was back in the Blackheart days. I believe we did Bring it on Home together.

Sara Devine is Mark's friend. He called me and said I have just the voice to sing this with you. I had some other ideas of who I wanted to sing with me but he said Sara was in the studio doing something with him and she'll sing it right now. I came right over. She nailed it in pretty much one take.

Track 10: Addict's Prayer
RB: I wanted to keep this one pretty much how I played it in my music groups. We added Jeff Kazee on accordion to give it some color.

It's about relapse . The idea was from conversations I had with the ladies and gents in my groups. No matter how low you go you still justify a reason to come back for more despair. It does end on a high note when the singer decides he's had enough. And sings "I ain't comin' back for more. The backgrounds are courtesy of a bunch of recovery newcomers from Mainstream Sober House who I invited down to testify. I wanted the truth and I got it.

Track 11: I'm Done
RB: I always explain to the clients in treatment the difference with being DONE because you are at a low point and fragile and DONE because you can't live this way anymore and you will listen to suggestions and take direction from those that have been there. For recovery to take you need to surrender. Will I go to any lengths to stay clean and sober.. That is the million dollar question. The first DONE is logical and is a brain thing. The latter is a heart and soul thing.

The music is a blues riff turned up loud. I wanted to play a bunch of cool guitar parts on this. The kind that used to make my head spin when I was 14 and heard them on a Zeppelin record. We used a few old recording tricks on this baby. Got to play around a bit.

Track 12: Broken Is A Place
RB: This was the first Recovery tune I wrote with Richie Supa. It was used in a Documentary about the epidemic. Always a few tears when I play it at treatment. Seems to be a favorite to a lot of people.

It's definitive.. Broken is a place I've already been… I'm not going back. The perfect message to end the CD.

I wanted to do something special before the song started so we took the solo and moved it to the top. Then added some b3 underneath and made the whole part sound gritty and old. Then we removed my guitar for the first verse. Just a naked vocal. I love how it turned out and it's a great positive way to complete the story.. or maybe it's the beginning of the next story…Recovery.


###
Table Of Contents
Contact