A Few Words With...Mike Rutherford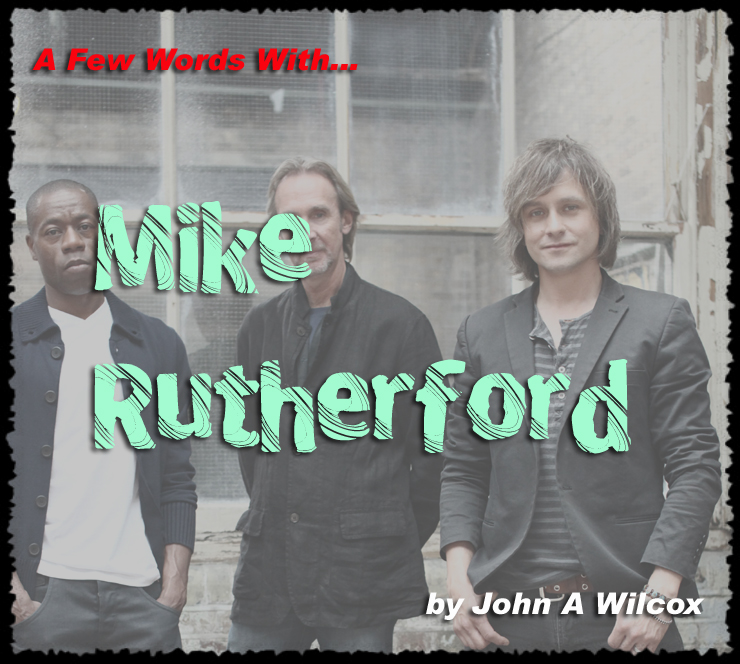 Interview by John A. Wilcox



When you think of Mike Rutherford, what first comes to mind? My bet is that it's "Genesis," "bass," "guitar," "Mike + The Mechanics," or one of the many songs associated with either band. Mike + The Mechanics have come back to the USA for some live dates and when I heard they'd be at the new Infinity Music Hall in Hartford, here in Connecticut, I jumped at the opportunity to talk to Mike on the eve of the upcoming shows...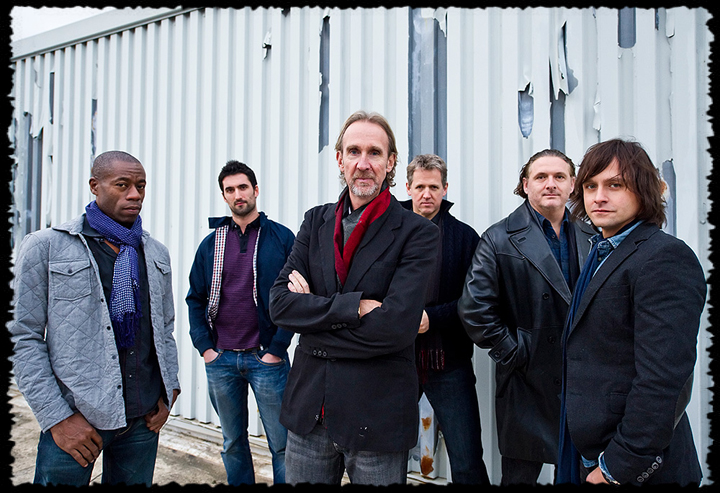 PS: It's been decades since Mike + The Mechanics have played in the USA. Why the long delay?

MR: Well, what happened with the Mechanics is really that we never toured much ever, anywhere. Because the pattern was I'd do a Genesis record for a year, then go out on tour for a year, then do a Mechanics record. Then around year 4 everyone said come back, do more tours for Genesis. I didn't get much time, only a few shows really, 'til I ran out of steam.
When Paul Young died in 2000, we kind of wound it up. Then we sort of thought that was it. Then I kind of started it again about 3 or 4 years ago as a songwriter thinking it's fun to write songs and, hey, I've got a band to write songs for, so off I went! At that moment in time I'd started doing a few shows and realized what great songs they were for live performances: Living Years, Silent Running, All I Need Is A Miracle. I was surprised how well they worked on stage. That got me fired up to do a bit more touring. I've done Europe the last couple of years, so here we are trying the States, which should be fun!

PS: Will it be the same set you play in Europe?

MR: No, probably a little bit different. I'm not sure. I haven't quite worked out yet what to do. Obviously we started in America in the middle eighties - Mike + The Mechanics sort of kicked off really and less popular in Europe. Over the years America drifted off and Europe took over. Some songs were better known over here so I might do differently, but I kind of believe that a good live song is a good live song.

PS: While it wasn't a hit here, I'm very fond of a piece like Over My Shoulder.

MR: There you go. That's a huge hit in Europe and it works great on stage. It's kind of hard to gauge what songs because very often certain cities pick up on a song. Over the years, a Mechanics song - it's not a huge hit but it's a radio hit, so we're gonna find out. I might upset the works, I might make changes, but it will be similar.

PS: Interesting to see Anthony Drennan in the band. He's probably best known as a guitarist in Clannad, but of course he played on the Genesis Calling All Stations gigs.

MR: He's a great player, I've kind of got a band now. This is our fourth year playing together live, it's quite nice. You can't cut any corners, it just takes time for the live shows to become something that is a bit more special, do you know what I mean? First you play all the right notes and you're playing together in time, but then over the years you get this kind of bond thing on stage and you react in a different way. And I feel, especially last year - the guys kicked into a new gear last year.
Once again, the thing we always had which people didn't see much because we didn't play much live is 2 lead singers is actually a great energy buzz. It's been working in Europe - in America, we'll see. It was a kind of natural choice to carry on with 2 voices, an R&B voice which was Paul Carrack and is now Roachford, and a kind of rock voice which was Paul Young before he died and now it's Tim Howar. The combination of the 2 voices really work and don't conflict at all.

PS: Who's got the keyboard slot?

MR: It's been Luke Juby since we started 4 years ago. He's a young writer / producer / arranger. In fact, for the last few years he's been a writing and production partner of my youngest son, Harry. They do production and writing. He arrived on keyboards and then I said, "Well, can you play bass on this song?" "OK." "Can you play sax?" "I did use it at school." "Can you whistle?" He's a man of many talents!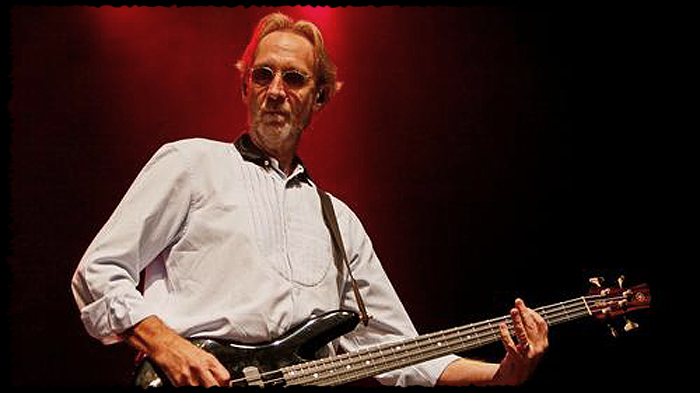 PS: On drums it's Gary Wallis, yes?

MR: Gary's been with the Mechanics for about 20 years now, he goes way, way back. I've known Gary Wallis for a long time. I first met him - I did a charity show years ago - just down the road from me with Genesis and the Floyd and Eric. He was the other drummer with the Pink Floyd at the time - 2 drummers. It's nice having him on drums. He's been a sort of stalwart with the Mechanics. he has a real great energy which drives us along.

PS: The tour coincides with the US release of the deluxe edition of The Living Years I believe

MR: It's a 2 CD thing. The 2nd CD is some of our songs played live. They always sounded good live, in some ways better. A nice retrospective I think.

PS: Also the US release of your autobiography.

MR: I think so, that's the plan.

PS: With so many people consuming their music digitally, are physical CDs still essential for artists?

MR: Well, to be honest, not really, it's a thing I'm looking at at the moment. I've started writing new songs the last couple of months. If you're Ed Sheeran or Coldplay, you sell big records, but most artists don't sell a lot of records anymore. Especially artists in my sort of situation with a big catalogue of stuff which has been heard a lot. I've written some music; I'm going to actually not record it proper. I'm going to take it on the road and play some of the songs live, that's a good test. If a song can't be made good live then the song isn't good enough. That's quite a good way to go through it, I've been doing it for years. Then we'll see what we do with it.

PS: Do you still write mostly on acoustic guitar?

MR: No, more electric really - both, actually. When I write, I'm writing at home, not in a big studio. I've got a big racket. I've got a drum machine going. I've got my electric guitar, I've got my guitar synthesizer playing strings or keyboards, my bass pedals. It's a big old sound I make on my own!

PS: Has there been any thought about bringing Acting Very Strange back into print?

MR: Wow! I never thought of that. I like questions that surprise me. Is it not available? It probably should actually - why not? In this day and age everything should be out somewhere, shouldn't it?
That was my 1 singing moment and probably why I formed the Mechanics - because I wanted a better singer. Like all these things, it's a part of your journey. It's fun to do. I have a great belief that anyone can find a way to sing. Unfortunately, in my case, being in bands with Peter Gabriel and Phil, it's kind of hard to be bothered to get away from that. If I'd have been thinking about it earlier, properly, I'd have found a better way to sing. But it is what it is now, no complaints.

PS: What guitars are you using on this tour?

MR: I use many a Strat, the EC Strat, it's the most sort of quick little workhorse. You can do a little bit of everything really. I've got a Yamaha Bass I'm playing now. I'm thinking about bringing back the double neck, maybe not 'til after America. At the moment, I'm not playing as much bass as I'd like to, which means that Anthony Drennan is not playing as much guitar as I'd like him to. We might try to address that a bit. I still play a bit of both, definitely. I do some acoustic guitars. I keep the good ones at home but I tour with a Yamaha.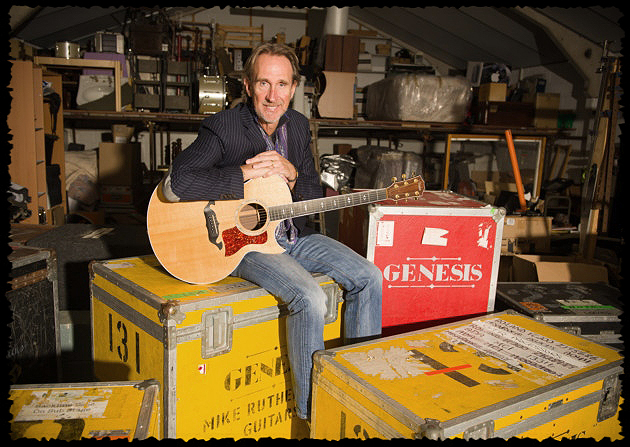 PS: On the Genesis front, is there any talk of releasing more live material?

MR: It never gets very far, we always talk about the board tapes. We have some great board tapes. We need someone to properly sift through them. In my mind, my approach is someone's got to copy them off of cassette. The cassettes are starting to fall to pieces. In my mind, I think they should be what they are. You do X number of shows from a tour. The mistakes and the mess-ups - that's all part of the evening, I quite like that. I know Tony Banks worries slightly, but I think it's OK, it makes it memorable. You've made me think, I must push on with getting a chap who ran our studio and retired now, little Geoff. He's moved to the country but he's got a little studio. We've discussed giving him the tapes and getting him to just copy them over to a hard drive so they're playable.

PS: Are you eager to play the States again?

MR: I'm looking forward to it. America's such a huge part of my history live-wise. It's a nice little Northeast tour to get a feel how it works for us. The Mechanics I've found suffer from one thing: the general public. Everyone knows the songs, but not the band. People come to the shows and go, "Oh my God, I knew all those songs! I didn't know that they were you!" You have to start going around a bit to remind them who you are. We shall see!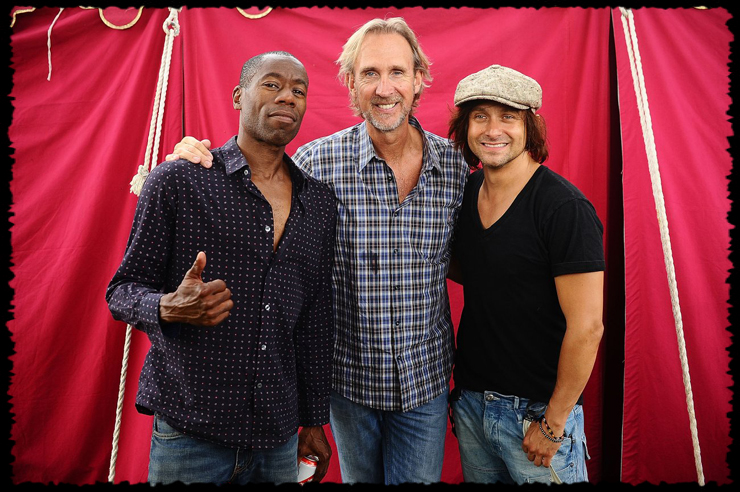 Tue 03/03/15 Tarrytown, NY The Tarrytown Music Hall
Wed 03/04/15 New York, NY Best Buy Theater
Fri 03/06/15 Atlantic City, NJ Borgata
Sat 03/07/15 Boston, MA The Wilbur
Sun 03/08/15 Hartford, CT Infinity Hall Hartford
Tue 03/10/15 Toronto, ON Queen Elizabeth Theatre
Wed 03/11/15 Montreal, QC Theatre Maisonneuve
Fri 03/13/15 Munhall, PA Carnegie Library Music Hall Of Homestead
Sat 03/14/15 Ann Arbor, MI Michigan Theater
Sun 03/15/15 Cleveland, OH Hard Rock Rocksino Northfield Park
Tue 03/17/15 Cincinnati, OH Taft Theatre
Thu 03/19/15 Milwaukee, WI Pabst Theater
Fri 03/20/15 Chicago, IL Park West
Sat 03/21/15 Chicago, IL Park West



###





Table Of Contents

Contact