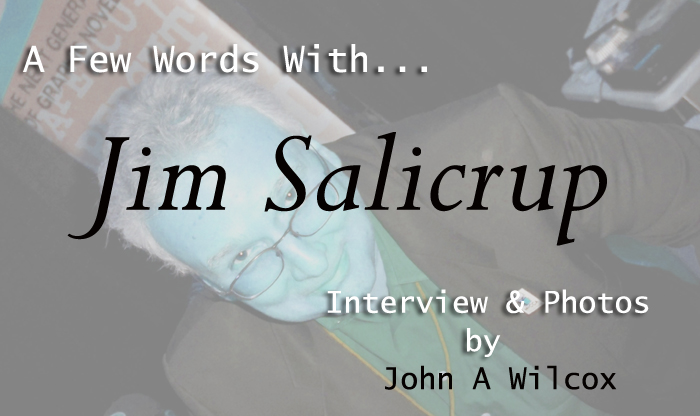 A Few Words With...Jim Salicrup


Interview and photos by John A. Wilcox



Years ago, I had the pleasure of working for Jim Salicrup during his tenure as an editor at Marvel Comics. At the time he was editing the entire line of Spider-Man titles. Flash forward to 2011 - Salicrup has gone from Spidey to the Smurfs as he works for Papercutz - a graphic novel publisher. Put on your Underoos and join me as Jim & I talk comic books...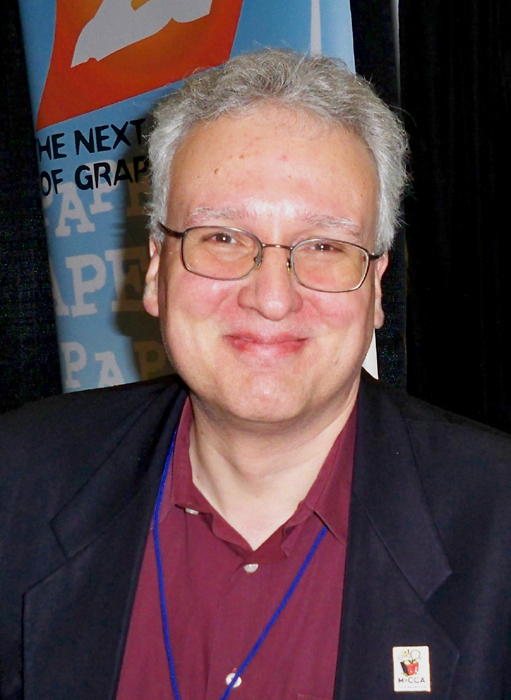 PS: What was the first comic book you remember reading?

JS: Gee, wouldn't it be great if there were books that featured the covers to every comic book ever published organized by month and year? Then all I would have to do is look at the covers from around the time I started reading comics and find the oldest one I remember reading! I do remember reading newspaper comic strips early on -- Moon Mullins, Dondi, Blondie, and all the rest that ran in the New York Daily News. I also read a serialized version of Herge's Tintin that ran in Children's Digest magazine. Otherwise, I dimly recall reading Harvey, Dell, and DC comics early on, then Marvel and everything else soon thereafter.

Furthermore, I remember that the Superman TV series got me to read DC comics -- I'd start with Superman, and that would lead me to all the spin-offs such as Jimmy Olsen, Superboy, Lois Lane, World's Finest -- which then lead me to Justice League Of America -- which lead to Flash, Green Lantern, Atom, etc. Sounds kinda Biblical, eh? And Flash begat Green Lantern, which begat the Atom...

PS: What was the first comic book series you read with regularity and what attracted you to it?

JS: Probably Sad Sack or Casper The Friendly Ghost. Casper, because I liked the TV cartoon show. Sad Sack because it was kinda like Beetle Bailey from the newspaper comics. Both series were told clearly, in simple cartoon style, with light-hearted stories and gags. They were simply fun reads.

PS: Was there a specific turning point where you realized you wanted to get into the comics biz?

JS: I loved to draw, and I loved to write, so it seemed very natural for me to want to get into comics. But when I told my dad I wanted to be a comic book artist, all he heard was artist. He thought artists were people who starved and made paintings that only became valuable after they died. So because he wanted his son to not starve, he suggested I become an architect instead. It kinda sounded similar to artist, right? And it would be more secure. I never intended to become an architect, but I played along, and if anyone asked me what I wanted to be when I grew up, "architect" was always my answer. Years after I was in comics, my dad apologized to me, feeling bad that he had discouraged me. I told him not to feel bad, that I always knew he wanted the best for me and that I always appreciated that.

Despite the whole "architect" story, I also remember my parents always being proud of my artwork and writing. Teachers were also very encouraging. I also remember being enrolled in the Famous Artists School correspondence course, and having to drop out early because the lessons were very expensive. My dad also took me to see the Daily News comic strip artists when they appeared in the bandshell in Central Park one year-- I remember being amused that Irwin Hasen, the cartoonist that drew the adventures of Dondi - a small boy, was the shortest artist on stage, which seemed appropriate.

PS: What was the last job you held before your first job in the comic industry?

JS: I started at Marvel when I was just 15 years old, so I didn't have too many other "real" jobs up til that point. I was, at age 14, one of the kids who contributed writing and artwork to Kids magazine, "the magazine for kids, by kids." Future president of DC Comics Jenette Kahn was the co-editor of Kids at the time, and I was one of her favorite artists! I remember one time when we all went up to interview Bill Gaines and Al Feldstein at Mad magazine for an article for Kids. I was asking too many questions about Harvey Kurtzman and Al demanded that the tape recorder be turned off, and he then angrily asked me "How the hell do you know who Harvey Kurtzman is?!" It's funny, because now one of the Papercutz titles I edit is an all-ages version of Tales From The Crypt. Al and Bill, of course, were responsible for the original, classic EC horror comics.

There was one kid at Kids I was a little jealous of, I'll admit. I thought he could draw a little better and write a little better than me. But alas, I'm the one who has been in comics ever since, and poor Tom Gammill had to be content writing and producing such shows as Seinfeld and The Simpsons.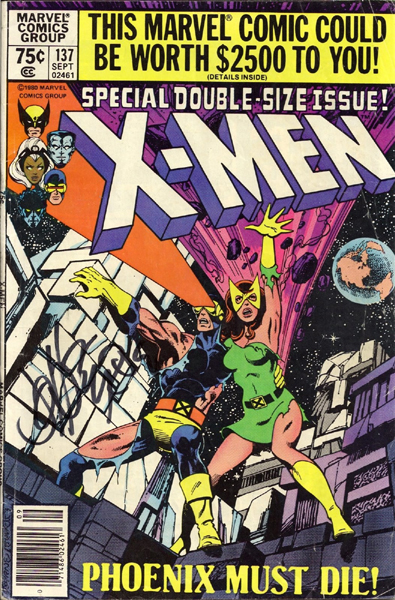 PS: Take me through the process of becoming an editor at Marvel Comics.

JS: Starting out so young at Marvel, doing various mundane tasks that an intern would do today, I was very intimidated by the superstar talent that I was surrounded by. Folks such as Stan Lee, John Romita, Herb Trimpe, John Verpoorten, Roy Thomas, Marie Severin, George Roussos, and Steve Gerber -- to name just some that were in the office every day back in '72. The freelancers, from Jim Steranko to Bill Everett, Jim Starlin to Mike Ploog, John Buscema to Barry Smith, and many others, would also drop off work, and talk with Stan, Roy, and the others, were also equally awesome! When I compared my meager talents at age 15 to the best work these guys had produced, I was truly humbled. Clearly I was "not worthy!" But I loved being around these comic book gods so much, I did whatever I could to stay at Marvel. I was a hungry dog that wouldn't let go of that bone! So, if I wasn't as great a writer as Stan Lee or as amazing as an artist as John Romita, I was determined to find other stuff that would keep me at the House of Ideas!

I did all sorts of things, paste-ups and production -- jobs that are all done on computers now. Eventually I became an editor for Marvel's line of British weekly comics. I had been around those titles (Mighty World Of Marvel, Spider-Man Weekly, etc.) since they were launched, and worked on them in almost every capacity, so by simply being at Marvel long enough, when that job opened up, I became a logical choice to take over. Besides, I don't think too many other folks really wanted that job. Later when an editorial position opened up on the American comics side -- an editorial assistant position -- having actual Marvel editorial experience helped give them confidence that I could handle the job. That led to becoming an assistant editor, and finally a full editor.

PS: You're perhaps best known for your runs on the X-Men & Spider-Man books. What was your approach to working with Claremont & Byrne on the X-Men run?

JS: When I was Roger Stern's assistant editor, I was impressed with how he could handle so many titles so well -- we edited The Avengers, Captain America, Iron Man, The Fantastic Four, Marvel Two-In-One, Marvel Premiere, Marvel Spotlight, Master Of Kung Fu, Spider-Woman, and many more. Roger handled most of the editing on those titles -- I would mainly proofread the books, assemble the letter columns, and Rog was kind enough to let me work on the covers as well. I also handled most of the reprint titles, although Rog had a special interest in Weird Wonder Tales and Rawhide Kid (finding forgotten stories illustrated by artists such as Al Williamson, Jack Davis, and others). Rog was really great working with Chris Claremont and John Byrne, but I think he favored John a bit, because they were such close friends. When Roger went off-staff to become a full-time comics writer, I was promoted to take over his position. Much of what Chris and John did when I was editor of X-Men was probably underway before I took over. Everyone working on The Uncanny X-Men at that time were part of an unstoppable team of top talents. I just had to stay out of their way and let Chris, John, Terry Austin, Glynis Oliver, and Tom Orzechowski do what they did best. They had such great enthusiasm and love for what they were doing, that the fans could tell that each of these creators truly cared about what they were doing.

The issue I'm most remembered for is the death of Dark Phoenix -- but as I like to keep reminding everyone, killing her off was actually Jim Shooter's idea. Dark Phoenix actually lived in the version I edited.

PS: Looking back at your tenure on the Spider-Man titles, how much latitude were you given with the characters?

JS: A lot. But I didn't really want to do anything radical. I just wanted to capture the kind of excitement Stan Lee, Steve Ditko, and John Romita gave the series, but do so in a somewhat updated fashion. I pretty much got to do whatever I wanted. I tried to unify the titles, to better convey the fact that there was just one Spider-Man, and that each comic he was in was equally important. I had suggested that all the titles be merged into a weekly Amazing Spider-Man title, but that didn't happen until long after I had left. But I did run Kraven's Last Hunt by J.M. deMatteis, Mike Zeck, and Bob McLeod through all three titles on a weekly basis, and Amazing Spider-Man went bi-weekly during the summer a couple of times. And of course, I did get to launch Spider-Man by Todd McFarlane which turned into a big hit.

PS: Why / how did the move from Marvel to Topps come about?

JS: Well, what do you do after you just had the biggest-selling comic book (up to that point) at Marvel Comics, the biggest comic book company in America? Well, after twenty years at Marvel, it was time for me to move on. I honestly never thought I would leave, but my then soon-to-be wife, Paulette Powell, gave me the confidence to move on and try doing new things -- or in many cases, old things that people weren't doing in comics anymore. Besides, Marvel was no longer the company I loved in the 60s and worked at in the 70s and 80s-- many of the original writers and artists were no longer working at Marvel by '92 when I left. It's funny, but I had to start Topps Comics so I could work with Jack Kirby, Roy Thomas, Gerry Conway, Gary Friedrich, Steve Ditko, Don Heck, and Dick Ayers! Of course we did a whole lot of other stuff as well, and I had a really great time at Topps Comics.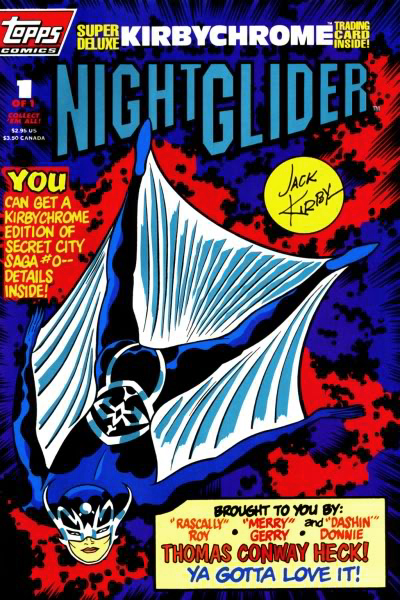 PS: Let's pick 2 of those talents out of that list. Tell me your most interesting experiences with Ditko and Heck.

JS: Regarding Don Heck, I'm forever thankful for the Los Angeles Comic Book and Science Fiction Convention for devoting one of their monthly shows to Topps Comics. The organizer insisted that Don Heck be one of the guests, and they flew both Don and me out to LA. Don was delighted -- he'd never been out to the West Coast before. I assumed that during the day the convention would have different panels devoted to our various projects, but instead they threw us altogether on the same panel! I never imagined I'd ever be on the same panel as Ray Bradbury (we were publishing Ray Bradbury Comics), Jack Kirby (The Kirbyverse titles), and Don Heck (he drew Kirby's Nightglider), as well as some amazing other guests. But the most memorable bit happened before the panel, as Jack Kirby was catching up on industry gossip with Don Heck, and asked Don, "So, did Ditko ever find himself a woman?" I sat next to Don on the flight back to NYC, and he was simply a wonderful, and very modest man. He was delighted that the largest royalty he ever got was from working with me at Topps Comics. I was proud to have helped make that happen.

Every encounter with Steve Ditko is memorable, and I have the utmost respect for the man and the artist. He's still producing great work, that he's self-publishing with help from Robin Snyder, and I look forward to every issue. I have many interesting memories of Mr. Ditko. The very first all-new original Marvel comic I was the full-editor on was Marvel Premiere #50 featuring Alice Cooper, and Steve was my first choice to be the artist on it. Of course, Steve turned me down, and I got to work with the great Tom Sutton. I had hoped Steve would do it, as Alice said Ditko's Spider-Man was an influence on his stage persona. Alice's mom even made a Spider-Man costume for Alice to perform in during their early garage band days. Alice's famous eye make-up was also Ditko-inspired -- it came from the Looter (Meteor Man)!

Let me just mention two other memorable moments with Mr. Ditko. One was actually having a meeting with Stan Lee and Steve Ditko regarding Stan's character Ravage. Steve not only turned that down, but when Stan asked him to do a final Spider-Man graphic novel together, he turned that down as well. But it was great to see the creators of Spider-Man and Dr. Strange together again. I sensed a lot of mutual respect between the two, but that's simply my impression. I can never speak for Steve or Stan.

When I asked cartoonist Batton Lash to contribute a Wolff And Byrd back-up feature for one of the Topps Comics Kirbyverse books, he thought it would be fun to draw it as a Ditko homage because Ditko so often drew that back-up stories in the pre-Marvel super-hero monster titles such as Tales To Astonish and Tales Of Suspense. When I got the penciled pages and saw what Batton was doing, I thought it would be great to get Ditko himself to ink it. This time Ditko didn't turn me down. He said he hadn't done any inking for some time and he would need to do his "inking exercises" as preparation to inking this four-page story. Well, Steve did a spectacular job! Every famous "Ditko effect" is included in this wonderful little tale. And if that wasn't enough -- Ditko asked that when the artwork was to be returned to the artists, that we should give it all to Batton. Batton told me that he was thrilled and honor to have one of his favorite artists ink his work -- especially this tribute to Steve's work. Batton said he would've never been able to pencil the story if he knew ahead of time that Ditko would ink it. Batton spent at least a day comparing his photocopies of his penciled pages with the inked original art, and just found it to be a truly educational experience -- having Ditko himself show him how Ditko effects should be done.

PS: What do you feel that generation of talent brought to the table that was different than subsequent generations?

JS: Experience and training. Even now I'm working with many talented young artists, but I still have to train them in various fundamentals -- which I learned from the folks who came before me. Folks such as Stan Lee, Steve Ditko, Jim Shooter, Roy Thomas, George Roussos, and many others.

PS: What books do you feel best represent your tenure at Topps?

JS: Zorro by Don McGregor and Mike Mayhew; Mars Attacks! by Keith Giffen and Charlie Adlard; The X-Files by Stefan Petrucha and Charlie Adlard; The Lone Ranger And Tonto by Joe R. Lansdale and Timothy Truman; Bram Stoker's Dracula by Roy Thomas and Mike Mignola; Elric "Stormbringer" (Moorcock's novel) adapted by P. Craig Russell; One Life Furnished In Early Moorcock (Short story by Neil Gaiman) adapted by P. Craig Russell, and much, much more.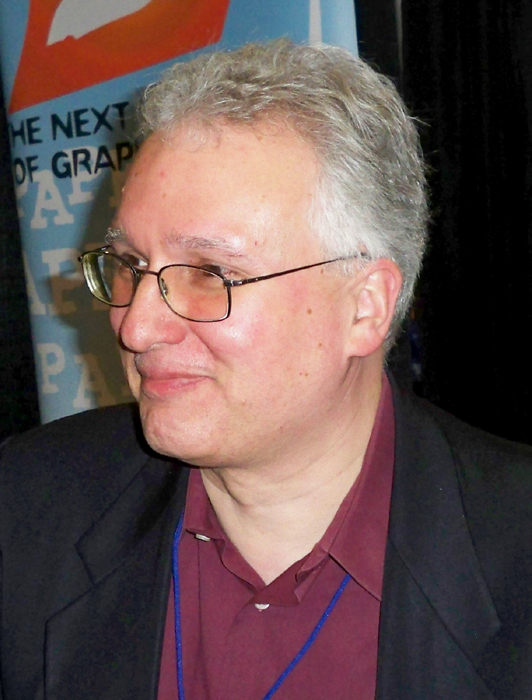 PS: The next step, if I'm correct, was to Stan Lee Media. How did this move come about, and why do you feel SLM never quite became a hit?

JS: Anyone who knows me knows that I love New York City, and no one ever expected me to ever live anywhere else, including me. But when Stan Lee calls, I listen. He's my hero, and I've known him since I was 15 years old, and loved his work before that. So when he called me and offered me a job as a writer / editor at Stan Lee Media it was truly an offer I couldn't refuse. Stan's known for being a impatient, and even though he called me on a Friday, he truly expected me to report for work the following Monday. I was able to get him to give me a week to prepare for such a big move and change in my life. But the Thursday before I was scheduled to head out West, I badly broke my ankle crossing a street. To my surprise, Stan held the job for me, and I was out there on crutches as soon as I got out of the hospital. I'm a real New Yorker in the sense that I don't even know how to drive, yet when I moved out to LA, I couldn't even walk!

I had a great time working at SLM and made so many great friends, but I admit I was happy to head back home and to get to work on Papercutz and the Museum of Comic and Cartoon Art (MoCCA). Being able to see Stan every day was, as he would say, ggrreeaaatt! I loved it. Why did it fail? A combination of being too soon -- SLM was offering flash animated webisodes when most people only had dial-up internet. It would take hours to download a three or four minute cartoon -- and having a business partner who eventually was imprisoned for various crimes. I thought SLM was far bigger than it needed to be, and obviously Stan did too. His new company POW! Entertainment seems to be announcing new and exciting projects every day, so it all worked out okay in the end.

PS: I believe that takes us to Papercutz. Every company has its own feel to it. What about the Papercutz vibe is different than Marvel or Topps?

JS: Topps Comics was created to appeal to the same audience that Marvel and DC Comics reached through the comic book store market. Years ago, before I even worked at Stan Lee Media, NBM publisher Terry Nantier and I started talking about starting a new company that would create comics to reach the younger audiences that most comics publishers didn't seem focused on or interested in. Back when I started reading comics, all comics were suitable for all ages, and the idea of creating a company where all our comics and graphic novels could be suitable for all ages was very appealing to me. People forget how smart kids are, and the last thing I wanted to do was "dumbed down" versions of other comics. We want to produce smart, exciting comics that everyone can enjoy. Obviously, some of our titles, such as a Classics Illustrated comics adaptation of Upton Sinclair's The Jungle may appeal to more adults, while Disney Fairies will attract much younger readers. That's not to say that bright kids won't enjoy and understand The Jungle and that adults won't enjoy the art and stories in Disney Fairies, but that people can gravitate to the titles that please them most. So, to answer your question, Papercutz is dedicated to publishing graphic novels for all ages.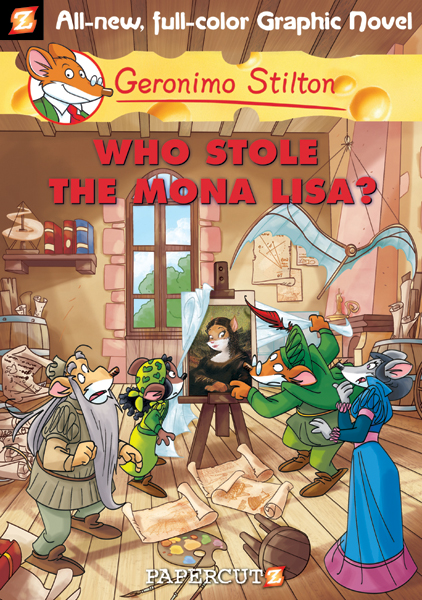 PS: Papercutz is generating new material with a lot of familiar names: Nancy Drew, Hardy Boys, Classics Illustrated, etc. Is this a deliberate move to connect with the often neglected younger market?

JS: Actually more and more publishers are creating material for that market since Papercutz started. Kids never stopped liking comics, it's just that their access to it was cut off over the years as their became fewer and fewer places to buy comics, and comic book stores haven't always been either kid-friendly or girl-friendly. Look at the average comic book store's exterior-- is there anything there that would make an 8 year-old girl feel that there's something being offered inside that would appeal to her? Fortunately, more and more comic book stores are changing for the better, albeit very slowly. And of course, many of the very best comic book stores have been stocking comics for kids for years!

One further note, it's odd that our biggest seller overall is virtually unknown in the comic book stores, and that's Geronimo Stilton. The character is very well known with children, but other than parents, few adults know about Geronimo. But within bookstores, we can hardly keep our Geronimo Stilton graphic novels on the shelves -- they keep selling out and we have to keep going back to press. Granted, that's a great problem to have, I just wish comic book stores would take advantage of this great opportunity to reach kids.

PS: Smurfs! Will the Smurfs material all be reprints, or will there be new material generated?

JS: We're sticking with the classic material and have no plans to create new material. Perhaps another publisher will do that, but our aim is to get all of the original material in print. Just as the Tintin graphic novels have been in print since I was a kid, we would love to see these books stay in print for generations to come.

Many Americans don't even realize that The Smurfs started out as comics characters created by Peyo. They made their debut in 1958 in another series, Johan And Peewit, and proved to be so popular that they were soon given a series of their own. Those books have been in print around the world, except for North America, ever since. When the animated Hanna-Barbera TV series started in the 80s, it was a huge hit and lasted nine seasons. There were a few Smurfs books released, but they were seen by their publisher as simply a TV tie-in to the latest fad. Now that comics and graphic novels are far better understood by bookstores, we hope The Smurfs have found a new home on bookstore shelves beside Tintin, Peanuts, Bone, and others.

PS: Can we expect any of these properties to grace the silver screen in the near future?

JS: Yes. The Smurfs will be starring in an all-new, star-studded, 3-D live action movie, coming August 2011 to theaters everywhere. We'll probably have about seven Smurfs graphic novels out by then, so we're very excited by all the extra attention the movie is sure to bring to The Smurfs. The movie looks like it'll be fun too!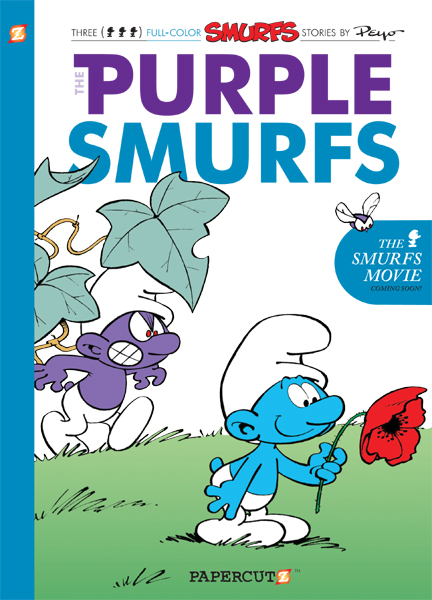 PS: Tell me how you came to be involved in MoCCA.

JS: I was approached by the founder of the Museum of Comic and Cartoon Art, Lawrence Klein, and he asked if I wanted to be involved with this exciting new project that he was working on. Since three of my favorite things are New York City, museums, and comics -- how could I not be involved? MoCCA is an incredible organization, run mostly by volunteers, and it just keeps getting better and better. Everyone who has ever been involved with MoCCA has made an important contribution, and now under the leadership of Chairman and President Ellen Abramowitz and Director Karl Erickson the exhibits are more impressive that even, and are garnering serious media attention.

PS: Why does MoCCA exist and what does it bring to the public?

JS: Here's MoCCA's mission statement:
"The purpose of the Museum of Comic and Cartoon Art is the collection, preservation, study, education, and display of comic and cartoon art. Every genre of the art is represented: animation, anime, cartoons, comic books, comic strips, gag cartoons, humorous illustration, illustration, political illustration, editorial cartoons, caricature, graphic novels, sports cartoons, and computer-generated art. Further, the museum's rigid collection policy ensures that the art collections are maintained in an environment of the highest integrity.

"It is the mission of the museum to promote the understanding and appreciation of comic and cartoon art as well as to detail and discuss the artistic, cultural, and historical impact of what is one of the world's most popular art forms. Comics and cartoons have been instrumental in effecting significant dialogue on issues involving society, culture, philosophy, and politics. History has shown them to be instrumental in documenting--and interpreting--historic events and social change. Artistically, comic and cartoon art is created at the highest levels by some of the world's finest graphic illustrators.

"The main goal of the museum is to educate the public about comic and cartoon art, how it is crafted, and how it reflects history. What does the art tell us about the time period that it was created in? How does it stand the test of time? What First Amendment issues regarding content come into play? How does censorship determine what is (and isn't) published?

"The Museum of Comic and Cartoon Art is chartered by The State Education Department, organized and operated as defined in Section 501(c)(3) of the Internal Revenue Code." The museum strives to do all that by presenting various exhibits (right now, we have three shows up at the same time), hosting panels, lectures, book signings, and other events at the museum; organizing the annual MoCCA Fest, which has become one of the most respected comic art events in America; and running educational classes teaching the art, history, and craft of comics and animation to all-ages.

Visitors from around the world have visited MoCCA, and have found insights to the world of comics and cartoons, and have gone away with a greater appreciation of the art of comics and animation.

PS: What new talent are you currently working with that we should keep an eye out for?

JS: I've always liked working with a mix of both new and experienced writers and artists, and I'm delighted to be working with the creators at Papercutz. I'm continually impressed by our Nancy Drew and Hardy Boys artists, Sho Murase and Paulo Henrique. Sho comes from the animation field, and as a result, each Nancy Drew graphic novel feels like watching an animated Nancy Drew film. Paulo is able to combine a manga-like style with all the action and excitement of the best super-hero artists. And both are able to make our teen sleuths believe and very natural human characters-- which is perhaps the most important thing to me.

PS: While slighting no one, tell me 6 comic book writers you feel set the standard for all others.

JS: Gee, there are as many as there are types of comics! From Carl Barks (Uncle Scrooge), Peyo (The Smurfs), and Herge (Tintin) in fun, smart adventure stories for all ages to Will Eisner (The Spirit), Harvey Kurtzman (Mad), and Stan Lee (Spider-Man) for breaking new ground and being able to handle any type of story with style, humor, wit, and humanity.

PS: Since Progsheet is primarily a music site, please tell me 6 CDs you never get tired of listening to.

JS:
Leonard Cohen - The Future
Wings - Band On The Run
Ringo - Ringo
Alice Cooper - Welcome To My Nightmare
Iggy Pop - Lust for Life
Blondie - Parallel Lines



###





Table Of Contents

Contact