Track By Track: Bahner / Slick Duo - Live At Slick Sound Studios


By John A. Wilcox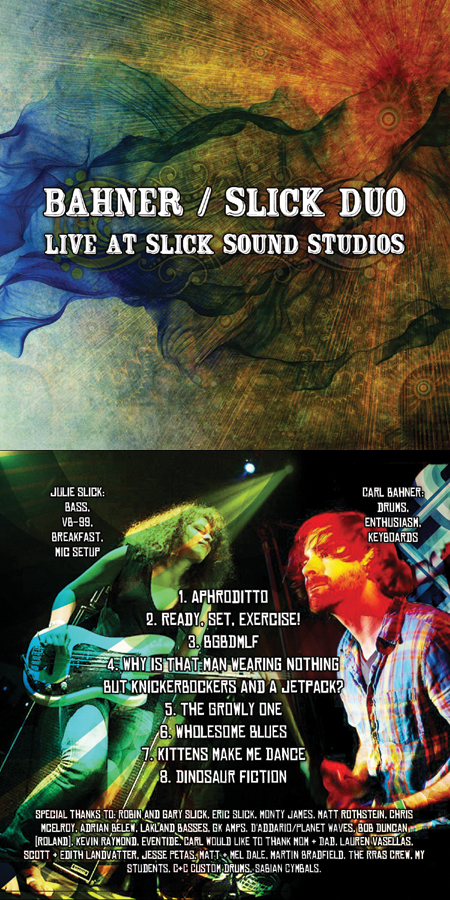 I'll let my pal Julie Slick introduce this track by track. Heeeeeeere's Julie!:
The Bahner / Slick Duo's Live At Slick Sound Studios was mostly recorded on September 3rd at my home studio in Philadelphia. Carl and I started playing heavily improvised sets together earlier this year and we knew we wanted to put something out before the Two Of A Perfect Trio tour (featuring the Adrian Belew Power Trio and Stick Men) so that we could share our new project.

Track 1: Aphroditto
CB: When we were planning to jam for the first time, we made a list of songs to use as a starting point. Aphrodite was already on Julie's solo CD, but we felt that it would work well in a duo setting. We started playing it live, and it started to take on a life that was a little different from the original. We decided to use a clip from a live show as the jam section in the middle of the tune since we felt it captures what it's like to be at a Bahner / Slick Duo performance.

JS: We also added in some quirky stops... We jammed it out a couple of times, and things started to get twisted, as they tend to when you're playing with a great drummer and just simply having fun...

Track 2: Ready, Set, Exercise!
CB: Since Julie was getting ready to leave for the tour we had to do the album artwork before we even finished the audio. The designer Chris McElroy asked us for a track listing... which of course we didn't have yet! I made up a few fake names to use as placeholders in the artwork. When we went into the studio, we thought it would be interesting to use the "fake" names as inspiration for our improvisations. Ready, Set, Exercise! is one of these "Pinocchio" titles... it was fake but became real in the end!

JS: The concept has even influenced our live shows - when we played the night of the 3rd, we put index cards out on all of the tables in the club. We then asked members of our audience to recommend song names. We collected them and started making up music to fit the titles - we've been doing it at every duo show since. It's nice to have a focus in otherwise totally improvised music - it's inspiring for us and fun for the crowd. Win-win!

Track 3: BGBDMLF
CB: I was driving one afternoon and was pulling up to a stop light. The car in front of me had one of those customized license plates which said "BGBDWLF"... presumably referring to "Big Bad Wolf." However, my eyesight isn't the best so when I first read the license plate I thought it said "BGBDMLF"... or "Big Bad Milf." Obviously, BGBDMLF was way funnier to me (I still need to check if it's taken), so I decided to write a song about it.

JS: Are you sure you should be driving? As Carl mentioned, this track was another one of the composed pieces. I added an organ and guitar solo (played on bass with the VB-99, naturally).

Track 4: Why Is That Man Wearing Nothing But Knickerbockers And A Jetpack?
CB: Yet another "Pinocchio" title. I think this jam was initially inspired by the title Kittens Make Me Dance but when listening back to the recording, we had visions of a claymation man soaring over Torquay. Maybe that was just me. Either way, we agreed it suited this title better.

JS: It could also be called Fun with Eventide Pedals.

Track 5: The Growly One
JS: Another one inspired my Pitchfactor pedal... I'd actually written this riff at sound check during our last ABPT tour in Europe (Fall 2010). I was planning on putting it on my next solo record, but I whipped it out during the sessions to see what Carl might add. So now it's a duo song, but I still might add to the theme and put it in on there...

Track 6: Wholesome Blues
CB: I came to the studio with the idea of taking a "Mannish Boy" blues idea but reworking it a bit. We shifted the riff into a whole tone scale and danced around a few different implied subdivisions. What came out was something short, sweet, and delightfully awkward. The ending is far from tight, but we were laughing so hard while playing it that we decided to keep it anyway. We have no problem laughing at ourselves sometimes!

Track 7: Kittens Make Me Dance
CB: We try to have no fears when improvising live, despite the fact that we often start from nothing and don't have the "safety net" of predetermined music, so we decided to include this improvisation from the same performance as the Aphroditto jam.

JS: This is another one that I might develop further... I'm getting more and more comfortable with looping, so this song has already grown a little more complex.

Track 8: Dinosaur Fiction
CB: This title actually stems from a little anecdote from a friend of mine. He was installing an A/V system in a local elementary school library, and while he was perusing the shelves he saw the usual categories found in a library... but there was an entire division of fiction dedicated specifically for "Dinosaur Fiction". Since my favorite bad Sci-Fi movie is Jurassic Park 3, I felt it was necessary to express my undying love for bad prehistoric lizard stories... in musical form, of course.

JS: Another excellent Carl Bahner original... I added some of the same crystal-ly sounds that I used in Aphroditto in the middle of this tune to provide a nice bookend to the record.


###
Table Of Contents
Contact