Track By Track: The Winter Tree - Guardians


By John A. Wilcox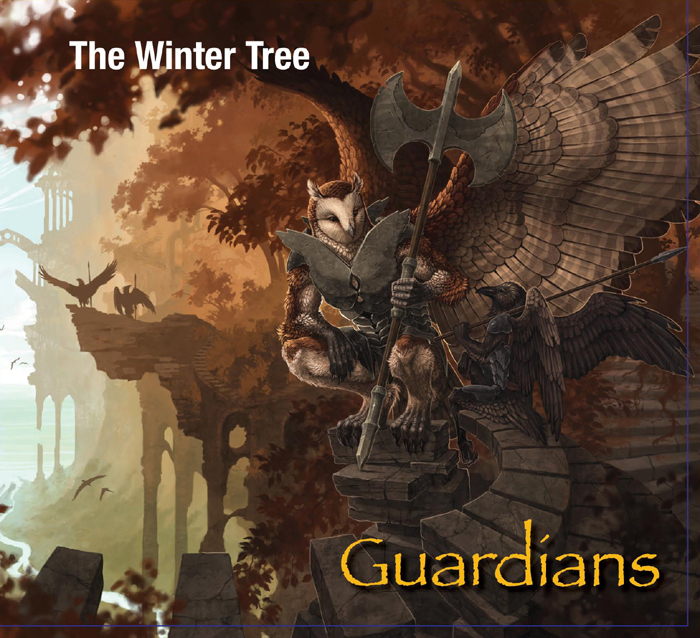 Hooray for the northeast! Vermonty fresh proggers Andrew Laitres, Mark Bond, and Deb Bond are The Winter Tree. Guardians is the band's 2nd release. I asked Laitres if he'd take our readers on a track-by-track journey through this fine album and he happily obliged...

Track 1: Visions
AL: I often like to start albums with a short instrumental that sets the tone for what follows. Visions is based around a simple theme from the following song called Voice On The Wind. I laid down the keyboard parts and Mark overdubbed a guitar solo in two takes. Except for the main keyboard theme, this piece was very spontaneous and was quickly created in real time.

Track 2: Voice On The Wind
AL: The basis of this song, instrumentally, was composed by me back in 1994 when a friend loaned me his expensive Kurzweil keyboard. I finally got around to writing lyrics for it last September. It's my sci-fi/fantasy take on the Book Of Revelation. It was going to be part of a 20 minute + epic, but I decided against doing that because I'm not a Christian and have no desire to labeled a "Christian band". I do find the subject fascinating and like to feel that as an artist and long time seeker I can explore any subject that inspires me. Several other songs from the aborted epic turn up on this album later.

Voice On The Wind is one of our harder rocking songs and features a great Mark Bond vocal, most of it in one take, as well as some tasteful guitar breaks. Deb Bond contributed some really cool lead synth lines and understated piano and electric piano. I think we managed to combine many different musical elements with the hard rock style.

Track 3: The Sparrow
AL: This is the first of two songs that Mark and Deb contributed to the album. It features Mark's newly acquired steel guitar and some very evocative synth and piano playing from Deb. Lyrically, it's kind of an impressionistic piece about a sparrow that lives deep in a forest and what's going on around her. I added a subtle Mellotron string part on the last verse and played bass and bass pedals. Mark, Deb, and I sang the backing vocals. A friend of Mark and Deb's named Bob Hynes played drums on this track.

Track 4: Guardians
AL: I like to feature an electronic/techno instrumental on each album and this was my contribution, performed by me. The title was inspired by Minna Sundberg's painting which we used as our album artwork. Minna is an amazing young artist from Finland that also did the artwork for our debut album. Except for the main musical theme, this was very much improvised and recorded quickly. I wanted to create a sense of movement and action in the stereo imaging. I've been recording electronic instrumentals since 1987 and am thinking of releasing a compilation of all the pieces I've done with a few brand new ones. We'll see...

Track 5: Elune
AL: This is probably my favorite song on the album. It came out pretty much the way I envisioned it at the start of writing. Mark wrote the lyrics and asked me if I wanted to write the music. Composing music to already written lyrics has always been fun and inspiring for me. On the debut Winter Tree album many of the songs were poems adapted to music from early 20th century British poets. The music and melodies to Elune came very quickly to me and I knew we had something special. It also, lyrically, fit well with the Guardians concept and artwork. Aside from his great vocals, Mark also laid down a lovely guitar solo. At first he recorded a kind of wild, aggressive solo which didn't work. This was his second stab and it was pure magic. I performed the lion's share of the instrumental backing, with Deb contributing the piano and a synth line. I sang lead on the beginning and ending sections, my only lead vocal contributions.

Track 6: The Woman And The Dragon
AL: This is an instrumental piece from the would be epic. This was another very spontaneous piece and I recorded the keyboards very quickly. I did a quick but careful mix to play for Mark and Deb. At a later session the disc containing the keyboard tracks got accidentally erased, so I had to use the original rough mix of the keyboards. Mark overdubbed some guitar, cymbal hits, and the dragon and eagle sound effects. Deb played some sinister sounding french horn and bassoon sounds on the second full-on section.

Track 7: Beautiful World
AL: I've always been very concerned about the environment, it's a theme that has popped up many times in my songs through the years. I also spend a lot of my free time hiking and exploring. This is my ode to our beautiful planet and man's mistreatment of it. Mark sang all the vocals as well as all of the electric guitar parts, including a very moving solo. Deb played a leslied organ and I did all the rest.

Track 8: Good Times
AL: A very moving song that Mark wrote about his father. Deb co-wrote the music and played all of the keyboards. Mark performed all of the guitar and vocals while I supplied the bass.

Track 9: City Of Light
AL: This piece would have been the final section of the above mentioned epic had we gone down that avenue. It still makes a great album closer! I probably spent the most time on this piece, part of the reason being that it was also on the disc that mysteriously got erased and I had to recreate it. Mark played all the guitar parts and Deb laid down the lead synth lines and a string part. There are some truly exciting moments in this song and many dynamic/mood changes as well as a feeling of triumph.


###
Table Of Contents
Contact